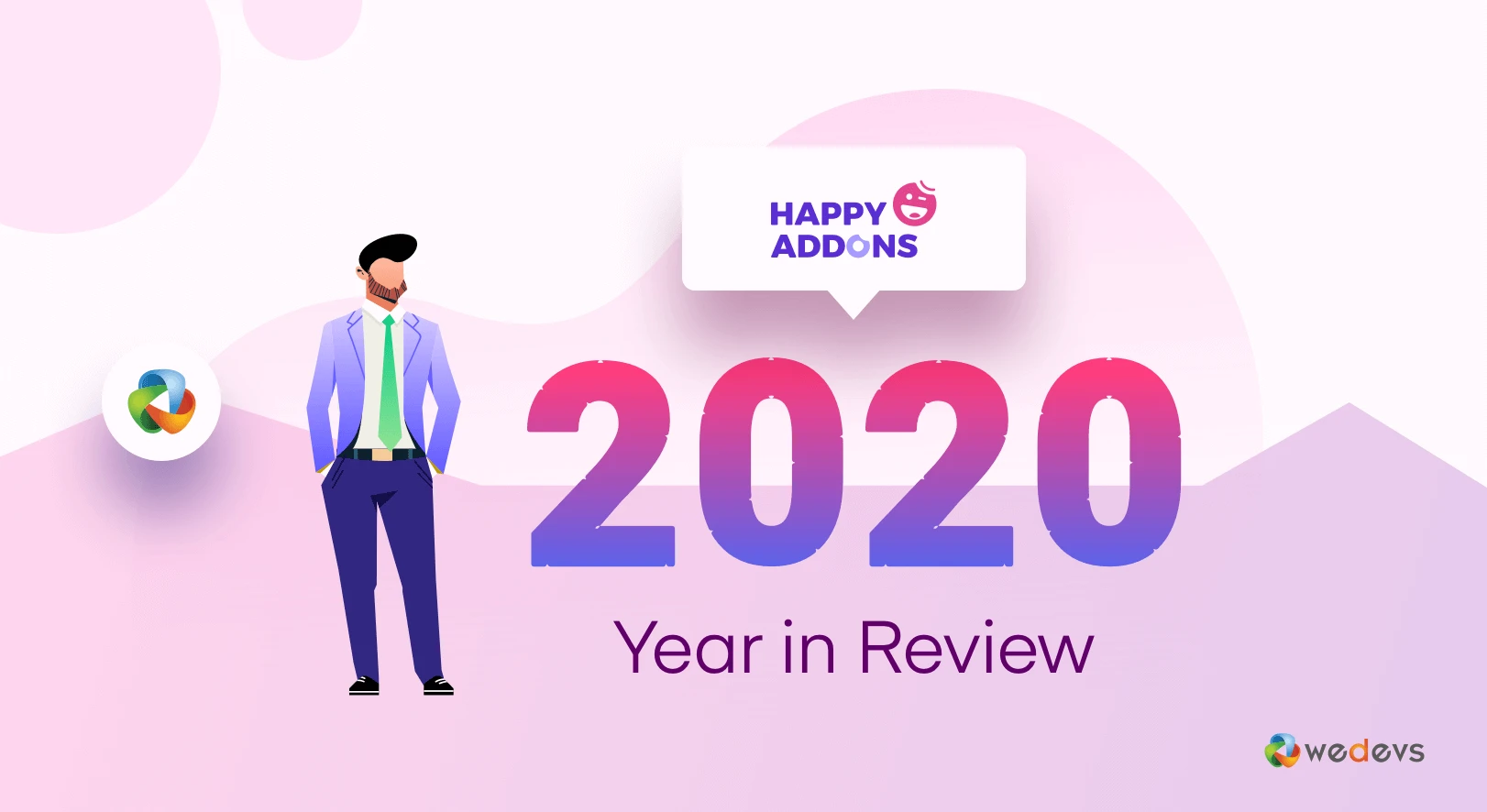 HappyAddons Year In Review 2020: How We Become A Family of 100,000 Happy Users!
Christmas bells are ringing- throw old junk through the windows and get rid of troubles of the old year. We're here to wish you a prosperous life ahead and thank you to give your enormous love to HappyAddons. Have a quick glance summary of the HappyAddons review 2020: how we make our users' life happier, our best efforts, new features, contribution, achievements, success story, also the obstacles & struggles.
Happy Elementor Addons comes with the aim to enhance and take your WordPress webpage editing & designing capabilities to a whole new level.
We're committed to continuing with this motto in the upcoming years too.
Happy Addons is a product of weDevs. Although weDevs is well-known for developing WordPress tools, with this helpful plugin we bring something new to help and support the Elemntor community.
Before we dig into what happened in 2020, here's a quick summary of HappyAddons by-the-numbers:
100,000+ active users (3x growth rate compared to 30,000 last year)
Launched 40+ releases
75 five-star reviews, and counting…
PRO: 7 new features and 24 new widgets released
FREE: 3 new features and 26 new widgets released
Wrote 100+ blogs & 35+ docs
Replied more than 3,000+ tickets
Established a Facebook community of 1.5k+ members
Let's dive into HappyAddons review 2020-
HappyAddons Review 2020 In a Nutshell
Elementor is an all-in-one tool that has changed the concept of WordPress site development overnight. Here you'll get all the elements to create your site on your terms with the full flexibility of managing every aspect of your design.
Furthermore, it's a super flexible design tool that allows developers to extend its core facilities and makes it a robust WordPress page builder. In this manner, the concept of HappyAddons comes to light.
But the journey was not so easy to make it stand out from competitors. As when we started a lot of powerful add-ons were already ruling the industry. However, we keep our focus straight and always dive deep to understand our potential users' insights.
Do prioritize users' demands & their feedback always keeps HappyAddons one step ahead in the race.
We have released around 26 updates for the free version this past year. In those releases, we've launched around 30 new widgets, features, and extensions. Also, we fixed several issues and do tweaks.
For the pro version, we've released 15 updates, where we launched 30+ new widgets and features with some major fixing.
Latest version: 2.16.0
Last updated: 4th December 2020
5 Star Rating: 75
You can check the changelog to see all twists and turns.
Throughout the year we also introduce some outstanding design elements for our users. To simplify your work, Happy Addons provides a number of Happy blocks in different categories such as Banner, Service, Products, Parallax, Video, and many more. Also, you'll get 400+ ready templates to give your site a unique look.
The pricing of Happy Addons starts at $39/year which unlocks 50+ widgets, 500+ line icons, exclusive features like Live Copy, Display Condition, Preset, etc., and one year of updates with 24hr support response.
When & How Happy Elementor Addons Start Its Journey
We've published the pro version of HappyAddons at the end of September 2019. Quickly it becomes one of the most popular addons to the Elementor community due to its unique features and extensively customizable functionality. As a result, now more than 100000+ people rely on us to live their dreams.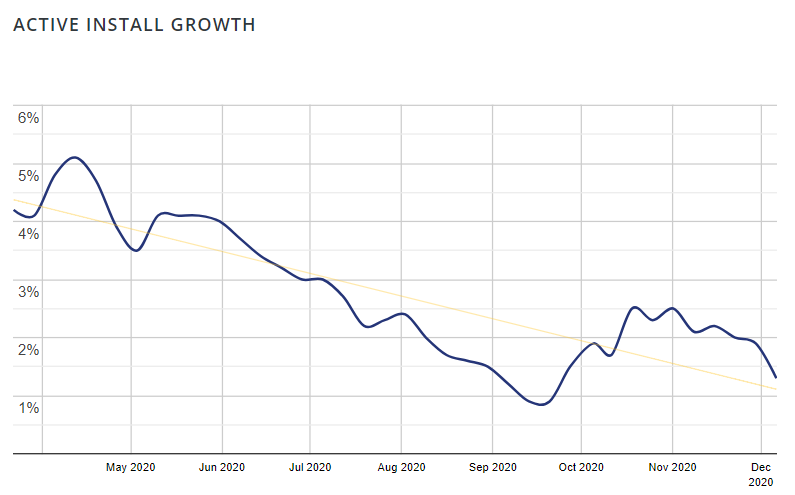 The best part of the Happy Elementor Addon lies in its easy customization options, innovative features, along 24/7 support system. Most favorably it won't slow down your website. Moreover, it empowers your Elementor site including 50+ creative widgets and 20+ jaw-dropping features.
This is the reason we reached our first milestone of 30k within just 6 months. After that, it soared from 30k active installations to 50k swiftly within 2 months. Quite surprising? It was beyond our expectations too!
And guess what! The momentum is increasing even more since then because we've got another 50k active installations in the next 5 months. Recently, we've achieved our biggest milestone of this year- 100k active installation with maximum user satisfaction.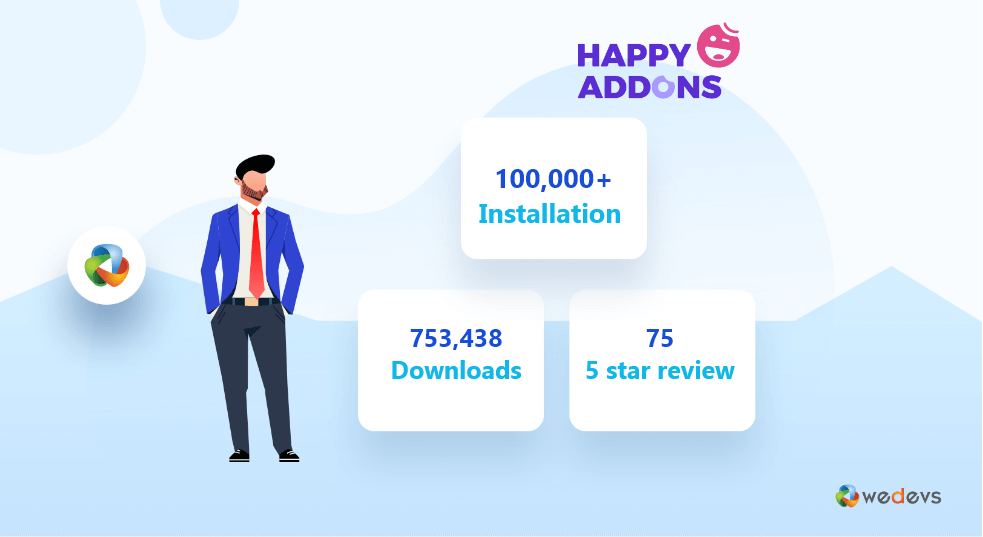 This goes hand in hand with the growth of our user base, community members, and social platforms. For instance, we've built a happy community on Facebook to discuss the overall plugin's experience, share feedback, and help each other. Currently, there are 1.5k members in the group. On the other hand, we've around 1k followers on Twitter that is growing day by day.
Motivating People Throughout the Pandemic
Well, 2020 is like a nightmare for most of us!
When the whole world comes to a stand, nearly half of the world's 3.3 billion global workforces are at risk of losing their livelihoods, we encourage people to start their own online business.
We inspired people to set up their online business using Elementor. During this pandemic, we brought some powerful Happy widgets which extend the design capabilities of WooCommerce webpage design.
Apart from this, we set up to 40% OFF to show our sincere gratitude to each and every member of the HappyAddons community for supporting us.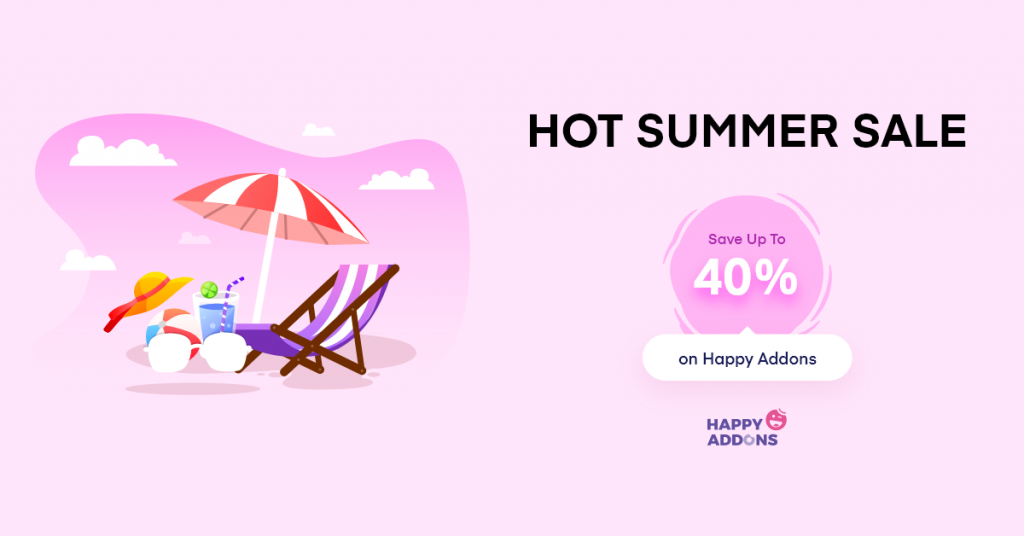 Important to mention here, we've followed all of the directives and updates outlined by the World Health Organization (WHO) and the Center for Disease Control (CDC).
In this HappyAddons year in review let's know about the new widgets and features we brought last year-
HappyAddons' Out-of-the-Box Widget Collection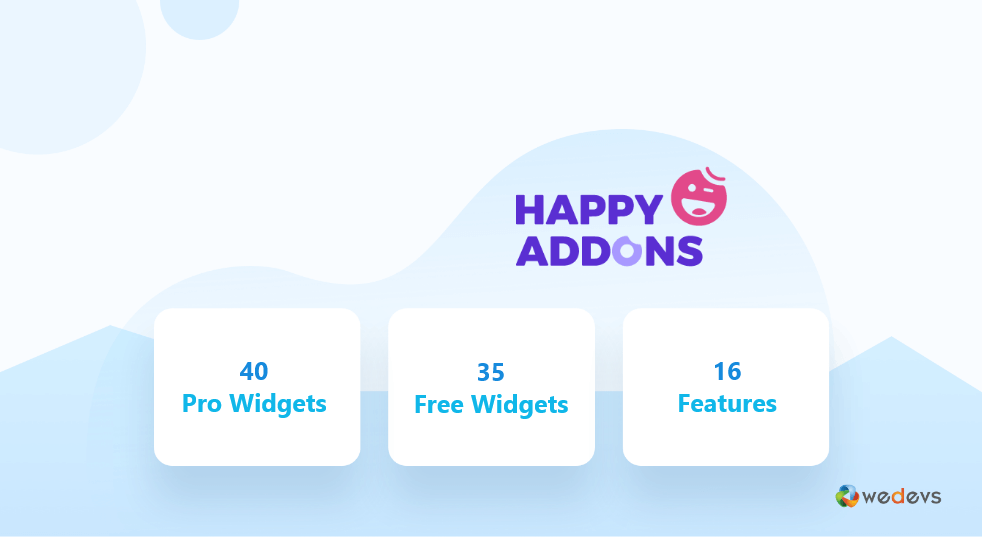 Currently, there are 75+ Happy widgets (35 free and 40 pro) available inside HappyAddons.
Among them we include the following major widgets (FREE) this year:
Horizontal TimeLine widget
Social Share widget
Data Table widget
WP Fluent Forms widget
360° Rotation widget
Taxonomy List widget
Post Tab widget
Post List widget
Twitter feed widget
Bar Chart widget
Social Icons widget
Fun Factor widget
These are the major PRO widgets we include in 2020:
Modal popup widget
Advanced data table widget
Product Category Grid widget
Product Category Carousel widget
Post Grid widget
Sticky Video widget
Author List widget
Smart Post List widget
Post Tiles widget
Product Grid widget
Product Carousel widget
Post Carousel widget
Twitter Feed Carousel widget
Breadcrumb New widget
Pie & Doughnut Chart Widget
Line Chart Widget
Rader Chart Widget
Polar Area Chart Widget
HotSpots widget
Price Menu widget
HappyAddons' Rich Collection of Unique Features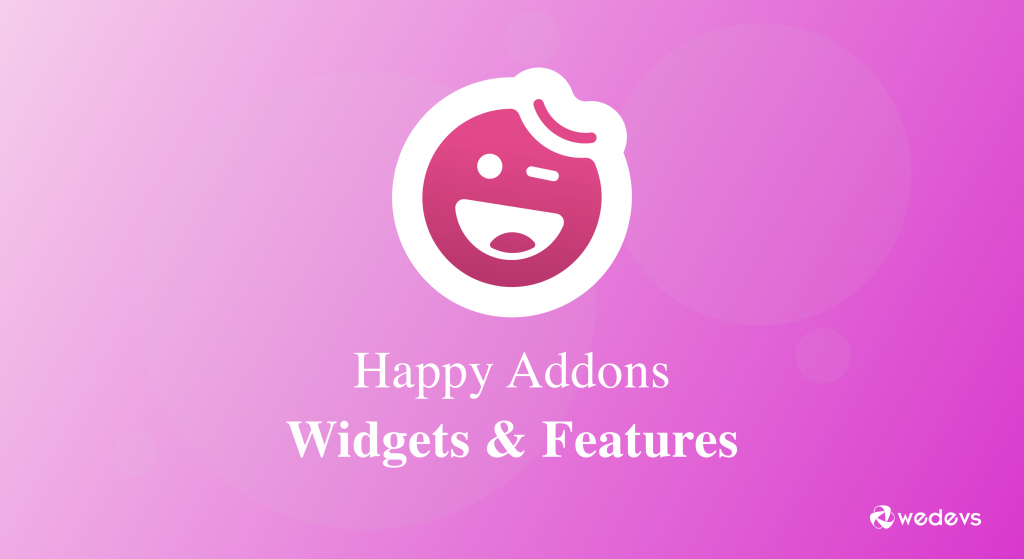 We've dished out the following features as hot as ever from January 2020 to December 2020-
Prime Free features added in 2020:
Grid Layer feature for designer
Wrapper Link feature for section, column, and widget
WPML support for all widgets
Twitter feed timestamp settings
Prime Pro features added in 2020:
Display condition global feature (Works with all widgets, section, and column. Available inside advanced tab)
Self Hosted Live Copy
Section template inline editing
Instagram New API integration
Extensions we bring this year:
Particle effect extension
Image masking filter hook to disable image masking
Display condition filter hook to disable display condition
Grid layer hook to control Grid Layer
Background overlay hook to control Background Overlay
Wrapper link hook to control Wrapper Link
Happy clone hook to control Happy Clone
Adminbar menu hook to control Adminbar menu
Floating effects hook to control Floating Effects
Css transform hook to control CSS Transform
On demand cache hook to control On Demand Assets
Not only we bring new widgets & features for our users, but also fixed their issues and updated the functionalities based on their reviews. Such as-
Updated compatibility with WP 5.5.x
Updated compatibility with Elementor 3.x.x
Include 44 new Happy icons
Instagram data cache system update
Solved JS function backward compatibility issue
Post Carousel compatibility with WPML
On-Demand Assets Loading compatibility with WPML
GravityForms widget issue causing Elementor editor continuous loading
and many more
HappyAddons Year In Review -Exclusive Addition
Besides regular updates and releases we've introduced some outstanding attributes this year too:
400+ Happy Templates
These ready templates will accelerate your working speed up to 5-10 times faster. This is one of our best additions of 2020 to scale up your experience of website creation to the next level.
200+ Happy Blocks
Another most demanded feature from our users- Happy Blocks. We have more than 200 ready-to-use blocks in different categories to give your website an exclusive look instantly.
After Happy Effects, we got a huge response for these design tools from our users!
Happy Resources to Educate Users
We love to help our users in their product learning. You'll find many helpful articles on our blog site covering different topics regarding Elementor, HappyAddons, and other helpful add-ons as well. Also, we've documentation for individual widgets and features of HappyAddons. Furthermore, you can check our official YouTube channel for video tutorials and the latest updates too.
Our contribution in 2020 to enhance our users' product knowledge:
27 Videos Produced
106 Blogs Written
35+ Docs Updated
Let's shed some light on our social media performance for the last year-
Happy Community on Different Social Platforms
A big achievement for us- we got clients from all over the world. Also, Elementor is a global product and we're working to make Elementor users' developing experience smoother. To bring the whole world under a roof social platform is the best choice for the present time.
Moreover, the pandemic situation confined our lives within the four walls. Though we are trying to build an engaged social media community from the beginning; this lockdown flues our desires. In a short time period, we got a huge response from our users that we can establish a strong social presence on different social media.
Achieved 1.2k likes on our Facebook page
Around 1500 members joined our HappyAddons Community
1.52k YouTube subscribers
You can also be a part of our Facebook or Twitter community by checking out these profiles:
Don't forget to subscribe to our YouTube channel to get the latest news & update and detailed tutorials.
You'll get all kinds of help regarding website development with Elementor, using different addons, etc. Also, you can share your views and experience there to help others. Our support team members are also active there so you'll get a quick response and solve any issue without waiting in the queue.
Happy Addons Grand Giveaway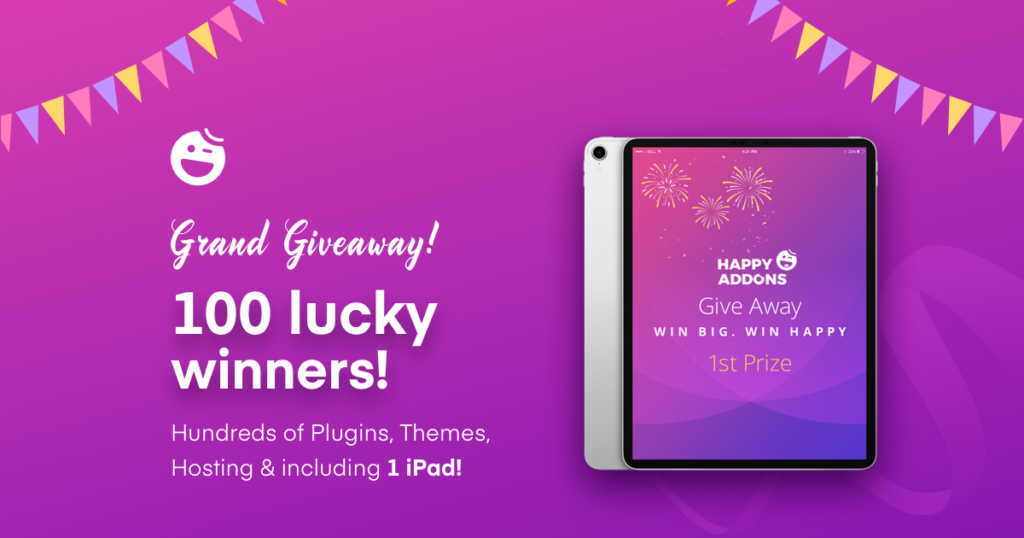 The past year we've arranged a grand giveaway to celebrate our 50k active installations. It includes a massive $35,000+ giveaway of WordPress products including hundreds of Plugins, Themes, and Hosting plans.
One lucky winner won a iPad also.
Our celebration won't stop there! We announced several discounts and packages on special occasions. We never miss an opportunity to express our gratitude to the users.
Our biggest sale was announced last month on Black Friday- Up to 50% OFF on all premium packages.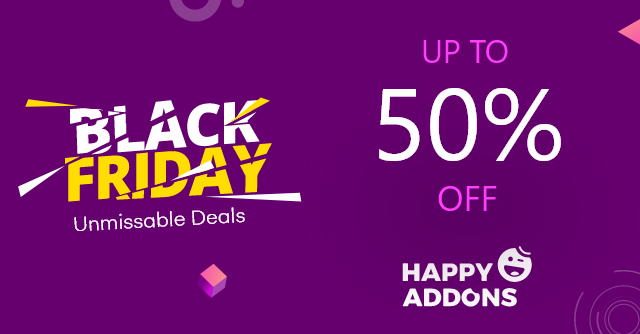 In the next section of HappyAddons year in review we include those innovative persons who working behind this tremendous success-
Happy Team- A Bunch of Magicians Working Spontaneously
30 Avengers (Employees)
We are quickly grown to be one of the largest organizations in the Elementor community. Our dedicated team is working relentlessly to accomplish our goal.
10 BIG Monsters (Developers)
There is a project manager to operate all the tasks simultaneously. All the team members are experts in their own arena. Most importantly they have the capability to understand users' deep insights.
5 Ninja (Support Team)
Our support team includes 5 supporters from different countries who speak 3 different languages, but our official language remains English.
In 2020 we got 3k+ support tickets from 1.5k customers. We get an astounding average of 10 support tickets every day. 95% of our users are happy with the service they received from our support troops. Also, as we promised at the beginning of 2020 to provide 24/7 support- our service was quite impressive according to our clients' feedback.
Happy Returns- Our Customers Will Tell You More
To date, we have earned 75+ 5-star reviews on WordPress.org. out of a total of 80 ratings with an average of 99% customer satisfaction.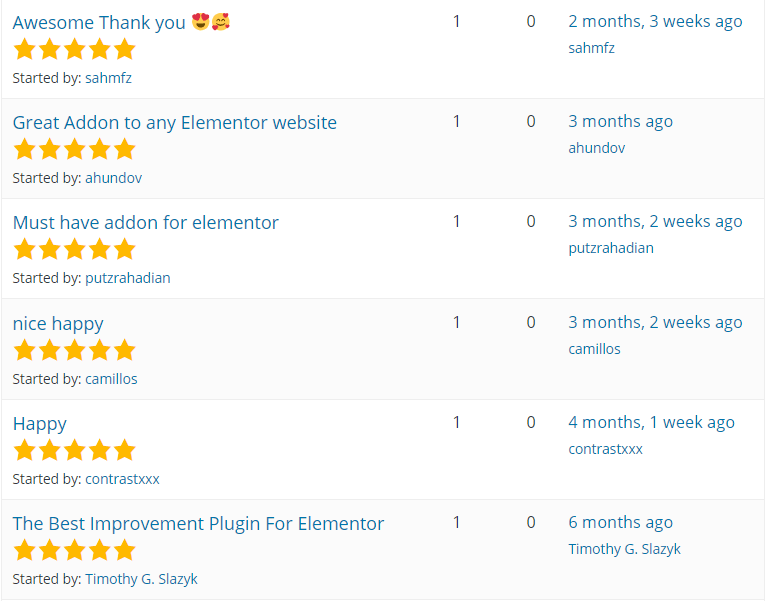 We are always pumped to read these reviews. We analyze all the reviews closely and build our next strategies depending on them. Some of our clients' feedback from 2020:
Besides, we also provide support on different social platforms and always try to respond & solve issues ASAP.
Well, it's hard to keep track of all the developments that HappyAddons underwent in 2020. So just tried to highlight our major area of effort in this HappyAddons year in review.
New Year Oath: A Commitment to Delivering the Best Possible Website Building Experience
With Happy Elementor Addons you can quickly set up attractive and highly functional websites – no coding knowledge required!
Not to mention, Happy Addons makes your hands more powerful by introducing a number of useful widgets & features. Using this plugin you can explore more design potential and extend the core Elementor plugin even further. This effort will continue in the upcoming years as well.
We are working on WooCommerce's exciting features. Also, we have a plan to bring a rich collection of powerful widgets and features in 2021.
On the eve of the new year, we want to promise you to make your web development journey easier than ever! Thank you for being part of our happy family along with all the ups and downs. We appreciate your contribution, likes, comments, shares, reviews, and especially your choice of Happy Elementor Addons as your preferred web creation tool.
And, once again, thank you to each one of you!
Have a joyful moment with your family and friends! Happy New year to all 🎄🎉