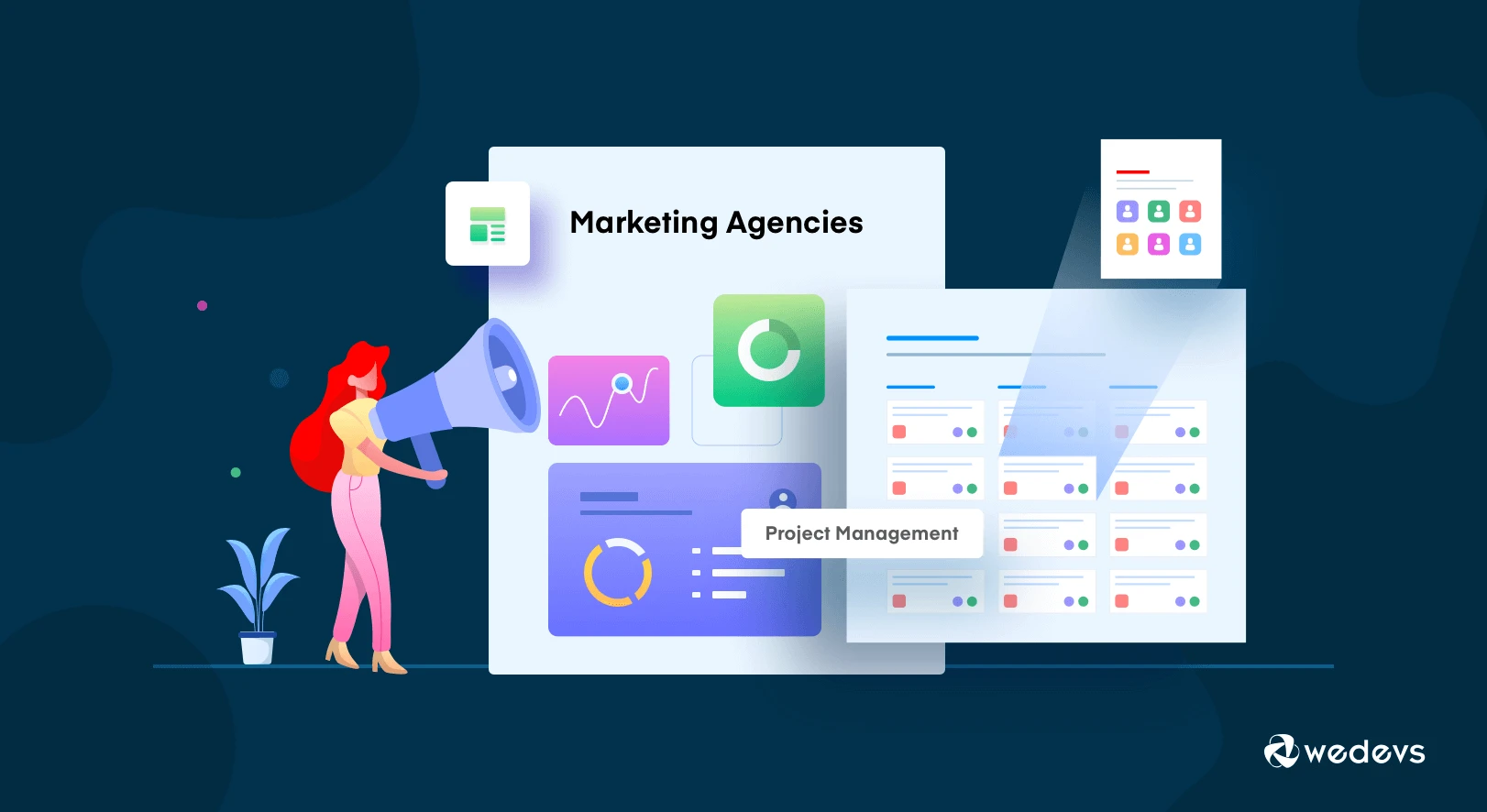 8 Best Marketing Project Management Software in 2023
Searching for a reliable tool to collaborate and manage tasks on different marketing projects?… Yes, you can easily get a complete overview of all your projects using the best marketing project management software available in the market. But, which one to go for?
Marketers who are organized are 397% more likely to report being successful. Also, marketers who proactively plan projects and campaigns are 356% more likely to report success.

Ben Sailer
Without a systematic process, it's tough to keep your marketing team aligned and active. Luckily, the right tool enables you to build a centralized workspace. You can easily plan projects, manage resources as well as collaborate with other team members and clients. Altogether it increases the chance of crushing the project goal.
We've covered 8 Best Project Management Software for Web Designers earlier. Today, we've listed the top 8 project management software for marketing agencies.
Best Marketing Project Management Software in 2023:
| | | | | | | |
| --- | --- | --- | --- | --- | --- | --- |
| Marketing PM Tool | Free Version | WordPress Platform | Cloud Hosted | Basic Price | Refund Policy | Integration with |
| WP Project Manager | Available | Yes | No | Starts at $79/year | 100% refund within 14 days | GitHub, BuddyPress, Stripe, Slack, WooCommerce |
| Workamajig | None | No | Yes | 5 users: $50 per user/month | No refund policy but one month free for annual payments | Plaid, Strata, Google Calendar, PayFlowPro |
| Monday.com | Available | No | Yes | 3 users: $24/month | 30-days refund policy for remaining balance | Outlook, Zoom, Zapier, Microsoft Teams, Slack |
| Teamwork Projects | Available | No | Yes | $10 per user/month | No refund policy but 30-days free trial is available | Slack, Hubspot, GoogleDrive, Dropbox, etc. |
| Workfront | None | No | Yes | Contact with the team | N/A | Adobe Creative Cloud, JIRA, G-Suite Integration, Salesforce |
| FunctionPoint | None | No | Yes | $50 per user/month | N/A | QuickBooks |
| FunctionFox | None | No | Yes | $35 per user/ month | N/A | N/A |
| Hive | None | No | Yes | $12 per user/month | No refund policy but 14-days free trial is available | Zapier, Slack, MailChimp, Gmail |
Time to get the details. Let's start with the basics-
Get Introduced with Marketing Project Management Software
Marketing project management software is specifically designed to help marketing teams. It manages all the tasks from briefing to delivery. This type of tool is generally used for project planning, campaign design, scheduling, resource allocation, progress monitoring, and reporting.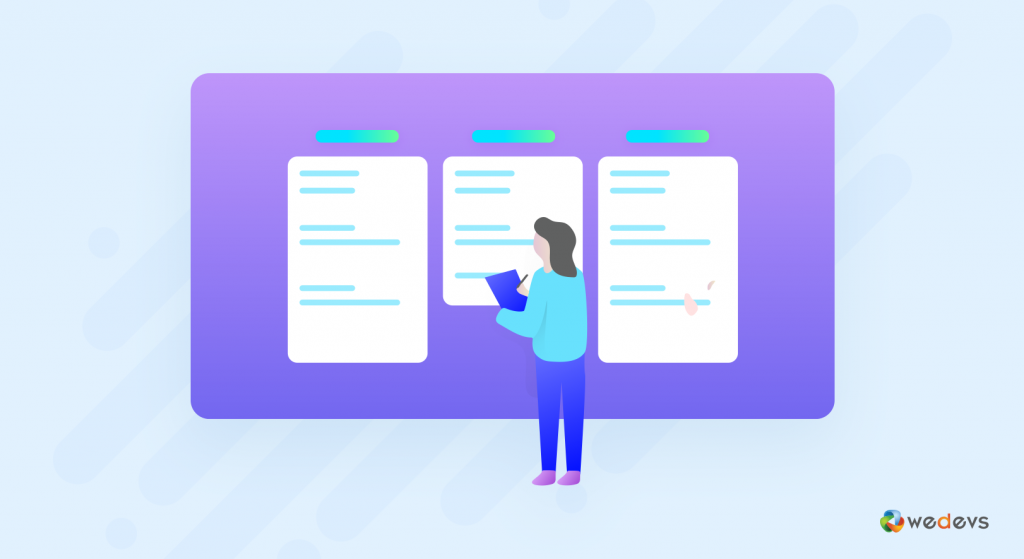 It has marketing-specific features, such as integrations with other marketing tools.
Benefits of a Marketing Project Management Software Explained
A project management software for marketing agency software enables you to:
Track campaign progress and adjust the schedule if necessary
Ensure proper collaboration and communication over the projects
Identify resource availability and distribute them accordingly
Keep all the documents accessible to team members in one place
Measure time spent and return on investment on marketing projects
Particularly, agencies face many difficulties in managing their time and projects efficiently. Around 20% of them have never used any project management software to date. Marketing Agency Growth Report 2018 marked the lack of a project management system as one of the biggest pain points of agencies.
A great project management tool, however, can free up your team's time and energy. So, they can focus on the work that really matters.
8 Best Project Management Software for Marketing Agencies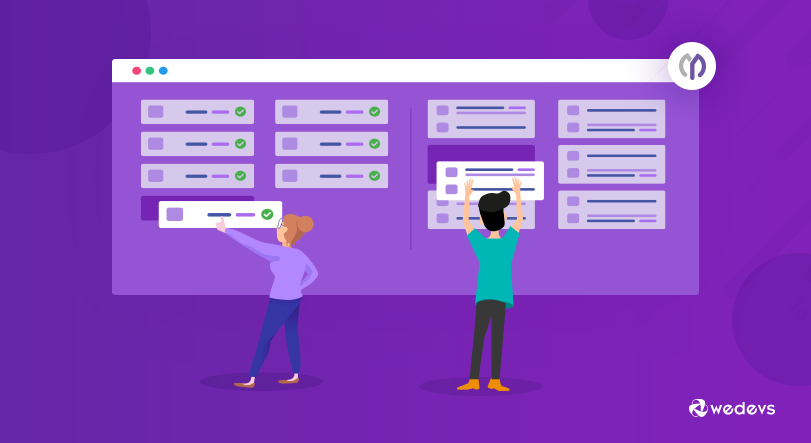 WP Project Manager
Workamajig
Monday.com
Teamwork Projects
Workfront
FunctionPoint
FunctionFox
Hive
1. WP Project Manager- One Stop Solution to Manage Marketing Projects & Teams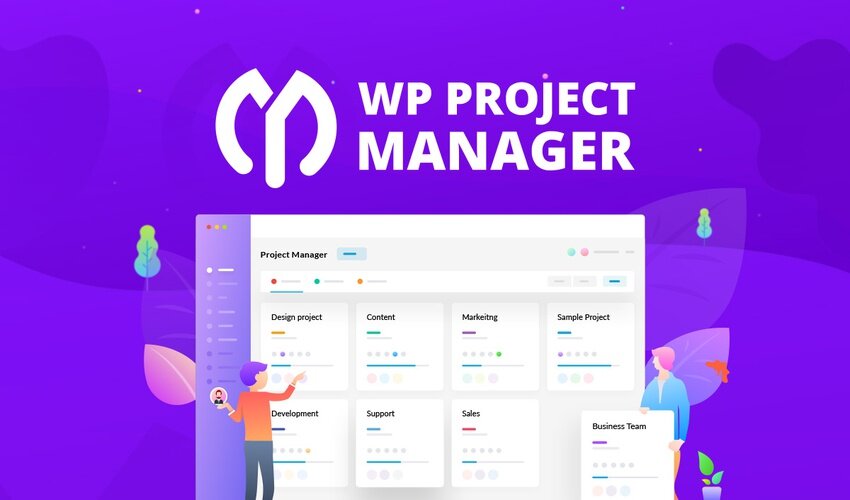 WP Project Manager is a feature-rich WordPress plugin to control and improve project results. It ensures you and your team members easy collaboration and a quick insight into project status.
It lets you create individual task lists for your marketing projects. You can track them separately and generate real-time reports within a few clicks only. Its user-friendly interface and web-based task management feature make it super easy to manage multiple marketing projects inside a business.
More than 10,000+ companies manage their projects profitably using this high-performing project manager tool. No worry about the maintenance- it is easy to install and simple to operate. Besides, you can manage your remote team more efficiently using this dynamic project management tool.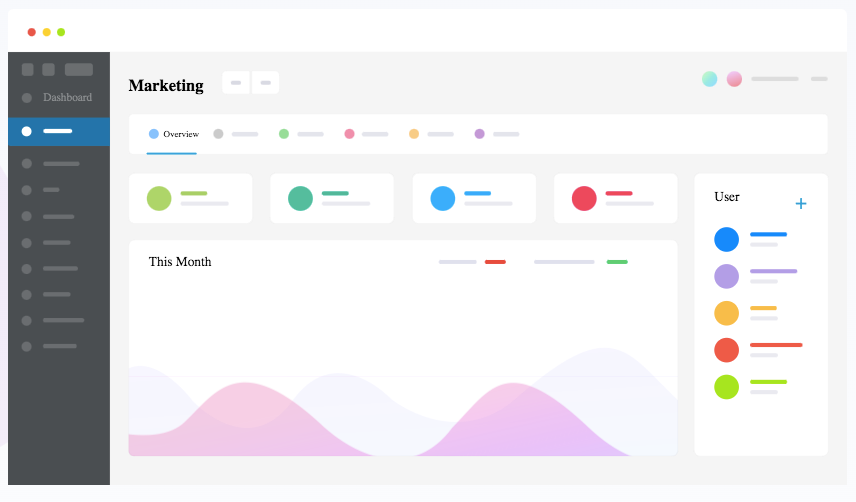 Top features:
Blazing fast speed
Comprehensive dashboard overview
Kanban board for WordPress
Auto-generated invoice for charging clients
Smart representation of a summary report
Task management features like Sub-task, My-task, etc.
Limitation:
Only for WordPress users
Exclusive features are available in paid versions
Price: You can enjoy the basic functions completely FREE. Premium plans come in 3 different packages ranges from $79 to $249. Try the demo version to check the functionalities on your site. Also, it offers a 100% money-back guarantee within 14 days of your purchase.
Who Should Use WP Project Manager?
The perfect tool for medium to large size enterprises who more likely need reports in different formats. Besides, it's essential for the teams who need continuous collaboration on multiple tasks.
2. Workamajig- Best Marketing Workflow Software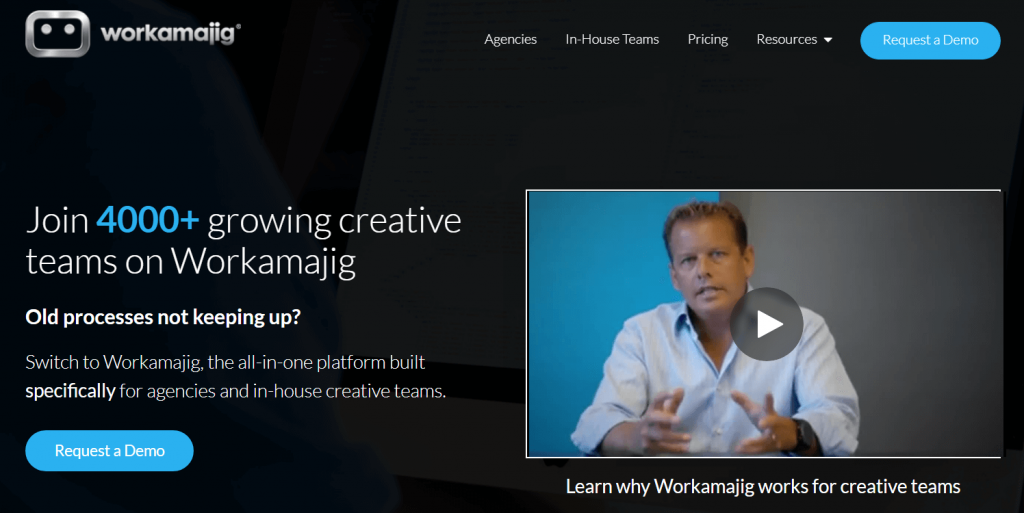 Workamajig, previously known as Creative Manager Pro, is a customizable, web-based project management software. It brings all the departments and their tasks on a common platform. Such as accounting, campaign, media, traffic, client management, production-related tasks, etc. More than 4000 teams and 80,000 users rely on this tool to supervise their projects. Creative teams like TOYOTA, AEROSOLES, KOHL'S, Integer use this platform to operate their businesses.
Top features:
All billable time is captured and invoiced
Marketing data can be turned into a sales CRM
Reports are automatically generated from templates
The custom dashboard features based on user roles
Support project methodology including Agile, Kanban, and Waterfall.
Things that can be improved:
Seems complicated for first-time users
Price could be reasonable for the basic plan
Price:
Workamajig does not offer any free plan. Paid plans start at $50 per user per month; for a 5-9 members team.
Who Should Use Workamajig?
Workamajig is an attractive option for creative teams who needs to collaborate among all the parts of the project. Such as finance & accounting, CRM, resource management, etc.
3. Monday.com- Best Marketing Project Management Software for Team Management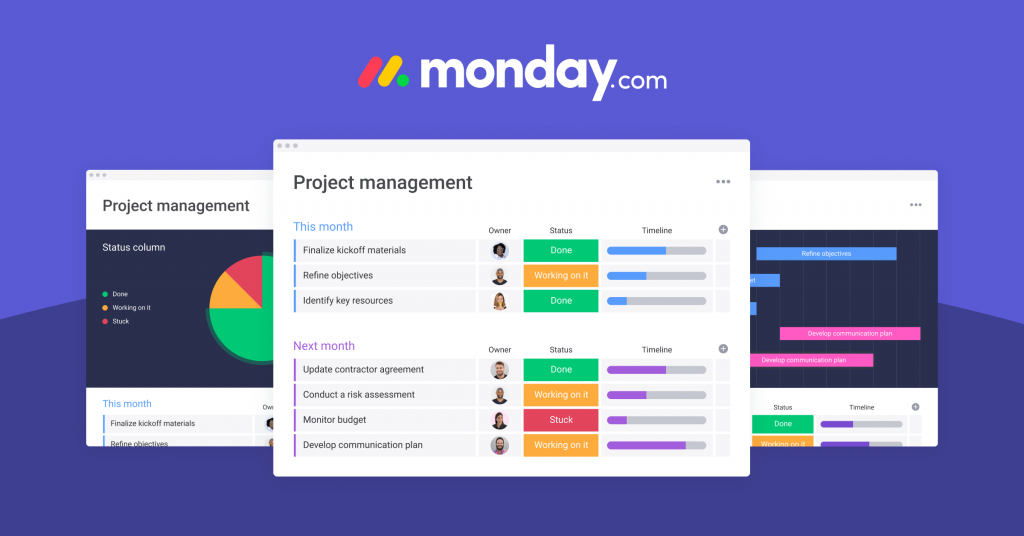 Monday.com is a cloud-based Work OS designed to plan projects, manage workloads, and collaborate. It empowers the team to work in a fast dynamic way. More than 100,000 extraordinary teams of all sizes use this tool including Adobe, Unilever, Abbott, Hulu, and so many.
Using Monday, it's really easy to manage the core functionalities of a marketing team. Such as campaign/event management, editorial calendar, and client management. Moreover, you can check the progress instantly using its advanced reporting system. It includes timelines, charts, and interactive dashboards.
Top features:
Reuseable templates for similar projects
Visibility into different projects' statuses & deadlines
Flexibility to create your own automation rules without using any code
Personal messaging for individual task
File management in different formats for each task
Seamless integration with 30+ popular marketing tools
Limitations:
Kanban board does not have top-notch facilities
Scope to speed up the application while managing a large team
Only available on the public cloud; Have no VPC or On-premises option
Licenses are available in predefined buckets only. Suppose you have a team of 27 people, you have to pick between purchasing 25 or 30 licenses.
Price:
Monday.com comes in four different pricing plans: basic, standard, pro, and enterprise. It offers users monthly based subscriptions starting from $24 only.
Who Should Use Monday.com?
Monday.com is a good option for larger marketing teams that prioritize automation over usability. Along with it lets you build a specific workflow for your marketing team in less time.
4. Teamwork Projects- Best Marketing Project Management Software for Project Visibility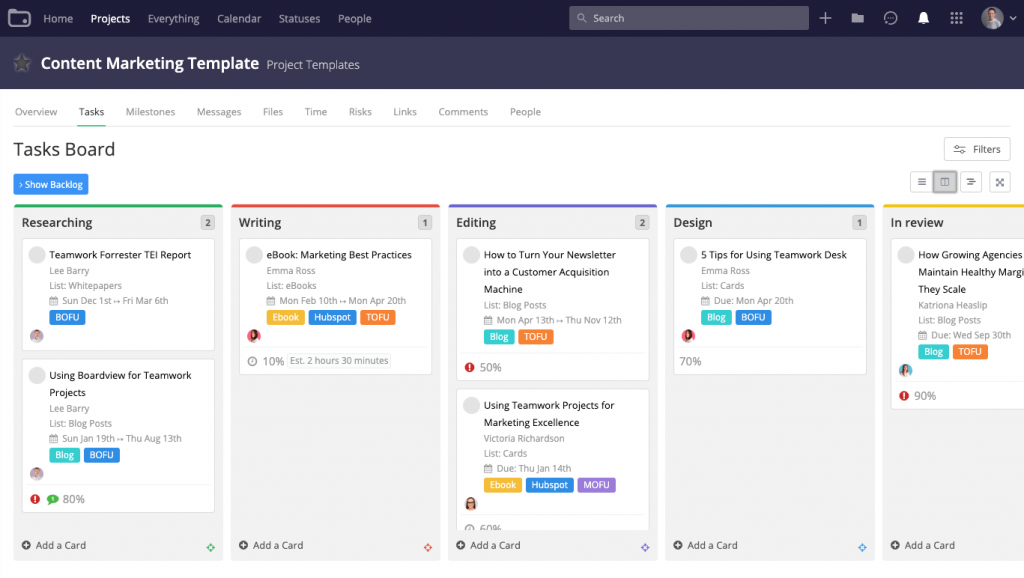 Teamwork Project is a cloud-based project management solution. It has all the core functions a marketing team needs to perform within a project. Advanced features may take your team collaboration to the next level. Get features such as task-specific communication channels, social media content channels, real-time activity logs, and "notebooks" for additional data compilation.
Brings together, remote workers. Notify stakeholders of pending tasks if their delays interrupt further work. This feature is also useful for project coordination that involves multiple steps and people.
Teamwork project is trusted by over 20,000 companies around the world. Such as NETFLIX, Disney, Spotify, PayPal, etc.
Top features:
Customizable project templates
Interactive product interface and simple to learn
Gantt charts visualize the progress of different tasks in a project
Detailed task lists include tasks, sub-tasks, assignee, due dates, & priority labels
Seamless integration with hundreds of popular online applications.
Limitations:
The time tracking feature could be more robust
The UX design can be intimidating to onboard a variety of external clients
Gantt chart view should be more interactive and user-friendly
Price:
Teamwork Projects has a freemium version that supports up to 5 users and allows you to add up to 2 projects. There are 3 pricing models starting from $10/month.
Who Should Use Teamwork Projects?
Teamwork Projects is specifically designed for project collaboration. So, it works great for small business marketers in agencies, creative teams, and in-house marketing departments.

5. Workfront- Best for Managing Complex Marketing Project Workflow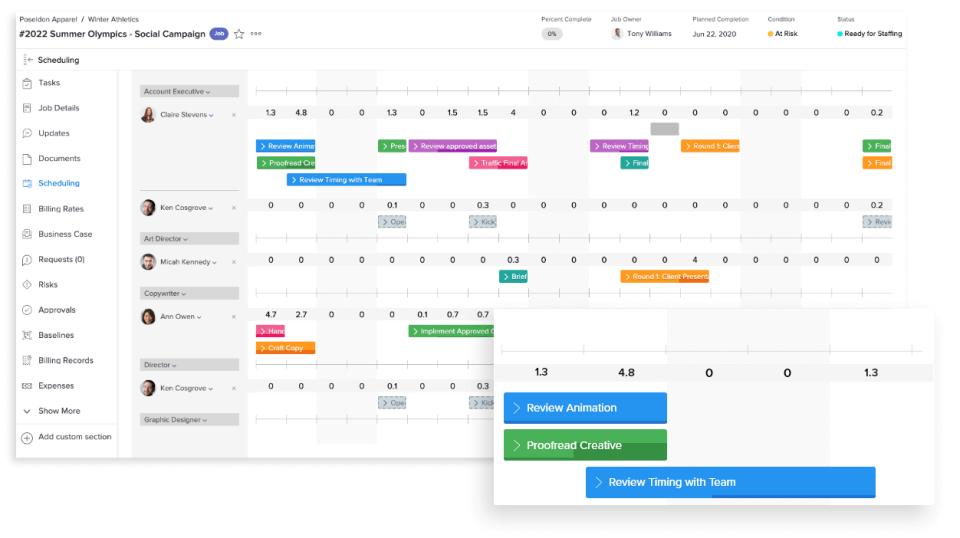 Workfront is another cloud-based solution. It gives you an all-in-one solution with lots of amazing features. At first, you may find it complex. But this complexity gives this software incredible flexibility too. The platform also provides you options for full project management, client service, and integration with various other services.
Top features:
Fully customizable project dashboards, task boards, timesheets, & notifications
Simple task allocation process based on availability and skillsets
Work backlog feature for creating and prioritizing request queue
Custom project workflows with builtin approvals system
Real-time collaboration via instant messaging & project comments
Ability to mark teams as Agile to divide work into stories or points
Limitations:
Quite layered so takes time to explore all the aspects
Requires time to fully utilize this product
Slightly expensive for small teams
Price:
Workfront offers 3 different pricing plans – you must request a quote for each plan.
Who Should Use Workfront?
Workfront is designed for handling complex projects that include multiple steps and teams. So, mid-large sized enterprises can use it to collaborate with a lot of people and teams, both within the organization and external clients.
You may also read: 10 Best Free Project Management Software for Small Business
6. FunctionPoint- Best Agency Management Software to Create Powerful Insights

FunctionPoint is a project management software designed only for creative industries that are looking to streamline their business. This software helps agencies improve their productivity and profitability.
FunctionPoint empowers marketing agencies to easily manage multiple projects across multiple teams, track time, and adjust budgets. More than 600 agencies use FunctionPoint including Ogilvy.
Top Features:
Analytic tools find you the most profitable projects & clients
Centralize information and deliver real-time business data
Proper workload distribution keep staff accountable
File sharing and approvals workflows
CRM & Estimating for marketing agencies
Advanced reporting and invoicing
Limitations:
Doesn't support integration with other systems
Overwhelming for smaller marketing teams
Price:
Function Point does not offer any freemium version but you can request a free demo. There are different packages for monthly and annual subscriptions- starts at $50.00 per user, per month; for 5-9 users.
Who should use FunctionPoint?
FunctionPoint is suitable for large marketing teams who need frequent real-time collaboration. Also, want a deep project insight.
7. FunctionFox- Best Creative Marketing Project Management Software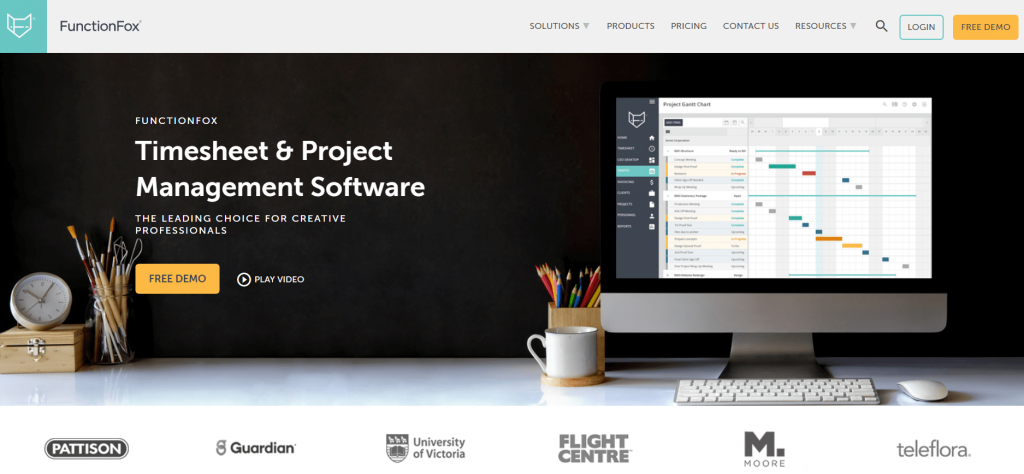 FunctionFox lets admins invest more time in creative works rather than managing projects. Easy configuration and a simple set-up process make it highly effective for creative agencies. Most importantly, it covers many exclusive features like online timesheets, expense tracking, advanced reporting, and internal communication.
In addition, they are well-known for their 5-star service and free expert advice. That is the reason around 500 companies worldwide manage their projects using Function Fox.
Top features:
Admin dashboard for better productivity and profitability
Easy monitoring of project time and expenses
Advanced Gantt charts for better project planning
Real-time reports provide details about each project
Custom fields let you add information unique to your agency
Group and individual calendars for users
Limitations:
No team capacity planning or workload management features
The tool gets uneven around the edges.
Price:
FunctionFox has a free 14-day demo. Paid plans come in 3 different packages. Basic pricing starts from $35/month for 1 user + $5/month per additional user for timesheets and project tracking.
Who Should Use FunctionFox?
It's a good choice for advertising agencies, graphic designers, PR, digital, marketing firms, and in-house creative teams.
You may also read: 5 Best Project Management Software for Designers
8. Hive- Best Marketing Project Management Software for Team Collaboration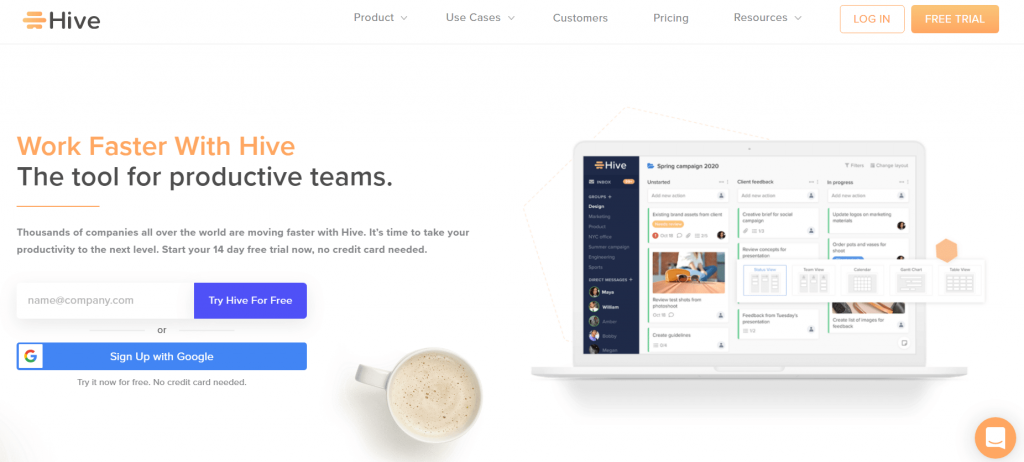 Hive supports all the functions of both project and campaign management software. This software includes comprehensive managing capabilities to keep a multi-step project run smoothly.
Hive streamlines your work in one centralized platform. The tool also includes features like Gantt charts, AI-based analytics, native calendar, thousands of integrations, and more. Additionally, Hive allows users to create and organize tasks for themselves and their teammates. It includes task deadlines, attachments, and labels.
This marketing tool is loved by many well-known giants like Starbucks, Google, Toyota, Uber, WeWork, and IBM.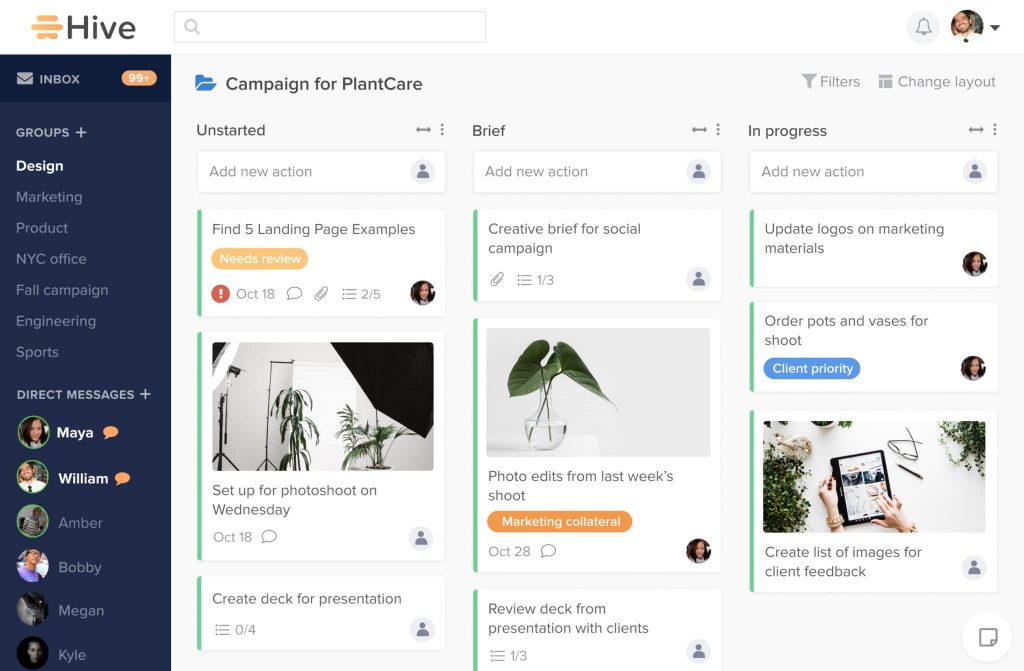 Top Features:
Simple and intuitive interface with action cards
Flexible view capabilities between kanban and Gantt
Monitor and report on projects in real-time
Easy communication and commenting option
Document sharing directly on a task, project, or message
Proofing and approvals system for optimized workflow
Custom forms for collecting information
Limitation:
Not very easy to navigate
Unable to create dependent tasks
The search function is not available for each project
The phone app is not as responsive as the desktop version
Price: Hive has a 14 day free trial. Premium plans start at $12 per user per month when billed annually.
Who Should Use Hive?
Hive is the perfect tool for managing marketing campaigns. It is specially designed for teams of all sizes who need to share files, chat and automate task management.
How Project Management Software Helps You in 2023?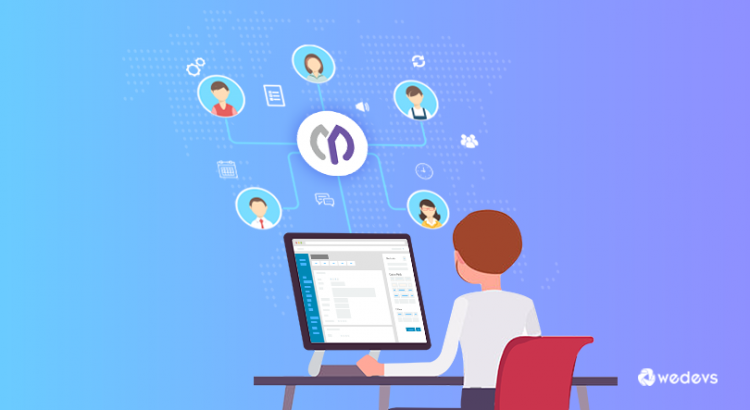 While the existence of COVID-19 first acknowledged, who thought it would bring such a drastic change in workplace culture? From remote work and restricted transportation to furloughs and layoffs, it has changed everything.
However, the pandemic forced many companies to go remote all of a sudden. Even organizations that were not ready to deal with a small remote team sent all their employees to work from home. In turn, project managers get the real challenge to keep everything and everyone aligned with the ultimate business goal.
Marketing agencies also get trouble managing the whole process remotely from setting strategy to run campaigns. Luckily, they're rapidly adopting project management principles and start using software applications. Subsequently, it helps them to increase the team's efficiency and better serve their clients.
FAQ(s) About Marketing Project Management Software
1. Who Is Marketing PM Software For?
Marketing management software is crucial for all types of marketing teams. Such as-
Marketing agencies
Internal marketing teams
Marketing consultants
Freelancers
Designers
Brand management firms
Advertising agencies
2. What Does Marketing Project Management Software Do?
Here are the core functions of a Marketing PM tool-
Campaign planning
Task management
Team collaboration
Resource allocation
Workload management
Client communication
Time tracking
3. What You Should Consider Before Getting a Project Management Software?
Based on your working process, you can choose a project management tool for your marketing team. These are the core functionalities you should look for-
Simple configuration, intuitive UX design with easy navigation
Customizable according to your specific project needs
Easy to manage workflows & monitor campaign progress
File sharing facility across the team and stakeholders
Turning project reports into invoices and estimates
Schedule projects considering team capacity & resource availability
Multiple collaboration options between team members
Instant notification for updates on project statuses, deliverables, and changes to task lists
Remember, a PM tool may have plenty of attractive features. But count those features only which you actually need. Then make a decision that is worth your money indeed.
4. Why Project Management Tool is Essential for Marketing Campaigns?
Marketing campaigns have a lot of moving parts. A lot of people, variables, and resources are involved here. Here, deliveries are highly time-sensitive. Marketers also need to work closely with the clients running successful campaigns. Luckily, marketing project management software helps you keep track of every task and deliverable in one place.
Conclusion
The use of project management software has increased dramatically over the last few months. Shifting of workplace culture to the home office is one of the biggest reasons. It is the best way to connect all your remote employees on a common platform. And most importantly let them collaborate in real-time.
Even if this fact is not considered yet your marketing agency needs a high functional project management tool to streamline the marketing process. This allows you to see where a project is at with budget, timelines, and invoicing.
So, which project management tool are you using this time? Which feature you mostly use or miss in your current solution? Share your experience with us in the comment section below!