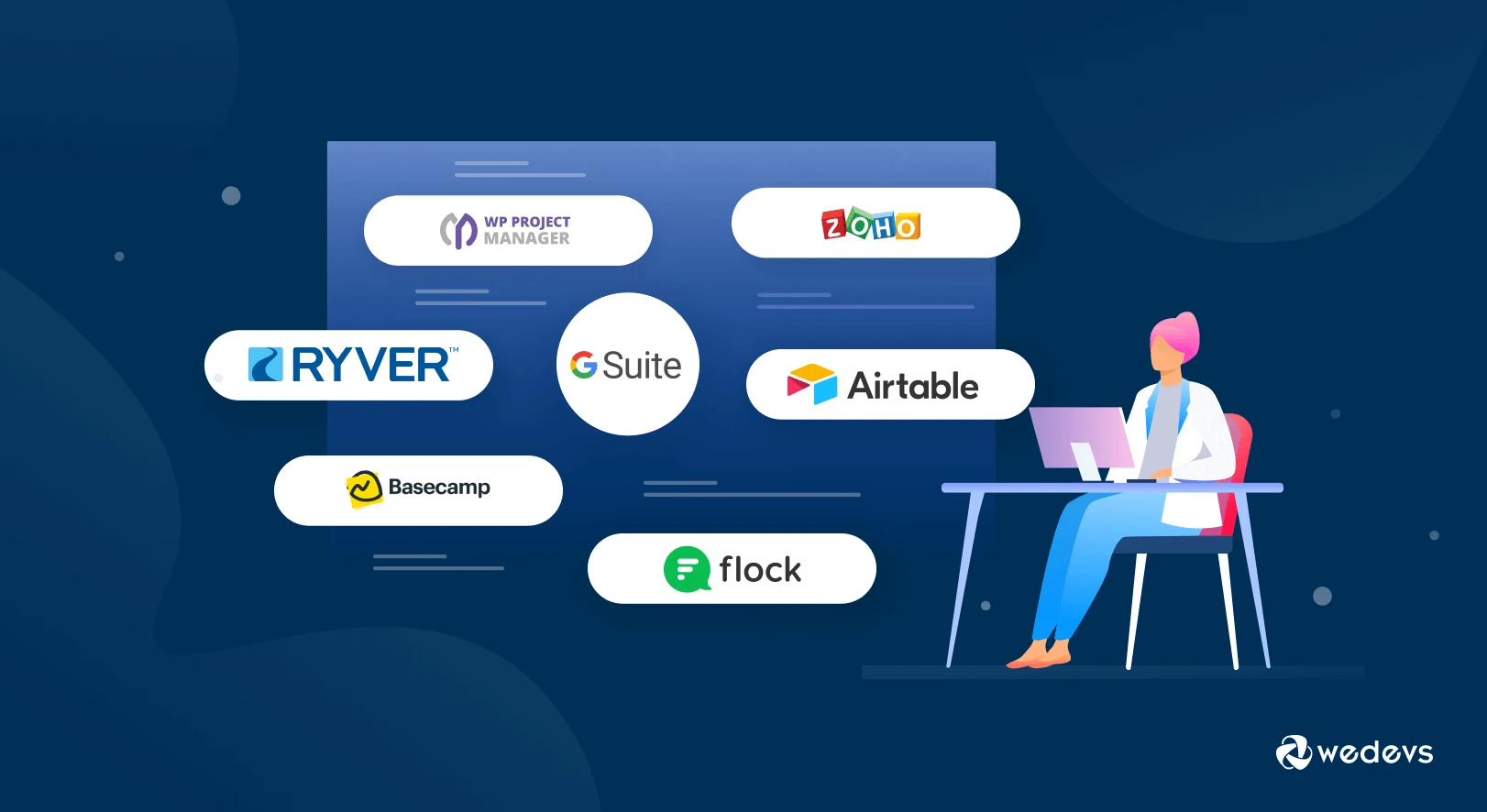 Top Project Collaboration Software To Improve Team Productivity and Efficiency
Project Collaboration Software helps your team members stay connected and productive. It links your team creatively even though they stay worldwide. As the world moves fast, companies are adopting remote or hybrid work models for the long run. So, teamwork becomes the key to success. The right tool can reduce your effort of reforming the workflow.
Apps Run the World says that the market will expand from $12.4 billion to $13.5 in 2019 to 2024.
There is a wide range of Project Collaboration tools in the market. Most of them are adept at performing specific jobs. Based on the task complexity and team size, you have to pick the best answer for your business.
Now we're going to review the seven best collaboration tools for your business. We'll also disclose the selection method and share some tips about the tools.
10 Best Team Collaboration Tools for 2023
| | | | | | |
| --- | --- | --- | --- | --- | --- |
| Product | User Dashboard | Messaging | Time Tracking | Free Account | Price |
| WP Project Manager | Yes | Yes | Yes | Available | $ 79/ year |
| Zoho Projects | Yes | Yes | Yes | Available | $5/user/month |
| G-Suite | No | Yes | No | Available | Free |
| Basecamp | Yes | Yes | No | Not Available | $99/month flat |
| Airtable | Yes | Yes | No | Available | $10/per seat /month |
| Ryver | Yes | Yes | No | Not Available | $49/month |
| Flock | No | Yes | No | Available | $4.50/user/month |
| SmartTask | No | Yes | Yes | Available | $5/user/month |
| Scoro | No | Yes | Yes | Not Available | $26/user/month |
| Fleep | No | Yes | Yes | Available | $5/user/month |
1. WP Project Manager- Best All-In-One Project Management Tool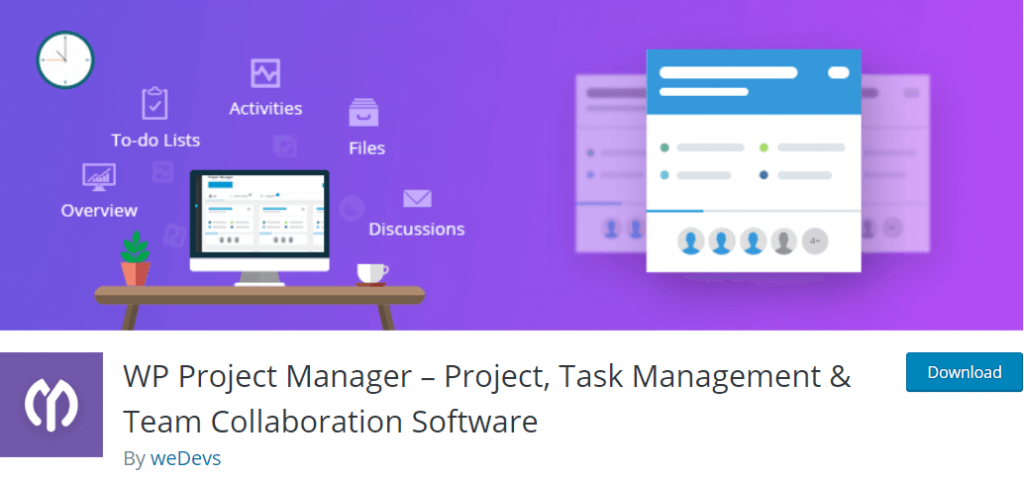 WP Project manager is a popular WordPress plugin that allows its users to handle all project-related tasks right from their dashboards. It creates a central hub to connect all the employees in one place.
This plugin empowers users with advanced features like creating unlimited to-do lists/sub-tasks, assigning tasks, including comments in tasks, and many more. Here admin has the power to create multiple projects and assign associate persons to perform the tasks. Each team member can see their progress under a specific project or task. Also, people can add comments on tasks and send attachments. Hence, it becomes easy to exchange feedback.
Kanban board lets you see all the tasks of a project and organize them on different boards. So, you can get a quick overview of what's actually happening inside a project. Therefore, you can mitigate issues before even they arise. And ensure that the project will land within the allocated time frame.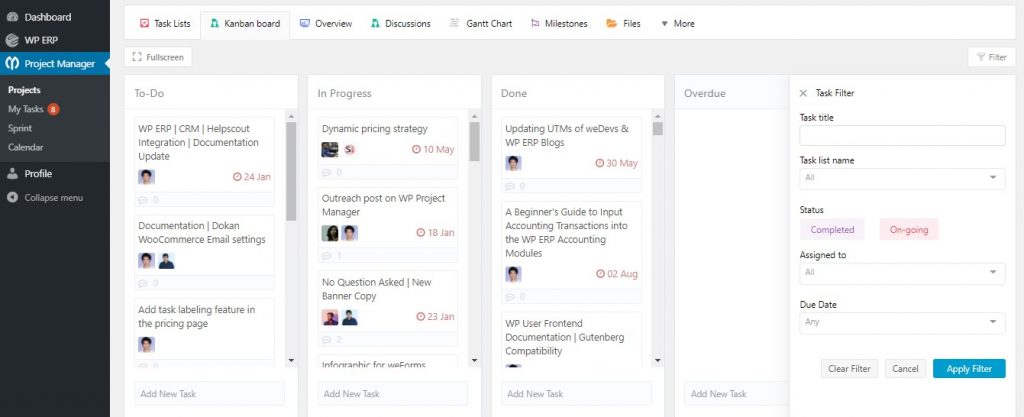 Kanban board also enables you to define permission levels and roles for each project. In turn, you'll get complete control over your team. Plus, you can generate advanced reports with detailed insights. This means you can do better project estimations by getting automatic reports for tasks, milestones, projects, and user activities. You have the flexibility to filter reports by project, co-workers, time, & more.
Top Features of WP Project Manager Include:
Time tracking
Interactive Task Calendar
In-project Discussion
Invoice facility
Gantt Chart
Email and push notifications
Besides getting all the core features FREE, WP Project Manager has 9 premium modules for your growing business. The premium packages start from $ 79/ year. There are also plans for lifetime ranging from $ 316. Whether you're running large teams with complex projects, or small teams for simple projects, the WP Project manager will cover all your needs.
2. Zoho Projects- Best Feature-rich Collaboration Software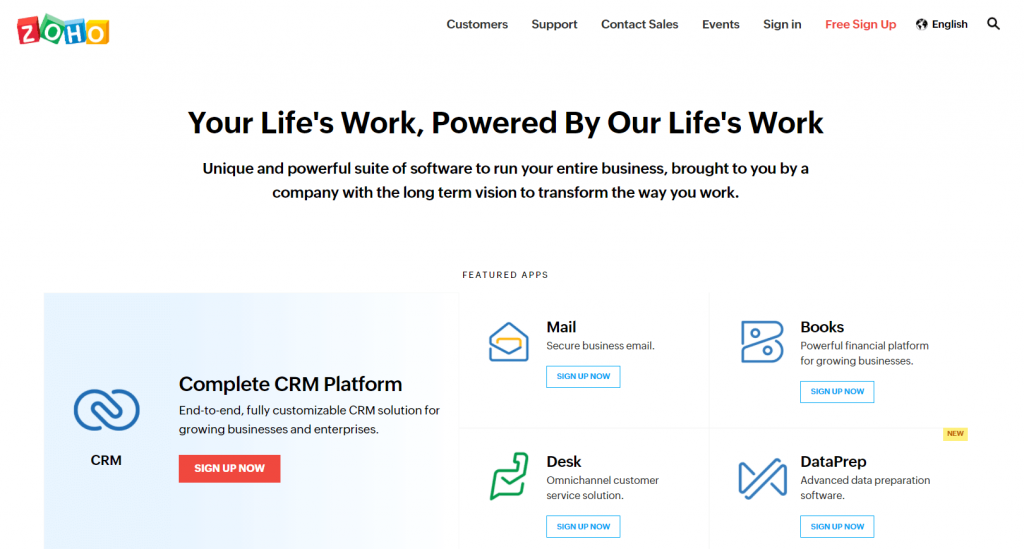 Zoho Projects allows your team to form a smooth conveying channel. It helps the squad to plan, collaborate, and track growth in a simple style. In the end, it increases the chance to hit the goals. By using this cloud-based tool, you can manage all your project tasks from anywhere. Plus, the clean user interface is easier to manage and navigate.
Zoho Project helps you to grip vast variables that you need to manage a large project. You can use this tool to create bespoke layouts, fields, workflows, and statuses. Also, you will get the choices for real collaboration with chat rooms and boards. You can arrange a discussion with one person or the entire squad.
Top Features of Zoho Projects Include:
Gantt charts
Task automation
Chart & reporting
Time tracking tools
SLA management
Task management with Kanban boards
Zoho Projects Tool has the exact solution for specific industries. It includes software, real estate, marketing, schooling, and more. This tool is free to use for three users. Premium packages for Zoho start from $5/month that work for up to 50 users. It offers 10 days free trial for all monthly and yearly plans.
3. G-Suite- Best Collection of Intuitive Collaboration Tools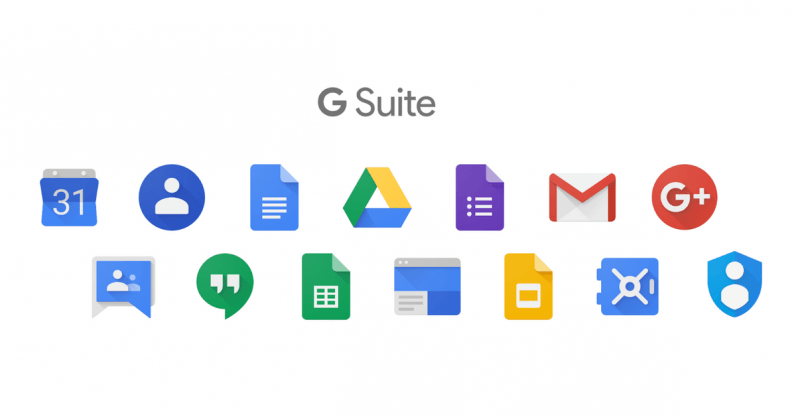 G Suite (also known as Google Workspace) is a group of in-built collaboration software tools. It helps managers to get the best out of their remote staff. As people adapted to working from home, the use of Google Suite tools is also increasing.
G Suit offers 19 diverse apps which make team collaboration easy for all types of organizations including schools, agencies, NGOs, etc. You can use apps like Google Docs, Google Sheets, and Google Slides for several purposes. Such as sharing info, making reports, tracking updates, and so on. Also, you can control access, define user roles, and exchange files stored in Google Drive. Many team members can work on the same file, and the changes are updated in real-time.
Top Features of G-Suite Include:
Popular G-suite apps- Docs, Drive, and Hangouts
Cloud storage
Video and voice conferencing
Real-time collaboration
Built-in message & comment system
Enforce multi-factor authentication
With Hangouts, team members can interact face to face- no matter how far they are. It is easy to access and operate the tools. People can do their tasks using the tools on smartphones, tab, or PC. G Suit chains safety features like access control, authentication, security alerts, and so many others. Google Workspace also supports strong security features like access management, multi-factor verification, context-aware access control, and automated security alerts.
4. Basecamp- Best for Managing Remote Teams
Basecamp is a top choice for remote teams. With the tool, you can bring all remote collaboration into one space. You can manage and work with the team in perfect harmony.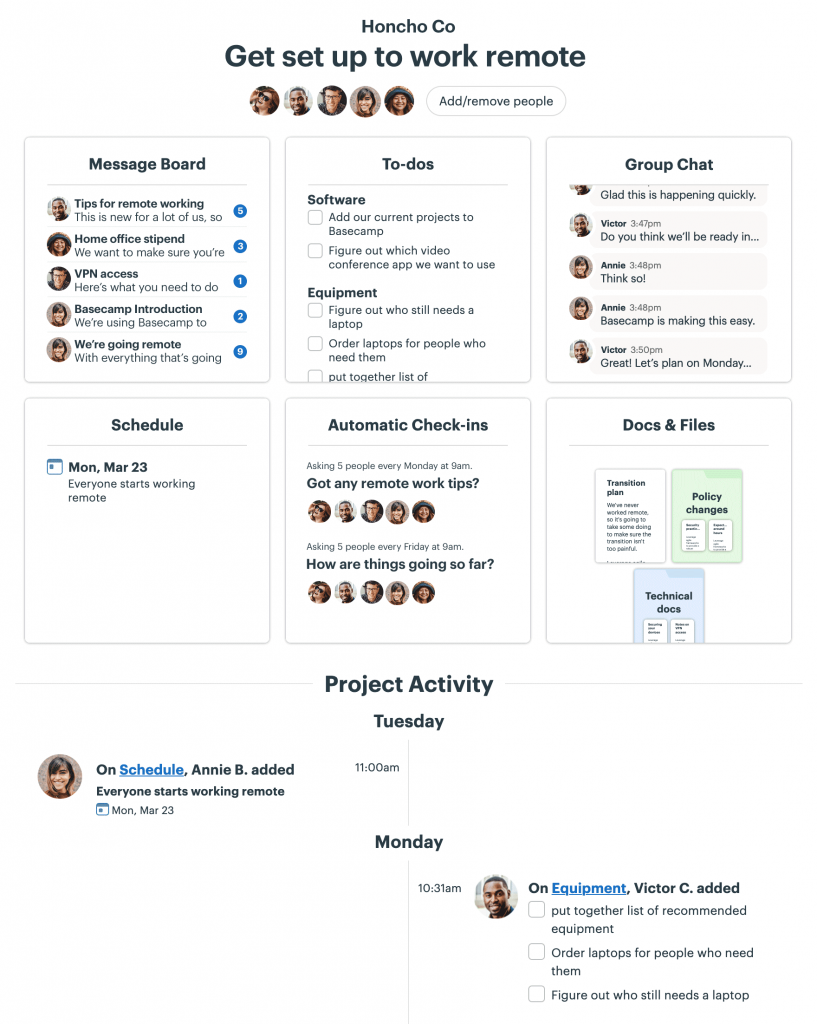 Team members use this tool to set their to-do lists and direct the workflow on the right track. The organized dashboard permits the teammates to access vital info. It supports advanced functions like chatting, task lists, schedules, and other features, as well. Basecamp offers advanced tools for the owners, managers, and end-users.
Top Features of Basecamp Include:
Track team's productivity
File & document sharing
Real-time collaboration
Organized workflow
Basecamp apps & other integrations
Helpful resources
Basecamp offers advanced tools for owners, project managers, leaders, and individual users too. Companies from different industries are using Basecamp to fundamentally improve their project workflow. Such as freelancers, firms, schools, agencies, media houses, etc. Basecamp Business has a flat pricing model of $99/month. They also offer a 30-day FREE trial to start.
5. Airtable- Best Collaboration Software for Complex Projects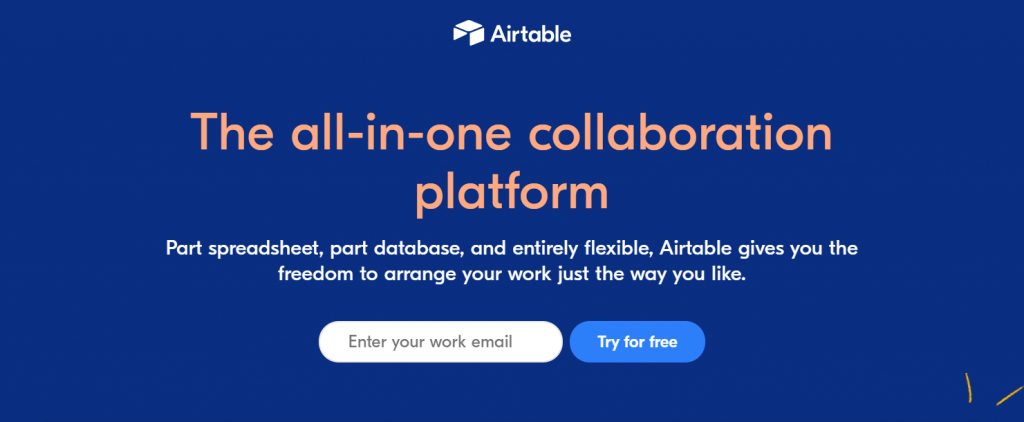 Either you are running a real office or a remote team, smooth communication is the key to attaining the goal. Airtable is a simple tool to align, team up and confirm transparency inside a project team. So the entire team can work together on a project to achieve its targets.
With Airtable you will get the complete freedom to arrange your tasks in your preferred way. It has a mixed features of spreadsheet and database. The platform keeps your team members organized while they work on the same project. You can view tasks in many stock formats such as Grid, Kanban, Calendar, Gallery, and Form. Therefore, it is easier to handle all the tasks in one place.
Airtable lets its users customize the forms by adding unique fields. Field types may be single-line text, attachments, checkboxes, links to records, etc.
Top Features of Airtable Include:
Grid interface
Fully customizable
Drag-and-drop feature
Updated in real-time
Flexible calendar view
Information on stacked cards.
With Airtable, you can employ the tasks of a database. It means you can link between tables, create data relations and decrease data loss. Airtable can integrate with many tech tools, such as Asana, Google Drive, Stripe, and Zendesk.
6. Ryver- Best for Audio and Video Calling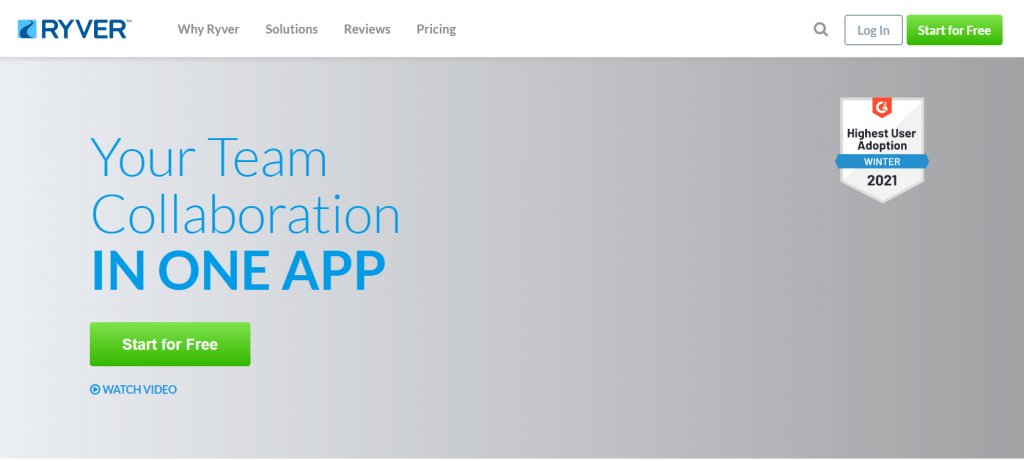 The app gives a lot of tools and resources for better team communication. You can use Ryver to make relational communication at work. It supports voice and video calls. So the team can enjoy smooth communication.
In 2014, the tool came with a design to solve the business email problem. With the moving demand from the users, Ryver updates the feature to create a stout teamwork tool. Now, it has features like group messaging and task management.
Like other smart tools, you can use this platform to arrange meetings with groups and people. Ryver lets you create a limitless number of teams inside the app. You can run several projects at a time by splitting the team into small groups.
Top Features of Ryver Include:
Unlimited chat and topics
Comprehensive platform
Team and personal task boards
One-click calling
Secure Login Methods
Single sign-on (SSO)
Using filters, you can set user access and roles for your posts in the app. This ensures your work privacy and sustains the tree. They set the price at $49/month for their Starter package. You can also pick from their other two packages based on your team size.
7. Flock- Best Online Team Messaging Platform
To achieve a common goal all your team members should share a strong bond. Flock keeps a good connecting channel and aligns it inside a team. It will entirely keep your team in a loop to reach together at the endpoint. Flock creates a smooth info flow in the team. It supports voice and video calls. Creating a to-do list, sharing files, opening poles and voice notes are startling with Flock. You can easily shape a team or one-to-one chat.
Top Features of Flock Include:
Guest Users
Integrated Search
Video and Voice Conferencing
Personal Channel
Mail cast
Direct Messaging
Your data safety is on the primacy list of Flock. So many data safety features are available to help you like admin control, user access, and a few more. A combined search is a master feature of Flock. They set the price at $4/month/user for their pro package. You can also pick the other packages based on your team size.
8. SmartTask- Best Online Tool to Track Shared Projects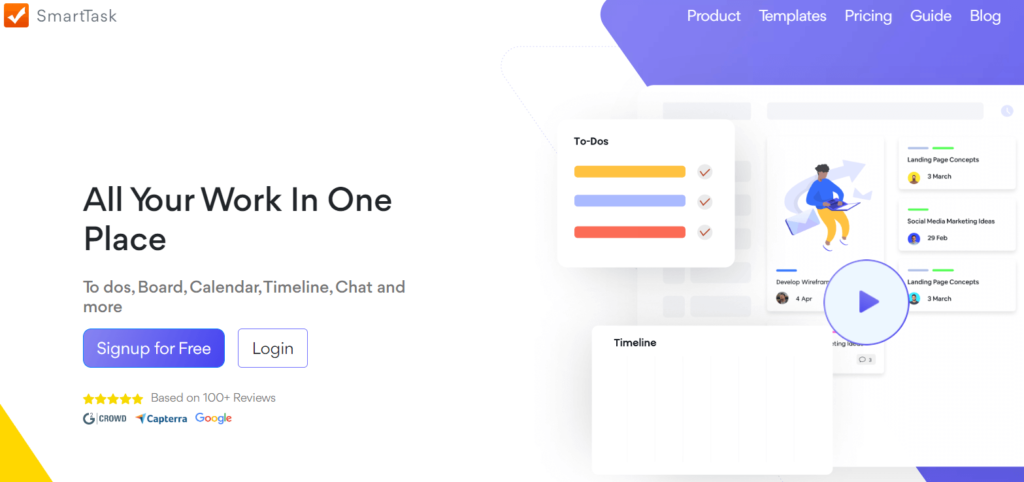 SmartTask is a cloud-based project management tool that lets you assign tasks, comment, and get notified on the tasks you are following. It supports an intuitive interface including a list, board, calendar, chart, and timeline. So, you can manage your all tasks more efficiently than before. You also have the flexibility to integrate SmartTask with your existing tools. Export essential data like tickets, leads, contact forms, and more into SmartTask.
Top Features of SmartTask Include:
Task & project comments
Powerful recurring tasks
Log time for individual tasks
Detailed analytics with custom charts
Inbuilt project templates
Also, there are many features to make your team collaboration easier. Such as instant messaging, video conferencing, tagging, and file sharing. Price of premium SmartTask starts from $5 per user, per month when billed annually.
9. Scoro- Best Project Collaboration Software for Reporting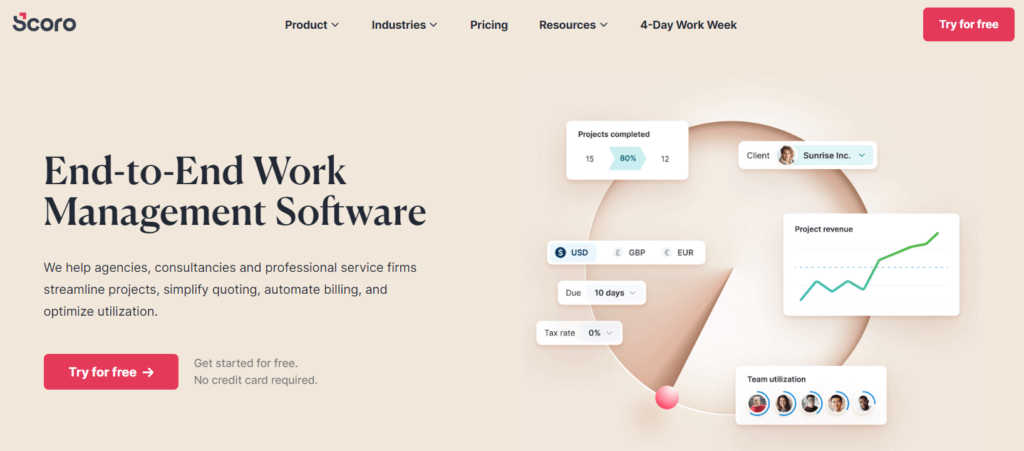 Scoro offers an end-to-end solution to streamline your sales and customers, allocate time & resources and keep track of your business results. It is specially designed for agencies, consultancies, and professional service firms to simplify quoting, automate billing, and optimize utilization. You can use this tool to maintain seamless communication among different teams. Compared to other online collaboration tools, Scoro supports the best reporting features in the market.
Top Features of Scoro Include:
Kanban task board
Optimized resource distribution
Real-time Gantt chart
Automatic routine tasks
Integration of sales & CRM
Scoro starts at $26/user/month billed annually.
10. Fleep- Best Web Collaboration Software for Conversations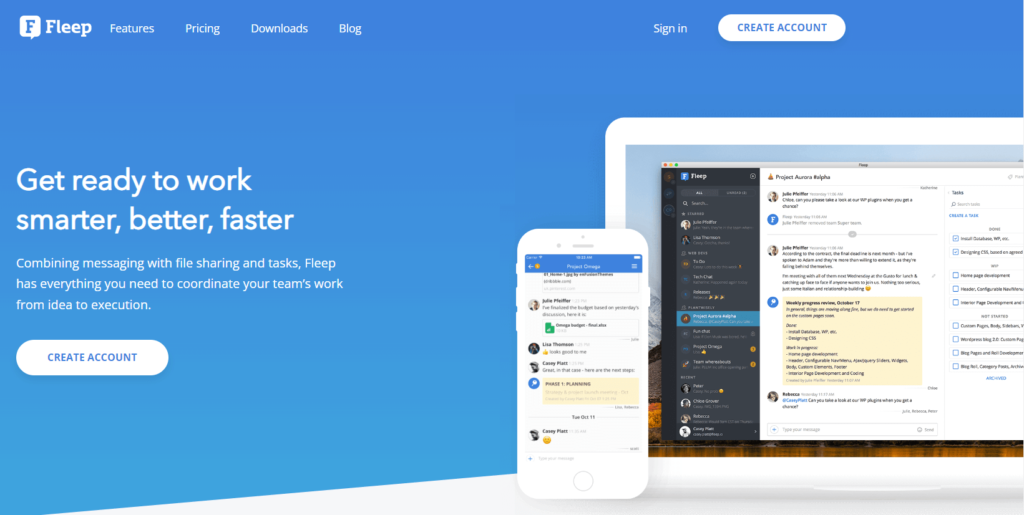 Fleep keeps everything organized so you can bring out the best output from team members of different departments. It enables all the team members to send messages and share files to complete a task successfully. It's a simple yet powerful tool for real-time messaging and communication. You can have the app on your mobile in Windows as well as use it from explorer. Fleep supports a wide range of integration of other applications.
Top Features of Fleep Include:
Audio-video calling
Easy screen sharing
Open network platform
Multi-OS Support
Fleep allows team managers to highlight action plans for day-to-day operations by pinning all action items on the conversation pinboard. With Fleep conversations team members can stay connected, make clear action plans, and coordinate the execution of any task. The price of Fleep starts at $5/user/month billed annually.
What You Should Consider to Pick the Right Project Collaboration Software
Project Collaboration SoftwareFew vital points need careful consideration before buying project management software-
Ease of Use: The tool must be user-friendly. A person should need tiny care to operate it. It should be easy to start and suitable for the entire team.
Adoptive Collaboration: It's great to have the capability to cover diverse types of projects and teams. A good Project Collaboration Software should not be specific for real offices or remote. It must have the feature to update the group about any crucial info. It helps to build a strong partnership among them.
Customization: There should be options for you so that you can customize to adapt to new elements. The top-class tools are always easy to configure.
Lifecycle Management: The aptitude of the software should be enough to manage the whole life span of a project.
Time Tracking: A major part of life cycle management is its ability to track timings. If you track the time correctly, it increases the chance of success.
Real-Time Updates: The tool must have the ability to update in real-time. It helps to judge the decision. For example, you can shift to Plan B if the previous plan does not work. It is the advantage of real-time updates. Price: Account for the price of your project managing software based on team size, project structure, and budget.wp project manager
Common FAQs about Project Collaboration Software
1. What is Project Collaboration Software?
The Project Collaboration Software keeps your team in the same row. So they can converse effectively on the tasks to reach a common goal. These tools allow the teammates to chat and make crucial decisions. In turn, team members get all the updates instantly and start hitting the goals on time.
2. What is the Best Collaboration App?
WP Project Manager allows a stout platform to run many projects at the same time. You will get all the special features to confirm a smooth workflow throughout the business. It increases the prospect to finish the work on time.
3. What is the Use of Collaboration Tools?
The proper contact cut the chance of confusion. It speeds up the workflow and allows the team to share their ideas and updates in real-time. You can use these tools for the following reason:
Easy communication
Share resources
Monitor progress
Keep everything on track
Better team bonding
Crushing goals & so on.
4. What are the Benefits of Collaboration Tools?
The Project Collaboration tools help you in quite a few ways.
Boost up the output
Speed up the work
Integrate information
Prevent miscommunication
Manage the remote teams
Improve the member's happiness.
5. Why do You Need a Project Management Tool?
Project management software sets an efficient workflow for the team. This provides you full visibility into each team member's workload and availability. Thus, you can handle the dependencies accordingly. And ensure better task management across the organization.

Pick the Best Collaboration Tool for Your Business!
An interactive project tool creates a centralized workspace for your teammates. The right tool helps you to observe all from one point. WP Project Manager covers a large number of required features you need to manage from small to large projects.
Plus, it has an easy interface that requires no prior technical knowledge. It means the employees need no special training to operate this tool. If you want something out of WordPress, you can go with Basecamp or Flock to manage remote teams and agencies. Try G-suite tools to connect your team in terms of managing small projects. Have a quick look at the solutions we've mentioned above.
WP Project Manager– Best All-In-One Project Management Tool
Zoho Projects– Best Feature-rich Collaboration Software
G-Suite– Best Collection of Intuitive Collaboration Tools
Basecamp– Best for Remote Work
Airtable– Best for Large & Complex Projects
Ryver– Best for Audio and Video Calling
Flock– Best Online Team Messaging Platform
SmartTask– Best Online Tool to Track Shared Projects
Scoro– Best Project Collaboration Software for Reporting
Fleep– Best Web Collaboration Software for Conversations
What project management tool you are going to integrate into your business? Let us know in the comments!