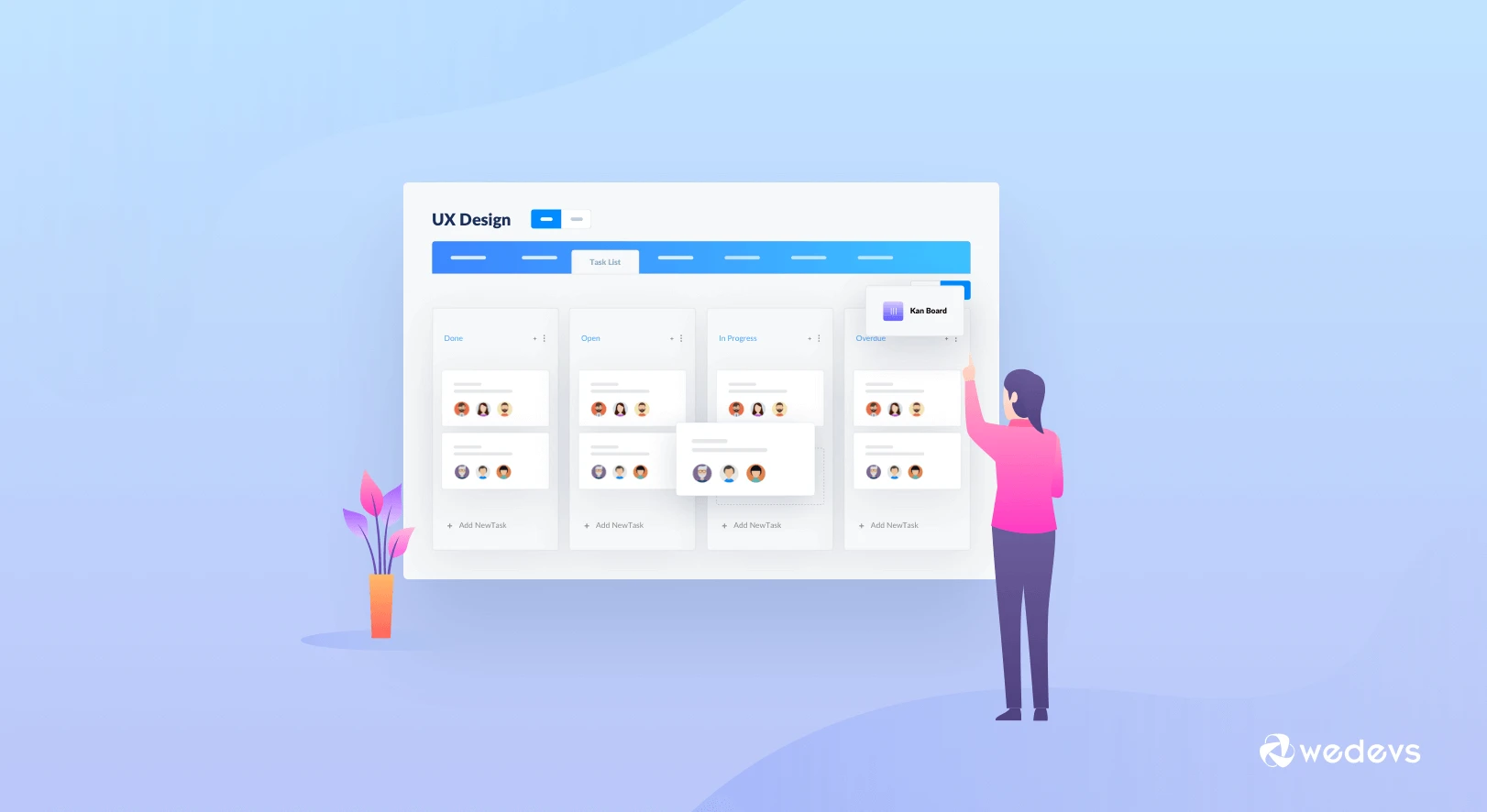 Kanban Methodology: Ultimate Guide for Beginners
Kanban Project Manager is a simple yet powerful tool to simplify the responsibilities of project managers. It's an effective way to run your business more efficiently. Also, it helps you to stay organized and connected collaboratively.
The Kanban methodology is suitable for every business type, size, and goal. It allows you to manage the work-flow in a planned way with a visual representation.
A simple Kanban board consists of several columns to describe the different stages of all tasks. Such as To-Do, In Progress, and Completed. You can also supervise complex scenario by adding more columns. Here, all the associated members can participate to contribute through the organisation.
Depending on your business nature you can arrange your Kanban board particularly. With this PM methodology, you can set the hierarchy level. It assists you to accomplish all the tasks sequentially with ease.
In this beginner's guide, we will discuss how to track all the projects and related tasks with Kanban Project Management. Additionally, it will help you to yield project goals and business objectives with Kanban methodology.
An Introduction to Kanban Methodology in Project Management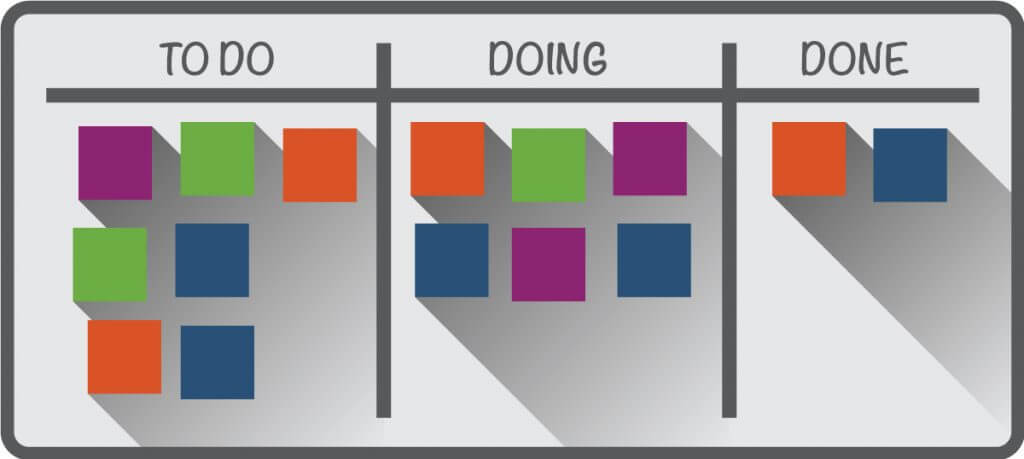 Kanban is a management technique to monitor and simplify the task workflow. It allows you to visualize every step of your workflow on a board called "Kanban board". Therefore, you and your team members can organize and manage the working process in a simple and appropriate way.
Kanban refers to cards that graphically represent the flow of components and finished products throughout the production system.
The tasks that you insert on Kanban Board are known as kanban cards. The core objective of Kanban system is to identify all the tailbacks and remove them from your working process. Since it ensures maximum output at an optimal speed.
Compared to other method Kanban is easy to implement in any business process. You can easily overview the task flow of your team members from anywhere and anytime. As a result, it elaborates on the working arena and flexibility.
In short, Kanban Project Management visualizes your working process. So, you can acquire all the progress reports of your workflow in one place. Despite telling you what is right or wrong, it assists you to improve from your present situation. Moreover, it uplifts your team productivity and collaboration.
Benefits of Kanban Methodology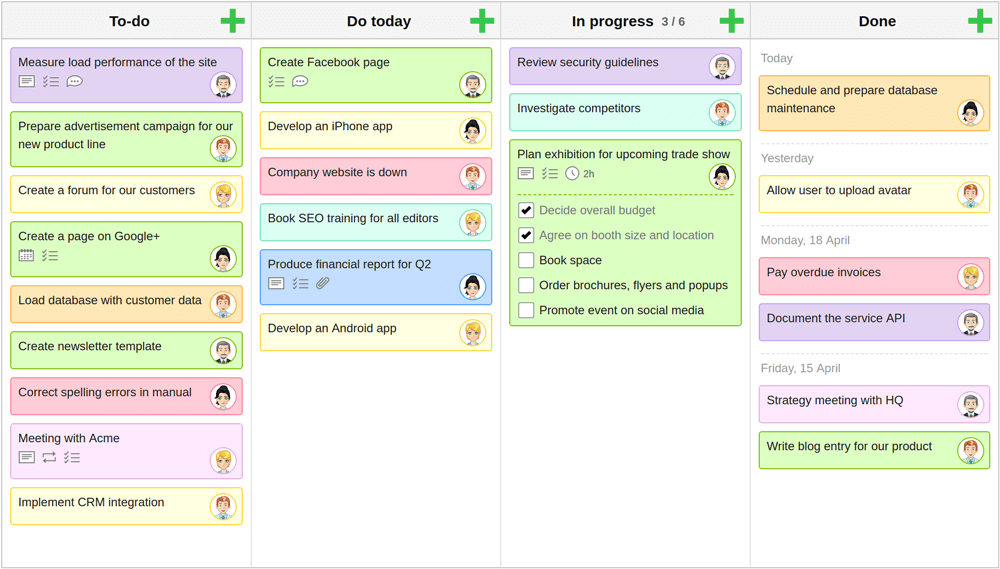 Kanban is a visual system for managing work in a planned approach. With this visual Project Management technique you will be able to keep track of every project and task with ease. However, it can be applied in several ways depending on the hierarchy of an organization.
Proper utilization of Kanban Methodology and kanban board can boost your overall productivity. It is broadly used by software companies to visually manage their task flow. Now, other businesses are also adopting Kanban project management system to manage their projects more smartly.
Here are some outstanding benefits you will get with Kanban Project Manager:
Break down the project into important segments
Visually monitor all the tasks and progress
Easily define priority, time duration, assignee and others
Accelerate the task management to meet deadlines
Easy to keep track of work progress
Diminish waste inspiring overall team productivity
Reduce the workload and give mental relief
Breaking Goals Down into Actionable Tasks:
In order to accomplish the main goal of a large project, you have to complete a list of tasks related to it. In Kanban Project Management you will get the chance to chop a big project into small pieces. And manage them individually throughout the project.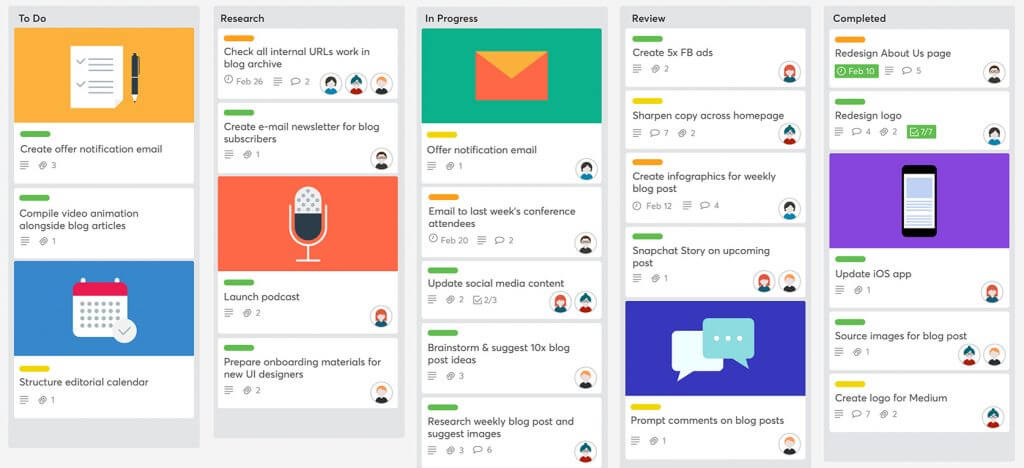 Thus it helps you to complete all the tasks in time as well as acquire the main goal. Also, it will be easy for you to find out all the obstacles that may bother you to reach the ultimate goal. So, you can fix them before they impact on the entire management system.
Reduce Waste
As you can overview and update the task status on kanban board so it is easy to handle all the resources efficiently. Therefore, there is less chance of wastage. Kanban system ensures the reduction of waste in all aspects. It diminishes over-production, unnecessary motion, communication gaps, defects, over-processing and waiting. 
However, Kanban board makes it easier to find out the work status of your team members. So you can take the necessary steps to serve the project objectives in time. This feature ensures that teams don't spend time doing unnecessary work.
Faster Problem Solving:
By using visualization, Kanban represents all the task details in-front of your eyes. So, you can define immediately what is actually happening in a project and who is responsible for that. So, you can easily identify the lacking that is pulling your system backward.
Kanban allows you to bring out all the problems and fix them by providing required assistance.
Minimize Cycle Time:
In Kanban methodology, the entire team put their best effort on reducing work backlogs. It ensures the smooth work flow throughout the project management. Visual representation influences the team members to take quick decision. Rather than wandering around they can focus on their tasks more specifically.
Therefore, beside diminish waste it allows your team to self-organize the visual process & workflows. As a result, they adopt the time management skills accordingly.
Speed up the Workflow:
Kanban Project Manager ensures a complete transparency about the work distribution as well as existing bottlenecks if any. On Kanban boards you can see the workflows depending on the complexity.
So, you can examine particular parts of the workflow to deliver the work on time. It leads to identify the hurdles on the path of progress and remove them. Hence it will accelerate the working process with better productivity.
Better Communication:
Kanban aids real-time communication among the team members. Specifically, you will get an optimized framework to associate with your co-workers immediately. So, it energizes your project by improving team alliance.
Furthermore the visual nature of Kanban Project Manager makes it easy & simple to execute. As team members don't face any extra hassle to adopt this system. So they can spontaneously use the new technique to improve team productivity.
6-Core Practices of Kanban Methodology in Project Management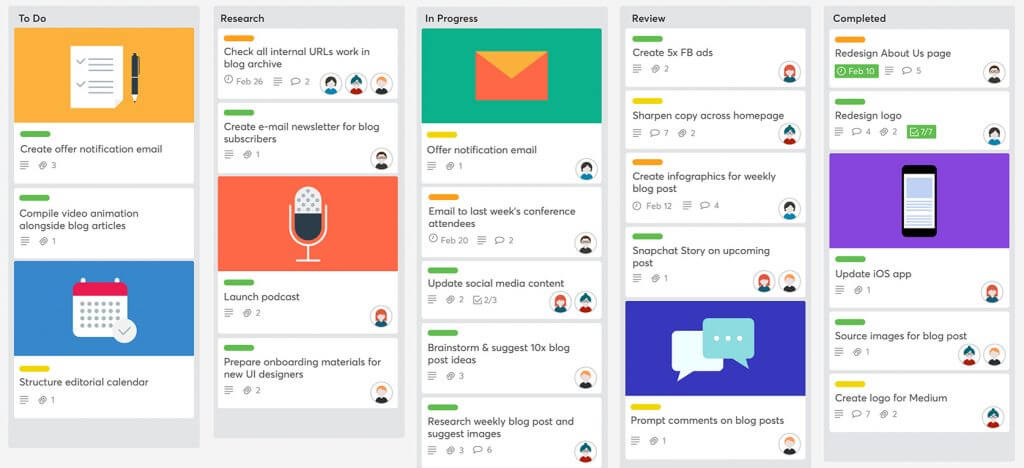 It is already well established that team communication and collaboration are crucial to get success in any project. Kanban technique significantly emphasizes the participation of team members in development. In order to get a smoother workflow you should follow six core practices when using Kanban.
Practice 1 – Visualize Your Work: Kanban system visualizes the entire work process with complete transparency and task status.
Practice 2 – Limit Work in Progress: It's also called WIP. It allows you to allocate the workload appropriately that one can able to handle.
Practice 3 – Manage Flow: It's all about improving the flow of a process so the lead-time is decreased. Lead-time refers to the time limit from when you start working on a task until you are done with it.
Practice 4 – Make Policies Explicit: Every associated member should have a clear idea of the policies and principles. That they can follow and suggest an improvement.
Practice 5 – Implementing Feedback Loops: You should measure and optimize the lead-time and collect customer feedback.
Practice 6 – Improve Collaboratively, Evolve Experimentally: Plan and execute an experiment and find out a new way of working based on the experiment result.
How to Use Kanban Boards of WordPress Project manager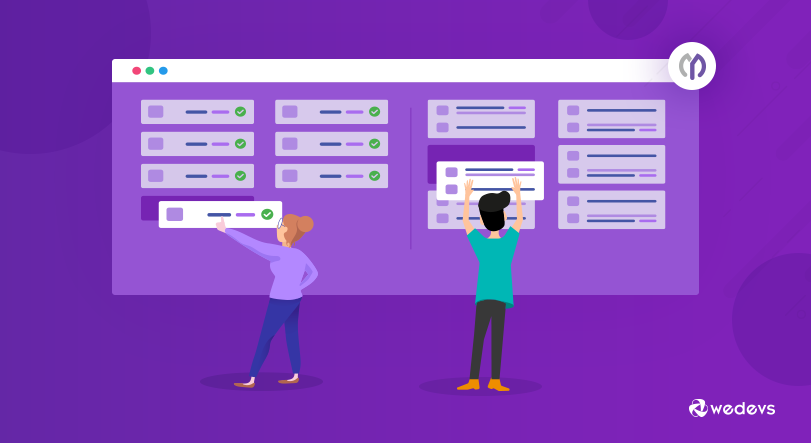 At this present age, every organization prefers to integrate a smart Project Management Tool in their businesses. Project management software helps project managers and owners to ensure the proper distribution of time and resources. It may include task distribution, time tracking, budgeting, resource planning, scope constrain, team collaboration, and many more. So, you can meet the project goal on time.
According to a recent study 77% of high-performing projects use project management software. And this percentage is growing rapidly.
As a WordPress user, you can smartly manage your projects from the site dashboard. However, the WordPress Project Manager is a simple yet powerful open-source Project Management tool. It may help you to manage work and deliver projects timely.
Moreover, it supports 9 interactive and intuitive modules that can boost your team productivity higher. Kanban Board is a pro module of WP Project Manager. This module lets you see all the tasks of a project and organize them on different boards according to their status just like Trello. Kanban Board add-on is developed based on the popular Kanban method of managing a project.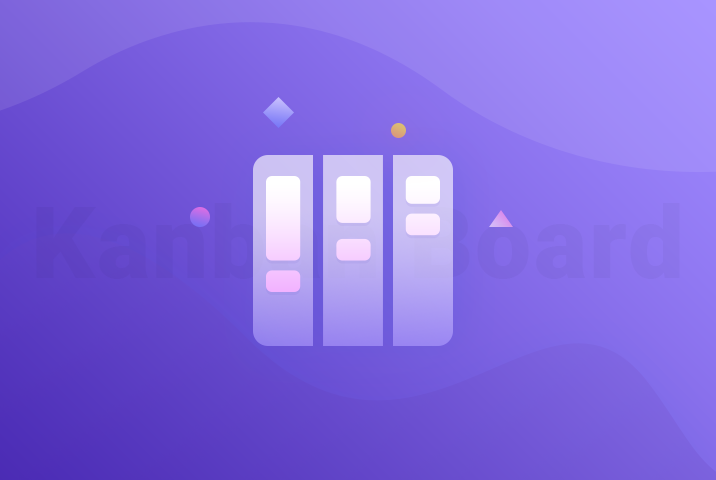 WP Project Manager Kanban Board is the ultimate add-on that allows you to manage tasks based on their status. This add-on lets you see all the tasks of a project and organize them in different boards according to their status. Also, you can customize the board as you like.
Most amazingly, it is super easy to configure and manage WordPress Project Manager Kanban Board on your site. Let assume you have already activated WP Project Management Pro on your WordPress site. Now let see how to get the Kanban Board to organize your projects effectively.
Configuration
In order to activate the Kanban Board Module navigate WP Admin Dashboard → Project Manager → Modules → Activate the Kanban Board.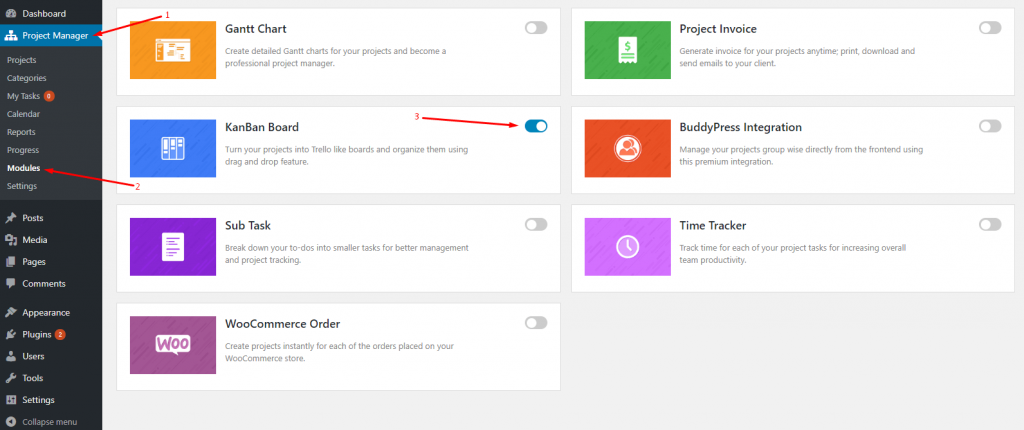 Navigation
Now you can access to your Kanban Board, go to Project Manager → Projects → Select any project you wish to view → Click on Task Lists tab.
After that, on the top right of the page, you will find two small bars one is horizontal and the other is vertical. Now, click on the vertical bars to see the Kanban board of your project.

After clicking on the vertical bar icon you will get the Kanban Board: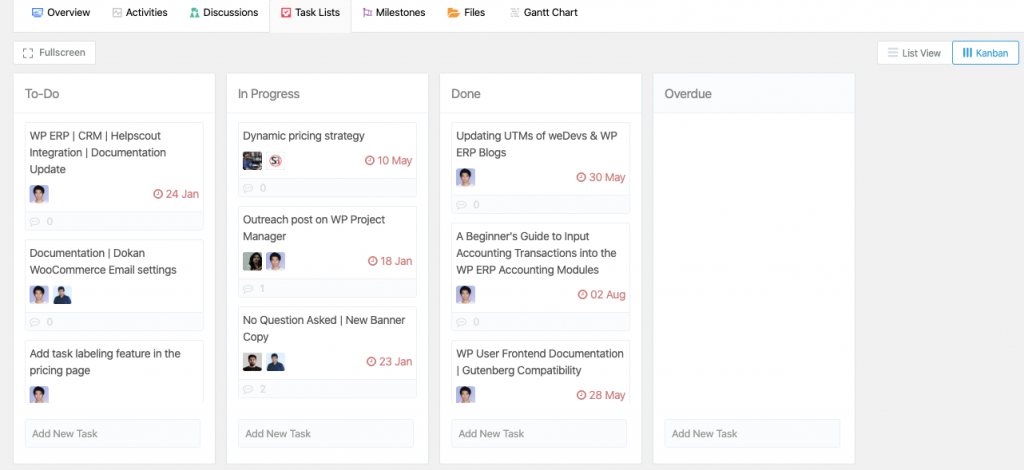 When you enable the Kanban Board Module, you will get four default boards: Open, In Progress, Done and Overdue. You have the full flexibility to customize your boards. It allows you to rename, add or delete a board with a click only.
Next, you can add new tasks on the individual board. In addition, you can edit a task, add subtasks and comment on a task. Thus you can explore go through this documentation to uncover all the amazing features indeed.
So utilizing the WP Kanban board the right way will help:
Visualize the task flow form your dashboard
Manage tasks based on their status
Organize all the task on different boards
Customize the board as per your demand within a few clicks only
keeps a bird's eye on team members performance
Hence, WordPress Project Manager along with Kanban Board Extension will make your workflow management easier than ever.
Kanban VS Scrum: How Kanban is Different from Scrum
As we have mentioned above, Kanban is a visual system for managing the task-flow of a project. This intuitive method fosters continuous improvement, team collaboration, productivity, and efficiency. On the other hand, Scrum is an agile process that helps to deliver the project output in the shortest time.
Depending on your business nature you may consider the following aspects. Give a quick glimpse of kanban VS Scrum before introducing a new Project Management approach:
| | |
| --- | --- |
| Kanban | Scrum |
| Kanban is always open to making changes frequently. | Scrum starts with sprint planning and ends up with sprint retrospective. No change is allowed in mid-sprint. |
| Work is pulled through the project | Work is pulled through the system in sprints. |
| No prescribed roles so flexibility in terms of individual responsibilities. | Pre-defined roles of Scrum Master, Product Owner, and team member. |
| Products and processes are delivered continuously as per the requirement. So testing and review also go on simultaneously. | Deliverables are determined by sprints, so a set of work must be completed for review within the time period. |
| Ideal for teams with stable priorities that unlikely to change over time. | More appropriate for projects with changing priorities. |
| Using cycle time or the exact time it takes to complete one full piece of a project to measure production. | Using velocity to measure production through sprints. |
Implement Kanban Project Manager the Right Way to Organize Task Better
Kanban's visual nature makes it superior over the other Project Management approach in recent days. It lets you and your team members get a better understanding of the work status. Furthermore, with this visual framework, it's easy to track the progress of all the projects and tasks.
However, Kanban stops you from dealing with unnecessary stuff. It helps you to maintain a balanced workflow. So, you can deliver more works without overloading your workers or extra burden.
Nevertheless, this modern approach guides you for continuous improvement and track the metrics with related components. Hence the visual Kanban Board assists the project managers to identify the logjams and fix them immediately. Therefore, smart integration of the Project Management System along with Kanban Methodology will improve your team's productivity and workflow efficiency.
OR