Create a Sports Marketplace using Dokan & Start Your Entrepreneurial Journey Today
eCommerce has seen an explosion in popularity over the last decade. According to research, in 2014, retail e-commerce sales worldwide were roughly $1 trillion. Fast forward to 2021, and it touched $4.89 trillion in no time. The rise of eCommerce has come with a huge range of opportunities for entrepreneurs looking to start their own eCommerce business.
One of the most popular forms of eCommerce business is a multivendor marketplace. You have probably heard of Amazon, which is a multivendor marketplace where any seller can register and set up a shop instantly. With increasing competition, sustaining in the market with a multi-vendor marketplace that sells all kinds of products is tough. It is better to create a specific niche-based multi-vendor marketplace.
One of the great ideas is to create a sports marketplace, as it is a niche that has immense potential. In this blog, we'll dig deep into the process of starting a sports marketplace from scratch. We will use WordPress & WooCommerce at the core of our eCommerce shop, and use the much appraised Dokan to turn it into a high-functional multi-vendor marketplace.
Let's get started.
How a Sports Marketplace Can be Profitable for You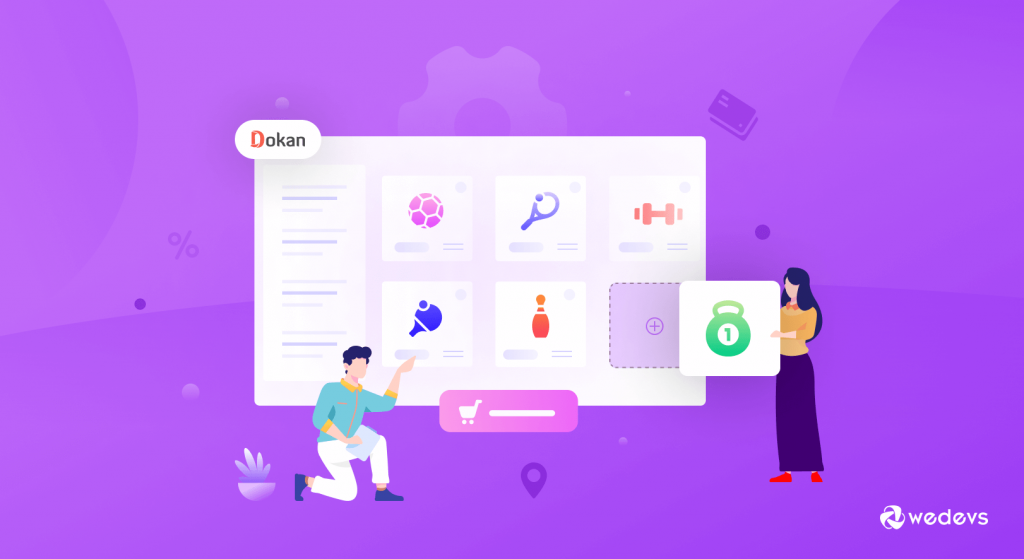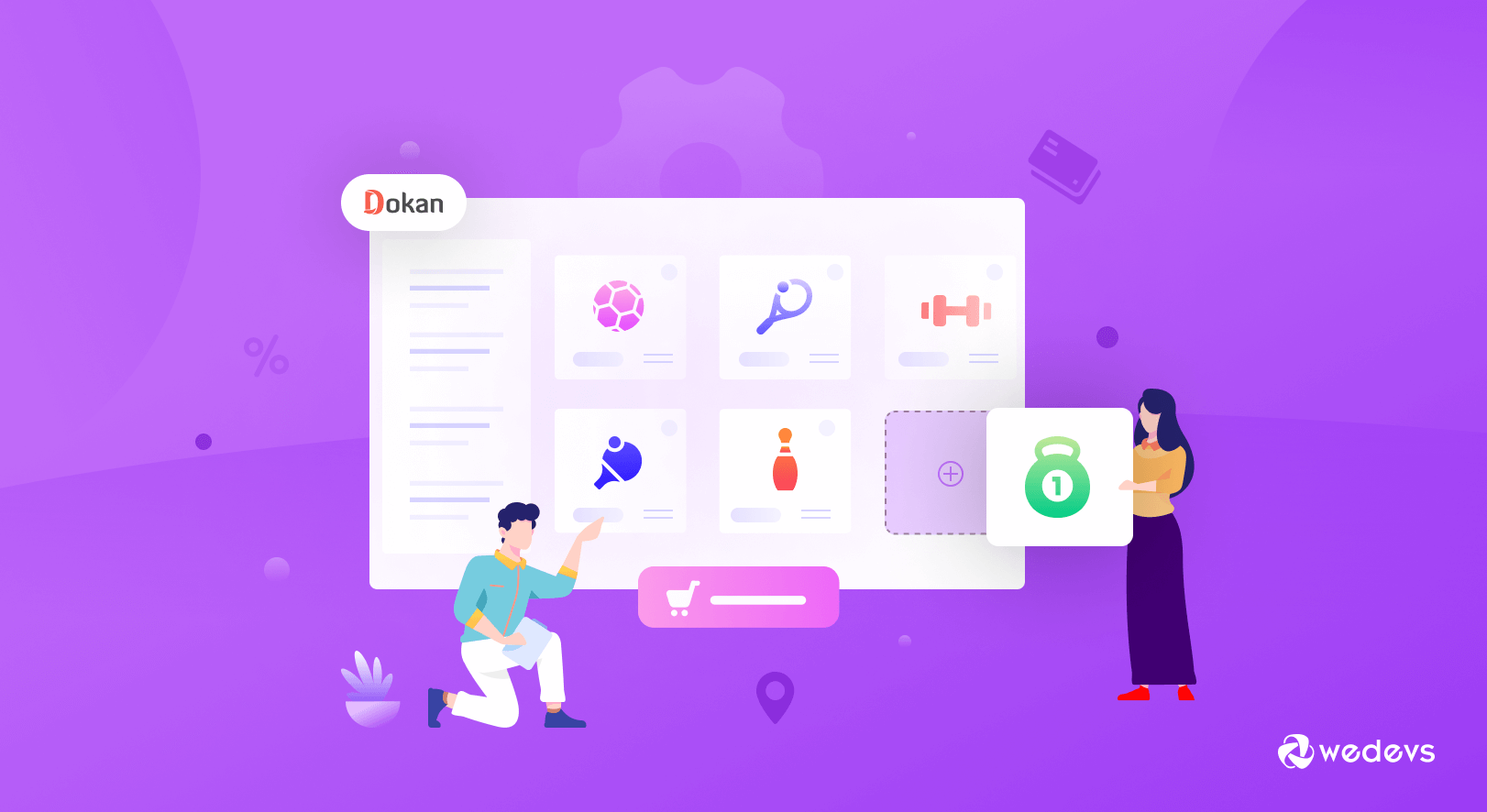 The sporting goods market is a market that does not end in just athletes, in fact, athletes are just a small portion of the whole customer base. The total market size of sporting goods has reached $126 billion as of December 2021 with the US capturing more than 30% of the market share.
However, despite the huge market size, this industry is not as crowded as the others. So there is a huge potential in this industry to grow.
Another thing that makes this industry a great business niche is how diverse this industry is. The sports market includes many different product types, such as footwear, exercise equipment, sports merchandise, and even apparel. Each of these sub-niches is also some of the best performings in the market. In 2020, the global sports footwear market alone was valued at around 51.4 billion U.S. dollars.
So starting a sports marketplace is certainly a great idea. If you are already convinced about starting a sports marketplace, you're in the right place. In the next sections of this blog, we will talk about what to consider while creating a sports marketplace and how to start a marketplace from scratch.
Things to Consider Before You Create a Sports Marketplace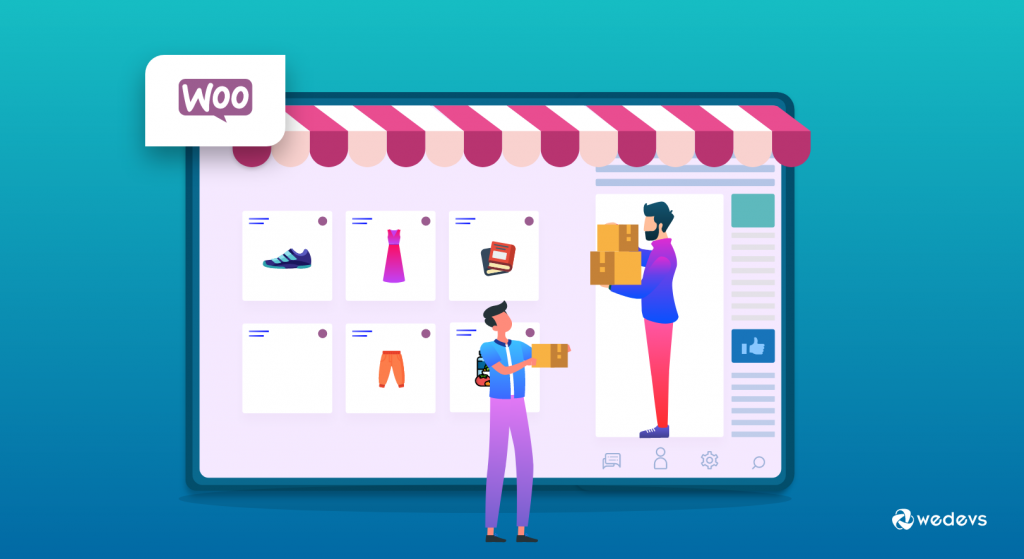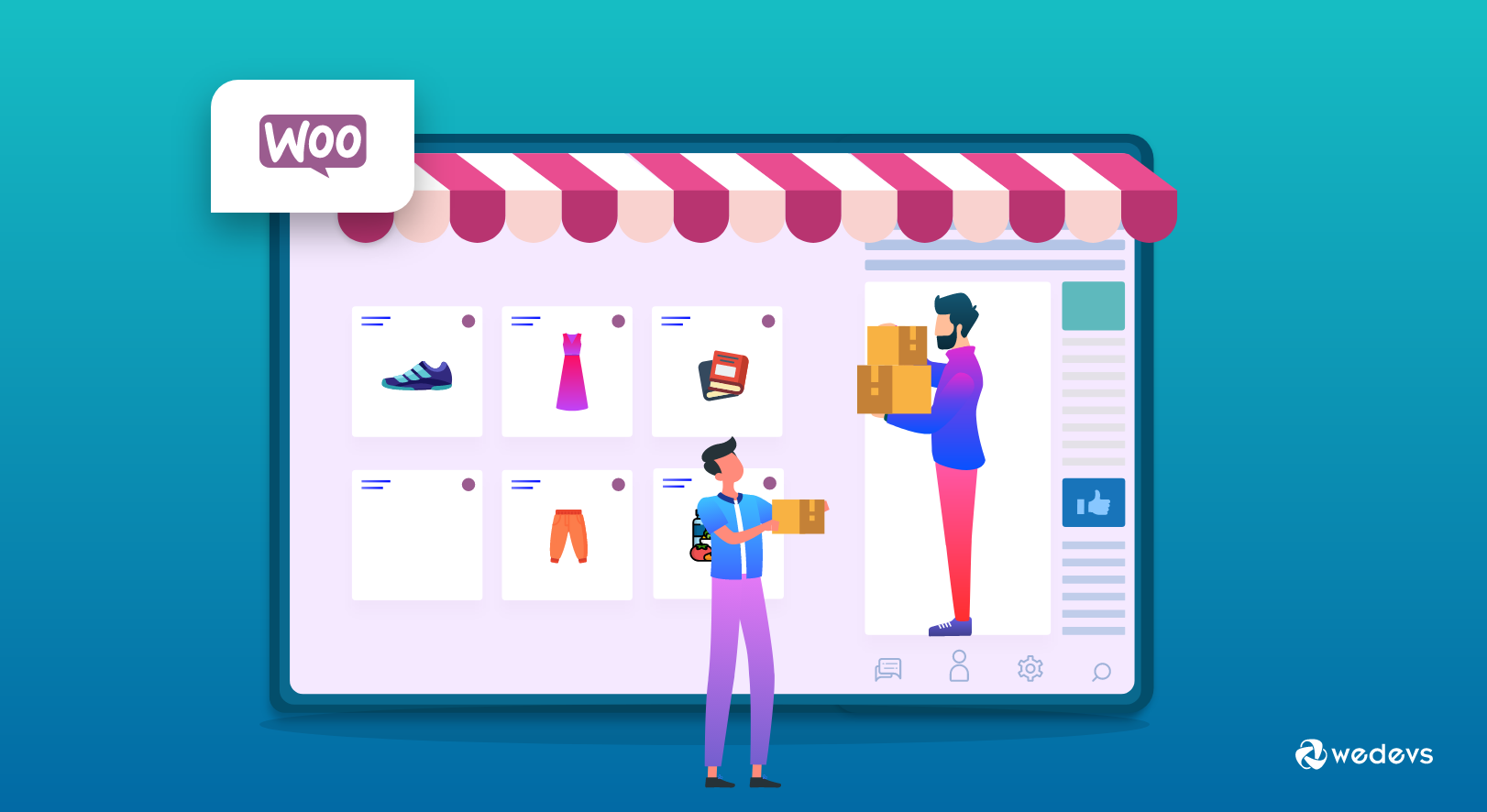 Starting a business requires a lot of planning and hard work. More so if you start a sports marketplace, as it is a fast-paced industry where you have to innovate and adapt to the industry trends to stay on the race.
As we mentioned, It is a great idea to start a sports item marketplace. However, you have to keep in mind that you will not succeed without proper planning and reaching your target buyers. To do that, consider the following before you start working on the marketplace –
First determine your target consumer
Pick the sub-niches that you want to work on your marketplace (i.e. Sports Footwear, Sports Apparel, Sports Gear etc.)
Find out your sales funnel and conversion point
Create a promotion and marketing plan following the sales funnel
Get on the industry trends

Stay consistent with your efforts
Now that you know the pre-considerations to create a sports marketplace, let's show you the process of creating a sports marketplace.
How to Create a Sports Marketplace with Dokan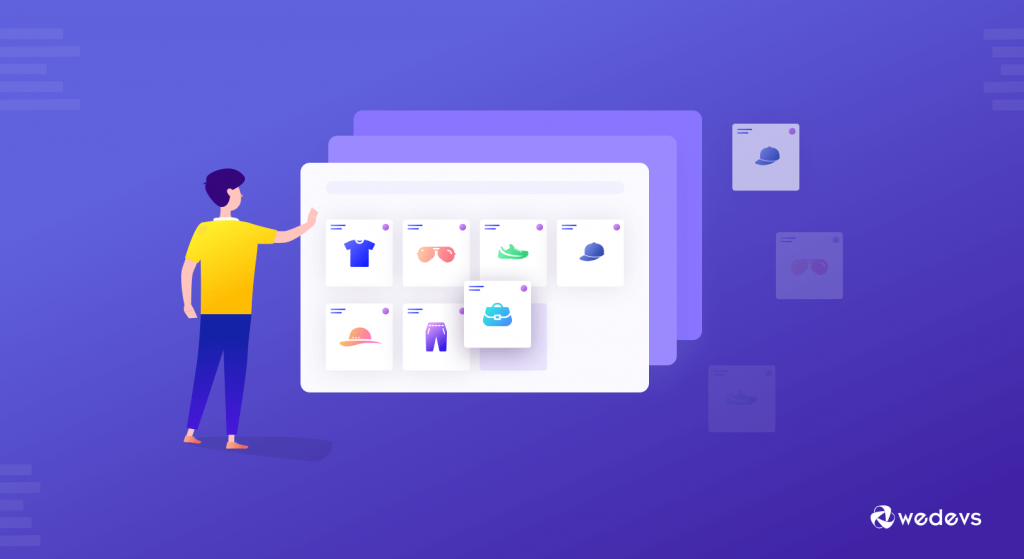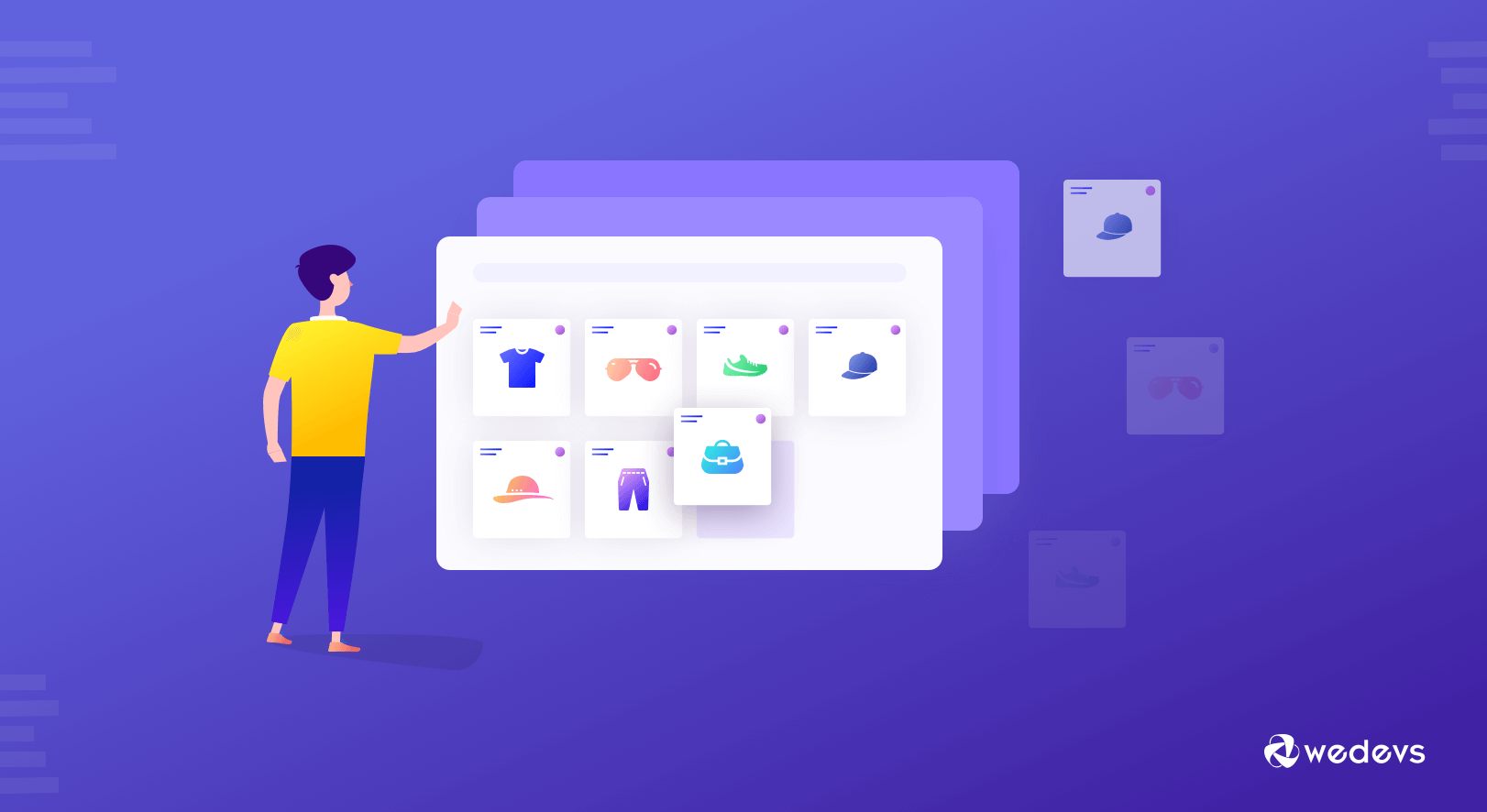 Creating a sports marketplace is a process that is long but yields a great result if you do it right. However, the building process can be made easy, if you use a particular tool.
We're talking about none other than Dokan, the most popular WordPress-based multivendor plugin.
Now let's get on with the process without wasting any more of your valuable time, starting from the pre-requisite of creating a sports marketplace.
Also Read: Dokan's Top Features & Modules at a Glance
Step1: Complete the Pre-requisites of Creating a Sports Marketplace
Since you're interested in creating a sports marketplace, we assume you have already purchased domain and hosting. The next things you need to have is the following –
Once you ensure the above steps, we will go ahead with the rest of the process.
Step2: Complete the Setup Wizard of Dokan to Kickstart the Marketplace
After completing all the pre-requisite and installing Dokan, you will find the setup wizard of Dokan on your WordPress dashboard.
However, you don't need to install WooCommerce separately as when you install Dokan, it automatically installs WooCommerce if not installed before.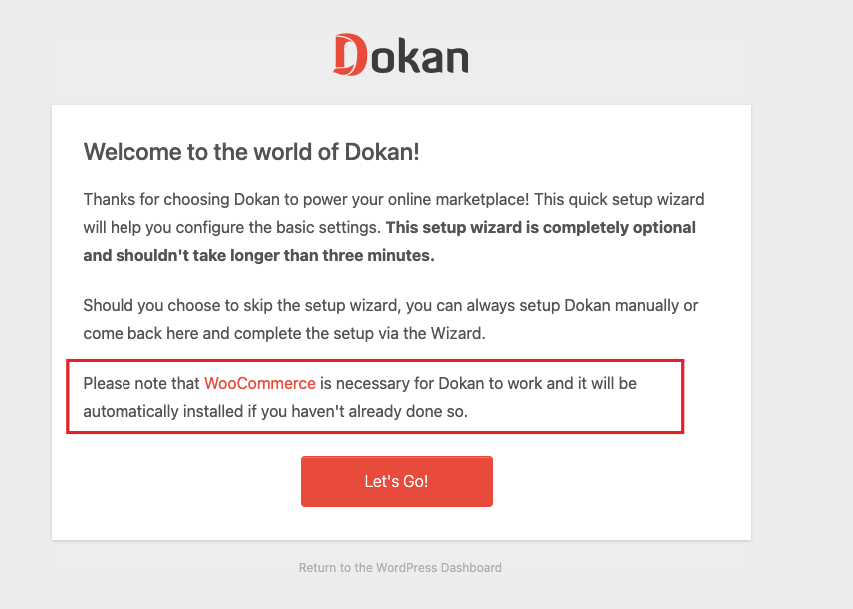 Here's a detailed step-by-step guide to the Dokan setup wizard. After completing the setup wizard, you should see a ready Dokan dashboard from WP Admin > Dokan > Dashboard.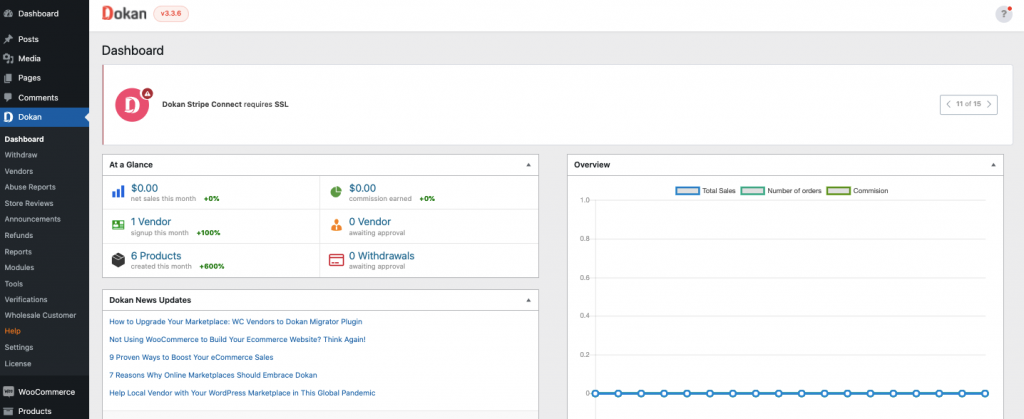 Step3: Configure The Essential Settings of Dokan
After completing the setup wizard of the Dokan and Dokan Pro plugins, you need to configure the important settings of Dokan. The settings page can be found at WP Admin Dashboard > Dokan > Settings.
From the settings page, you can set up the important configurations such as seller capabilities, terms & conditions. You can also select default pages for dashboard, store, orders and terms & conditions. Furthermore, store appearance, shipping status, and other essential options can be found on the settings page.
If you have not set up selling and withdrawal settings from the setup wizard, you can also get those options on the setting page.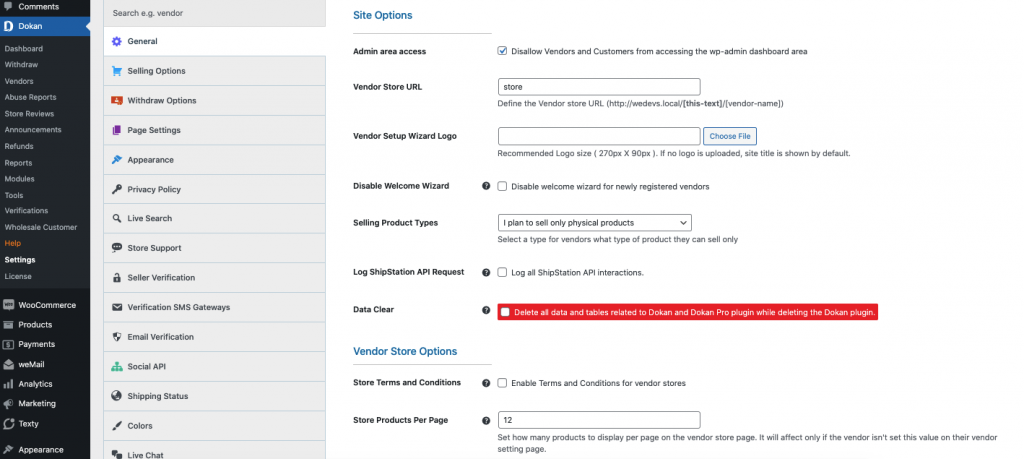 You can get a detailed look at the setting from Dokan Settings Documentation.
Step4: Utilize Dokan Advanced Features & Modules
Dokan is one of the most feature-rich plugins for building a multivendor marketplace using WordPress. It boasts some of the most cutting-edge features for a WordPress multivendor plugin, such as:
Live Chat
Table Rate Shipping
Product Addon
Delivery Time
Ajax Search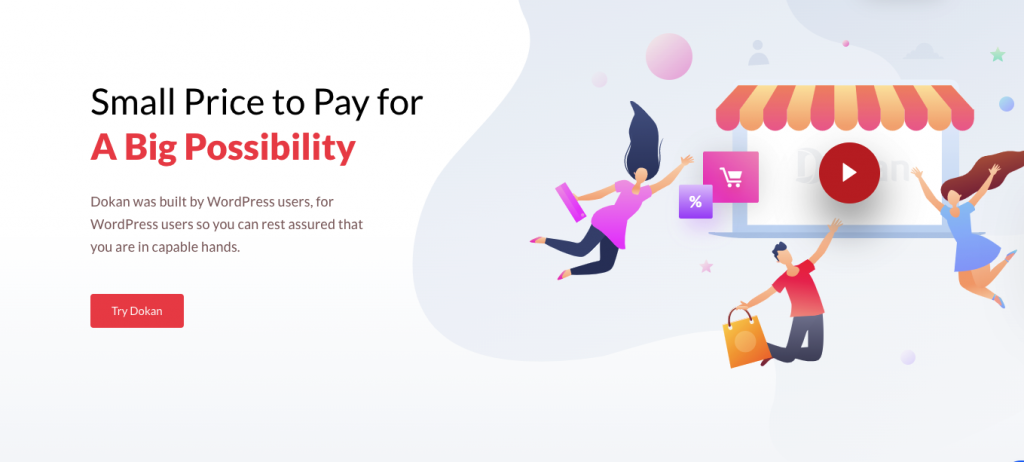 Live Chat feature allows the customers to communicate with the vendor in real-time. This helps in customer satisfaction and also increase sales of your sporting good marketplace. Dokan allows you to utilize any of the Facebook Messenger, TalkJS, Tawk.to, WhatsApp to enable live chat on your multivendor site.
Live chat can be enabled from WP Admin Dashboard > Dokan > Settings > Live Chat.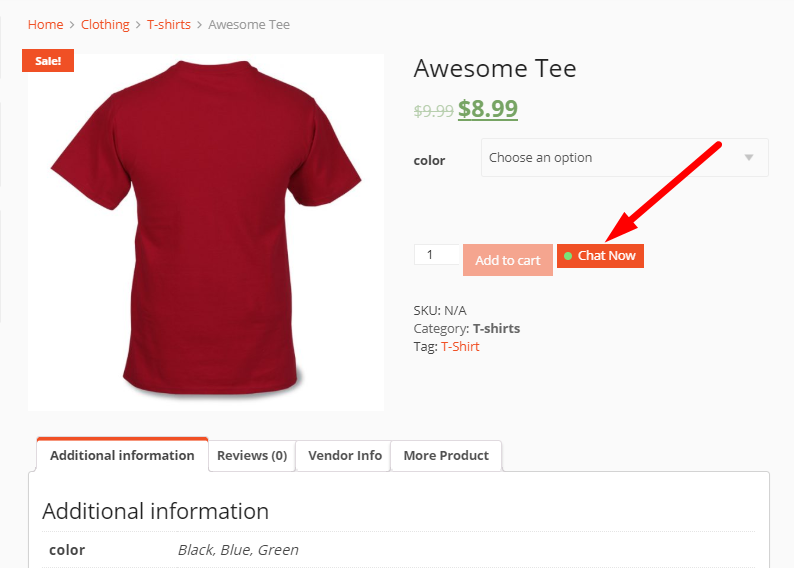 Table Rate Shipping is a powerful way to let your vendors set the shipping rates on their products. With these features, vendors can set up different rates according to the distance, weight, price, shipping class, or item count of the shipment.
Whereas the Product Addon module helps customers to add additional items to a product and be billed separately for those items. Let's say your customer orders a sports shoe, you can add a sock as an addon to the shoe. It is the customer's choice to add the addon product or not. But it does give the customer an extra flexibility
You can enable the Product addon module from WP Admin Dashboard > Dokan > Modules > Product Addon.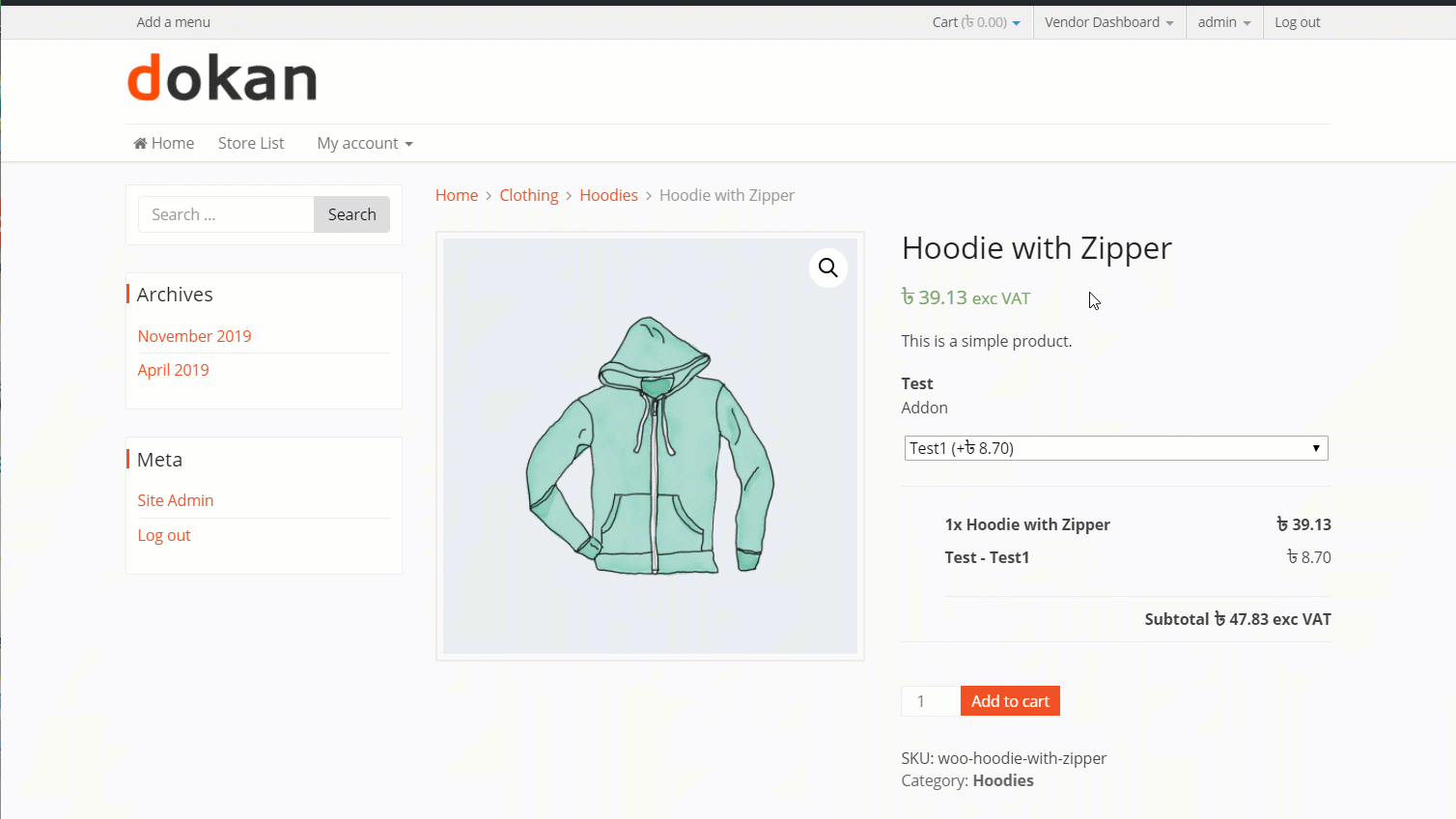 Delivery Time is one of the best features from the customer's point of view, as this feature allows the customer to choose the delivery date and time of a product when ordering a product.
If you want to activate the Delivery Time feature you need to enable the module from WP Admin Dashboard > Dokan > Modules > Delivery Time.
Dokan's Ajax Search is another step to its customer-friendliness. This feature turns the regular search bar of WordPress into an instant searching tool that helps customers quickly search for products by showing relevant products as the customer types on the search bar for a product.
You can also enable the module from WP Admin Dashboard > Dokan > Settings > Live Search.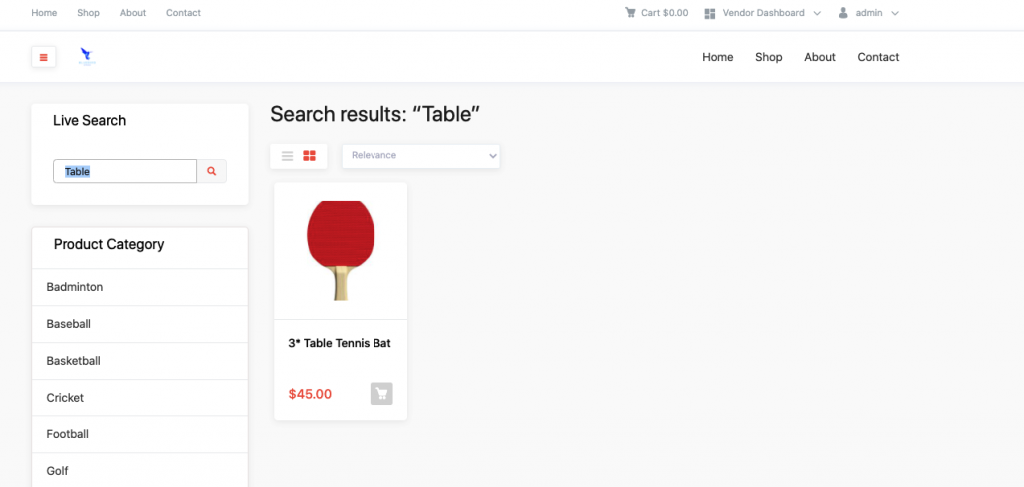 There are a lot more advanced features that come with the Dokan premium version, including the ones mentioned above. Take a look at the Dokan module list to know how you can extend the power of Dokan to get the most out of your sports multi-vendor marketplace.
Step5: Enable Vendors to Sign Up on Your Marketplace
After configuring the essential settings and adding some advanced features, it is time to allow vendors to sign up on your sports marketplace.
To do that, navigate to WP Admin Dashboard > Settings > General and enable the "Anyone can register" option.

Now the vendors can register to sell on your marketplace.
Also Read: How to Find and Convince Vendors for Your Multivendor Marketplace
After that, your sports marketplace is ready to be published to the vendors and the customers. However, like any multi-vendor online shop, your sports marketplace will also rely on vendors. So below, we will show you some essential steps from the vendor's perspective.
Settings to Setup Vendor Dashboard
Below are the most important step for the vendors to complete in order to start selling on your marketplace.
Registration as a Vendor
After enabling the option for vendors to sign up on the marketplace, the vendor should see something like the below image.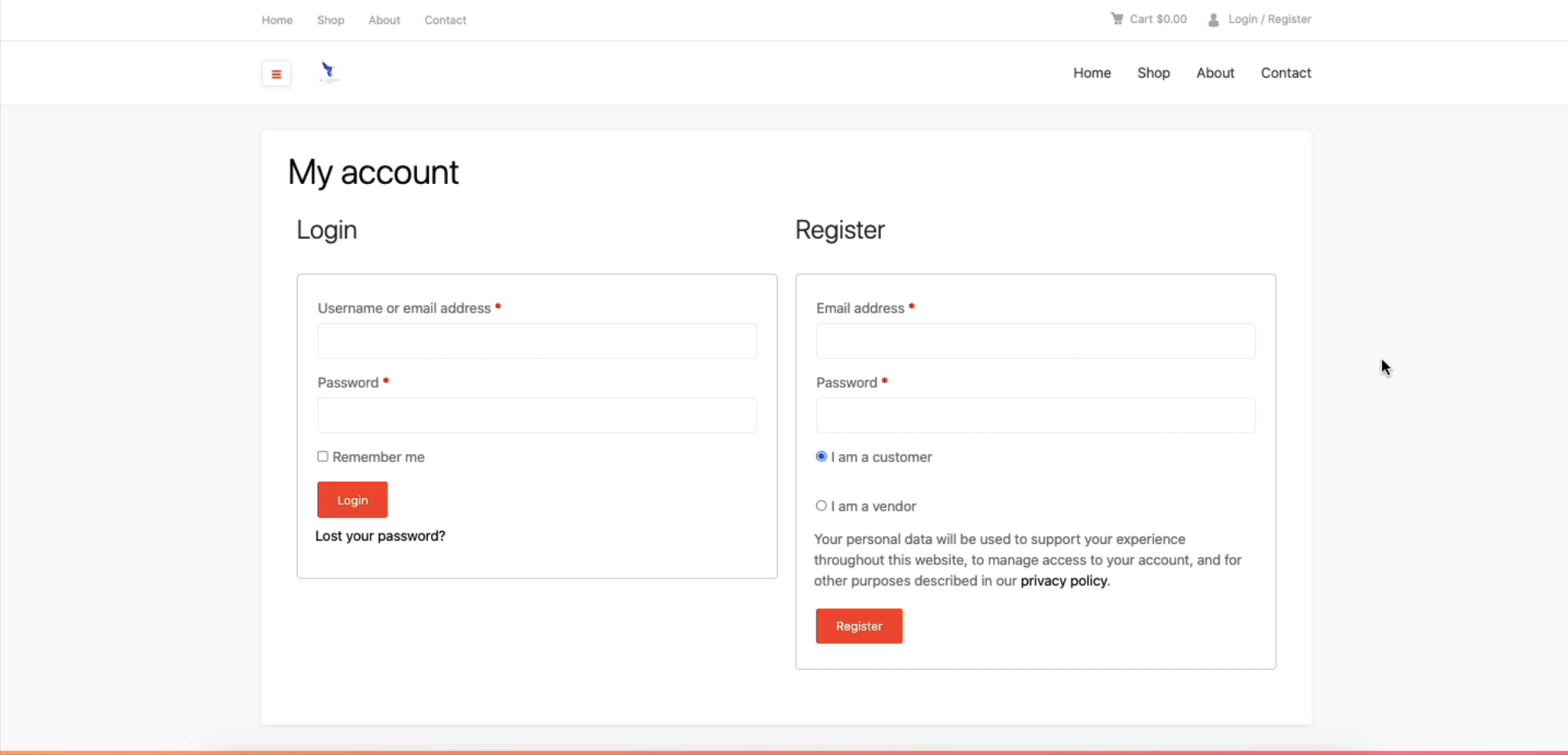 Vendors can sign up by filling up the details and clicking on Register.
They should find their store on the store list once the admin approves their store.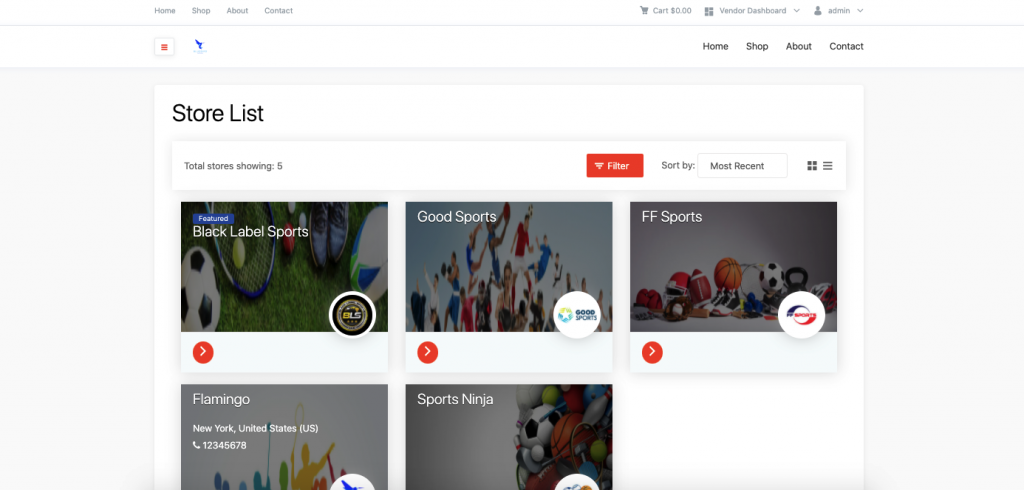 Configure Vendor Dashboard
Dokan offers a personal dashboard for each of the vendors. What's more, vendors can customize it configure their store options from this dashboard.
After accessing the vendor dashboard, you can customize the dashboard from Vendor Dashboard > Settings > Store.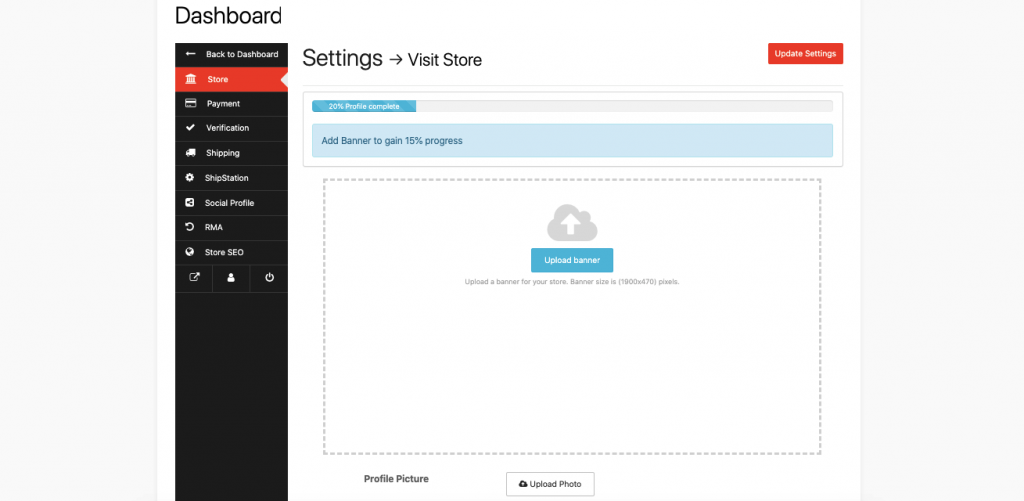 Here you can get a complete idea of how to configure a vendor dashboard.
Upload a Product
After configuring the dashboard, the vendor has to upload products on his website. Uploading products with the vendor dashboard is super easy.
For that, the vendor needs to visit Vendor Dashboard > Products > Add a New Product.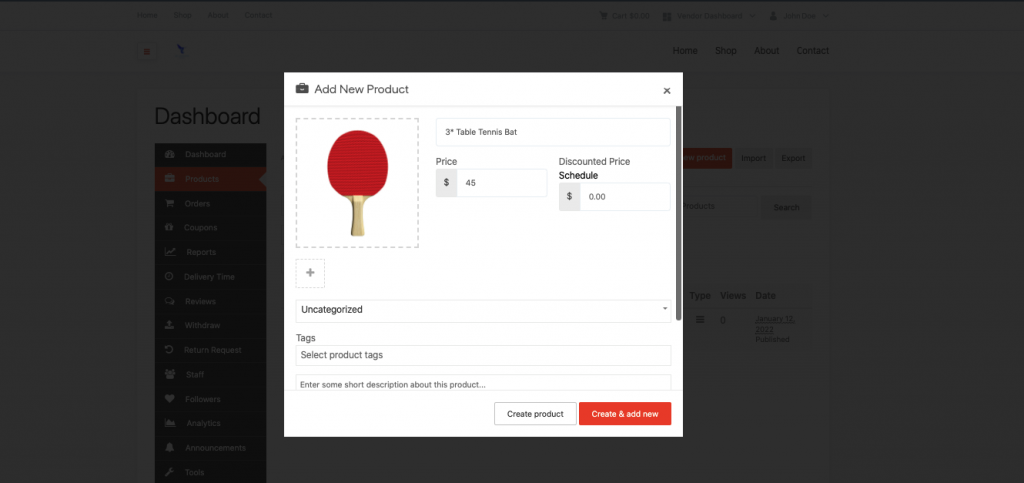 Read more about how to categorize products, manage stock, upload products, and more from Dokan Product Documentation.
Frontend View For Customers
So your vendors have uploaded some products. After uploading the products, below is how the product listing page should turn out.
(Please note that, while we installed the Dokani theme, you can also style your website with any other theme that supports WooCommerce.)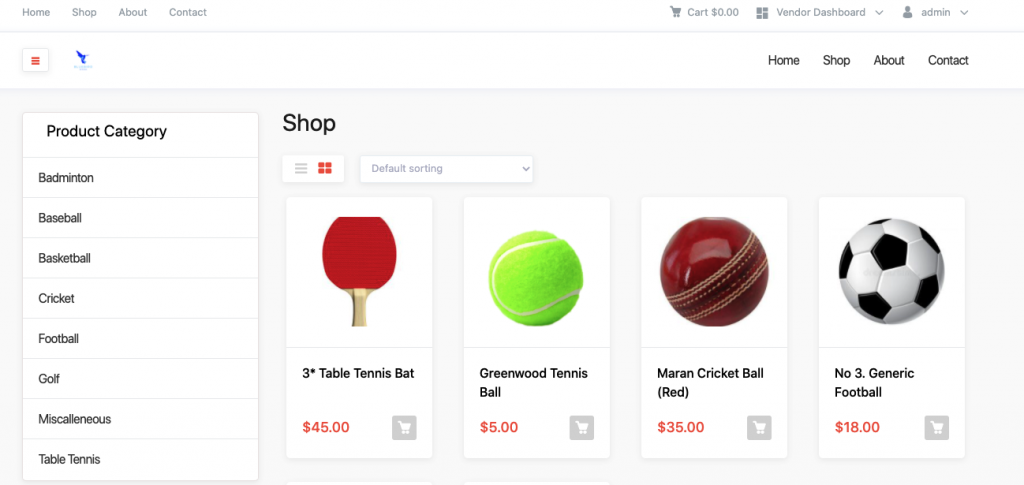 Also, the product page should look something like this.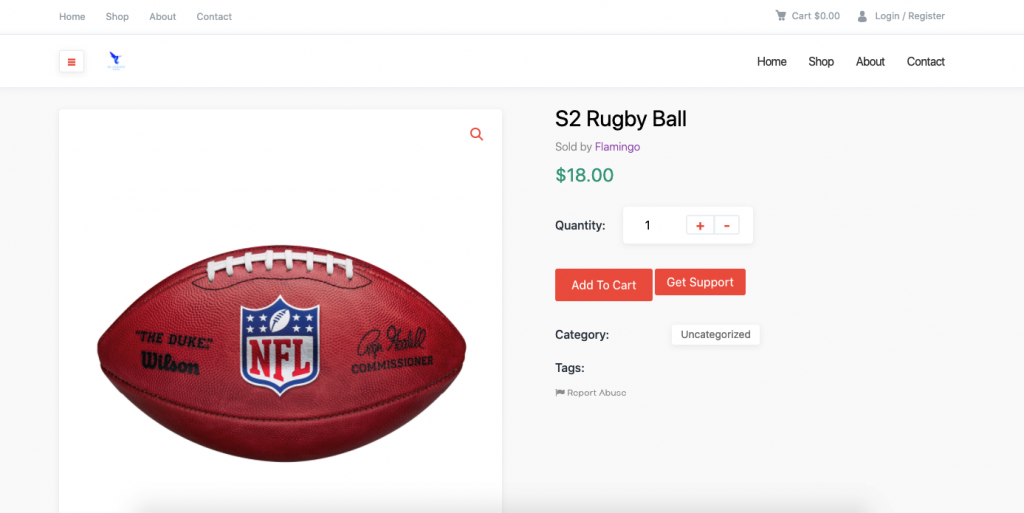 Fantastic! Our journey to creating a sports marketplace finally comes to a successful ending. We have finally created a highly functioning multi-vendor marketplace for sports goods.
Frequently Asked Question on Starting a Sports Marketplace
There are some common questions that can arise before you decide on creating a sports marketplace and after you start the process. Here, we have tried to answer some of them.
What are marketplaces examples?
Marketplaces are a type of eCommerce shop where multiple vendors can sell their products. Some of the best examples of the marketplace include – Amazon, eBay, AliExpress, Etsy, etc. You can create a similar marketplace dedicated to sports items as well.
How long does it take to build a marketplace?
If you use a WordPress plugin like Dokan, it takes almost no time to build a marketplace. At max, you would be spending 1-2 hours max to build the site. However, it will take time to grow your shop, acquire vendors and start selling products.
How do I get started on the marketplace?
Here is a sample process of getting started with the marketplace.
1. Buy domain & hosting.
2. Install WordPress on your hosting.
3. Install WooCommerce & Dokan.
4. Build the marketplace with the advanced features of Dokan.
5. Find and convince vendors for your marketplace.
6. Promote your marketplace offline and online.
How do I make a better marketplace?
The first and foremost thing that you should make sure to make a better marketplace, is having a great multivendor plugin that enables you to add state-of-the-art features to your shop. Dokan is an excellent WordPress plugin that turns any WooCommerce powered WordPress site into a high-functional eCommerce multivendor.
How much does it cost to build a marketplace platform?
Dokan multivendor plugin makes it very affordable to start a sports marketplace. You can start using Dokan for free unless you need premium features. Even then, you would have to spend a very small sum of money.
Start Your Sports Marketplace Today
So you've followed the article till the end. By now, you should already know how you can use Dokan to create a sports marketplace using Dokan!
We have shown you how to configure Dokan, the advanced features that it offers, and vendor-side configurations that should help you to start a sports marketplace in less than an hour.
Even if you are a beginner with no coding skills, with Dokan you can build a multivendor marketplace. Dokan has multiple pricing plans, so you can choose which features you want to get your marketplace on track.
So what's stopping you? Start your dream sports marketplace today!