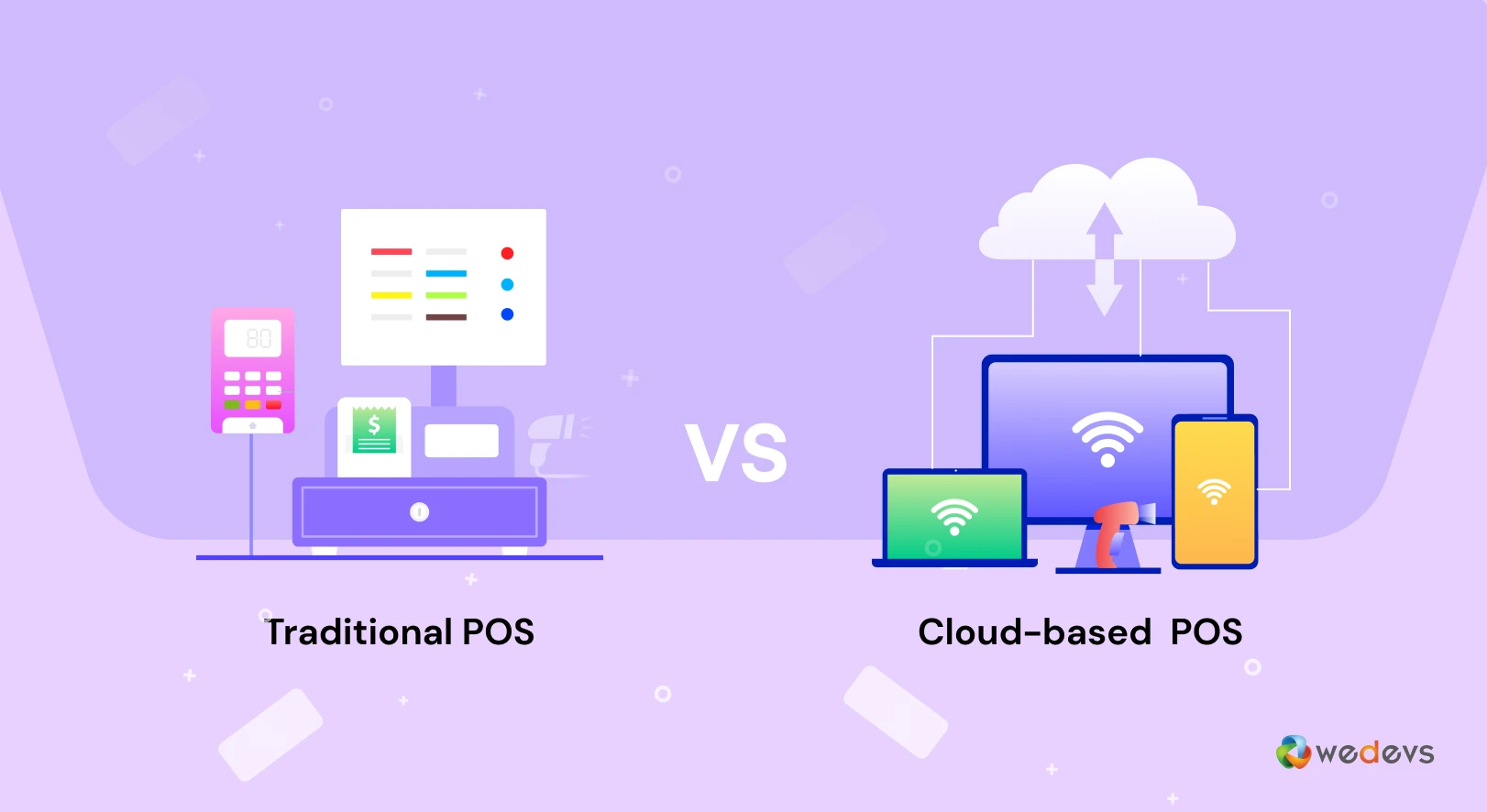 Cloud POS vs Traditional POS System: What's Best for Business
We live in a world where businesses are changing their ways to keep up with the growing competition. Starting a business in this highly competitive world isn't easy and it can be a risk. One of the biggest risks is if you have a business and your POS system goes down or doesn't work properly. Solutions like cloud-based POS becoming more and more popular taking over the traditional method of POS systems, simply due to its ability to operate regardless of location.
These intelligent POS systems are something customers much desire. And why wouldn't they? Wouldn't anyone want a greedy cash register with a heart of gold? Although there isn't one quite like that in the industry at the moment, there are many innovative companies who keep finding new ways to improve the future of POS systems that already are very efficient, intuitive, and more intelligent than ever.
The future or point of sale systems is being shaped by advancements in technology. Just like how an increasing number of stores now use automated checkout assistants and are being built to keep up with online retail, these technologies will continue to become smarter and more capable to meet the needs of customers in the coming days.
Now Cloud-based and Traditional are two of the widely-used POS systems that most stores use nowadays. But do we know how these popular Point Of Sale systems compare to each other? Which one is more suitable for your small business? If not, then this post is surely going to help you find all the answers related to Cloud POS and Traditional POS.
What are the Different Kinds of POS Systems Exist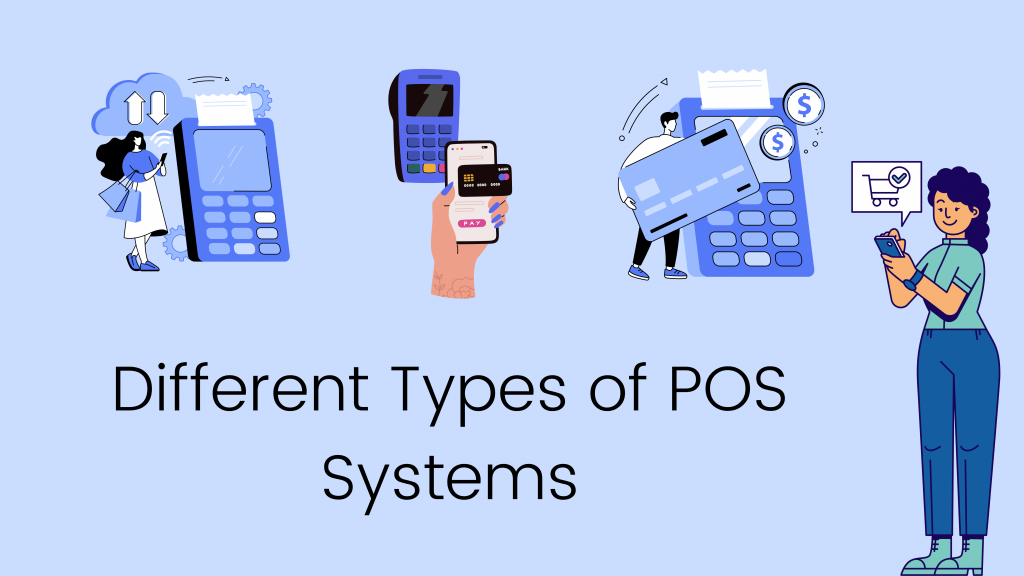 Point of Sale Systems are tools that allow companies to manage their sales. It can be categorized into three types:
1. Traditional Point of Sale Systems: These are the most common kind of Point of Sale systems. They are typically used in retail stores and restaurants to track items sold and money collected.
2. Mobile Point of Sale Systems: These are also very common in retail stores, but they can also be used by other types of businesses like food trucks or even construction companies.
3. Cloud-based POS Systems: These POS systems use the internet to connect with your company's back-end system, making it much easier for you to access your data from anywhere that has an internet connection.
Importance of POS Systems in Today's Modern Day Business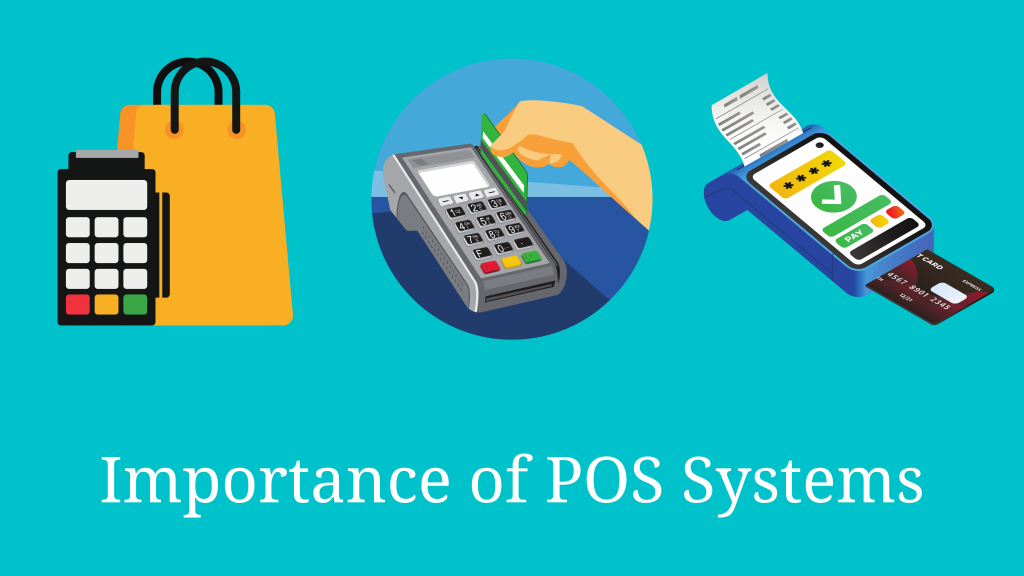 POS systems are an integral part of any retail business. They provide a customer-facing interface that enables the sale of goods and services. These systems are used for inventory management, sales, customer service, marketing, and more.
If you're the owner of a retail establishment, then you can at least rest assured knowing that the future of POS systems is in safe hands. Advances in technology are shaping exactly what they should look like and development efforts will eventually play catch up. This is because they are becoming smarter and more intelligent to meet the needs of customers. They are also becoming easier to use so that businesses don't have to spend time learning how to use them.
The essentiality of this system in business is constant nowadays. This computerized system records sales transactions in a retail store and calculates the total cost to the store. It is an important part of any retail business, as it allows for efficient management and tracking of inventory, sales, and profit margins.
Moreover, point-of-sale systems are devices that handle the processing of transactions between buyers and sellers. These systems typically connect to other hardware. Such as barcode scanners, credit card readers, receipt printers, cash registers, scales, and magnetic stripe card readers.
Cloud Based POS vs. Traditional POS Systems – What's the Difference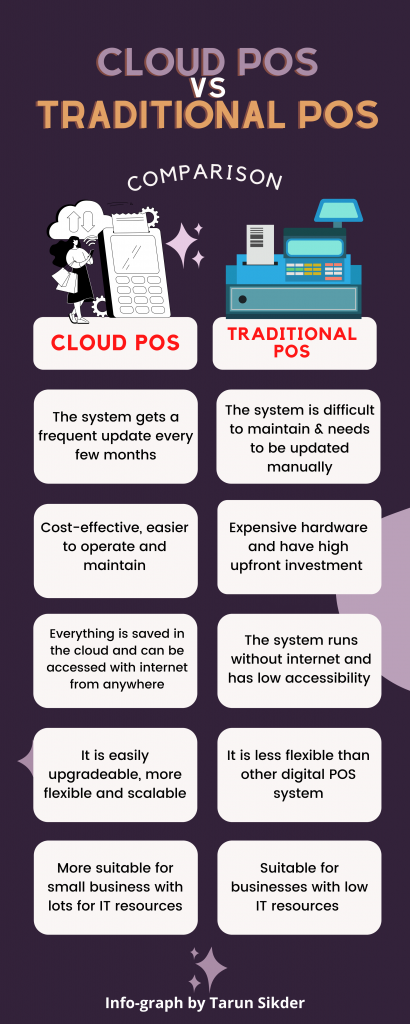 Cloud-based POS systems are designed to be efficient and scalable. They are built around the idea that customers will not be using the system at the same time but instead will use it sporadically throughout the day. Cloud-based POS systems are also designed to be flexible and allow for customization by different types of businesses.
Traditional POS systems are designed for high-volume transactions with customers using them simultaneously. These traditional systems also require more upfront investment in hardware and software. It is not always practical for small business owners who may have a small capital to invest in their business.
The main difference between traditional point of sale systems and cloud-based point of sale systems is that the former is designed around how many transactions a store performs per day while the latter is designed around how many transactions a customer has over time. Although these points of difference may seem small or insignificant. But they can have a large impact on the functionality and efficiency of the point of sale system in use.
The Pros and Cons of Cloud POS and Traditional POS
All businesses these days are looking for ways to streamline their operations and cut their expenses. However, POS systems are a great way to achieve these goals.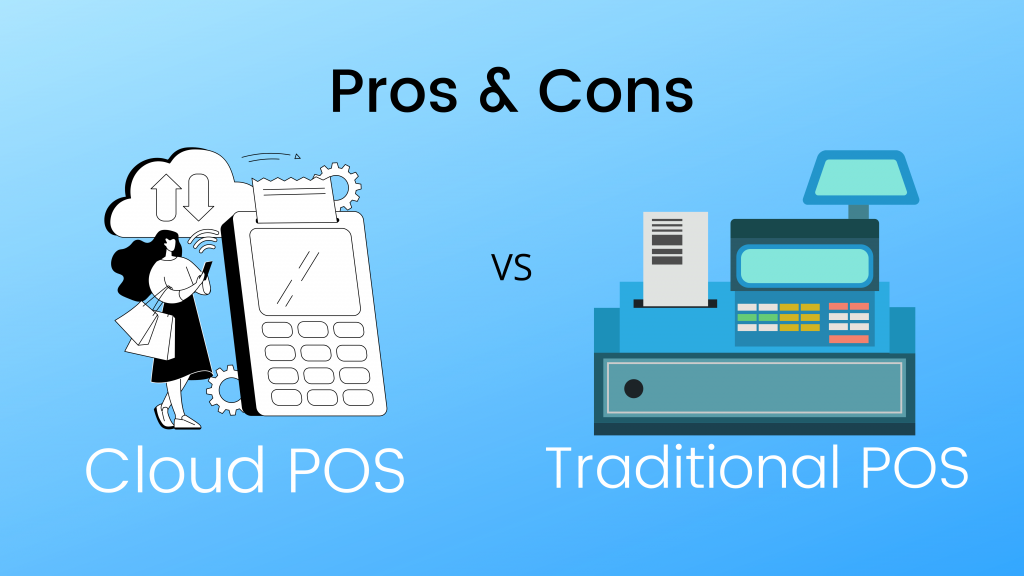 Cloud-based POS: Pros and Cons
Cloud-based POS systems, in particular, can reduce the cost of POS system ownership by as much as 70%, making it a compelling option for many merchants.
Cloud POS systems offer a number of benefits over traditional POS systems. Such as flexibility, upgradability and scalability, lower overall costs, and more. It is a system that is hosted on the internet and that can be used by a business to track sales, manage inventory, and process payments.
It can be used on any device that can access the Internet, which means that it can be used on smartphones, tablets, and desktops. So all in all this Point of Sale solution are a good option for smaller businesses that don't have a lot of IT resources.
However, there are also drawbacks to cloud-based POS systems, including security concerns and decreased control over your data. These platforms often lack the ability to integrate with other POS platforms, which can cause complications. They also can increase the risk of data breaches and can put your company at a competitive disadvantage.
Traditional POS: Pros and Cons
The traditional POS system is like a simple yet reliable cash register. It does not require internet access to perform its duties. This puts it on par with other old systems, like cash registers that use paper. These models are commonly used by small retailers. If you own a small shop or operate a food truck, an old POS system will work just as well as its new counterparts.
The primary function of a traditional POS is to process cash transactions. There are times when you will have to remove cash from the register and count it yourself on an office calculator. As a business owner, you must know the correct amounts of cash to keep on hand, which in turn will help you avoid losses.
Small business owners are often tempted to invest in a traditional POS system. However, these systems are expensive and inconvenient to use. They are also vulnerable to hacking and deal only with the real world. You need to look for alternatives if you have a small business. Some of the other cons of traditional POS are:
A traditional POS system can be difficult to update and maintain.
It can be difficult to get accurate data from it, which makes it hard for business owners to make decisions about how their business is doing.
It isn't as flexible as a digital POS system, which makes it harder for businesses to change their pricing or payment methods quickly in response to market conditions or customer feedback.
Questions You Should Be Asking Yourself Before Choosing a POS Technology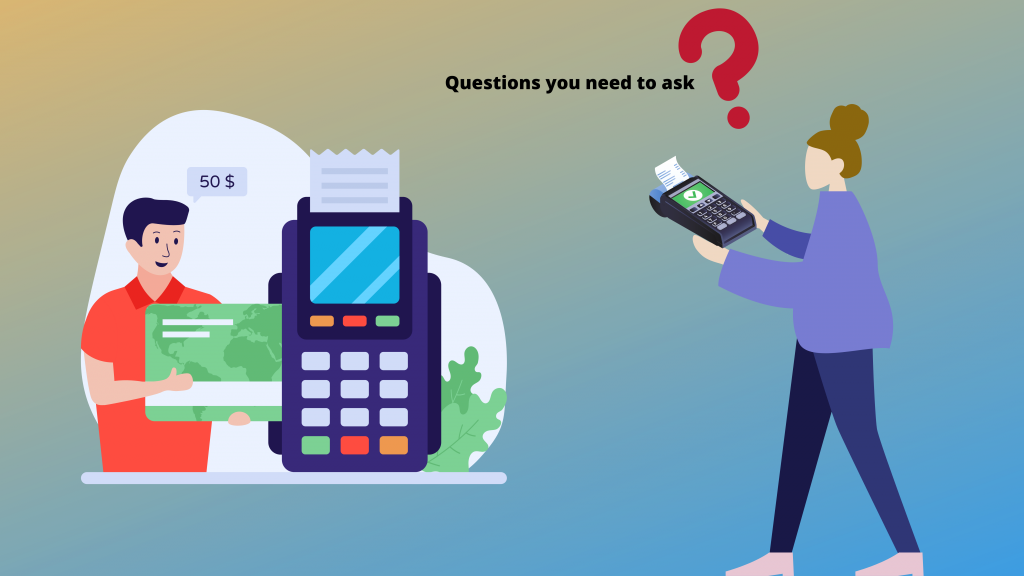 You probably own a retail store and now thinking about implementing a reliable POS system to it impressed by all the benefits of it online. Do you think this would be the right move? Every business operates differently and has its own suitability issues to take into account when you think about integrating any new system. So before implementing a suitable POS system, you should come to the conclusion by asking these basic questions. This will enable you to choose the right POS technology for your business.
What kind of business do you operate?
What is your budget?
How many employees do you have?
Do you want to integrate with other systems?
Do you need a mobile solution?
Are you looking for a specific brand or type of hardware or software in the POS market?
Based on these questions, you will be needing to choose a suitable POS system to implement in your business. Make sure to ask them to yourself and make the right judgment about choosing between cloud-based POS and traditional POS.
Which is the Better Choice for a Small Business – Cloud Based POS or Traditional POS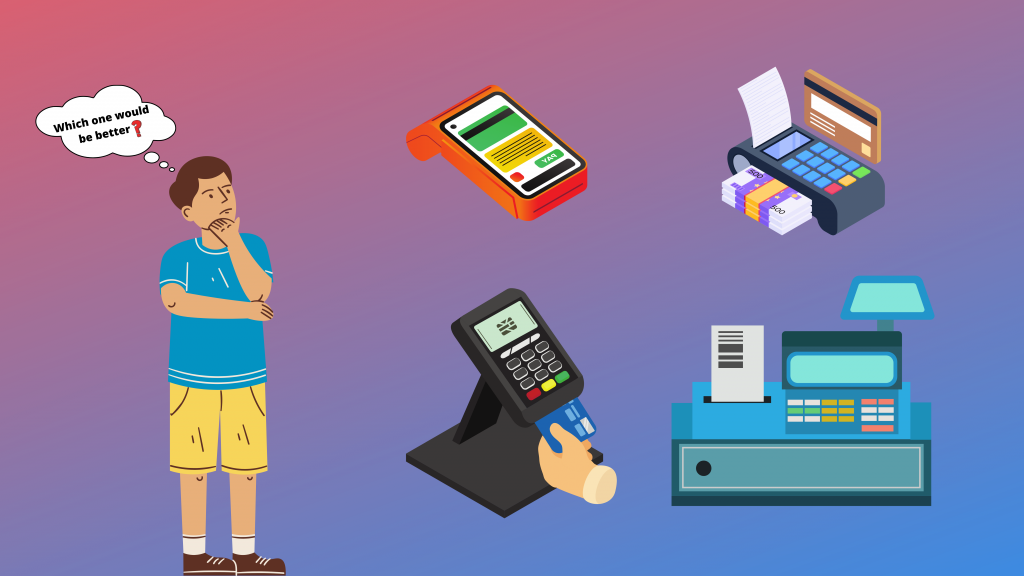 The Traditional POS systems are expensive to set up and maintain and require a cash register or tablet per register. You have to deal with software installation and updates, hardware maintenance, and potential downtime. That's why 58% of small businesses don't have a POS at all.
On the other hand, the cloud-based POS is a more recent technology. And it has not been tested for as long as traditional POS. However, the cloud-based POS is cheaper than traditional POS because they have lower hardware costs. This POS system is also less expensive to maintain because they do not require on-site IT support staff.
Moreover, they can be accessed from any device with an internet connection. This means employees can use their own devices to access data and perform transactions.
More essentially, Cloud-based POS systems don't require any additional hardware. It has accessibility options from any modern mobile device as well as from your computer from anywhere in the world. It seamlessly integrates with your existing business data and workflows, giving you a comprehensive, intuitive interface for all your business needs.
So in conclusion, even though Cloud-based POS is a relatively new technology in the market, its ease of use, affordability, and ability to work across multiple devices keep it ahead of the Traditional POS system for usage in every small business that looks for a cost-effective and user-friendly solution.
You need a new POS system that seamlessly is compatible with your new retail model, don't you? So switch to the cloud and try out a new cloud-based POS system. It helps you save money and enhance the service you offer to your customers.
Adopt And Implement The Right POS System For Your Small Business Today
We are living in a world where technology is constantly changing, so why should it be surprising that some of the traditional POS systems are being replaced by more efficient and cost-effective Cloud-based POS systems? Chances are, you already know that many small business owners are going this route, but you're still not sure if it's right for your business.
By now you have probably already understood that the old POS systems were not designed for the cloud, which has enabled new businesses to arise to serve them. Nowadays, there is a number of new companies that are offering powerful cloud-based POS systems that can be used to manage all aspects of your retail business.
These new POS systems offer so much more than the old ones ever did. In fact, they're better than many of the traditional POS systems. And before adopting and implementing these new POS systems, all you will need to do is make sure you know what mode of business you are trying to operate.
By the way, in case, you have a WooCommerce store and looking to implement an advanced POS system to boost customer assistance then you may try out wePOS. This is a cutting-edge, open-sourced, and clean responsive point of sale system which you can customize to suit your particular needs. It allows you to view and edit your inventory, take orders, and much more from the comfort of your WooCommerce store.
Do you have anything to share about the latest technology in the POS system or about this post? Let us know your feedback in the comments below.