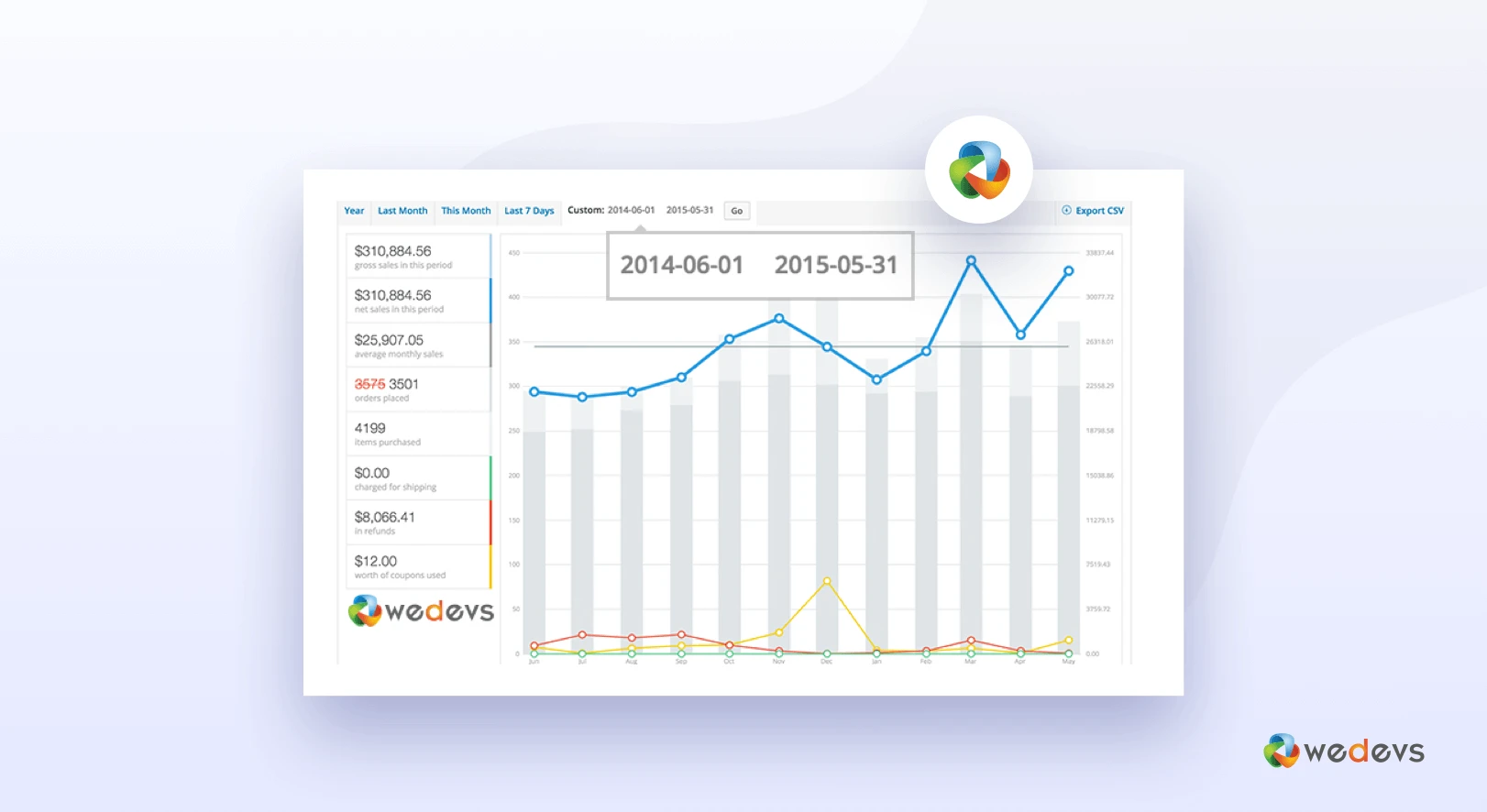 weDevs Yearly Sales Crossed $300,000 Mark
At weDevs, we believe in transparency that many other WordPress-based businesses practice. We want to share our internal data and statistics with you — our users — so that you can get to know us better and have a better sense of where we stand financially. We believe this will give you the peace of mind that we are a reliable company and that you can depend on us to create the best product possible to help shape your business.
Gross Sales
Today I'm incredibly excited to announce that in the month of April 2015, weDevs Limited has crossed the $300,000 mark in terms of yearly revenue(Jun'14- May'15). This is a big milestone for us. We want to share our excitement with you and give you a brief overview of what are some of our most popular products and how many users are actively relying on them.
As you can see in the graph above, the exact figure of gross sales in the 1-year period is $310,884.56. On average our monthly sales was about $25,907.05. We have had a total of 4199 items purchased from our stores, with $0 in shipping charges because all of our products are digitally downloadable. We also had to refund $8,066.41 to customers who either determined our products weren't a perfect fit for their needs or were unhappy with our products. That's an area we definitely want to investigate further to make sure our product meets your demands.
Top Earning Product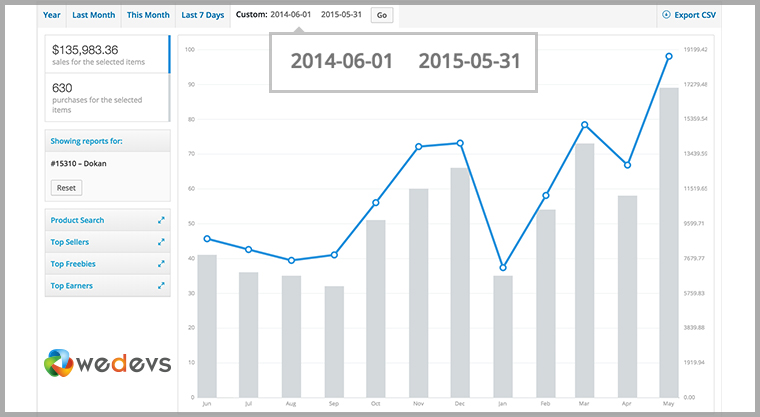 Dokan — our signature product that transforms your WordPress website into a multi-vendor e-commerce shopping store — has remained in top place becoming our top earning product in the past year. As you can see in the graph below, all licenses combined, total sales of Dokan earned us a revenue of $135,983.36. This was a total of 630 Dokan licenses sold to customers worldwide.
Most Popular Product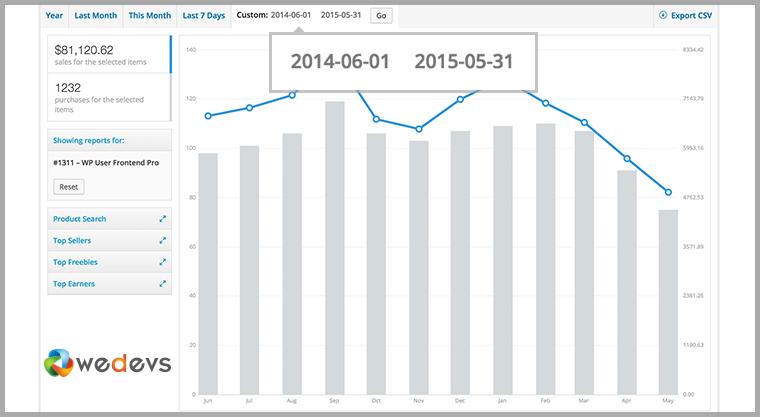 Although we earned the biggest revenue from Dokan sales, it wasn't necessarily the most popular in terms of numbers of licenses sold to the customers. WP User Frontend Pro was the most popular plugin over the past one-year period. It was purchased 1232 times totalling in a revenue of $81,120.62. It's the second most earning product in our lineup of premium WordPress plugins.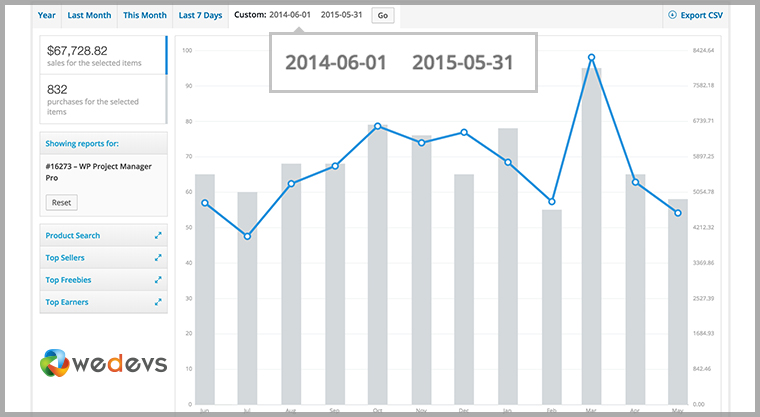 Sitting just below WP User Frontend Pro is WP Project Manager Pro, our project management solution inside of WordPress environment. We sold a total of 832 licenses over the year and the exact figure of WP Project Manager Pro sales is $67,728.82. This plugin puts itself into third position in both most revenue earned and most popular product.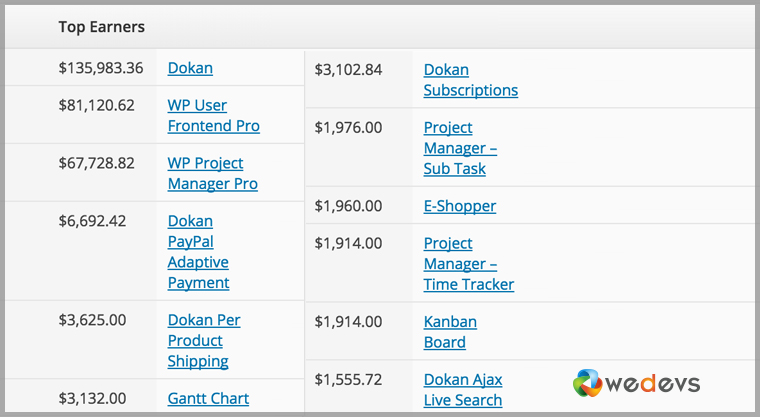 Going Forward
We are continuously working hard to make our products more intuitive and useful by adding more features on a regular basis. One particular area that we've lacked in the past was design or user interface. We have since hired talented designer to give our products a more pleasing and user-friendly look. You might have already noticed the big changes happening to our site over the past few months. We are looking forward to making some UX-oriented changes to our products soon.
Another area we've particularly focused on is providing customer support. We are actively working on making sure every support request in our dedicated support forum gets a response from our dedicated support staff within 8 hours at most. We have also implemented Live Chat on our website, as you might have already noticed, to better answer your questions fast.
We look forward to the next year of weDevs. Thank you for being with us. Thank you for supporting us. We hope that you'll continue to use our products, recommend it to your friends, and provide us feedback on how we're doing and how we can improve. Your feedback is always appreciated so don't feel hesitant to contact us if you have a suggestion, question, or general advice.