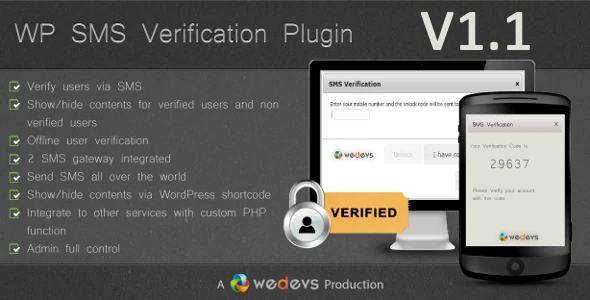 WP SMS Verification v1.1 released
Well, Here it is. WP SMS Verification plugin V1.1 released. With this release, it could be said that we're claiming it may be your favorite release yet. You've been patiently waiting for new features and updates, and we have listened. Our development team has been working hard to deliver an awesome feature-packed plugin release!
Check out this list of the highlighted features:
Registration, Comment Verification and Throttle control:
On comment form: If enabled, users will be needed to verify themselves before submitting a comment on a post
On Registration: If enabled, users will be asked to provide phone numbers on registration form. A verification code will be sent to the number upon successful registration. Then while logging in, users will be asked to provide the verification code. If user fails to provide the correct code, he/she will not be able to login to the site. Great option for preventing spammers 
Throttle control: This prevents simultaneous code request from a user for a configurable time (minutes or hours)
Nexmo and Twilio is Here:
when we released v1.0 from then we got so many requested to add these two gateways by default. Now, here they are. Choose your favorite SMS gateway provider among four World leader SMS service provider giants.
– Nexmo ( http://nexmo.com/ )
– Twilio ( http://www.twilio.com/ )
– SMS Global ( http://www.smsglobal.com )
– Clickatell ( http://www.clickatell.com )
How Do I get This Update?
By now, you must be wondering how to get your hands on the new release. You can get this from codecanyon.net site here , or if you already bought this then just re-download again from codecanyon.net site's Dashboard then re-install it.
Support Required ?
Ask us at Codecanyon.net product's comment area or alternatively you can ask anything to our dedicated forum – /support/forum/plugin-support/sms-verification/