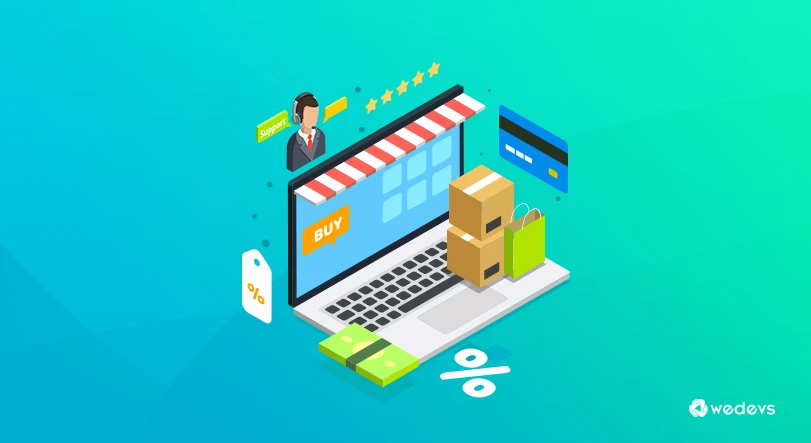 Check Out How It Helps to Have Store Front Support in Your Dokan Marketplace
Let me ask you a very relevant question.
Do you know why your marketplace might fail to make a mark and lose to the competition?
I have discussed costly marketplace mistakes in one of my recent blogs. Still, I want you to ask this question to yourselves and note down the answers.
If you haven't thought about something really uncommon, your answers should hover around this list:
Poor user experience on the website.
No or negligible brand positioning.
Consistent poor review of the products.
Inefficient delivery channel.
No differentiation in terms of product offerings.
Unsatisfactory payment handling
and last but not the least
No support service for the customers
Today we will talk about one particular pain point of your customers which is inadequate or unstructured support service. Support service is all encompassing. It covers seemingly small favors like helping customers/visitors with a query that can be easily found by googling to professional support like helping people to improve their service. But its impact is extremely significant. A customer who is delighted with the support service is likely to spend 140% more than a regular customer. Interesting, isn't it?
Why Customers Need Store Front Support?
Like I said before, support is not a single task, it is a process that business owners need to believe in. From the customer's point of view, it is one of the most desired things of an online business. Customers might ask you about if you can manage them a variation of an available product, or how your refund policy works and so on. Sometimes, delivery package might have a few things missing or the shipment was delayed. There must be a simple way to report these grievances. Hence, customers need a store support feature at a very visible place in the marketplace.
Contacting through email can be another way of reaching the support. But trust me, it does not delight the customers anymore. Because you need to go through some extra steps which do not even guarantee your voice will be immediately heard. And then there are privacy concerns. When you are creating a ticket directly with your website profile, you can feel more confident about the safety and convenience of the process.
Despite being a very useful feature for any eCommerce marketplace, built in store front support can not be found with every single plugin. Fortunately, you do not need to worry about that if your marketplace is built with Dokan. It's one of the most popular extension, store support makes sure you can give your sellers a support feature on their store. You just need to buy the extension from this page and activate it from the website backend. There is no hidden or variable charge for different number of vendors.
How the Vendors Can Activate Store Support
As a marketplace admin, you just need to purchase the extension for once. The rest has to be done by the vendors. They have to enable the feature from their store settings page. Let me break down the steps here:
Go to 'Vendor dashboard' from your website backend.
Go to 'settings'
Select 'store' from the settings menu.
You will find two fields at the bottom of the page. One asking you if you want to enable the store support feature. And the other one giving you the option to customize the text of your support button. Click on "update settings" after you have set these things. Your support option is now ready for use.
Notification Alert of the Support Tickets
If the feature is activated, vendors will find a new menu in the dashboard named 'support'. They can check the details of all their customer tickets in the dashboard. Whenever a customer creates a support ticket, it is shown in the dashboard and the vendor gets a notification via email as well. To vendor's convenience, the email will contain the link to the support topic.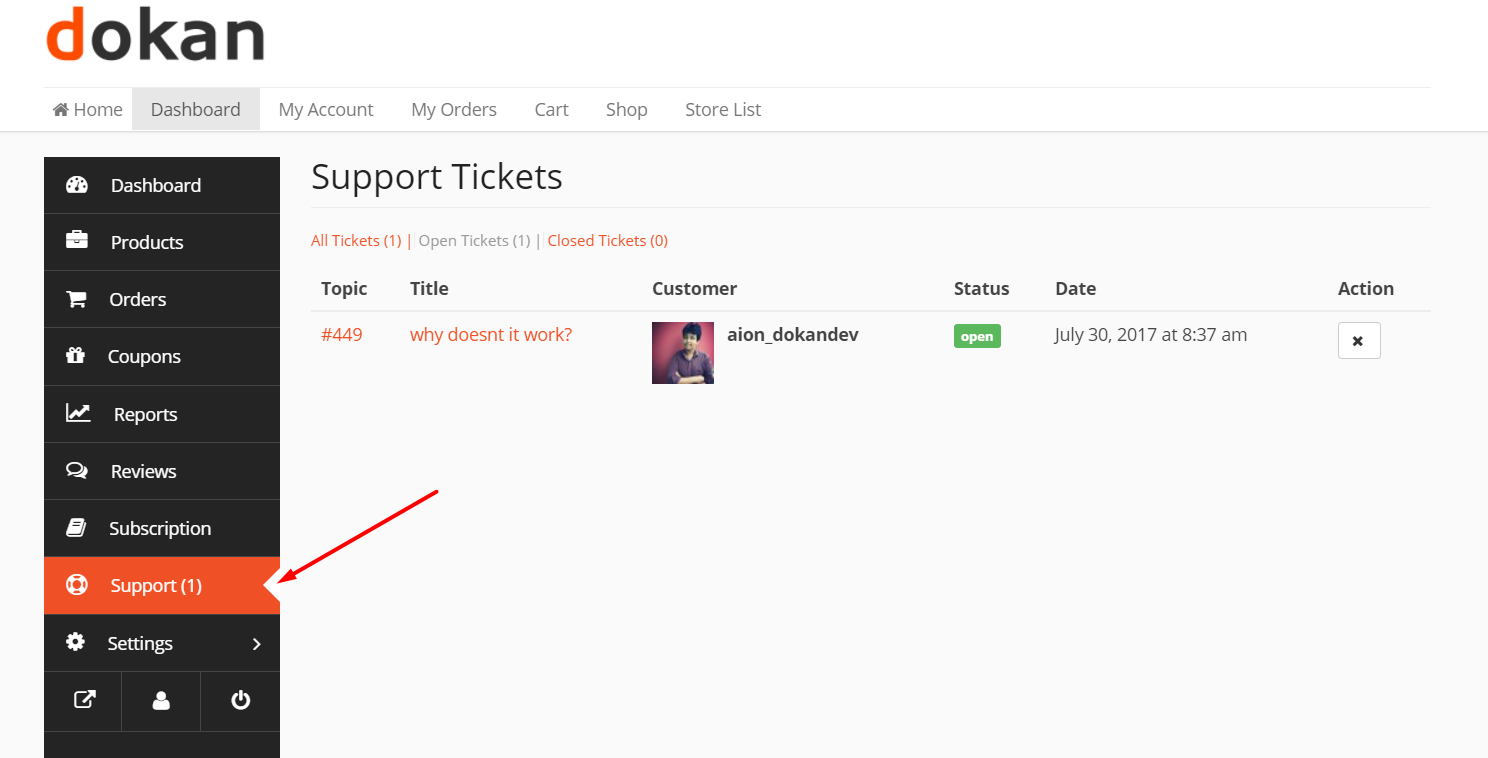 Responding to the Ticket
Vendors need to click on the topic hash or title to view message from the customer. They can make a reply from there and change the ticket status accordingly. The ticket status can not be changed unless you attempt to respond to your customer's message. A great way to track your support performance, isn't it?
What It Translates For The Customers
Open A New Support Ticket
Customers can now find a button at your store front. After clicking on it, log in from their profile (if not already logged in) and create a new support ticket. Something like this will appear on the screen: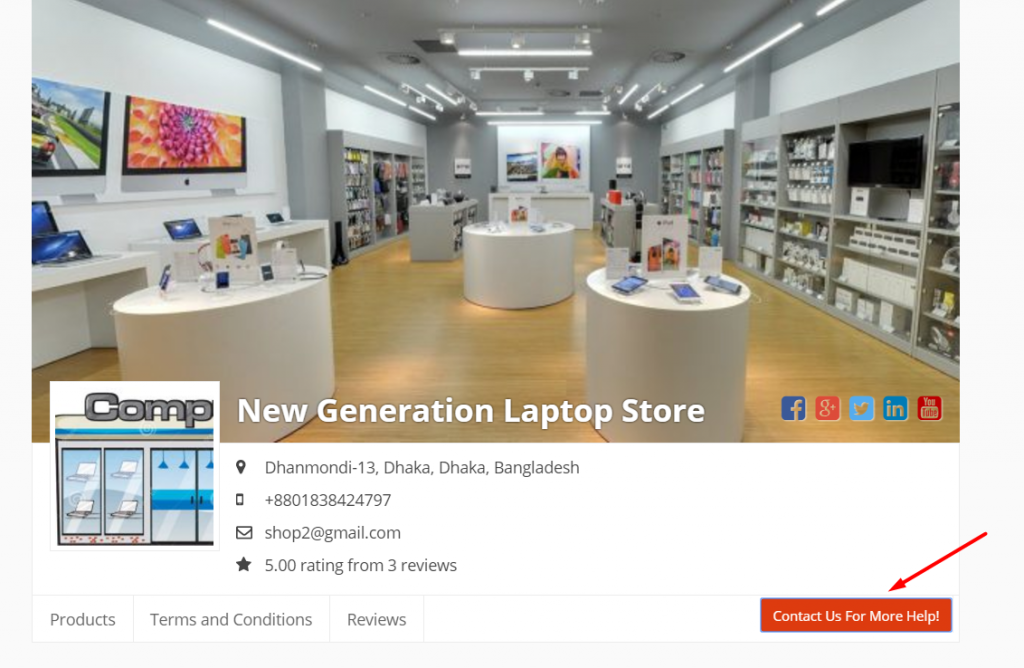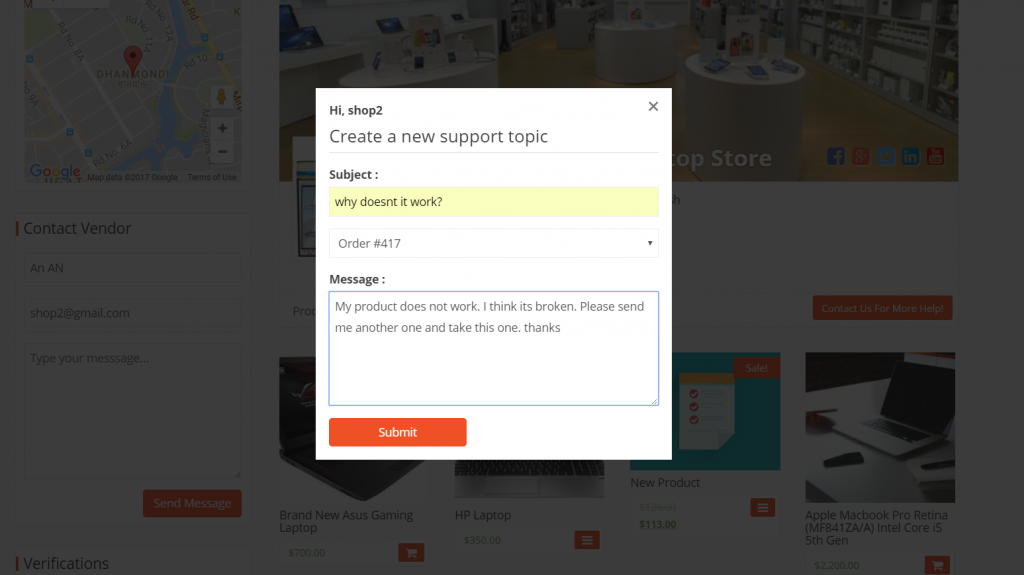 The best part is that customers can refer to an order number in your ticket. It will help the vendor to inspect the issue and come up with a prompt solution.
So, Do Not Skip This Crucial Side of Business
The more interactive a marketplace is, the better its chances of standing out in the crowd. Customers love to talk about products and other conveniences that are in store for them. What better way you can ensure it than a simple to use button for support?
So, if you are yet to add store front support in your marketplace, do it as soon as possible. Without this feature, your marketplace will lose credibility among the customers. It will, in turn, hamper the sales and make your marketplace difficult to sustain.