Image Watermark for WP UserFrontend
Many people asked us about Image Watermark feature for WP User Frotnend PRO plugin. Well, there are few plugins already out there can do the job for you.
In this tutorial I will show you how to use Image or Text watermark with WP UserFrotnend plugin.
I had a look on couple of plugins – Transparent Image Watermark, Simple Watermark, Bulk Watermark, Easy Watermark, Image Watermark and Watermark RELOADED. All these are free in WordPress plugins repo and at the end I will recommend to use Transparent Image Watermark. It works perfectly with WP UserFrotnend and according to its author it will suit with any WordPress projects.
Install and Configure:
To use Transparent Image Watermark is pretty easy and straightforward. Go to Admin area -> Plugins -> Add New. Now, search with the name "Transparent Image Watermark" (without the quotes) and you will get the plugin like below image. Click on Install Now.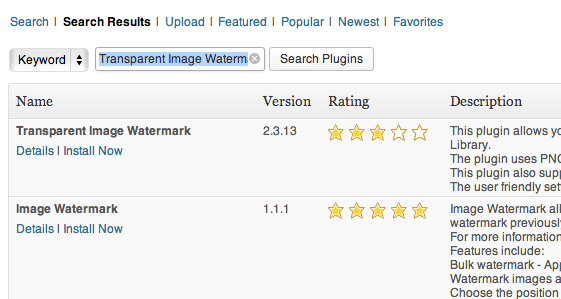 After installing the plugin, make sure to Activate it. Afterwards, you can configure the plugin. To do so, go to Settings -> Transparent Watermark:
You can choose Watermark Type – Image or Text ,
There are more options for update version but, free version can do our job so, it's up to you
Images Sizes – I will recommend you to select all
Under Image Watermark tab – you have to insert your watermark image URL or Relative path.
Things to consider:
If you use Image as watermark make sure it's transparent and PNG format
Make sure you put right image URL or Relative Path. You can check it under Watermark Preview tab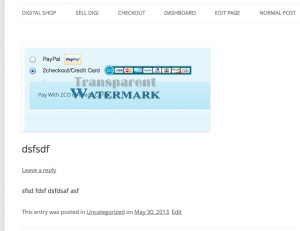 Thats all. You are ready to use watermark image feature.
If you have any question ask on our Support Forum.