WordPress Frontend Project Management Solution for Increased Productivity
Like any organization or administrative management, project management also includes basic managerial tasks.
So, every time you want to manage a project, you can not fight shy of these tasks. Traditionally, project management needs a lot of paperwork and the workforce to get it done. It often leads to budget overrun and even creates bureaucratic complexity which takes up unnecessary time.
Fortunately, a WordPress Frontend Project Management software solution can not only save your day but also help you outperform when it comes to managing a project. In this article, we will show you why it is important to manage a project and how it is beneficial when you manage everything from front-end.
Why is Project Management Software So Useful for You
A proper planning is half done the work
Perhaps, this saying is the most appropriate one when you are going to manage a project. Once you have begun a project, make sure that you have planned well before the inception, so that you don't need to put in much effort to finish it. A piece of full-fledged project management software will allow you to do everything of your project in line with your plan. If you employ Project Management software you will find it much easier to implement your plan.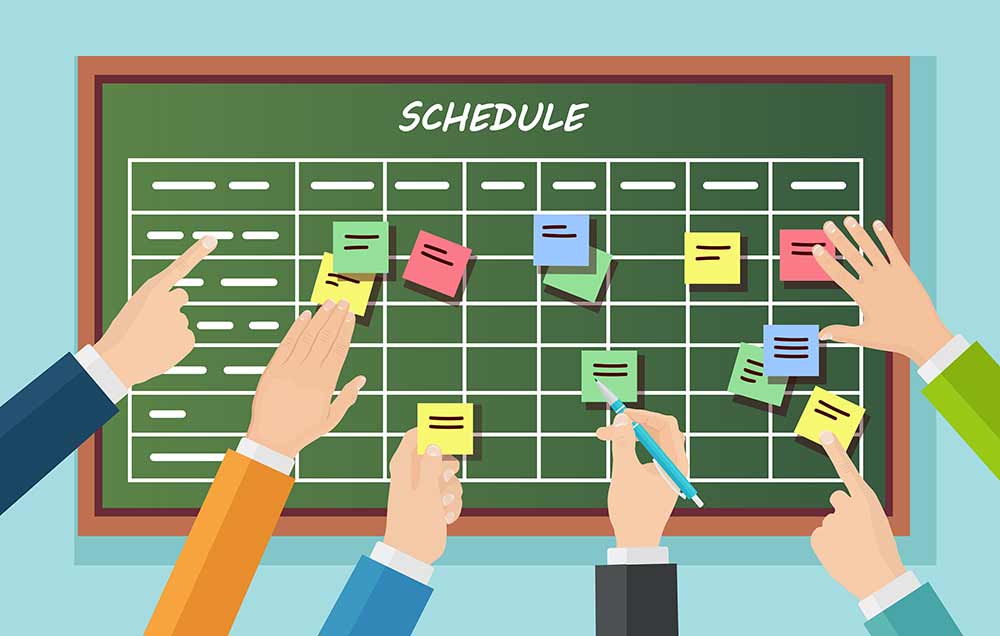 Moreover, without proper scheduling, it may need more time to complete an objective. With a good project management tool, you can easily set up schedules for each and every objective. You will even be able to set up milestones to achieve your goal.
Furthermore, a project may bring a good number of people together to work as a whole. This coordination or collaboration is a much-needed thing to get it done in due time.
Besides that, no matter what type of resources you plan to utilize, you need to make sure that you use the resources at the lowest cost yet with optimum optimization. You can keep expenditures under control effortlessly with the magic of a project management tool which will keep all the logs of day to day expenses.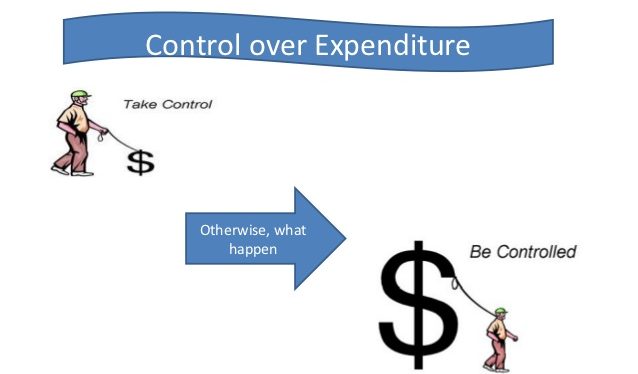 Another thing is that customer satisfaction is one of the most important factors for any business organization. Believe it or not, a satisfied customer will advertise on behalf of you recommending your good service to others. Only will you be able to create such an impact on your customer, when you can complete your project on budget. This is very much important to get on well with your customers.
How WordPress Frontend Project Management Helps to Manage Everything
A WordPress Frontend Project Management software lets you do everything without having much technical knowledge. The followings are the reasons that pinpoint the ways a Project Management tool enables you to carry out tasks when it works from Frontend Dashboard of your Website.
1. Privacy of Your Project Tasks with Personal WordPress Dashboard
As a project manager, you may want to keep certain task list private and confined only in the back end. A project manager with front end capability will help you to do so with ease. You don't have to be tech-savvy at all to do it.
If you manage your project only from the back end, things can get messed up due to the lack of personalized dashboards. However, a front end personalized dashboard for every user will make everything so neat and clean that nothing will stick around here and there.
2. Security of Your Website
If all the users are entitled to access to the back end panel of your website, chances are high that your website gets hacked! As WordPress veterans, we would like to say that it is always easier to hack a website if one has access to the back end. Hence, we recommend you use a good project manager that has front end capability which reduces the potential risks of getting hacked.
3. Get Overview from Front End and Keep a keen Eye on Your Projects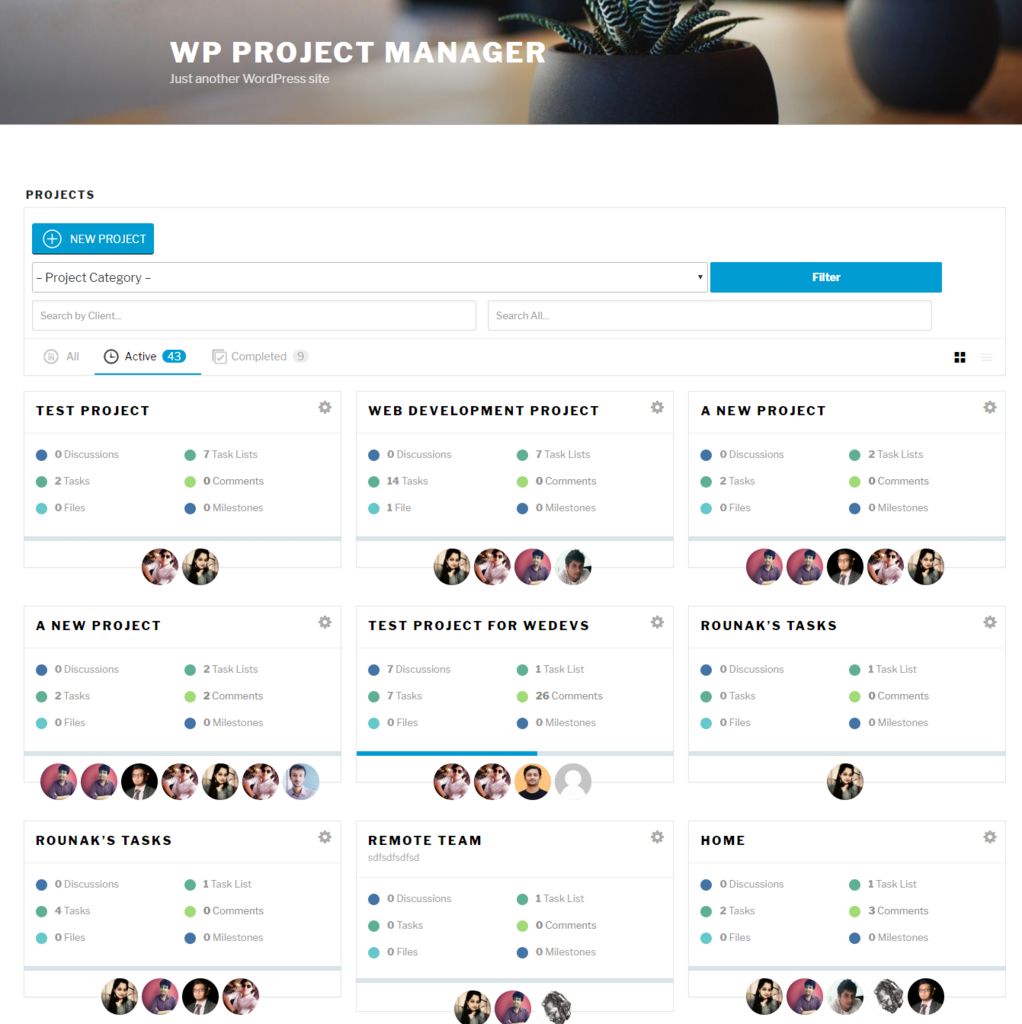 With front end compatibility, it will be easier for you to inform your users what still needs to be done, what's been completed and how much of a task is done as well as by whom is completed. You can easily keep track of the overall progress of your project from front end. Here is a screenshot from front-end:
4. Use Short-codes to Save Your Valuable Time and Effort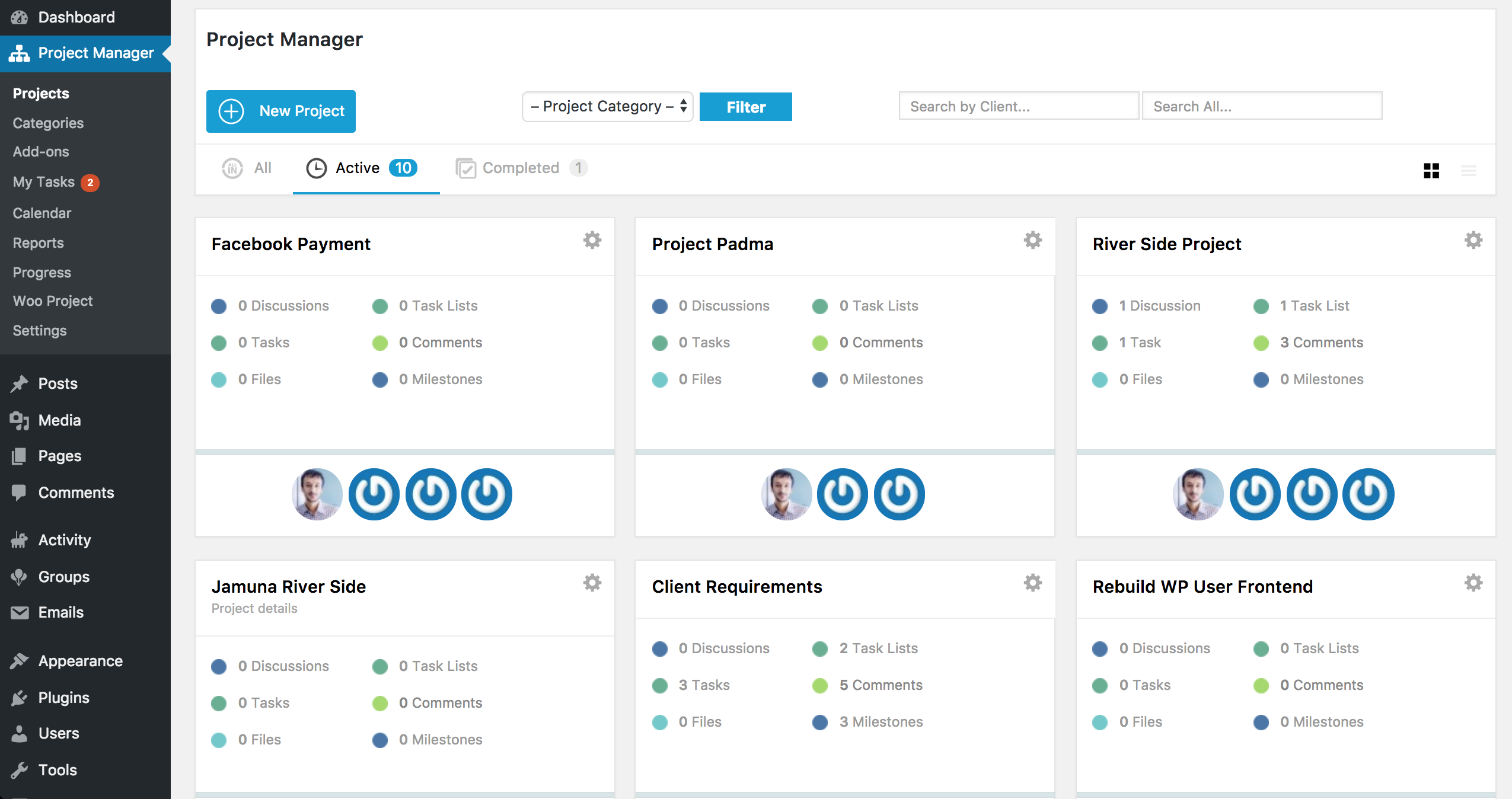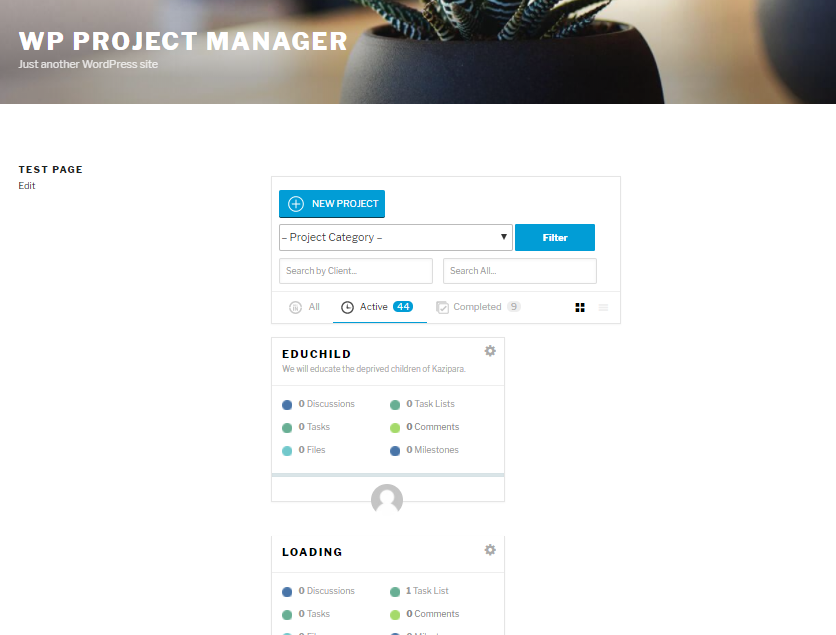 You can use short codes to get it done within a blink of an eye. For example, if you want to show all your projects with all the same features and options as it used to show in the back-end you can use the short-code [cpm]. Here is a back-end view of your Projects: To see your projects on the front-end go to WP Admin Dashboard → Add New Page → Type [cpm]. When you hit Publish button you will be able to see the projects from the front-end: Check all the short-codes from here.
5. Establishing Prompt and Effective Front end Communication with Clients and Vendors
In addition to your team members, WP Project Manager will also allow you to communicate with your clients and vendors or suppliers. It will provide your clients and vendors with individual usernames and passwords so that they can have access to the project files, can give feedback, make edits, and review progress.
6. Break down a Project by dividing into multiple tasks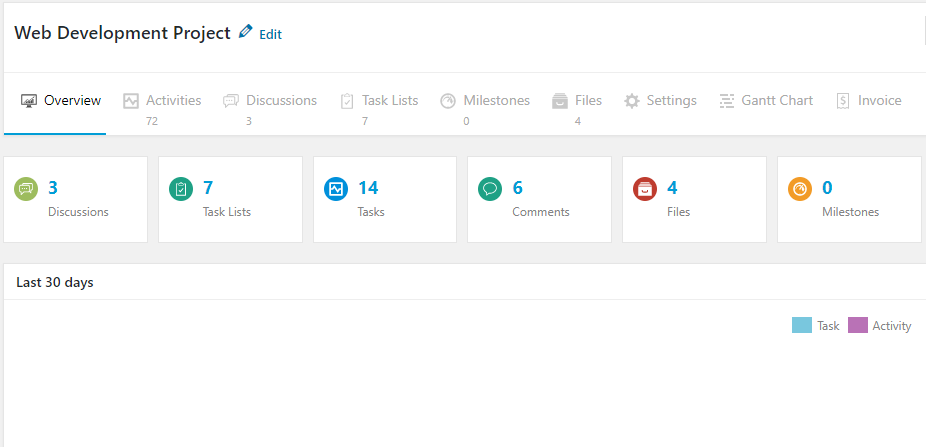 As you can see in the above screenshot of WP Project Manager, it has options like Tasks, Task Lists to break down a project. You can assign these tasks to the users according to their roles. There are also options like Discussions, Comments etc. to communicate with each other.
7. Sharing Documents and Eliminates the Need for Emails and Status Update Meetings
Document sharing obviously belongs to the bare necessities while you are managing a project. WP Project manager will let you and your employees share files of any type. It also eliminates the need for emails and status update meetings.
8. Delegating Tasks from Frontend
As a business entrepreneur, you are most likely to measure the skills, knowledge, and abilities of employees before delegating tasks to them. WP Project Manager is pretty handy for identifying the appropriate employee to whom you want to delegate a certain task to. Since it allows you to assign the roles of each employee, they will be able to know who they should contact if they have questions or concerns.
Read More: 11 Best Ways to Boost Your Project Management Efficiency with an Automated Task Manager.
Integrate A WordPress Frontend Project Management System & Boost Your Team Productivity
Very few WordPress plugins will allow you to manage your project from the front end. WP Project Manager is one of the rarest plugins that will provide you the opportunity to manage everything from the front end. It will also help you manage multiple projects simultaneously both from front-end and back-end.
The good news is that the plugin is intuitive and easy to use not just for you but for your team members and for your clients as well. It does not matter whether you are operating from the front end or back end. Because you can complete tasks from the frontend just like you can do from the backend.
There is a demo version of the plugin by which you can find out more by having a hands-on experience. We believe that this plugin will be really helpful to increase your efficiency if are dealing with Projects. Good luck!