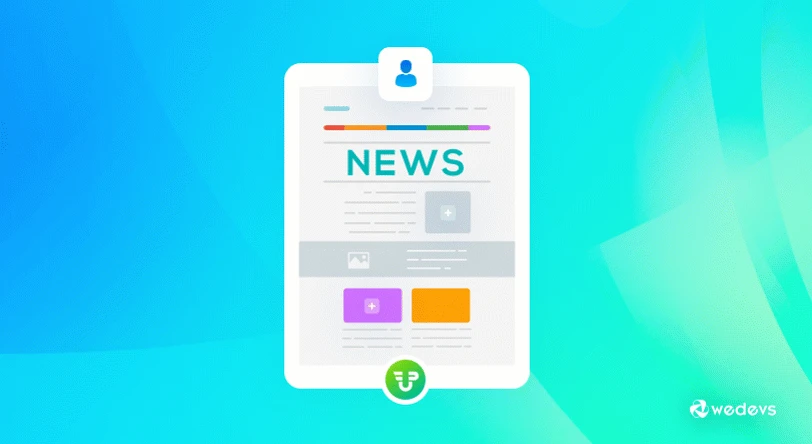 Create A WordPress News Site Using WP User Frontend For Free
News, in the beginning, was only shared with someone using only the words from one's mouth. After the revolution of the printing press in the 15th century by the people like Johannes Gutenberg, it started to began taking shape in it's written form.
At the time of this writing, another revolution is taking it's most mature form yet. The Internet! With its rise, people are building things that would have taken years to built before.
Reaching millions of people worldwide with a single tweet and connecting with thousands of people using your blogs are only possible with the power of the internet.
All of this happens without the intervention from a third party. Making you, both the content producer and distributor.
Resulting In WordPress, A FREE Content Management System
With all the innovation going on around the internet, WordPress is surely one of the most popular if not one of the best. And what better way to create a news website than to use this free Content Management System.
Is WordPress Good Enough for a News Site
A news site can be a great way for you to share new content every day on a regular basis. With it's easy to understand the learning curve using WordPress can be a very seamless & effective way to create a news portal website.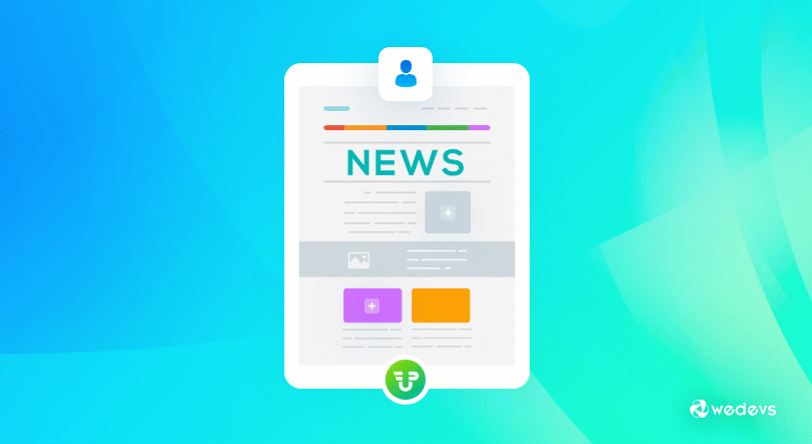 And no you won't need any complicated WordPress news plugin or any other sort of things.
We are proud to say that it can be easily done by using our very own WordPress User Frontend, The ultimate frontend solution for WordPress.
How Does WordPress User Frontend Help
WP User Frontend provides you with the best in the class frontend solutions for WordPress. You will be able to give your users features from the frontend that would have needed backend access.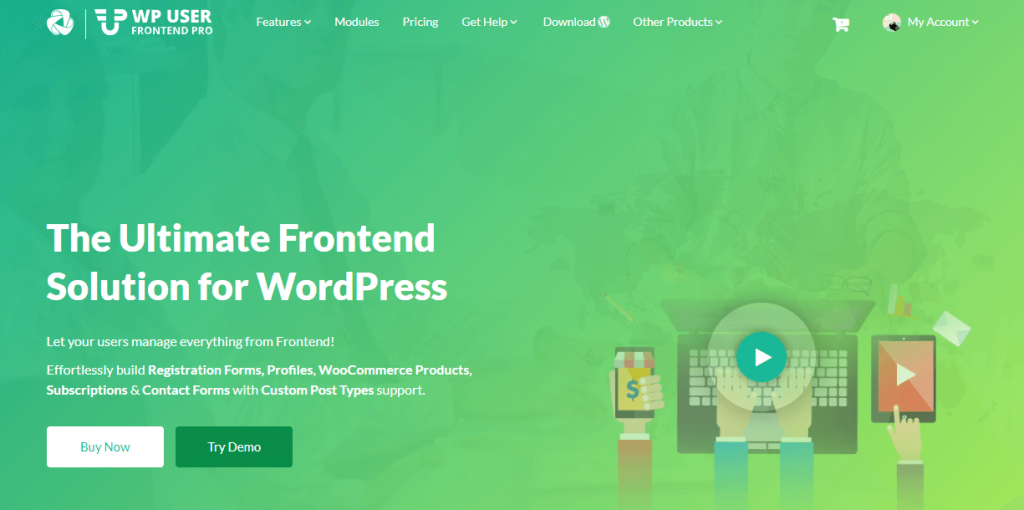 Create content submission forms, restrict content, let your users post from the frontend, create membership sites and more using this plugin. Quite true to its name it is the ultimate frontend solution.
If you want to learn more about WP User Frontend Pro features and all its capabilities don't forget to check out here.
What Are The Needed Plugins
To get started with creating your own news portal website there are a few essentials that you need to make sure that you have. And the best part is you don't need any complicated WordPress news plugin to create one.
You only need WP User Frontend to start building your own WordPress news site. However, you can consider the Pro version as well to get more advanced features.
And the options are –
That's it. Nothing complicated.
So, Let's Get Started
Go to your wp-admin→Plugins→ WP User Frontend. Install & activate the plugin.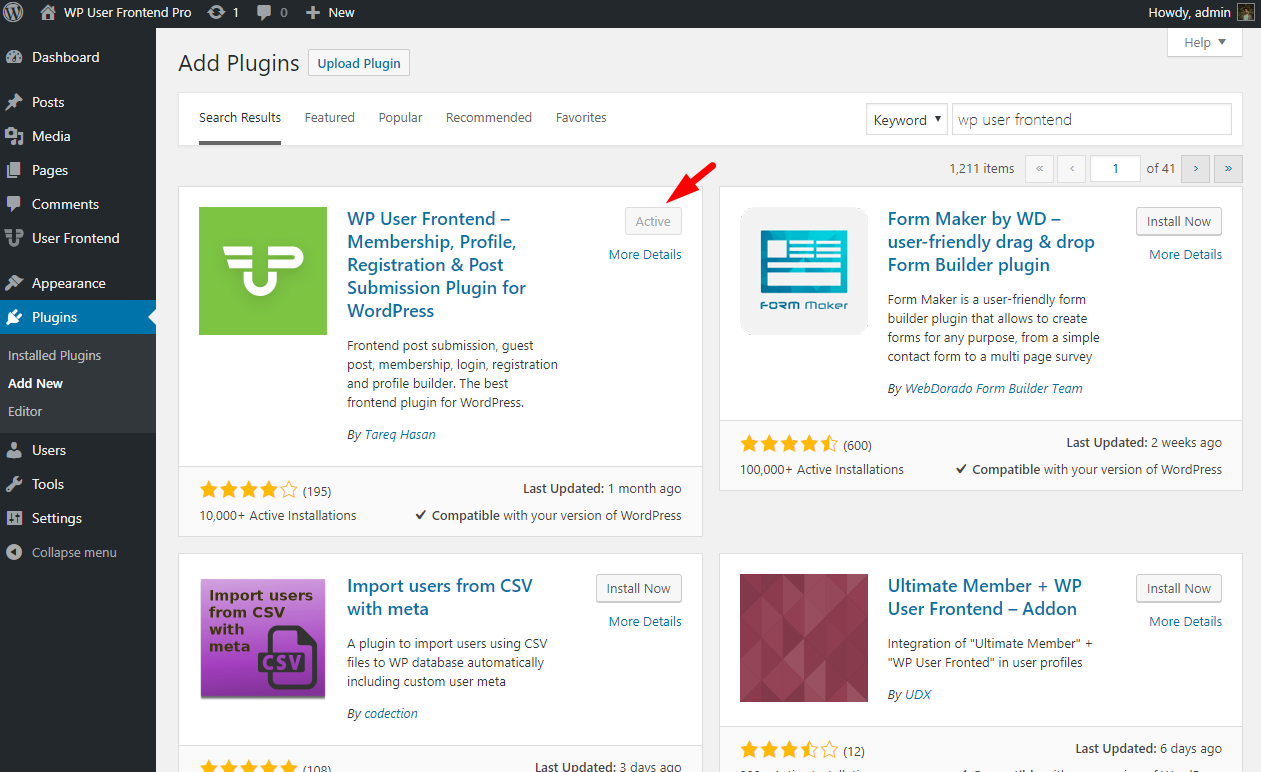 Follow this step-by-step documentation to see how you should go ahead with WPUF.
Here is a live demo if you want to see what the final product will look like.
Live Demo For WordPress News Site
First You Need A Registration Form
Registration forms are the first thing you need for your WordPress news site. You need to let the content writers and guest bloggers who are going to write the articles for you register and create their own profiles.
To do that you need to create registration forms for your WordPress news site. Simply go to the wp-admin→User Frontend→Registration Forms
Create a new registration form with the field options you will need. Such as the first name, last name, username, the password they want to have, and more. You can add the fields you think are necessary.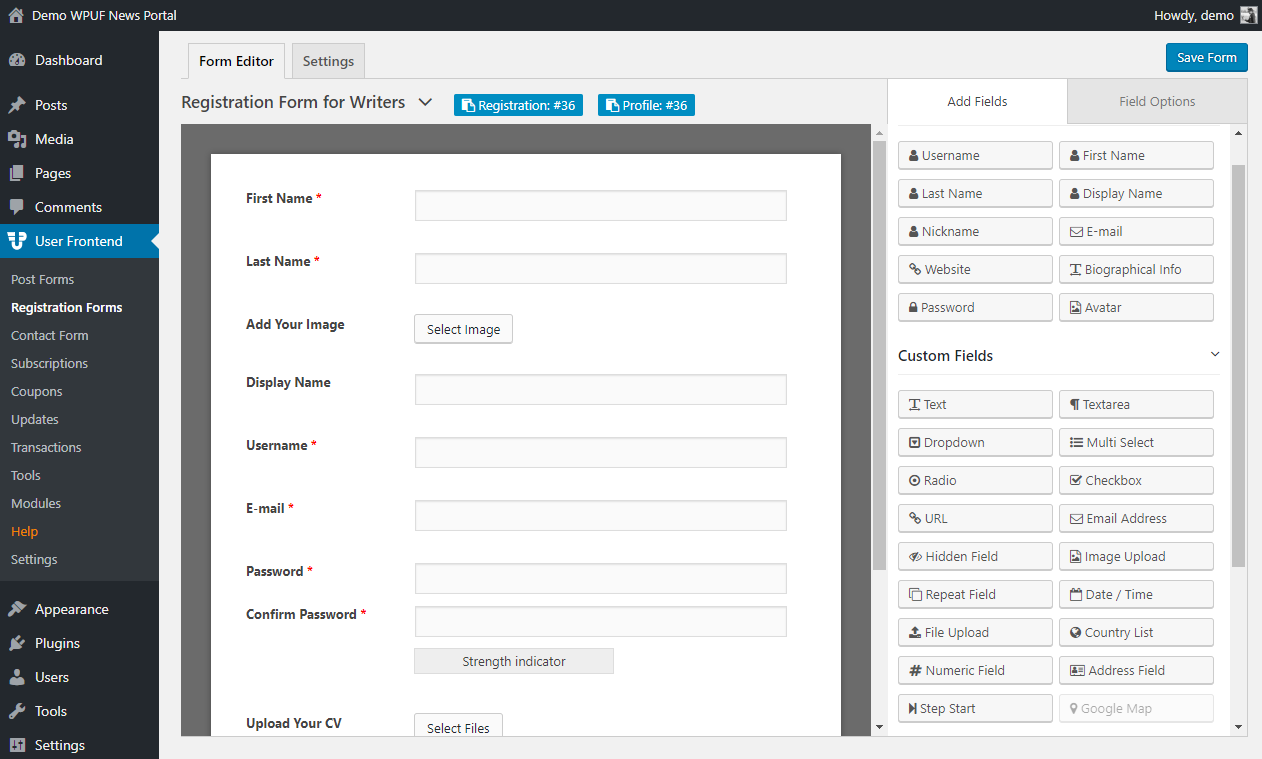 Don't forget to play with the form settings tab. You can enable email verification, new user role, user status, registration messages and more from there.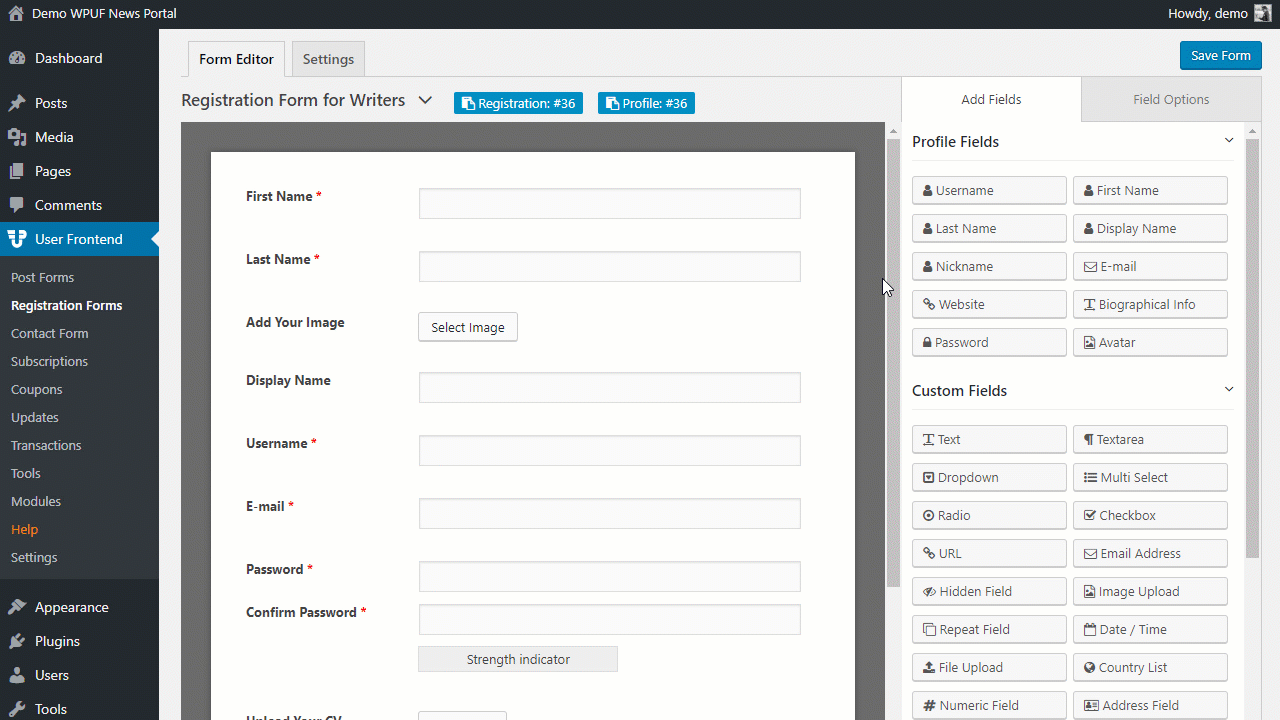 Create An Add News-Post from The Post Menu
Now comes the part where you will need to create an Add News post for your writers to use after successfully registering on your WordPress news site. But beforehand you need to make sure you have your categories set straight.
In term of on what niche your news website is on you need to set the category of the news sections.
You can do that by going to the wp-admin→Posts→Categories. Set the categories name, slug for that category, the parent category (if you want to set any), and a description for that category.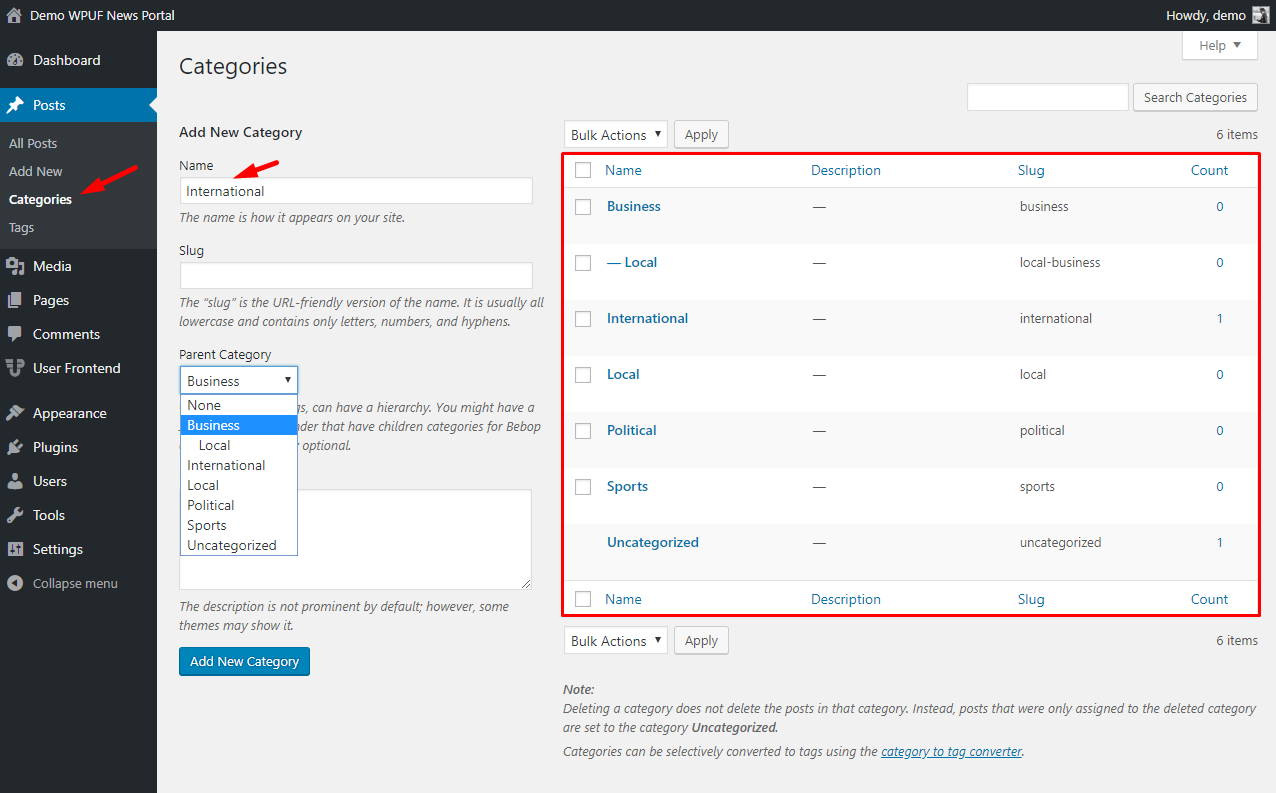 When you have set your categories, you are ready to create your post forms that your writers will use to write. Go to wp-admin→User Frontend→Post Forms.
Click on the Add Form and create a new form.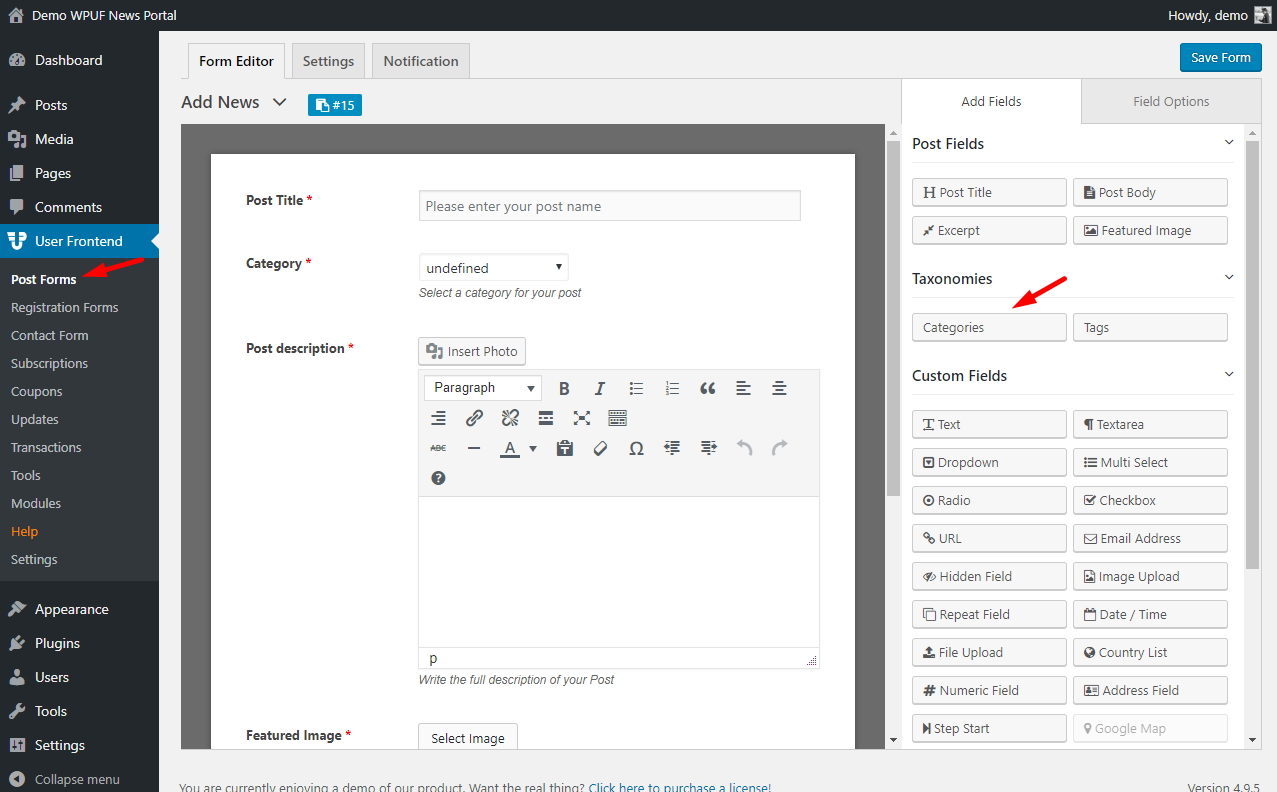 Select the fields you want your writers to have. Don't forget to insert the Categories Taxonomies field. This will help you and the writers select the category of the news they are writing. Making everything organized on your WordPress news site.
Bonus Tip: There are two tabs named Settings, Notification on the upper side of the form. There you can configure if you want the post status to be pending and review it yourself, get an email notification for a post submission, set a post-expiration time, and much more.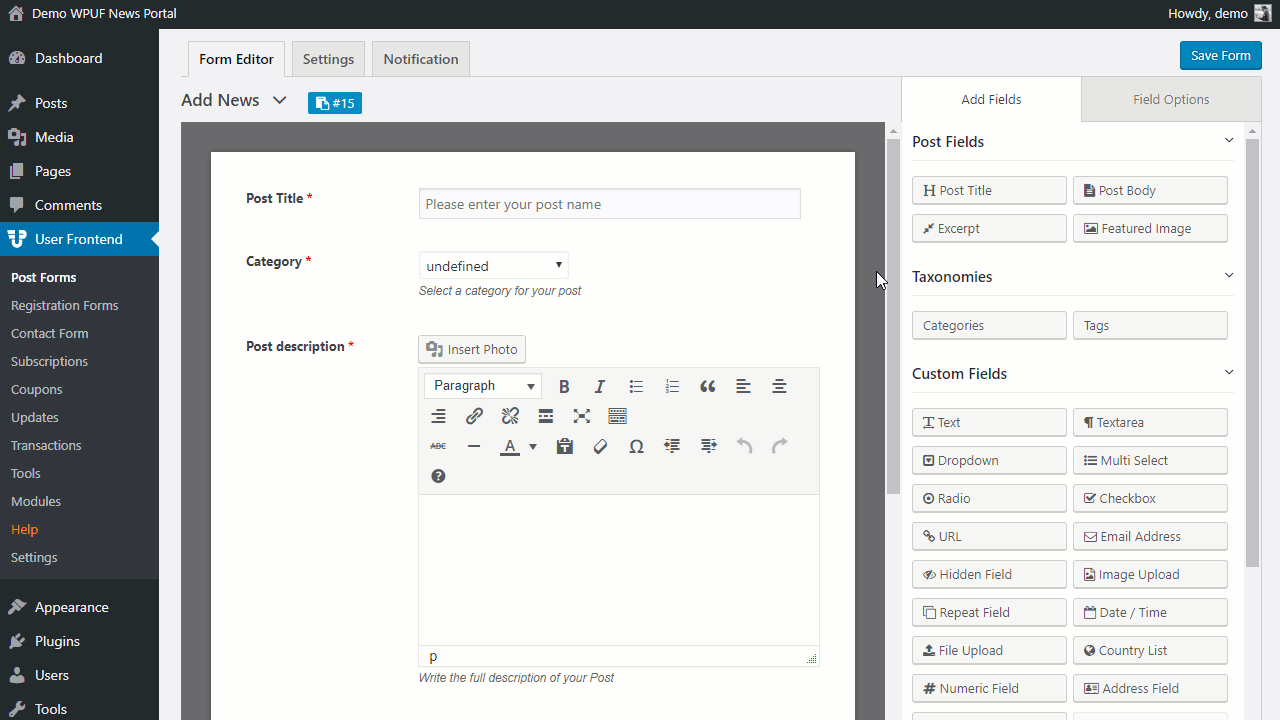 Finally, Create Related Pages & Others
Now it's your turn to create the necessary pages for your WordPress new site to take its shape.
Go to wp-admin→Pages→Add New and select the form you created previously from the Post Forms menu using WP User Frontend.
Your shortcode will be automatically pasted and be placed on your page.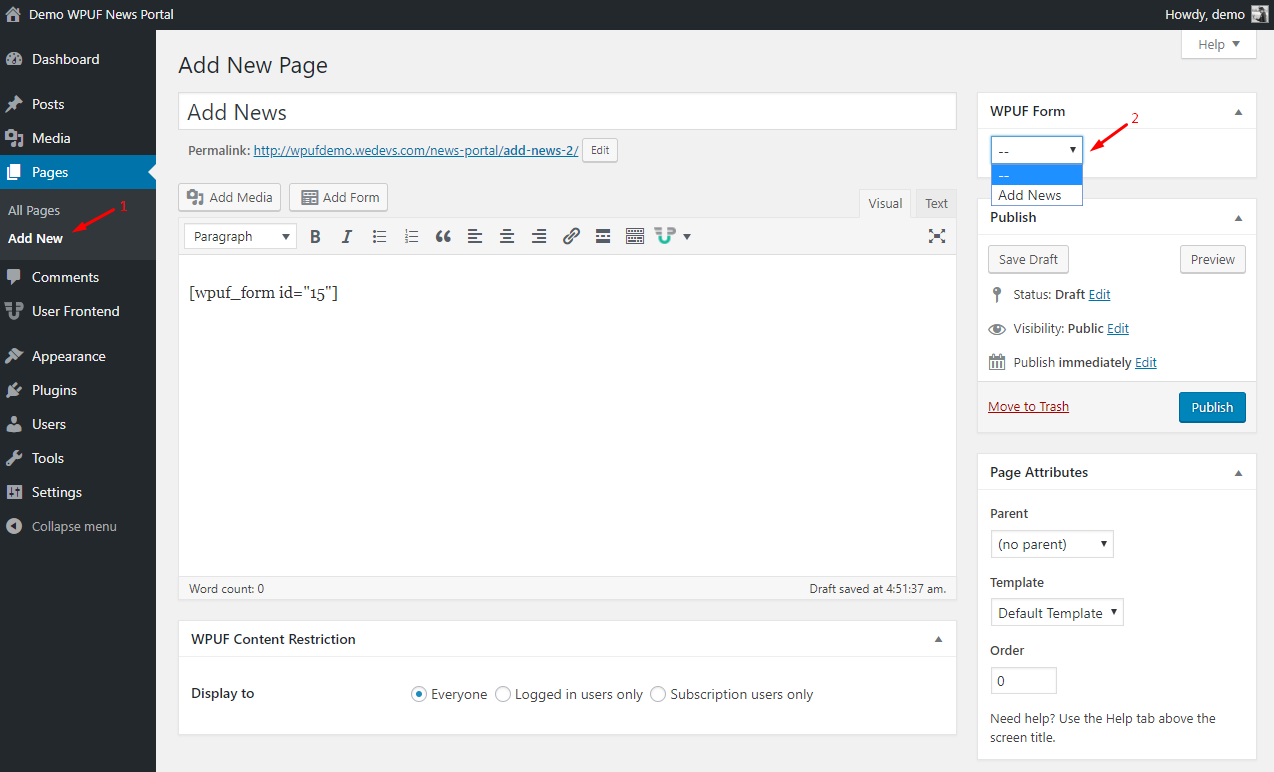 Once you have created the necessary pages go to the wp-admin→Appearance menu→Menus and set the menus to the pages that you like to organize.
See the demo if you have trouble understanding anything related to this.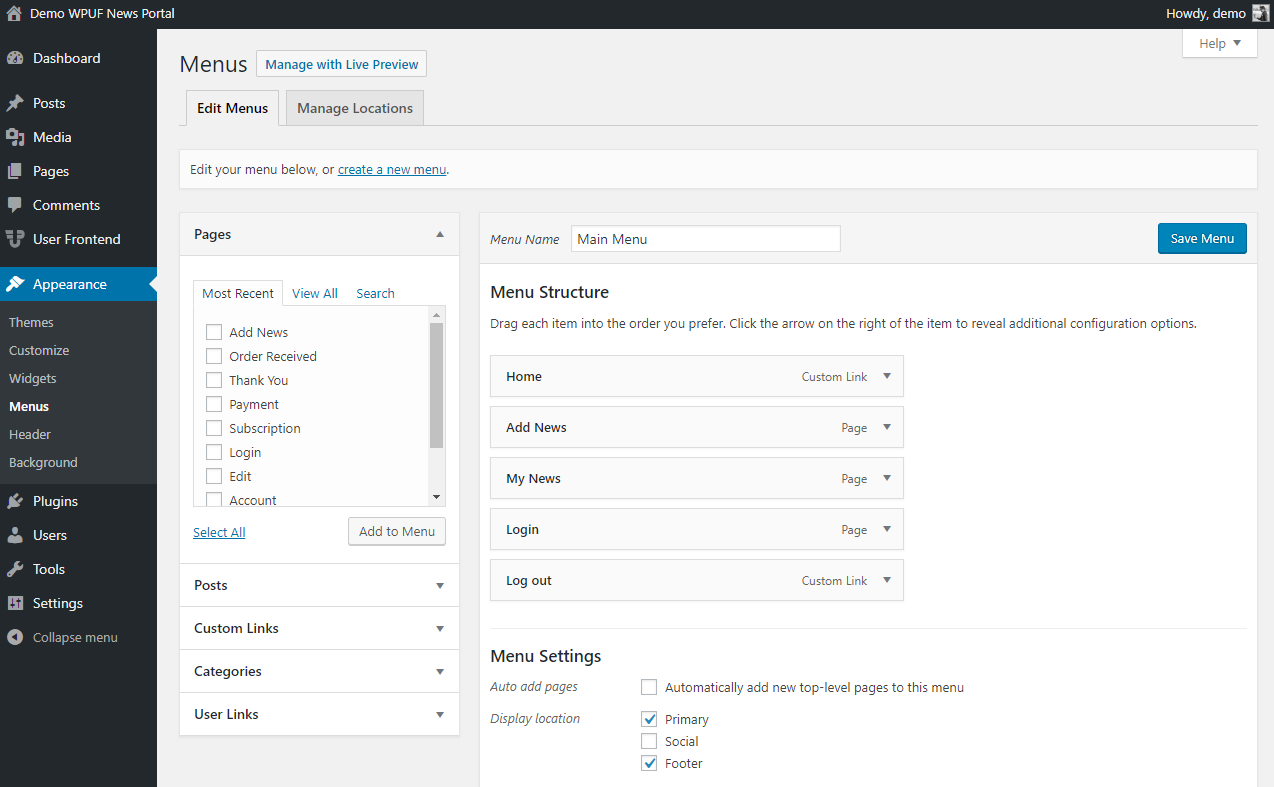 Top News Sites Built with WordPress
You have done creating your first WordPress news site with WPUF- one of the best WordPress website builders. Now take a look at some of the world-famous news sites which are built with WordPress.
If the can rely on WordPress, you shouldn't get hesitated. And solutions like WPUF are here to make your job easily done.
Ready To Get Started with The Easiest WordPress Website Builder?
A WordPress news site without using any WordPress news plugin that is readily available. Yes, that's certainly possible with WP User Frontend alone.
WP User Frontend can be used to create multiple things, just take a look at how we created a classified ads site with this awesome WordPress website builder previously. The possibilities are endless and depend on your imagination of what you can do using WP User Frontend.