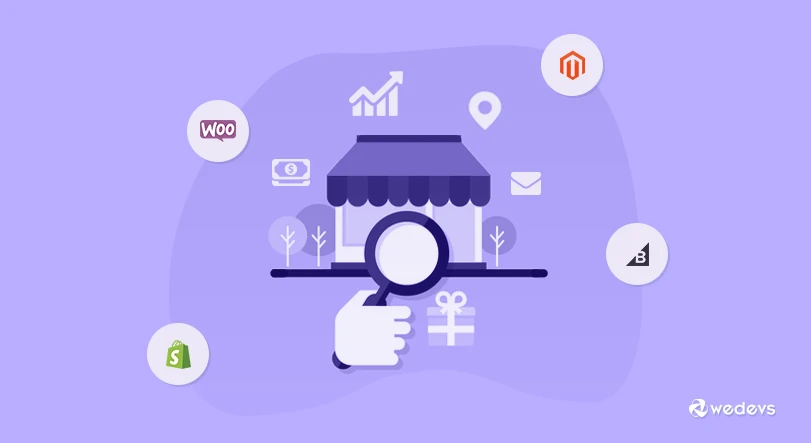 Most Popular eCommerce Platforms Right Now: Which One To Choose
Online business or eCommerce is taking the market by storm. New eCommerce stores are opening every day. Hence the need for the eCommerce platforms. Before starting a business, choosing the right platform for the online store is really important. So, in this post, we're going to find out which one is better for a startup business. If you wonder which platform suits which kind of business, this post is for you.
Comparison of The Top eCommerce Platforms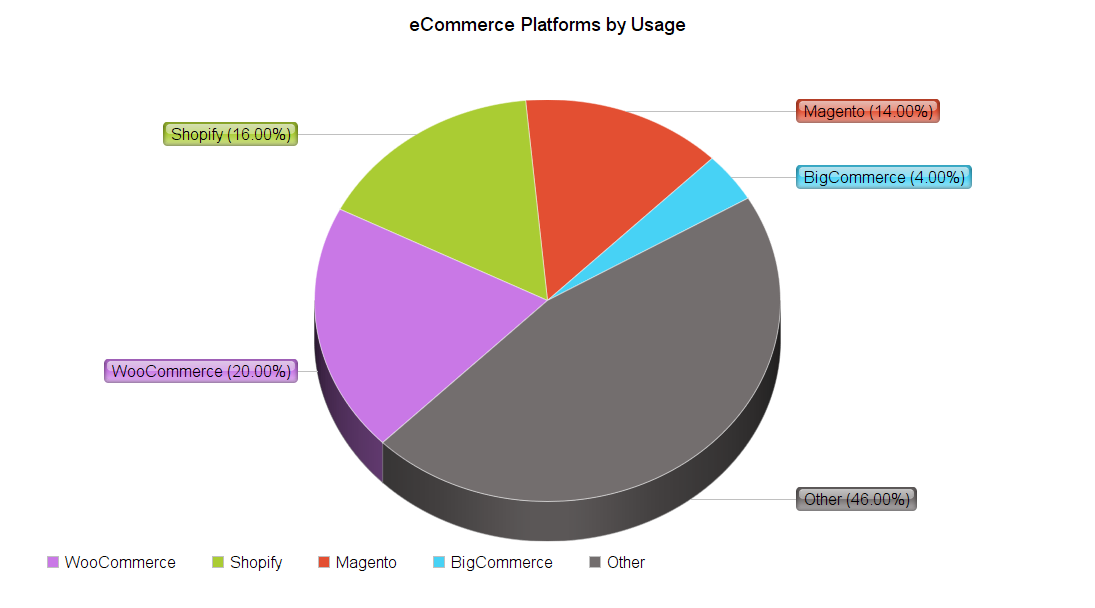 You'll find loads of eCommerce platforms in the market. Among the top 1 million websites, WooCommerce is the most adopted eCommerce platform right now. Shopify and Magento are in 2nd and 3rd place respectively. BigCommerce is also getting popular. 
In this comparison, we're considering the best contenders out there: WooCommerce, Shopify, Magento, and BigCommerce. Let's dig in.
Highlights
All these eCommerce platforms are rich in features and can help you build your perfect online store. They have some similarities and dissimilarities. You'll find about them in this section.
WooCommerce
WooCommerce is a highly customizable and extendable open-source solution.
There are thousands of templates to change the look of your site.
Bundled with PayPal, BACS, and Cash on Delivery payment options.
Marketing and SEO integrated. Built-in analytics and reporting.
Unlimited product categories.
Related: Top Websites Using WooCommerce for eCommerce
Shopify
Shopify is a hosted platform. No hosting is needed additionally.
You can sign up for an account and build your store right away.
Modern and user-friendly templates.
It has built-in analytics tools. SEO and social marketing integration are also available.
Magento
Magento also comes with a hosting. So, you wouldn't need any additional web hosts.
Very responsive and totally customizable template.
Built-in multi-currency and multilingual support.
Comes with search engine optimization tools.
Unlimited product categories.
BigCommerce
It is also a hosted platform like Shopify and Magento.
Content Management System is integrated.
It supports 60 different payment processors in different currencies.
Responsive and streamlined templates.
Pricing & Other Costs
Since costing is an important factor especially for the startups, we're taking this discussion without further delay.
WooCommerce is an open-source plugin that works with WordPress. That means it is totally free. But it doesn't come with a hosting. So, you'll need to buy a domain and web hosting. Though you can cut this cost if you already have one for your personal or company site. Another cost may appear. It depends on the number & type of extensions that you would need to install with it. They have an Extension Store with about 300 plugins in different categories. Some extensions are free and some are paid. For startup businesses, starting with free extensions may serve all the basic functions.
You can get more idea about the costs of building a WordPress site from here.
The cost of Shopify comes in two steps. There are monthly fees and individual transaction processing fees. The monthly fees can be from $9 to $179, according to the version you choose. Besides, you'll be charged for every individual transaction through third-party gateways. That means you can only use Shopify payment gateway for free. Otherwise, if you use payment services like Paypal, Stripe etc., you'll have to pay up to 2% per purchase.
Magento may be the most expensive solution than the others. The yearly cost is 18,000$ for the Enterprise Edition. So, it might be difficult for small or startup businesses. Although there is a free version named Community Edition, it needs a lot of plugins which are not free. Moreover, you'll need a hosting provider for this edition.
Based on different packages, BigCommerce can cost $29.95 (Standard), $79.95 (Plus) or $249.95 (Pro) monthly. It holds a lower price range than that of Magento, but higher than Shopify. Moreover, it charges a transaction fee for the Standard package like Shopify. Though it won't charge such fee if you upgrade to the plans like Plus or Pro.
Limitations
Every solution has some drawbacks too. We've tried to explain them here.
WooCommerce
Since it is a WordPress plugin, you need to know a little about WordPress to run your site.
It is not a hosted solution. As a result, you have to be careful in choosing the right server.
Shopify
The products attributes are limited. You can describe your product with only three attributes: size, color, and material. You can add other options for each of these parameters, but can't create new ones.
If you want to expand the features of your store, you'll need to spend additional fees.
You may find the URL structure unimpressive.
Customization can add up to the expenses.
Related: Here's how WooCommerce compares with Shopify
Magento
The expense of Magento Enterprise Edition is huge.
Even the free version needs some features and apps which don't come as free.
Programming skill is needed for the set-up and customization.
Related: Here's how WooCommerce compares with Magento
BigCommerce
Compared to the competitors, the number of apps is lower.
In the number of free themes, this scarcity continues.
There is an annual sales threshold for each plan.
Ease of use
How easy is it to set up or to customize? Let's get to know.
WooCommerce has a modern and user-friendly interface. Easily customizable from the WordPress admin dashboard.
Shopify is extremely easy to set up. It has a drag-and-drop interface. It makes your site fast and totally secure. The admin panel is stylish and pretty intuitive.
Setting up with Magento is a bit complex for the starters. The total customization facility of this platform may be preferred by the technical people. But it also makes it a bit confusing to set everything in place.
BigCommerce has a drag-and-drop feature like Shopify. However, the user interface isn't as easy as Shopify. Still, we'll consider it easy to use.
Preferred User Group
After taking all the facts into account, we all can agree that every platform is not for everyone. Then, which one should we go for? Let's find out in this section.
In the current situation, WooCommerce seems to be the best option for small or startup businesses. Moreover, with the necessary plugins, database system, and other tools, it'll be the perfect fit for large businesses as well.
Shopify can be useful for those who don't want to spend much time in setting up an online store. With a good budget, it can be a good option for all kind of businesses. But you need to be ready to cost more with the growth of the revenue.
Magento is optimized for the larger enterprises. If you have got a big budget with a huge business model, this solution may be suitable for you.
BigCommerce is best suited for someone who wants to operate at large scale. For those who're just starting out, there are other alternatives out there.
The Verdict
As we can see, Magento may not be a wise choice for the startup companies. BigCommerce is a prominent solution but still lacks some features. That leaves us with WooCommerce and Shopify.
Shopify is easy to use and helps to launch the online store quickly. But the transaction fees and other costs may turn to be too expensive.
On the other hand, WooCommerce is comparatively cost effective and gives more control to you. Secure payment gateway, shopping cart, limitless product attributes – these features give it an extra edge over the other eCommerce solutions. Moreover, it is pretty easy to use. For startups, it seems to be a perfect solution. That's why its popularity is growing among small businesses day by day. No doubt that WooCommerce comprises of most of the market share. With some additional investment in extensions, database or maintenance system, you'll find it ready to serve all the purposes as your business grows.