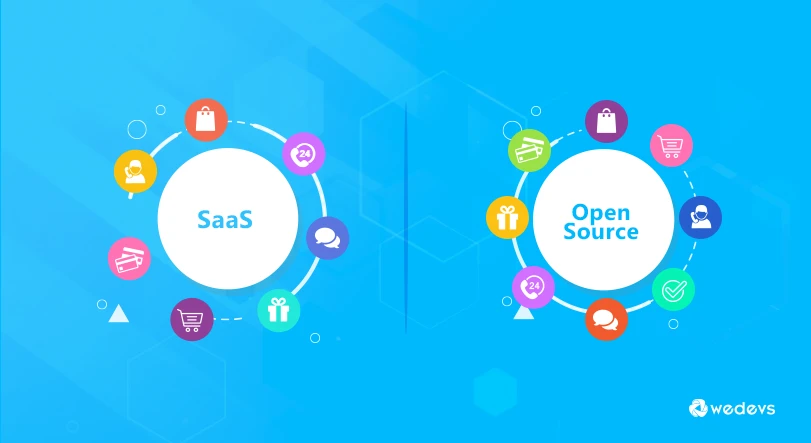 SaaS vs Open Source: What is Right For Your Ecommerce Business?
Should I go with SaaS or start building with an Open Source solution, what is right for my ecommerce business?
If you have been suffering from burning questions like these – then this is the perfect SaaS vs Open Source post to read.
SaaS vs Open Source or hosted vs self-hosted has been a long running doubt among the people who are trying to start their first eCommerce store or sales portal. It's about time we put an end to your worries by making a comprehensive comparison. After going through our facts and arguments, I hope you will clearly see which type of solution suits your time and budget.
Even some already established store owners often think the grass is greener on the other side. Newer and more solutions are coming out on both sides with massive marketing and lucrative features. But the question is, is your platform upgrading as well or do you need to jump boats – or are you just about to ruin a good thing going on. So our article is not only focusing on people who are about to start an ecommerce business, but also those who have already started but still unsure.
The Basics: Who will do the Heavy Lifting?
The major difference between SaaS & open source is at the first, you are getting a lot of things served up to you. But in the later, you have to do everything by yourself. Both of them has their perks. For example, if you are a one man army then a service would ease your pressure. People who are advanced, like to keep more control and have some workforce usually go for open source. But I have seen many open source ecommerce plugin users who run a complete marketplace alone or with just a partner using Dokan Multivendor. So the first thing you need to do is actually evaluate the time you can give to getting this prepared and running, your technical skills and resources to maintain your site/store.
In a nutshell: Less mess, low effort and big cost = SaaS
The Most Defining Factor: SaaS vs Open Source
Higher cost vs low cost or no cost. It's no surprise that ready-made services will cost more. So yes, SaaS services are costlier. What do they charge for? SaaS solutions are often commonly called hosted solutions for a reason –  they sell and manage your hosting. Your hosting plays a vital role to your shop experience, they can be small or large, average or super fast. SaaS ecommerce platforms will also charge you for domain name; the URL your store will have, the number of products you can upload or sell, how many integrations or features you are going to add to your shop etc. These are usually charged monthly and the starting packages are already example. Say, Shopify, they have a 29$ per/mo plan for a basic store, too basic perhaps. That apparently harmless figure becomes a giant 348$ bill if you multiply it for a year.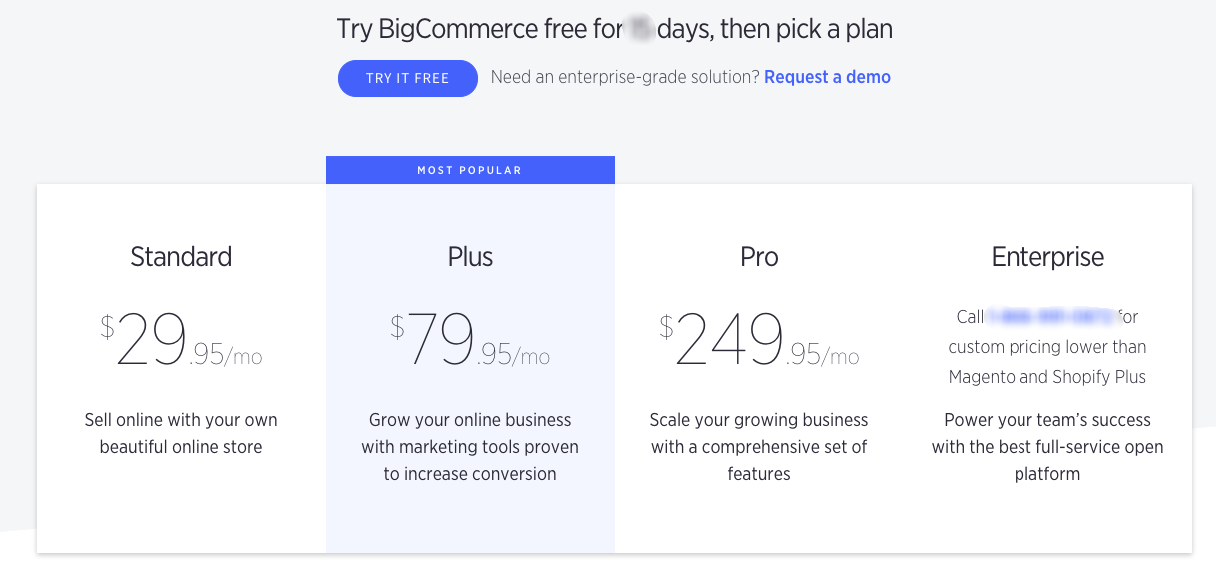 This is over the fences for any store that has just started out. I haven't added the cost of a theme yet! Now lets check the other side.
All open source ecommerce platforms are free.
They however come in paid versions which have faster support and more features. A really good thing about paid versions of open source plugins is that they do not stop working after your license gets expired – only the updates stop. If you are really looking for a seriously powerful store, then you will not be able to get by with the free edition.
Should you ever decide to upgrade to pro, the upfront cost can be formidable. You will be buying hosting & domain from your own choices – so there is a good opportunity for you here to pick up competitive prices like 2$-9$ per year. You can even skip buying a hosting if you already have one for your personal or company site. Getting extensions, themes from your favourite developers will be easier and the best thing is that you will be able to customize it any way you like. Such deep customization is not possible in Shopify like stores. You may get a theme within 30$-50$ and a bunch of handy extensions might cost you about a 100$. So, overall, the cost is significantly lower here, and you have chances to make savings.
Required Time to Get Started
You will get almost the same experiences on this part. Both times of solutions require some studying, personal training and getting used to. But you will get there without much obstacles. All the platforms take utmost care that their users find it easy to learn and implement the features of their solutions. Usually SaaS store platforms are really much faster than everything else around here.
But open source solutions can get a little tricky. You may need to spend some little more time and trial-error testing to get everything running properly. This can happen if your entire ecommerce solution or feature extensions have multiple sources and you may need some tinkering or customization to make them shake hands.
Maintenance and Debugging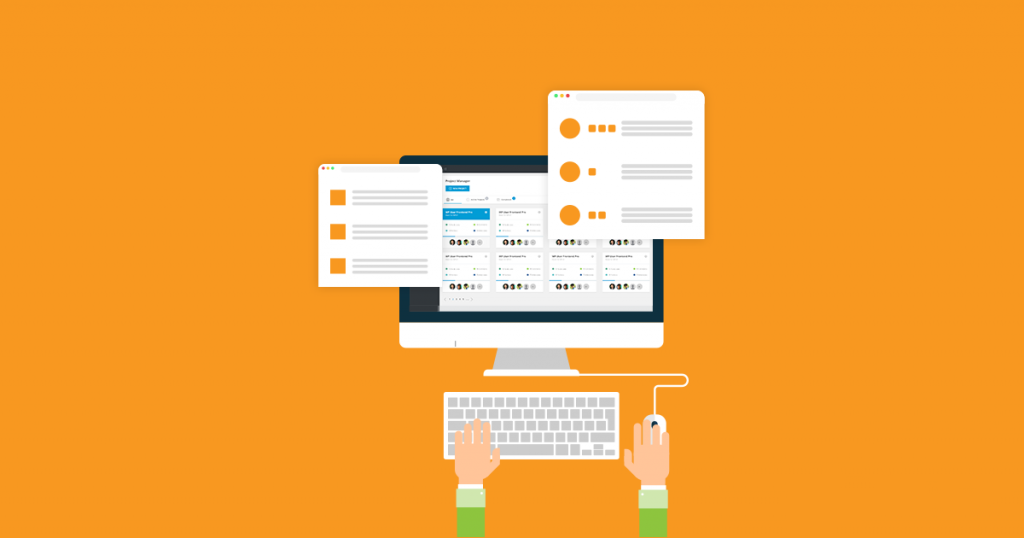 SaaS vs Open Source comparatively charge higher because they take care of the house keeping part like site optimization, adding new features, fixing bugs etc. But for an open source solution, you are on your own. You can either learn the basics, ask the community or hire someone to take care of it for you. Issue resolving and future development will be handled by the software provider, and that will vary a lot. Since open source softwares are developed, fixed and upgraded by people who are just contributing – this experience may become somewhat slow & unreliable. But the community is huge, very helpful and if you are on the right place the experience is far better.
The point is, you will have to stay involved, spend some time and keep patience.
Open source users are huge in community compared to SaaS. Just WooCommerce has a 3 million+ active user base. So if you are stuck with anything or facing some trouble, you have all those numbers trying to find a solution besides the platform developer themselves. This is really an unprecedented backup all members of the open source community enjoy.
Customization and Control
You will not be able to do much of customization or modify features for which you have already paid if you are on SaaS. That's right, you can only edit some layout templates, colors, positions, visibility, to add features, you will need to pay more monthly.
But the game play in open source is completely different and in some ways – beautiful. You have full access to change code, add features or remove anything. A hired a developer can do it for you or you can do it yourself. Build your shop any way you want without any limits.
Keep in mind, no matter which ever theme you get, you will not be able to get it working properly without some help from support and customization, so keep a tiny budget for it.
Commissions or Transaction Charges
Most SaaS based ecommerce providers charge per sale, per transaction or both. These can go as high as 10% on some platforms. Popular payment gateways like PayPal, Stripe integrated, they have bank charges and some providers have developed their own gateways with some benefits. You will have to buy your way out on those charges by getting a higher status subscription. At the end of the day when you add these up, you will see you have actually missed out a lot on profit just because every time you earned something, they took a huge portion away. Then there is the shipping cost where you will have limited choices.
A good point to notice here that this might make you raise the prices of your products, resulting in lower sales and missing out on competitive advantage.
But when comparing SaaS vs Open Source solutions, you do not have to pay any commission. Only your standard gateway charges will apply, you will deliver through your favourite shipping service and everything else is yours as profit.
Popular Solutions You Shouldn't Miss
Despite the steep similarity, difference, obstacles, benefits and challenges between SaaS vs Open Source ecommerce solutions presented – they have their own niche market and success stories. A lot of people have built excellent businesses around these solutions and are still growing.
We have listed down the top 5 from each type, here is our list of all time favorites-
SaaS:
Open Source:
What Do you Think?
So, did you find our SaaS vs Open Source comparison helpful? Did you find the desired type of ecommerce solution up there? If you have a profitable running business already, I would suggest you to go with a SaaS to pick up the pace. But if you are like me, who takes things slow & steady and like more control – then open source is for you. Not to forget, thee is quite a budget difference to start. Don't worry, both are in trend and both types of platforms are growing exponentially.
You may also like-