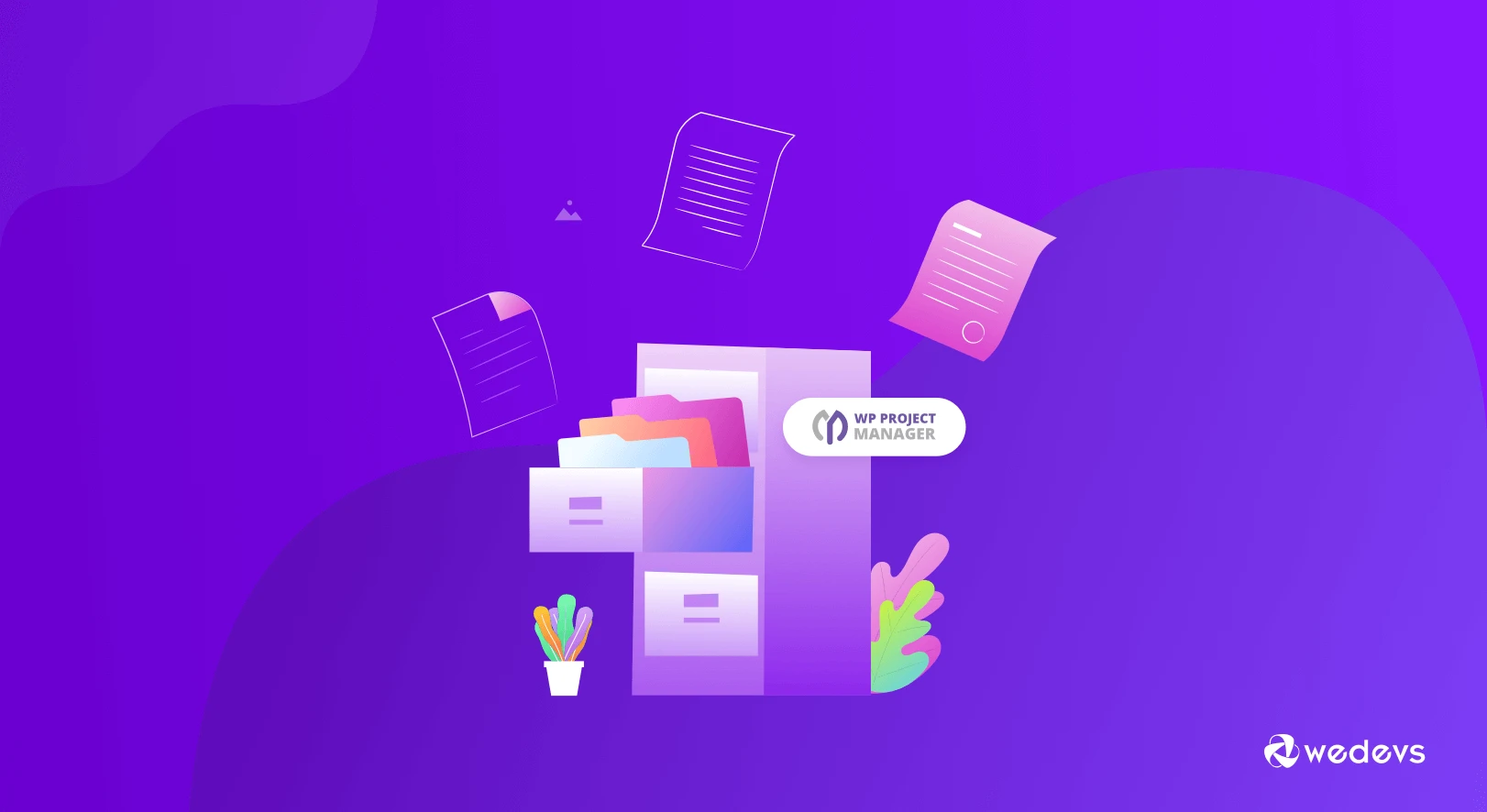 How to Manage Files, Documents & Duplicate Projects with WP Project Manager
You can't deny the significance of managing files and documents these days. Companies from every sector, small to medium have to maintain their important files with much care. In this case, a suitable file & document management tool can be very useful for you and also for your company.
It doesn't matter if it's a technology company or any other business. They all make extensive use of files or documents.
In this article, we are going to show how you can manage files & documents with the WP Project Manager. And in the last part, you'll also be able to know how to duplicate projects using WP Project Manager Recurring Task.
Before jumping, let's know how easy to manage projects in the WordPress platform.
Managing Projects in the WordPress Ecosystem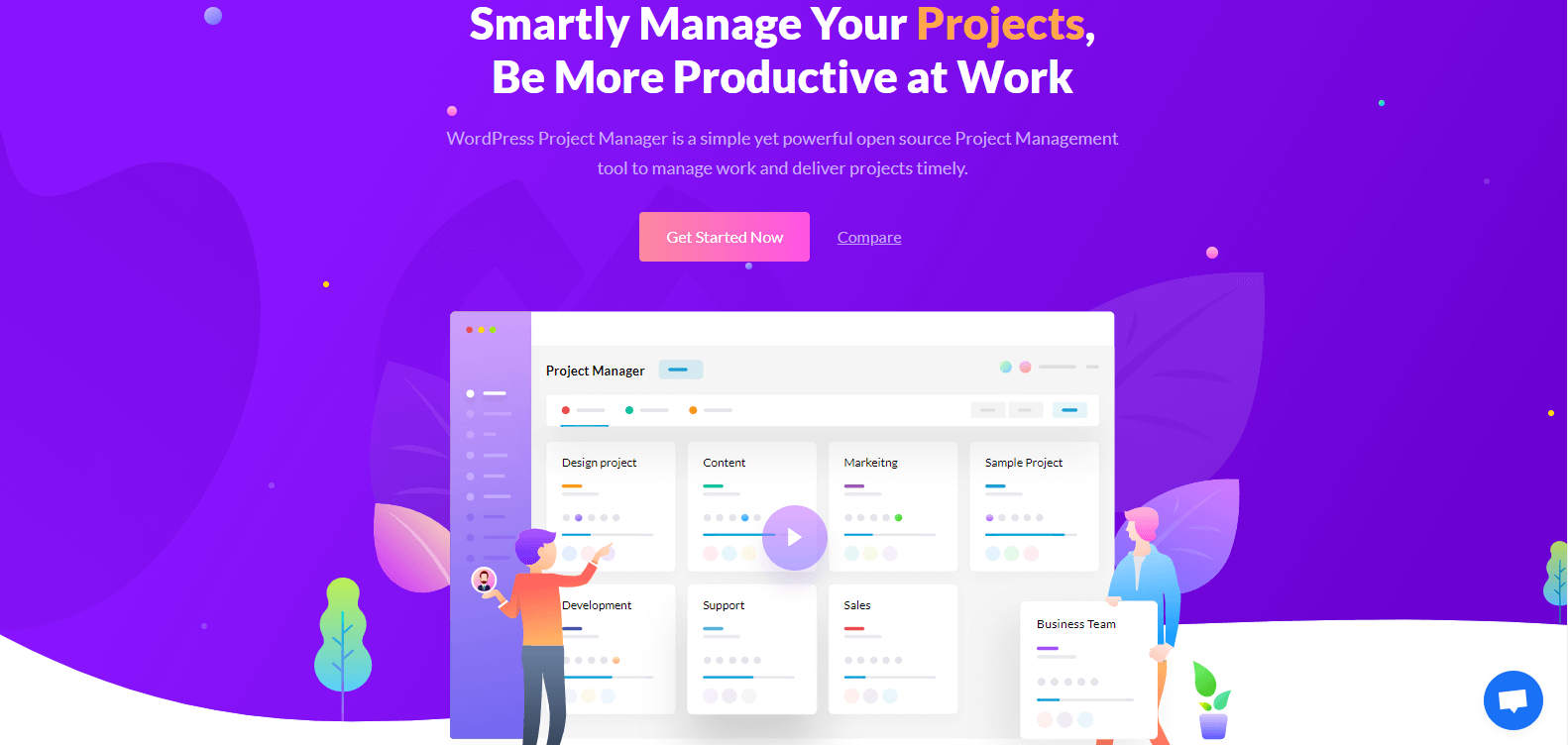 However, managing projects is always very tough. But in the WordPress ecosystem, you'll manage them with ease no matter which industry your business is dealing with.
We all know that WordPress is growing very fast. Currently, 40% of all the websites across the world are built with it. And it also provides solutions to different problems in the form of plugins.
With that said, it also comes with a project management solution. For these reasons, people are switching their taste to this popular CMS(Content Management System) as a project management tool.
In addition, while managing projects, you may find difficulties in other sectors. In that case, WordPress with its unlimited plugins will let you do every task in the blink of an eye.
Related topic: Successful Project Management Example
Why Managing Projects are Important for Business?
If you manage each and every project properly, then surely the revenue of your business will grow faster. It's simple. Isn't it? Then what's more!
Let's know how it facilitates you in business:
Increase activity and time concerning
Scheduling tasks and projects in time
Creating a deadline to speed up workflow
Easy to see all the tasks along with co-workers
Easy to create tasks in a short time
In the next part, we're going to show how you can manage files and documents using WP Project Manager.
How to Manage File and Document with WP Project Manager
You can manage your important files, document, images, and other important files with WP Project Manager. So you can able to create and add files, documents, save links of web pages, and more.
Requirements
Let assume you have already installed both the WordPress and Project Manager. Now, let's get started with file, folder, document, and project management:
Step 1: Uploading Files or Doc
This is a very easy process. You just need to follow the steps. That's it.
To do that:
Navigate to WP Admin>Project Manager>Project
Select 'Files'
And, here you can 'Create Folder', 'Upload a File', 'Link to Doc' and 'Create a Doc'.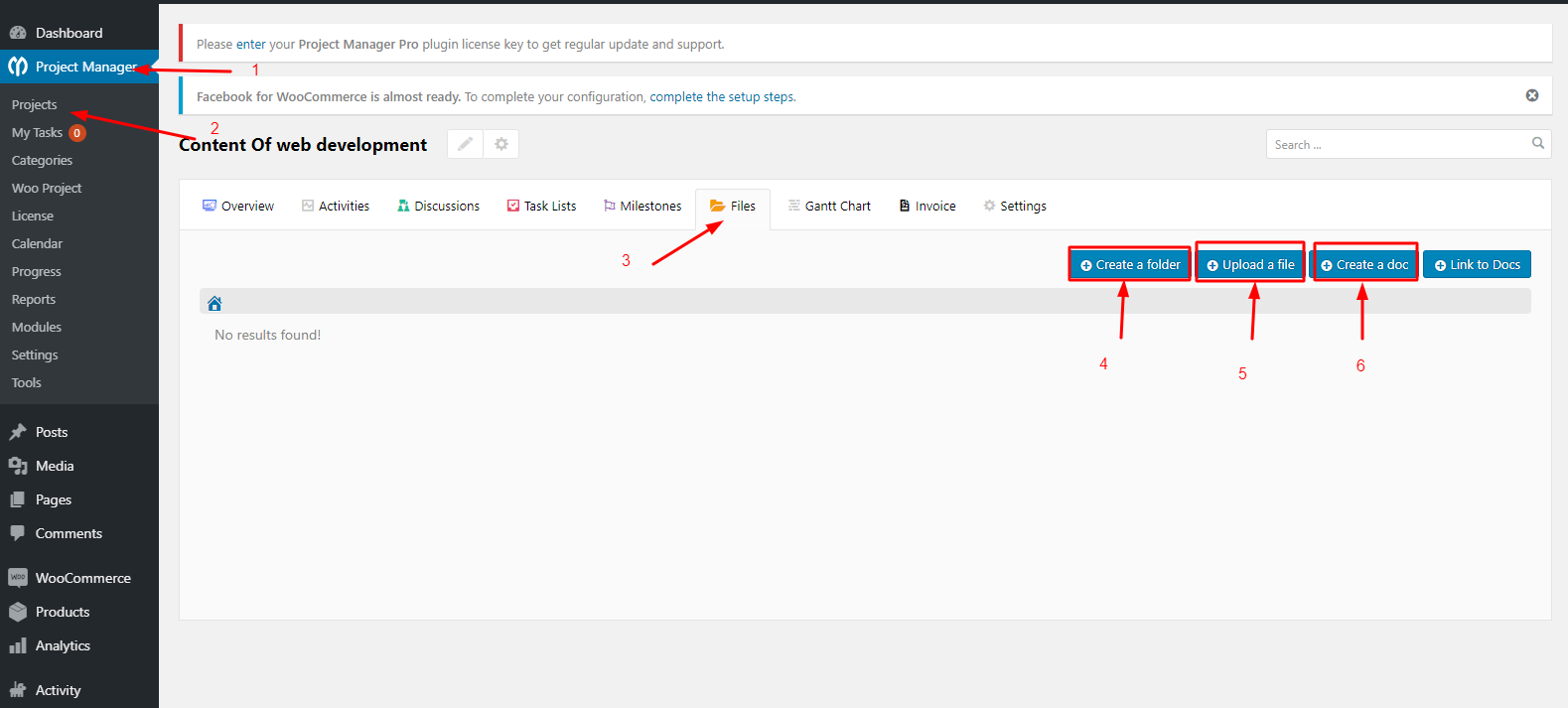 After clicking on the 'Upload a File button, you'll get a window like the following: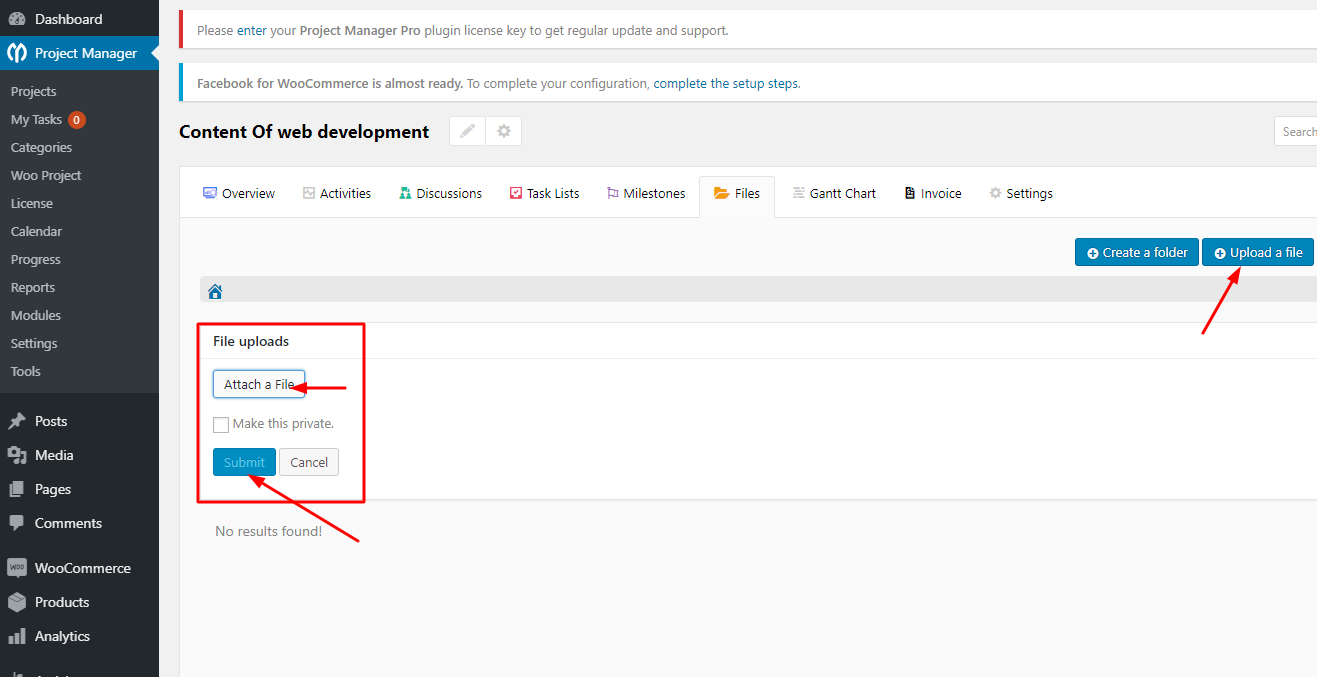 From here, you easily attach a file from your computer. It's that easy!
Step 2: Creating a Folder
This process is also similar to the earlier section. To do that:
Click on the 'Create a folder' Button
A pop-up will appear. You'll be asked to put the folder name
You can also make this private
Finally, click on the 'Create a folder.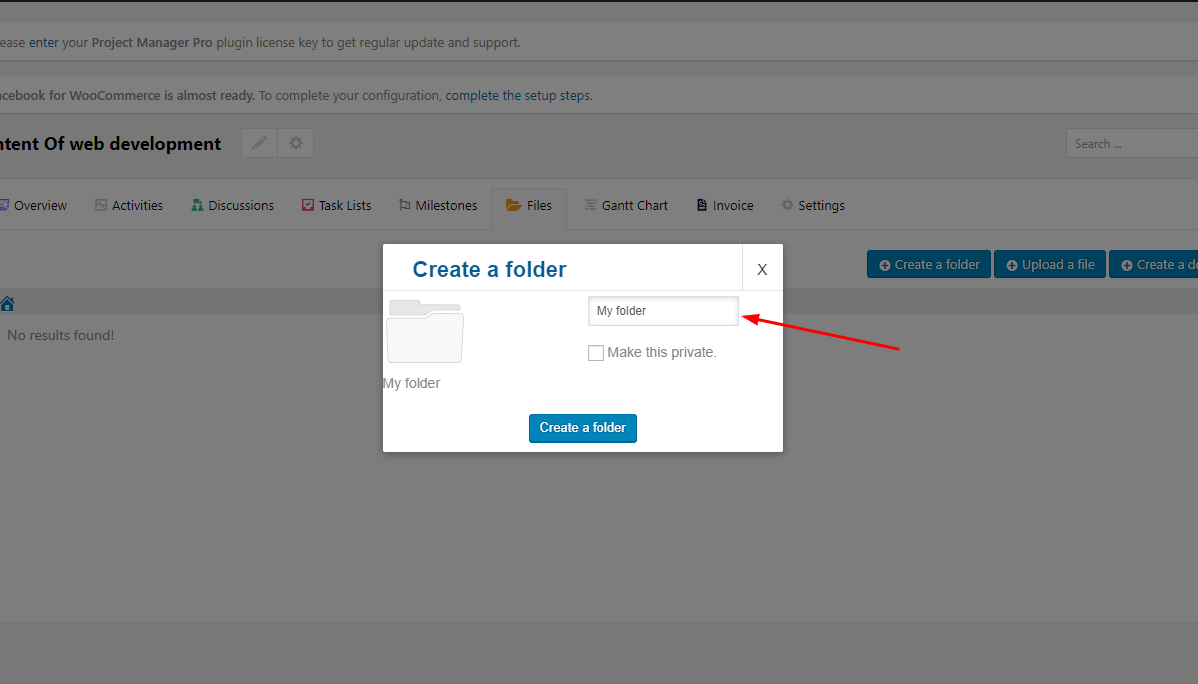 After creating folders you'll be able to see them in a sequence. Like the following screenshot: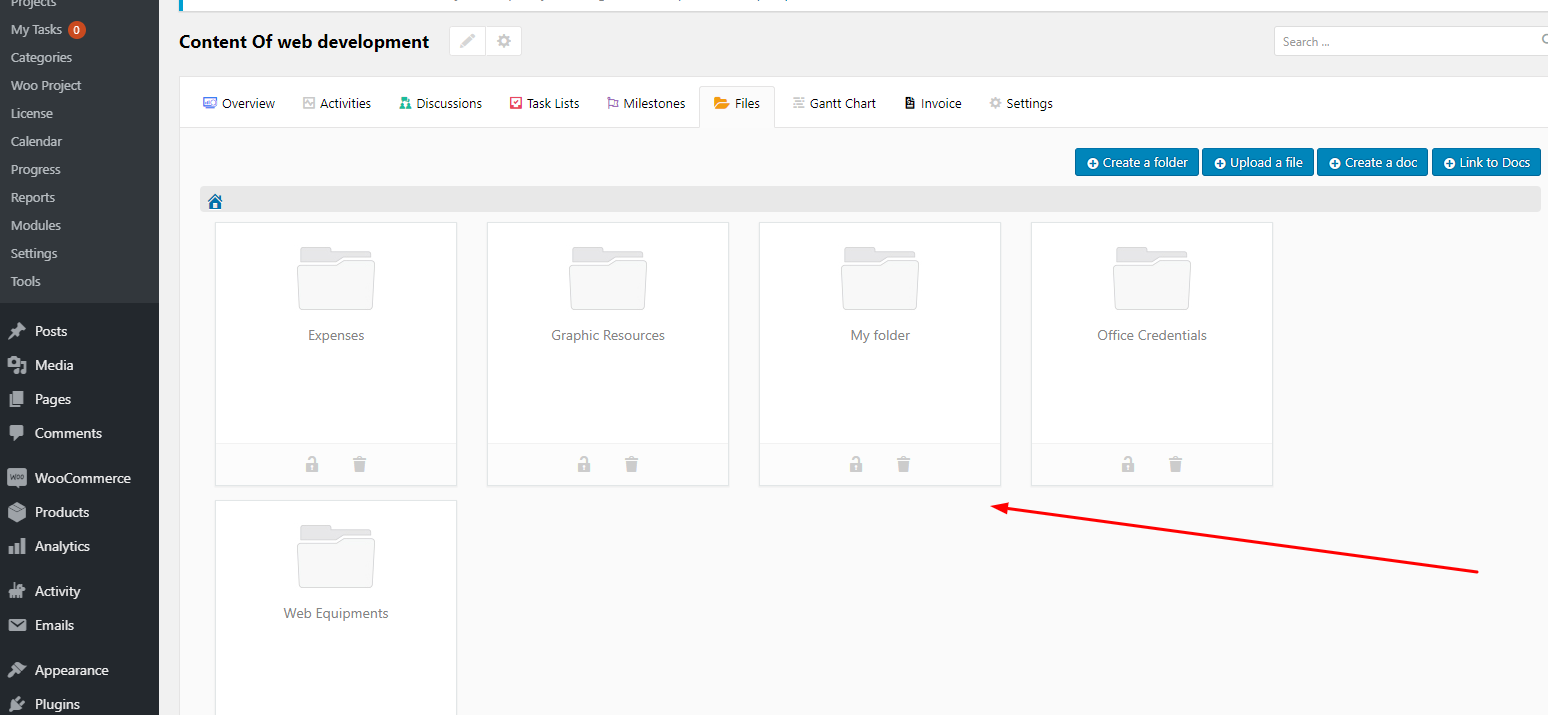 Step 3: Adding Sub-Folder
You can also add a sub-folder inside the root folder. It's the same process as we showed in the earlier section.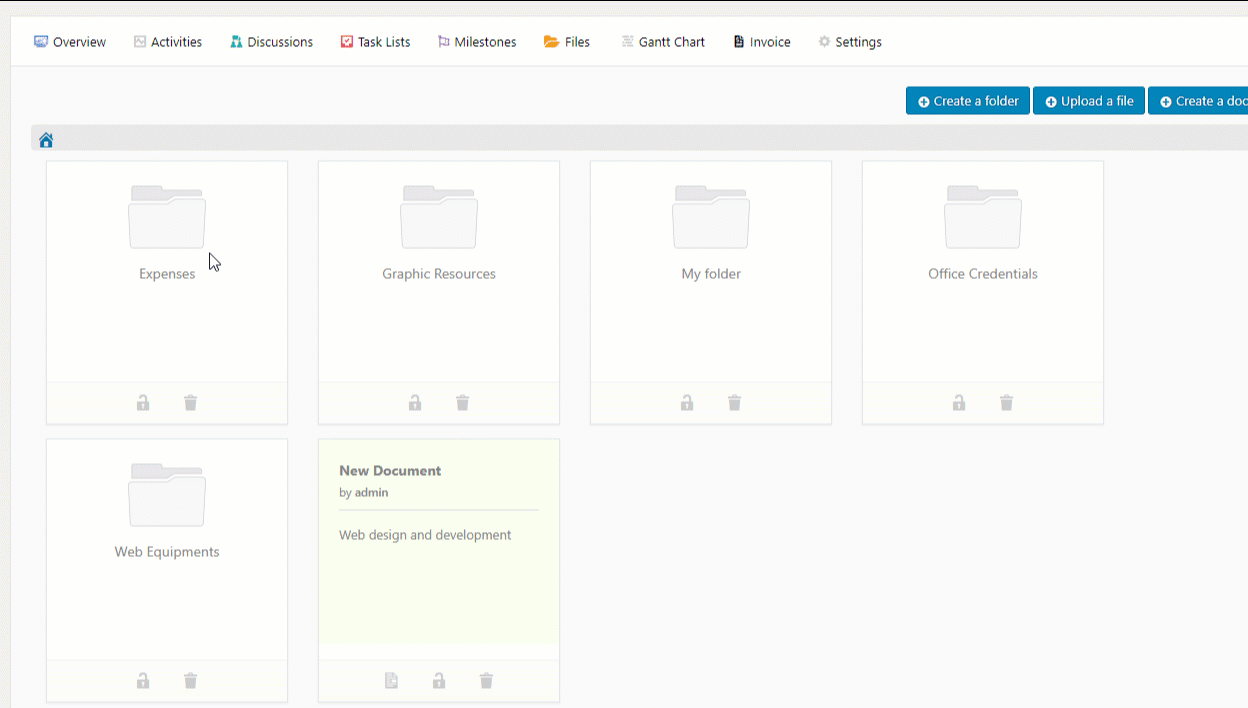 By the way, you can add 'doc files' and 'link doc' files, 'Commenting on a folder or doc' in the same process. See the documentation to know the full process.
In the next section, we'll show how you can duplicate your projects using WP Project Manager Recurring Task.
How to Duplicate Your Project with WP Project Manager
Sometimes you need you duplicate your projects in terms of saving time. This is very helpful to manage projects for your employees and the company as well. So, WP Project Manager lets you do this in a very smart way.
Let's get into the tutorial:
With WP Project Manager Pro, users can duplicate any project with ease. And the interesting part is, after duplicating a project, tasks under the project will be also duplicated.
Duplicating Projects
To do that, go to WP Project Manager>Projects and choose the project that you want to duplicate. Next, click on the top right corner dot button.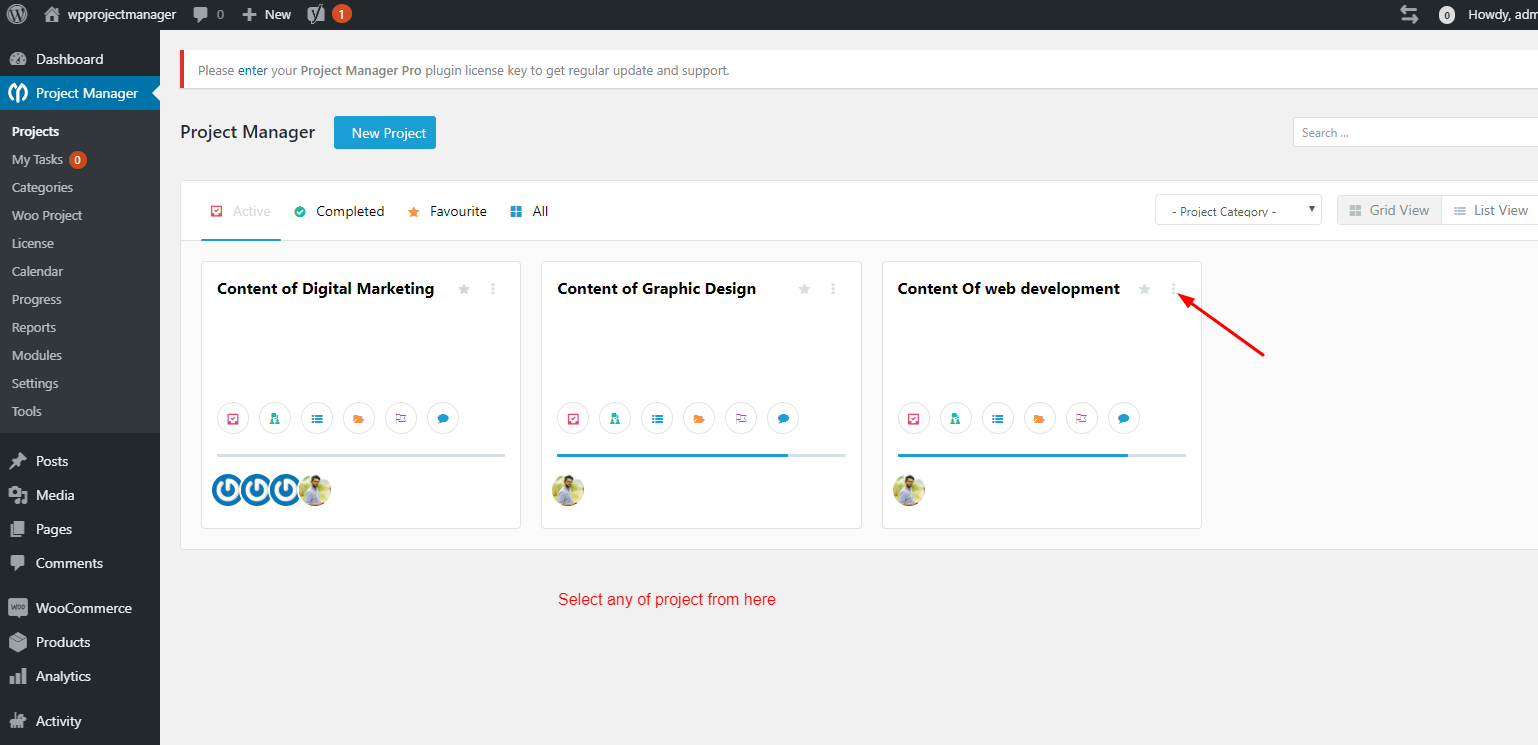 Click on the 'Duplicate'. And it will appear on the screen.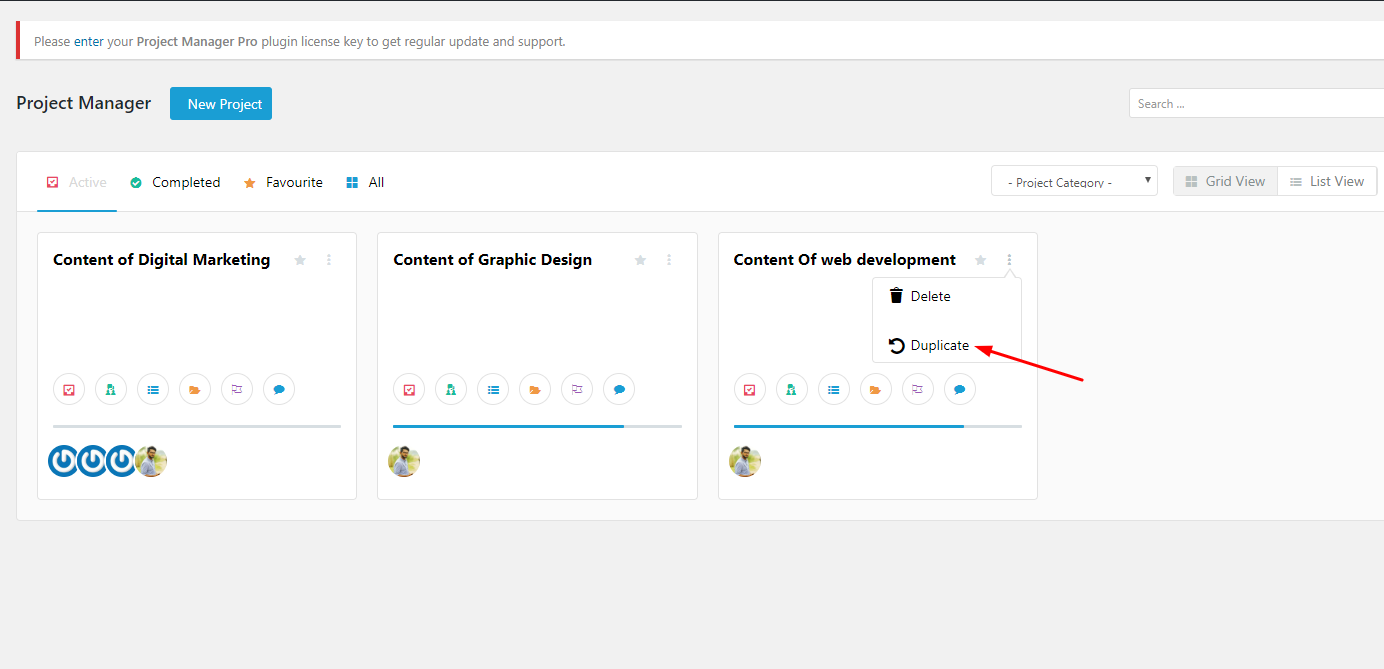 Finally, your project is ready. From here you will be able to see the tasks and sub-tasks under the project.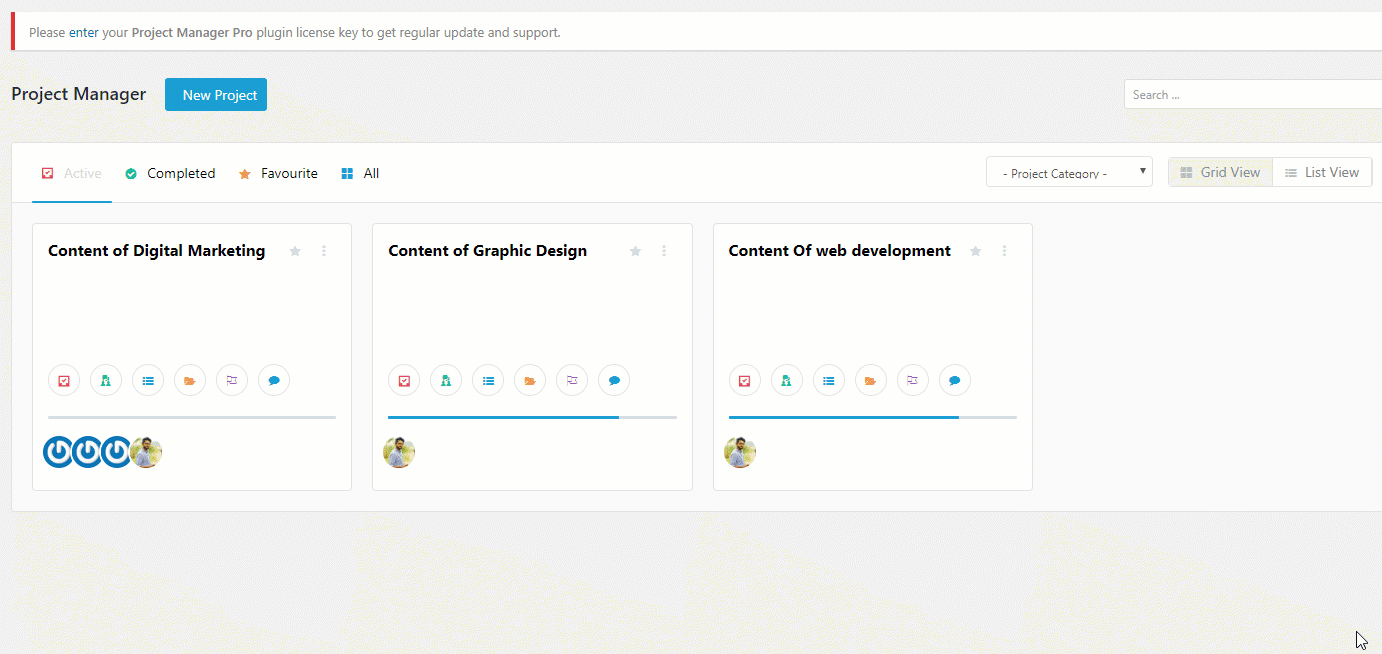 How To Set Recurrence in Projects Using Recurring Task
Though it is an amazing file & document management tool for managing files or doc in a very sequential way. You can easily schedule tasks using the Recurring Task Module,
It'll not only save your time but also will help you automatically create tasks every day on your expected time. Moreover, this is a pro feature, so you will have to use the business version of the WP Project Manager.
Okay, without further ado, let's jump into the discussion:
Step 1: Activating The Module
To activate the module, navigate to WP Admin Dashboard → Project Manager → Modules → Activate the Recurring Task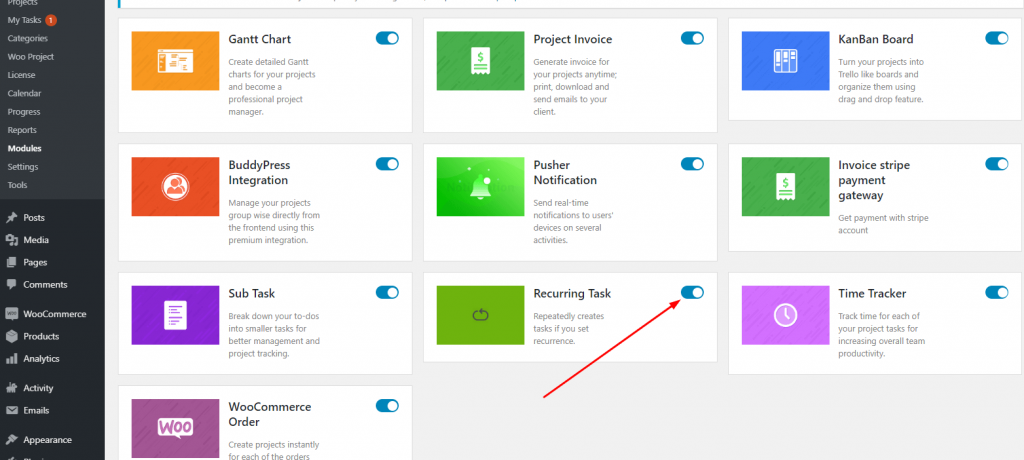 Step 2: Setting Up Recurring Task
Next, go to the duplicated project that you created earlier. And then there you'll get the task under the project. However, you can add more tasks there.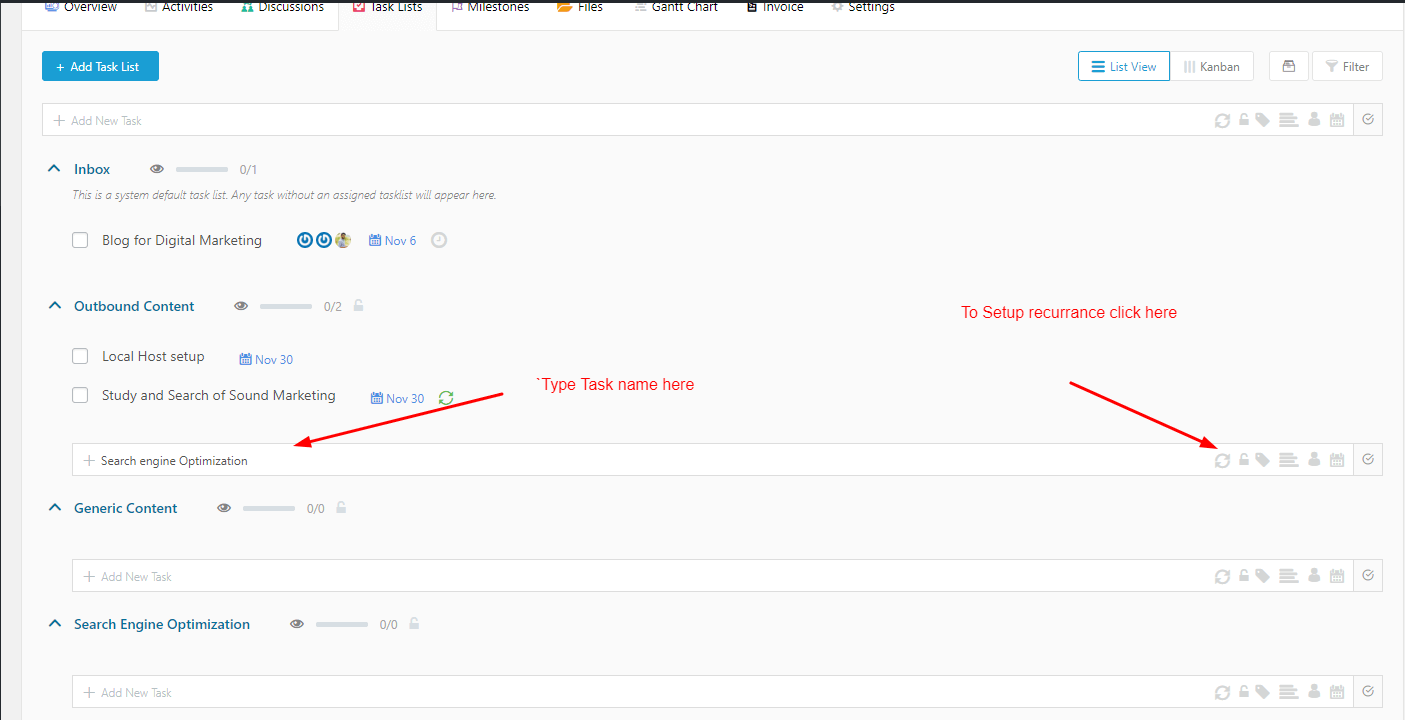 After clicking on the 'recurrence button', a popup window will appear. Here you can see the following things:
Repeat: How (Weekly, Monthly, and Annually) do you want to get it.
Repeat Every: You can set it for 1 week to 3 weeks. You can deactivate the particular day by clicking on the green button.
Expires: Here you'll be able to set expiry date, You cans set it, on a date and on occurrence.
Duration: Giving Duration, you can increase the recurring task scheduling time.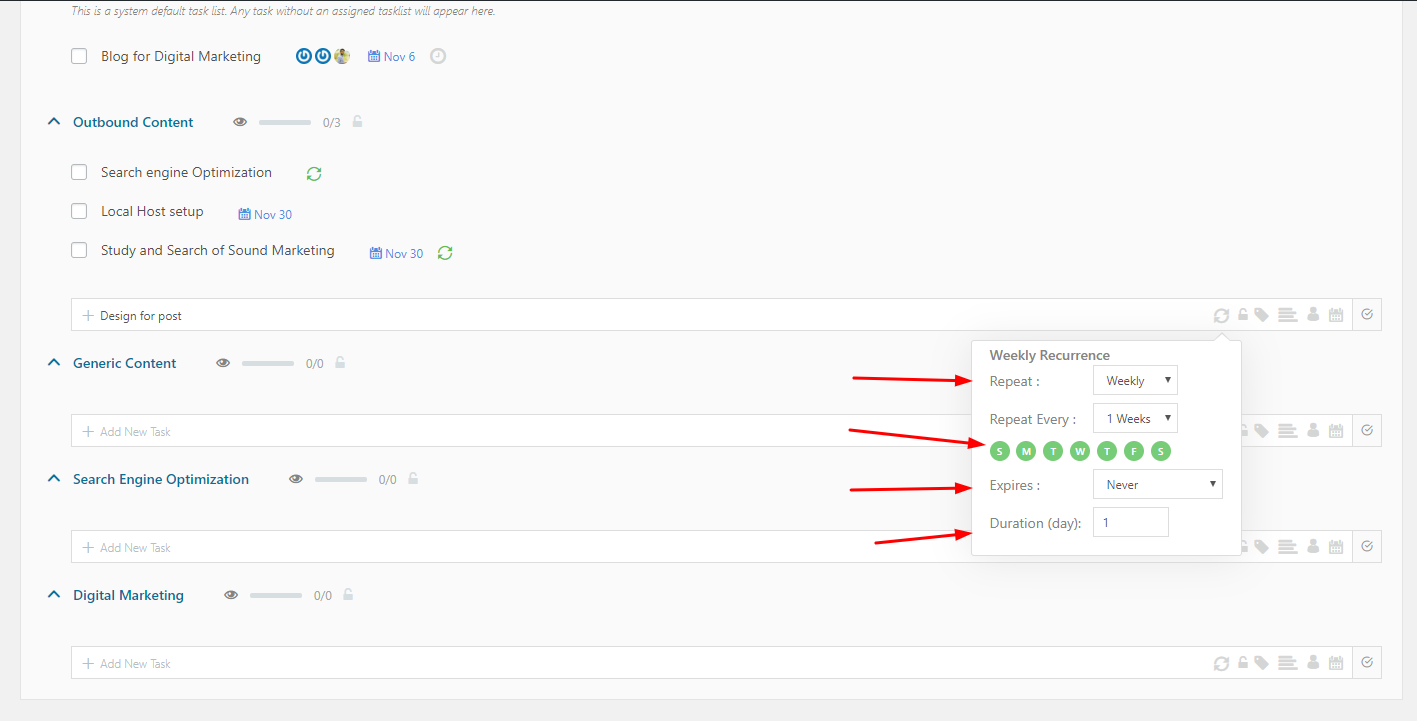 After giving all the information, just enjoy recurring task scheduling using WP Project Manager.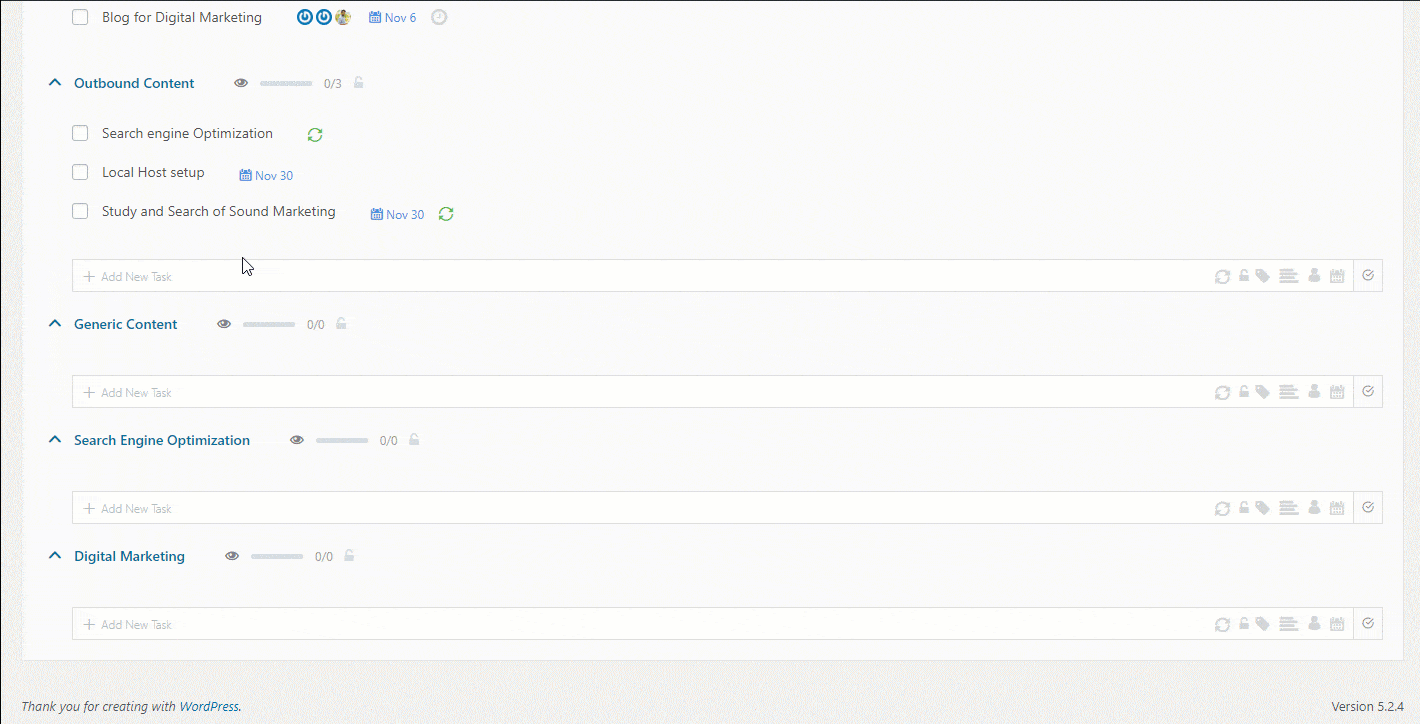 Okay, this is the whole process. Hope you enjoyed the full process. That's It!
Final Thought
Using a file & document management tool for a company can be very effective. Because it removes all the hurdles to manage the important files and docs. So as an owner, you must consider and think twice if you really don't want to lose any important official files.
So, we can say WP Project Manager can be the ideal file & document management tool and also for managing projects smartly. Finally, if you have anything to share, let us know in the comment section below.