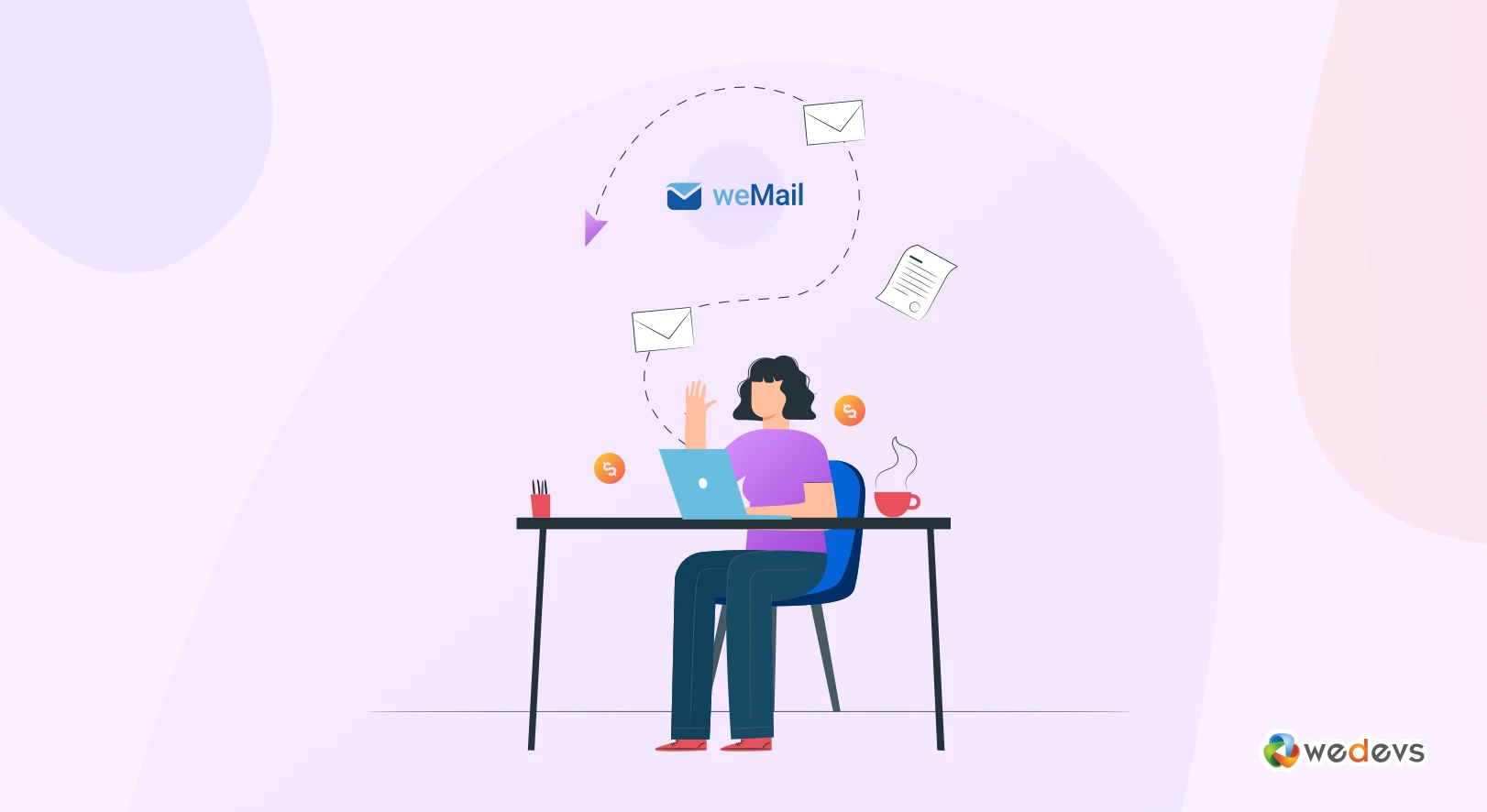 Introducing weMail: The Most Affordable Email Marketing Tool to Boost Your Business
If you ask any big product-based firm 'What is the most fruitful way to promote your product?' Almost all of them will tell you it's Email Marketing. Rightly so as the conversion rate and the ROI of email marketing are higher than any other marketing method.
As the average Return On Investment on email marketing is still an astonishing figure of $38 for every $1 spent.
But is sending emails to your customers is the only thing that improves the conversion rate? Not really. But successful email marketing helps really a lot. So how do you make your email marketing campaign successful? It's the Email Automation Tool that is being used in all successful business firms nowadays.
With every email campaign, there goes a lot of effort behind making it a successful one. Companies are giving more and more emphasis on email marketing practices to boost their sales through retargeting and other marketing plans.
But as the email list grows bigger managing to run a complete and full-proof email marketing campaign becomes more challenging than ever. Sending emails to each customer and retargeting them manually is a huge hassle, to say the least. This is where the Email Marketing tool comes in the rescue.
Email Marketing Challenges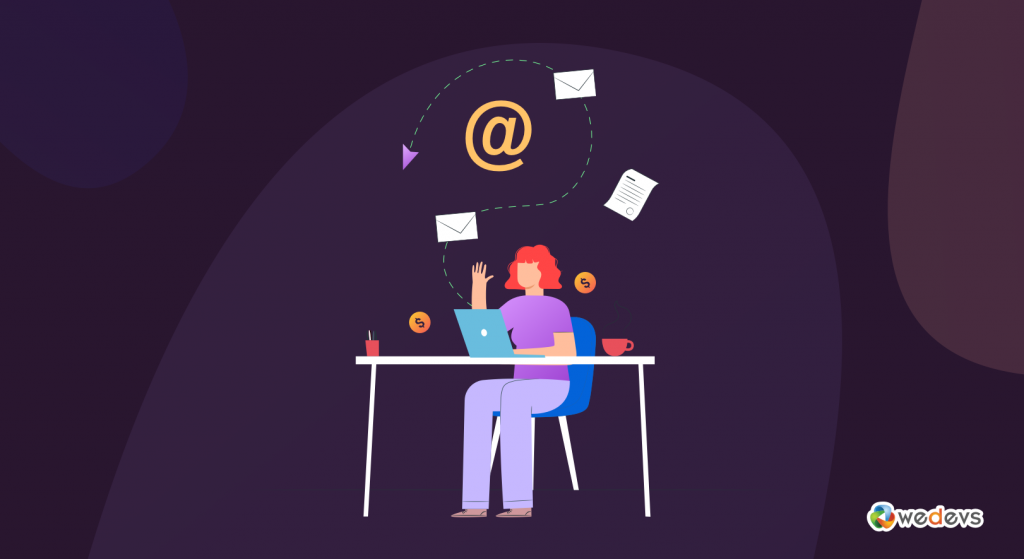 With the growing list of emails to manage, comes a number of other issues that need to be overcome for the marketing team. After running an email marketing campaign, the team needs to encounter a number of problems like:
Lower email delivery rate
Minimal open rate
Below average click rate
Higher bounce rate
More spam report
Elevated unsubscriber rate
Lesser activity on a clicked post
Decreased active ratio
Features that Sets weMail Apart
Most email marketing tools nowadays tempt their user base with a wide range of useful features for different plans. So the customer gets in quite a dilemma in realizing which one would be more suitable for their business.
And so far weMail is offering most of its premium features in the free version. Many of these features are available only in the Pro version of other popular email marketing tools.
WordPress Integration to Grow Your Email List
Say you have a WordPress website but you are not able to integrate your email marketing tool with it. Would you want to deal with this inconvenience while planning for your email marketing campaigns? Guess not.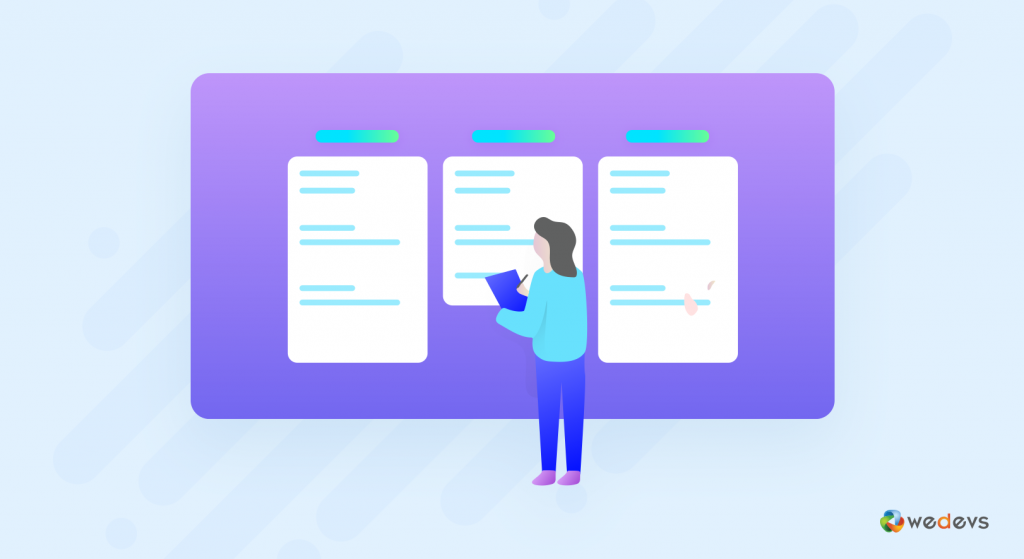 But now with weMail, you are able to perform integration with any WordPress site. Moreover, you can collect your email lists directly from your WooCommerce store from the subscriber's lists. Not just from your subscriber's list of your e-commerce store or a multi-vendor marketplace, you will be able to build your email list from every user registration on your site.
Also, if you have comment opt-in activated then without even redirecting your visitor, you can collect emails right from the blog comment you get on your page. Not to mention its ability to auto-import every WordPress user's roles to weMail's subscriber list automatically.
Embed & Opt-in Forms for an Email Marketing Tool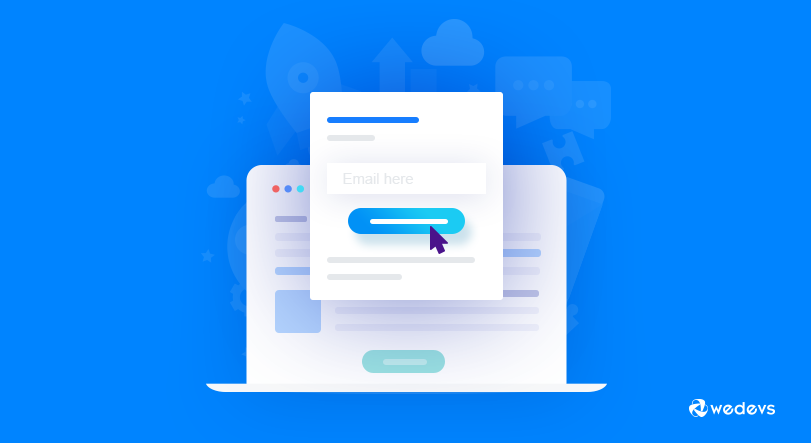 Sometimes a user may need to place embedded and opt-in forms within the site to collect emails from the visitors. This method can get very difficult if your used marketing tool doesn't allow you to do so properly.
But with weMail, place your embed forms anywhere and it will work like magic on any posts, pages, or widgets. Create an HTML form with custom fields easily with the help of customizable embed form options.
Moreover, there are multi-purpose multiple opt-in and double opt-in forms to collect leads better. Get to place the opt-in forms in the form of inline form, floating bar, slide up, and Modal.
Also, the bounce rate of the subscriber can be reduced by simply implementing the double-opt-in functionality of weMail. With this feature, you can also identify your dead email list and clean them up for good. Based on your campaign requirements, it has the ability to redirect double opt-in emails to any page you like.
Comprehensive Campaign Reports
Without the help of a complete report of your ongoing email campaigns, you will be unable to take steps for your future campaigns. You will need to closely analyze the stats and metrics of the campaign report to know how should you approach and design your upcoming email campaigns.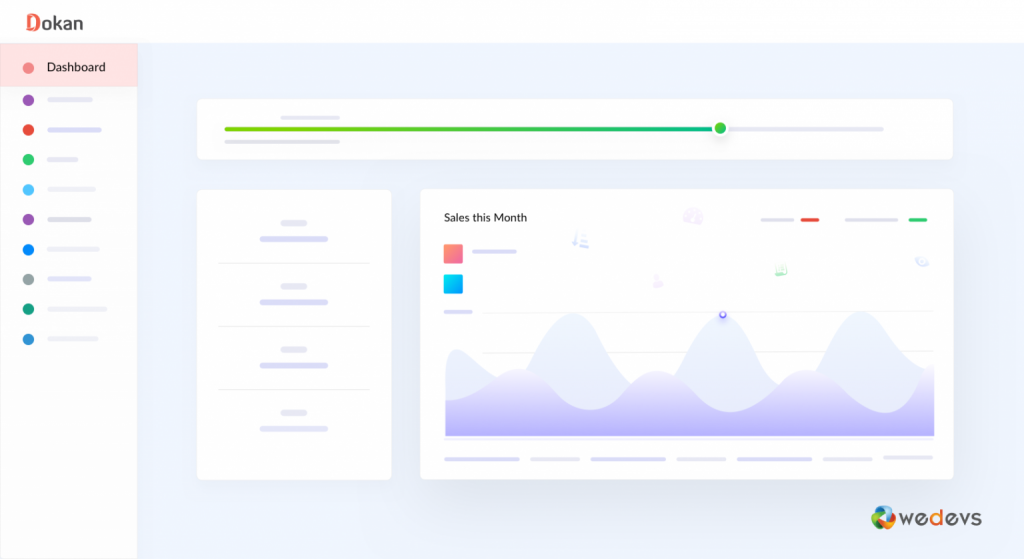 Now with weMail, analyze the performance of your campaign better than ever. Make the right decision to running a successful email marketing practice by its extensive analytics.
Even if you are too tied up to not be able to monitor the activity of the email campaign, get the statistics of the last 24 hours of your campaign. Have a close overview of the whole email marketing campaign to find out how it is performing in terms of email sent and how many are left to be sent including the stats of its sending rate.
Quickly get to know the stats related to the click rate and how many times the link inside the email was clicked without the help of any third-party trackers.
Moreover, weMail also enables you to have the option to tag the link clicks of the email via Google Analytics in order to better track and view it for a more improved reference.
Contact Forms are Important for Any Email Marketing Tools
From a business point of view not having to get the option to integrate the popular contact form with your email marketing tool can prove to be quite inconvenient. And nowadays successful email campaigns without a contact form in it are not imaginable.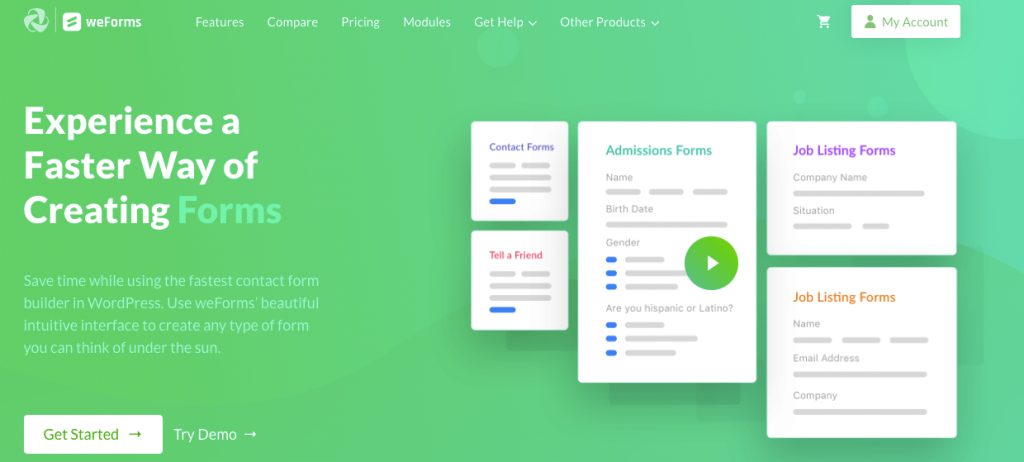 And weMail conveniently enable you to integrate with a number of popular and user-friendly form builder like weForms, Gravity Forms, Contact Form 7, Caldera Forms, Ninja Forms, WP Forms. With this integration, its user is able to create some stunning contact forms to help generate more engagement with the clients with the email campaigns.
Multiple API Option
API-based gateways to send email to reduce the amount of requests/roundtrips for its users. With API, the customer gets to activate a number of microservices from third-party email sending service providers. This provides the user with better services at a cheaper cost improving the user experience.
weMail has integration with some of the popular third-party API-based email sending service providers like Amazon SES, SendGrid, MailGun, SparkPost, PostMark, Elastic Email. And also if you want to send customized emails from your own server then you can even use Custom SMTP for that. These email sending API.
The most exciting thing is you can send 100000+ emails absolutely free using the email sending server of Amazon SES, SendGrid, MailGun connecting it separately via API.
Email Listing & Management
When your emails list starts to grow bigger than your expectations then it becomes quite a hassle to list and manage it. Listing, managing, and segmenting emails is an imperative part of email marketing. And it is something that no business firm can ignore while running their email campaigns.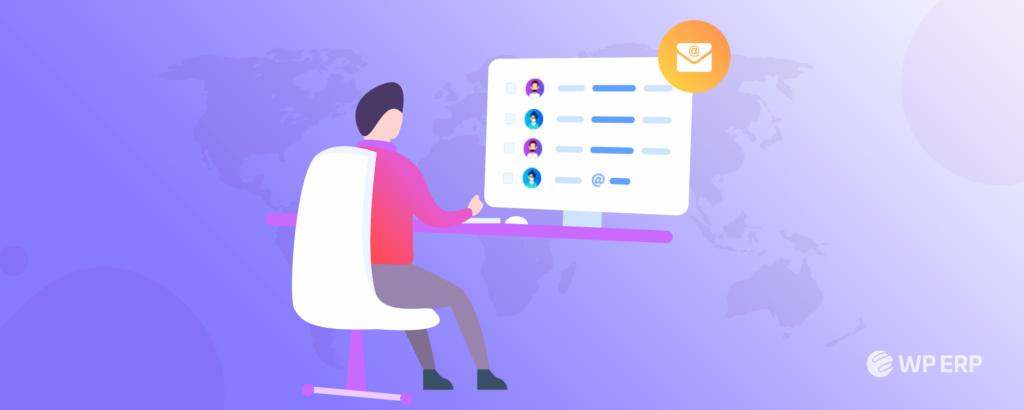 And weMail makes your email listing, segmenting, tagging contact easier than ever. Also, you don't need to open a separate campaign either when you need to send the same email to another list with its feature to send emails to multiple lists. Segment the email based on the subscriber list and send it to the most relevant person.
Use the HTML and Opt-in forms of weMail to collect leads and include them in the email list. Manage your automated emails to send them to your new subscribers. Auto clears out all the inactive email lists and manage them accordingly using the weMail bounce handling feature.
Easy Campaign Setups
It is not possible to run successful email campaigns if you can't design your campaigns properly with your email marketing tools. So being able to set up, design, automate and manage your email campaigns is as important as sending those emails.
So with weMail, design, create and configure your email campaigns directly from your WordPress dashboard without any sort of hassle. Whether it is any standard or automated email campaign that you are planning to run create it without any hitch using the beautiful built-in templates of weMail.
What's more from an Email Marketing Tool
Along with a well-responsive build-in email editor, weMail comes with a built-in autoresponder that automatically responds to your email when you are too busy to attend them. Being a cloud-powered solution, it takes away the added load from your server to keep your site fast & reactive.
Moreover, the biggest USP of weMail lies in its robust yet premium features that turn the email marketing experience productive than ever. And not to mention, all of them are loaded in its both free and premium version of the plugin.
weMail Vs Others
Email marketing tools that are available in the market already promises to deliver the best of its services. weMail is no different from this. Let's check out a brief comparison between weMail's basic features and upcoming pricing plan with some of the other contemporary email marketing automation tools.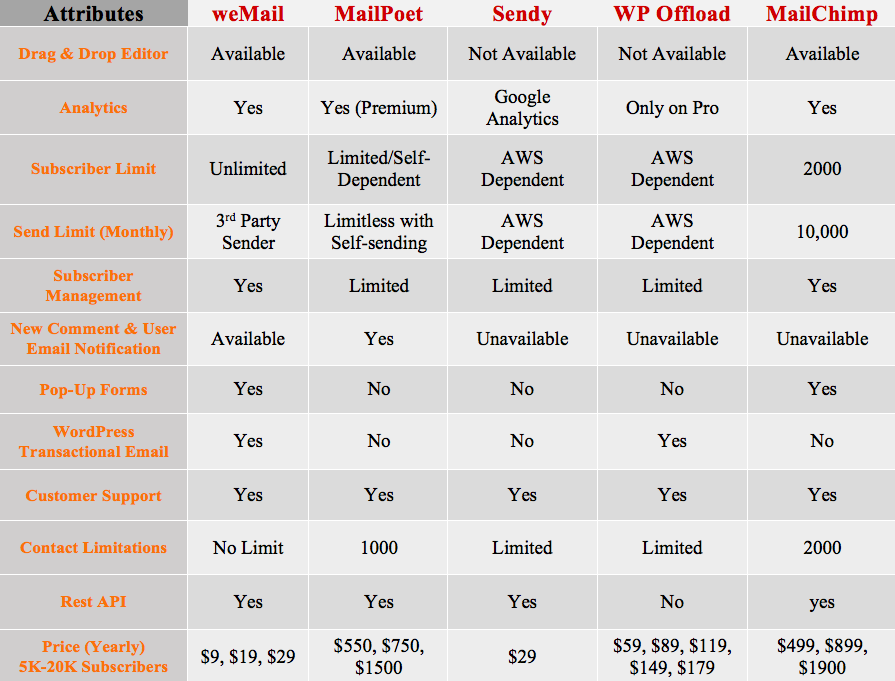 And in case you are wondering how cost-effective would weMail be compared to other giants. Like MailChimp & Campaign Monitor for sending via different third-party email sending API services that are integrated with weMail, below is the cost comparison for 250000 emails to be sent via weMail's third party email sending API against MailChimp & Campaign Monitor.
Here is an idea as to why weMail holds the title of being the most cost-effective email marketing tool out there right now.
Boost Your Campaigns With the Right Email Marketing Tool
If you look at the bright side then the biggest benefit of using an effective email marketing tool is that all the email campaigns can be tracked or monitored. The best part is you can generate a number of email campaign-related stats and reports to analyze the effectiveness of each particular campaign individually.
Sometimes the marketing team doesn't take the careful step in the process of launching an email campaign. They take time to frame a full-proof strategy and just presume that the campaign is flawless after it is launched. But it is only after running it for a few days, the marketing team starts to realize their strategy was far from being right.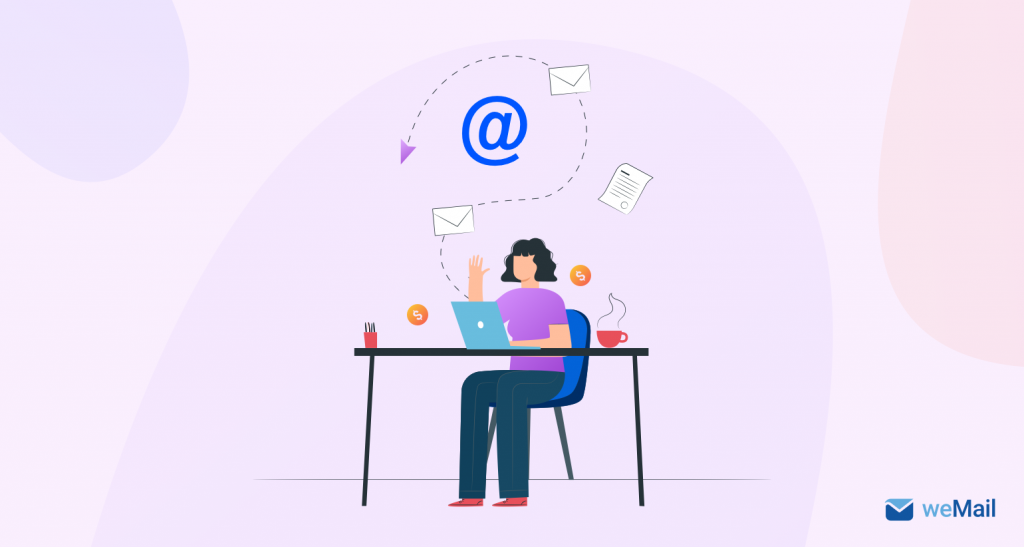 This is why the proper analytical metrics of your email marketing campaigns play an important role in apprehending whether your approach is right or not. Moreover, it allows the team to provide them with useful insights into the existing email campaigns. This makes them understand what needs to be done in the current campaigns allowing them to fix other ones while planning them for the future.
And when you are using a comprehensive email marketing tool like weMail you get to review an overall report of your campaigns starting as well as each individual ones so that you can stay ahead of your game understanding the way you need to approach your future email campaigns.
So want to take advantage of this free yet feature-rich email marketing tool? Then
If you have already tried weMail then feel free to let us know your feedback. Your constructive suggestions & constant support always inspire us to improve our products and services for the future.