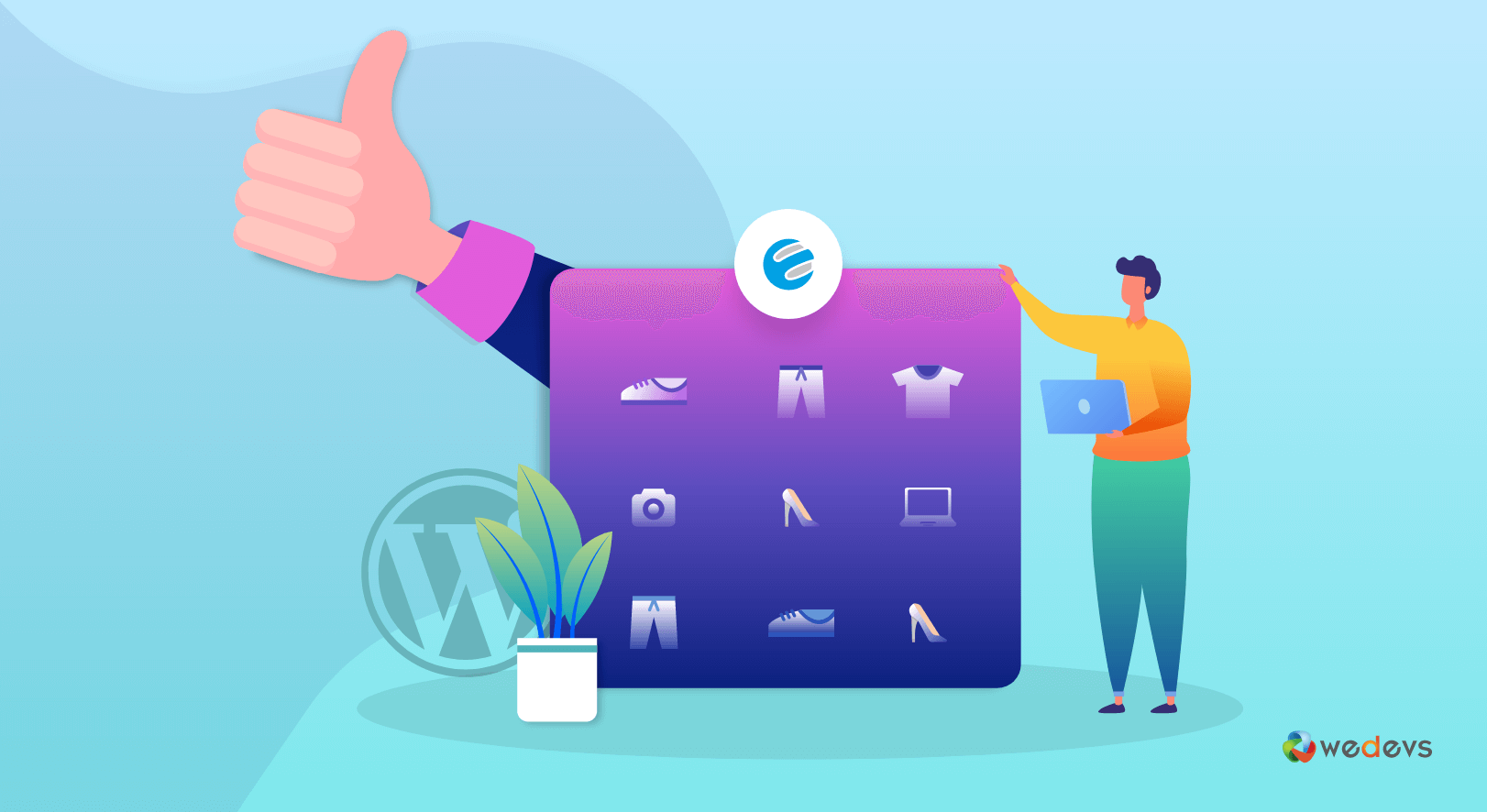 6 Best WordPress eCommerce ERP Solutions to Supercharge Your Business in 2021
Are you looking to start or scale your eCommerce business? If you are hesitant just because of security concerns or less command over the virtual transactions, then an eCommerce ERP solution is the right answer for you.
eCommerce ERP solutions enable you to enjoy good data integrity, better customer experience and ensures significant developing growth of the business.
This will gradually improve your brand loyalty keeping the sales of your business entities at its all-time peak. Plus, you can share and use data in a synchronized way. All these are essential to keep things running smoothly within your eCommerce business.
In this blog, we have listed 6 popular WordPress eCommerce ERP plugins that will help you to run your online business more effectively than before. By the end of this post, you'll have a clear idea of which solution is fit for you.
Here's a short table comparison if you're in a hurry:
| | | | |
| --- | --- | --- | --- |
| Plugin/Solution | Core Pricing | Add-ons? | Supported Modules |
| WP ERP | Free | Yes (Premium) | HRM, CRM, Accounting |
| UpiCRM | Free | None | CRM |
| WPHRM | $37/Year | None | HRM, Finance |
| WordPress CRM Plugin | Free | Yes (Premium) | CRM |
| vCita CRM | Free | Yes (Premium) | CRM |
| Bitrix24 CRM | Free | Yes (Free & Premium) | CRM |
Before going into the deep, lets get a quick overview over-
Key Benefits of Integrating an ERP Solution with E-Commerce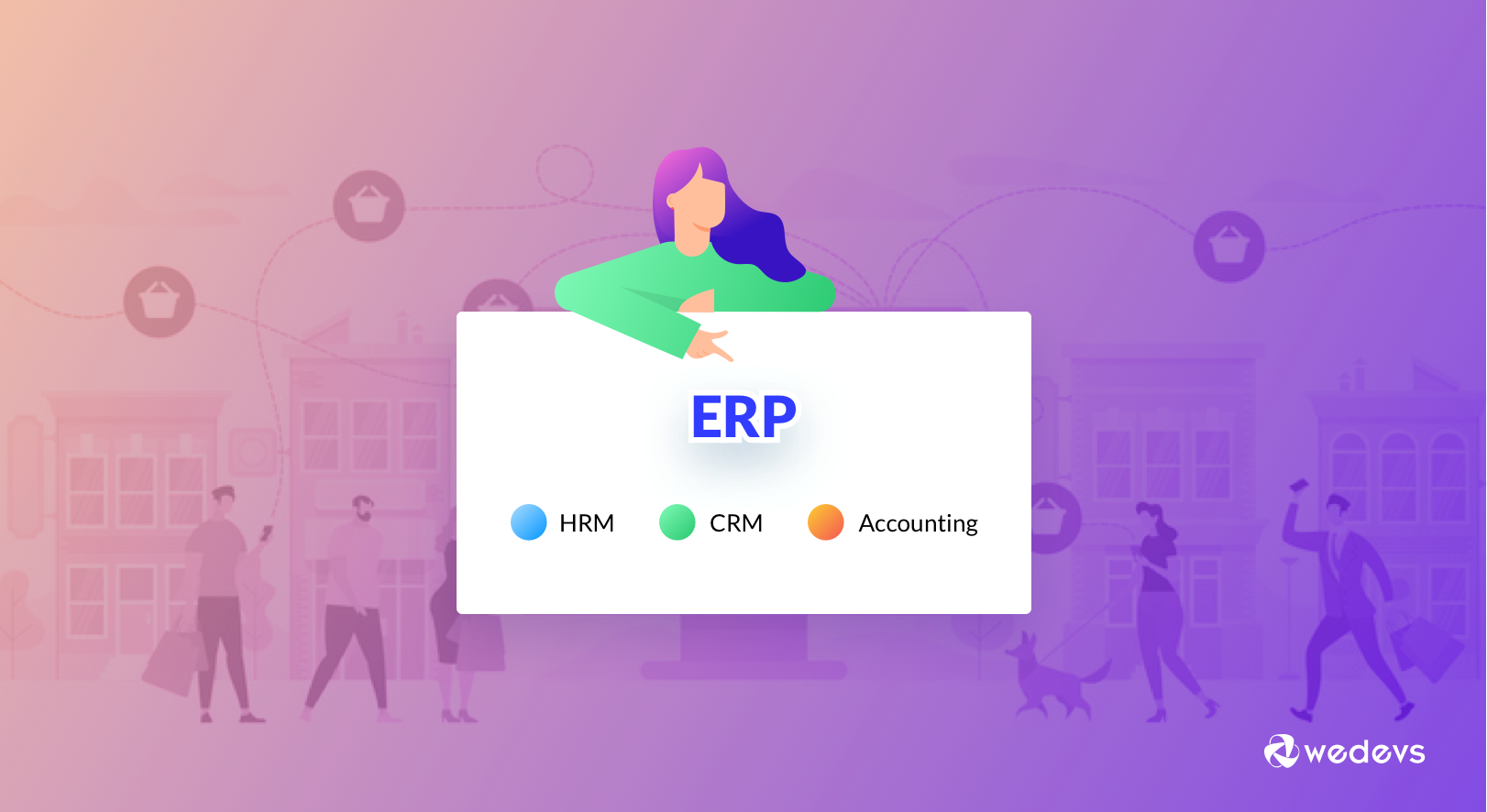 With the rising popularity of online shopping, the eCommerce industry has seen exponential growth over the last two decades. So there exists a high competition to make the best use of it.
Although an eCommerce business has many parts to collaborate in terms of processing an order successfully. From arranging your online shop, manage all the products, ensure timely delivery, collect customers' feedback, update stocks- there are thousands of tasks to do.
The ERP market remains in a phase of rapid expansion, with total market size expected to exceed $49.5 billion by 2024.
In this case, investing in eCommerce ERP helps you perform all the business functions appropriately. You can integrate your eCommerce site and back-end accounting and inventory (ERP) system. It enables you to manage your inventory, track all the transactions, reduce unnecessary costs, improve customer experience, increase overall productivity, and others.
Considering WordPress ERP to Integrate with Your E-Commerce Platform
Perhaps the major benefit of choosing a WordPress ERP plugin for your business is the fact that you will get most of the features completely FREE. Also, WordPress plugins are easy to install and modify for further customization.
Moreover, you can operate your business website and other functionality as well from one single platform. Having everything under one digital roof builds a strong network between every part of your organization. This allows you to keep track of all the moving parts of your organization. So there is less chance for data loss or redundancy.
Also, there is a high possibility that you and your team are already familiar with the WordPress environment as it is the most popular CMS platform right now. So, it will be easy to operate the entire system without any complexity. And you won't habituate to a new interface in order to manage your business efficiently.
Introducing 6 Top WordPress eCommerce ERP Solutions
It's crucial to integrate the right eCommerce ERP solution into your business as there are plenty of options available in the market. And most of them have useful features to serve specific purposes. So, it's your duty to consider your requirements and pick the perfect solution for your online shop.
Go through the following list to select the best eCommerce ERP solution for your online shop.
WP ERP- A Full Fledged HRM, CRM & Accounting Solution For WordPress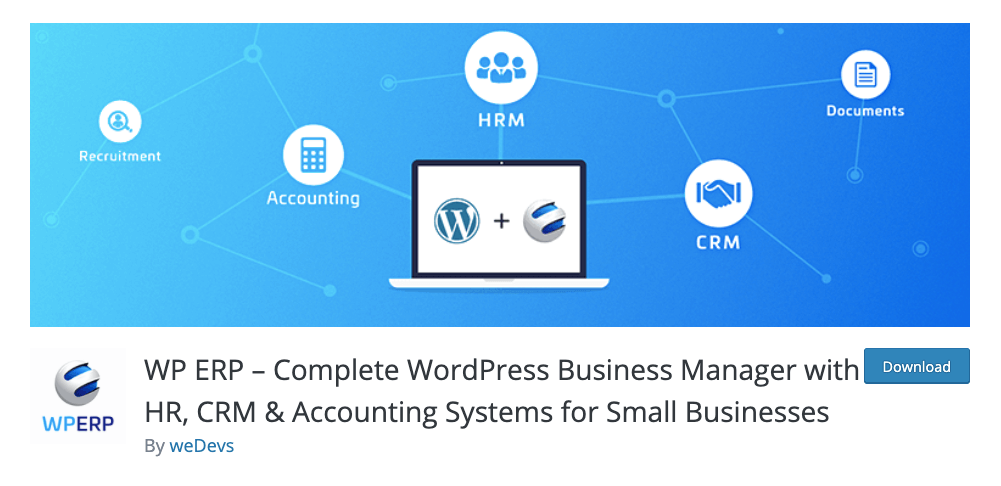 WP ERP is the first full-fledged ERP (Enterprise Resource Planning) system that enables you to maintain your WordPress site and business from a single platform. It provides you complete control over human resources, customer relationships, and accounting. Indeed, there's also a fourth module available for project management.
Most amazingly, you will get all the basic features to manage your business completely FREE. However, it supports 20+ premium modules to upgrade your system to the next level. Not to mention, over 10000 enterprises in 160 countries are using this plugin to keep their business running smoothly.
Prominent Features:
CRM, Accounting and HRM solution comes together
Customizable according to your business approach to client
Easy to integrate with widespread apps like WooCommerce
Contact group management and client handling is simple
Multifunctional filter for a quick listing
Easy to manage the accounts for non-accountant
Manage the payment over 40 currencies
Best Suit: This plugin is so beginner-friendly and provides various tools for employee management, accounting, and customer handling. That makes it perfect for all types of business industries.
UpiCRM- A Complete Lead Management Platform
UpiCRM is a WordPress-based lead management system. It can collect and track all the desired information needed from any social media campaign like Facebook and Twitter. You can customize your requirement and get the exact data from any kind of form. For example, you require the email address, contact number, and name from multiple information asking form, you will get them with just a click in UpiCRM.
Over 2000 users all over the world have faith in it. The basic features are free while you can also purchase an advanced UpiCRM system.
Prominent Features:
Helps you to track leads and sources up through the closing process
Assign your leads to any of your team members using an automated process or manually
Customizable according to your lead generation approach
Includes beautiful dashboards and KPIs so fewer reports are required
Entire life cycle management of a particular customer
Supports a special URL tagging feature for tracking where your most important traffic sources are coming from.
Best Suit: UpiCRM is the perfect solution for those who need a solution for individual customer life cycle management.
WPHRM- Human Resource and Finance Management WordPress Plugin
WPHRM helps you to manage all your HR activities inside WordPress. Installation is simple and quick to manage attendance, leave tracking and approval, team communication, etc. Employee self-service systems reduce admin effort and increase accuracy. Moreover, it provides a high level of data protection which complies GDPR. Also, limitless employee addition secures your freedom.
This WordPress HRM plugin lets you create your own calendar to manage and monitor all the HR related activities. In addition, you can customize your own listing, logging, and dashboard.
Prominent Features:
Includes a new dashboard into your site with an app-like interface
Team and individual communication support
High-level data protection and audit trail system
Performance and appraisal management
Import, export, and track employee information
Easy to integrate with other systems
Support around 44 currencies and 11 languages
Best Suit: Almost all business enterprises can use WPHRM. However, it is perfect for small to medium enterprises.
WordPress CRM Plugin- Get Access to Unlimited Number of Records
WordPress CRM is a reliable WordPress tool that helps easy management of the customer, tasks, and projects. It allows you to create an unlimited info database and provides access to as many employees as you need. You can track your customer dealing, a marketing campaign that gives an opportunity to convert your prospect into success.
Team communication and sending push notification becomes simple with this CRM plugin. Creating a new form and convert the existing information in a new style is just a matter of a click. Although the basic options are free, you can get around 13 more features with premium purchases. Integration with the third-party system (WooCommerce, Mail chimp, etc.) is also easy with this tool.
Over 600 users all over the world have faith in it.
Prominent Features:
Easy integration with third-party services like WooCommerce, Zapier, Slack, etc.
Complies with GDPR updated version
Easy to monitor all short of customer relation activities
Support 4 languages
Information collection in CSV format
Best Suit: WordPress CRM plugin is suitable for small to medium companies that are flexible for expansion.
vCita CRM- Client & Lead Management for WordPress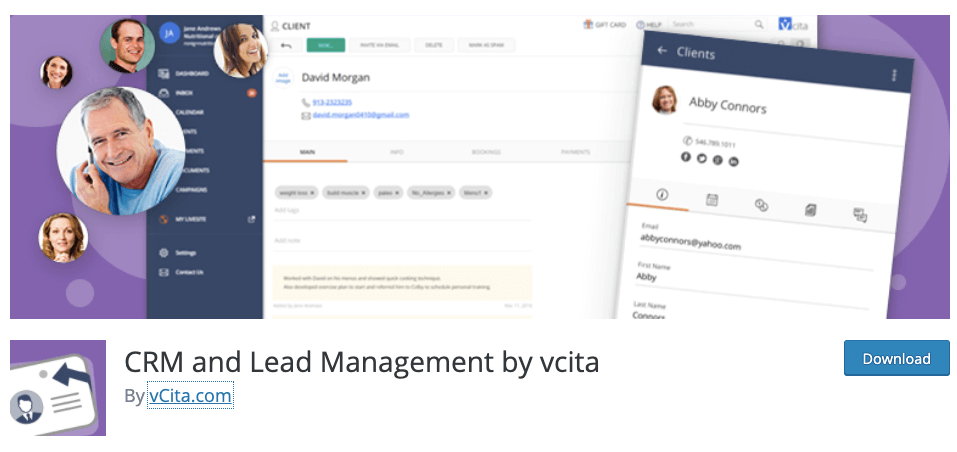 This WordPress CRM plugin is a powerful solution that allows you to generate new sales opportunities, monitor all interactions, get insights, and collect payment from customers. Also, it automates your client management system including client reminders, notifications, and overall communications.
It works collaboratively with a free customer relationship platform- vCita's Small Business Management App. This app helps in site interaction. These actions include sending messages, scheduling appointments, uploading documents, collect leads, and paying for services – even from mobile devices.
Prominent Features:
Analyze user actions by tracking their social activities
Supports a stunning client portal to handle their information
Team collaboration is included with vCita CRM
Provides a lead generation widget that you can place anywhere on your website
Send out marketing messages through emails or SMS.
Best Suit: vCita CRM is a complicated CRM that comes with multiple functionalities. This is specially designed for larger organizations.
Bitrix24 CRM- Supports Various Apps for Client Management
Bitrix24 CRM is more than a WordPress plugin where you are flexible in adding things manually or automatically. Here you can customize every requirement of lead generation and tracking. Interaction with customers and teammates is simple too. Indeed you can assign someone to deal with specific customers within a fraction of a second.
Furthermore, you can create, track, and customize multiple sales funnel and report within a few clicks only. Similarly, it allows you to create a personalized dashboard or use ready templates.
Although the basic options are free, whereas you have the flexibility to add premium features too. Integration with the third-party system (WooCommerce, Mail chimp, etc.) is also simple here.
Nevertheless, over 7 million organizations all over the world have faith in it.
Prominent Features:
Easy integration with third-party services
Easy editing of bulk or individual information
Dynamic dashboard features
Easy to monitor all short of customer relation activities
SMS notification for the desired parties
Multi-tasking filter options
Bulk information collection in CSV format
Best Suit: Good choice for those who want a free CRM. It's reporting system is extremely powerful. You also have access to invoicing and email marketing features, that makes it more of a CRM and marketing platform than just a CRM.
You can pick one eCommerce ERP solution for your business that you think work seamlessly with your business.
Here's the short and easy comparison of 6 best eCommerce ERP solutions.
| | | | |
| --- | --- | --- | --- |
| Plugin Name | Core Plugin Price | Add-ons? | Supported Modules |
| WP ERP | Free | Yes (Premium) | HRM, CRM, Accounting |
| UpiCRM | Free | None | CRM |
| WPHRM | $37/Year | None | HRM, Finance |
| WordPress CRM Plugin | Free | Yes (Premium) | CRM |
| vCita CRM | Free | Yes (Premium) | CRM |
| Bitrix24 CRM | Free | Yes (Free & Premium) | CRM |
Final Thoughts on the eCommerce ERP Solution
As an online shop owner, you may face challenges with shipping errors, bad customer reviews, poor inventory management, data entry issues, etc. The good news is, you are not alone on the boat. 90% of online businesses are struggling with these issues. Your online shop, however, needs a solution where all parts of your business can talk to each other.
Here comes an ERP (Enterprise Resource Planning) to save your back.
Although if you want several solutions packaged in with your ERP including employee management, lead generation, finance, and others, WP ERP is the place to go.
Often people drop the idea of integrating eCommerce ERP solutions thinking of extra cost or system customization. But if you list out its benefits looking at the big picture, you will find the eCommerce ERP solution extremely profitable for your business.