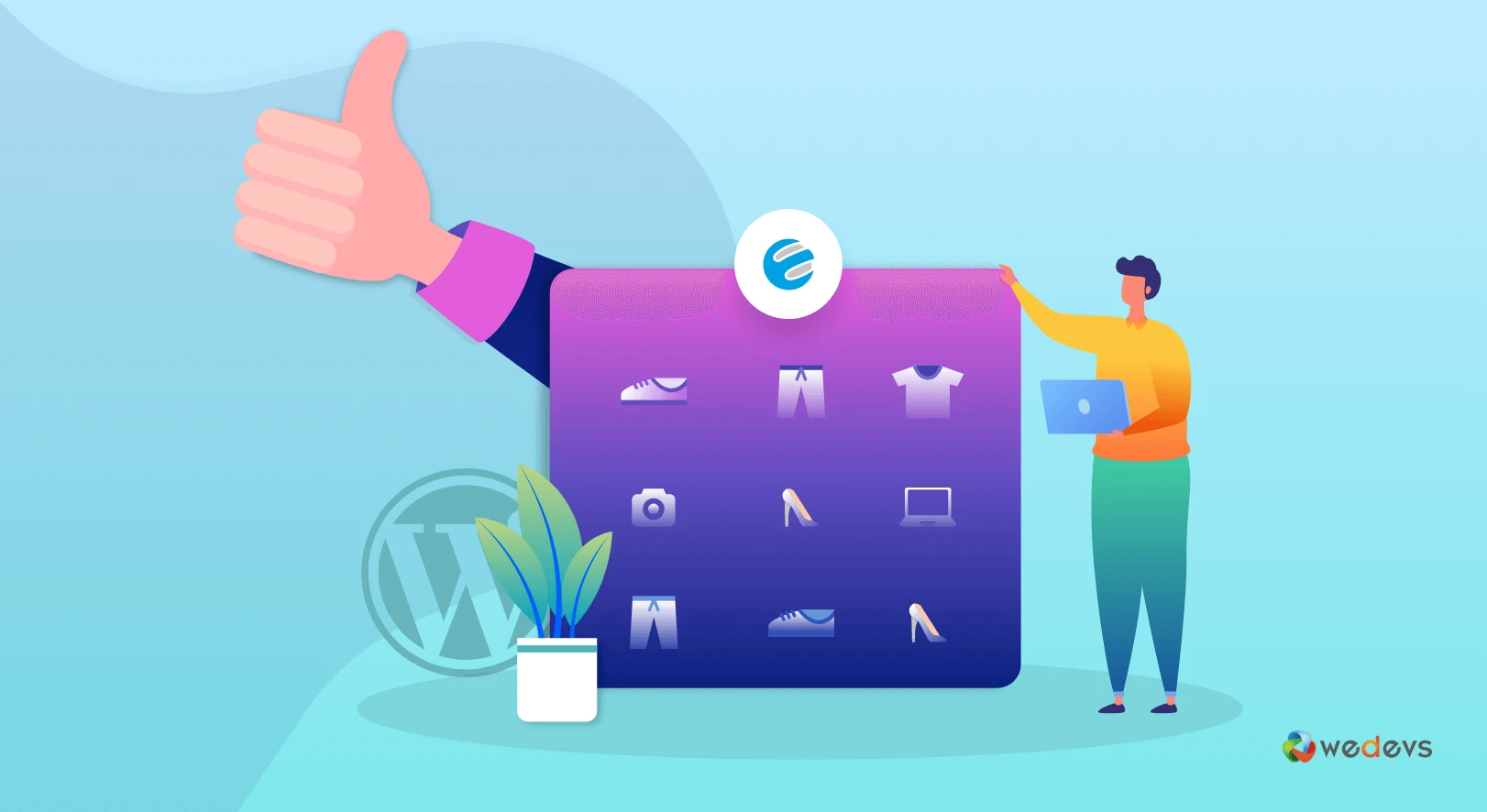 Best WordPress eCommerce ERP Solution to Supercharge Your Business in 2023
Are you looking to start or scale your eCommerce business? If you are hesitant just because of security concerns or less command over virtual transactions, then an eCommerce ERP solution is the right answer for you.
eCommerce ERP solutions enable you to enjoy good data integrity, better customer experience and ensures significant developing growth of the business.
This will gradually improve your brand loyalty keeping the sales of your business entities at their all-time peak. Plus, you can share and use data in a synchronized way. All these are essential to keep things running smoothly within your eCommerce business.
Today, we will show you how to integrate WooCommerce with your ERP system. Here we use the WPERP WooCommerce extension to merge the order details with CRM and Accounting modules. This will help you to run your online business more effectively than before.
Before going into the deep, let's get a quick overview over-
Key Benefits of Integrating an ERP Solution with E-Commerce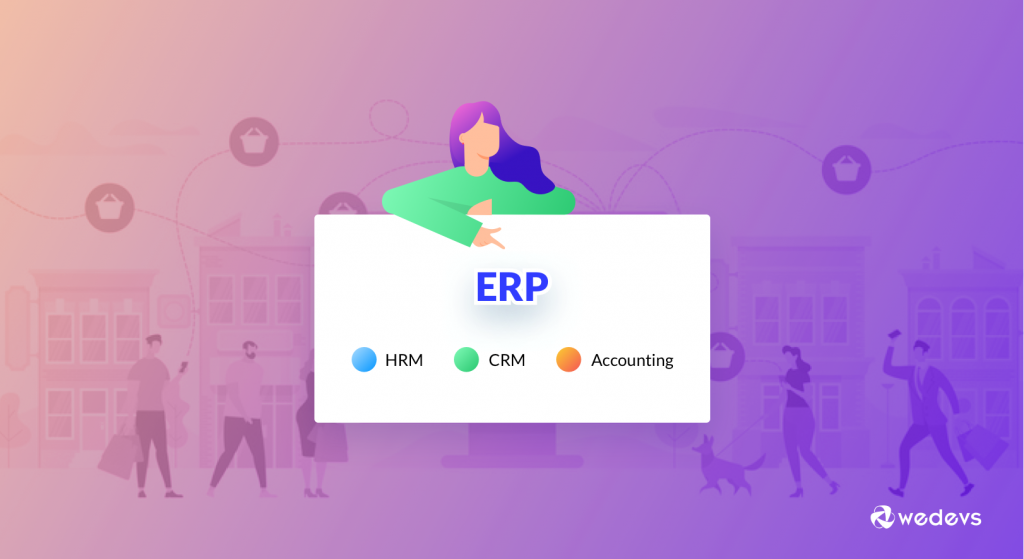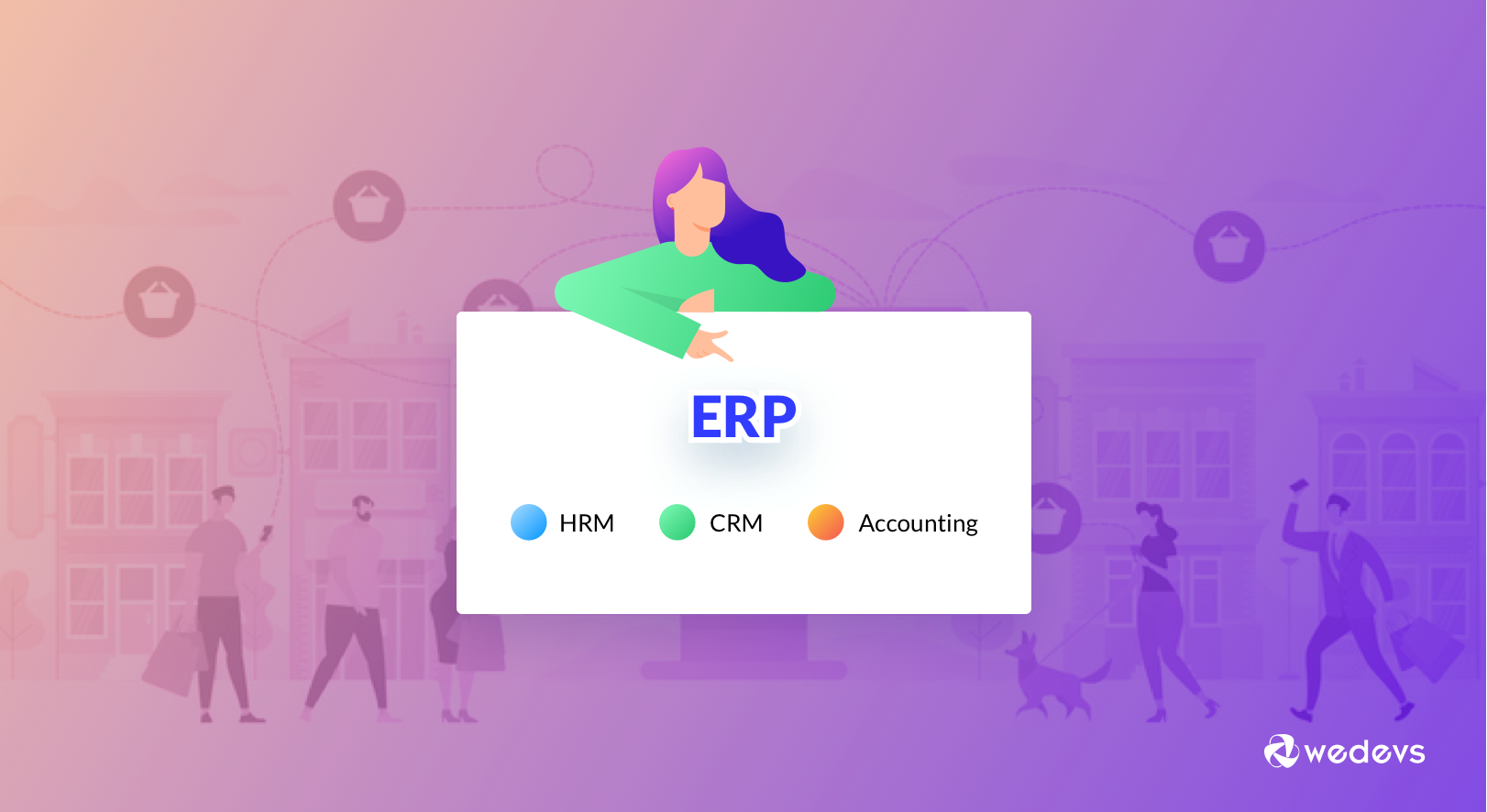 With the rising popularity of online shopping, the eCommerce industry has seen exponential growth over the last two decades. So there exists a high competition to make the best use of it.
Although an eCommerce business has many parts to collaborate in terms of processing an order successfully. From arranging your online shop, managing all the products, ensuring timely delivery, collecting customers' feedback, update stocks- there are thousands of tasks to do.
The ERP market remains in a phase of rapid expansion, with total market size expected to exceed $49.5 billion by 2024.
In this case, investing in eCommerce ERP helps you perform all the business functions appropriately. You can integrate your eCommerce site and back-end accounting and inventory (ERP) system. It enables you to manage your inventory, track all the transactions, reduce unnecessary costs, improve customer experience, increase overall productivity, and others.
Considering WordPress ERP to Integrate with Your E-Commerce Platform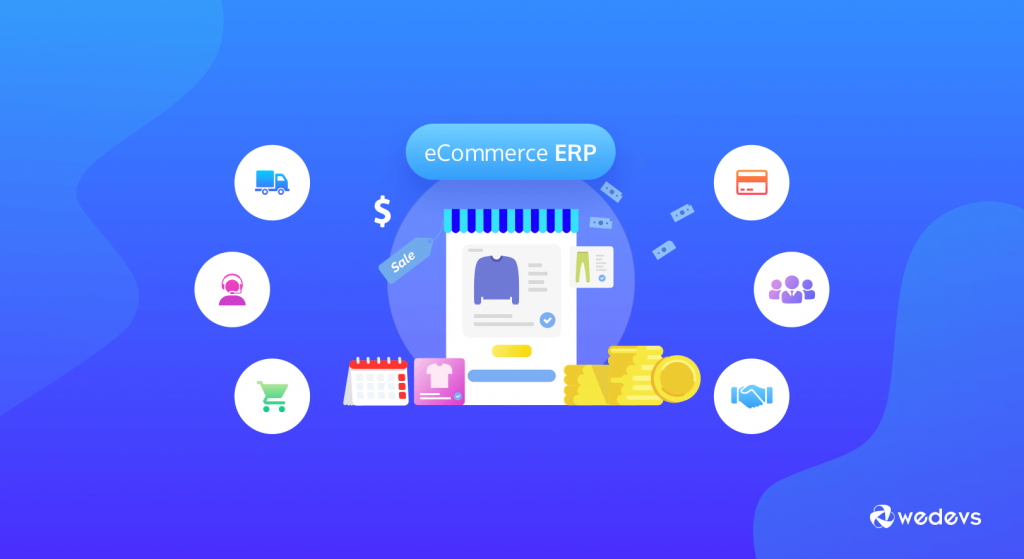 Perhaps the major benefit of choosing a WordPress ERP plugin for your business is the fact that you will get most of the features completely FREE. Also, WordPress plugins are easy to install and modify for further customization.
Moreover, you can operate your business website and other functionality as well from one single platform. Having everything under one digital roof builds a strong network between every part of your organization. This allows you to keep track of all the moving parts of your organization. So there is less chance for data loss or redundancy.
Also, there is a high possibility that you and your team are already familiar with the WordPress environment as it is the most popular CMS platform right now. So, it will be easy to operate the entire system without any complexity. And you won't habituate to a new interface in order to manage your business efficiently.
How to Get the Best WordPress eCommerce ERP Solution for Your Business
It's crucial to integrate the right eCommerce ERP solution into your business as there are plenty of options available in the market. And most of them have useful features to serve specific purposes. So, it's your duty to consider your requirements and pick the perfect solution for your online shop.
But the best thing would be having that solution incorporate almost all major facilities a business could need.
WP ERP- A Full Fledged HRM, CRM & Accounting Solution For WordPress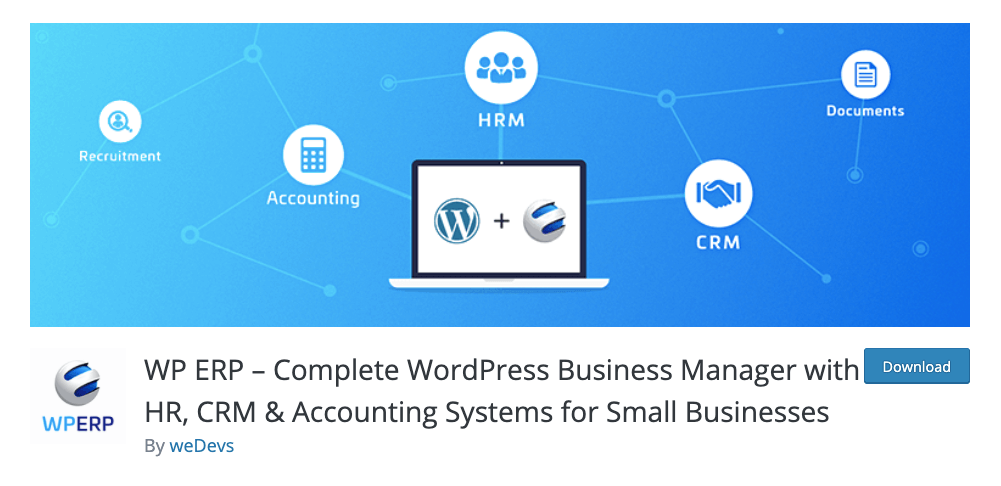 WP ERP is the first full-fledged ERP (Enterprise Resource Planning) system that enables you to maintain your WordPress site and business from a single platform. It provides you with complete control over human resources, customer relationships, and accounting. Indeed, there's also a fourth module available for project management.
Most amazingly, you will get all the basic features to manage your business completely FREE. However, it supports 20+ premium modules to upgrade your system to the next level. On top of that, over 10000 enterprises in 160 countries are using this plugin to keep their business running smoothly.
Prominent Features:
CRM, Accounting and HRM solution comes together
Customizable according to your business approach to client
Easy to integrate with widespread apps like WooCommerce
Contact group management and client handling is simple
Multifunctional filter for a quick listing
Easy to manage the accounts for non-accountant
Manage the payment over 40 currencies
Best Suit: This plugin is so beginner-friendly and provides various tools for employee management, accounting, and customer handling. That makes it perfect for all types of business industries.
How to Integrate Your ERP Solution with WooCommerce
WP ERP has a premium extension called WooCommerce Integration. It lets you sync all your WooCommerce details with your WP ERP CRM and Accounting module. So, you'll be able to import all your WooCommerce order details within a few clicks only.
This feature enables you to:
Merge all your WooCommerce order details instantly
Configure how your WooCommerce order data gets imported
Sync Woocommerce orders into Accounting sales
Overview complete activity record in customer profile
Mange newsletter subscription with ease.
Below are the primary requirements to enable this eCommerce ERP solution on your website:
Activate WooCommerce Extension
Once you've installed all the required plugins now go to the WP ERP→ Modules→ Activate WooCommerce.
Configure The Settings Tab
To find the synchronization option navigate to WP Admin Dashboard → WP ERP → Settings → WooCommerce
On the upper left side, you will see the WooCommerce tab. Click on it to check all the settings options.
Let's explain all the setting options so you can configure your WooCommerce store using powerful CRM and Accounting integrations and manage customers easily.
Synchronization
In the synchronization settings, you will find a Synchronize Data button. There are two types of synchronization. Sync order data & product data.
If you have your orders in place, clicking this button will instantly synchronize all your WooCommerce order & product-related data with your WP ERP's CRM and Accounting module.
Please note, you need to have a WooCommerce order in your WoooCommerce plugin beforehand.
You'll not lose any of your existing data. After hitting the Synchronize Data Button, don't close the window until the process completes.
Product Synchronization
Now, after adding a new product to your WooCommerce shop, WP ERP Accounting will sync all the products automatically.
To find the products in WP ERP Accounting, navigate to WP ERP→Accounting→Products & Services.
Note: The accounting module will sync the product categories too.
Order Synchronization
Suppose you've created the following orders from your WooCommerce store. This means when you enable the synchronization process, all your orders will be stored in your ERP Accounting transaction area.
Navigate to WP ERP→Accounting→Transaction and get your order details in the ERP Accounting transaction area.
It's as simple as that!
Subscription
Under subscription settings, you find options to:
Enable Show signup on checkout: This allows your store customers to signup during checkout
Default contact group: Set the default contact group in if the subscriber will add after the signup
Sign up option label: Include a message you want to show when the signup option for your customers appear
Hit the button of Save Changes to take the configured options to take place.
CRM
Next, click on the CRM tab to view the settings for the CRM module:
The included options include
Enable CRM Sync: Enable or disable the CRM synchronization.
When registers as a customer: Automatically set the life stage of a customer when he/she registers
After anyone placed an order: Set the life stage of a customer when he/she places an order
If anyone becomes a paid user: Set life stage when buys something from your store
Default Contact Owner: You can set which CRM agent will be the default contact owner
Accounting
In the accounting settings, you can configure how your WooCommerce orders will sync with your Accounting module.
Here you'll find options for-
Enable Accounting Sync: Enable or disable the importing of data to the Accounting module
Enable Product Sync: Similarly, you can enable or disable the product synchronization from here
Default product type: Choose the product type whether its default or in another category
Choose the default product owner & category
Default tax category
Also, it enables you to update the existing products.
Managing WooCommerce Orders
If a new customer or existing customer of WooCommerce creates a new order, the user data will automatically be listed in the CRM contact list and Accounting customer list.
Go to WP Admin → WP ERP → Accounting → Transactions → Sales
You will find the latest WooCommerce order made by any customer on the sales list. The status will remain to wait for approval until the admin completes the order.
You may click on the 'Awaiting for approval' button to view invoice details. But you should not approve or complete the payments from the Accounting module. This integration currently has a one-way communication system. It can fetch data from WooCommerce, but cannot modify WooCommerce data yet.
CRM User Profile Enriched
Now, navigate to WP-Admin → WP ERP → CRM → Contacts
You will find the customer from WooCommerce listed in the CRM contact list.
You can search for your CRM contact list by creating search segments. WooCommerce billing, shipping, order, etc. information can be used to create new searches. You can use these saved searches to send newsletters and emails using different email plugins including Email Campaign.
Now, click on the contact to view details of their activities. Here you'll find a detailed view of the contact's profile. You will see the contact's activity log including their order and purchase logs. At the bottom of the page, you will get two new sections titled Lates Orders and Purchased Products.
The latest order section contains the order ID, order status, and total amount. The purchased products display a list of the products that were bought by this contact including their quantity and amount paid.
Click on an order and the detailed information will be displayed. The ERP Accounting Invoice number will be included in the order notes.
After completing the order, the status of the order in the sales list on the Accounting module will be changed to paid and an invoice against the order will be created and saved.
You can also check the Accounting modules customer list. All the new and existing customers from WooCommerce will be synced to this list as well.
You can also check the video tutorial to get a better understanding of WooCommerce integration with your ERP system-
Other WordPress ERP Solution You Can Give a Check
Although WP ERP can provide your business with an all-in-all solution. This means you can streamline your work process and improve workflow from one common platform. For individual solutions, you may check these plugins for your WordPress site as well-
WPHRM- Human Resource and Finance Management WordPress Plugin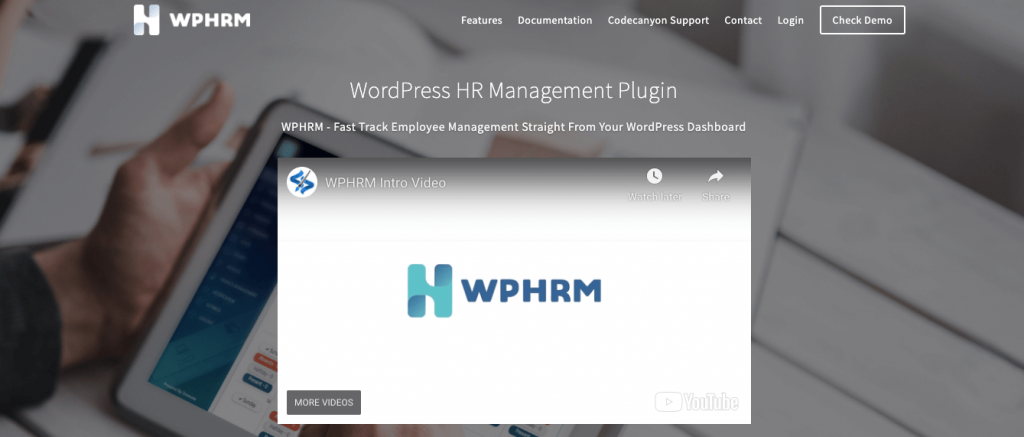 WPHRM helps you to manage all your HR activities inside WordPress. Installation is simple and quick to manage attendance, leave tracking and approval, team communication, etc. Employee self-service systems reduce admin effort and increase accuracy. Moreover, it provides a high level of data protection which complies with GDPR. Also, limitless employee addition secures your freedom.
Best Suit: Almost all business enterprises can use WPHRM. However, it is perfect for small to medium enterprises.
vCita CRM- Client & Lead Management for WordPress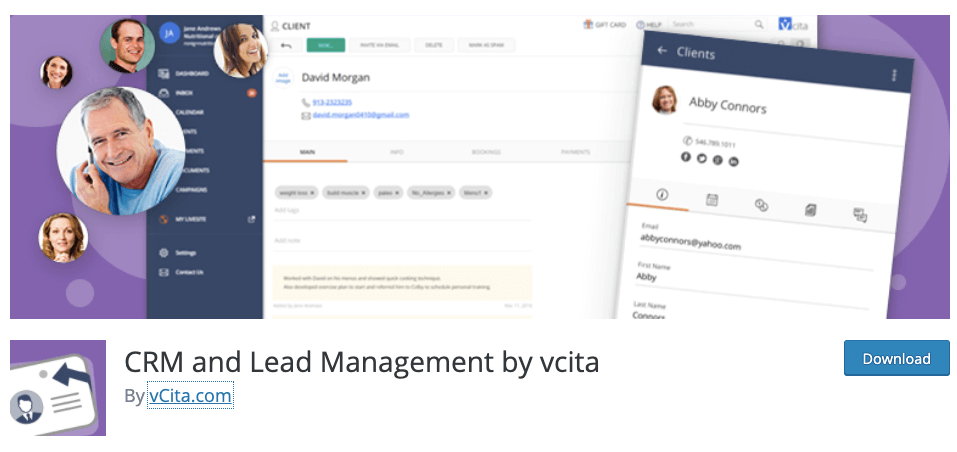 This WordPress CRM plugin is a powerful solution that allows you to generate new sales opportunities, monitor all interactions, get insights, and collect payment from customers. Also, it automates your client management system including client reminders, notifications, and overall communications.
Best Suit: vCita CRM is a complicated CRM that comes with multiple functionalities. This is specially designed for larger organizations.
Bitrix24 CRM- Supports Various Apps for Client Management

Bitrix24 CRM is more than a WordPress plugin where you are flexible in adding things manually or automatically. Here you can customize every requirement of lead generation and tracking. Interaction with customers and teammates is simple too. Indeed you can assign someone to deal with specific customers within a fraction of a second.
Best Suit: Good choice for those who want a free CRM. Its reporting system is extremely powerful. You also have access to invoicing and email marketing features, which makes it more of a CRM and marketing platform than just a CRM.
Final Thoughts on the eCommerce ERP Solution
As an online shop owner, you may face challenges with shipping errors, bad customer reviews, poor inventory management, data entry issues, etc. The good news is, you are not alone on the boat. 90% of online businesses are struggling with these issues. Your online shop, however, needs a solution where all parts of your business can talk to each other.
Here comes an ERP (Enterprise Resource Planning) to save your back.
Although if you want several solutions packaged in with your ERP including employee management, lead generation, finance, and others, WP ERP is the place to go.
Often people drop the idea of integrating eCommerce ERP solutions thinking of extra cost or system customization. But if you list out its benefits looking at the big picture, you will find the eCommerce ERP solution extremely profitable for your business.
Do you have any queries regarding the eCommerce ERP solution? Do share your views with us in the comment section below!