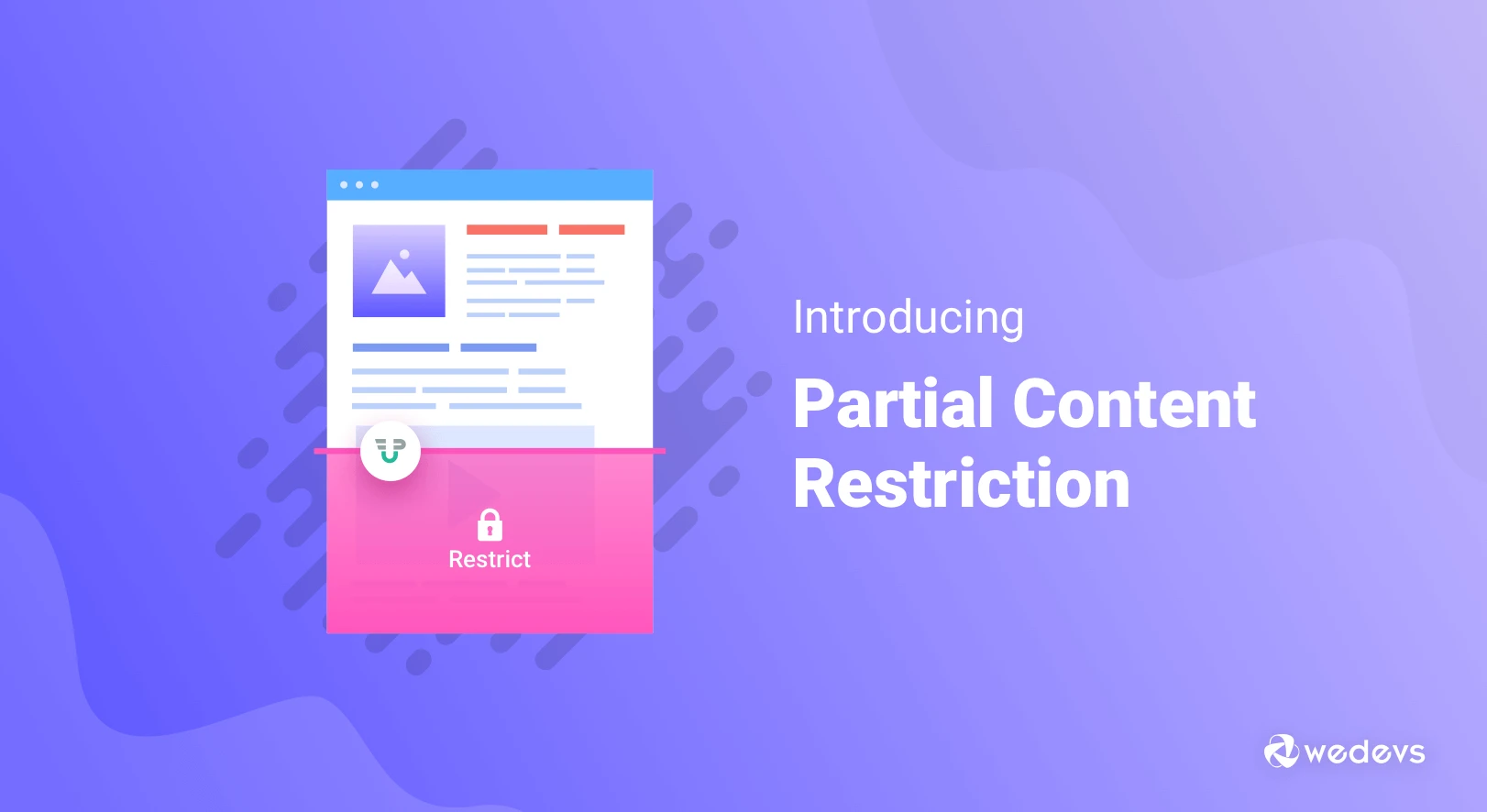 How to Set up Partial Content Restriction in WordPress
Want to show your premium content only to the subscribed members? You can easily restrict your exclusive content for guest users using partial content restriction.
Partial content restriction is a way to keep a part of your content restricted/invisible to users who are not members or subscribers. Only the subscribed or logged-in users can read those parts of your content.
When you see articles in Scholarly or IEEE, you can only read a part of that article or the introduction part, which will give you an idea of the research. But to read the whole article you need to become a member or subscribe to their website. That is partial content restriction.
Today we are going to show how to set up partial content restrictions using one of the best frontend solutions WP User Frontend.
How to Set up Partial Content Restriction with Ease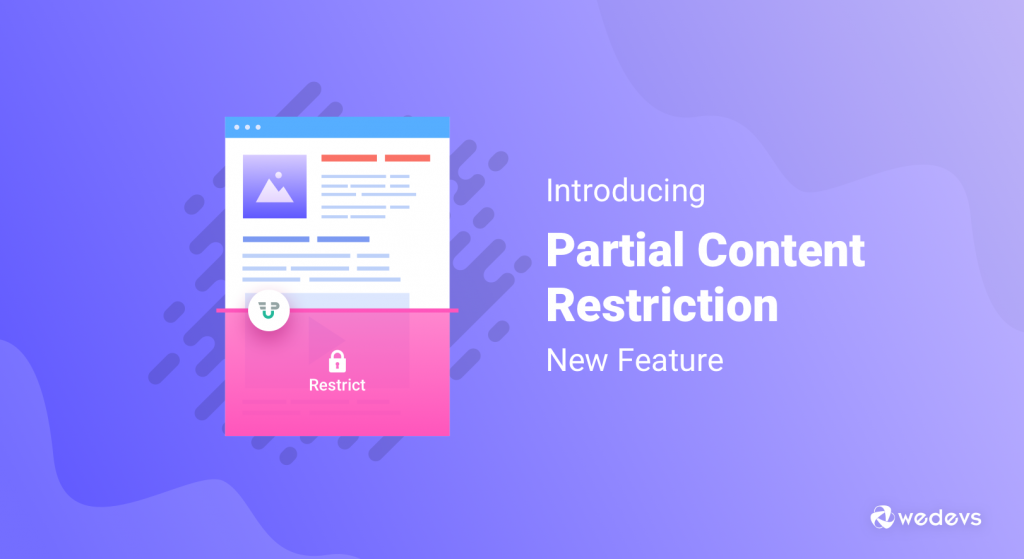 WP User Frontend is one of the best frontend solutions in WordPress repo right now. Currently sitting on 30000+ active installations, it offers some unique features that will help setting up any kind of membership website.
Among one of those feature is Partial Content Restriction. Now, we are going to show you the step by step process on how to setup partial content restriction for your WordPress website.
Pre-requisites
Step 1: Choose or Create a Post
First of all, you need to choose an existing content from, WP Admin–> Posts–> All Posts. Or you can create a new post if you are just starting out.


Step 2: Select the WPUF Partial Content Restriction Block
You will find a block that is labeled "WPUF Partial Content Restriction" in the block sections. You need to select that. If you don't find it straight away, try searching for it in the library using the same name.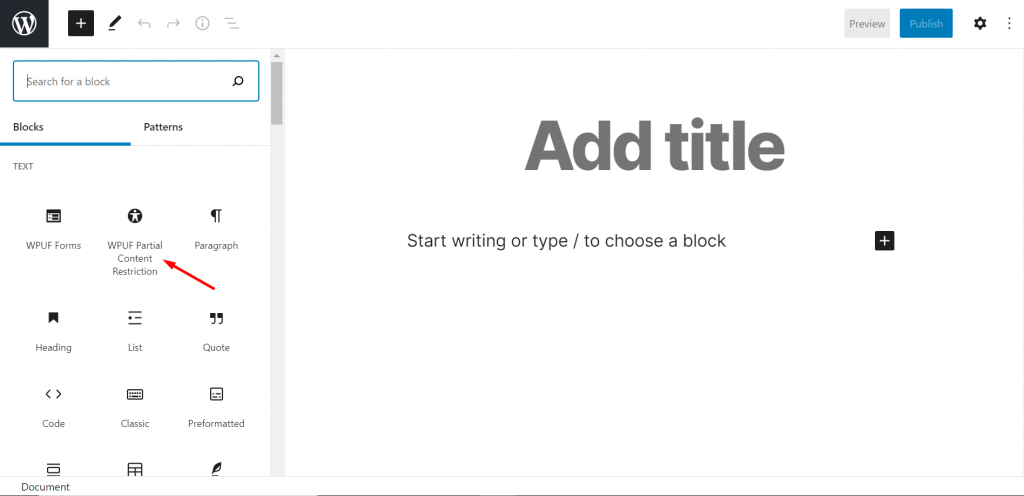 Step 3: Choose the Part of the Content You Want to Restrict
Remember, you need to select the block on top of the content you want to hide. And if you want to hide any middle part of the content, select the Paragraph(or any other) block.
Otherwise, the content after the Partial Content Restriction block will not be visible.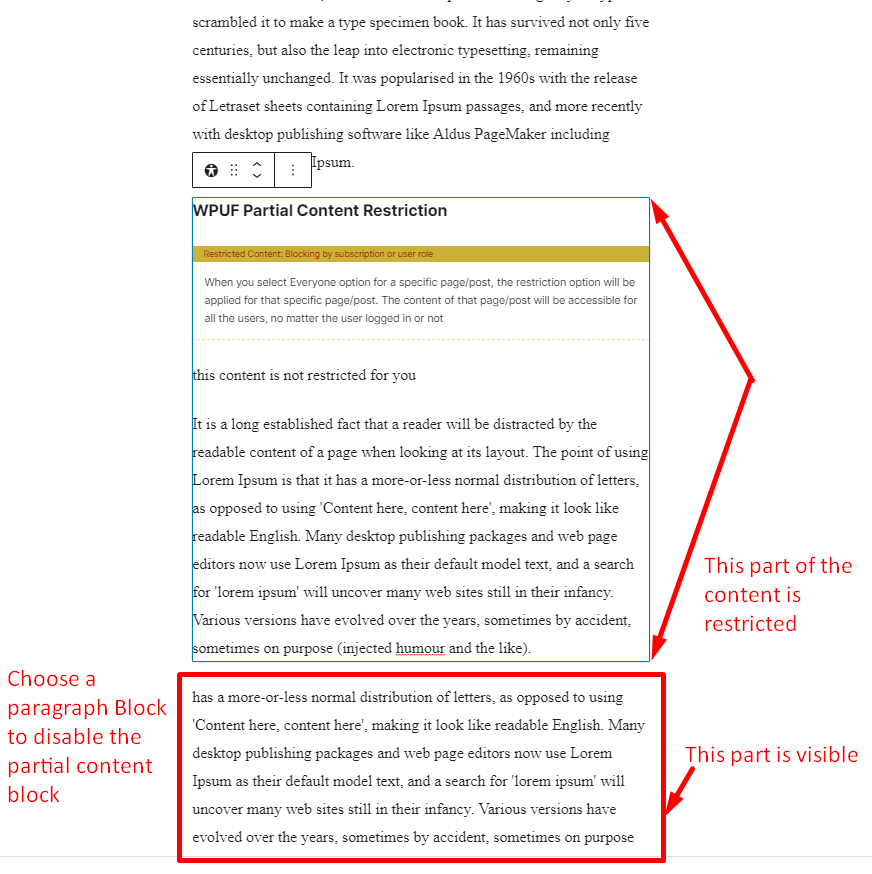 Step 4: Decide Who Can View Your Content
Like we said, you can decide who can view the restricted part of your content. Now you have three kind of user you can choose from,
Everyone
Logged in users only
Subscription users only
We will skip the Everyone part as to this means everyone can view your content. In that case, you don't need partial content restriction feature.
For Logged In User
One of the things that makes WordPress a great CMS platform is because of its user role feature. You can assign different roles to your user and they will get access to your site based on that role.
Like, an author can only write on your site but can't publish the content.
The same goes for partial content restriction. Because, the user role you select will be able to view the restricted content.
For our case, we chose Admin, Editor, Author, Contributor who can view the restricted content.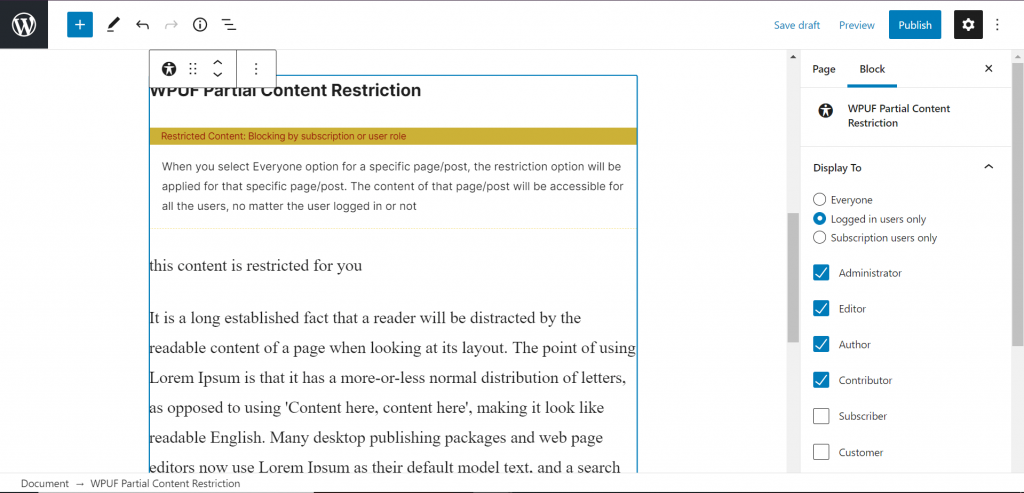 Now, if an Author visit the site,

They can view the content.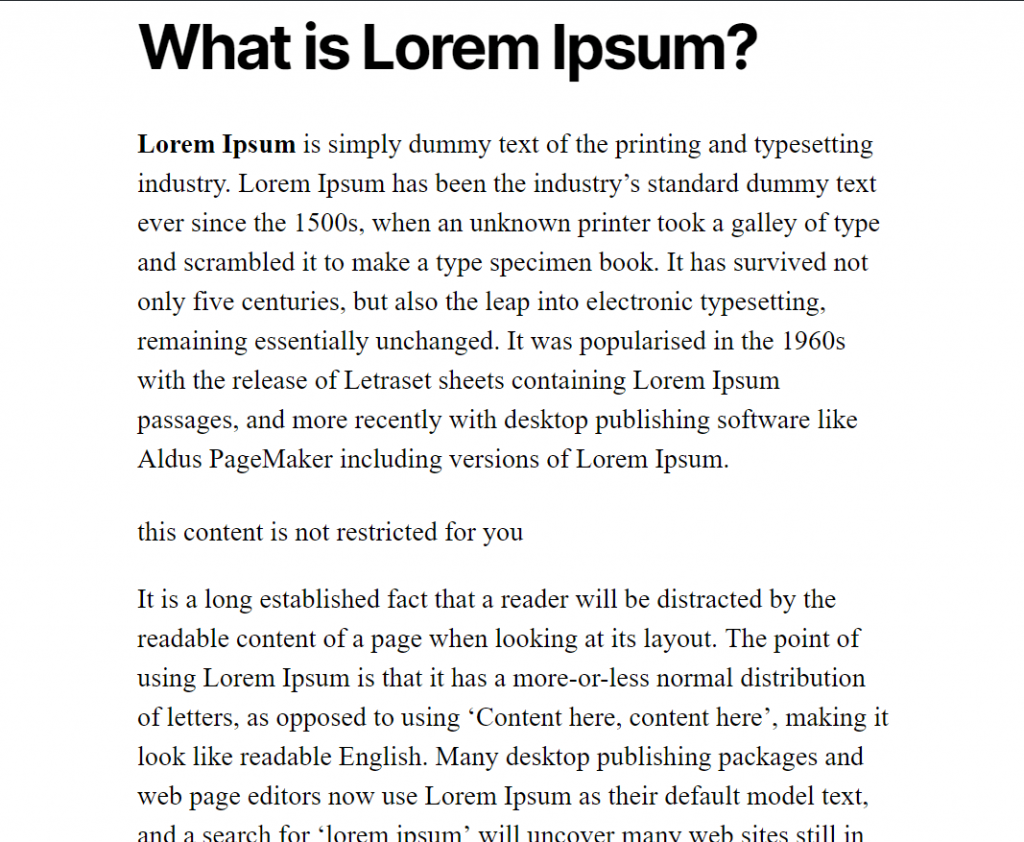 But, when a Subscriber visit your content,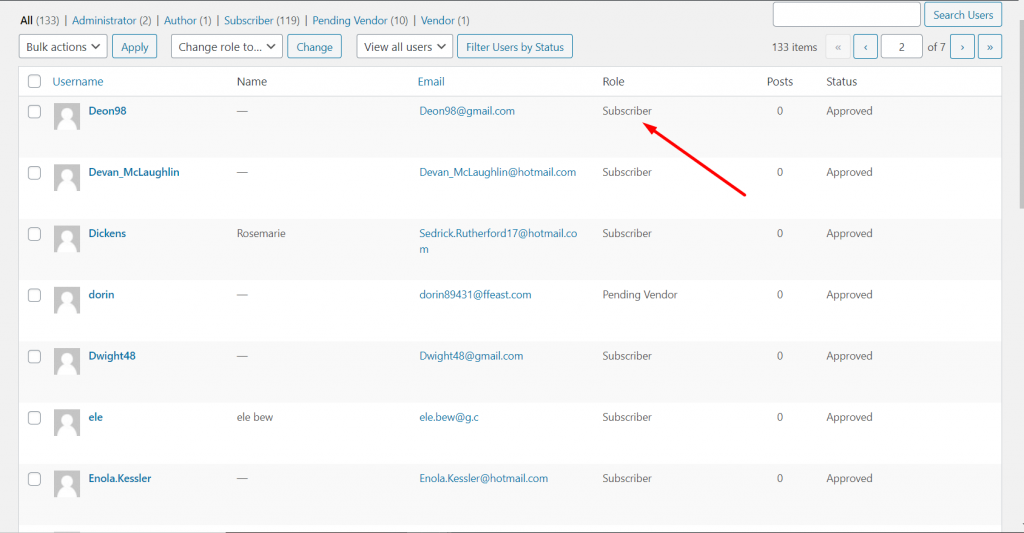 They can't view the content.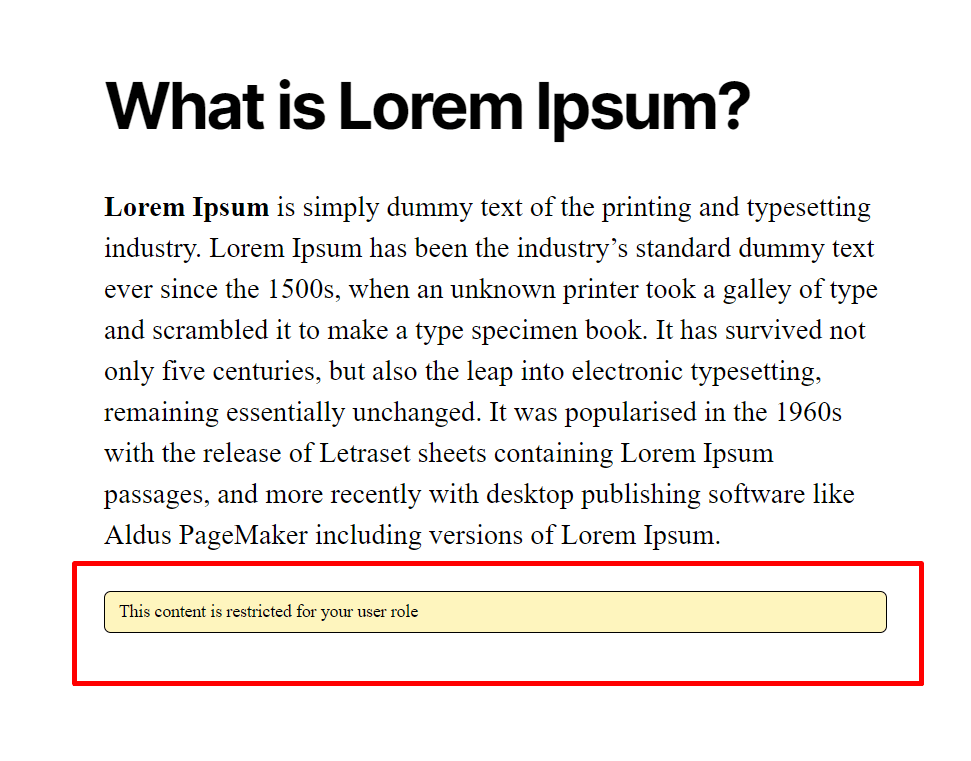 For Subscription Users Only
With WP User Frontend, you can create subscription packages. And you can create different kinds of subscriptions as well.
Moreover, you can enable different kind of subscribers to view your content based on the packages. For example, the premium subscribers can view your whole content for a whole year whereas, the light subscribers can view your content for only 6 months.
That means you can allow the subscribers of certain packages to view the content. In our case, we have allowed subscribers from package New Subs pack, New Trail Pack, New On time Payment to view the content.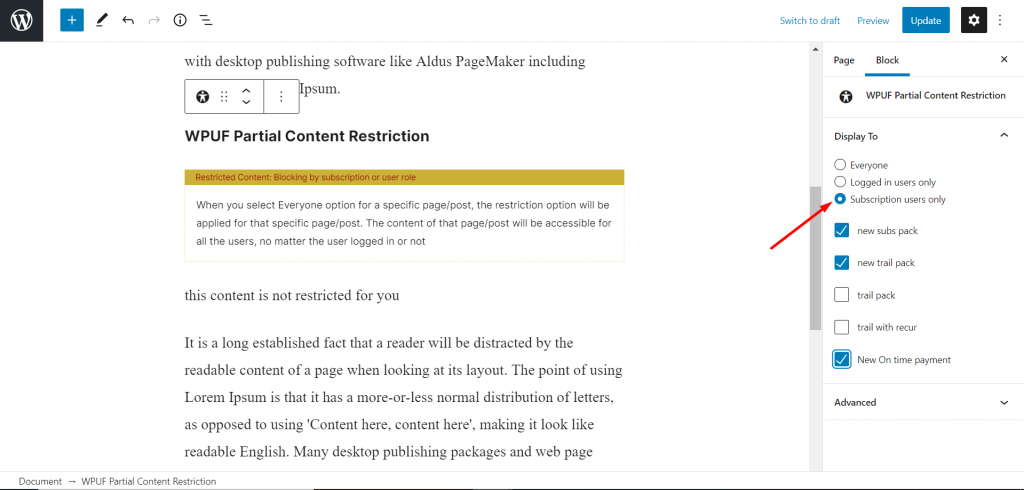 Read Also: How To Adopt Subscription Business Model.
So, a subscriber of a New On Time Payment,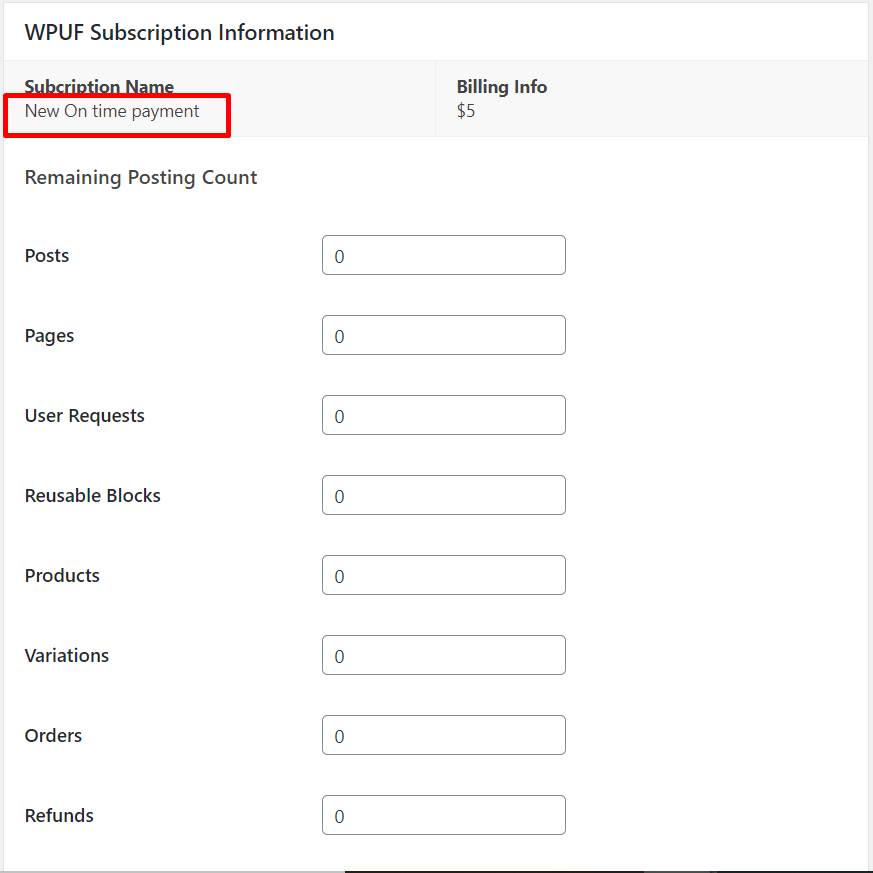 Can view the content.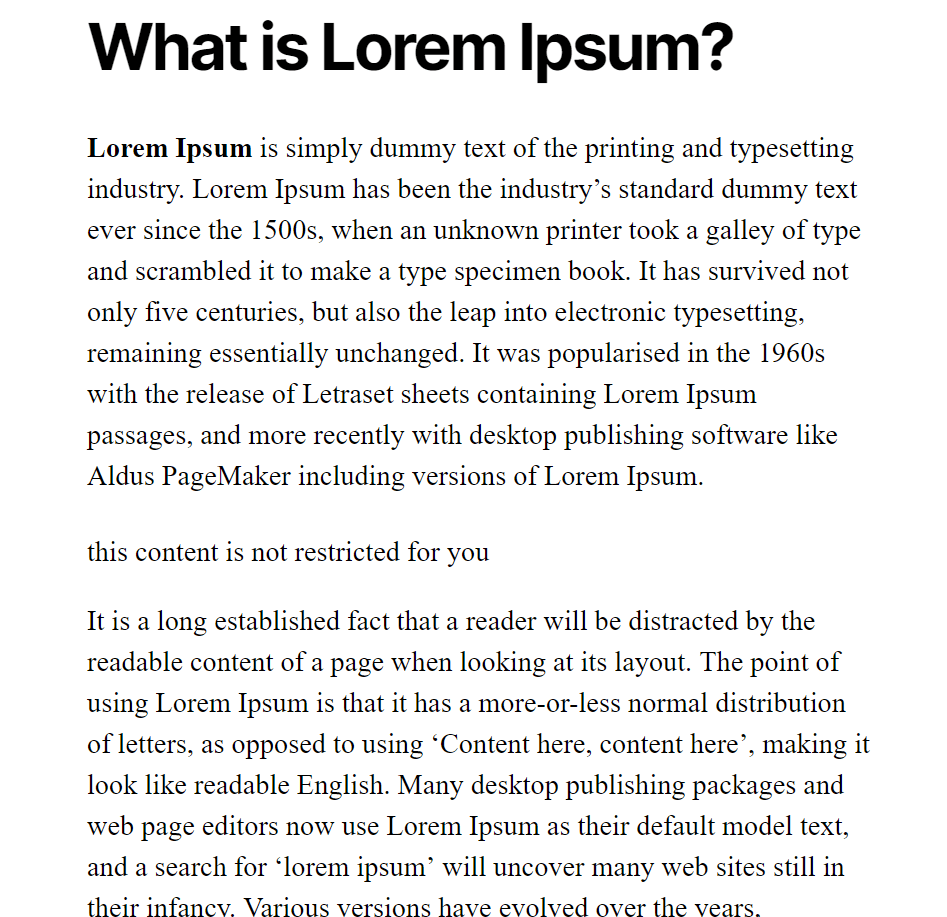 Other package subscribers can't view the content.
Step 5: Publish Your Content
You are done with setting up the partial content restriction feature for your contents. Now you are good to go.
Now you know how to setup partial content restriction feature of WP User Frontend.
Partial Content Restriction: Use Cases
Now that you know how to setup partial content restriction using WordPress User Frontend, you might as well know some of the advantages of using this feature as well.
Exclusive Membership Club
Creating an exclusive membership club with partial content restrictions is quite easy.
Because you can redirect the guest users who are trying to access your premium content to the "Join Now" page. Creating a customer area accessible only to limited members.
Tiered Membership
As we said earlier, you can restrict your content to subscription packages. That means users with different subscription packages can see a different kinds of content.
Also, you can grant new subscribed members access to limited number of contents rather than the whole package. That way, they have to buy/purchase other subscription packages to access the other contents.
Lead Collection
"Enter your email and get access to restricted part of the content".
Partial content restriction is a great way to collect leads. You can offer a user to enter his email if they want to read the restricted part. This will certainly help boost your lead collection and you can create a rich email subscriber base.
Loyal Customer Base
When you give value to your subscribed members by giving them access to premium content, it will automatically create a loyal customer base. Because they will know normal users won't be able to read the content they are able to read.
Also, it will increase your brand awareness and improve your customer experience.
These are the factors you are getting when you are activating the partial content restriction feature for your website.
Conclusion
The membership site is all about privileges. You have to make sure your members are getting that extra privilege than regular users. And using the partial content restriction feature will certainly help your cause.
You will find plugins that are built only for this feature. But with WP User Frontend, this feature is built-in. So, active users can easily use this feature and lock away the exclusive members while giving access to valued members.