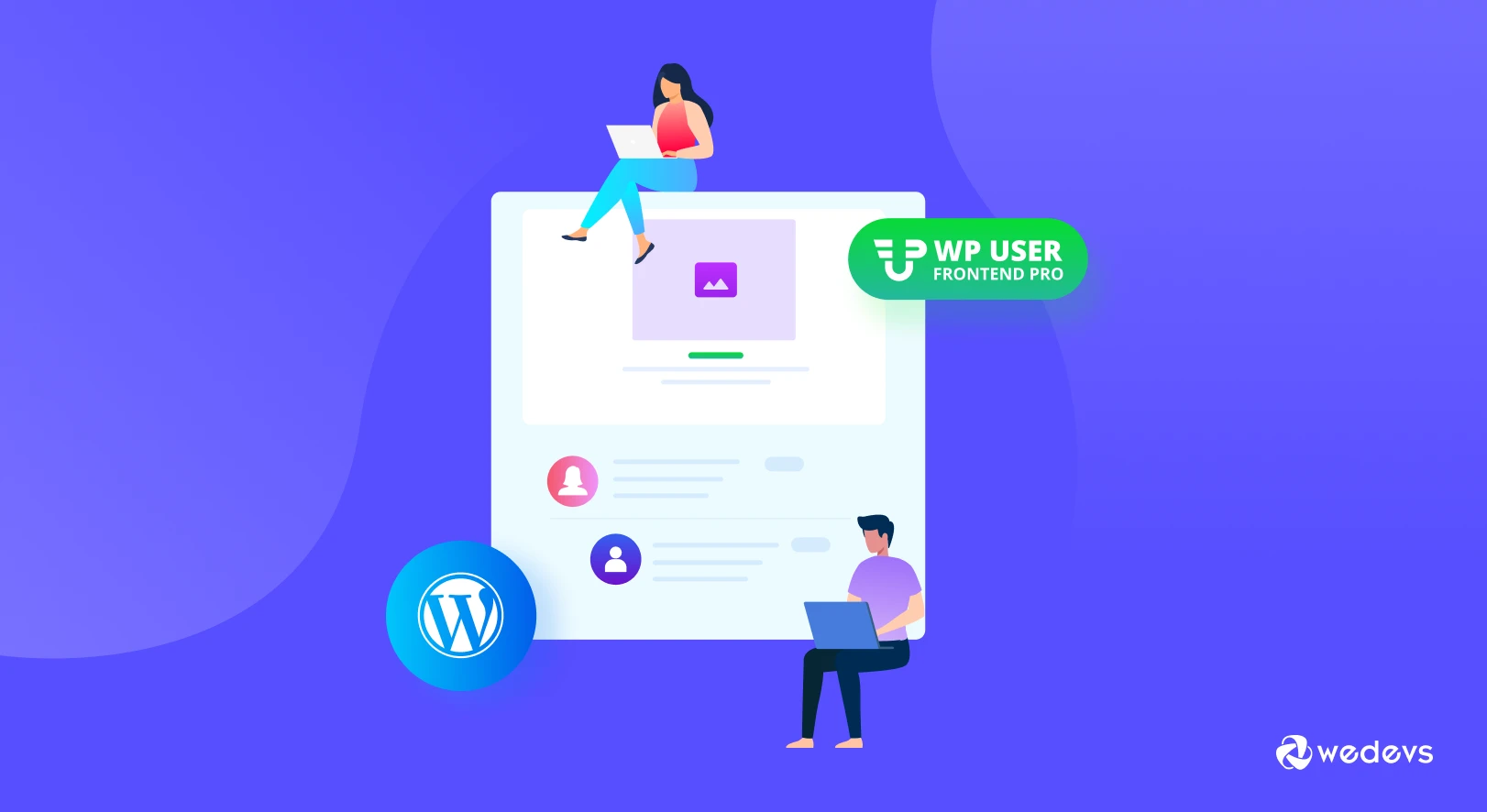 How to Allow Your Users Manage Comments from Frontend in WordPress
Whether you're a professional or casual blogger, an accomplished writer, or just a beginner, the key to success is all about establishing better relationships with your readers. Blog commenting is one of the easiest ways to do that.
There are about 70 million posts being published each month by WordPress users. While 77 million new blog comments are generated by readers each month.
If you have a WordPress site, then managing these comments is fairly easy. You can manage them from the backend. However, the problem arises when you don't want to give users access to the backend. Along with security issues, giving access to the backend can hamper the site as well, which won't be a problem if you install the WP User Frontend plugin. Using the Comments Manager Module of this plugin your users can easily manage their post comments right from the frontend.
Today, we'll show you how to add a comment management feature to your WordPress site. Also, you'll get some workable tips to build a robust relationship with your readers through the comment section of your blog.
Introducing Comment Management Module of WP User Frontend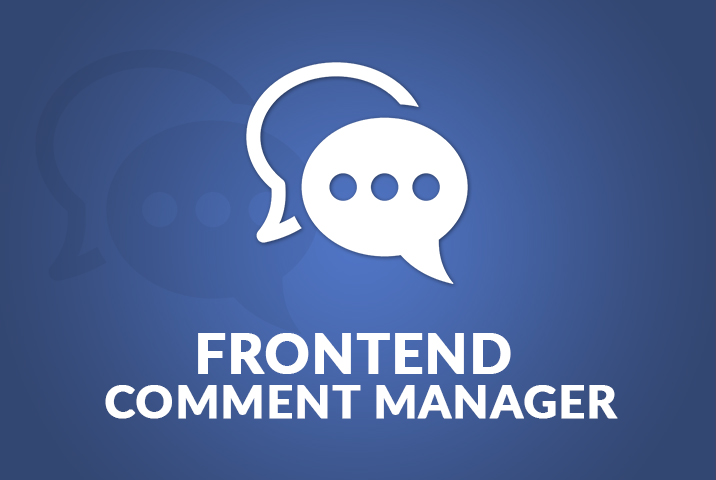 WP User Frontend has lots of useful modules to helps users managing their website content right from their frontend. Plus, you can allow your regular users to manage their post comments from the front-end using the comment management feature. Well, this fully customized feature comes with the premium version of the WP User Frontend.
However, let's shortly check why you should enable this module on your WordPress site to manage your blog post comments:
Easy to implement
No coding experience needed
A simple shortcode to apply the entire feature
Users can approve, remove or edit comments from the frontend
Don't need backend access to manage post comments
Mark comments as spam whenever you want
Set as many comments as you want to show per page
So these are the notable things that you can utilize and make your comment section more effective.
How to Integrate Comments Manager in Your WordPress Website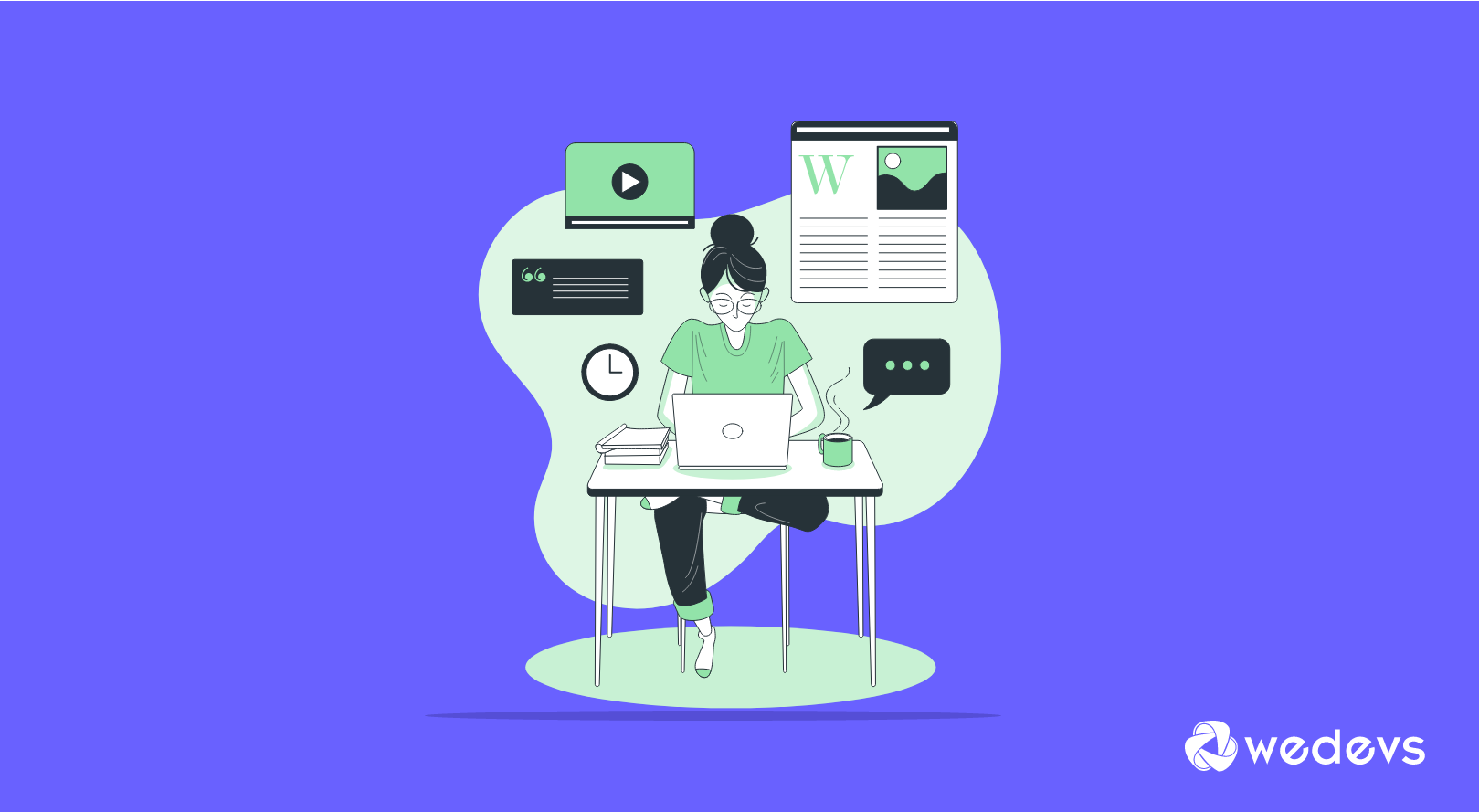 Apart from providing quality content, blog comments are also a crucial part. Also, it helps to directly communicate with customers. Moreover, it adds more value to your content and it can also improve your content's SEO performance.
Well, it's time to show how to easily add a custom frontend comment manager to the WordPress site. Sometimes, marketers face difficulties to manage blog comments from the backend of their website. So this complete tutorial will help you to easily add a comment manager feature on your WordPress site using WP User Frontend.
This module will help you to display users comments on the front-end by only using a simple shortcode. So, you don't have to give back-end access to your users for comment moderation!
Requirements
Note: Do make sure that you have installed and activated both free and the pro version of WP user Frontend to use the comment module on your WordPress-powered site.
Activating the Comments Manager Module
To activate the comment module, you need to navigate WP User Frontend> Modules> Toggle the comment module on. Your comments manager module is ready to use.

General Settings
From general settings, you can control how many comments that you want to show on your page. To do that just navigate to WordPress Admin Dashboard >User Frontend> Settings> Comments Per Page.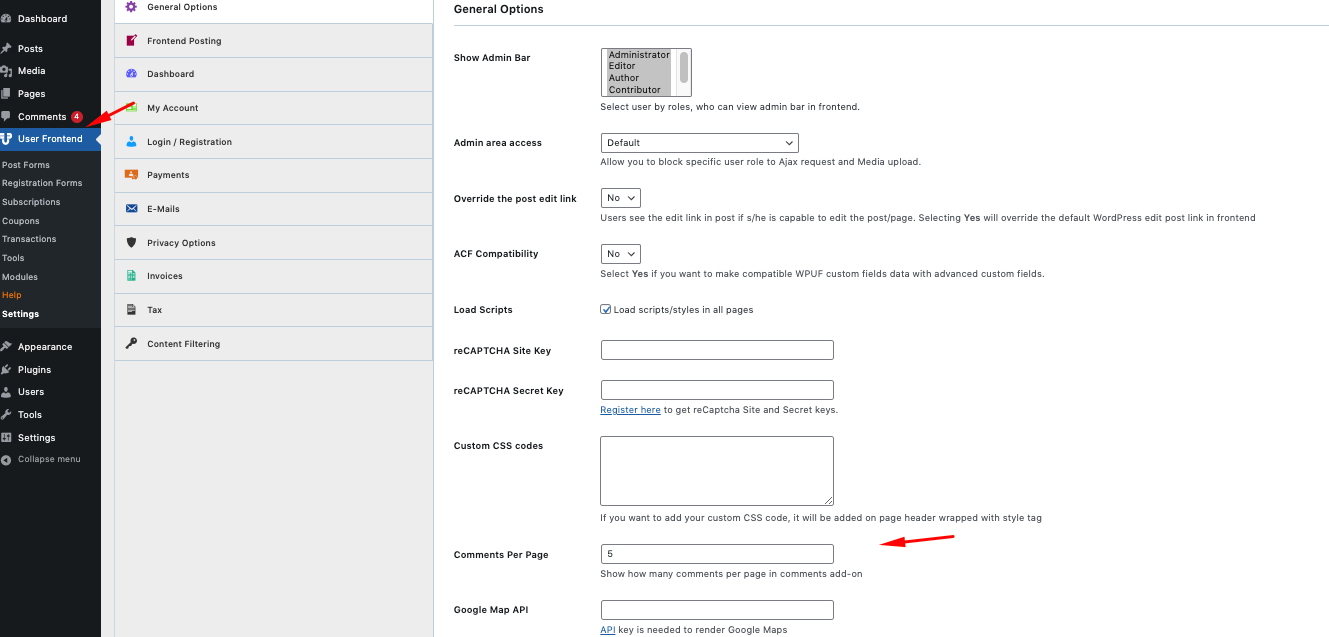 Create a Post or Work on Your Existing Post
To create a post, navigate to Dashboard> Post> Add a new post. Or if you have already a published blog, then you can skip this part.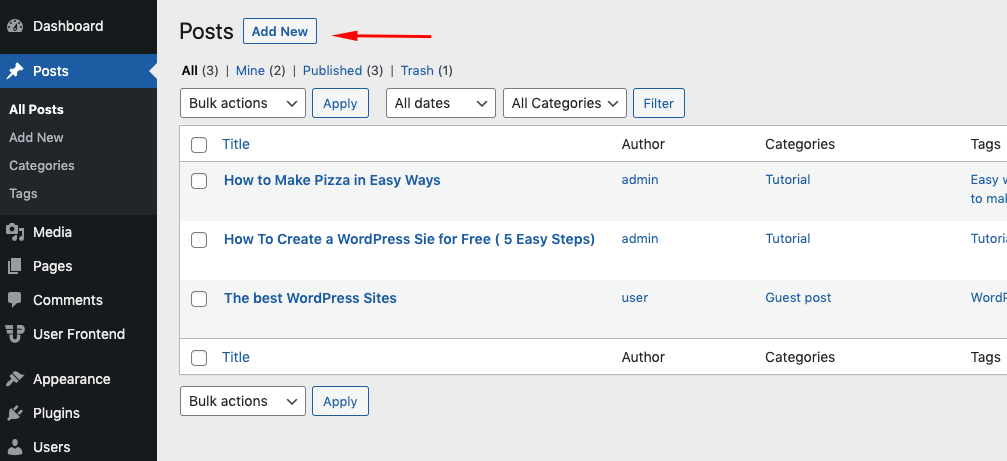 Now once you're done with the post, add the comment manager shortcode at the end of the post.
[wpuf_comments]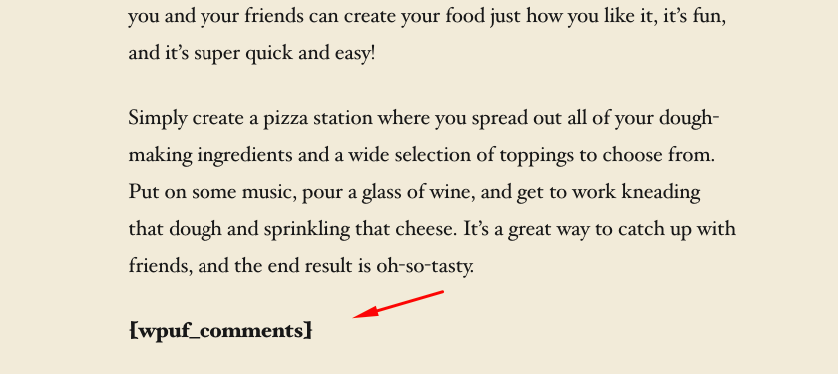 After adding the shortcode, navigate to your post frontend view. And here you'll get all the comments in an organized way. In fact, you don't have to go to the backend to approve the comments from here.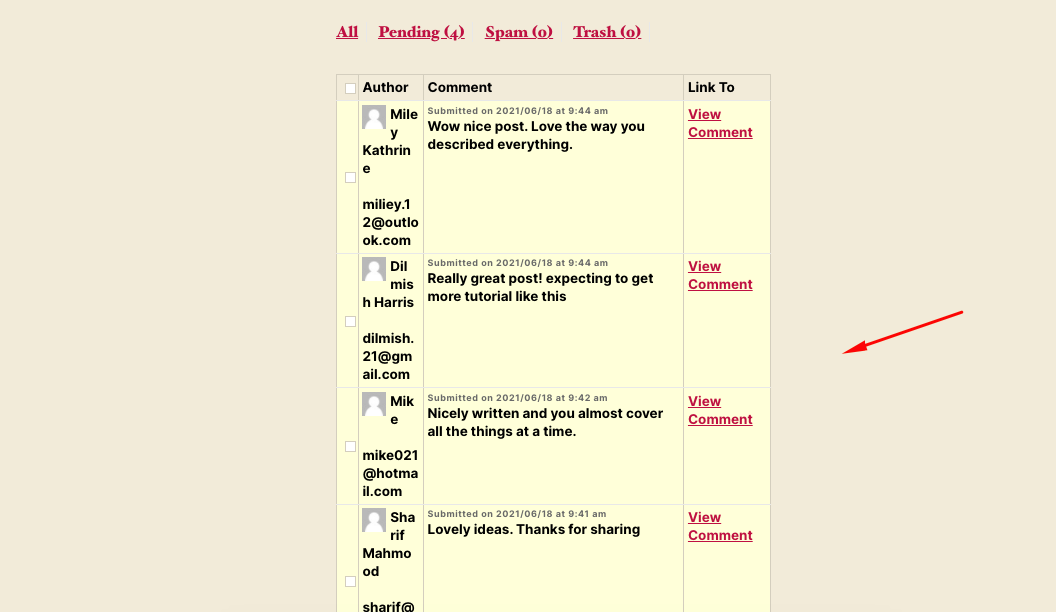 From there, you can manage and edit comments just like the backend. You can disapprove, quick edit, make spam, or trash any comment if you want. There are also options for bulk edit comments.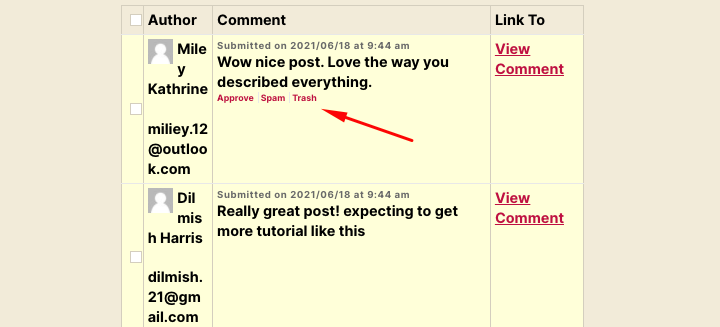 After approving the comments, all the comments will appear nicely in the comment section.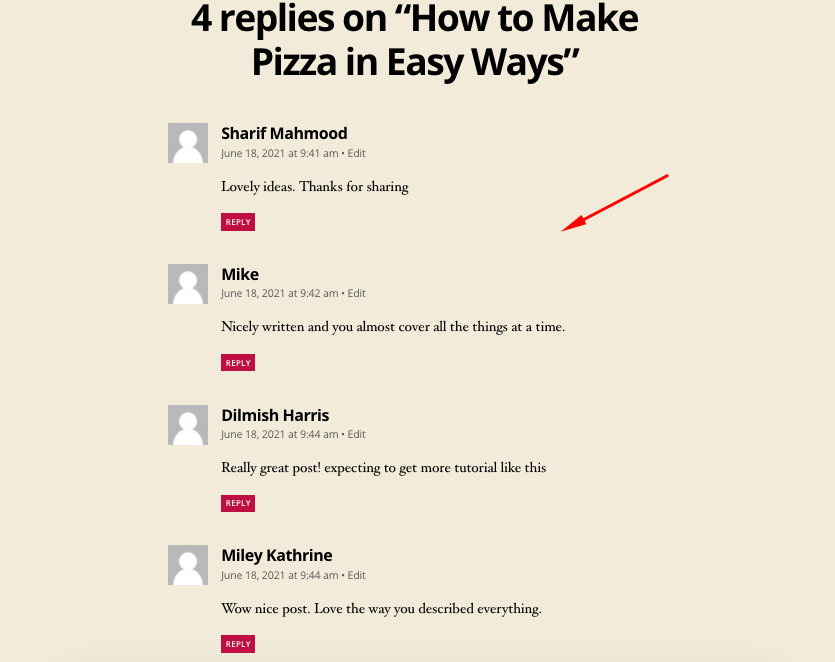 And you can reply, communicate and do other things whatever you want. Remember to apply the tips that we discussed above.

So this is how you can add a comment manager module on your WordPress site using WP User Frontend. Do make sure to add the shortcodes that we shared. Or you can get a brief idea from the video tutorial below:
Or you can check the official documentation for Comments Manager.
7 Effective Comment Management Tips to Build Better Relationships with Your Readers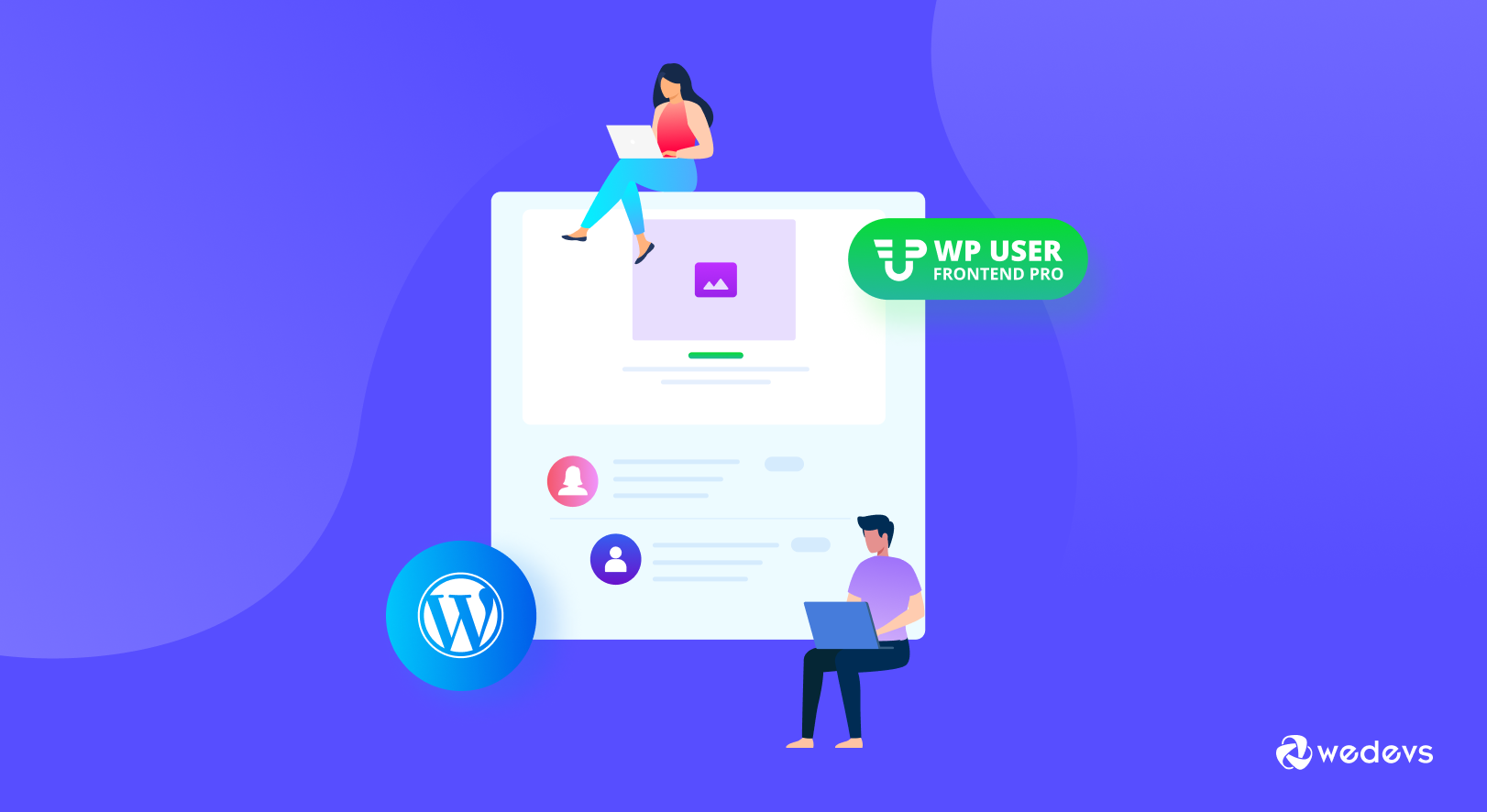 Suppose you follow a blog site and you regularly read all the articles of that blog. One day you left a comment and what if the author replies to your comment? For sure, it would be a great moment for you.
The same thing happens when you do it for your readers also. They will more likely feel so connected with you if you can nurture and build a bond with them with nice & warm replies.
However, if you don't know how to deal with blog readers or how you should reply to their typical feedback or suggestion, we'll help you in this case. We'll share some effective and workable tips with you. Then hopefully you'll be able to cultivate a strong bond with your website audiences.
1. Keep Consistency with Your Tone
Actually, every writer has to be a poet from his/her heart. It means you must write in your own voice or tone. You shouldn't mix your writing tone between writing & replying to your readers. That means if you use a casual tone in your blog, then do the same thing when you reply to your readers. At the same time, if you use formal, then follow that.
For instance, your own brand identity will rise and customers can easily connect with your thoughts. So try to keep this tip as a vital one while replying to your readers.
2. Respond to Your Readers' Comments by Asking Questions
Suppose a reader left a comment on your blog. And what if you ask about the specific topic or subject to justify your reader's query very well. Of course, it will make that reader so happy. This way you're actually interacting with your readers and it will be easier for them to relate to your saying yet blog.
For example, you can ask readers about their thoughts, their point of view whether they agree with you saying or not. In fact, asking questions could prove that you're valuing their opinion by asking questions. This will encourage them to share their thoughts with you that could help other readers to summarize your blog easily.
The final paragraph of your blog article could be your perfect place to ask specific questions regarding the topic you've just discussed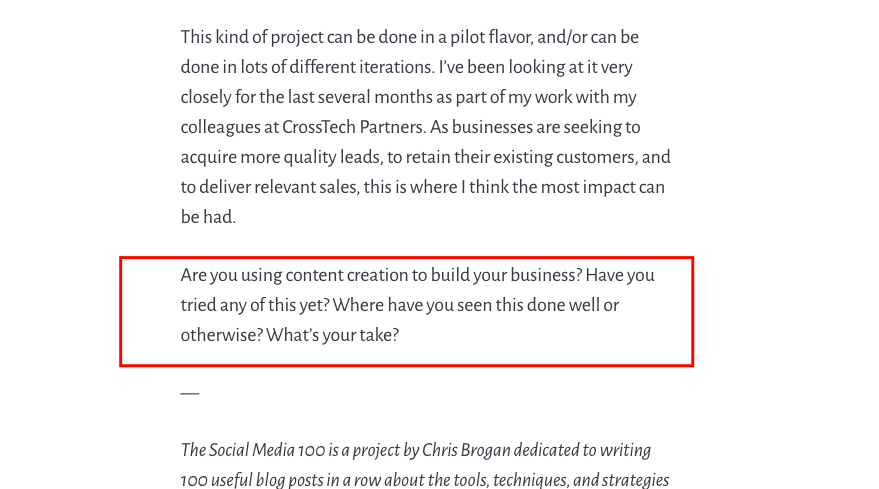 3. You May Be Wrong – Admit It & Be Humble
Another way to communicate with customers is to show your kind gesture through your replies. In this case, you can admit that you may be wrong with your statement, or you can just say sorry if your thoughts are not convincing. Actually, this is an incredible technique for expanding the discussion.
The real goal is creating and sharing information with people, helping THEM make their lives and businesses better – Chris Brogan, social media expert
However, he applied the techniques in one of his articles very wisely. Here is how he did that:-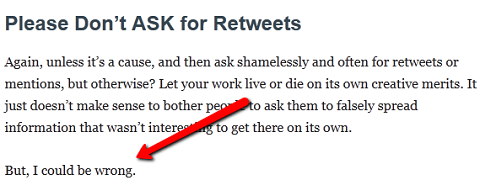 4. Say a Simple "Hello" or "Hi"
Simply saying hello is another way to interact with your readers. That means you're accepting their thoughts or their feelings. Also, it's a sign of positiveness that makes a reader helps to connect with your article. In short, a simple greet could be really something special and it's a good practice to use when responding to blog comments as well".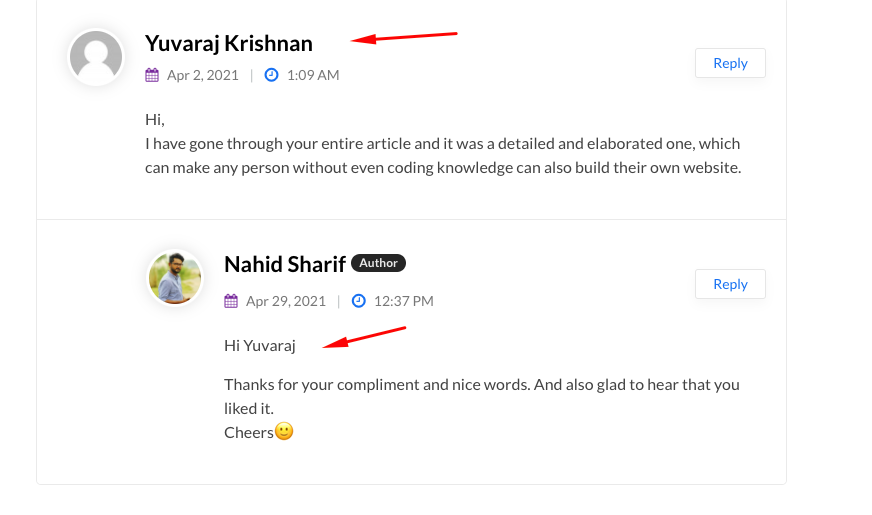 So whenever you reply to any blog comments, start with "hello" or "hi". Definitely, it will build a strong connection with your commenter.
5. Mention Readers' Name to Make Them Feel Special
Like saying "hi" or "hello" in the blog comments, mentioning the reader's name could also add more meaning to that conversation. Also, this means the author is giving priority to that commenter. And the commenter will get encouraged to comment in the future or extend the conversation by putting his/her valuable points. However, almost every blogger uses this technique nowadays. And it's actually good to see.
"Remember that using a person's name is the sweetest and most important sound in any language"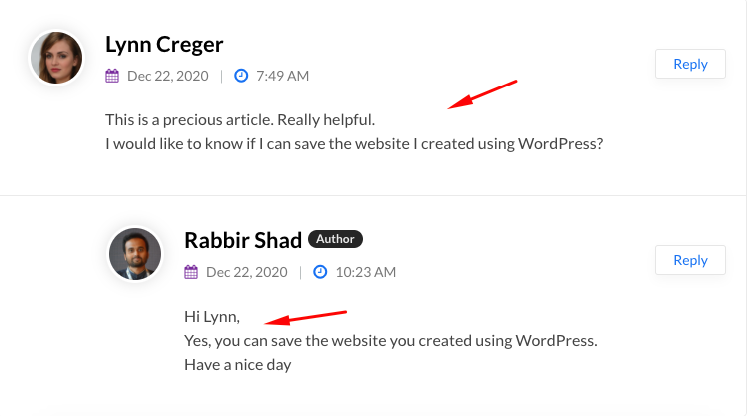 Such a simple mention like the above example is effective for building relationships with users.
6. Do Make Sure that You're Noticing Your Regular Commenters
If any reader regularly reads your blog, you should recognize them on the first encounter. In this way, they feel special and will be eager to comment on your blog again and again. Also, these readers will share your article, recommend other readers, and for that, your web traffic will increase organically.
So try to recognize your returning commenter and appreciate them for commenting on your blog.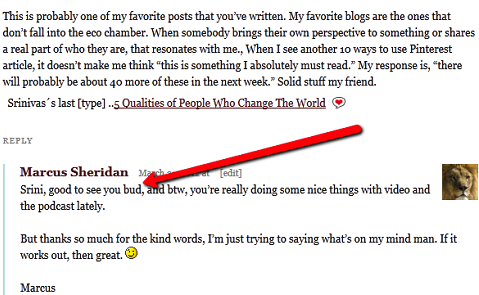 7. Show Gratitude for Their Support
And finally, it's time to say thanks to your readers for their comments or valuable feedback. You need to take your time and reply with gratitude.
Let commenters feel appreciated by the following example:-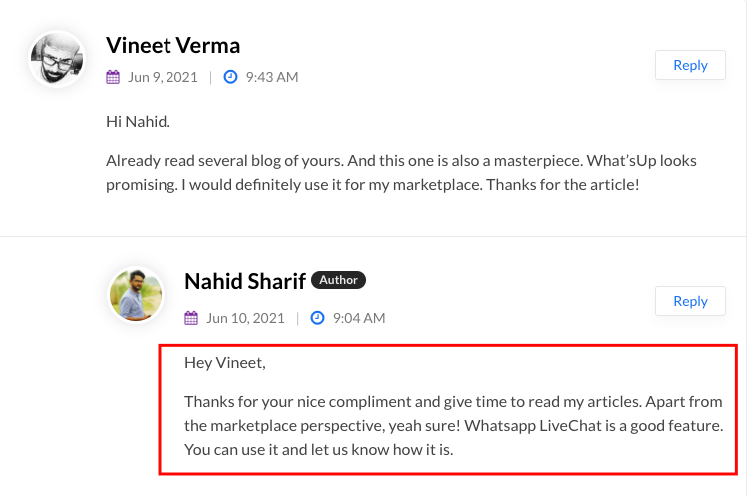 So this is how you can build connections with your blog readers. The tips that we showed above are taken from our own experience and research. Therefore, pick the right tool for comment management that suits you and implement the best one which is workable for you.
Common FAQ(s) About Blog Comment Management
1: What is Blog Comment?
Ans: A blog comment itself is a comment, suggestion, or feedback that readers submit through a simple form your blog pages.
2: How to Write Great Blog Comments on Other Blogs?
Add something valuable to the conversation. Make the author feel that often you read his/her post.
Comment regularly.
Don't over-promote or spam yourself.
Ask relevant questions.
Let the author know why you are commenting.
3: What are the benefits of blog commenting?
It is a great practice. Though blog links are "no-follow", But still it's a good approach for gradually creating a chance to get a do-follow link. Also, it could help to build your brand, increase your reliability, support social media, and improve your SEO strategies.
4: Is blog comments effective?
Though blog commenting is useless for direct link building. Sometimes author marks that comment with link as a spam. But if it's utilized properly, it will bring large traffic to your website.
5: How do you praise a commenter?
Simply, show your gratitude towards him/her that you are so honored that they comment on your blog. Also, appreciate their effort to find your blog and spend their time to give feedback to your thoughts. So this way you can praise a commenter and engage with him/her.

Frontend Comment Management will Keep Your Site Secured
In this digital era, everyone is looking to add something unique to their marketing strategies. And utilizing the blog's comment section with proper strategies could boost up your website's traffic. So if you're still ignoring your blog comment section and not giving proper utilizations, then we hope that this post will encourage you to take serious considerations. These tips about blog comments and how to use the comment management feature helps you to control all the comments from your website frontend with ease.
However, if you have anything to say regarding the comments manager, please feel free to share them with us through the comment section below.