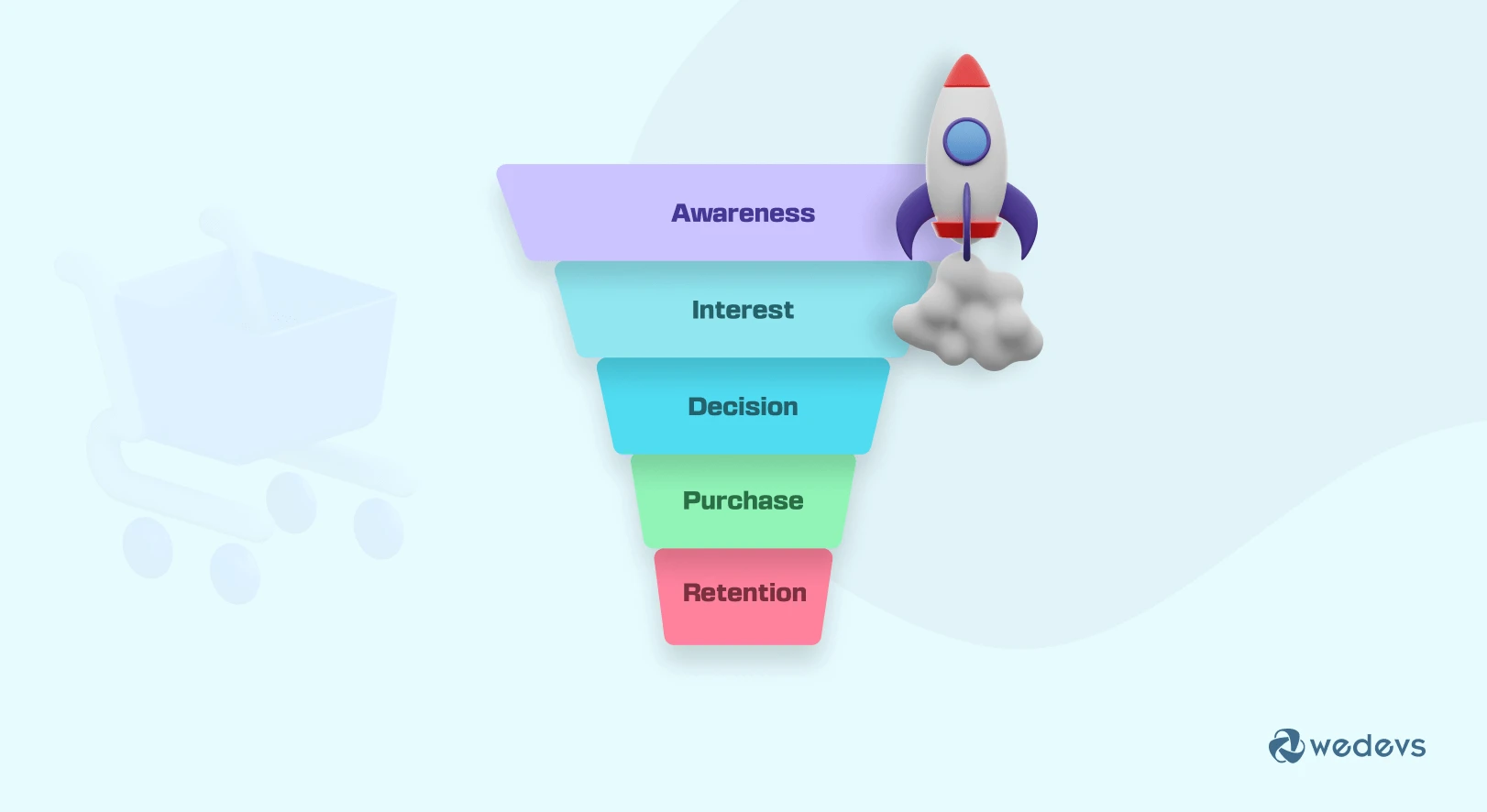 Understanding eCommerce Sales Funnel: Everything You Need to Know Today!
Want to maximize your eCommerce customer experience? A well-planned eCommerce sales funnel can help you achieve your goal.
An eCommerce sales funnel gives you a visual representation of the customer journey. So, you can easily track how a customer enters the top of the sales funnel and moves down, stage by stage until s/he becomes a loyal advisor.
Whether you are just a beginner or already running a successful online store, you should know how to optimize the sales funnel to make the most out of it.
Don't know where to start? We've got you covered.
Today we'll show you the different stages of an eCommerce sales funnel. And essential marketing tactics for each stage to carry out customers from one stage to the next.
What is an eCommerce Sales Funnel & Why It's Important?
In simple terms, a sales funnel shows the journey of your potential customer in different stages on your website that finally head to conversion.
It gives you a visual demonstration to see the path a customer usually takes from the first to the final touchpoint. Therefore, you get the advantages to-
Drive expected traffic
Improve conversion
Build a loyal customer base
Grow business with great profits.
An eCommerce sales funnel consists of many steps based on your business niche and industry types. Here we'll discuss on most popular 5 stages of a sales funnel-
There is a significant drop-off of potential buyers at each step and the number gets smaller as you get closer to purchase.
As an eCommerce business owner, your job is to optimize the marketing activities of each stage so you can nudge as many users as possible to move down.
Why eCommerce Sales Funnel is Important
An optimized sales funnel prevents you from taking the wrong steps. For example, giving your sales pitch too early may hamper your brand reputation. It can portray you as a desperate salesman who just wants to close a deal. Instead of buying, leads tend to avoid you.
This is where the sales funnel comes in.
With a sales funnel you get a relationship-focused framework. So you can take the right action at the right time.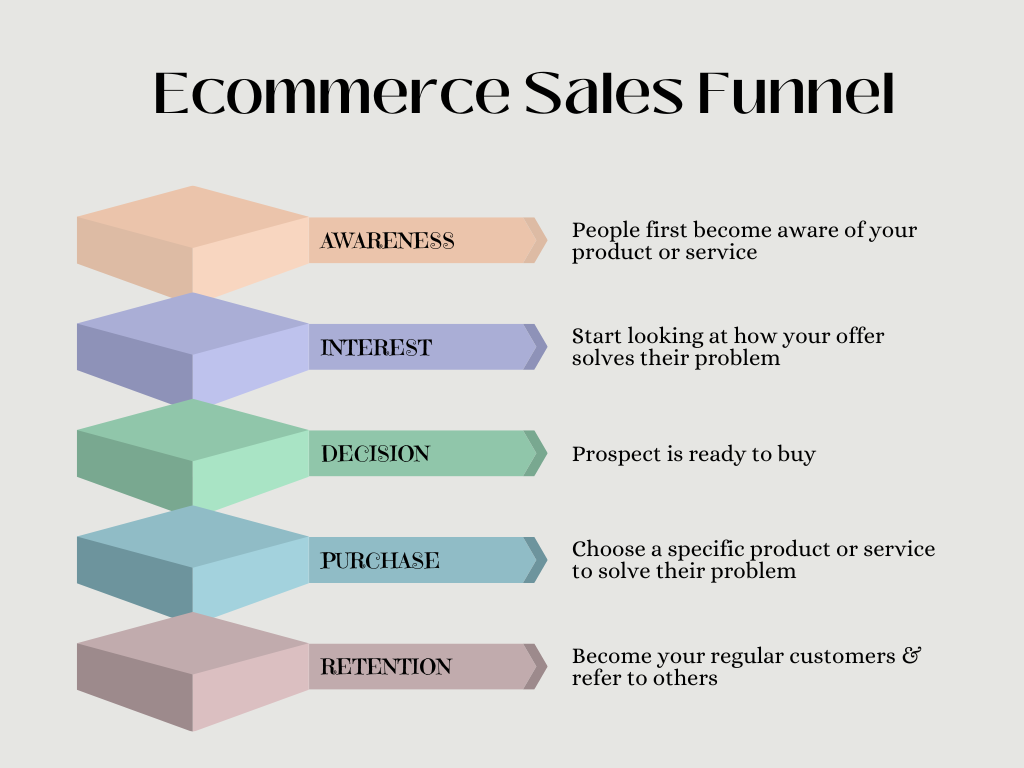 Rather than pushing your potential customers to buy your products or services, it enables you to educate them to make a qualified purchasing decision.
The 5 eCommerce Sales Funnel Stages for Entrepreneurs
From the first interaction with your brand to becoming a loyal advisor, a customer usually goes through several steps. Each step is crucial as you can lose your customer at any stage of purchasing.
As a business owner, you have responsibilities to make your customer journey remarkable to create repeat customers for your products or services. These loyal fans refer more people to your brand and accelerate your business growth. It's also essential to improve your post-sale services in terms of keeping your customer retention rate higher. All these steps are different parts of the eCommerce Sales Funnel.
At each step, you have to offer specific information, content, or answers that takes your leads closer to making a purchase.
The sales funnel can be divided into 5 stages:
Stage 1: Awareness
Stage 2: Interest
Stage 3: Decision
Stage 4: Purchase
Stage 5: Retention
Let's break down every stage of the funnel and show how you can optimize each step to better appeal to your target audience.
Stage 1: Awareness
If you think of yourself as a gardener, then this is the seed-planting phase of your business strategy. In this stage prospects, first time know about your products or interact with your brand. If you can create a strong first impression on them, it increases your chance to build a long-lasting relationship.
At first, customers are not well-known about your products. Before approaching them about your products/services, educate them on related topics. It establishes you as an authorized person in that particular field.
Eventually, tell them about your products or services. Make sure your potential customers know deeply about your product benefits. Present immediate or long-term benefits of your product or services so customers can consider your brand as a solution to their problems.
Your ideal channels for the awareness stage may include-
Blogging
Search Engine Marketing
Social Media Marketing
Here are some marketing tips you can utilize at this stage-
Use Social Media Ads
As a large number of people now spend their time on social media you can also target these platforms to promote your brand. Based on your target audience's demography, interest, and needs, create social campaigns and publish them on the social platforms your customers mostly gather.
If they don't even click on the post or visit your website they'll at least know about your brand. Later, when they need related products or services these people at least consider your brand as an option.
Generate SEO Content
You can educate your audience with useful content related to your business. Pick keywords people generally use to find related products/services. And make sure your content gets a higher rank on search engines for those terms.
Publish Instructional Video
Video content becomes popular to convey any message to a large audience. Before spending money, most people prefer to learn more about the solution. They need assurance that their money is going to the right place. You can publish educative videos to teach your users new skills and inform them about the problem & how to solve it.
Arrange Educational Webinar
Arrange webinars to educate people about your brand through interactive videos. Through webinars, presenters can share useful knowledge and resources with their attendees. A webinar can be prerecorded or streamed live. This can be a modern-day hack to reach an audience who has an interest in your business.
Stage 2: Interest
You've managed to grab the attention of your target audience. They come to your website organically or through paid ads. Now, it's your duty to clear their remaining doubts and make them convinced to move on to the next step.
Since users of this stage are already aware of your business and products/services. So, don't overwhelm them with generic content like who you are, your basic activities, etc. Rather try to boost their confidence with more detailed content and advanced tools.
You can highlight your hero products and the uniqueness of your services. Alternatively, categorize the users based on the information you collect from different platforms and personalize all the marketing approaches.
Here are some effective marketing strategies for this phase-
Optimize Your Website
Make your users' browsing experience as easy as possible on your website. An eCommerce site has a lot of components and pages. You should take care of everything to enhance your customer journey. Some important tasks may include-
Keep the site navigation process easier
Add descriptive yet easily understandable product description
Use high-resolution product images & other media files
Create landing pages targeting particular customer segments
Use interactive CTA buttons
Offer multiple payment and shipping options with a return policy
Read more: A Guide to SEO for Ecommerce Product Pages in 2022
Make Your Customer Journey Exclusive
Digital buyers always strive for a unique shopping experience. Considering that personalizing the shopping experience for your customers is always a plus. For example, Sephora's "Fragrance IQ" quiz covers a brief series of questions to help visitors pick the right perfumes or colognes
Based on the answers, they suggest perfumes to the buyers-
Quizzes are a great content marketing tool to capture your audience's interest. It helps you both collect customer information and provide a personalized experience.
Related resource: 8 Best Practices for Building Trust With Your Customers & Why It Matters.
Use Social Proof Across Every Channel
Social proof can be a profitable way to boost your marketing effectiveness. It describes the point of view of third parties about your brand. Social proofs can be an image of your product in use, a quote from real-life users, or an award from a trusted organization. You can collect them from real users, industry leaders, press outlets, and many other sources.
Use these social proofs across various channels to engage with your prospects and earn their trust. Such as on your website, email marketing, social posts, paid ads, etc.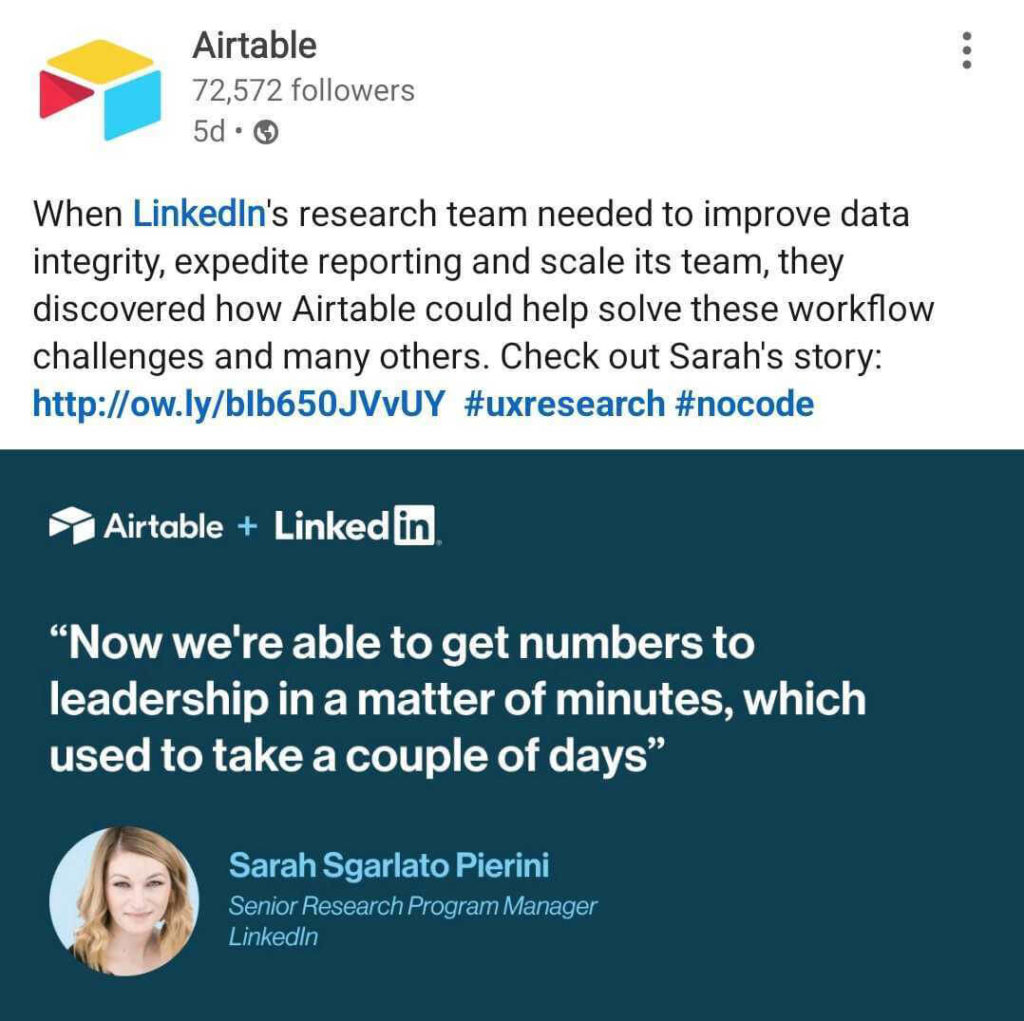 Retarget Visitors with Social Media
You can focus on retargeting online advertising to re-engage website visitors who left your site without converting or meeting a marketing goal. By embedding a small tracking code on your website, track your potential leads or customers. Then, identify special marketing approaches to recapture your prospects on other websites, including social networks.
Typically, effective retargeting ads are used to:
Build trust (e.g. testimonials )
Provide value (e.g. give free educational content)
You can also offer them a special incentive or discount that encourages them to return to your website and purchase.
Stage 3: Decision
In this stage, all the crucial actions take part. After nurturing your leads, now it's time to seal the deal.
You've successfully attracted your potential buyer and grabbed their attention for a long time on your website. Now you need to give them a little push to make the final decision.
Since a large number of people leave the website even after adding products to shopping carts, so you can't underestimate this stage just by thinking that your job is done.
You should remember, before finalizing their purchase, most customers look for special deals and discounts. You can grab the chance by offering limited-time discounts. This will encourage the customer to buy your product over competitors and also set subtle time pressure on them to make a quick decision.
Here are some more useful actions you can utilize to this stage-
Offer Attractive Incentives
Everyone wants their money's worth. That is why it is smart to give personalized or special deals to your buyers. So, they feel special and make the final decision in favor of you.
Some creative marketing incentives could be free gift cards, special discounts on minimum purchases, free installation (if required), free gift wrapping, etc.
You can also offer free guides or tutorials if you're selling digital products or software.
Moreover, you can apply a special discount if a single customer buys a large quantity of the same items or adds a certain dollar amount to their cart. This means, the higher their cart value, the larger the discount. For instance, you might consider giving 5% off orders of $100 or more and offering 10% off orders of $300 or more.
Add LiveChat Support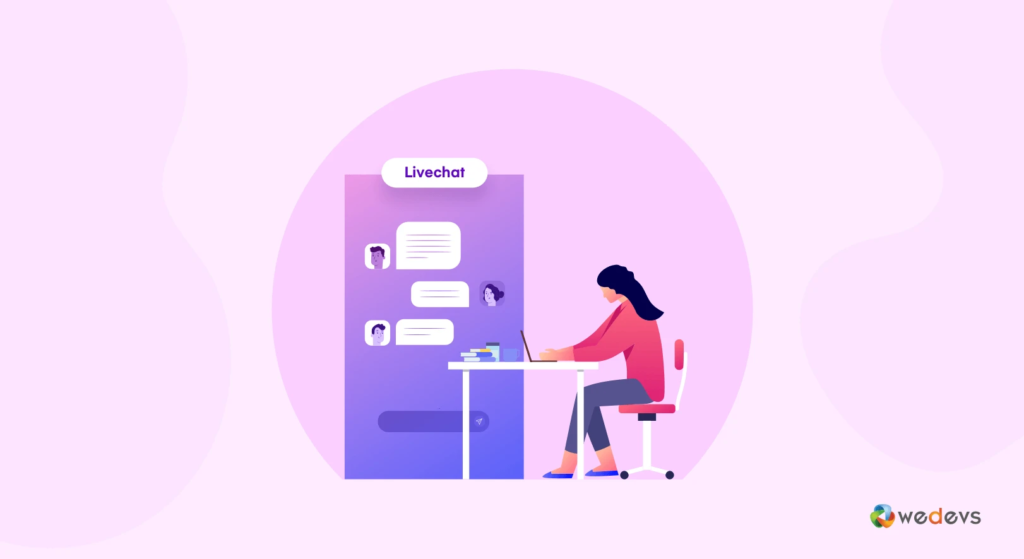 During online shopping, many people miss the conversation with the salesperson. A large group of consumers confirmed that human interaction is important when shopping both online and physically. You can mitigate this gap by adding LiveChat to your online shop. This will boost your customer experience by providing rapid solutions to their queries.
Also, you'll get the chance to build a personal connection with them. It makes them biased toward your brand. This is the reason, live chat contributes approx. 45% to conversion rate.
Read More: How Direct Human Interactions & Live Chat for eCommerce Can Change Your Sales Game.
Run Retargeting Ads, Again!
Sometimes people add products to the carts and leave the site for some reason. Later they forget about their actions. In this situation, cookies will work as your rescuer. It gives you the details related to your customers. Such as their behavior on your site, interests, geography, and others. So you can use them for ad networks, like Google Ads, Facebook, or Taboola.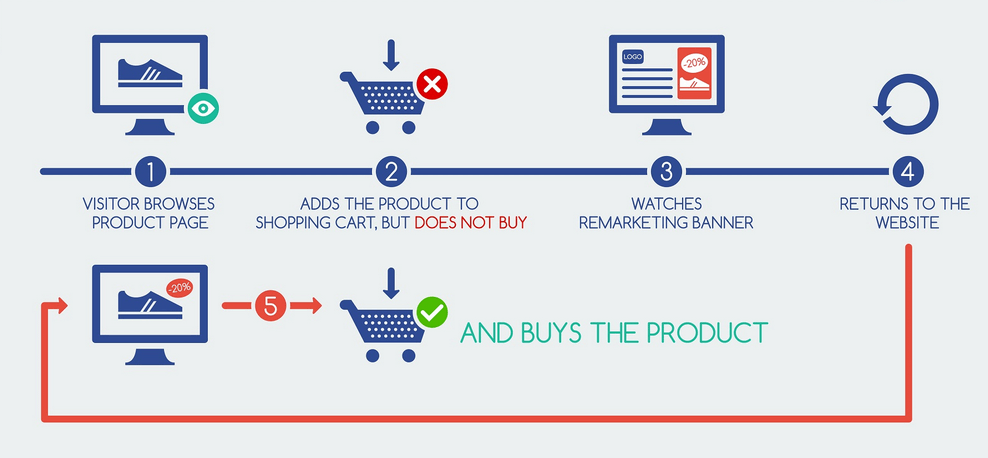 Retargeting ads remind them about your site and there's a high chance they get back to complete the purchase. In fact, a study shows that retargeting ads are 76 percent more likely to be clicked than a random display ad.
Stage 4: Purchase
You've almost reached your final goal. In this stage, customers are pretty confident about purchasing your products or services. Now. it's your duty to make their buying process simple by making the checkout process as streamlined as possible.
Here are some actionable tips you can implement in this stage-
Offer Free Shipping
At the checkout, people get the final price with the shipping cost, vat, and other service charges. Sometimes, people leave the cart because it seems expensive to them after adding the shipping cost. By offering Free Shipping you can make your buyers feel good about their purchase.

According to Forbes, free shipping is the sales incentive 88% of digital consumers want most. This is the reason, free shipping becomes a necessary selling point to run a successful online business.
Promise Money-Back Guarantee
This marketing tactic helps you in 2 ways. It makes your buyers confident about their decisions as well as shows confidence in your own product. To keep you on the safe side, apply some special conditions and time limits for returning products.
Suggest your customers check the product in front of the delivery boy and return immediately if they find any issues.
For digital products, you can imply a free trial period so users can do a test before the final purchase.
Simplify the Checkout Process
A complex checkout process is one of the biggest reasons for eCommerce cart abandonment. Don't make the checkout process long and confusing. As an eCommerce trader, you should keep the shopping process as easy as possible. So, buyers can complete their desired action using less number of screens within a minimum time limit.
However, you can let your customers create an account to store their contact details. But remember, your form should have minimum entities to fill up. Ask only for the essential information that requires only a few seconds to attend.
Implement Multiple Payment Options
According to Baymard, some people leave checkouts because they don't find their desired payment method (8%) or because their credit card is declined (4%). Firstly include the popular gateways people mostly use within the areas you provide services. Then you should add all the possible payment options to influence more people to finish their transactions on your site.
Stage 5: Retention
Your job is not over with the first purchase of a customer. You should try to make him/her a repeat customer. As it requires less effort and money to retain an existing customer than a new customer.
Also, a repeat customer can work as an ambassador for your brand. People are most likely to buy from a brand if they get reviews from friends and family.
Here are some powerful ways to increase your retention rate-
Add a Giveaway Program
Reward your regular customers with some interesting contests or giveaway programs. For example, if you are selling watches ask your customers to share their photos wearing the watch and post them on social media. Also, you can offer special gifts or discounts by doing a raffle draw.
Include Exclusive Sneak Peeks
Reward repeat customers with a special sneak peek of your new products, exclusive collections, or limited services. You can make your regular customers feel special by letting them experience something first. This is one of the most effective ways to boost your customer loyalty.
Practice Email Marketing
Now there are thousands of eCommerce shops around. It's very easy to get overwhelmed by so many options. You need to reach your customers from time to time with the latest collection of your store, special deals, or other important news. And hitting the email box with exclusive content is one of the most powerful ways to embrace your buyer's attention.
Read more: A Step-by-Step Guide to eCommerce Email Marketing Strategy.
Offer Referral Rewards
Give special discounts to your loyal customers when any new customer buys from your shop using their referrals. Advocacy rewards are always effective as they inspire your existing customers as well as help you get new customers through rewards.
Read more: 5 Steps to Create A Referral Marketing Strategy That Improves Your Sales.
Getting customers for your online store is a challenge. But keeping them happy with your brand for a long time is harder than at any time as the competition goes higher. A proper understanding of your industry, detailed analyzing ability, and long visionary power may help you to crack a good deal.
You can use the sales funnel to categorize your potential and existing customers in different stages. Then it would be easy to determine your promotional activities. And you can display the right resource to the right audience that leads you to the maximum conversions.
A well-crafted Sales Funnel Can Boost Your Business Growth, Here's How
Let's face it, everyone who heard about your brand will not magically become your customers. According to a study by Smart Insights, on average, 43.8% of your site visitors check a product page, and only 3.3% of them end up making a purchase.
It would be best if you had a strong marketing plan to convert more visitors into loyal customers. You require a better understanding of your customers for that.
Ask yourself below questions-
What problems are my customers facing?
How my products/services can solve them?
Which stage are they in their buyer's journey?
What's their particular desire in every stage of the buyers' journey?
Having a well-designed sales funnel you can easily find out these answers. It helps you to discover weak areas and optimize them. As a result, you'll find a lower drop in customers at every stage.
Create A Standard eCommerce Sales Funnel to Visualize Your Customer Journey More Clearly
The rising popularity of online shopping makes eCommerce businesses popular and competitive. In order to survive in this competitive world, there is no alternative to making your user journey remarkable.
A standard sales funnel illustrates the route your customers take from first becoming aware of your brand to making a purchase. This helps you map your buyers' persona and identify their needs at each stage.
To recap, remember that there are five stages of the eCommerce sales funnel-
Awareness: People get to know about your brand & have their first interaction
Interest: People start checking how your products/services will solve their problems
Decision: Your prospects tend to add products to their shopping cart
Purchase: Finally, they buy your products/services & complete the transaction
Retention: Becomes a repetitive customer of your brand & work as an advisor
Do you have any further queries about the eCommerce sales funnel? Do use the comment section below.