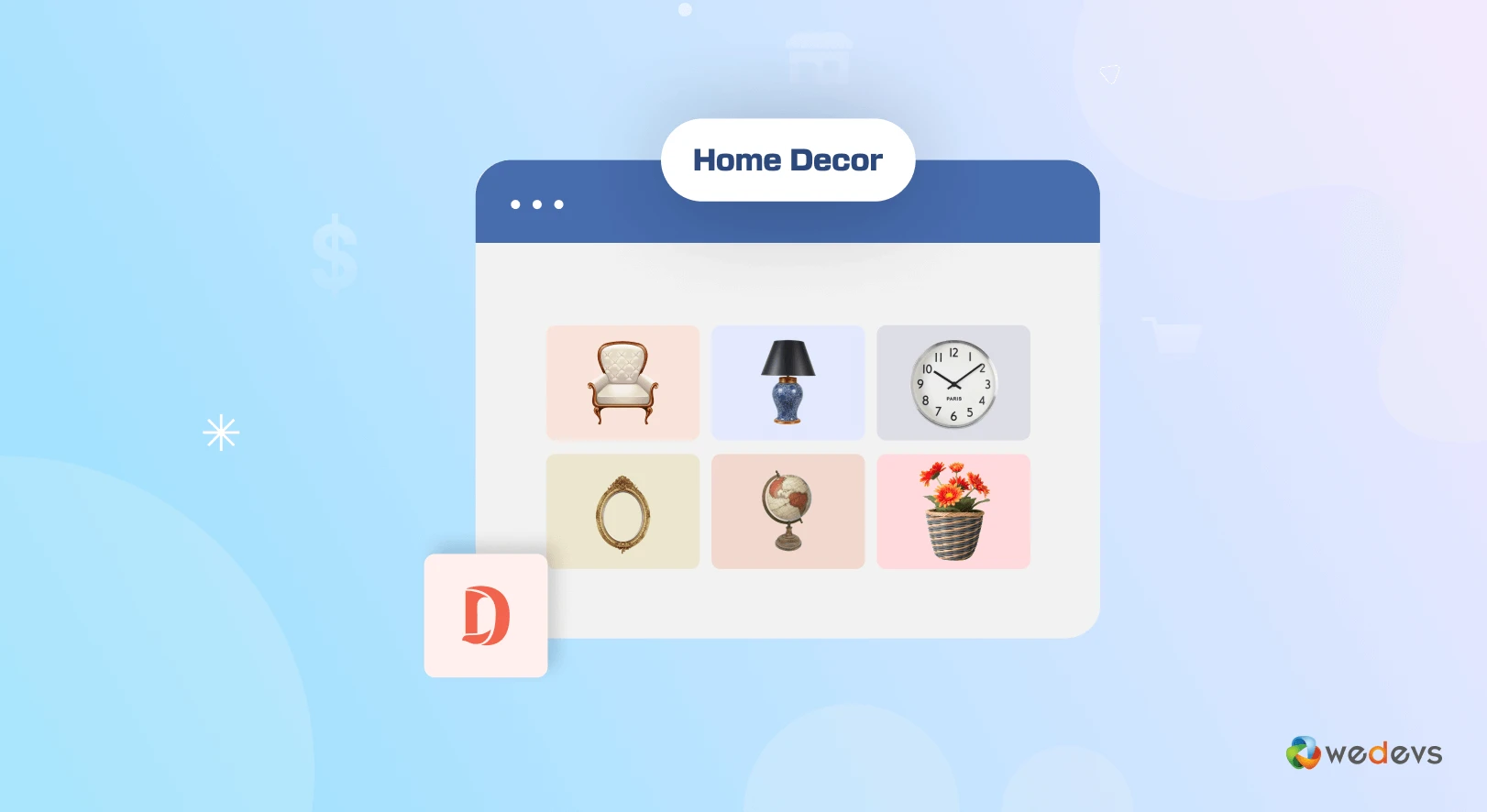 How to Create a Home Decor Marketplace: A Step-by-Step Guide
Are you looking for a step-by-step guide on how to create a home decor marketplace? Welcome, you've come to the right place!
WordPress has made it easy to create any type of eCommerce site or marketplace. WooCommerce is the official eCommerce plugin for WordPress that lets you create online stores with ease.
WooCommerce has a market share of 64.03% in the eCommerce category regarding all platforms.
And you can turn your WooCommerce single store into a multivendor marketplace using the Dokan Multivendor plugin. Dokan is one of the most popular and feature-rich plugins in the WordPress industry. The plugin has more than 60,000 active installations, 35+ modules, and countless amazing features.
You can install both WooCommerce and Dokan Multivendor to create and run your marketplace
We are going to show you how to create your Kitchen Appliances Marketplace from scratch. But first, let's start with-
Why You Should Start a Home Decor Marketplace?
Starting a home decor marketplace can be beneficial in a lot of ways. For instance-
The market is growing: The home decor business is projected to reach USD 939,637.2 million by 2030, growing at a CAGR of 3.9% during the forecast period. This growth is being driven by a number of factors, including the rise of online shopping, the increasing popularity of home improvement shows, and the growing demand for personalized and stylish home decor.
There is a lot of competition, but there is also a big opportunity: Yes, the home decor market is crowded however, there is still plenty of room for new businesses to grow. With a unique concept and a strong marketing strategy, you can carve out a place for yourself in this growing market.
The profit margins are good: Home decor products typically have high-profit margins, which means that you can make a good living even if you only sell a few items each month.
It's a fun and creative business to be in: If you love home decor, then starting a home decor marketplace is a great way to turn your passion into a profitable business. You'll get to work with a variety of talented designers and artists, and you'll have the opportunity to help people create beautiful and stylish homes.
As you can see if you stick around, and follow the basic tactics, you can surely make a name for yourself in the home decor industry.
Now. let's move on to how to create a home decor marketplace using Dokan.
How to Create a Home Decor Marketplace with WordPress and Dokan Multivendor
You can easily create a marketplace using the Dokan Multivendor Marketplace plugin. It requires only 6 easy steps.
Note: We are assuming you have already purchased your domain and hosting.
Install and Activate Dokan Multivendor Plugin
Activate a Dokan Compatible Theme or any WooCommerce Theme
Configure the Dokan Basic Settings
Upload Products and Configure Admin Shop (Optional)
Allow Vendors to Register on Your Marketplace
Promote Your Marketplace Through Various Channels
Step 1: Install and Activate Dokan to Create Multivendor Marketplace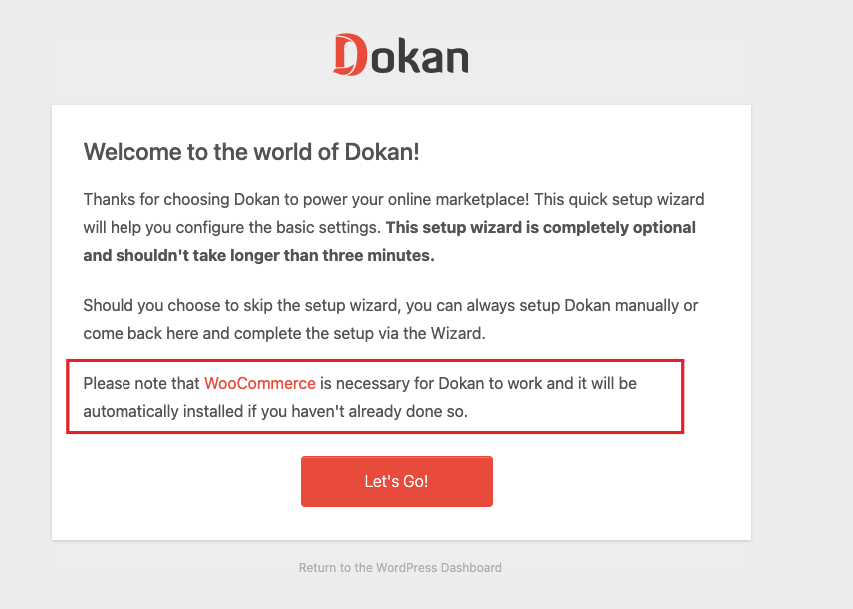 Step 2: Install a Dokan Compatible Marketplace Theme
After installing Dokan, you need to install a Dokan-compatible theme that compliments your marketplace.
Although any theme that is compatible with WooCommerce is also compatible with Dokan. However, Dokan has its own theme "Dokani" that you can use for your convenience.
But if you want you can find other themes in WP-Admin→ Appearance→ Themes. Just type eCommerce in the search box.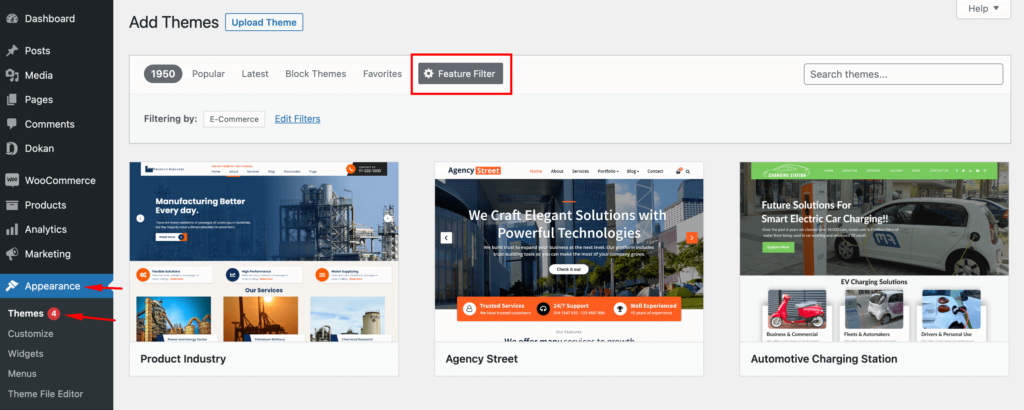 Step 3: Configure the Basic Settings of Dokan
After installing and activating Dokan, now you need to configure all the basic settings. You will find all the settings options at WP-Admin→ Dokan→ Settings.
From here you need to:
Allow vendors to upload new products
Create new tags
Set new product status
Add Vendor setup wizard message
Set up your store terms and conditions
Create store categories for vendors to add different categories
Set the products per store page
You can learn all about Dokan settings by reading our detailed guide on Configuring Dokan Basic Settings
You can select the pages for the vendor dashboard, order page, store listing, and terms and conditions page.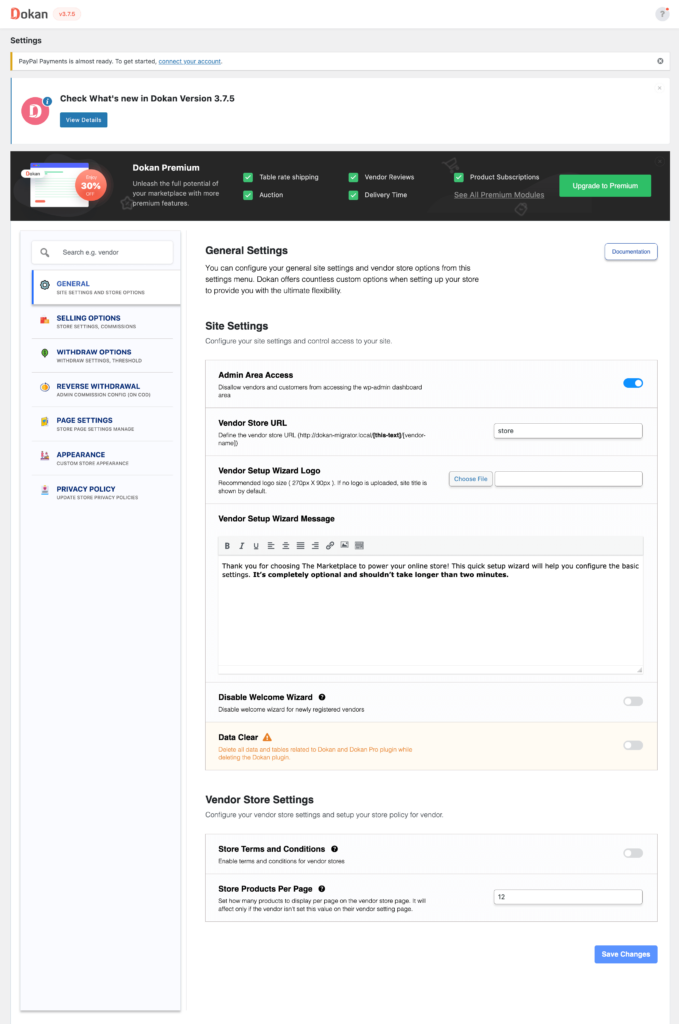 Don't forget to click the Save Changes button after configuring all the settings. Otherwise, you will lose all your settings.
Moreover, you need to configure your permalink settings as well. Go to WP Admin → Settings → Permalinks → Permalink Settings → Product Permalinks. Select the check box "Custom Base" for product permalinks and write "/product" on the box.
Now the most important aspect. You have to set your commission rate. That will be the main source of your income.
Navigate to WP Admin Dashboard → Dokan → Settings → Selling Options → Admin Commission.
You'll find different options to insert the percentage or fixed amount. Dokan supports various types of vendor commissions.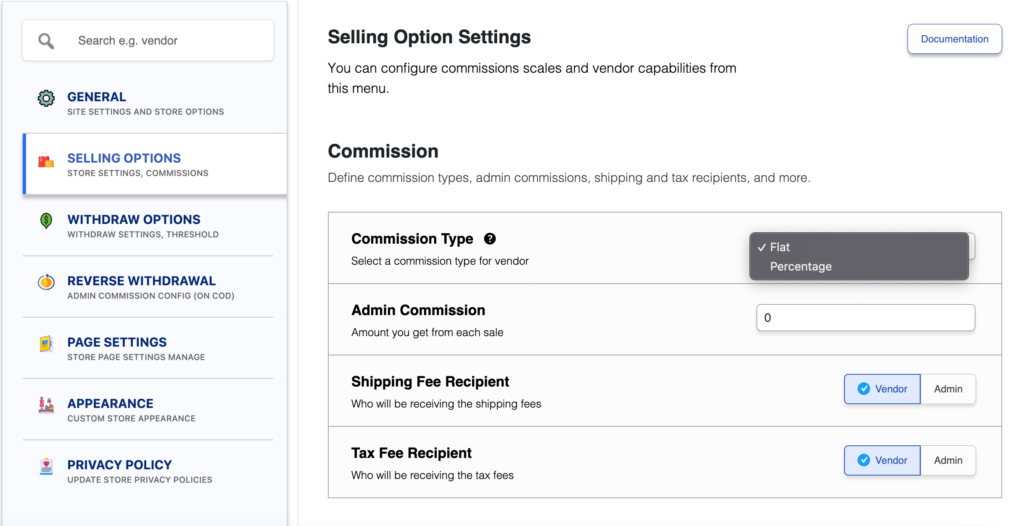 You can set the commission rate according to category.
Configure the Necessary Payment Gateways
Dokan supports all WooCommerce-compatible payment gateways. You will get a wide range of choices to make the transaction process easier on your marketplace.
With Dokan Lite you can use non-adaptive payment gateways like PayPal, bank account transfer, cash on delivery, etc. And the Pro version supports adaptive payment solutions like Stripe Express, Stripe Connect, and MOIP.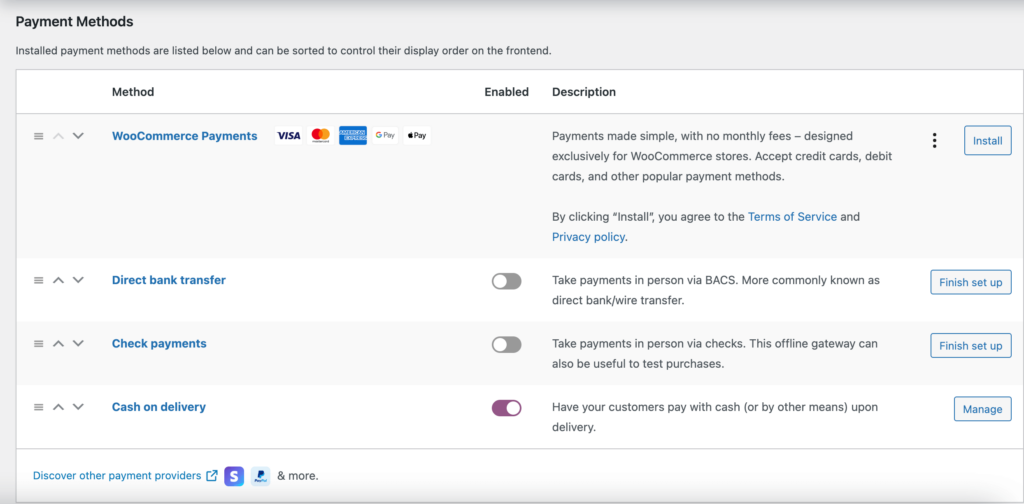 Configure the Withdraw Methods for Vendors
Another important part of running an interactive online marketplace is to ensure a smooth withdrawal system. Dokan helps you take care of this section as well.
Go to WP Admin → Dokan → Settings → Withdraw Options. Here you'll find options to customize the withdrawal method and set the minimum balance a vendor needs to make a withdrawal limit.
Step 4: Upload Products and Configure Admin Shop (Optional)
This is an optional step. If you want to earn some extra money, you can create your own store on your marketplace. All you need to do is enable yourself for selling.
Go to Dokan → Vendors. There you need to enable selling by toggling the button. You can upload your products by navigating to WordPress Backend → Products → Add New.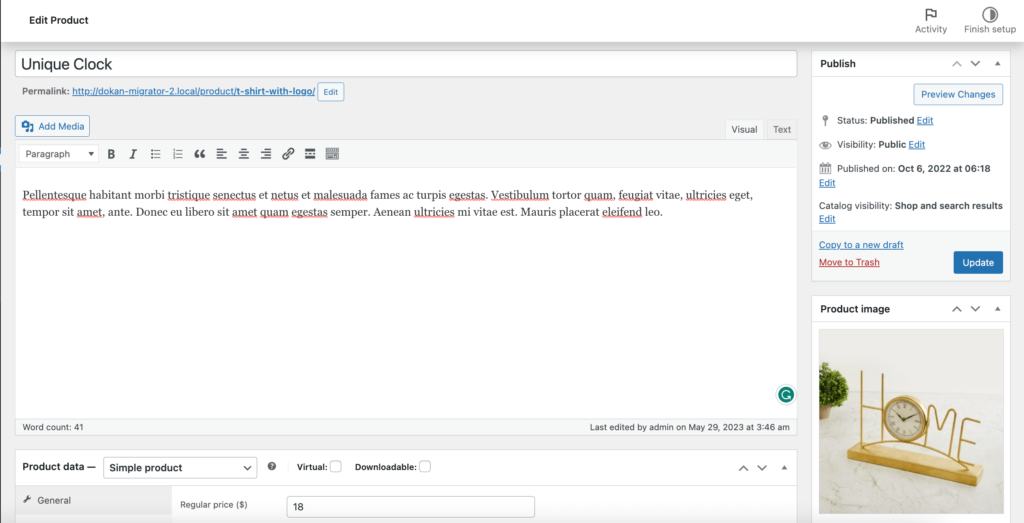 Vendors need to upload products from the front end. They need to navigate to, WordPress Dashboard → Visit Site → Vendor Dashboard → Setting. Your registered vendors will upload products this way.
Step 5: Allow Vendors to Register on Your Marketplace
After adding all the functionalities and configuring your marketplace, you can invite vendors to signup for your marketplace. To make sure vendors can signup into your marketplace, enable the "Anyone can register" option from WP Admin–> General–> Settings. So, it will open the default registration form for vendors to signup.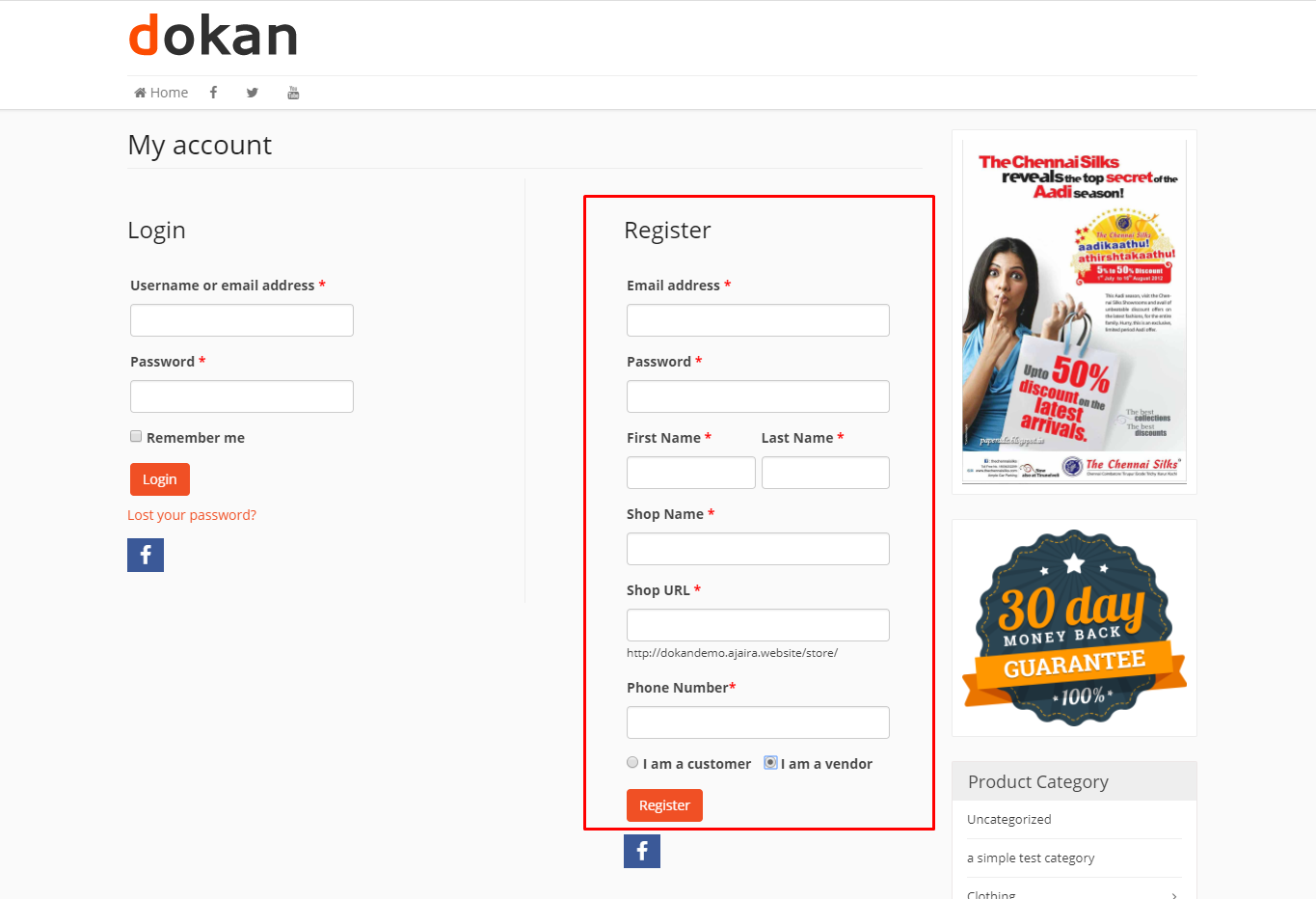 Or you can create customized registration forms with the necessary fields, especially for your marketplace.
For vendors to start selling, you need to enable selling status from Dokan–> Vendors.
Also, if you want the vendors to upload their products, then you need to change the product status from Dokan–>Settings–> Selling options. You need to enable the New Vendors Product Upload

Here is the preview of the home decor marketplace-
Step 6: Promote Your Online Marketplace!
Your marketplace is ready. Now you need to promote your marketplace so that more and more vendors can signup for your marketplace.
Here's what you can do to promote your kitchen appliances marketplace:
Here's a detailed guide for you with 15+ strategies to increase eCommerce sales.
Advanced Functionalities You Must Add to Your Home Decor Marketplace
By following our tutorial, you have created a home decor marketplace that has all the basic functionalities. But you need functionalities that you will need in order to stand out and go head-to-head with the giants of the industry.
Luckily, Dokan has all the necessary modules and functions you need that will help you increase your profit margin and gain user attraction.
Here are the functionalities you need to add-
Delivery Time Module to Let Users Choose Their Delivery Date
Delivery is a big part of the marketplace. After placing an order on the online store, a customer expects the delivery within a certain period of time. Almost 88% of customers are willing to pay for faster delivery services. The standard time is a maximum of 5-7 days in the country, and 28 days outside of the country. However, failing to deliver products in time can be a massive downfall for any online store.
The Dokan Delivery Time module will help you overcome this problem. The module will let users choose their own delivery time and date.
Delivery Driver App to Deliver Products More Efficiently
Dokan has recently launched the Dokan Delivery Driver App. This app will add another dimension to the WordPress-powered marketplace as new vendors will be able to deliver their own products and track the whereabouts of the drivers, and orders. That way they will have more control over the delivery system of the marketplace.
Read: How to Configure the Delivery Driver App the Easy Way
Geolocation Module to Help Users Order Based on Location
As you are running a global marketplace, you can and will invite vendors from all over the world to register on your marketplace. Also, that will help customers to look for vendors near their location and order products from them.
The Geolocation module of Dokan will help customers find vendors from their preferred location. It will show the location of all the vendors on the map on top of the store listing page. Customers can enter their location on the map and it will show the existing vendors in that location.
Product Advertisement Module to Earn Extra Profit
Using the Dokan Product Advertisement module, vendors can feature their products on top of the shop page. This module will help vendors advertise their products and reach more customers. Whereas as an admin you can earn extra money by selling the slots to advertise the products.
It is normal to have the same kind of kitchen appliance products in the marketplace. This module will give vendors an edge in displaying the products on top of the shop page.
Vendor Analytics Module to Let Vendors Analyze User's Behaviour
In order to maintain an engaging relationship with your customers, you need data-driven insights. It helps you to better understand your customer needs. The Dokan vendor analytics module can help you in this manner.
To make meaningful decisions you need sufficient data. Otherwise, you will fail to hit the right chord with your customers. And when you are running a WooCommerce store, it becomes more important to collect all the data related to your shop.
Shipping to Manage all the Deliveries
Other than supporting all the shipping functionalities of WooCommerce, Dokan has its own shipping systems as well.
Using Dokan premium shipping features, vendors will be able to add multiple shipping zones, shipping methods, and shipping classes straight from the Vendors Dashboard. Vendors can configure Zone Wise Shipping and Product Wise Shipping and set up everything on their own.
You can learn more about this from the Dokan shipping guide.
Other than that, Dokan also has a Shipping tracking feature and a Table Rate Shipping module that will help you manage even complex shipping systems with ease.
FAQ(s) on How to Create a Home Decor Marketplace
Is home decor a good business idea?
If you are passionate about home decor then this business can be fun and financially rewarding. There are several do-it-from-home direct sales companies that focus on decorating and design. Starting with one of these companies can be a good way for beginners to break into the decor sales business.
How do I start a decor business?
In order to start a home decor or any kind of business you need to follow these steps-
1. Choose your business model.
2. Create a thorough business plan.
3. Decide how much your party decorating business will charge.
4. Choose a business name that you love.
5. Register your business and open your business account.
6. Build a website and showcase your portfolio.
7. Use social media and networking for marketing.
Who buys home decor the most?
Millennials and Generation Z are driving home furnishings purchases, with nearly 70% of all purchases made by those two groups, according to new, exclusive Consumer Insights Now research.
Start Your Home Decor Marketplace Today
We are at the end of our article and hopefully, you now know how to create your own marketplace for home decor products.
So what do you think? Creating a marketplace that looked quite complicated now looks quite easy right?
All you have to do is follow the steps the right way and you can launch your marketplace in a day. For your help, we will go over the steps one more time-
Install and Activate Dokan Multivendor Plugin
Activate a Dokan Compatible Theme or any WooCommerce Theme
Configure the Dokan Basic Settings
Upload Products and Configure Admin Shop (Optional)
Allow Vendors to Register on Your Marketplace
Promote Your Marketplace Through Various Channels.
If you face any trouble in any of the steps, don't forget to reach out. We will help you.