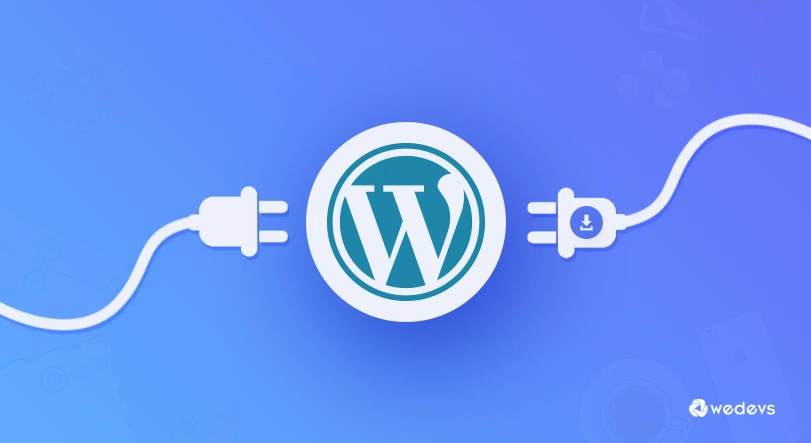 Lets Have A Look At The Most Downloaded WordPress Plugins: Part I
There are thousands of WordPress plugins all over the internet. Though most of them are really useful in one way or another; only a handful of them have their own legacy. These plugins have contributed massively in the journey of WordPress and helped the platform to become what it is today- adored and respected by the netizens.
In this write-up, we want to make you familiar with some of these plugins. This is going to be a series of write-up, in each part we intend to cover some stats and insights about most downloaded plugins. We fetched the stats from WordPress.org and ManageWP as these are the most authentic sources of everything WordPress. The list is subject to change since the download counts will not remain same for a long time. We will make sure to update it every once in a while.
No more spending time on the intro, let's get started now!

The first in the most downloaded plugin list in ManageWP is Akismet. It is the most popular anti-spam plugin with more than 75 million downloads and 4.8 stars ratings. It is developed by the Matt Mullenweg's Automattic team, the same company that owns WordPress. Akismet uses a web service powered by cloud servers which test comments for spam. All comments posted on your site are automatically sent to Akismet's servers. If it's highly specialized algorithm detects spam comment, it moves it to the spam queue. Otherwise, it stores the comment in the moderation queue and you get to decide its fate manually.
Akismet is free for personal and non-commercial use with up to 50,000 spam checks monthly. For commercial uses, you have to pay only $5/month. One of its best parts is that it seamlessly integrates with the Jetpack and Contact Form 7 plugin.
Stats & Figures
Downloads: 76,085,102
Active Installs: 5+ Millions
Quality: 98.69%
Rating: 96% (793 ratings)
Awards: Top 15 Highest Quality Overall, #1 in Anti-Spam

WordPress was already an SEO friendly platform but Joost de Valk and his team decided to take it to the next level. They created Yoast SEO plugin that would take care of all the technical optimization aspects of a website. The impact has been massive after Yoast was introduced in the market. Bloggers now write better content with their SEO copywriting instruction. Webmasters can optimize the pages with meta description and tags easily. XML sitemaps and RSS features are better used for increasing the page ranks.
More than 5 million websites actively use Yoast to outperform their competition in the SEO battle. These stats should give you an idea how popular this plugin is and what a massive legacy it has created in WordPress.
Stats & Figures
Downloads: 62,903,006
Active Installs: 5+ Millions
Quality: 98.96%
Rating: 96% (15,381 ratings)
Awards: Top 15 Highest Quality Overall, #1 in SEO

In the mid last decade, WordPress author Takayuki Miyoshi released Contact Form 7. It did not take any time to become popular since it was the first ever complete form plugin that people could use for free. Its revolutionary success inspired hotshot companies and authors to come up with new form plugins like Ninja Forms, Gravity Forms, WPForms and the list goes on.
The name "contact form" has become so popular that it has taken over as the generic name for "form builder plugin". In terms of feature, it might not give you a lot but you can easily design multiple contact forms and edit contents with it. If you want to integrate it with other popular services; you need to use 3rd party plugins for that.
Stats & Figures
Downloads: 60,843,556
Active Installs: 5+ Millions
Quality: 97.76%
Rating: 90% (1,383 ratings)
Awards: #1 Highest Quality in Feedback category, Top 3 in contact category, Top 3 in email category.

Jetpack is another superb plugin from Team Automattic. This plugin is more like a package of features that helps you keep your site secured and increase traffic engagement.
The package of features contains tools for search engine optimization, website safety & backup, content creation and community engagement. Some of the features come with free package. But if you want to make the best out of Jetpack, you should go for one of their paid plans. Its average user rating is 4.1 stars according to WordPress.org.
Stats & Figures
Download: 50,007,656
Active Install: 4+ Millions
Quality: 96.06%
Rating: 82% (1,388 rating)
Awards: #1 Highest Quality in CDN, #1 Highest Quality in Related Posts

WordFence is the most downloaded security plugins for WordPress. It comes with vital security features like IP blocking, security scanning, firewall, login security and overall security monitoring for your website.
You do not need to do any kind of coding to use the plugin interface. After installation, you can do a deep server scan with WordFence. It checks your website's source code for any infection or malicious element. WordFence lets you block IP addresses, enforce strong passwords, create custom alert & threat defense feed and many other things.
Stats & Figures
Download: 47,123,476
Active Install: 2+ Millions
Quality: 98.90%
Rating: 96% (3,103 rating)
Award: Top 15 Highest Quality in Overall, #1 Highest Quality in Security Category
Major Stats At A Glance
Check the table below to know where these plugins stand in terms of latest downloads and active installs!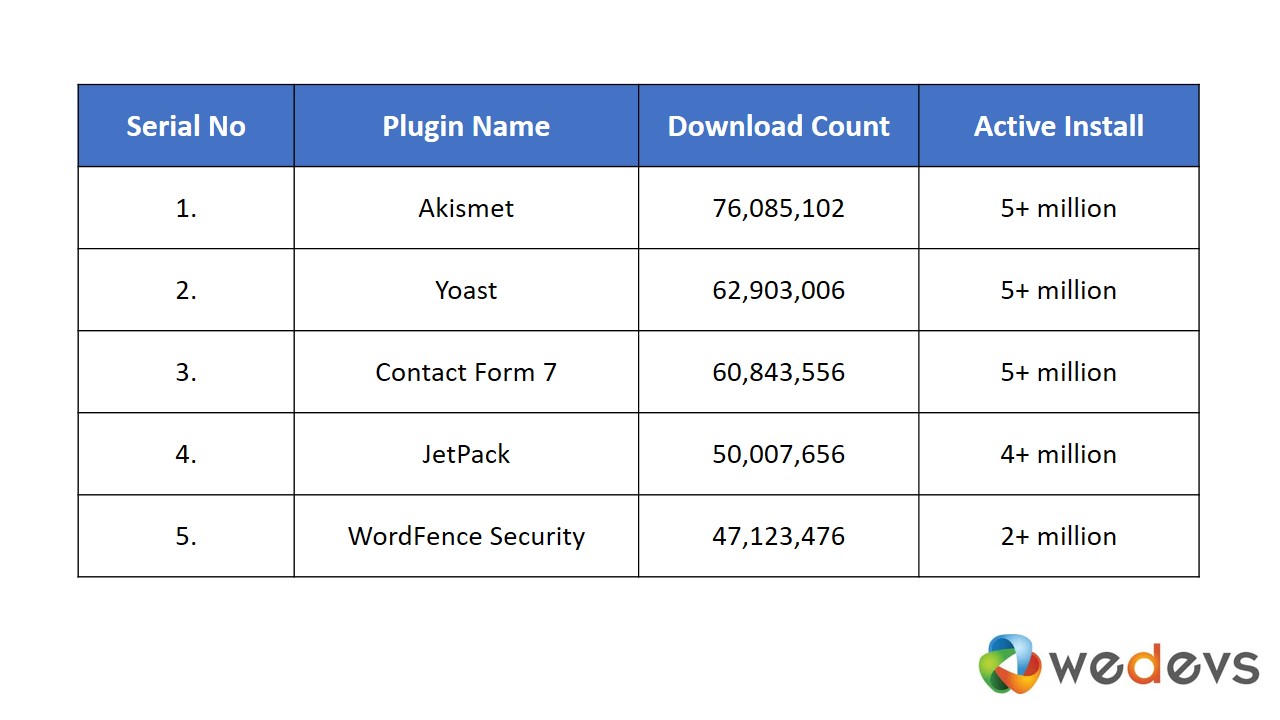 Stay Tuned For the Next Part
That is all for today. In the next part, we are going to cover 5 more most downloaded plugins with exclusive stats and insights. Stay tuned with weDevs to read that article.
Meanwhile, if you are using these plugins let us know about your experience so far. We have another popular article on Must-Have free WordPress plugins; you can check it out as well!