Overview – WP User Frontend
Here you will find everything about WP User Frontend, what it offers and its special features, everything in a nutshell.
It's a Frontend Posting Plugin
Visitors to your site can register and post in your site, without switching into WordPress backend. It helps your users to publish their content on your site without any additional difficulty. You can allow your guests to edit their post, and you can always approve them before publishing on your site. Therefore you remain in the driver's seat of your site. Also, you can receive an email notification whenever there is a new post and if any user updates or edit their post. You can approve the edited posts too.
Create Forms Once, Use Multiple Times
Create your post forms or registration forms with drag-and-drop form builder or you can choose to use a ready form template. With a unique built-in shortcode, you can use one form in multiple pages. Just paste the shortcode if you want one single form to appear on more than one page.
One Unified Page: My Account
Using WPUF, you can have one account page per user which will show all the necessary information like edit profile, billing address, invoice, posts, subscription etc. To show my account page, paste the shortcode [wpuf_account] is on a page. It is noteworthy here, posts on this page don't allow custom post type. This is how the page looks:

Dashboard system
This is a page where users can see all their posts. Using the shortcode [wpuf_dashboard] will allow the users to see the status of her/his posts. This page allows custom post type. It only requires to add the post type, so the shortcode becomes [wpuf_dashboard post_type="custom-post-type"]. Replace the term "custom-post-type" with the name of your custom post type. Here is how it looks like: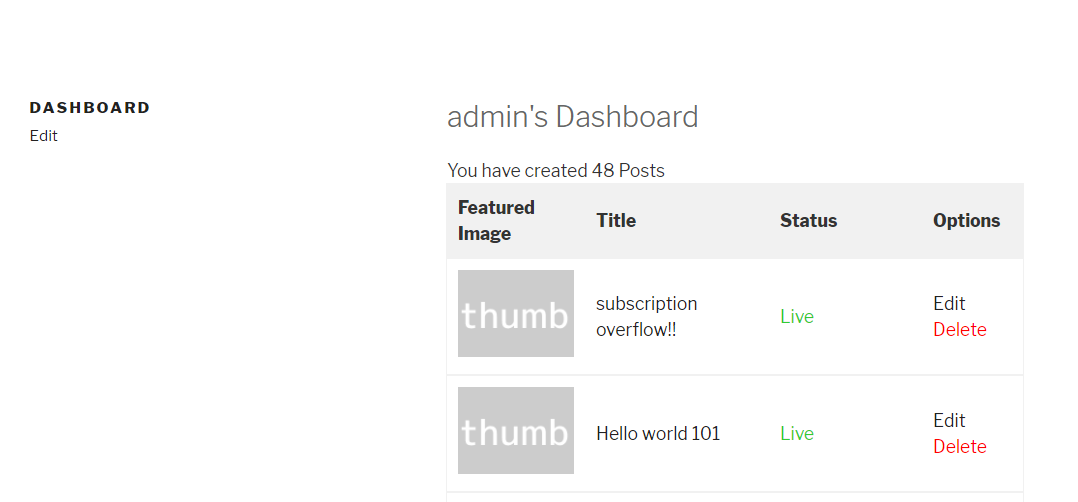 Registration form and Profile builder – One single form
When a new user registers in your site, WPUF gets all the necessary information from the registration form and uses the same data to create a profile for that user. Users can always edit their profile from my account page. The registration form can also be created by the admin, and it has the facility to keep the email field as required.
Create Subscription Based Site
Your subscribers can create a subscription-based website using WPUF. Create your subscription packages with different plans. Your subscribers can pay using PayPal or through bank payment. When your users buy a subscription pack, you get an invoice for what are they purchasing. Also, you get the list of all your transactions. Follow the quick video:
Guest Posting
You can allow guest visitors to post on your site. You can charge them for posting on your site or you may let them post for free. While they want to post without registering on your site, you can keep their email address as the guest post comes with few important fields, which are required to be filled by the guest author before posting.
Pay Per Post
Besides guest posting and subscription, you can charge your users for posting on your site. You create a form and your users can pay a certain amount and post in your site without registering in your site. This is a great way to earn and inviting guest authors. Learn more about pay per post here.
Custom Post Type & Taxonomy
The forms of WPUF supports custom post type and taxonomy. When a new form is created, the admin can set the post type as the custom post type. Then all the taxonomy and required custom fields will appear as a form field. Find a full description of how to submit custom post type is here
Coupon
You can add coupons and let your users can buy subscription packs with a discount. This increases the popularity of your pack in holiday seasons or for some special occasion. A quick video on how to add a coupon and how your users know about it is here :
Powerful Integrations for Email Marketing
Add-ons make any plugins stronger. MailChimp, MailPoet, BuddyPress extensions can take your site to a new level with by drawing users from your email marketing site. Apart from these, User Listing, SMS Notification, Paid Membership Pro,  Comment Manager also are available with WPUF. Payment gateway extension Stripe helps you to get paid through credit cards. Learn more about WPUF add-ons here.
Modules
The Pro version has a section called Modules from where users can activate/deactivate what were previously known as extensions/add-ons. Available modules differ with plans the user has subscribed to.
Email Verification
Email verification is available in WPUF. When a new post is submitted through forms, the admin gets notified through email, if it enabled. Also when a new user registers, the user gets a verification email. Depending on the WPUF pro version and settings, admin can also receive an email if any of her/his site's post is being edited by their author after they are published. You can learn more about email verification here.
Post Approval Facility
Posts submitted by users can be reviewed by the admin and then the admin gets to publish them on their site. This helps in a great way to secure your site from unexpected post submissions. You can set the posts status after they submit and also if they update their posts after the post is being edited.
Automatic Post Expiration Facility
The posts can be set with an expiration date. Each post on each form can have this property. It is a great feature for posts like seasonal offers or any urgent post, which require removal after a certain period of time.
Menu Restriction
This feature allows admin to control who can view which menu item, from Appearance >Menus. When a new menu item is added to a menu bar, admin can check the audience who can see this menu item. The image below will show a hint of this: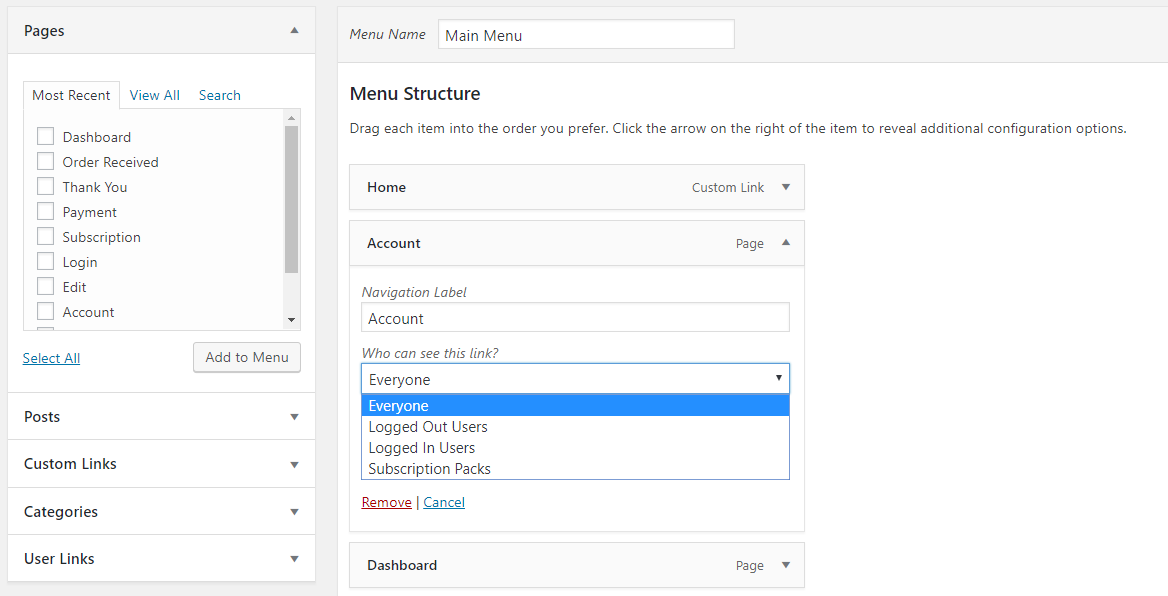 User Role Based Restriction
WPUF provides each page a unique restriction part, depending on the user role of the logged-in users. This is how you can choose your users to access one specific page.

Content Restriction
This part is a lot similar to the previous one, the only difference is that it allows depending on the content. Here User role remains same and the content they can access creates the difference between them. The image below will be a hint of it.

Field Visibility/ Restriction
In a form, each field can be restricted depending on the user role, which is sometimes very powerful if you have some users who need one particular field and others don't need or may not be applicable.

Conditional Logic
Depending on the answer, many questions may have more than one steps. These fields are sometimes required in various kinds of forms and WPUF allows having conditional logic in form fields.
Data Handling
The data that are submitted by the users are saved and the admin can get the access to these data, through WPUF. It is currently in .csv file format.
That's all. WPUF is a collection of very good features in one package. Not only it provides you many important features for your site, it opens many opportunities to strengthen your business.