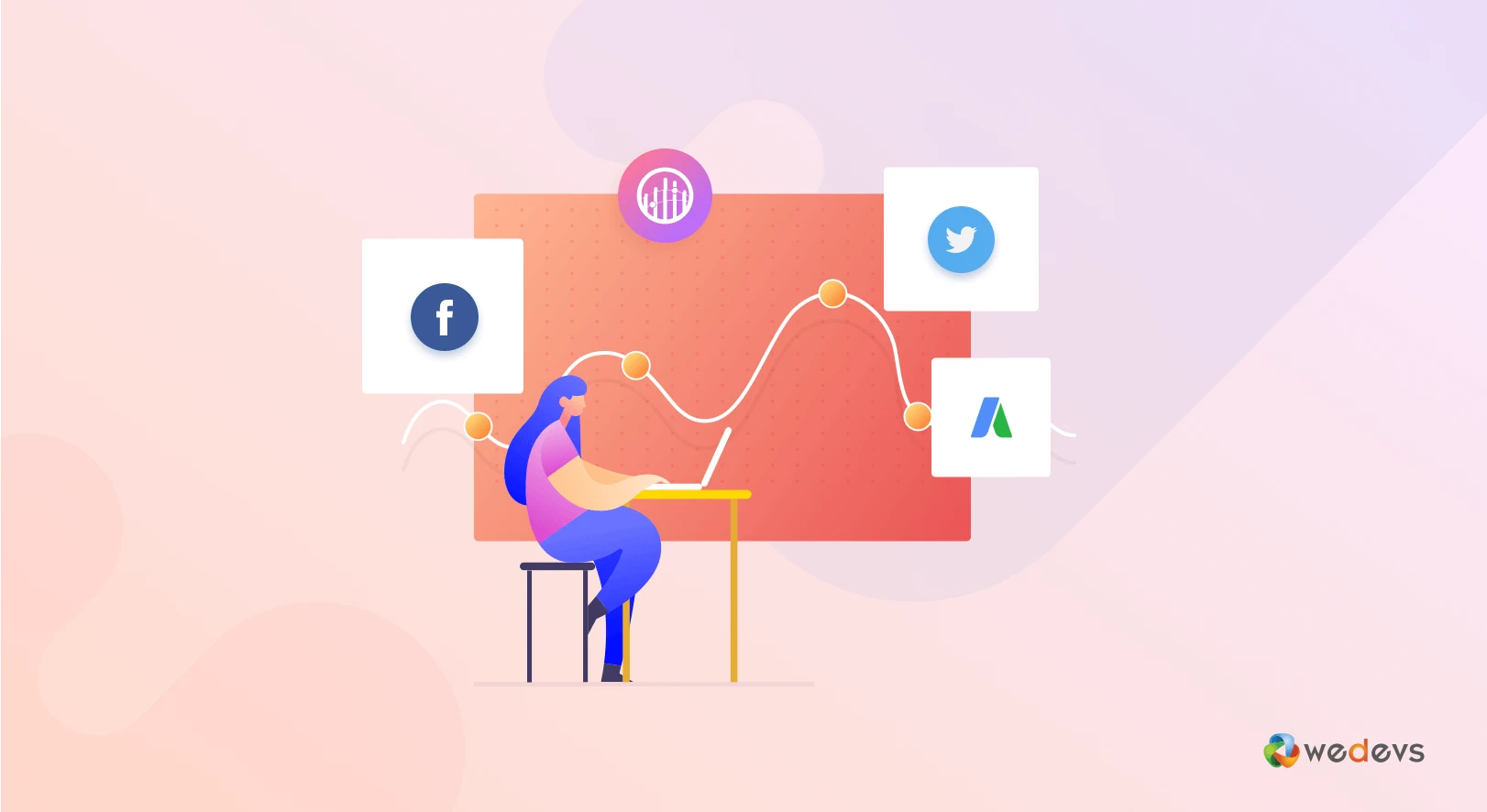 How to Get The Best WordPress Conversion Tracking Tools for Your WooCommerce Store
WordPress conversion tracking can be a great way to analyze the performance and measure the growth of your WooCommerce site. It leads you to develop stronger marketing strategies, optimize your campaigns and improves your buyer's journey. As a result, you can reach your desired consumers more efficiently and boost the traffic for your eShop.
As an online shop owner, you have to identify your visitor's each and every movement on your site. Otherwise, your spends on paid adds will go to drain if you don't analyze the actions of the site visitors going through these ads.
Woocommerce Conversion Tracking lets you identify either you are investing the money in the right way or not. Otherwise, it will only cut your pocket with zero return.
Why Should You Implement WooCommerce Conversion Tracking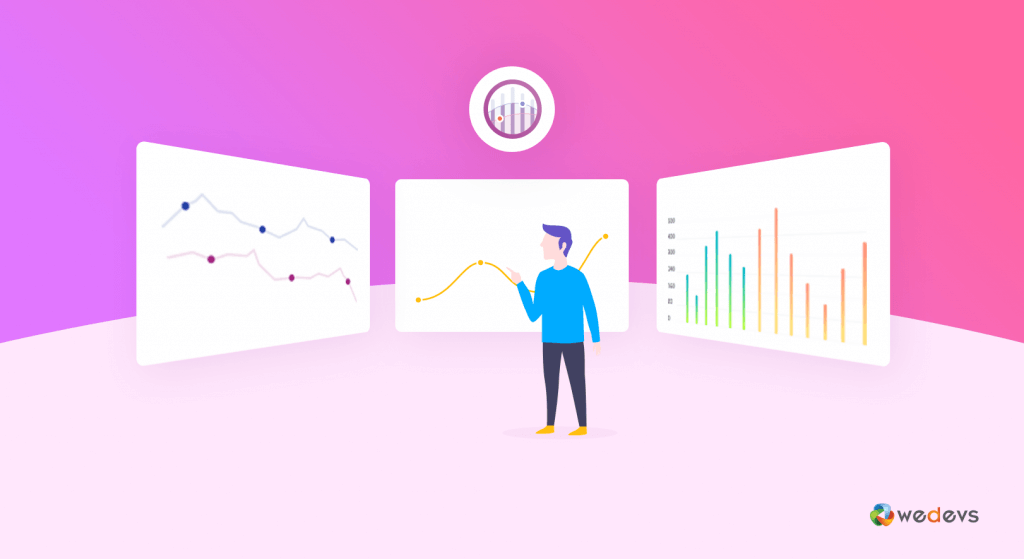 As an online shop owner, you may have a budget for online advertisements in order to promote your brand widely. But this marketing tactic will not bring any profit for your business unless you track the conversion rate for your website.
Therefore to measure the conversion of your WooCommerce site, you need to measure the following KPIs:
Add to Cart: How many visitors use the cart in your store.
Initiate Checkout: Identify the number of people who are initiating checkout.
Purchase: How many people make purchases on your WooCommerce store.
Complete Registration: Find out how many visitors perform registrations on your site.
View Product: Visitors who view certain products.
View Product Category: Those product categories that are viewed for several times.
Search Product: Identify the products that are searched by visitors.
Add To Wishlist: You can track products that are added to the wishlist by the visitors.
So, with an eCommerce Tracking Tool, you can understand your audience better.
Features of WooCommerce Conversion Tracking at a Glance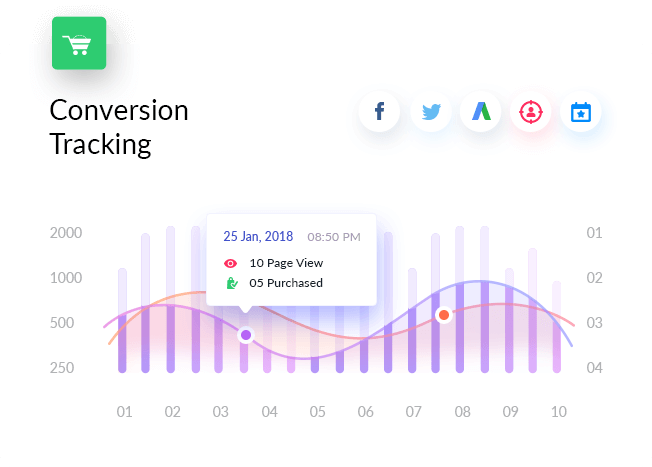 Every marketing campaign has a specific goal. In order to make the campaign successful for your business, you must measure its performance. However, if you are running a Woo-commerce Site you can easily do it by getting a plugin. You just have to employ the embed code into your site provided by different campaign platforms.
The Conversion Tracker inserts those codes on the WooCommerce cart page, checkout success page and after user registration. So you can track who is adding your products to cart, who is buying them and who is registering to your site.
In this way, you can measure how much your paid campaign is paying off.
WooCommerce Conversion Tracking can avail you to:
Measure your website's performance
Identify the scope of improvement
Optimize the campaign and site structure
Retarget your lost visitors
Increase your traffic and sale
Therefore conversion tracker gives you all the information for every action that performed on your online store. Also, you can make the best data-driven decision for your Woocommerce site.
How to Setup Woocommerce Conversion Tracking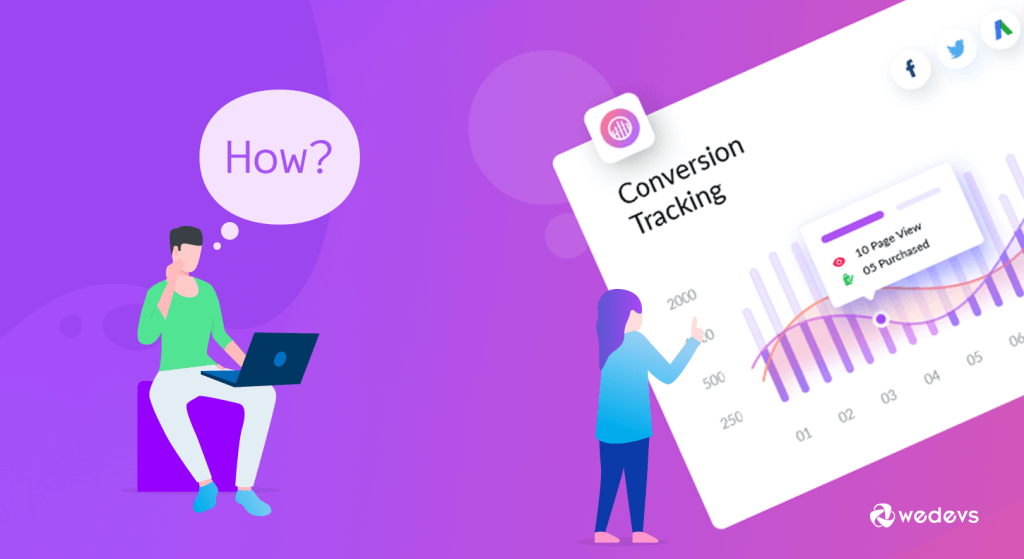 You can easily install the Woocommerce Conversion Tracking tool on your WooCommerce site the same as other WordPress plugins. All you need to follow the steps given bellow:
Log in to your WordPress Dashboard and add the new plugin. Go to WP Admin Dashboard > Plugins > Add New.
Now search for the plugin, "WooCommerce Conversion Tracking". After that install and activate it just like any other WordPress plugin.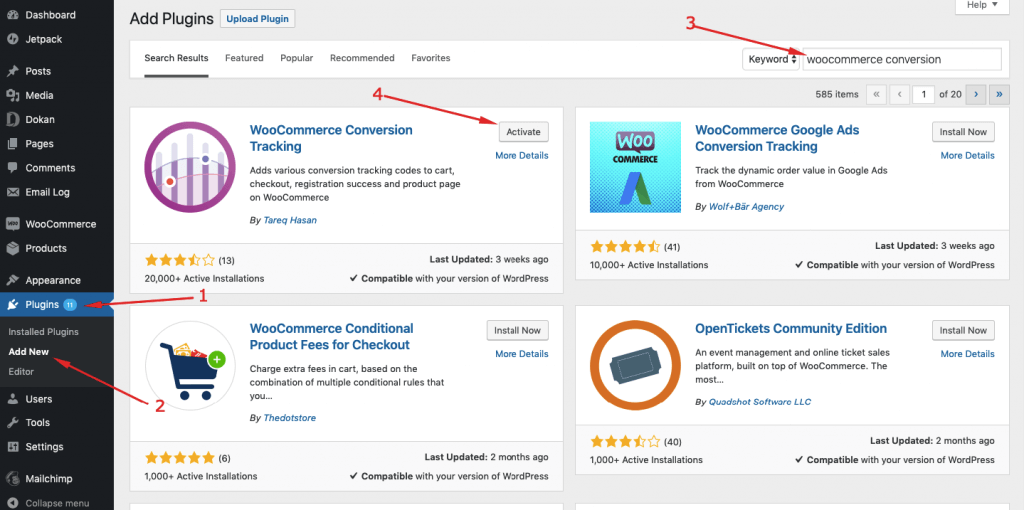 Now, navigate to WP Admin Dashboard > WooCommerce > Conversion Tracking > Integrations (Tab).
After that, turn on the toggle bars for each platform you want to use.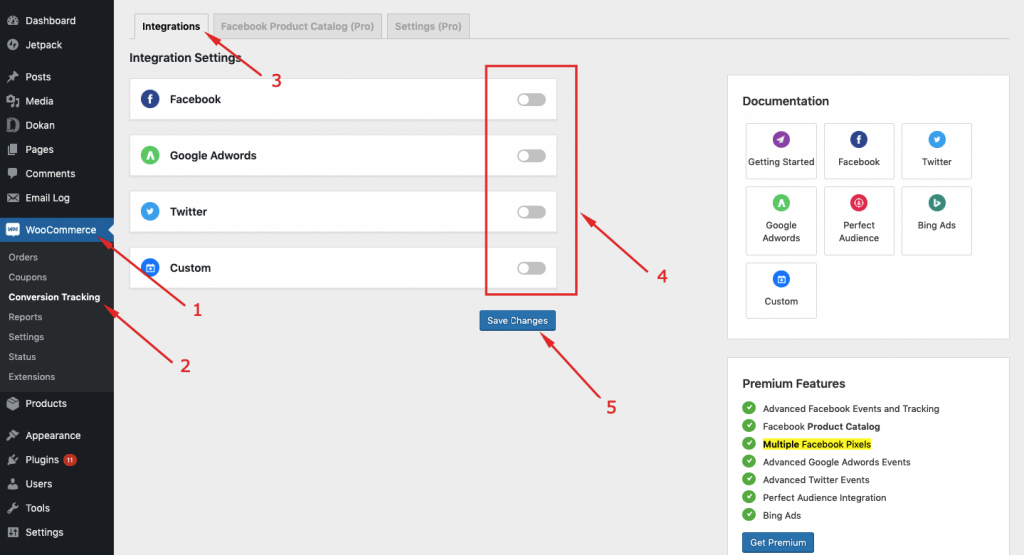 You can get the basic features to track the conversion from Facebook, Twitter, Google Adwords, and Custom Pixel without spending a bulk with the free version. To extend the functionality and enjoy the full-fedge advantage you should get the premium subscription.
Woocommerce Google AdWords Conversion Tracking
At first, identify your potential audience and run Google Ads that can drive potential traffic to your site. It is very easy to Setup AdWords Conversion Tracking in your WooCommerce Store.
All you need to insert your Account ID, that you can get from your Google AdWords account. Then active the labels for each event, and start tracking.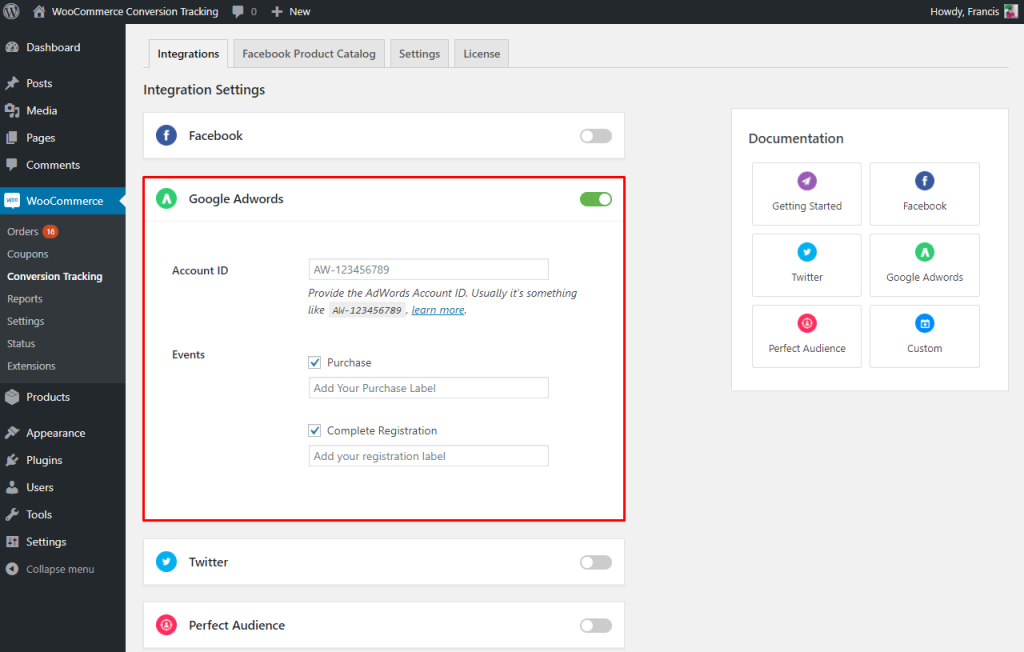 By turning on the Google Adwords toggle bar you can track two events of your WooCommerce site:
Purchase (free)
Complete Registration (premium)
You need to enable these events individually to get the data of your site.
Facebook Pixel WordPress Conversion Tracking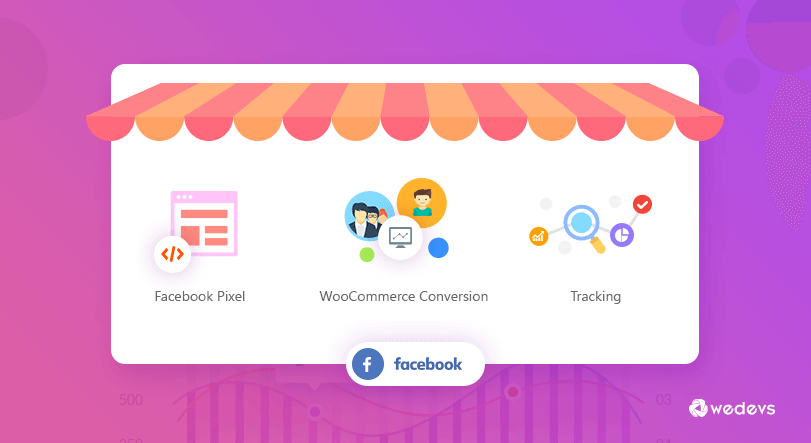 You can track Facebook Pixel Conversion on your WooCommerce Store by inserting the Facebook Pixel ID. In order to do this, you have to enable the toggle bar for Facebook.
Go to WordPress Admin Dashboard → WooCommerce→ WooCommerce Conversion Tracking.
Now, turn on the Facebook toggle button under Integration Settings to get data for your WooCommerce store using Facebook Ads.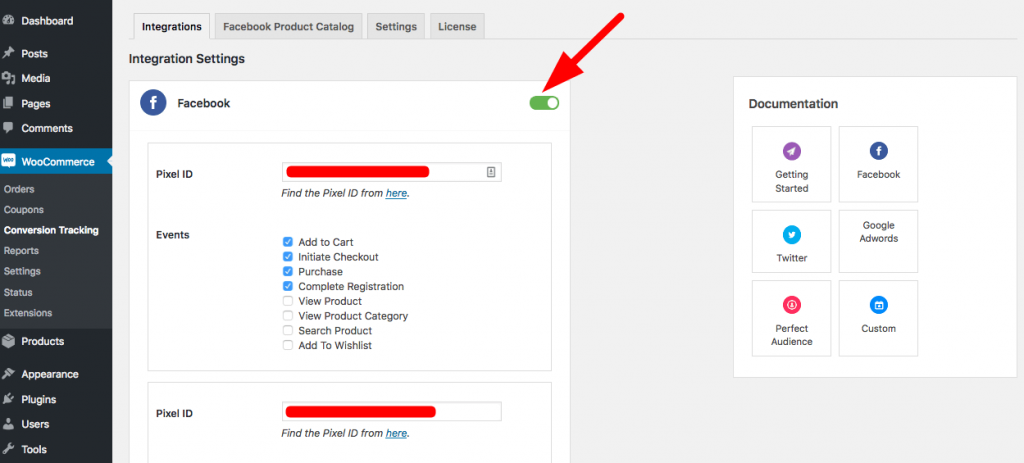 Now you can track the following events for free:
Add to Cart
Initiate Checkout
Purchase
Complete Registration
Furthermore, with the premium version you can extend the following functionality:
View Product (premium)
View Product Category (premium)
Search (premium)
Add to Wishlist (premium)
Woocommerce Conversion Tracking Twitter
You can use Twitter's Ad Platform to supercharge your e-commerce business and track the necessary data from your WooCommerce site.
Enable the twitter toggle to the following events of your site for free:
Purchase (free)
Add to Cart (premium)
Complete Registration (premium)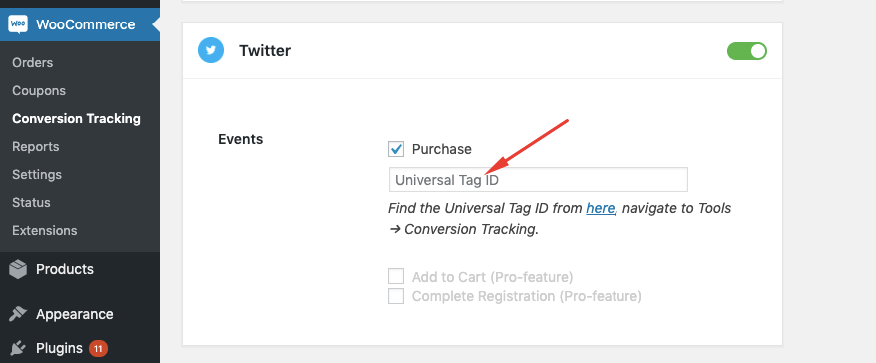 You have to insert "universal tag ID" to make it work.
Woocommerce Bing Conversion Tracking (Premium)
Bing Ads AKA Microsoft Ads tracking is a premium feature of the WooCommerce Conversion Tracking tool. Here, you can track only the "Purchase" event of your site with this platform.

You have to turn on the toggle bar next to Bing Ads and insert the UET Tag ID.
Perfect Audience (Premium)
Perfect Audience is a great platform to retarget your audience for your WooCommerce store. Same like others enable the toggle bar to activate.
You can track the following events with this premium tool:
View Product
Add to Cart
Initiate Checkout
Purchase
Complete Registration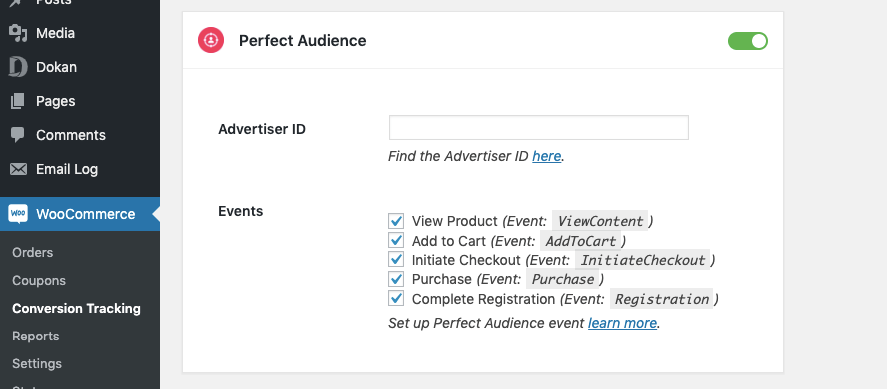 Here, you have to insert Advertised ID provided from Perfect Audience to make it work.
Adding Custom Platform
If you want to add any platform outside of these channels mentioned above you can do it manually.
Carefully follow the steps for Custom Integration Setting and don't forget to save the changes every time.
FAQ Woocommerce Conversion Tracking
How Do I Add a Conversion Tracking Code to WordPress?
Well, in order to do this you have to run a campaign on your desired platform. You will get a conversion tracking code from the individual channel. Now you can insert the code snippets in the body-tags of your WordPress theme.
If your theme does not support this function you can install a compatible plugin on your site. However, for a WooCommerce site, you can get the WooCommerce Conversion Tracking tool and start tracking your site with some simple steps.
How Do You Install Conversion Tracking?
Conversion Tracking allows you to identify how your ads generate leads and track the visitor activities on your site such as purchase products, registration, searching, add to cart, and others. At first, you have to create a conversion action from your Google Ads Account and then Set up your conversion tracking tag. You can install the tag by yourself or use Google Tag Manager.
How Do I Link Google Analytics to WooCommerce?
Google Analytics lets you measure your advertising ROI as well as track your Flash, video, and social networking sites and applications. You can use WooCommerce Google Analytics for free to connect your store to your Google Analytics account. It will give you basic interaction reports and figure out the site performance effectively.
Where Do I Put the Google Tag Manager Code?
Google Tage Manager lets you manage and deploy marketing tags (snippets of code or tracking pixels) on your website without modifying the code. You can simply follow 3-easy steps to install Google Tag Manager and configure the tags: Create an account, Install the container, Add and publish your tags.
How to Add Google Analytics to WordPress Without a Plugin?
Before starting make sure you have the back-up of your theme as if there happens some mess you can recover it. At first, collect your Google Analytics Tracking Code from your Google Analytics account. Then, add the Tracking Code to the header.php file and save the updates.
How Do I Create and Install a Facebook Pixel?
To measure the conversion through Facebook Ads at first you have to create Facebook Pixel. You can easily create this from the pixel tab. Now, you can add the Facebook pixel to your website based on your preference to make updates in your website's code. After adding the code you have to keep eyes make sure that your pixel is working correctly.
Final Thought
You can promote your business through paid ads on different social platforms. Undoubtedly, it is a strong marketing strategy to expand your business. But it is not enough to send your brand voice to your potential consumers and improve the sale drastically.
In order to track your Woocommerce business better and increase ROI from all paid media investments, you have to install a WordPress Conversion Tracking tool on your eShop.
WooCommerce Conversion Tracking can track the activities of the visitors on your site. By analyzing the data you can optimize your campaign and modify your further marketing policy. Eventually, it will increase customer engagement with your woocommerce site.
It's always the best decision to keep eyes on your investments and their consequences. In order to get the best pay off from your paid ads platforms, you need a reliable tool like WooCommerce Conversion Tracking. It ensures the best revenue for your Woocommerce store.