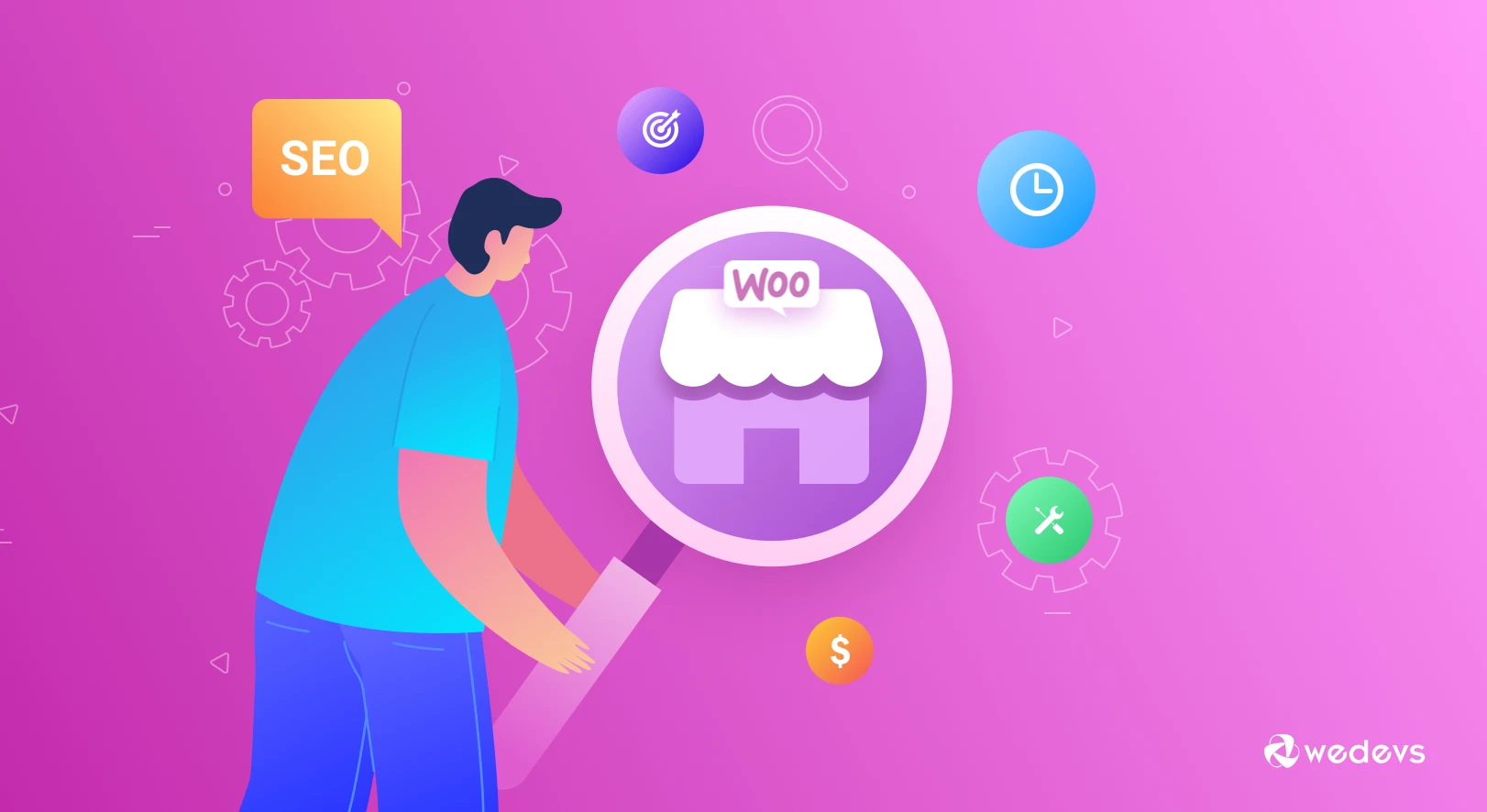 The Ultimate Guide to WooCommerce SEO for Beginners and Advanced Users
It does not matter which type of online business you are running, what matter is your marketing plan and the philosophy of reaching every potential individual who is likely to convert to your paying customers.
In the online business landscape, the concept of SEO or, Search Engine Optimization, is a part and parcel for the marketing plan and to reach out to your target audience.
If you do have a WooCommerce website, you must optimize your website with some useful tips. Now, let's take a deep dive into the importance of WooCommerce SEO and how you can do SEO for your WooCommerce website.
What Is SEO or Search Engine Optimization
Search engine optimization (SEO) is the art and science of driving targeted website traffic to your website from search engines.

Brian Dean, SEO expert
Specifically, unlike paid media, SEO is an organic or nonpaid way of tuning up your website's web pages aimed at taking your web pages to the top of the SERPs or Search Engine Result Pages.
Here is a screenshot that depicts a difference between Google Ads result and SEO result: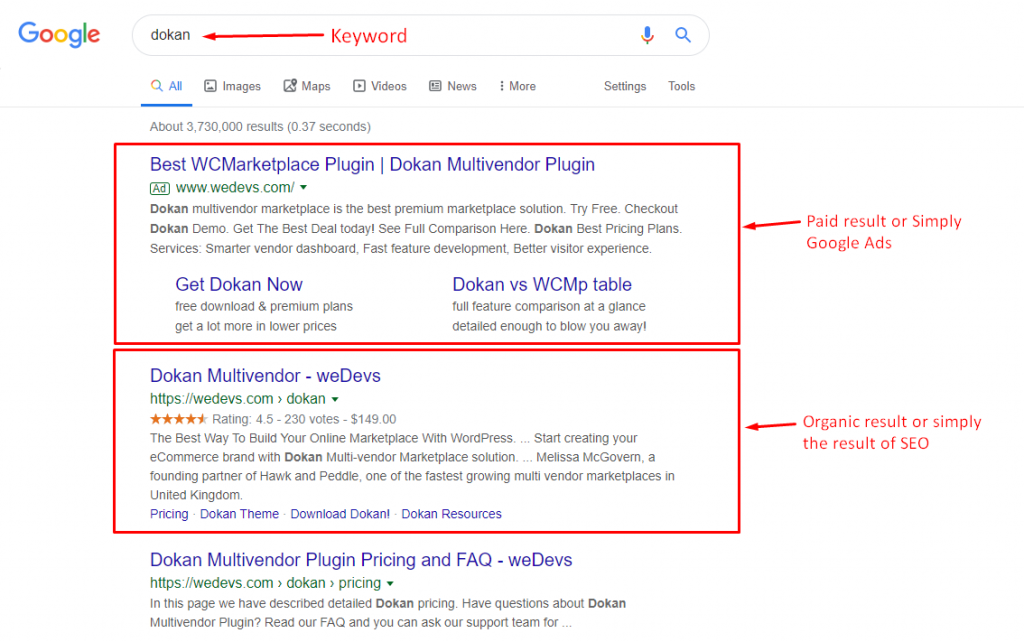 What Is WooCommerce
In case you did not know, WooCommerce is a completely free eCommerce extension for the most popular Content Management System (CMS) WordPress.
It has the highest marketplace share among the most popular eCommerce solution out there. As it is an open-source eCommerce solution, you can customize it just like the way you want.
Is WooCommerce SEO Friendly
You will be glad to know that WooCommerce is by default SEO friendly. That's because, it inherits most of the SEO characteristics from its root, WordPress. Here is what you will get in WooCommerce as the SEO boosters:
Search Engine readable webpages with the help of WordPress which is a must for SEO
SEO friendly permalinks from WordPress settings
Guides you to insert an H1 tag which is very important for on-page SEO while writing on a page or post or creating products
Allows optimizing images with appropriate alt tags, description and many more in collaboration with WordPress
Available WooCommerce based SEO optimized themes in WordPress.org
Heaps of SEO plugins for WordPress website in WordPress.org
Cache plugins to speed up page loading time
Mobile responsiveness out of the box
Also, you can share your post or pages in social media with automated social sharing plugins in WordPress based eCommerce site.
And the Friendly WordPress community is always ready to help you if you are in any trouble while using a WordPress site.
Why Can't You Ignore SEO for Your WooCommerce Website
SEO is very important to get visitors directly from search engines like Google, Yahoo, Yandex, Baidu, etc. without investing tons of money.
While talking about SEO, we mainly focus on optimizing for Google. Because most of the search takes place within this search engine giant.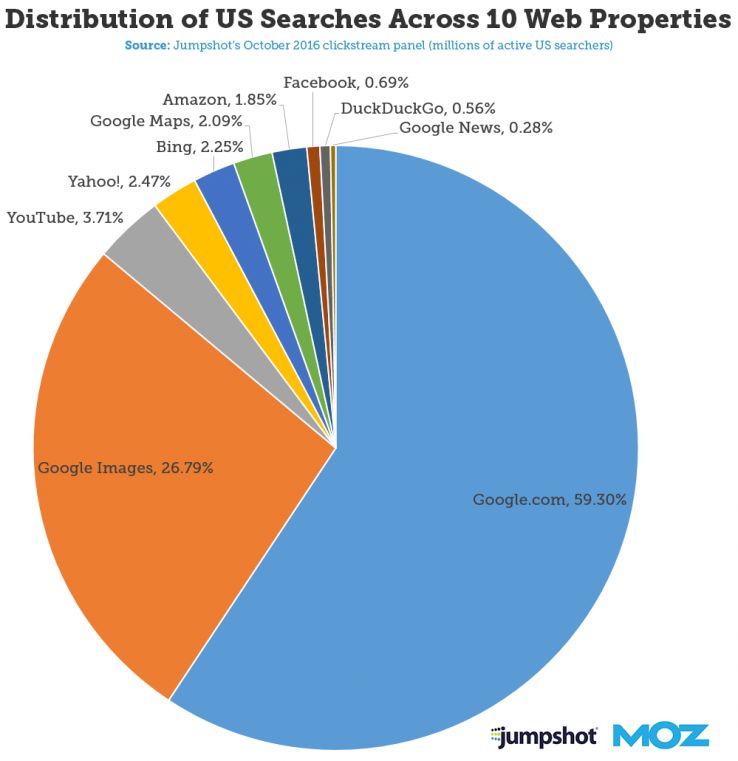 To ensure driving maximum visitors to your site, you must take your web pages on the first page of the SERPs.
75% of people never scroll past the first page of search engines.

Junto
Here is a fact that portrays how visitors interact with the first page of the SERPs.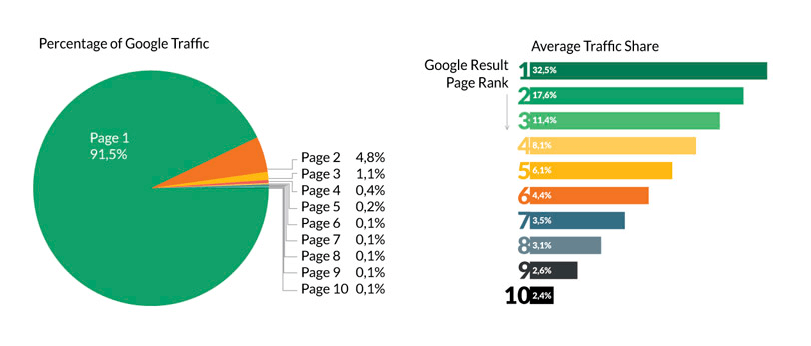 89% of all consumers will do online research using a search engine

ManageWP
Thus, you can not ignore optimizing your WooCommerce website with proper SEO tactics.
Optimize Your WooCommerce Website with These Effective SEO Tips
Here are a few ways you can improve your WooCommerce website's SEO. To optimize your WooCommerce website, you need to download and install a WordPress SEO plugin.
There are a great number of freemium WordPress plugins in the WordPress directory such as Yoast SEO, Rank Math, All in One SEO Pack, SEOPress. You can use any one of them. However, we will be using the Yoast plugin to do SEO for WooCommerce website in this article.
Related articles on SEO:
Common SEO Tactics You Should Stay Away from, to Ensure the Best Result!
An SEO Checklist For A New WordPress Website
It All Starts with Researching Proper Keywords
Keyword research is a classic SEO activity and it is the foundation of stepping your on-page SEO up. For your information, a keyword is the search term that users around the world insert in the search bar while using a search engine.
For example, if you are selling a smartphone on your Woocommerce website then the relevant keywords should be 'smartphones', 'smartphone', 'buy a smartphone', 'buy smartphone at cheapest price' etc.
But how to do keyword research? Not to worry! There is an army of free tools to conduct keyword research. Here are a few tools-
1. Keywords everywhere (Paid): This tool is handy if you want to have keywords swiftly. It is a browser extension.
2. Keyword.io (Free): One of the best tools to find relevant keywords and the actual phrases, people use while using Google
3. Ahrefs (Free): Help you figure out the keyword competitions properly.
4. Moz Explorer (Free): This is an SEO tool built by SEO experts themselves.
6.Google Trends (Free): A great tool to analyze the current keywords that are flooding the search engine.
Amazon Search Suggestions

Google Search Suggestions

Product Page with Appropriate keywords
Once you are done with keyword research, you need to implement them on your WooCommerce web pages. For example, when someone searches for the keyword 'buy washing machine' in the search engine. The competition to appear on the first page just begins.
If you do have a Washing machine on your WooCommerce product page, then there is no guarantee that your page is ranking on the first page of the SERPs. Because there is already a ton of pages containing the keyword "buy washing machine".
So, how can you overpower those pages and place within the first 10 ten pages?
The answer is simple – use the focused keyword in the main content, h1 tags, h2 tags, SEO title, Url, slugs. If you use the focus keyword along with the LSI keywords, then chances are pretty high to jump to the top of the search result.
Once you have a primary keyword, you need to make sure it appears in the most important sections of your WooCommerce product page. Here's how you need to go about it.
WooCommerce Product URL or Slug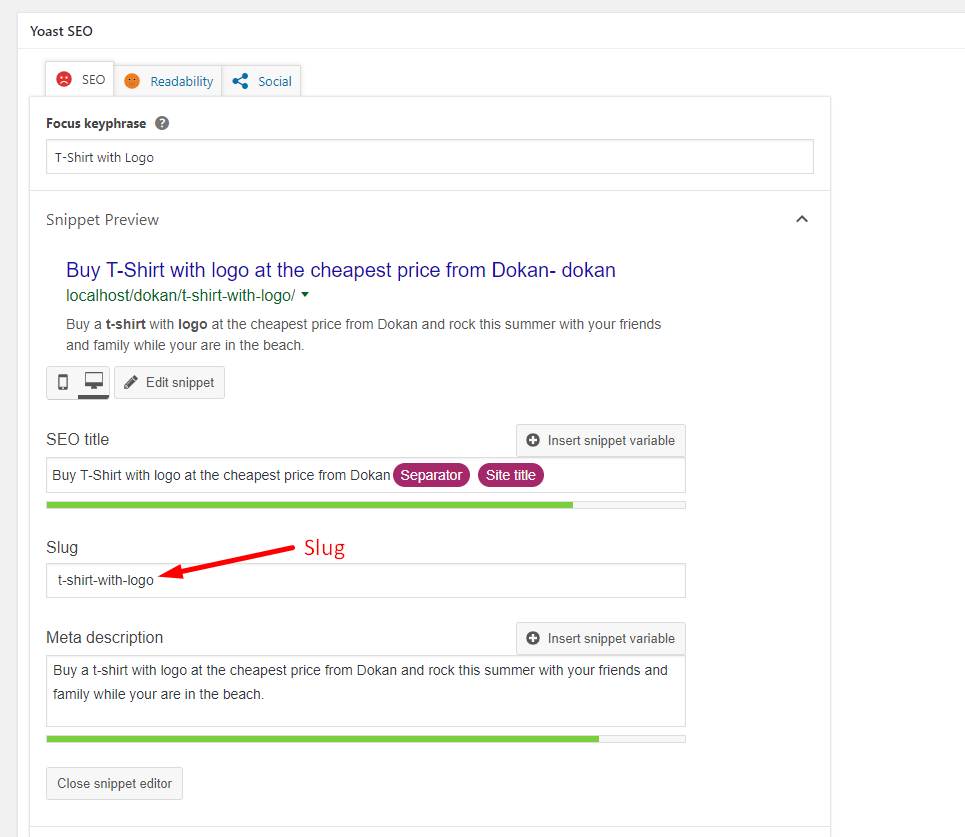 Once you figure out the appropriate keywords, it is time to include them in the product URL. By doing so, you are actually sending a strong ranking signal to the search engine.
You should build up the practice to include the focus keyword in every slug while creating new pages.
However, you can not change the already published product pages' URL as you will lose the SEO value of those pages. This will hurt your SEO strategy horrendously.
Pro tip: Shorten the URL so that it stands in the viewable limit. This will help your visitor easily figure out what your WooCommerce page is all about.
You can also learn: How to Customize Your WooCommerce Product Button & Price Color.
WooCommerce Product Title or SEO Title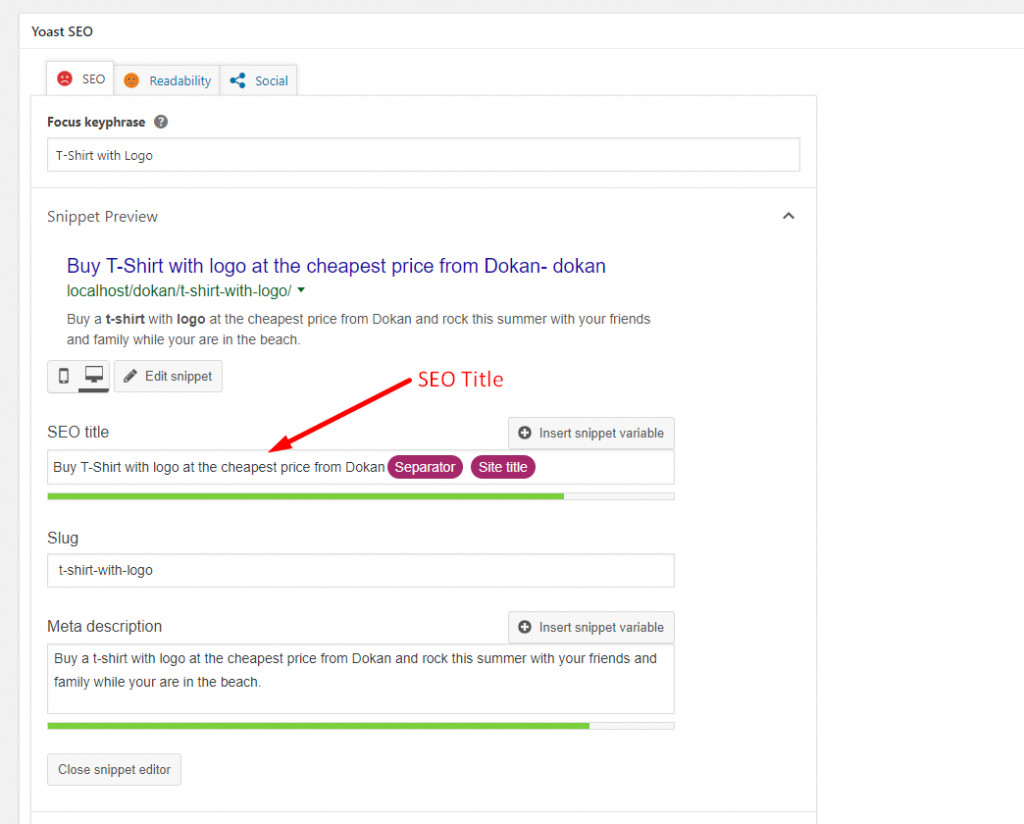 You have to optimize the product title with the focus keyword. If the SEO title contains the focus keyword then the page gets a booster in the race. Adding SEO title is very easy in your WooCommerce product page with the Yoast SEO plugin.
Adding Focus Keywords in the meta description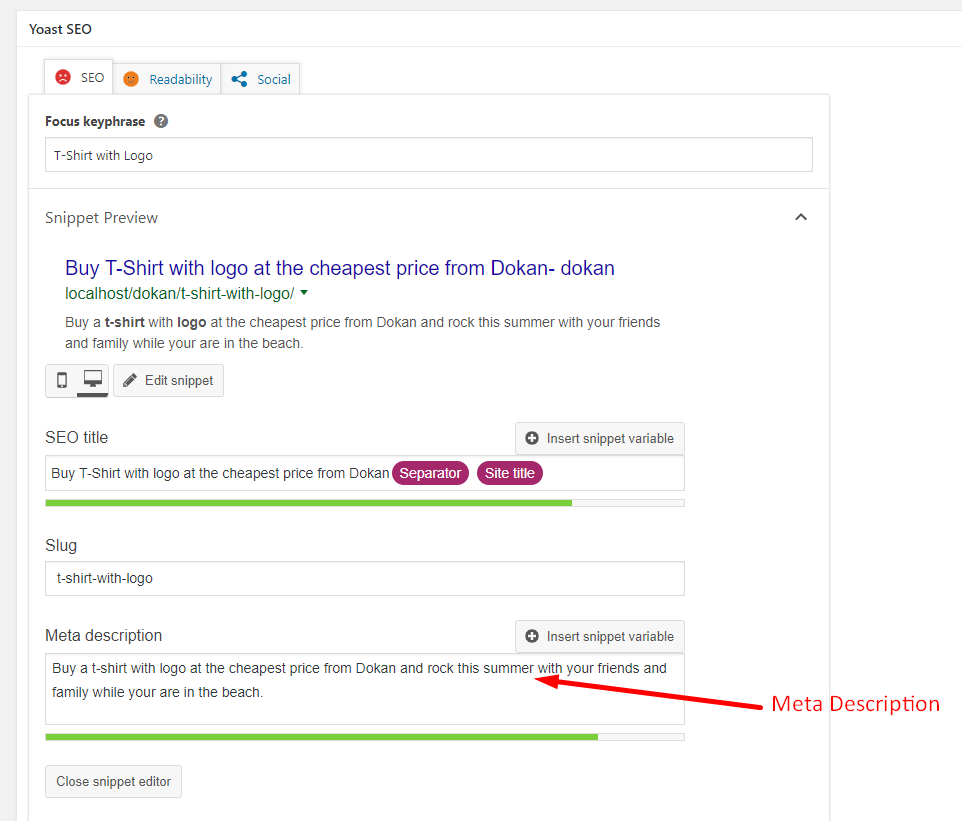 Though Google recently announced that including focus keyword does not affect SEO that much. Yet, some experts suggest to include the focus keyword in the meta description.
WooCommerce Product Description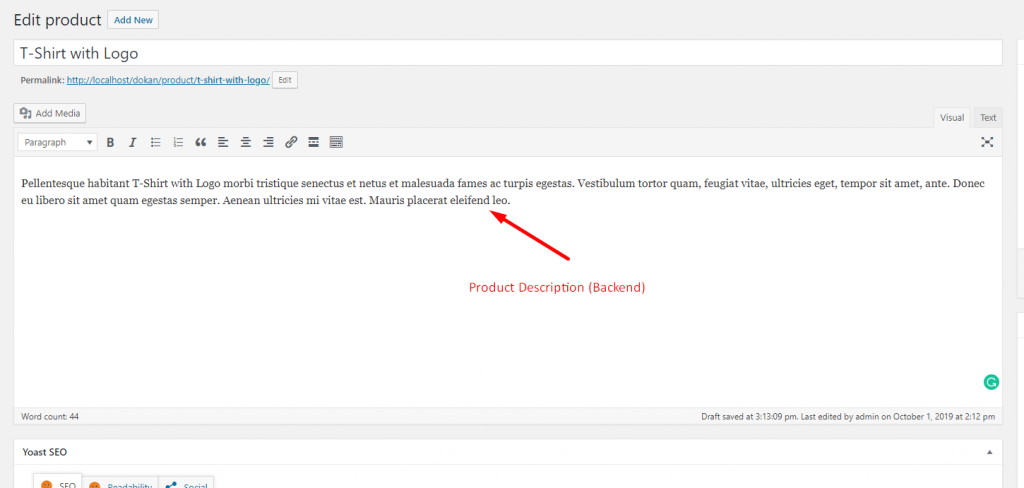 Like any webpage, your WooCommerce product page description text must not contain less than 300 words. Try to write an appropriate and elaborate product description repeating the focus keyword or LSI keywords repeating two or three times.
Get Some Pro Tips on Product Description
Use product categories for your product in WooCommerce so that visitors can filter products properly. This is also a very good SEO practice.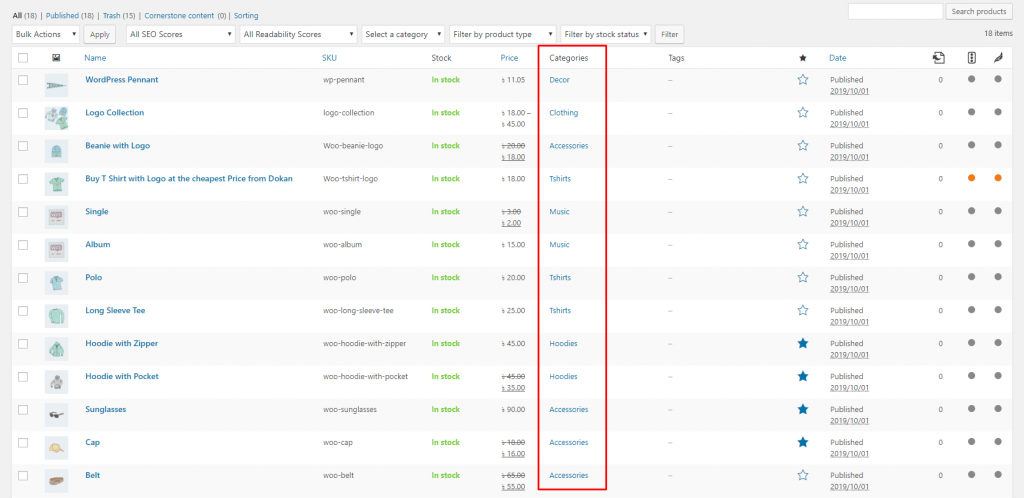 Never try to overflow the description with overuse of keywords or keyword stuffing.
Write a full description of your products including technical specifications like dimension, units, components usage instructions, shipping concerns and so on.
You should also answer customer queries.
Optimizing Images and Videos

While you are using images and videos in your WooCommerce product pages or posts, make sure to use high-quality images and minimize them with free online tools like Tinyjpg. Also, don't forget to use alt text and to rename them properly.
The same goes for video content. For videos, you need to upload them on YouTube, Vimeo or Dailymotion and then embed them on your product page or post page.
Doing so will keep your webpage at the optimized size and it will render faster on the browser.
Enabling Breadcrumbs
Using breadcrumbs is a very smart way to direct your visitors where they are, where they are from and where to go.
This does not only increase user satisfaction but also carries great power to push your web pages forward in the SEO game. This is because Google considers a web page well structured if it uses breadcrumbs for its pages.
Add Reviews and Rating Option on WooCommerce Product Page
If you add reviews and rating fields on the WooCommerce Product page, then your page will be constantly updated. This will meet the criteria for updating a web page frequently and it is a must to outdo your competitors.
In addition to that, as Reviews or comments and rating options are trust factors, pages containing these factors usually rank high.
Related Resource: How Much Traffic Can WooCommerce Handle: Tips to Optimize Your Site for Millions of Traffic!
Bonus Tips on Boosting Your WooCommerce Website's SEO
If you are through with the above-mentioned tips and tricks then you can try these advanced tips.
Generate Backlinks
One of the most significant factors of ranking a website is to generate backlinks. But this is pretty difficult to generate backlinks for a new website. Because who will give back your link if you do not have a good site rank.
To generate backlinks you have to submit your website to directory listings, open affiliate marketing system for your products, guest blogging and so forth.
Update WooCommerce Pages
Adding fresh content on your WooCommerce website is imperative to stay ahead of the curve in comparison to your competitors. You can add a review section to let your customers comment on your product so that your page renews on its own.
Use AMP or Accelerated mobile pages
The use of AMP pages has burst into popularity these days. AMP allows your users' mobile devices to load your WooCommerce web pages faster.
Store SEO
In case you are Using Dokan and sharing your store page in social media, you have to make sure that facebook or Twitter crawls the Open Graph image properly.

Ending Thoughts on WooCommerce SEO Guide
No matter what type of online business you are in, you have to make sure that your site is doing great in terms of SEO. You can never have the whip hand without following the guidelines of Search engines.
The more sound SEO strategies you apply to your Website, the higher the chance your potential will convert to paying customers.
Finally, do remember that SEO is nothing but a continuous process. Sometimes, you may need to do split testing to know which SEO activity works best for your WooCommerce website.