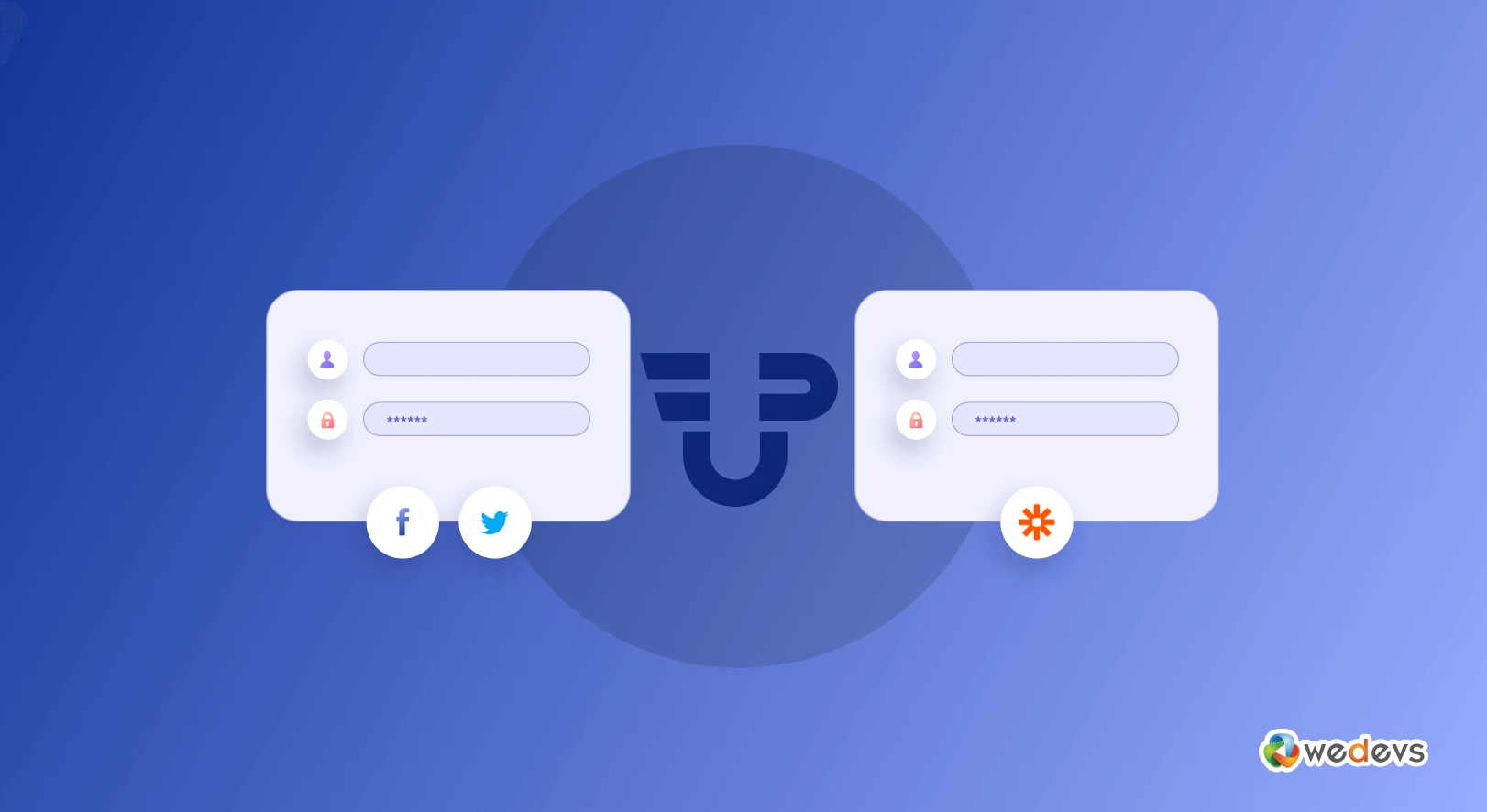 How to Engage with Your Customers in a Smart Way Using WPUF Social Login & Zapier Integration
Engagement marketing helps to create trust and loyalty among customers. Everyone who is running a business or an organization is looking for the answer How to engage with your customers. You may have heard or read about many techniques. But today we are going to tell you about some hacks using WordPress User Frontend so that you can engage with your customers smartly.
WP User Frontend is the ultimate solution to building attractive Registration Forms, Profiles, WooCommerce Products, Subscriptions & Contact Forms. In addition to that, recently it has reached 30000+ active installations.
WP User Frontend has 20+ independant modules to help you out all the way possible.
However, among those modules, there are modules like Zapier and Social login that will help you create smart engagements with your customers. How? you will find out later in the article. First, let's see why you should choose User Frontend.
WP User Frontend: The Ultimate Drag & Drop Builder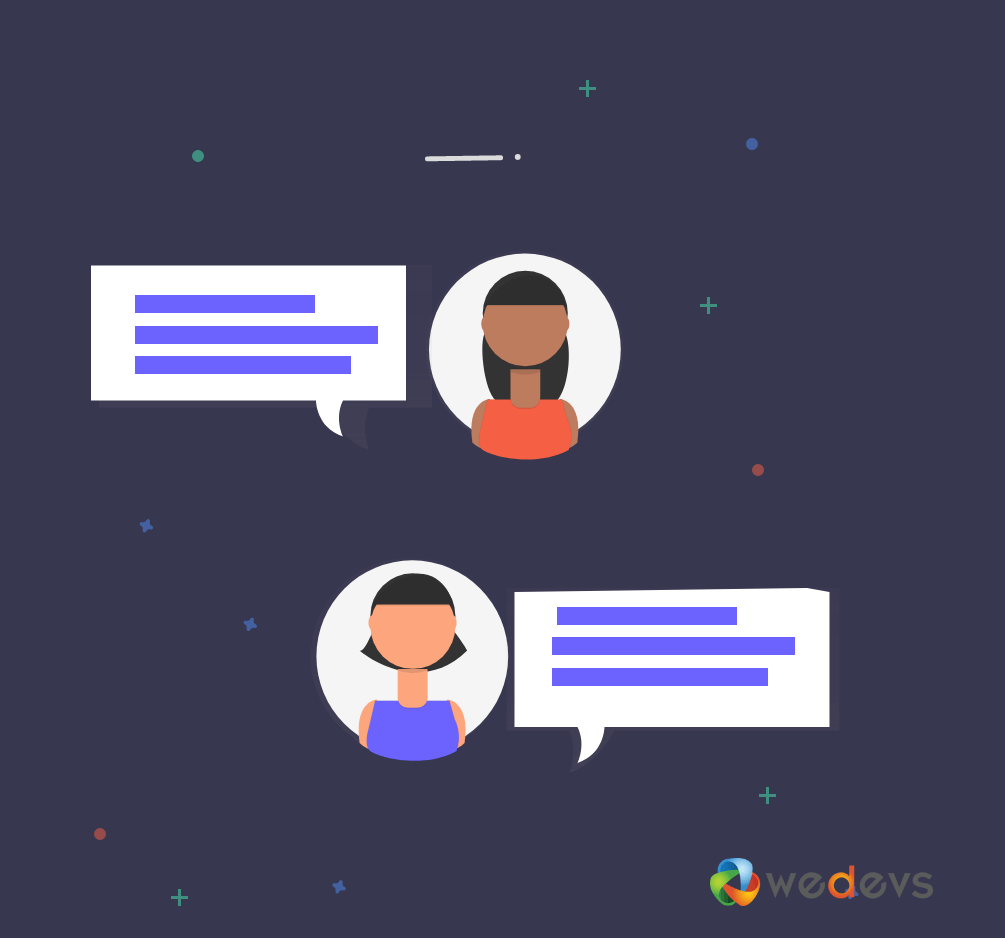 As we have said earlier WP User Frontend is the ultimate form builder and you can build attractive sites with it. But building attractive sites will not create customer engagement and the result will be ultimately Zero.
But don't worry, WP User Frontend has modules like Zapier and Social login that will ensure the engagement with the customers.
WP User Frontend has features like,
Updating Profile from the frontend
Flexibility for admins
Files & attachments
Use anywhere easily with shortcodes
Build customized forms with custom post types
And many more. You can see why WP User Frontend is the ultimate solution. Furthermore, we told you that you can engage with your customers smartly using the modules of WP User Frontend. We mentioned Zapier and Social Login.
So let us see how you can do that.
How to Engage with Customers Using Zapier Integration
Who likes to do the same task repetitively? no one. Zapier is a solution for that.
Zapier automates repetitive tasks without coding or relying on any developer.
It offers services to store data on its lists. What does that mean? and what data we are talking about? well, when you create a form, the user uses these forms to register or acquire some services. If you can store these data without violating any privacy, then this data will help you create engagement.
How you ask? well, suppose you create a form with an option what fruit do the users prefer. Option A is Mango, option B is Banana. So, you can know which fruit the users prefer by collecting the data and grow customer engagement smartly. You can do that with Zapier.
It was a silly example. But we hope you can understand what you can achieve using this tool.
Now for the good news. WP User Frontend comes with the integration with Zapier. You can create attractive sites and use Zapier to collect data from them.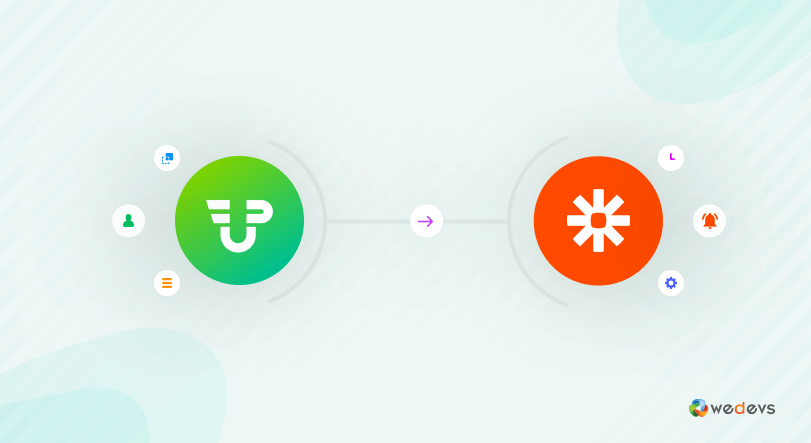 Now you might be thinking how can you do that? ok, let us see.
A small Note before starting, you need WP User Frontend Pro to activate the Zapier module.
How Zapier Integration Works
Activating Module
If you have ever used any module with a plugin, therefore you might know that first, you have to activate the module. Simply go to the Module Tab and find Zapier. Then activate it.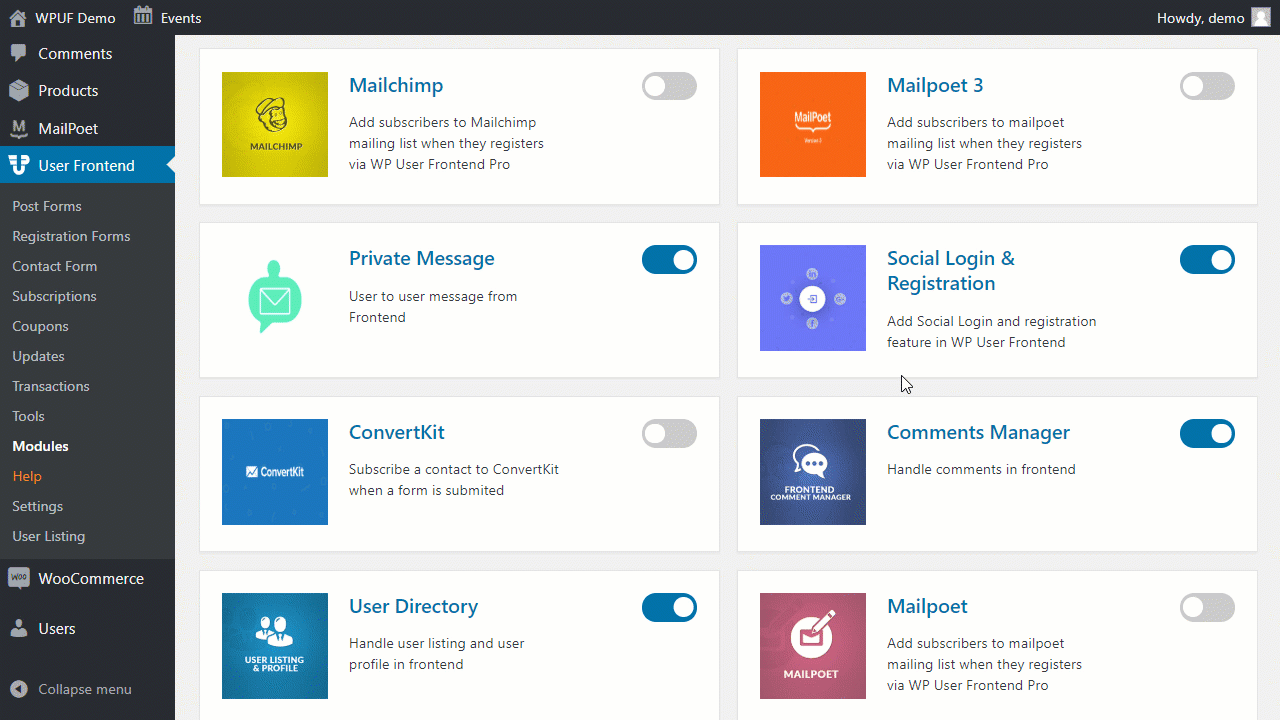 Create A Registration Form And Enable Zapier
You have successfully activated Zapier. Now go to WP Admin Dashboard→WP User Frontend→Registration Forms. Choose a form you want to create. Now, go to the settings option located on top of the bar and choose the Zapier module.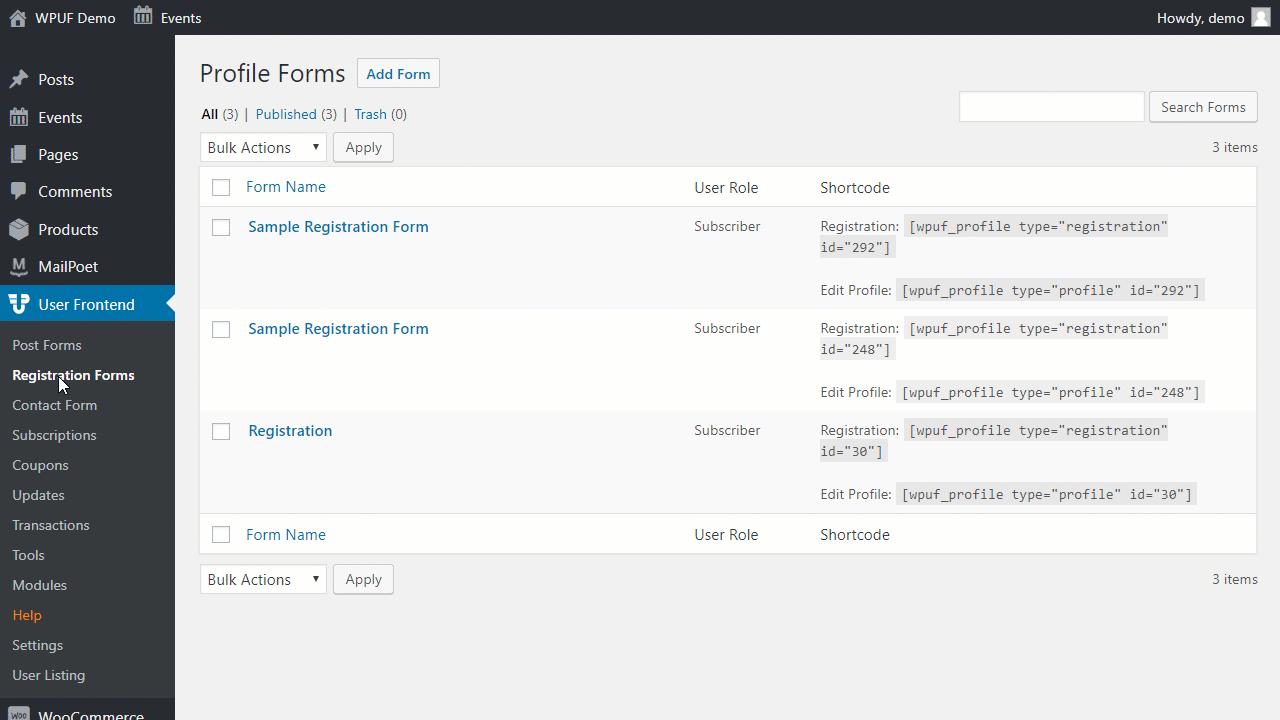 Connect With Zapier Using Webhook
Now you need a Webhook to connect your form with Zapier. Just go to your Zapier account and click on Make a Zap. Then select Webhook By Zapier. After that select Catch Hook as the trigger event.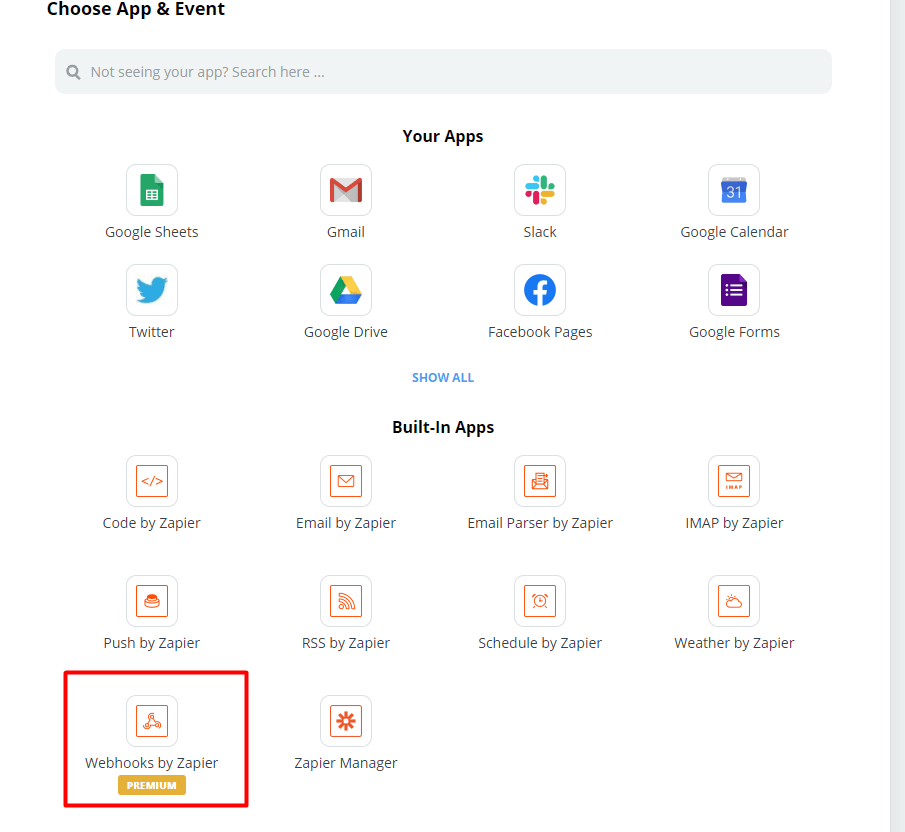 You will get a customized webhook URL.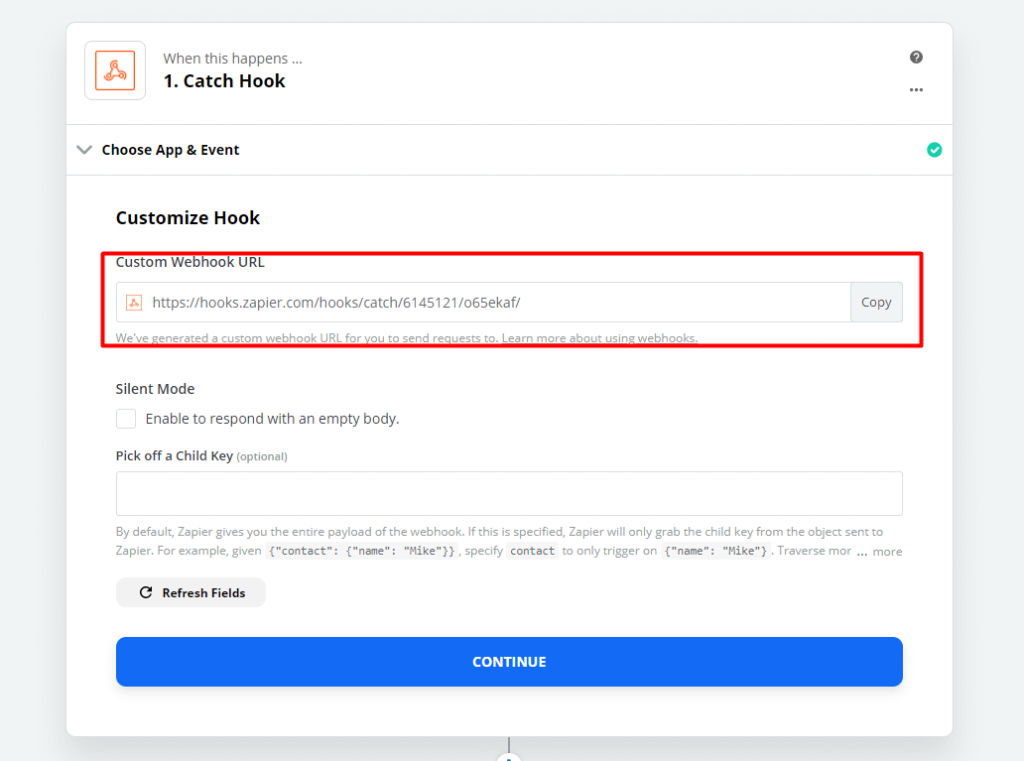 Get to the registration form Zapier settings and input the webhook URL that you get from the Zapier Webhook URL link.

Frontend Registration
Now, once Zapier connects with WP User Frontend registration form with the webhook URL, the Zapier also starts to work as soon as a user registers from the frontend.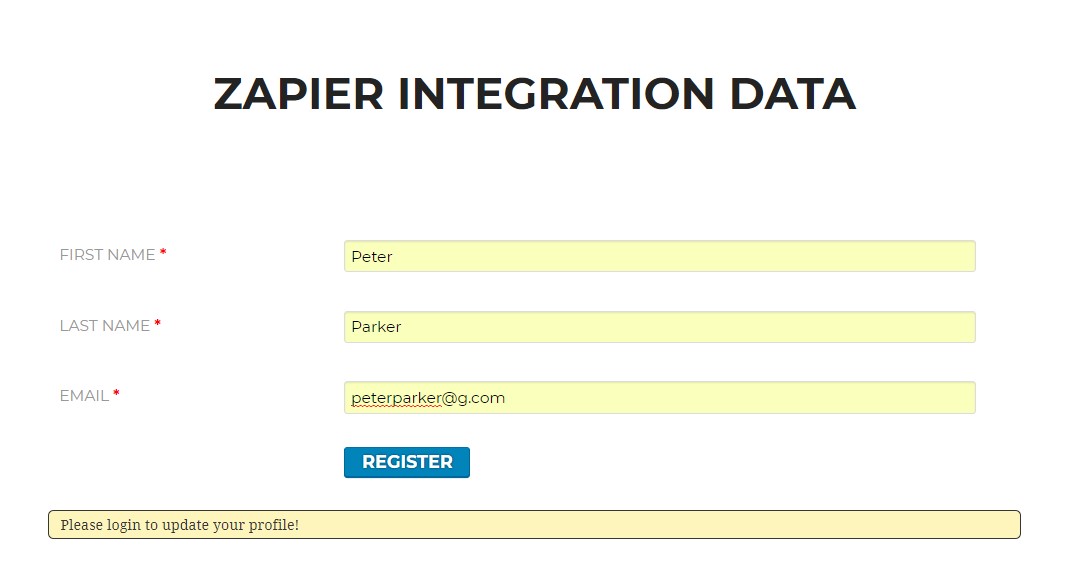 Connecting Google Spreadsheet To Transfer Data
Now you can connect a google spreadsheet to transfer data. Simply select Google Sheets and an Action Event.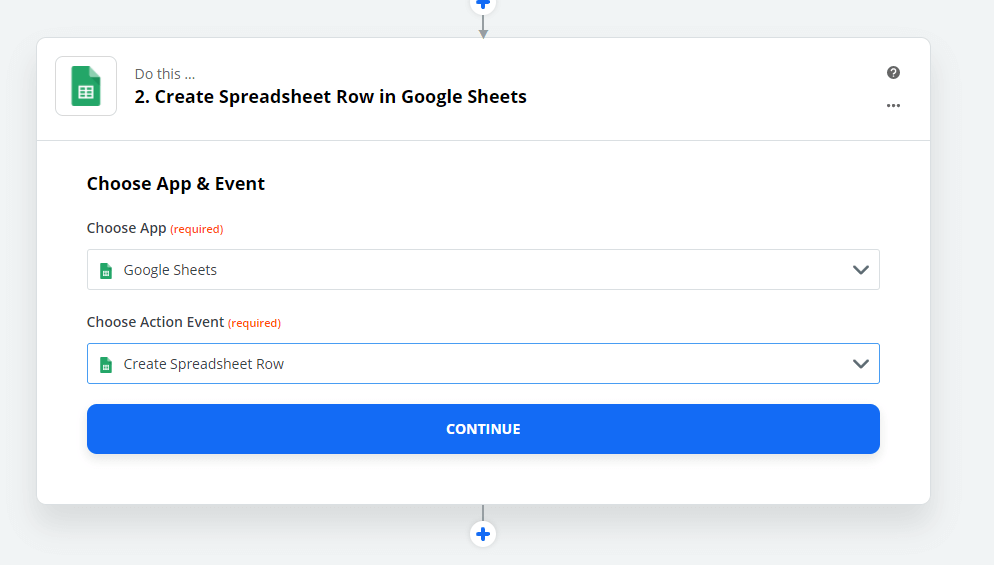 Next, choose your account name to connect with Zapier.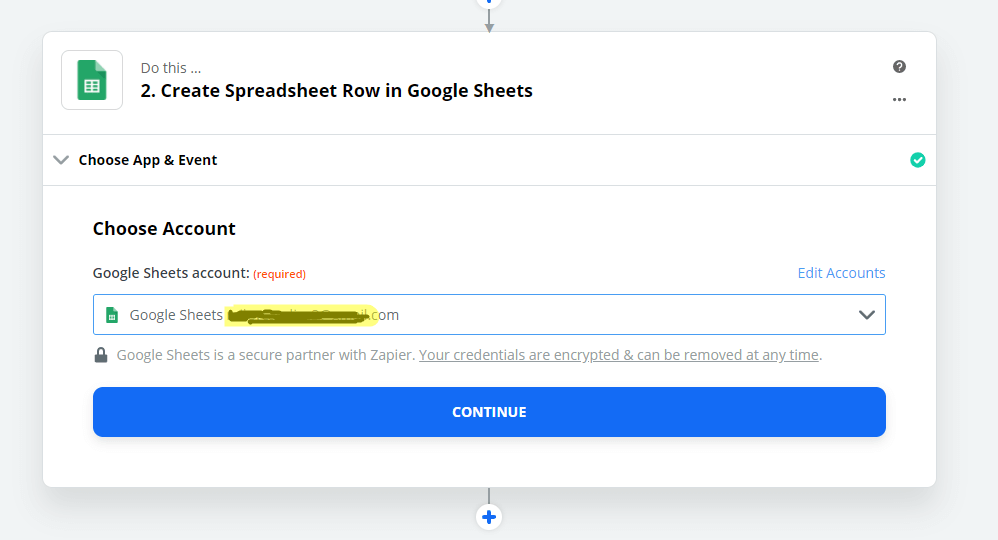 Google Spreadsheet Row
Once the Google account connects to transfer data to Google spreadsheets, now you can set up the rows you want in it.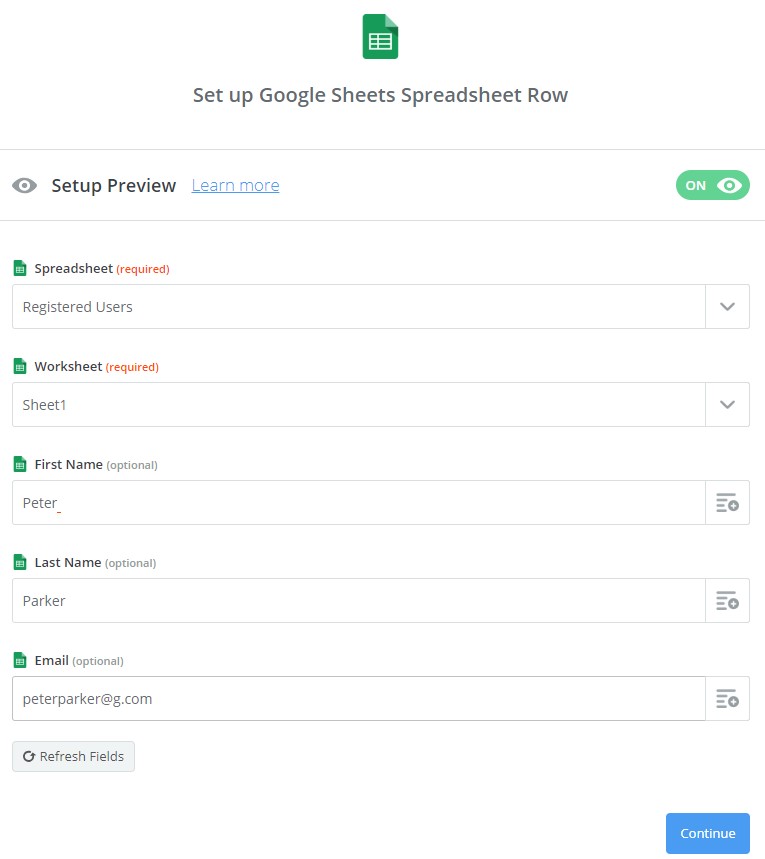 Now if you want you can send test data for making sure.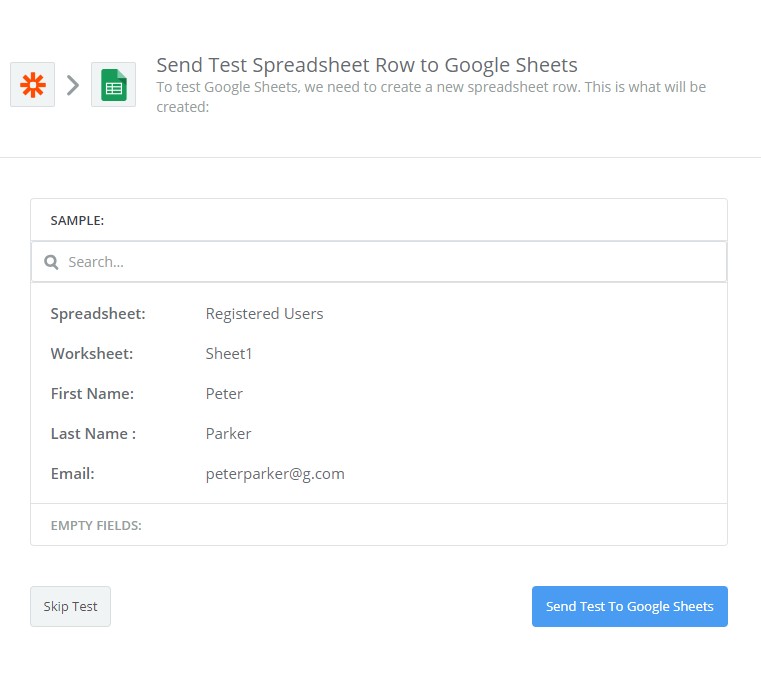 You can see that your data has been sent to your Google Sheet.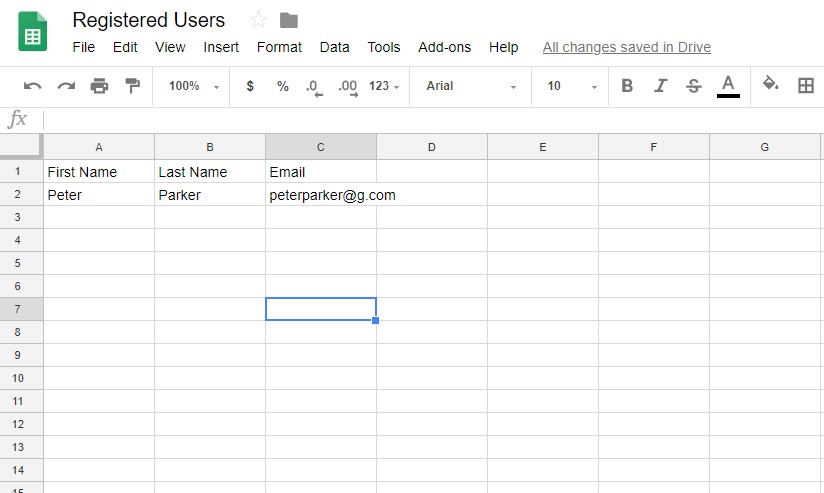 That is how you can integrate with Zapier. If you are still confused, you can check out this documentation. Or you can view this video,
How to Engage with Customers Using Social Login
We are talking about how to engage with your customers so we are bound to discuss the social platforms.
More than 50% of Facebook users use social media platform more than once a day, followed by Youtube(28%) , Google+ (25%) , Twitter(27%) and Instagram (24%)
Well, you can get the feeling that WP User Frontend also supports Social Login. Yes, you got that right.
WP User frontend Pro supports,
Today we are going to see how to configure Facebook and Twitter.
Configuring Facebook To Get App ID & App Secret
First, you have to activate the Social Login module.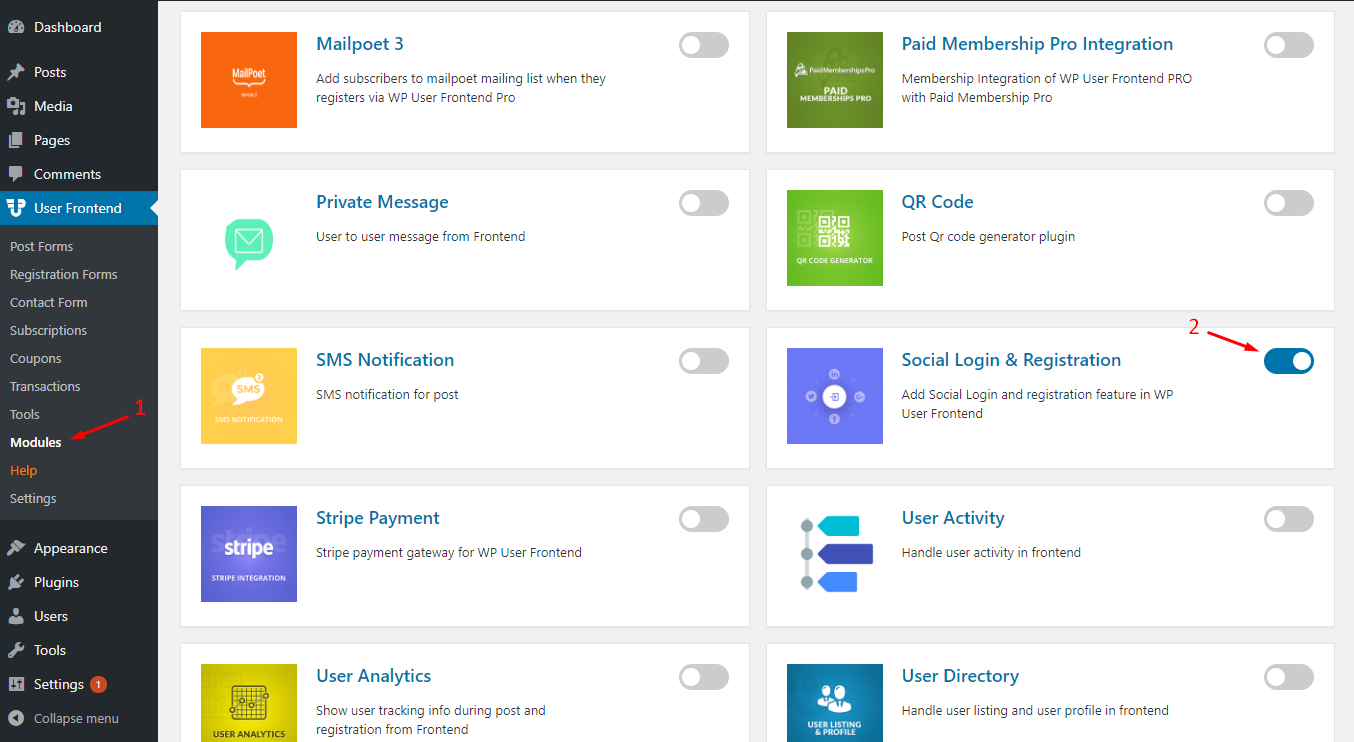 To configure Facebook registration/login, you'll need to create a Facebook app and insert the App ID and AppSecret on the settings page.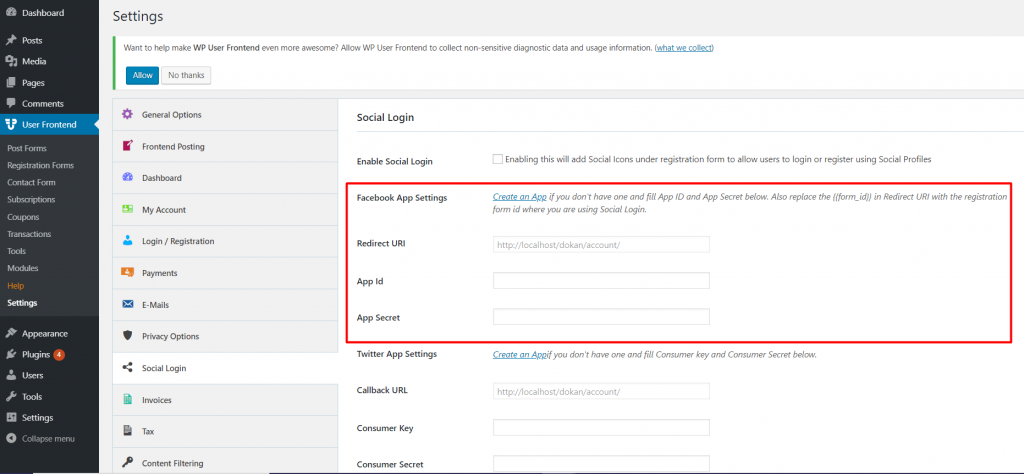 You will need Redirect URL, App Id, and App Secret to linking your account with Facebook.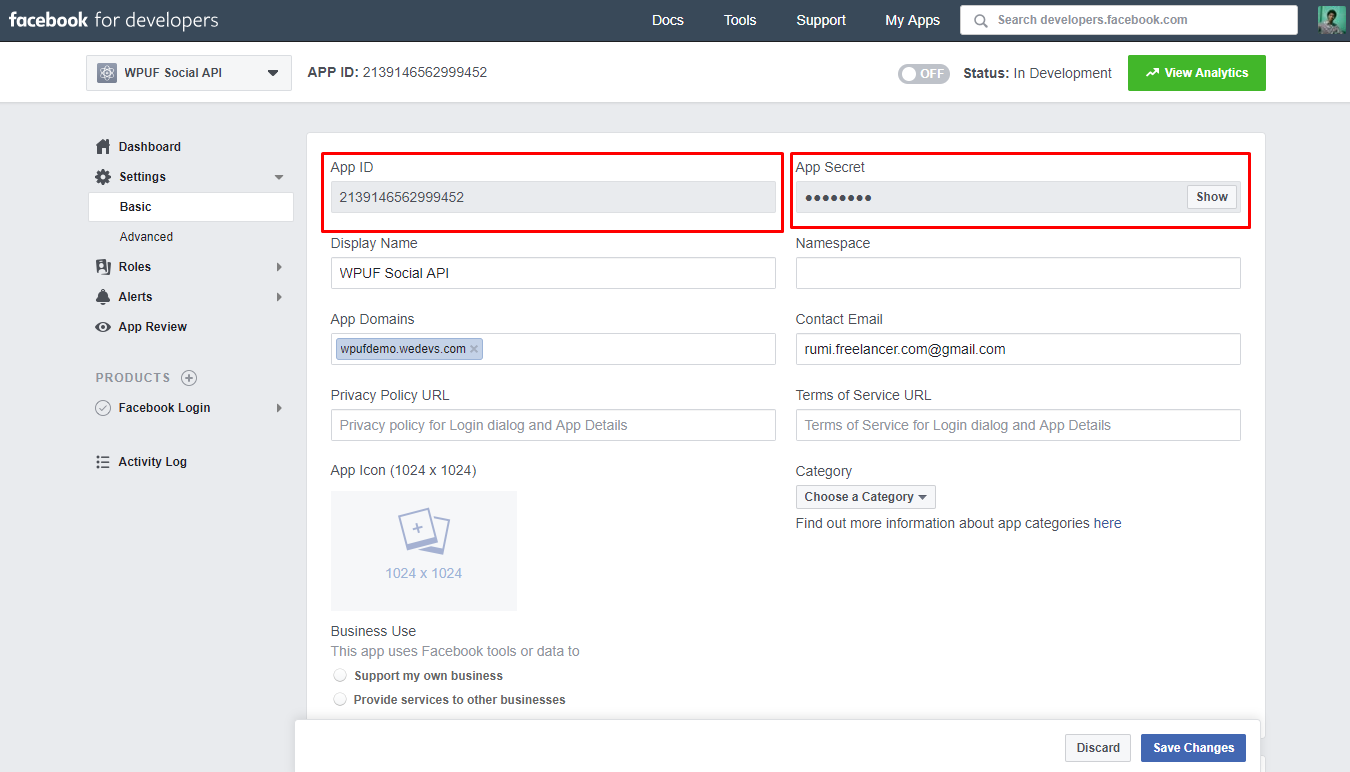 Copy and paste the App Id and App secret key on to the settings of WP UserFrontend just like the screenshot.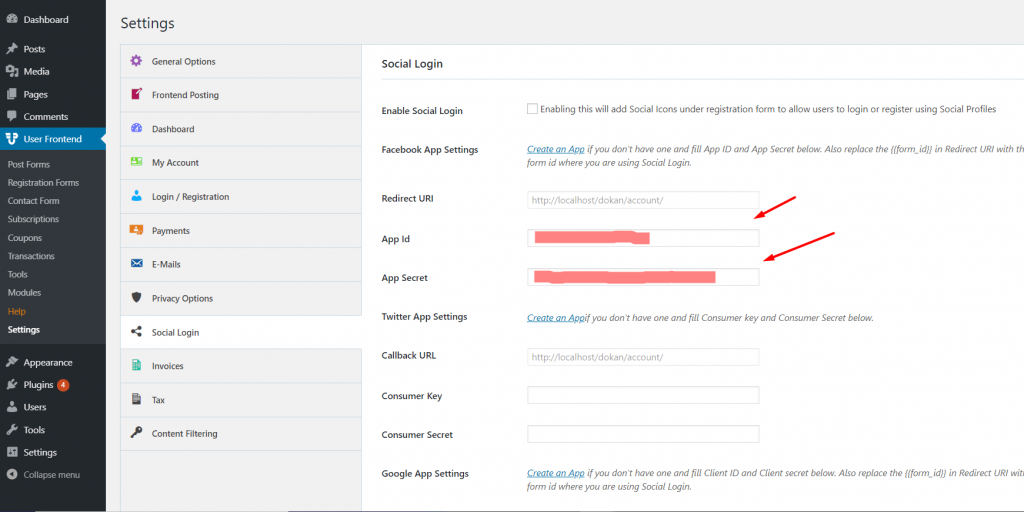 And you are all done. Now you can create a form with Facebook integration and your users can log in using their Facebook account.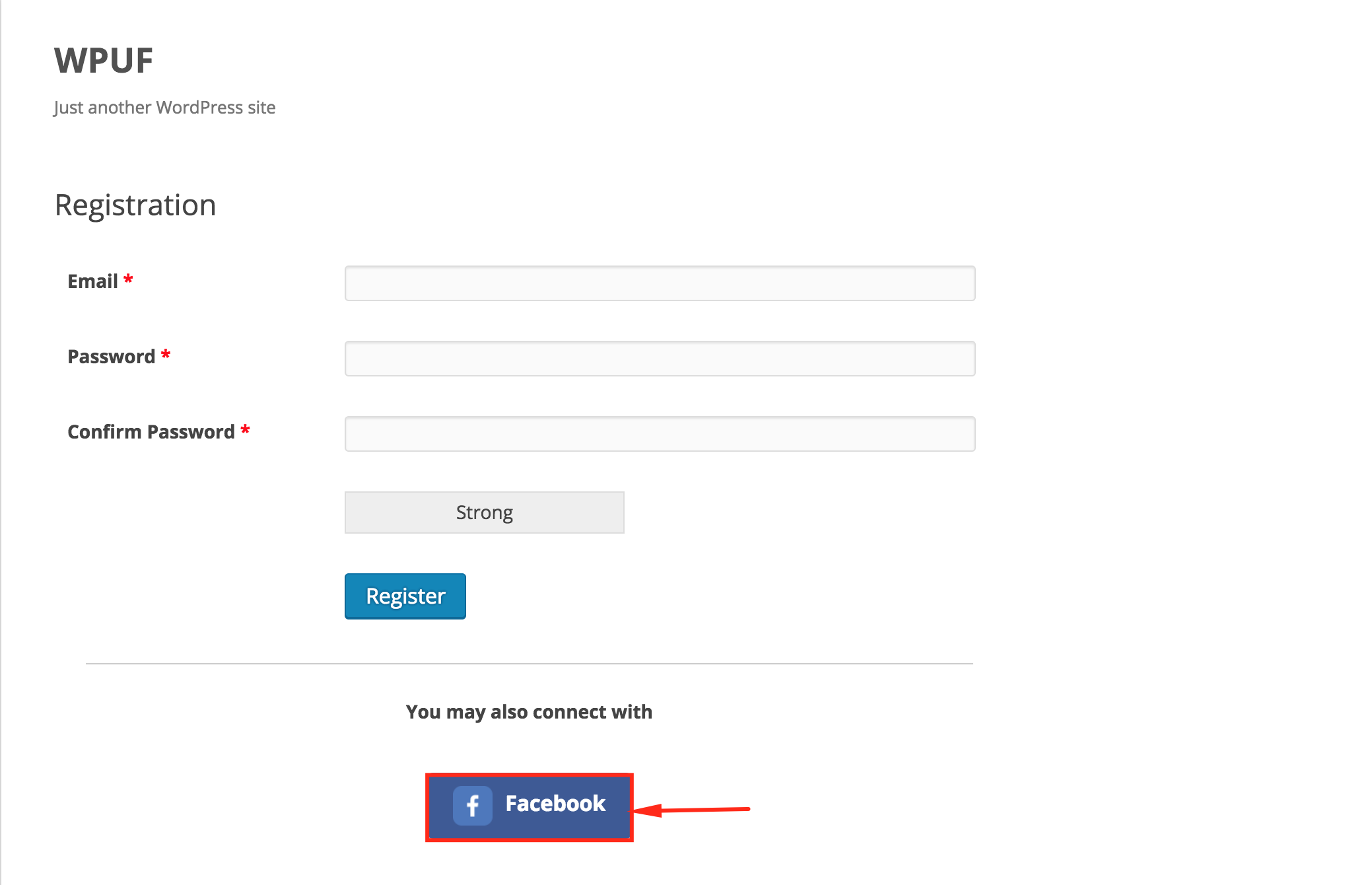 Voila! You'll be asked to sign in to authorize the app. See, it is not that really complicated. For further inquiries, you can see this documentation.
Configuring Twitter To Get App ID & App Secret
Now we have seen how to integrate with Facebook, let us move on to Twitter, another hugely popular social platform.
You have already activated the Social Login module so I am not going to bore you by saying to activate the module again.
If you click on the link, you will be redirected to a page where you will be asked to create an App.
However, the thing to remember is that you need to create a developer account first. Check out this Document to know how to create a developers account.
Now to create an app for twitter. Go to this link and click on create new app. You need to provide the App name and its description. Remember you need to be careful while writing the description.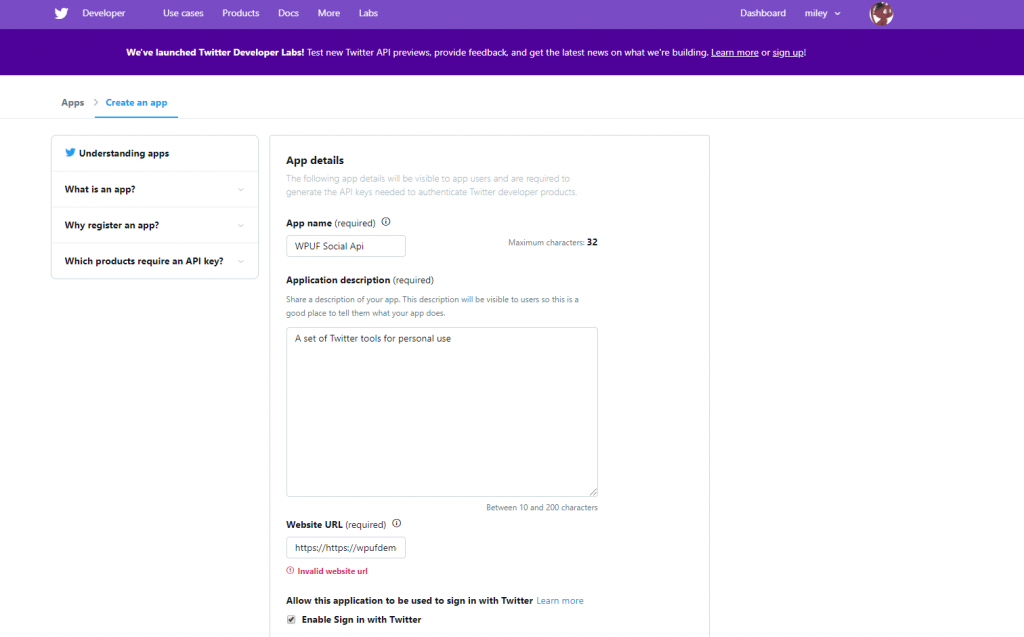 Also, you need to provide Callback URL. It is the page that the URL where you want to take your visitors/users after a successful register or log in. Copy the link from your setting page that has been generated already.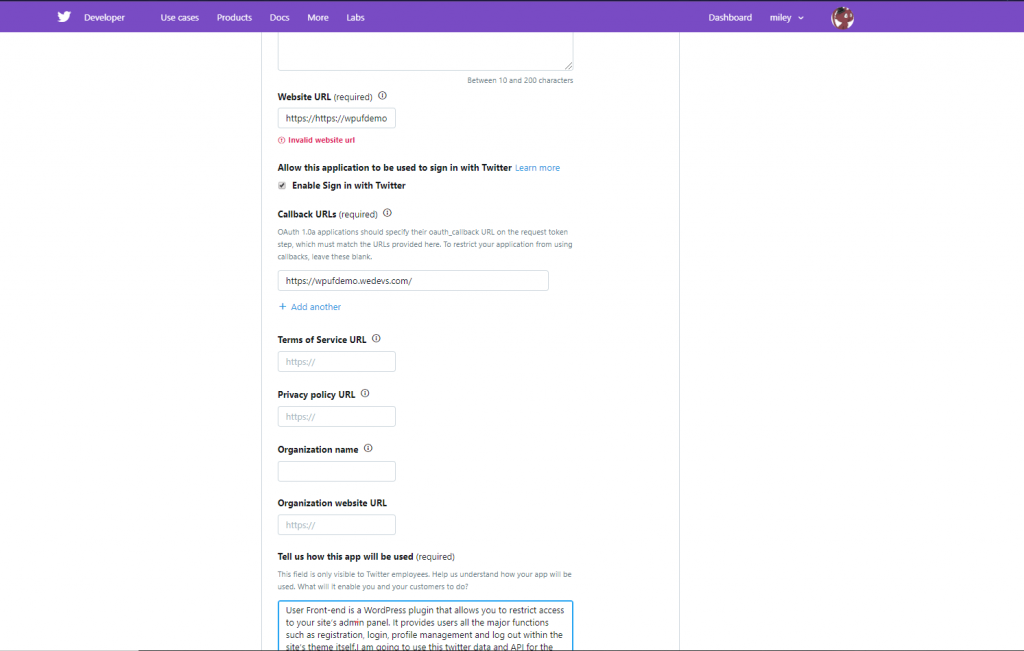 After successful submission, your app will be created. Just click on Keys & Tokens on top of the menu bar and you will get your Consumer Key and Consumer Secret. Just copy and paste it in the WP Admin Dashboard→WP User Frontend→Settings →Social API.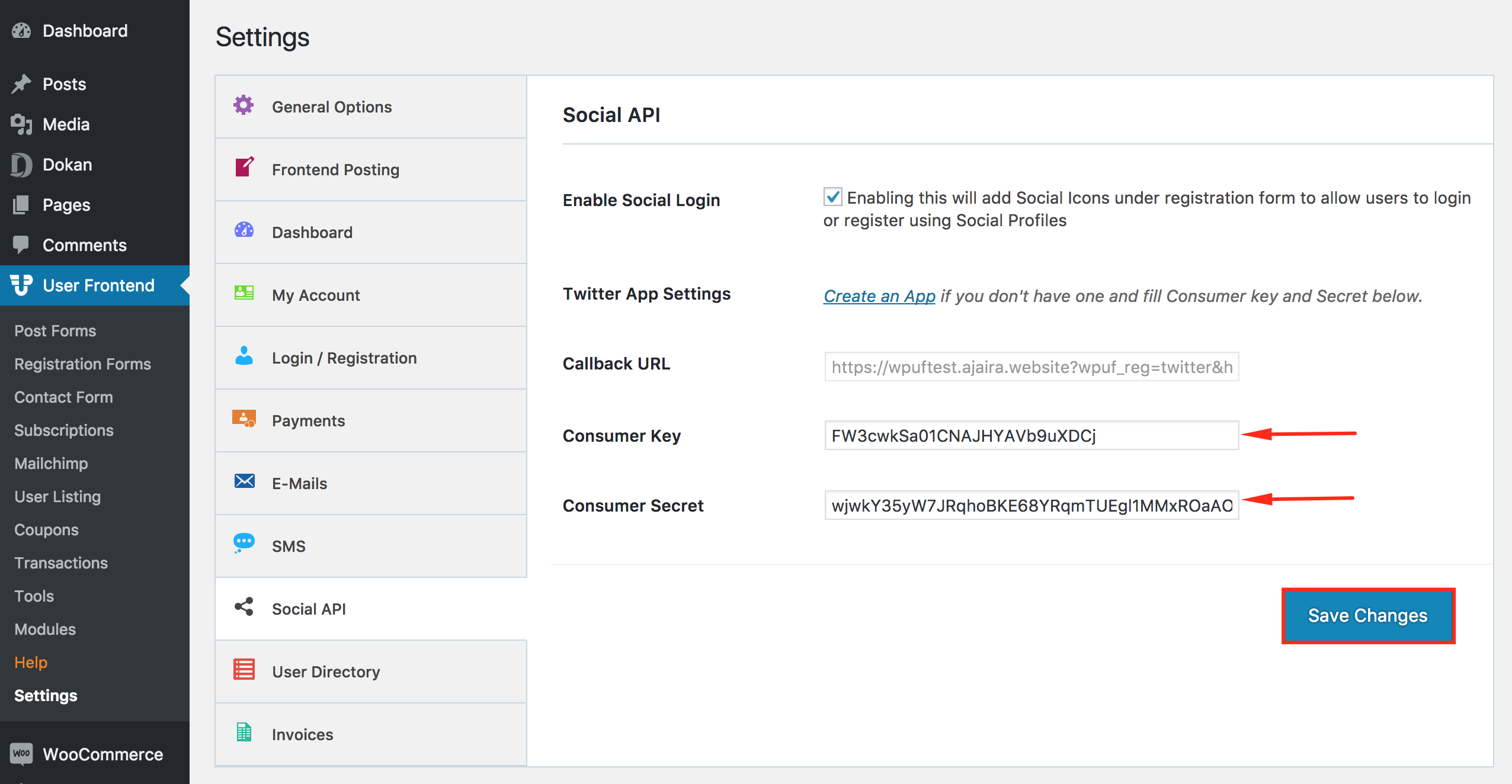 Click on Save Changes and you are done.
That is how simple it is to configure Twitter with WP User Frontend. Your users can log in using their Twitter account.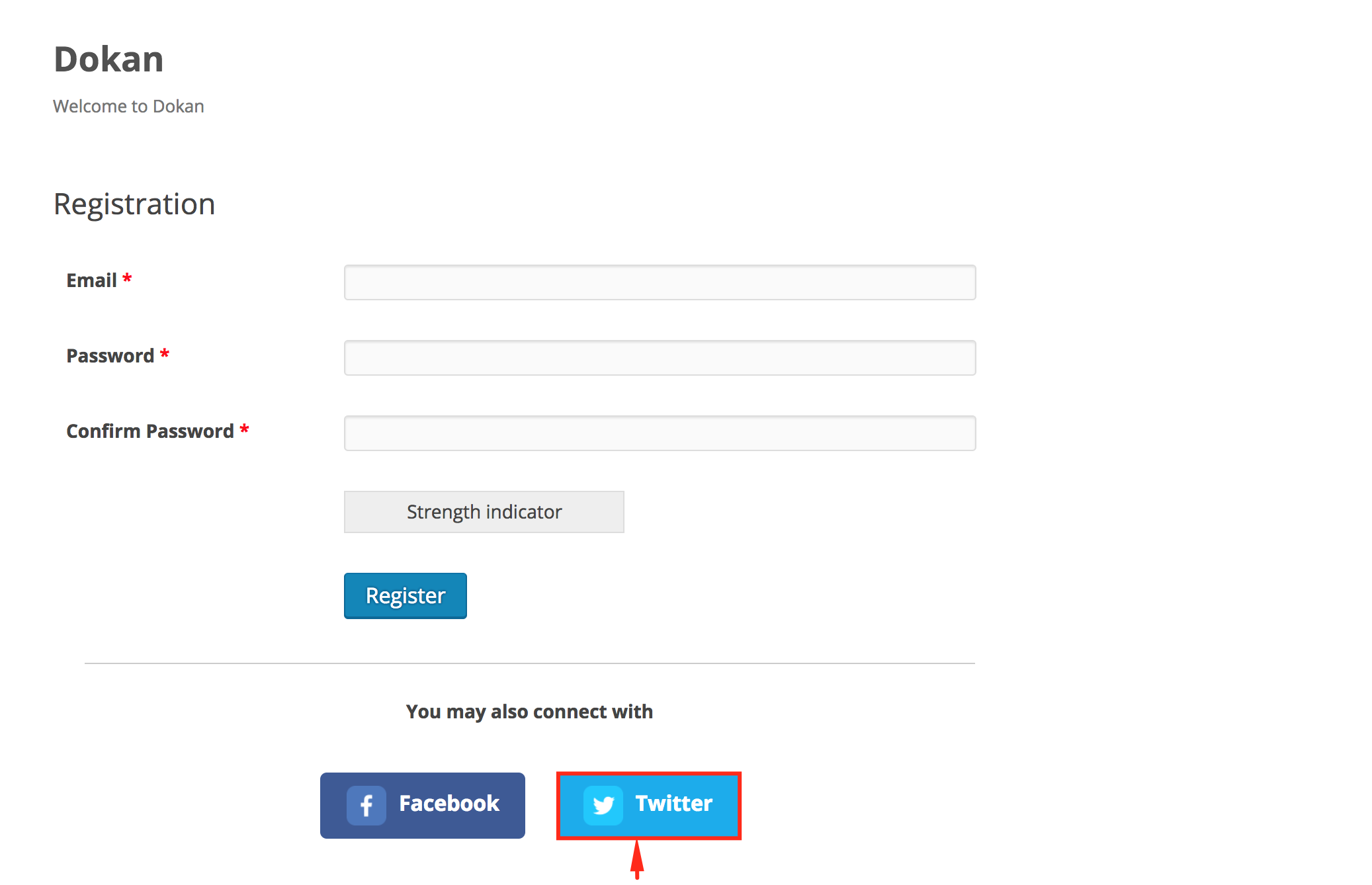 Still confused. Not to worry, check out this video and clear your confusion.
How Zapier & Social Login Will Help Increase Engagement With Customers
So we have discussed Zapier and Social Login module and it's integration with WP User Frontend Pro at length. But how they will create customer engagement. With Zapier you can collect data through frontend registration forms. And the Social Login module will decrease the chance of incomplete registration.
What does that mean? well, it means you can get complete information of the users and use it help increase your brand value. Therefore you can now use the correct information of the customer to target them for future offers and promotional contents.
Your users won't have to go through long and exhausting registration forms, rather the users who will come through Facebook and Twitter will spend more time on your website. What more can you ask for?
Wrapping Up
As we said in the beginning part of the article, WP User Frontend Pro is the ultimate drag n drop builder. After reading this article we don't think many of the readers will disagree.
So what are you waiting for, grab WP User Frontend Pro now and start planning for the future with the complete information?
Or you can try the Demo. Enjoy the Features.