Most Suitable Business Models to Follow for eCommerce Marketplaces
It is pretty evident that the e-commerce and online marketplace business is booming and being multiplied to a big number in the last decade or so. Stats suggest that by 2022, sales via online e-commerce stores are expected to increase by around 80%. Every day more and more people are getting interested in launching their own marketplace. But getting too excited about this rising trend of e-commerce business to start an online marketplace without having the proper idea of its business model for e-commerce to follow may just backfire greatly.
The good news is when you are planning your startup for an e-commerce business, you get plenty of business models of e-commerce in front of you. And you just need to identify the best-suited model for your e-commerce business.
Quite certainly you would want to choose a business model that provides the best in your level of experience in terms of your budget, risk & time management.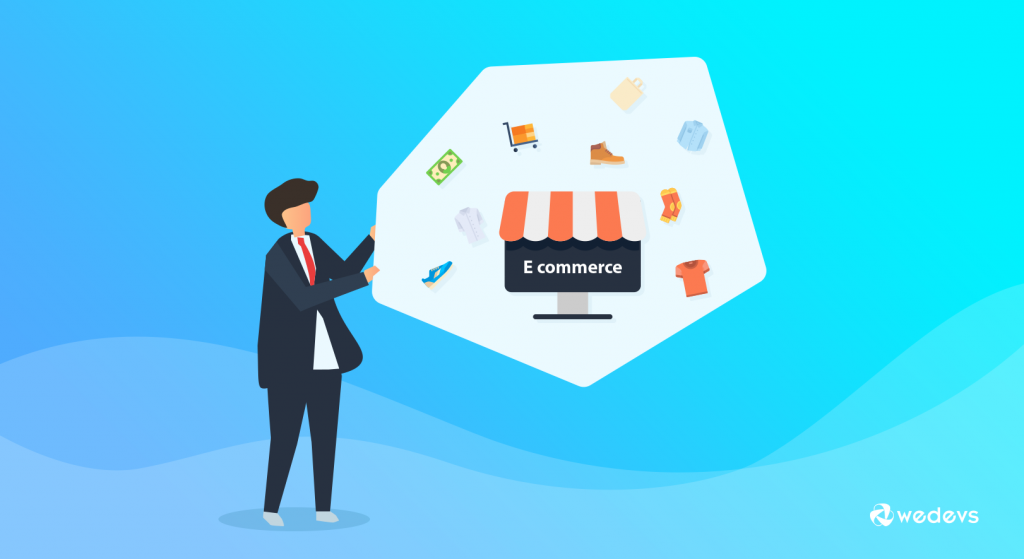 Now you might have a skillful team that has a solid marketing strategy for your e-commerce business but a team without the right business model to run an e-commerce site will always fall behind and every chance of failing sooner or later. This will also act as a hindering force into the future growth of your e-commerce business.
So since being able to decide which business model would be suitable for the e-commerce or online marketplace is highly essential so therefore this post will discuss the fundamentals of the e-commerce business model and the trending business model for the e-commerce marketplace.
Hopefully, by the end of this post, you will be enlightened with the right knowledge of your business model establishment for your e-commerce store. So let's start by discussing the business models classification that is commonly used nowadays in all e-commerce businesses.
Classification of Available Business Models for E-commerce
As you plan to set up your e-commerce business, there is this common question that you need to ask yourself. Who are your clients that you are selling to?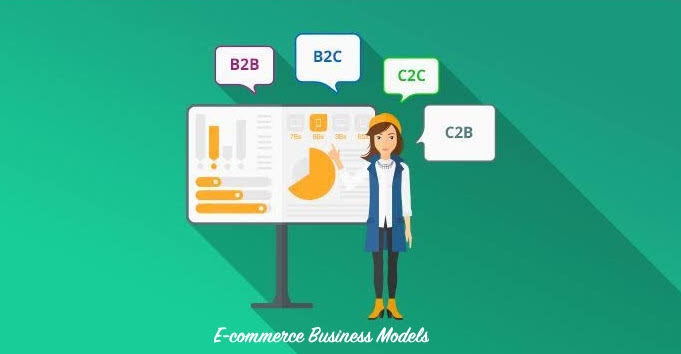 Now on the occasion of launching your e-commerce site, at that point in time, you are considered as a 'Business' and the people you are selling to would be termed as 'Customer'. And essentially all e-commerce sites operate as Business to Customer (B2C) or Business to Business (B2B) model. So ideally this means your consumers are either general customers or other business organizations. But these are not the only business models for e-commerce that get used nowadays. The other more commonly used e-commerce business models are:
Business-to-Business (B2B)
Business-to-Consumer (B2C)
Consumer-to-Business (C2B)
Consumer-to-Consumer (C2C)
Moreover, there are also other well-known business classification models like Business to Government (B2G) and Customer to Government (C2G).
Now lets quickly take an overview of the advantages and disadvantages of the above business models for e-commerce.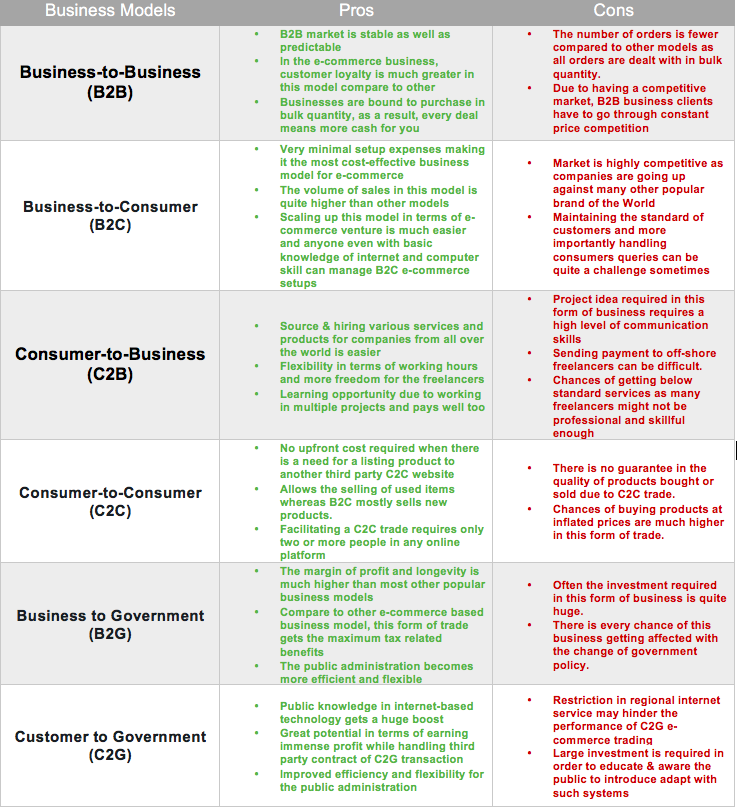 Types of products to sell Online
Now the best part of establishing an online store is that you can sell virtually anything you want. If you are new at this then it is better to start selling with a small range of products. But are you sure about the types of products you are looking to sell from your e-commerce site? In order to sell online effectively, you would need to know what are the types of products that you can sell from your online store or marketplace. So what kind of product you can look forward to selling online? Let's know about that a little better below.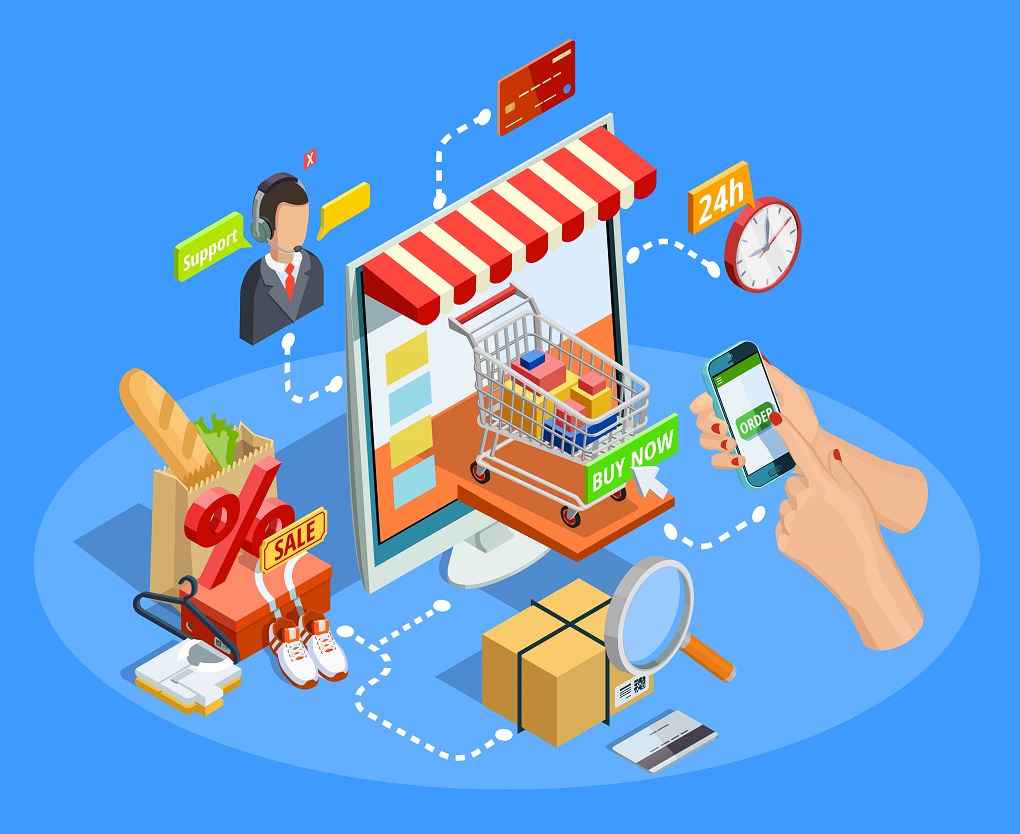 Physical Products
Any type of goods that you can physically touch or feel such as clothing items, electronic devices, merchandise etc. that anyone finds online or in a brick & mortar store is known as a physical product. Moreover, selling this type of product from your online store requires at least one shipping method to be implemented. In order to produce a physical product, you might require to have a warehouse, factories, or hire a number of employees. Some of the common examples of physical products include Apparel, Ornaments, Mobile Phones, Beauty Products, Video Games, Artwork etc.
Digital Products
This type of product is really easy to distribute in comparison to physical products and others. it is also significantly way more sustainable which makes it simpler to replicate or create. No material, staff, or manufacturing warehouse is required. Anyone with just a few devices is able to generate a digital product and get it up for selling. Some of the most popular forms of digital product include Software & web-based application, Music & Audio, Videos, E-book, Photographs/Images, Courses, Digital Artwork, Tickets, etc.
Service-Based
If you have a group of people that are specialized in providing various types of services then you can easily offer those services from your e-commerce site. So this means any type of human served services that are offered to the customer online including the option to visit the client's home to provide their services is know to be service-based sellable items. These types of services include services provided by Drivers, Carpenters, Home Cleaners, Home Appliance Repairing services etc.
Trending E-Commerce Marketplace Business Models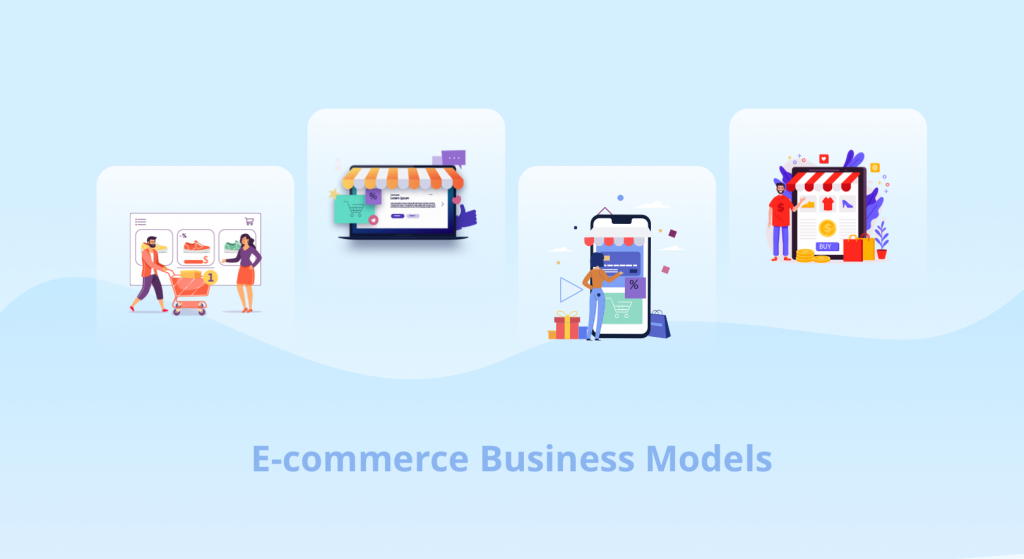 Dropshipping
For beginners in the e-commerce business, dropshipping has become quite a developed retail fulfillment form of trade. With zero or minimal capital, this model even enables businesses to sell and market their products online with no stocking inventory. Once the orders are placed by the consumers, it then ships the products directly to consumers right after they have bought it from the suppliers.
Moreover, the benefits of dropshipping include:
No need to rent any space for a warehouse or pay for stock management, packing & shipping products, inventory tracking or return handling.
Anyone can start with a minimum budget and scale up later on once they are a little stable and out of financial risk.
In this mode of business, no need to shed your sweat thinking about the inventory or manufacturing and the management of fulfillment.
One can easily invest their resources into its customer service, marketing, sales tactics, site design, etc.
Wholesaling
This form of the business model allows the e-commerce business owner to buy products in large quantities and at a discounted or wholesale rate. In the beginning, this mode of business was more suitable for B2B but thanks to the immense growth of the internet, now even C2C and B2C type of traders also practices this way of trading.
The popularity of wholesale business processes in an e-commerce store is rising faster than our expectations. Through modern sales channels like telemarketing, advertising agency, trade shows or influencer marketing for wholesale e-commerce requires enormous efforts in order to secure the business partners.
White Label
White label trading has become quite a common form of business nowadays. This type of business means one company is given the responsibility to manufacture the products and then another company gets to promote and distribute them. Nowadays many influencers do such business, where they sell off white-labeled items through their popular social networking channels.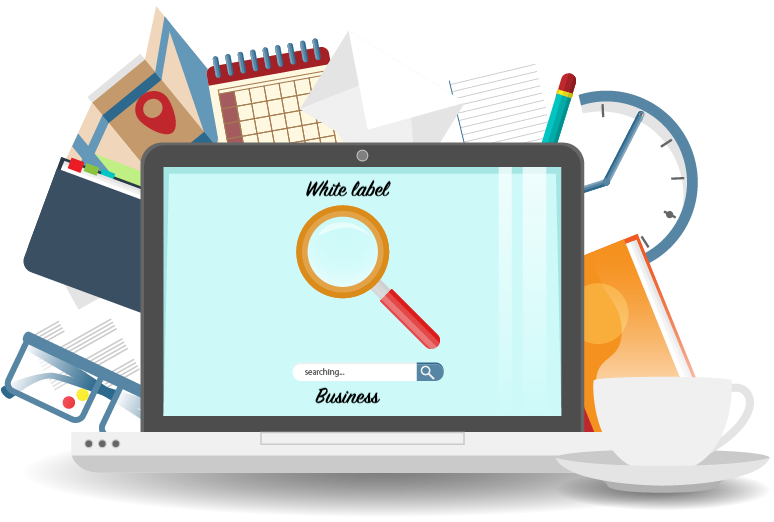 The major benefits of this kind of trade are that the business person doesn't require to look after the manufacturing and the quality of the product. As these are handled by the production house. But they had to face immense competition in the market. Moreover, the white-label traders are only responsible for the design of the package, not the specification or its quality. So it all depends on their marketing plan and distributing method that differentiates them from their competitors in terms of their USP.
But one difficulty that most white-label vendors face is the management of their inventory. As a reselling business agent, it becomes really tough for them to predict the demand for those white label products unless they are totally aware of its demand and supply stats from the manufacturing company. Also, many dealers set an order limit to achieve their overall production goal. And misjudging the inventory for the white-label business owners just leaves them with large pile of unsold products.
Private Labeling
There are many e-commerce or online marketplace business owner who has great innovative ideas about introducing new items to the market. But they don't have the manufacturing capacity or its relevant resources. So for those types of traders, the private labeling model works as an ideal form of business. Here they are able to make a certain amount of order to a certain manufacturing company and then they label those products privately with the label of their choice to sell it.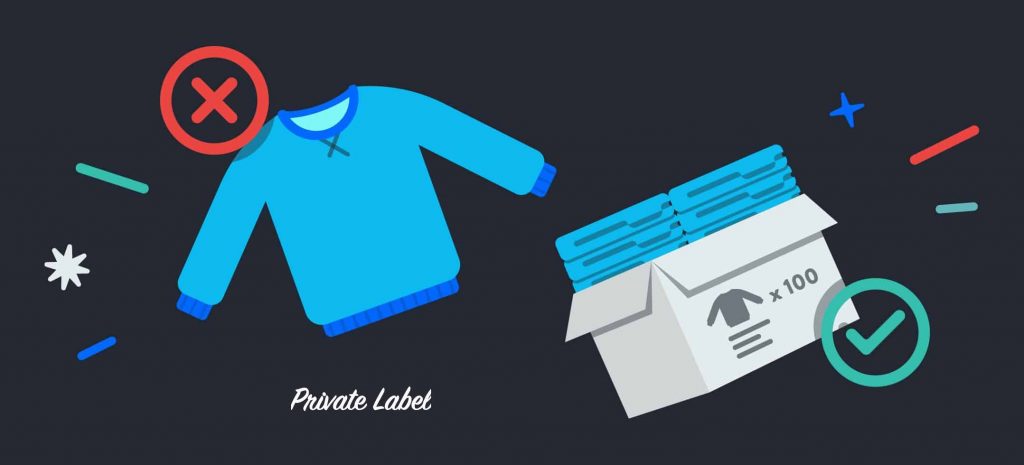 Mostly, the products with a privately labeled badge stay separated from their competitors and are developed, marketed or sold by the same company. It also holds the right to sell them under any private brand. Moreover, it gets to decide the specification, production quantity, design, etc. And since they are the sole seller of these unique products, therefore, these products have the potential of creating quite a demand hype among the new customers.
More precisely, they even set their own prices based on market research & demand. The operation and production cost is controlled by the brand company hence they are able to keep the cost of goods sold under check. This is the reason private label commercial products can enjoy a huge margin in profits being the only seller on the market.
Print-on-demand
Now, this form of business model is quite comparable to dropshipping and deals with customers who are looking for custom-made stuff. Mostly customer-designed items like t-shirts, hoodies, mugs, photo frames, phone covers, canvases etc are the main selling goods that fall in its categories. So when someone orders these products, there is this third-party printing manufacturer who nicely prints the chosen design by the customer and then packs it professionally with brand logos to directly deliver it to them.
Moreover, its benefits are quite relatable to that of dropshipping like no upfront fund is required including minimal risk in business. As orders are shipped the print-on-demand business only makes payment to the third-party vendor. Moreover, the inventory and the order are also managed and automated by these same third-party vendors. Quite a risk-free business model to say the least.
Subscription-based service
This is a business model that allows the customer to subscribe to a service for a certain period of time, more precisely through some Monthly or Annual plan. Once the subscription plan expires, the user can either renew the plan as per the company policy to continue further or cancel it completely if they find it unuseful to their business cause.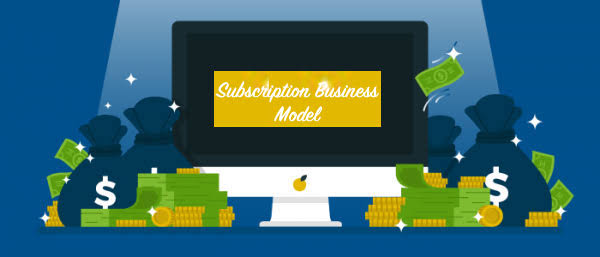 This form of business model has a number of advantages that make it quite alluring for e-commerce business setups. Its benefits include reduced cart abandonment with improved customer satisfaction and loyalty rates. Moreover, the delivery and inventor planning can also be done in advance in this mode of business. This enables the business owner to have a high margin of profit lowering the risk of inventory misjudgment.
WP ERP is a good example of a subscription-based plugin seller website. The site sells a yearly subscription plan for its complete business management solution for small to medium-sized businesses.
What's Next?
Picking the right business model is highly essential when you are looking for sustainable e-commerce business growth & success. Now that you have a clear idea about all the favorable business models for e-commerce/online marketplace sites so, therefore, it becomes extremely imperative for you to find out the type of business model that would best suit your business setups basing on the kind of business you are currently doing. Hopefully, the business models discussed above would help you realize the model you are looking for to implement in your e-commerce/marketplace settings at the moment. So best of luck with that.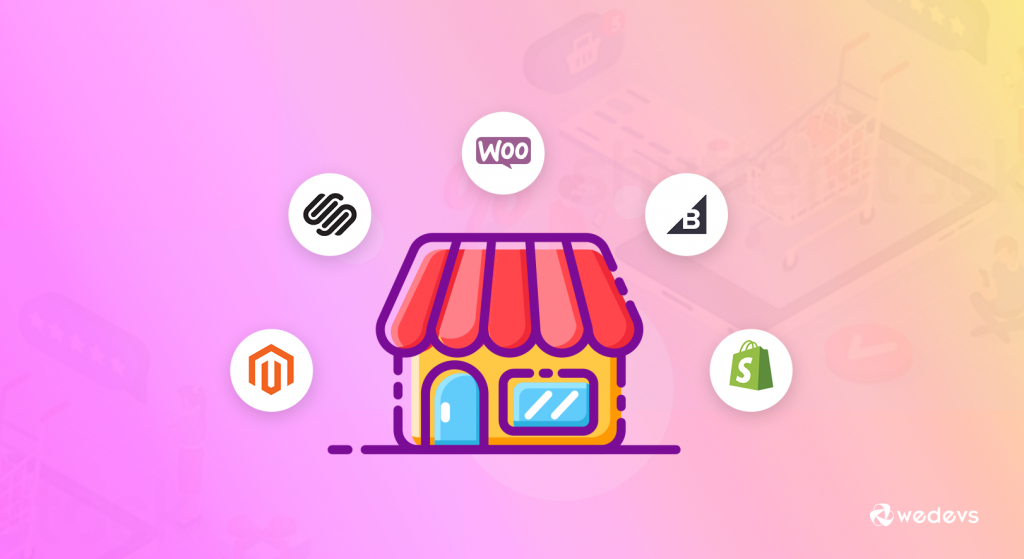 Moreover, nowadays many e-commerce business owners are looking to turn their single seller site into a multi-vendor marketplace. For them also, it is quite important to pick the right online marketplace business model, and even more important is to be able to pick a reliable and compact multi-vendor marketplace solution to achieve their desired success in this field.
Pick the Right Business Model & Marketplace Platform for Your E-Commerce Success
Choosing the best business model for your e-commerce or online marketplace can be quite challenging sometimes. Especially when you are new in the business of e-commerce, your strongest chance of being successful in this regard would always depend on how well your business model fits with your business process.
Moreover, in case you have already picked the perfect business model but are using a marketplace platform that doesn't meet most of your business demands. So choosing your business model is as important as choosing the right marketplace solution.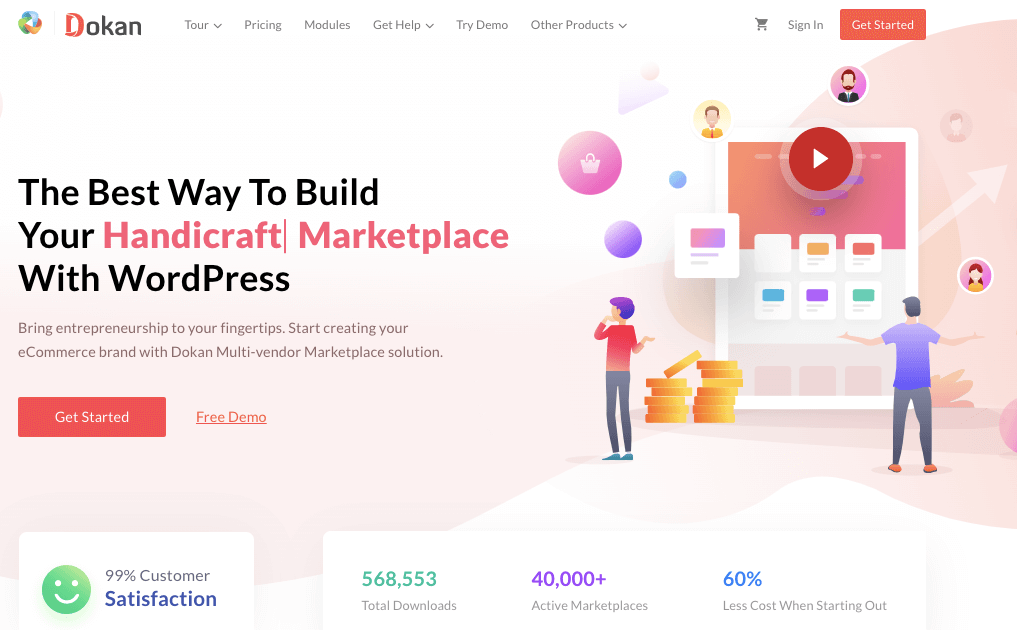 Now in case you are relatively new at e-commerce business and looking to set up an easy-to-use multi-vendor marketplace site of your own then there is this highly rated top-selling multi-seller marketplace solution, Dokan Multi-vendor Marketplace plugin.
Dokan Marketplace for WooCommerce enables its users to allow multiple vendors to sell their products seamlessly from the same site. As the owner of the marketplace, you can just simply manage your vendors from the backend and earn a commission set by you for each product sold by your registered vendors on your marketplace site.