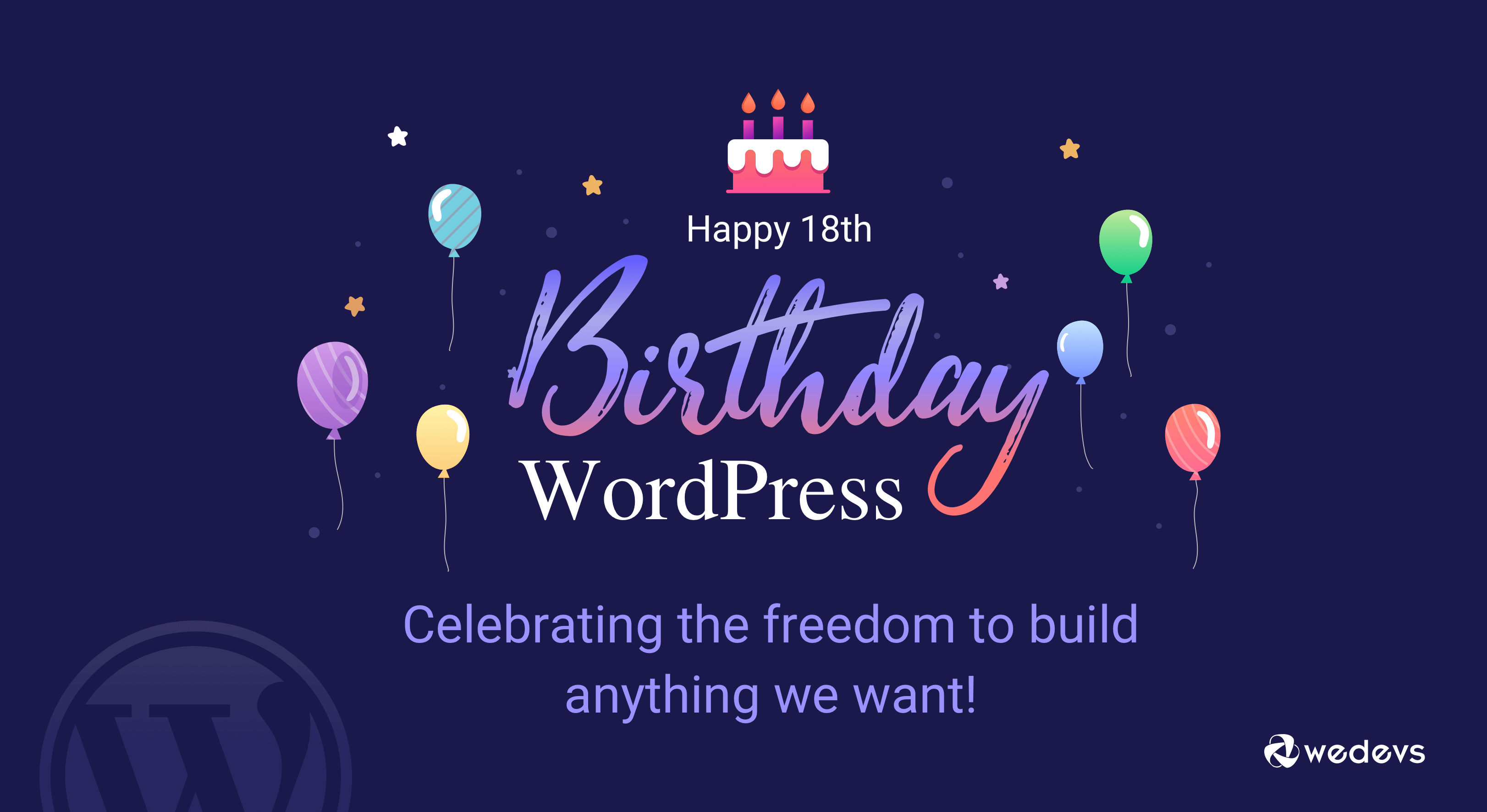 Happy Birthday WordPress! Celebrating 18 Years of Excellence from weDevs
Today WordPress celebrates its 18th birthday. That's right, it's been 18 years since American developer Matt Mullenweg and English developer Mike Little launched the initial version of WordPress. To mark this occasion, we show you some of the biggest milestones from WordPress history.
With continuous growth and development, WordPress becomes the world's most popular content management system. Currently, it empowers 34% of all websites on the internet- such a big achievement!!! Though this success doesn't come overnight, it definitely grows faster. Even, the founder pair may not expect this immense success within such a short time period.
However, it's time for celebration 🎉. Be a part of this amazing journey to know how WordPress comes to its today's position:
How It All Starts with Matt Mullenweg and Mike Little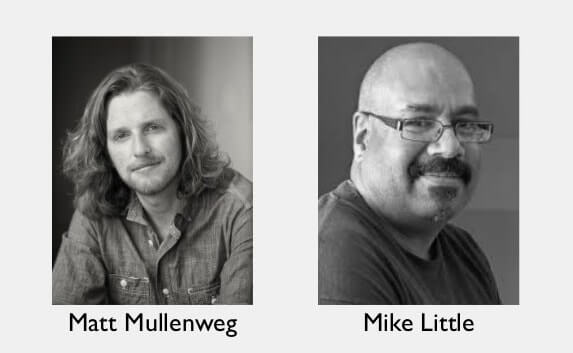 It's a long 18 years story of two extremely talented people- Matt Mullenweg and Mike Little. They launched the first version of WordPress on May 27, 2003. This open-source platform wasn't just a copy of its predecessor. Rather the partners started this program with a bigger vision of making website building easier for all. In the early days of WordPress, they introduced an improved admin experience and the finest templates to build stylish page layouts with extreme ease.
The WordPress software is written in PHP language. Besides, it uses MySQL for maintaining the database. Christine Selleck Tremoulet suggested the name WordPress. He is a prolific blogger and a friend of Mullenweg. Later he became the co-founder of WordPress.
As of May 2021, WordPress is used by 64.8% of all the websites whose content management system is known. This is 41.4% of the top 10 million websites.

wikipedia.org
At first, WordPress strengthen its position as the world's most popular blogging platform. But gradually, it became the top choice for business websites as well.
What Revolution WordPress Brings to The Industry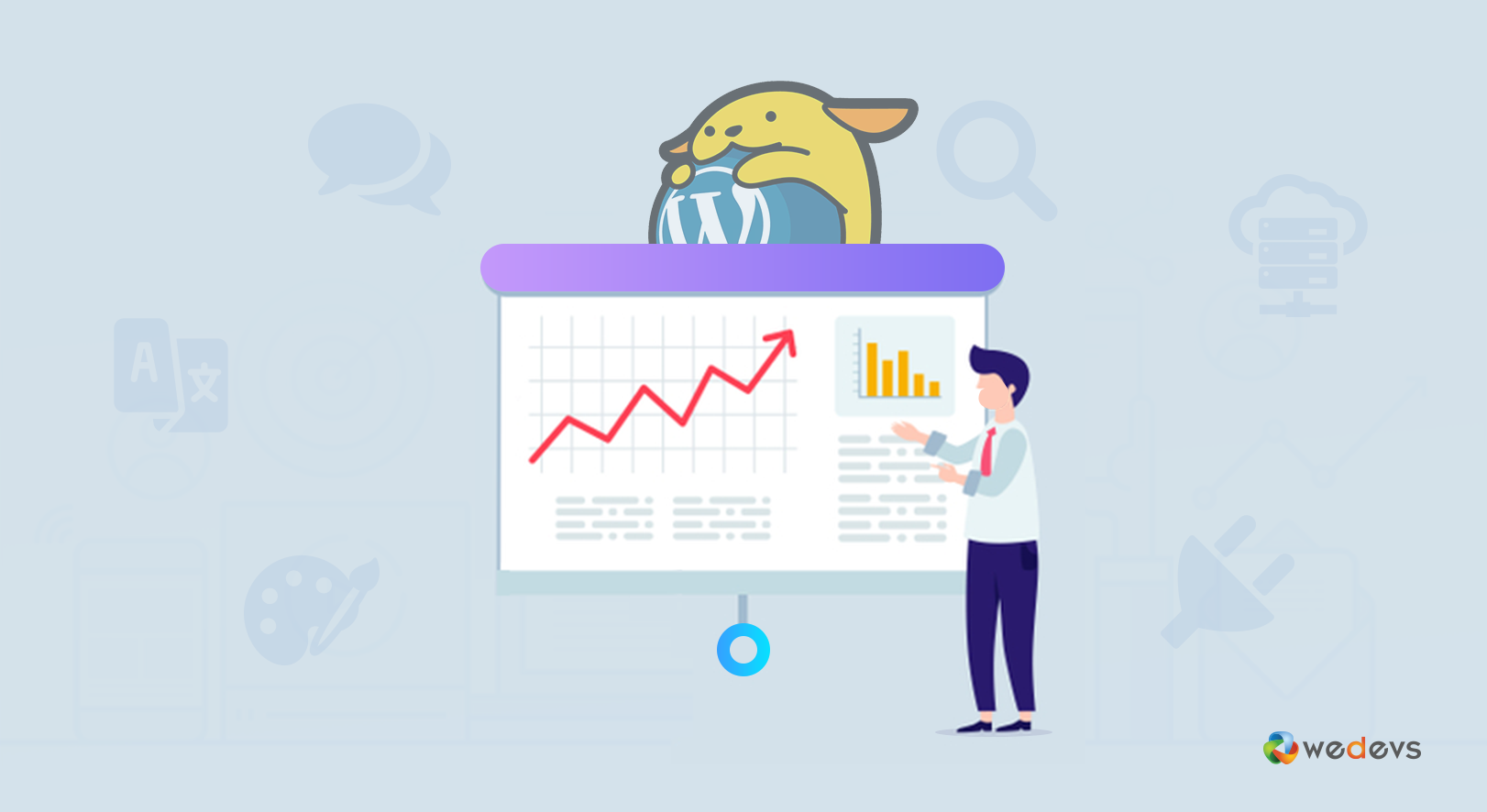 Since it launched in 2003, WordPress breaks the conventional trend of web development. The best part about WordPress is that it's free, incredibly flexible, and gives you complete design freedom. Now anyone can build different types of websites regardless of technical skill. No need for any prior coding knowledge or hire a high-rating web developer.
On top of that, new additions and continuous improvements make WordPress history more incredible to its users. WordPress supports a rich library of interactive themes and plugins hence it enlarges the customization arena to infinity. In short, WordPress makes it generalize and diminishes the concept- Only programmers can build a website.
Throughout these years (2003-2021), WordPress becomes a powerful website builder and a robust content management system (CMS). It's really difficult to describe the entire journey in this short time. Here, we picked some major events from WordPress history and present them below:
A Quick Timeline of Major Features and Events from WordPress History
| | |
| --- | --- |
| 2003 | Matt Mullenweg and Mike Little released WordPress |
| 2004 | Added some major features like plugins, hierarchically category support, browser installation, search engine permalinks, etc. New releases: Version 1.0.1 (Miles) & Version 1.2 (Mingus) |
| 2005 | Introduced the Theme system, a modified user role system, and a new backend UI. New releases: Version 1.5 (Strayhorn), Version 2.0 (Duke) |
| 2006 | First WordPress' WordCamps was held in San Francisco |
| 2007 | Released 3 new versions: 2.1 (Ella), 2.2(Getz), & 2.3(Dexter) |
| 2008 | Introduced the WordPress Theme Directory and today's admin dashboard through the releases of Version 2.5(Brecker), Version 2.6 (Tyner), and Version 2.7 (Coltrane) |
| 2009 | Streamlined web development workflows. New releases: Version 2.8 (Baker), Version 2.9 (Carmen) |
| 2010 | Introduced some major structural changes. New release: Version 3.0 (Thelonious) |
| 2011 | Brought changes to make WordPress more user-friendly. New releases: Version 3.1 (Reinhardt), Version 3.2 (Gershwin), and Version 3.3 (Sonny) |
| 2012 | Introduced theme customizer & previews as well as a new media manager. New releases: Version 3.4 (Green) & Version 3.5 (Elvin) |
| 2013 | A brand new look and multiple updates. New releases: Version 3.6 (Oscar), Version 3.7 (Basie), Version 3.8 (Parker) |
| 2014 | Improved the content creation process. New releases: Version 3.9 (Smith), Version 4.0 (Benny), Version 4.1 (Dinah) |
| 2015 | Focused on mobile experience and improved responsive images and embeds. New releases: Version 4.2 (Powell), Version 4.3 (Billie) & Version 4.4 (Clifford) |
| 2016 | Brought significant speed changes, formatting shortcuts, and responsive previews in Customizer. New releases: Version 4.5 (Coleman), Version 4.6 (Pepper), & Version 4.7 (Vaughan) |
| 2017 | Refined theme customizer, new gallery widget, modified text, and video widgets. New releases: Version 4.8 (Evans) & Version 4.9 (Tipton) |
| 2018 | Introduced new block-based editor Gutenberg with new default theme "Twenty Nineteen". New releases: Version 5.0 (Bebo) |
| 2019 | Extended features of the block editor by improving performance. New releases: Version 5.1 (Betty), Version 5.2 (Jaco), Version 5.3 (Kirk) |
| 2020 | Focused on speed and security improvements to WordPress. New releases: Version 5.4 (Adderley), Version 5.5 (Eckstine), & Version 5.6 (Simone) |
| 2021 | Simpler layout to make web development easier. New release: Version 5.7 (Esperanza) |
WordPress Timeline at a glance
Rewards & Recognition So Far!
Let's see the list of awards WordPress adds to its bucket to date:
WordPress gets a five-star privacy rating from the Electronic Frontier Foundation.
Winner of InfoWorld's "Best of open source software awards: Collaboration", awarded in 2008
Winner of Open Source CMS Awards's "Overall Best Open Source CMS", awarded in 2009
Matt Mullenweg was awarded as the Winner of the TechFellow Award for "Product Design and Marketing" in December 2010
Winner of digitalsynergy's "Hall of Fame CMS category in the 2010 Open Source." awarded in 2010
Matt Mullenweg comes to the list of the top 10 most influential people online for changing the face of the internet by Business Insider in March 2011
Winner of Infoworld's "Bossie award for Best Open Source Software." awarded in 20211
Mike Little was given the "Outstanding Contribution to Digital" award at SAScon for confounding and developing WordPress in June 2013.
Winner of CMS Critic Award's "Best CMS for Personal Websites." in 2015
New in WordPress? Read this easy guide to install WordPress on your localhost.
18 Interesting Stats & Facts from WordPress History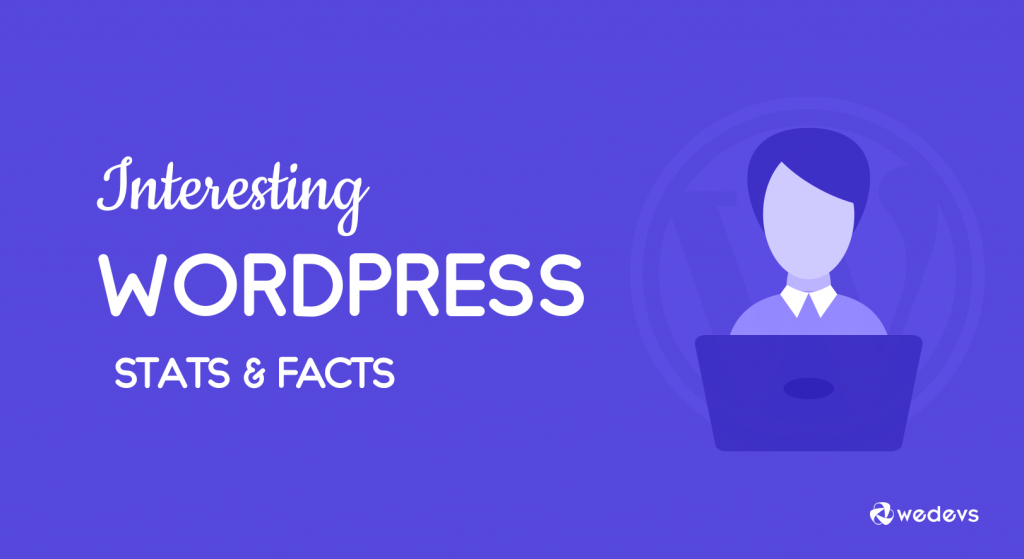 This 18-years is not only remarkable for WordPress, but also for the users who get utmost benefits throughout this journey. Let's glorify the celebration knowing the 18 most interesting facts about WordPress history:
WordPress powers over 75 million sites on the web
WordPress is older than Twitter and Facebook
All major releases are named after jazz musicians
WordPress dominates 76.4% of CMS Market Share
WordPress is available in 68+ Languages
A WordPress developer earns around $63,375 in the US

The term "WordPress" is searched for over 3 million times each month 

A Google search of "WordPress" gets you about 1,570,000,000 results
WordPress.com and WordPress.org are not the same
58,367 WordPress plugins & 11,000 themes and growing daily
WordPress has NO CEO and it is not owned by any company
Over the years 382 persons write over a million lines of code for WordPress
More than 123 million people downloaded WooCommerce
The WordPress core software is GDPR compliant
Requires less than 60 seconds to install
49% of hacked WordPress websites used an outdated version
WordPress WordCamps span across sixty-five countries; 1,080 events in 371 cities
The latest version of WordPress 5.7 has been downloaded 52,686,610 times so far & growing every second
Read this blog to explore most marvelous 100+ WordPress stats & facts.
How weDevs Amplifies the Happiness of This Special Moment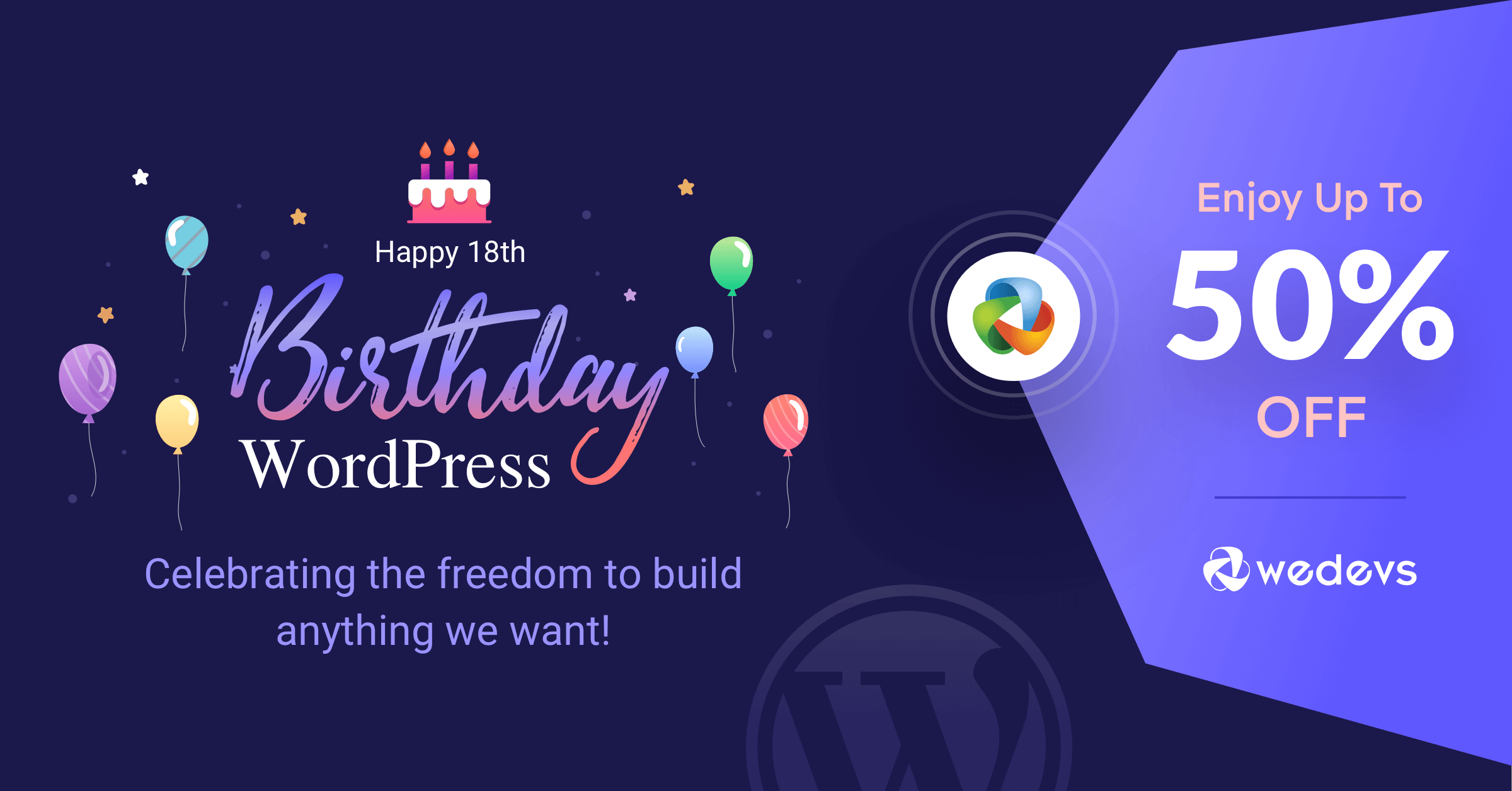 weDevs is the creator of many prominent WordPress products like plugins and services. We are also celebrating this big event by announcing some alluring deals for WordPress users.
This year, you can enjoy up to a 50% discount on all weDevs products.🤩
Once Again: Happy 18th Birthday, WordPress!
The world's favorite content management system WordPress turns 18 today. Along the path, WordPress leaves its footprints in every section of web development. Thus, people can experience a better way to create promising websites. And actually, we reap the benefits. The glorious WordPress history testifies to this entity.
What comes next in WordPress? Mullenweg has already stated that the future of WordPress lies in social and mobile features, as well as an application platform. So, fasten your seat belt to enjoy a wilder ride for the next 18 years!
From all of us at weDevs, we want to say Happy Birthday WordPress! It was a great journey of 18 years. We're eagerly waiting to celebrate the next 18 years with more festoons and glory.