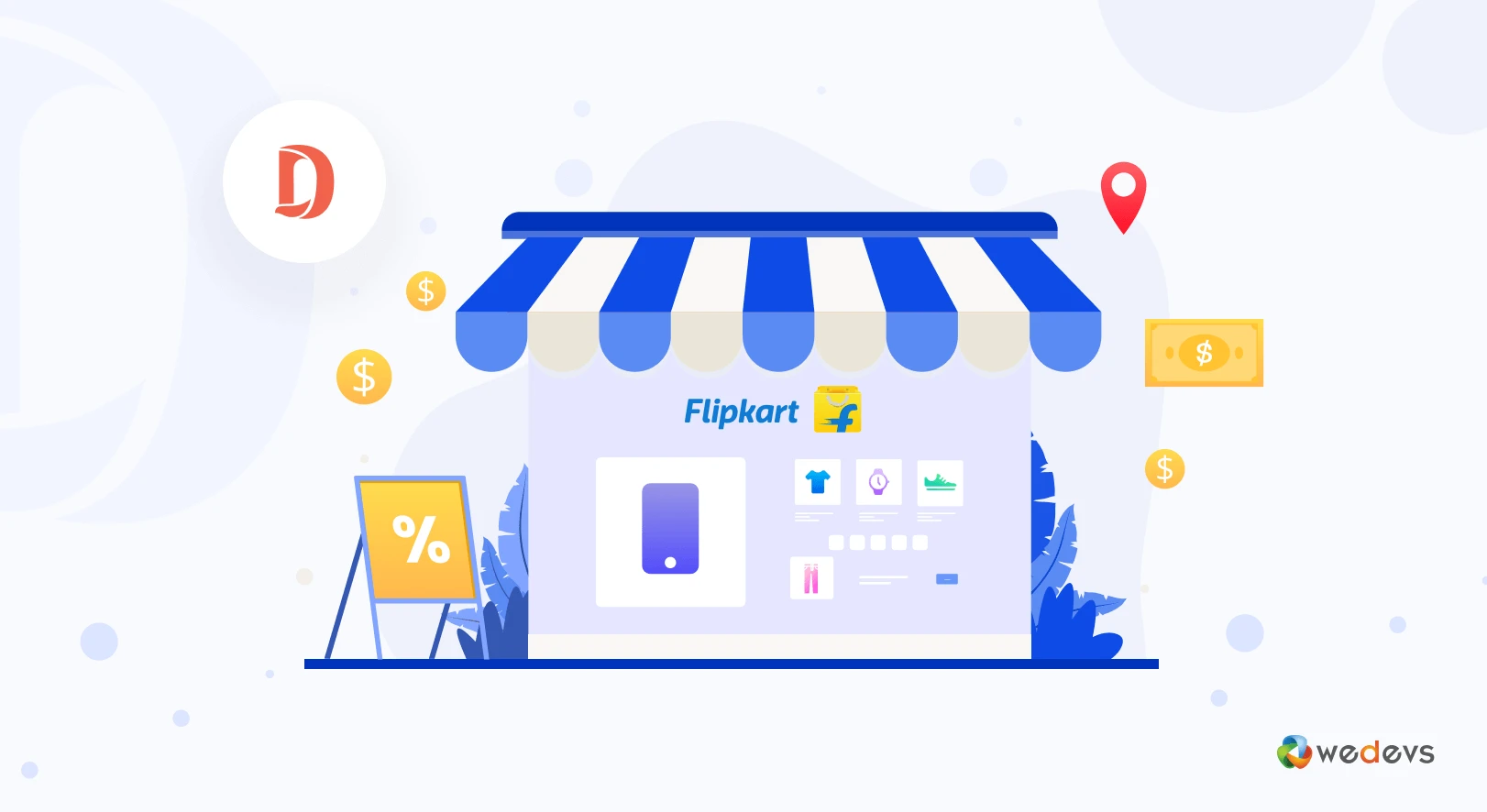 How to Start an Online Business like Flipkart Using WordPress (Step by Step Tutorial)
Rather than building a single online store, a multi-seller marketplace can offer you more possibilities. That is why creating websites like Flipkart, Amazon, eBay is an optimal idea in this digital world.
Flipkart is one of the largest eCommerce ventures in the world from India. This multi-vendor website serves as the platform for vendors to display their products to the website's visitors. Initiated in 2007, Flipkart is the first Indian eCommerce site to reach the $1 billion mark.
So, if you are looking to learn how to create an online business like Flipkart and start your own eCommerce industry then you are in the right place. We are going to show you the detailed steps on how you can create a website like Flipkart.
But before we jump in here is –
A Brief Introduction to Flipkart
Flipkart works on B2C model. They give vendors a platform to sell their products and basically work as a middle man between vendors and customers. They generate revenue by charging a commission, a convenience fee, logistic charges, advertisement, etc.
In India, currently, it has a market share of 31.9%. Flipkart has more than 200 million registered customers worldwide as it offers more than 150 million products in more than 80 categories. More than 36000 employees are working 24/7 to maintain this user base efficiently.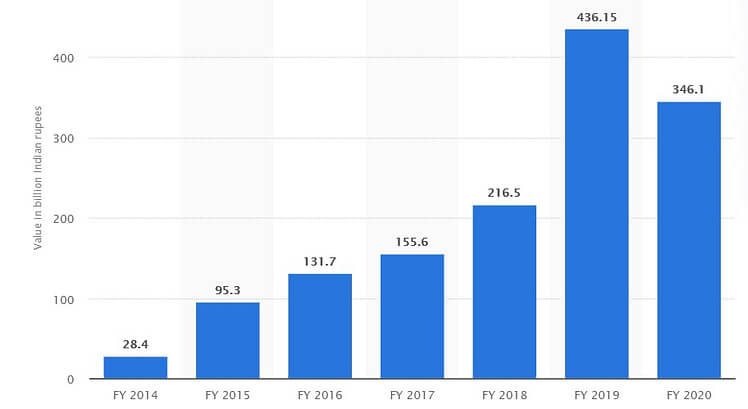 Since its inception, Flipkart is able to maintain its steady growth in the ever-changing and growing eCommerce market in India. After Walmart bought a 77% stake in August of 2018 for $16 Billion, the evaluation of Flipkart stood at $20 Billion. At the end of that year, the net revenue was $217 Billion, which is astonishing.
Better product assortment, greater brand recall, and lower prices support this eCommerce giant score over its competitors like Amazon, Paytm, Snapdeal, and Shopclues.
Flipkart is gradually building its reputation and working to increase its market share. Besides, Flipkart is ruling the market compared to others in the Indian fashion and lifestyle and budget smartphone segment.
How to Start a Online Business Like Flipkart (6 Steps to Follow)
WordPress has made it easy to create sites without the hassle of coding. You can create a professional-looking website within minutes using various WordPress plugins. One of those plugins is WooCommerce, which helps create an eCommerce site with ease.
However, WooCommerce helps you create a single-store website, but if you want to turn your single-store into a multivendor marketplace then you need Dokan.
Let's see how to create a multivendor marketplace using WooCommerce & Dokan that will have all the features of a marketplace like Flipkart. Let's get on with the process, shall we?
Pre-requisites
Before you start, you need to have these plugins installed on your WordPress site,
Also, choose a theme of your preferences. You can use any of the compatible themes for Dokan or use the Dokani theme.
Step 1: Get Started by Configuring Basic Settings
Before you add your advanced functionalities, you need to first configure the basic settings of both WooCommerce and Dokan.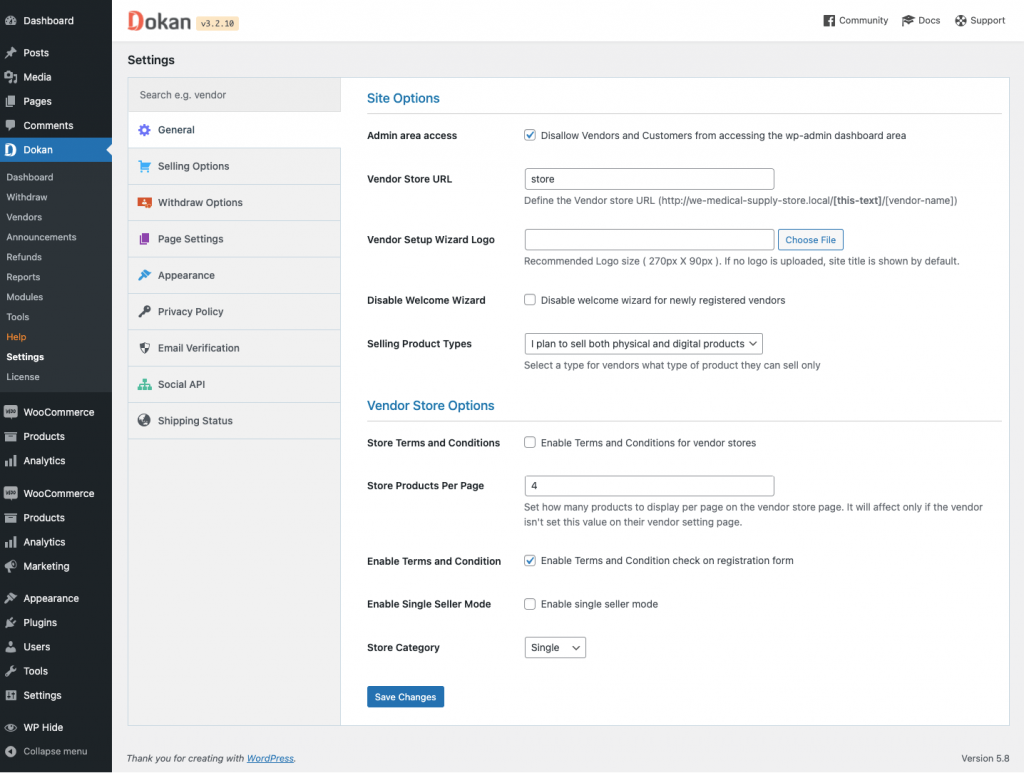 You will find withdrawal methods, the selling options, organize the pages ( dashboard, my orders, store list, terms, and conditions page ), store appearance, emails, social verifications, etc. Setup these options according to your preference.
Also, you need to configure the commission rates as well. You will find the settings in the Selling Options.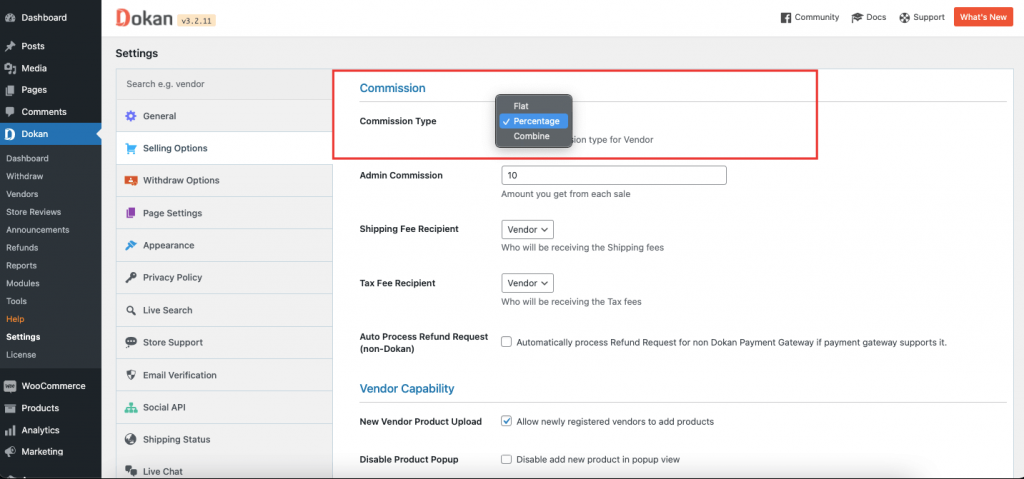 If you have any confusion then you can refer to the Dokan Settings.
Step 2: Enable Multiple Payment Options
To make the transaction process smooth, you need to have multiple payment methods in your marketplace. By default, WooCommerce has Check, Bank Transfer, Cash on Delivery payments options. But, these payment methods can only help your local customers.
If you want to make your marketplace global, then you need to add more payment methods. Dokan has Wirecard, Stripe, PayPal integration. You can configure them to add extra payment methods to your marketplace. This will surely give your marketplace flexibility.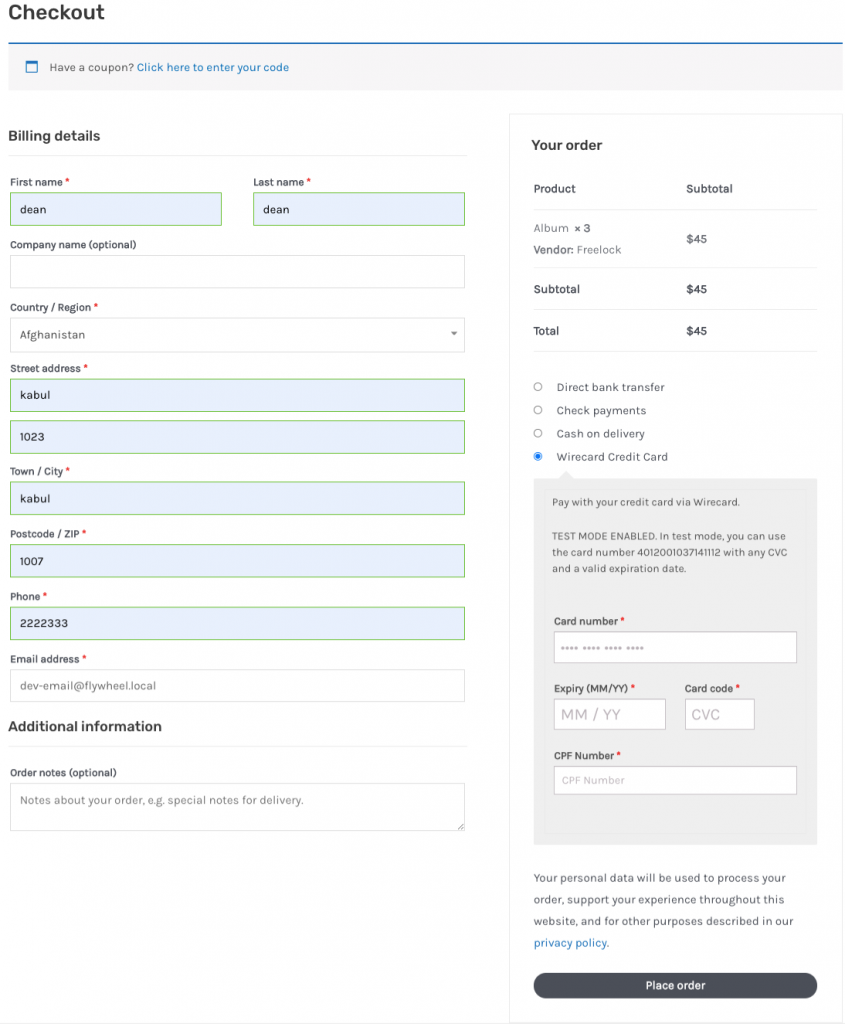 Step 3: Enable Shipping Options
You can create zone-wise shipping using WooCommerce. Navigate to WooCommerce–> Settings–> Shipping. There you will find the necessary options to create shipping for different zones.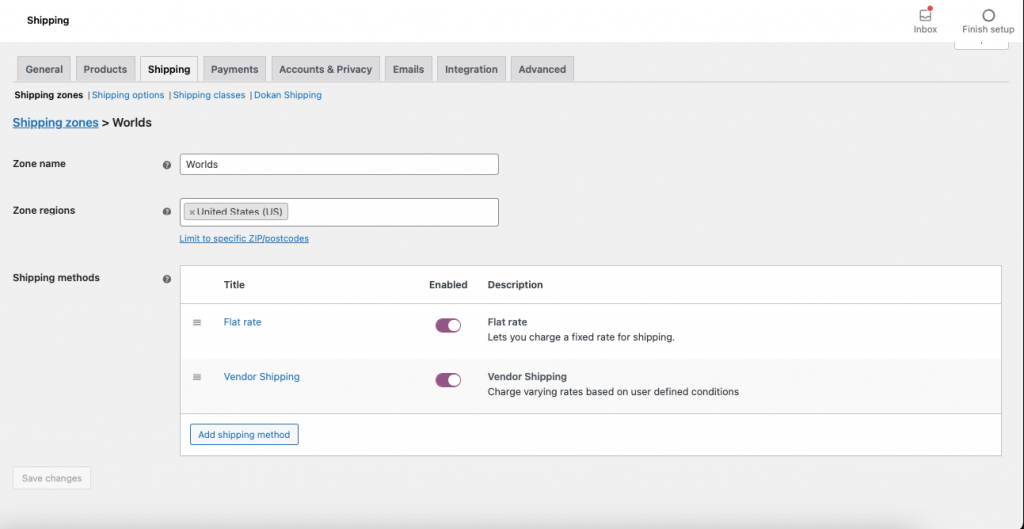 And with the Dokan zone-wise shipping feature, vendors can add their own shipping method straight from the dashboard. Vendors will be able to add multiple shipping zones, shipping methods, and shipping classes straight from the Vendors Dashboard.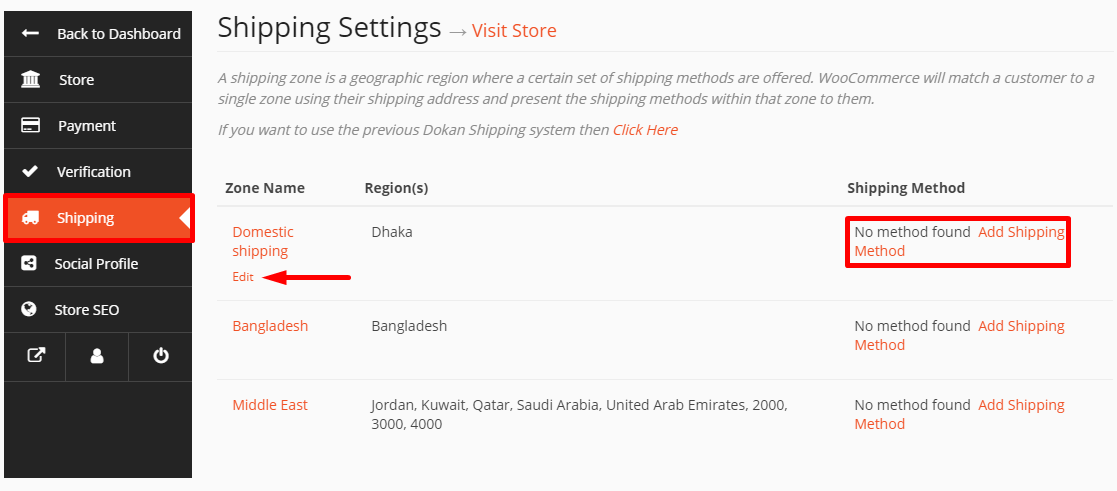 Step 4: Activate Vendor Review System
We already stated earlier the importance of a customer review system. Using the Dokan Vendor Review module you can easily add a customer review system for your marketplace. With this feature, customers will be able to,
Post text reviews on any vendor
View all the reviews in the review tab
Rate the vendors at a 1-5 star rating
See the rating that is displayed on each storefront.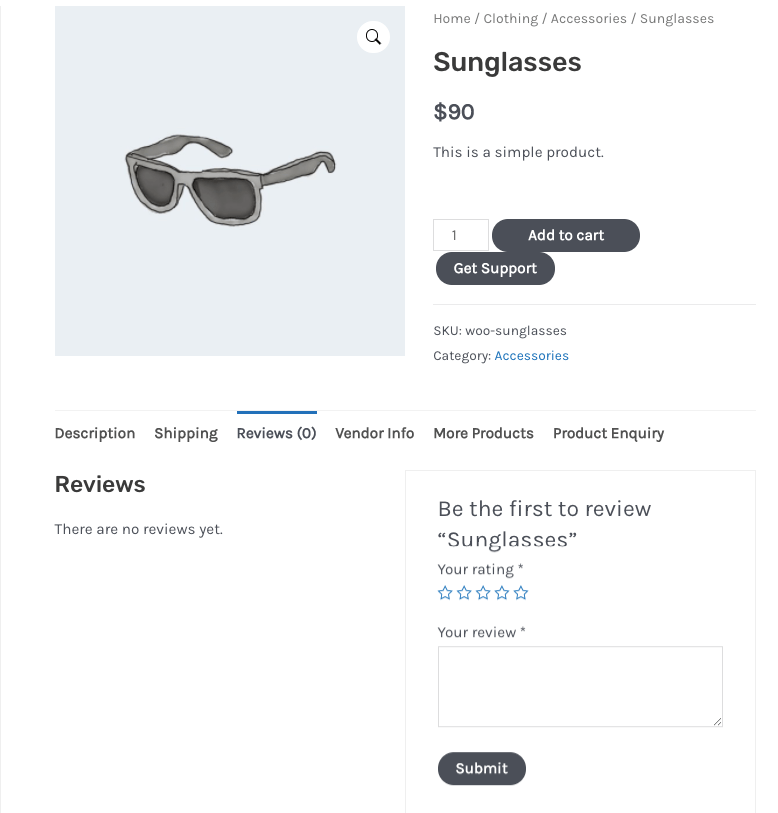 Step 5: Add Live Search Option
The Live Search Module will put a live search feature on your product page. You need to drag n drop the live search widget to your desired area.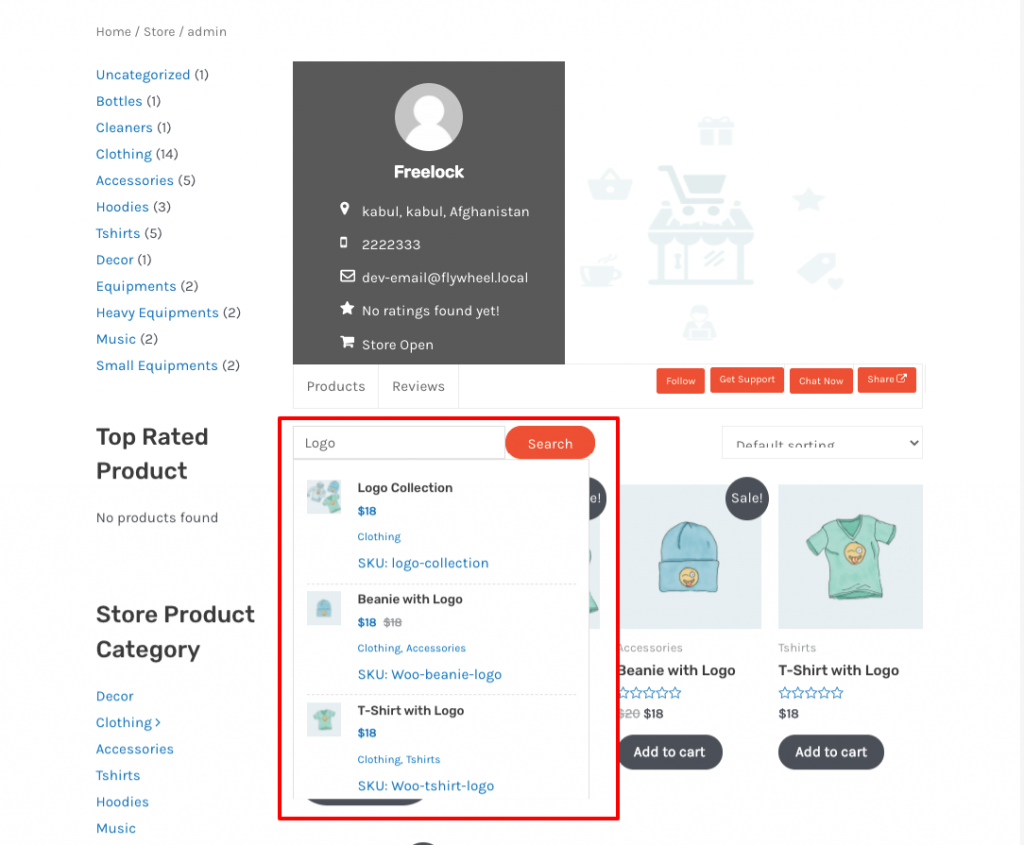 Step 6: Enable Vendor to Register on Your Website
Your marketplace is almost ready. Now you need to invite vendors to your marketplace. But first, you need to create a registration form for vendors. If you enable the settings from WP Admin–> Settings–> Membership, then vendors will be able to register on your marketplace as Dokan has a default registration form for vendors.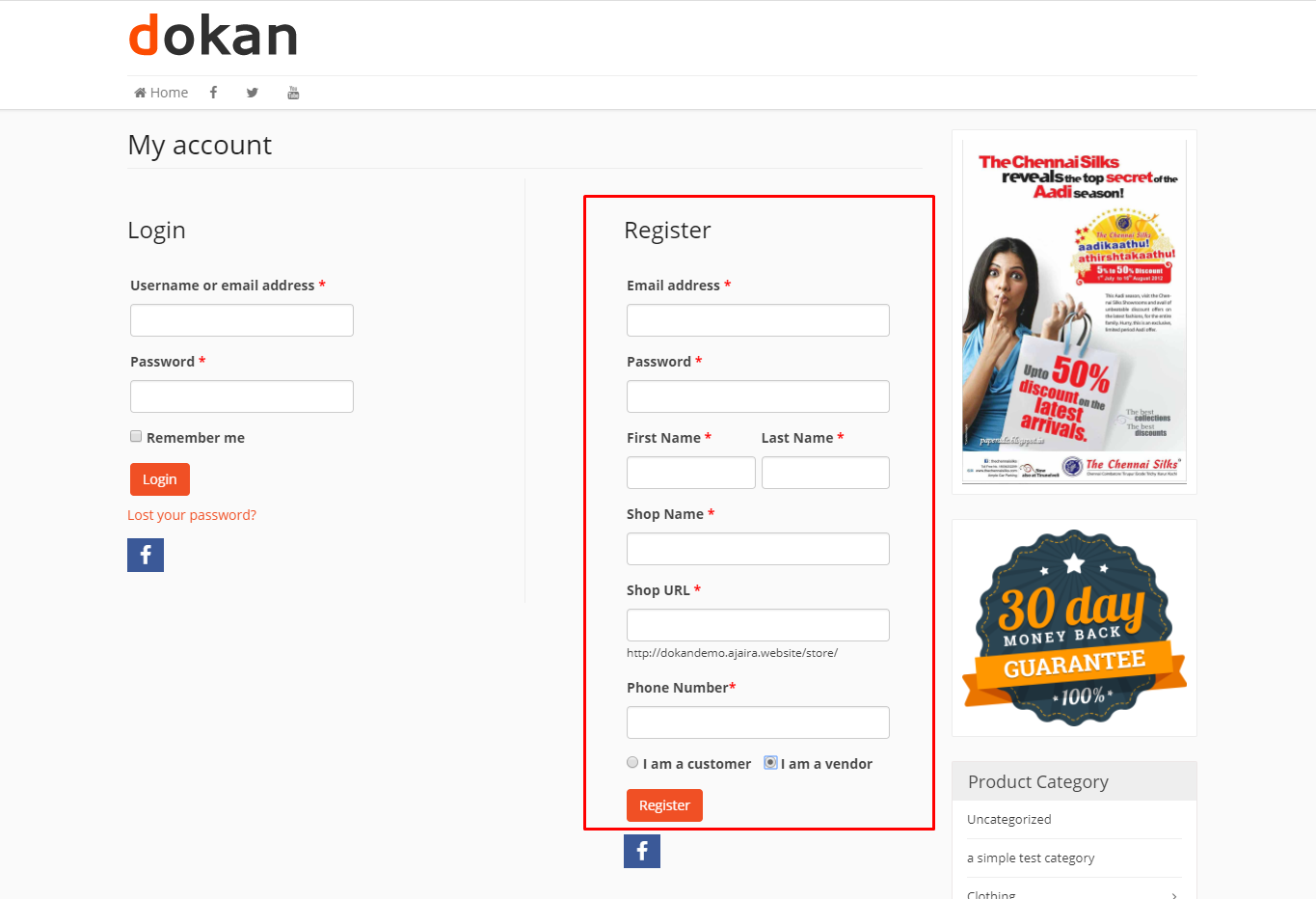 Or you can create a customized registration form from scratch.
When a vendor registers on your marketplace, they will find a separate store window. They can add store names, upload products, add store banners, store addresses, and more.
Read: How to Find Vendors for Your Marketplace!
Final Preview: Your Marketplace is Ready, You are Ready to Launch!
Finally, you are ready to launch your marketplace. If you want you can create your own store and earn some extra money along with the commission.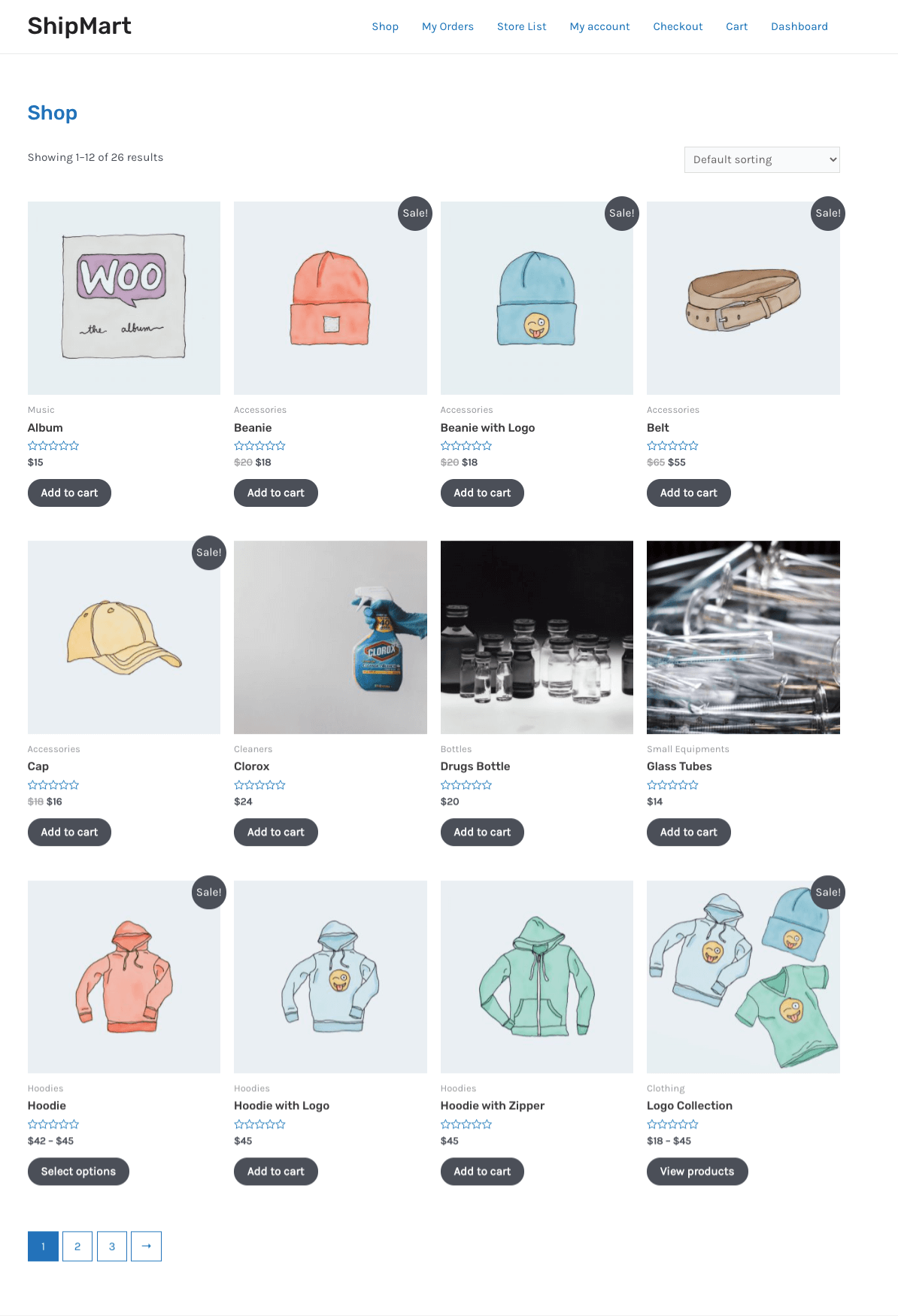 So now you know how to start an online business like Flipkart.
Must-have Features to Create a Website like Flipkart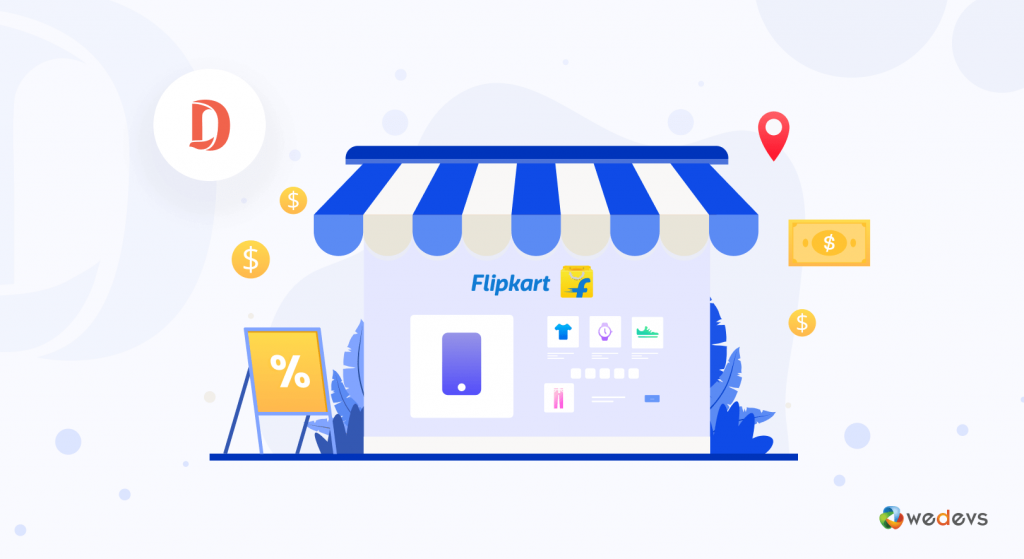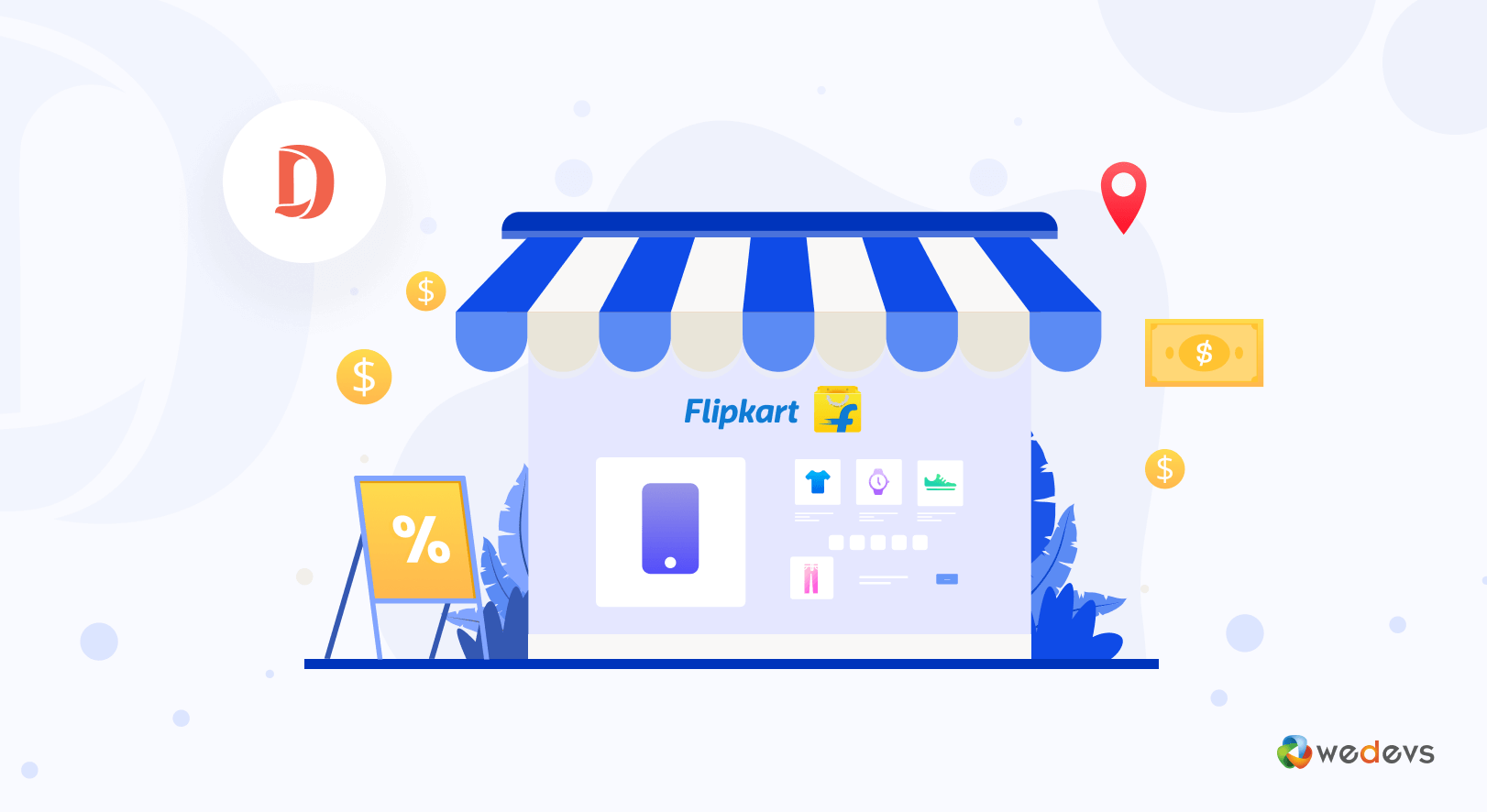 Flipkart has a very big team that helps maintain their site 24/7. However, you may not have that kind of team or resources to do that.
Does that mean you can't create a website like Flipkart? Yes, you can. If you can understand why websites like Flipkart stand out then you can progress towards creating your own eCommerce site.
Flipkart focuses mainly on generating the experience of buying and selling an effective one for the vendors & customers. Here's what you need to know to learn how to start an online business like Flipkart,
1. Offer a Range of Products
As we said earlier, Flipkart offers more than 150 million products. Well, you may not have that kind of product range at the start, but you should have a site that is flexible and can handle a wide range of products.
2. Maintain an Efficient Order Management
Flipkart has an effective order management system, that ensures that the products reach the customer's hand as efficiently as possible. It manages the journey of each item in the cart. For you to have a successful eCommerce store, you need to have an efficient order management system.
3. Provide Separate Store for Every Vendor
If you signup to become a seller in Flipkart, they will provide you with a separate store page. This gives all the vendors the opportunity to set up their shop as they want and also maintain their individuality. Moreover, they can set up their pricing and offers individually for their shops as well.
4. Add Multiple Payment Options
This is a very important feature to have on your marketplace. As Flipkart does business globally, they have customers from every corner of the world. To make sure every customer experiences a smooth journey, they have multiple payment options in their marketplace.
So, customers can easily pay for their orders via multiple payment methods.
5. Enable Various Shipping Options
Again, customers from different parts of the world order from Flipkart. Without a proper shipping system, it will become impossible to deliver products. That is why they added multiple shipping options so that customers can receive their products on time and vendors can charge accordingly.
If you are planning a start an online multivendor marketplace like, then you must add shipping options to your store.
6. Implement Customer Review System
Trust is an important factor for any eCommerce business. And ratings and review is a part of the trust-building process. In a marketplace, different vendors are selling the same type of products. So, how are customers going to determine which one is the best? By seeing reviews and ratings.
Before buying a product, customers look for reviews and ratings of other customers. Then they decide whether or not they will buy the product.
That is why you need to add a rating and review system to your marketplace.

7. Flexible Shopping Cart
A marketplace website is not a small website. It is a big website with many pages including the about section, product pages, individual store pages, FAQ section, etc. You need to make sure that customer can access their cart from any page.
It is important that the cart option is easily accessible from anywhere on the website. So, customers can easily proceed with the checkout process.
8. Provide Search Options
If you look at Flipkart, they have a search and filtering option that helps customers to look for their preferred products. That way they don't need to search the whole website and waste valuable time.
Also, having to look for products manually is frustrating and eventually, it leads to users leaving the site. So, it is important to have search options on your online store.
9. Provide Special Deals & Offers
Deals and offers are a great way to capture the attention of customers. You will find special deals and offers on a regular basis in Flipkart. This not only helps in attracting new customers but also increases your retention rate.
10. Ensure Faster Loading Time
It's not for just multi-vendor marketplace, but true for any kind of website. A faster loading time helps with the website's performance. Remember not to make your website heavy and keep it as light as possible. Only add the necessary features.
Flipkart uses lazy load to make their website faster and it takes only 5.78s to load. Imagine the size of the Flipkart website and it takes only 5s to load. 2-6 is the maximum window to load a site. Greater than that it will increase your bounce rate.
Read: Make Your WooCommerce Site Load Faster With These Useful Tips
If you are looking to learn how to create a website like Flipkart, then you need to have these features in your marketplace.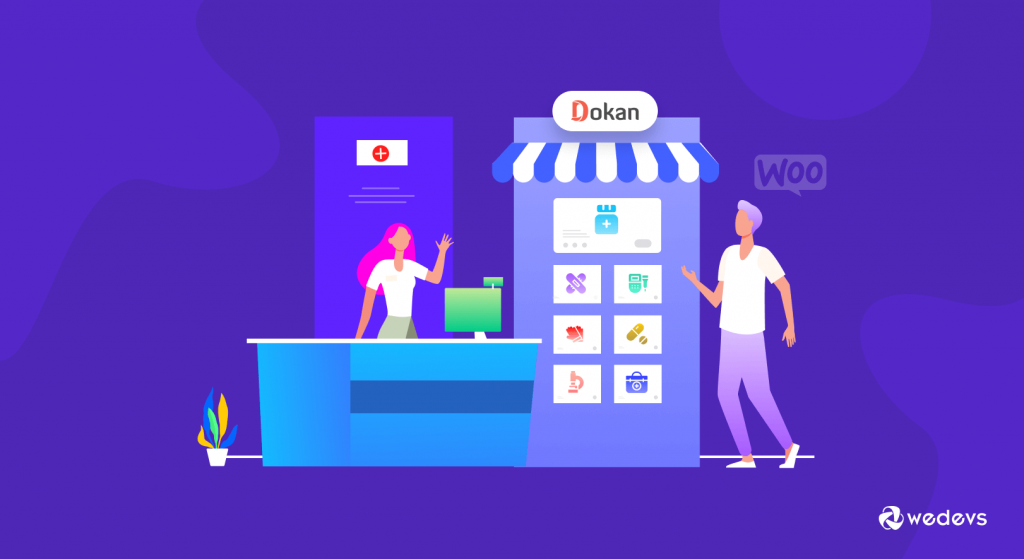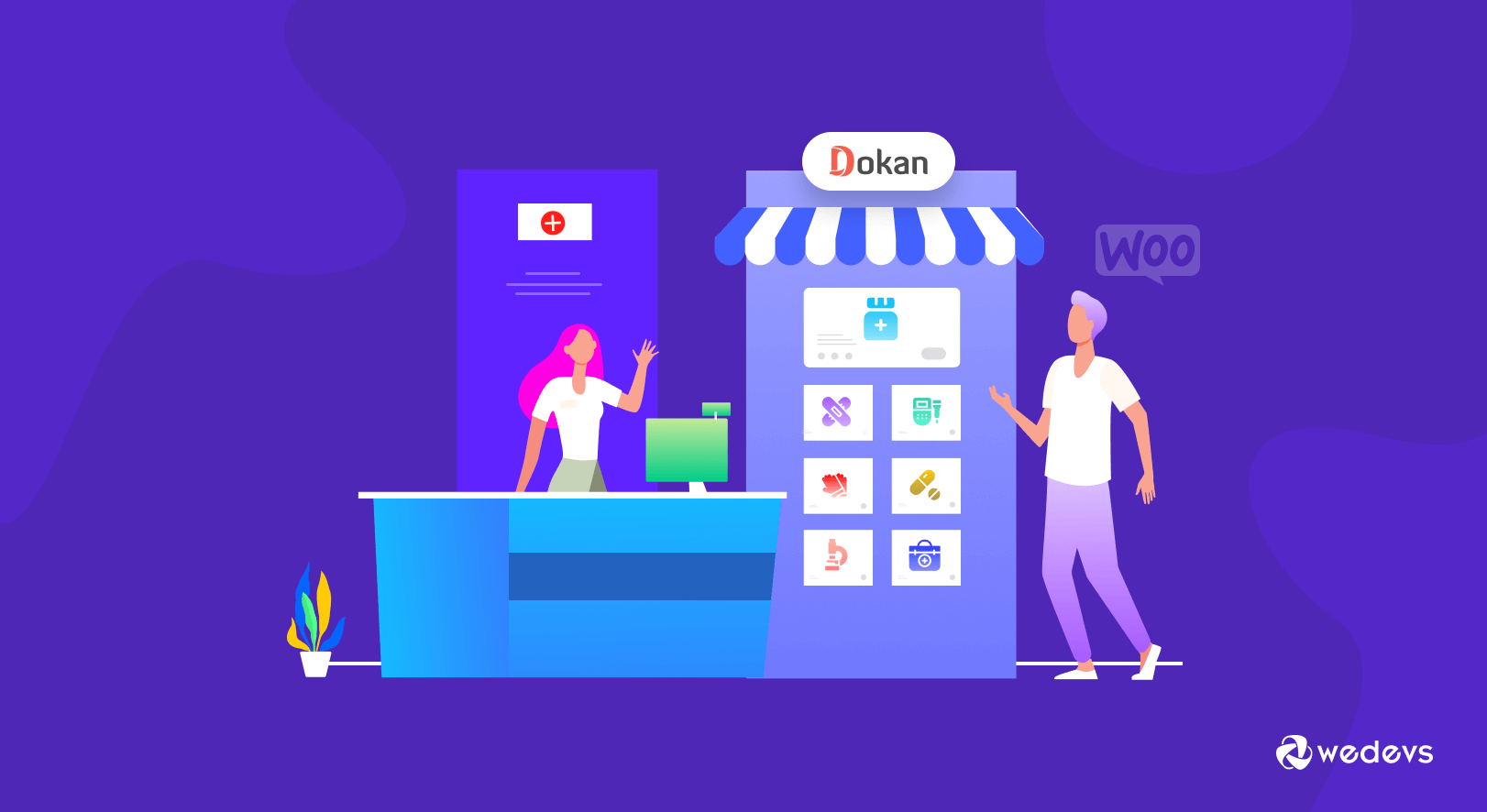 You must be thinking that creating a website with all those features included should be hard. Well, it is not. In addition, you don't even need coding knowledge to start a website like Flipkart.
Yes, using the Dokan multi-vendor marketplace plugin, you can easily create a WordPress multi-vendor marketplace like Flipkart within a few hours. And with all the above features included.
And if you want to learn more about Dokan and its features you can refer to this article.
Start Your Own Flipkart Today!
Now that you know how to create a website like Flipkart, it is time to take action. However, creating an online marketplace like Flipkart doesn't end with launching the marketplace.
Only learning about how to start an online business like Flipkart is not enough. You need a proper promotion strategy to reach your target customers. Brand your website both offline and online to increase traffic as well as drive sales.
You can check these effective ways to promote WooCommerce store products to ensure your business growth and proper return on investment.
Read: How To Scale A Marketplace For Growth: Key Strategies You Need to Know
Creating an eCommerce website is the ideal way to keep your business competitive and to increase access to your products. Engaging users with innovative solutions and infusing technology to ensure discoverability, user experience, and responsiveness adds success to an online store. Flipkart meets these requirements perfectly and becomes the prominent eCommerce website in India. Keep these things in mind while designing your eCommerce website.