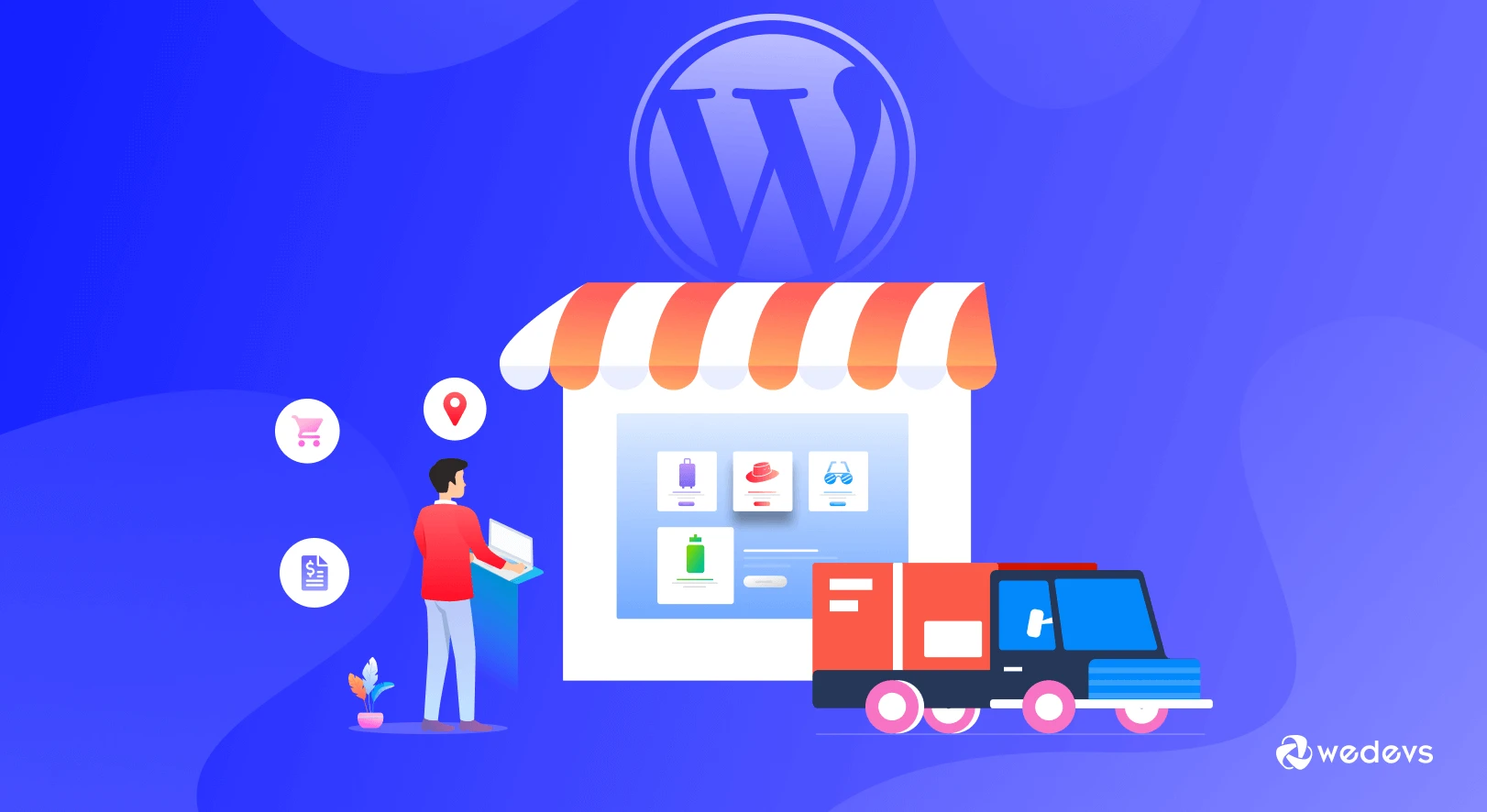 WooCommerce Shipping Method Explained: Elevate Your Customer Experience to Higher
You're giving so much effort to make your customer journey remarkable. Upload the latest products, keep the navigation simple, include multiple payment gateways, everything with the aim of leaving your customers satisfied. But when it comes to shipping, you hand over the responsibility to a stranger.
Researchers say – around 80% of customers admit they won't return to a brand if they had a poor delivery experience.
This means customers won't stick around long if they get the delivery late, damaged, or containing the wrong products. Luckily, WooCommerce comes with plenty of built-in shipping methods and total flexibility to customize. Besides, you can extend the facilities using third-party plugins or addons.
In this blog, we will show you different shipping methods available for WooCommerce and how to extend them for a multi-vendor marketplace. Also, you can configure the options according to your business needs.
WooCommerce Shipping Options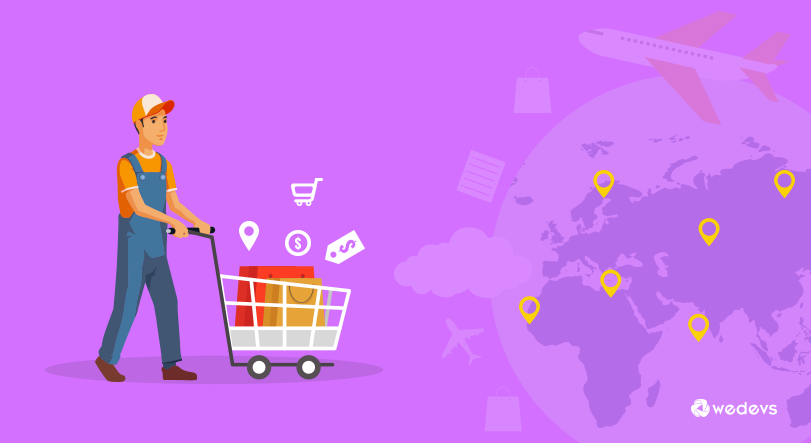 An efficient shipping method is undoubtedly an important aspect of your eCommerce business. This is the point when customers directly interact with the products. Unfortunately, many online shop owners underestimate the importance of eCommerce delivery. And in the long, they get challenges in terms of survival.
To simplify the process WooCommerce offers 3 types of default shipping methods.
Flat Rate Shipping
Free Shipping
Local Pickup
Flat Rate Shipping
With this option, you can set a standard price for everything that customers buy in your online store. This means you offer the same rate per item, order, or shipping class.

Method title will appear on the cart page and at the checkout. Next, select the Tax status to either Taxable or None.
Free Shipping
You can define free shipping with coupons and minimum spending. The Free shipping method comes with some additional attributes. If you decide to offer free shipping with no other rules, you might set the Flat rate to 0.

From here you can define the criteria someone would satisfy to get the Free shipping. For instance, you set the free shipping for orders above $500.00. Now you need a coupon for free shipping.
To generate such a coupon simply go to WooCommerce → Coupons → Add new. Enable the option "Allow free shipping" like below:

A digital coupon is one of the most tempting ways to accelerate sales for your online store. If you don't use coupons in your online store, learn how to coupons to ensure desired sales.
Local Pickup
With this WooCommerce shipping method, you can allow your customers to pick up their products at no cost instead of having them delivered. As an admin, you just insert the price and it's done. Automatically, it will employ the taxes based on the local pickup store, regardless of customer address.

These are the default shipping methods available in WooCommerce. Let's step forward and learn the configuration-
How to Configure Your WooCommerce Shipping Options
Login to your WordPress dashboard using your credentials. Then navigate to WooCommerce → Settings → Shipping. You'll find two zones available here: the United States and everywhere else.

Shipping zone refers to a geographical area where you'll ship your product. It could be specified by countries, regions, states, and zip codes. Configure shipping zones to set up shipping rates according to customers' locations.
From here you'll get the options to assign shipping methods to zones. Click on Add Shipping Method. Pick your preferred method from- Flat Rate, Free Shipping, or Local Pickup.

There is another option for shipping Classes. You can also deploy rates based on shipping classes. From the Shipping Classes tab, you can create your own class and assign each product to a specific class. Finally, add the shipping rate for each class in your shipping zone settings.

Control the Shipping Method Selected By Default
Most amazingly you can control the order of shipping method selected by default. Check the default Shipping Methods that are top listed, enabled in the matching zone.
However, you can reorder shipping methods by simply drag & drop using the handles on the left. Finally, hit Save Changes.
Shipping methods will appear in the customer cart in the order you've defined above:
Furthermore, you can add more shipping options by getting a shipping extension on your site. It enables you to use table rates, live rates, or a combination of shipping methods. Extensions expand the facility to add features like label printing, tracking numbers, and warehouse syncing.
Check the available extension from the WooCommerce Marketplace & pick the suitable one for your store.
N.B. If you are already running an eCommerce store, keep the backup before doing any major change. This helps you protect valuable data and restore information when any issue arises. You can use Jetpack Backup to automatically create backups and easily restore or migrate your site.
Once you restore a backup, update WordPress, WooCommerce, theme, and other current plugins. It is also important to ensure full compatibility with any new addons that you need to run your online shop efficiently.
To know more about how WooCommerce shipping options and how to customize them, you can check their official documentation.
However, WooCommerce provides you all the facilities and functions to establish a single store. If you want to extend this platform and include marketplace features, Dokan lets you do that within a moderate budget. Check this guide to build your very first multivendor WooCommerce marketplace today!
Here we'll show you how Dokan Shipping facilitates its users by expanding the shipping options of WooCommerce.
How Dokan Shipping Enhances Your Marketplace Functionalities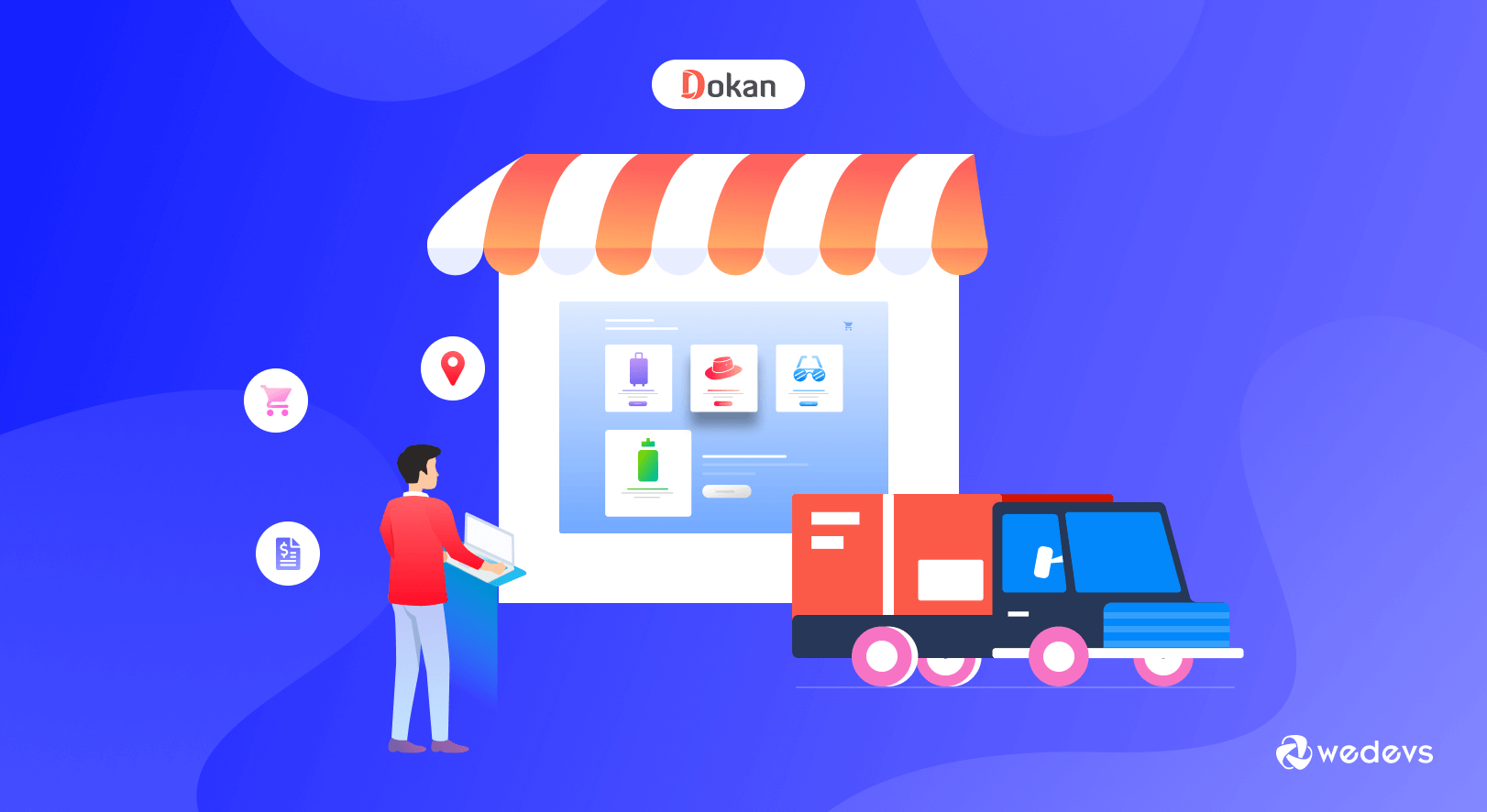 Dokan is an excellent multi-vendor marketplace solution powered by WooCommerce. It expands the facility of an eCommerce store enabling the storeowner to invite other vendors to his online store. With Dokan every vendor gets their own store with a unique URL and individual frontend dashboard. They can add shipping rates right from the frontend dashboard. Alternatively, they have the flexibility to use the old-school WooCommerce shipping classes.
To enable the state-based shipping option of the Dokan plugin just go to WP-Admin→ WooCommerce → Settings → Shipping → Dokan Shipping.

Check the Enable Shipping and hit save. By changing the Tax Status, you can apply tax on the shipping products.
Dokan brings WooCommerce Shipping to the frontend. It lets your vendors include shipping rates for their stores independently. This means vendors get the flexibility to add multiple shipping zones, shipping methods, and shipping classes right from the Vendors Dashboard.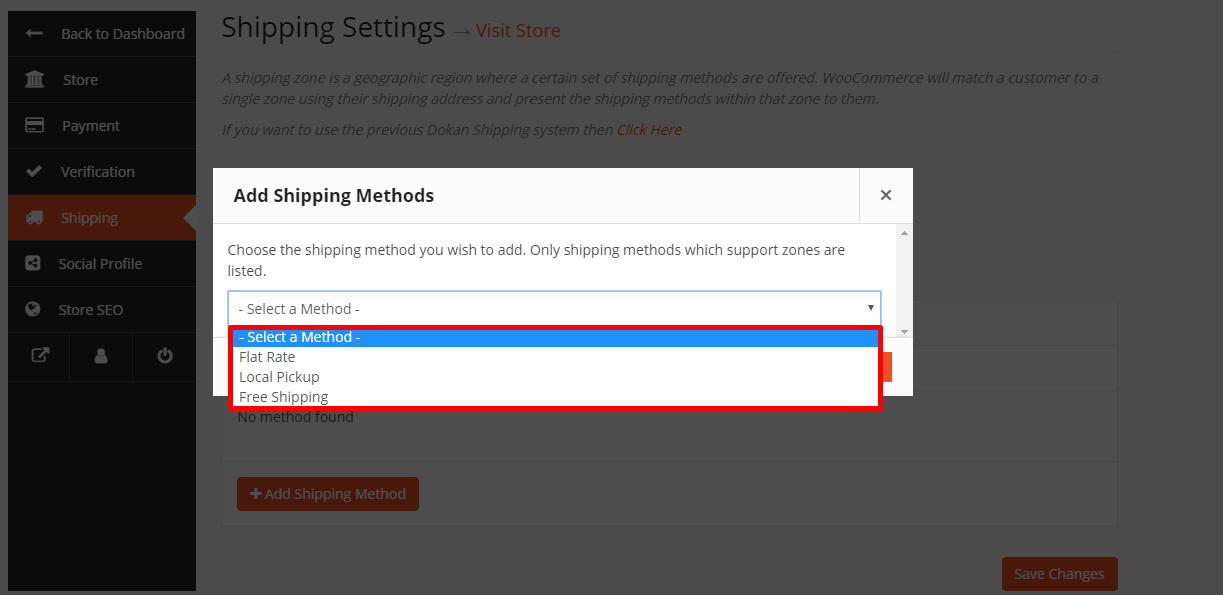 Dokan Zone Wise Shipping
In the latest update, Dokan comes with a new form of shipping method known as Zone Wise Shipping and Product Wise Shipping. And most amazingly vendors can customize everything on their own.
Admins only need to include the shipping zones and shipping classes so that vendors get access.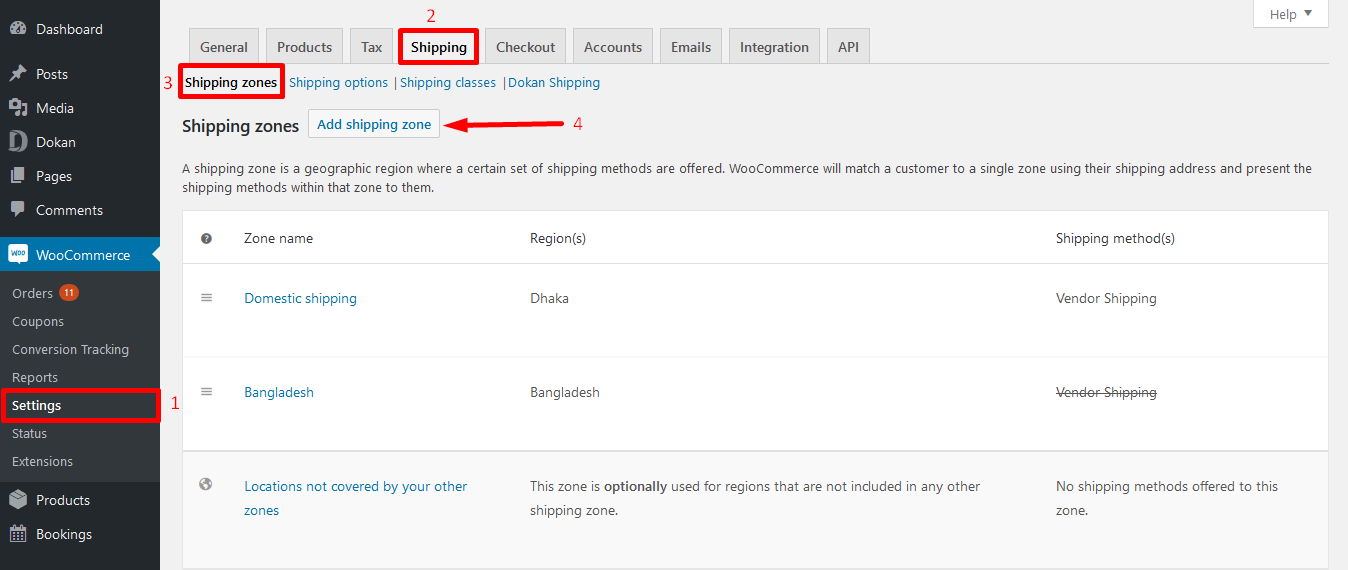 In the same way, the admin must set up the Shipping classes as well-

Another important fact to consider, an admin must select Vendor Shipping from the Shipping Method drop-down.

Once all the configurations are done by the admin, vendors can easily manage their eCommerce delivery to ensure a better customers experience.
Simply go to Store→Vendor Dashboard→Settings→Shipping.
As we've mentioned above, a vendor can add shipping methods straight from his dashboard by clicking on Edit or Add Shipping Method.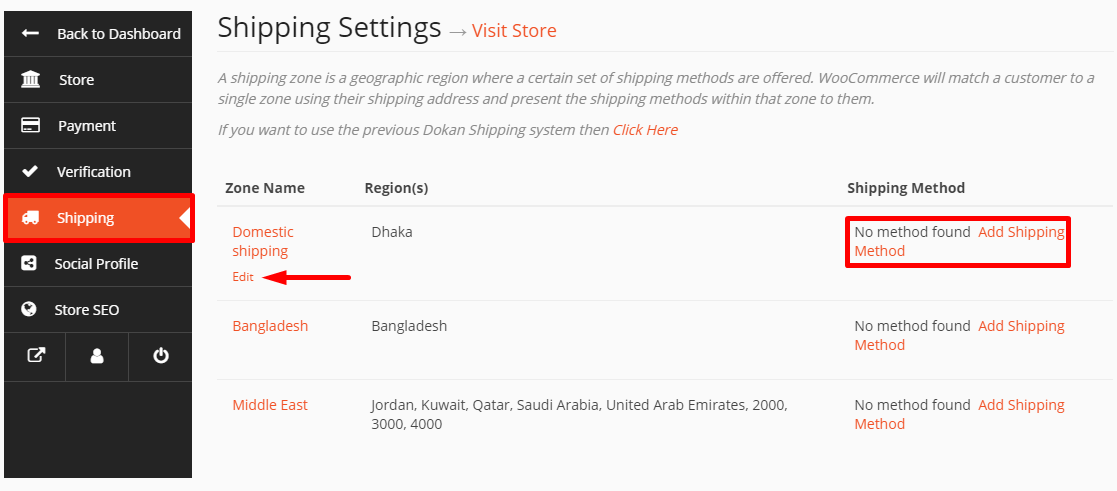 The efficient shipping management of Dokan will surely take away a lot of burden from your back.
Please check the full Dokan Zone-based Shipping Documentation to figure out the complete procedure.
Want to configure WooCommerce Shipping for your multivendor marketplace? Check the guide right here!
How To Improve Your Customers Experience Through Shipping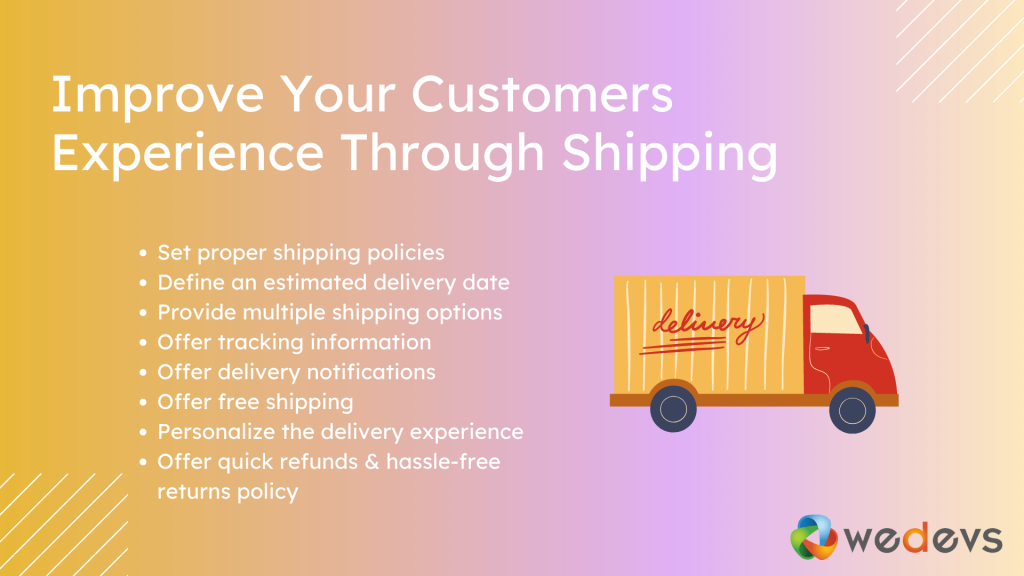 The eCommerce industry is expanding every year, thus the competition is also getting higher. To survive in this race and stand out from the crowd there is no option rather than to ensure a smooth customer experience. From the first impression to the last contact, everything matters. This impression would decide whether they complete the purchase or not.
Undoubtedly, shipping is one of the most important aspects of an e-commerce business. Roughly, 45% of customers have abandoned a shopping cart because of unsatisfactory delivery options.
Additionally, post-purchase facilities work as a great influencer in customer retention. Regardless of how great your product is, delivery is the most important part of the customer's experience.
51% of customers will stop shopping with you after just one bad delivery experience.
When it comes to shipping, customers expect quick delivery, flexible shipping options, and reasonable prices. You can easily meet these expectations by setting a strong shipping strategy. Here are the tips to improve your customers' shipping experience:
Set proper shipping policies
Define an estimated delivery date
Provide multiple shipping options
Offer tracking information
Give delivery notifications
Offer free shipping
Personalize the delivery experience
Offer quick refunds & hassle-free return policy.
You May Also Like to Read: A Guide To Multi Vendor Shipping With Dokan.
Common FAQs About WooCommerce Shipping Method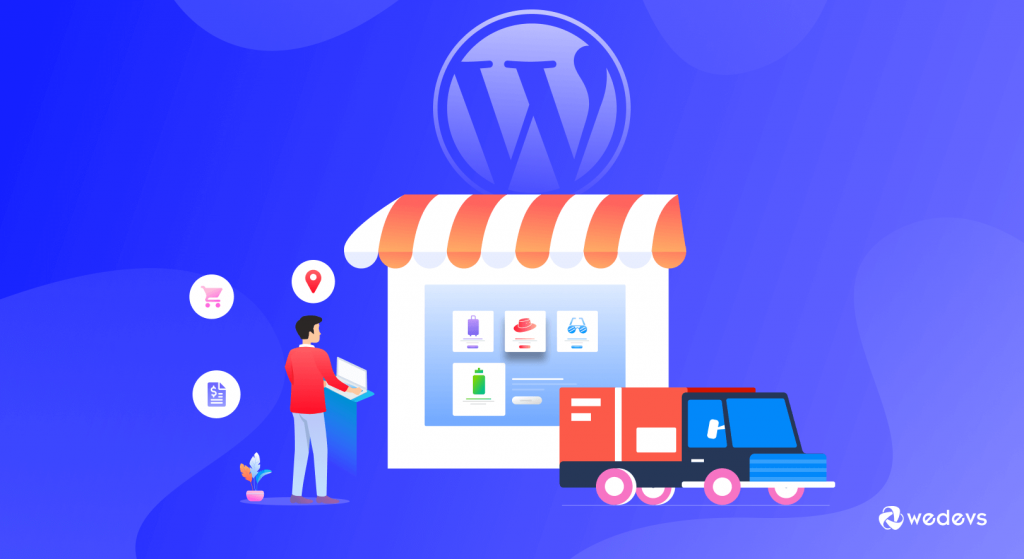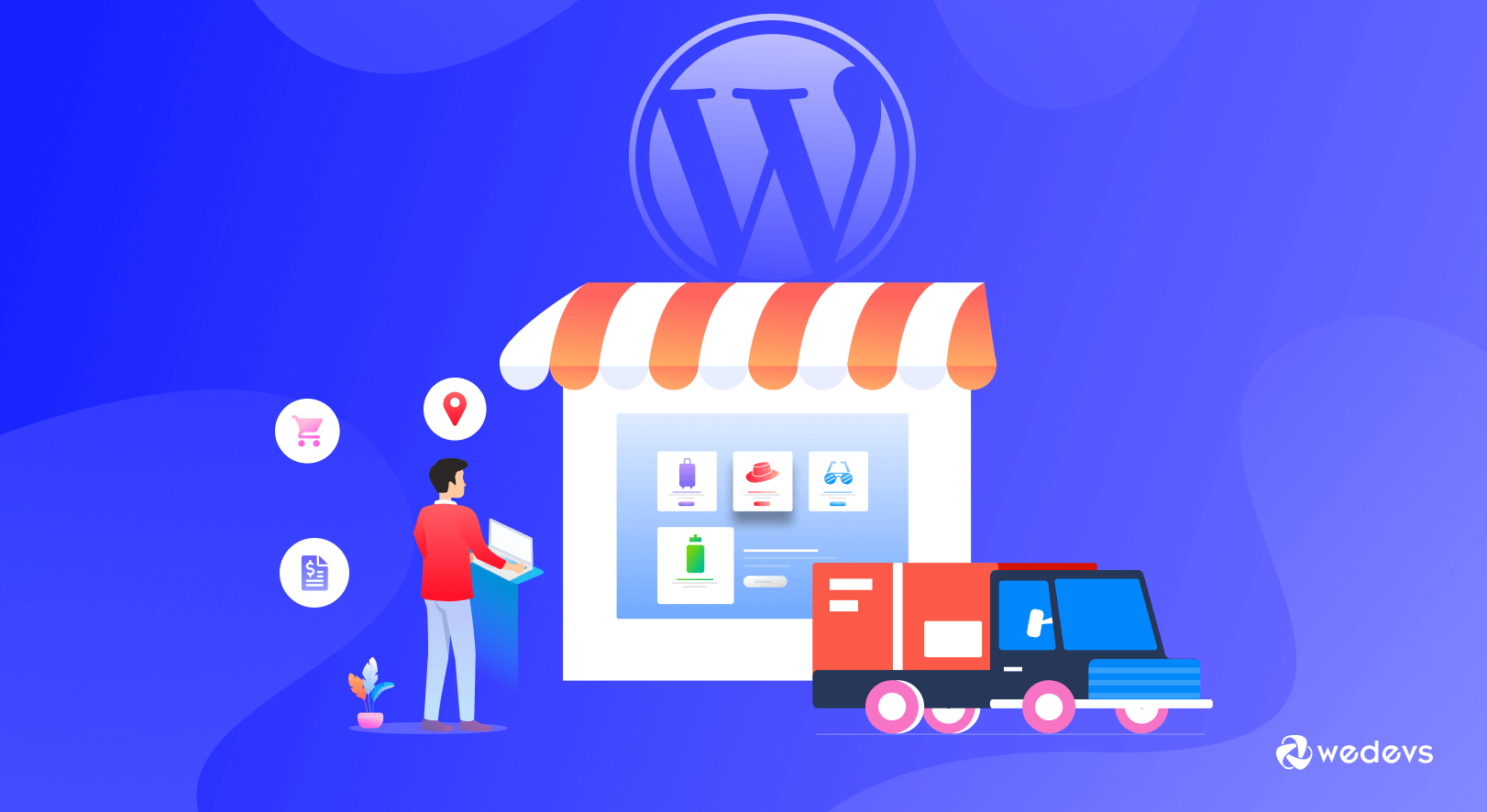 How do I change the default shipping method in WooCommerce?
Go to your WordPress dashboard
Click WooCommerce →Settings from the left-hand menu
From the Shipping tab edit the Shipping zone
Click the Edit link or the zone name
By dragging and dropping reorder the Shipping Methods using the handles on the left
The default shipping method for a shipping zone appears at the top followed by other methods.
How to change shipping methods to zones?
Navigate to WooCommerce → Settings → Shipping →Shipping Zones
Hover over the Shipping Zone you want to modify, and select Edit.
A screen will appear
Scroll down to the screen and use the button to disable the existing Shipping Method
Alternatively, select Add Shipping method to update a different one
Finally, hit Save changes.
What is the best shipping plugin for WooCommerce Marketplace?
Dokan is the best multivendor marketplace solution that supports all the default shipping methods and gateways offered by WooCommerce. Apart from this, it has advanced shipping options for marketplace owners. Admin can enable shipping options from the dashboard so vendors will be able to configure their shipping options from the frontend.
As it is a premium feature of Dokan, you have to upgrade your plan to utilize this facility.
How does Dokan shipping calculator work?
With the new shipping feature of Dokan, a customer can send their chosen products to a cart using a separate 'Calculate Shipping' option. It displays the detail of the shipping cost added to their Total cost.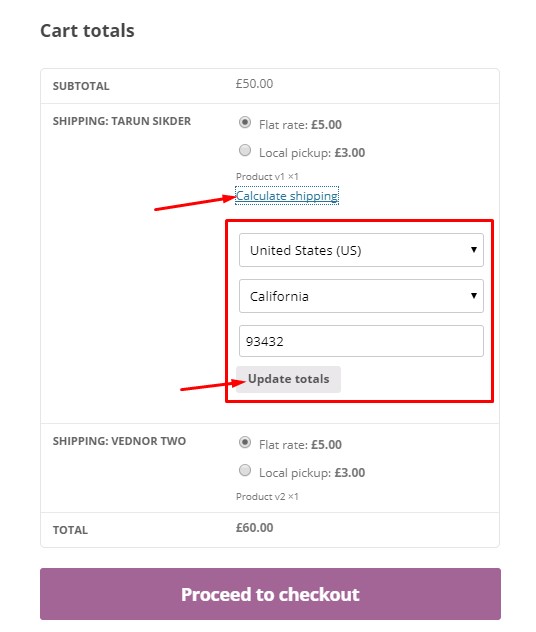 How does WooCommerce Table Rate Shipping work?
It's one of the best WooCommerce shipping calculator plugins. This helps you define shipping rates more accurately for your online shop. However, it doesn't show a shipping calculator, so you need to use different parameters to calculate shipping rates. Depending on the order, item, line, and shipping class you get the options to calculate shipping rates.
Also, you have the flexibility to set rules based on product weight, the number of items, price, and others. Plus, the plugin allows you to add costs per row, per item cost, or per weight unit. Having an intuitive interface you can seamlessly set up complex rules for shipping cost calculation.

Conclusion on WooCommerce Shipping
Customers care about the shipping. By improving shipping, you're making the customers' journey remarkable and your business more profitable.
Once customers get a smooth experience during shopping on a site, they intend to back that shop again and again. And this experience includes every action in that shop like easy navigation, quick checkout process, fast shipping, and simple refund policy. As the shop owner, you have to take care of all the branches to ensure a better user experience.
Using default shipping methods of WooCommerce it becomes kind of easy to deal with your customers' needs. Furthermore, you can use Shipping Plugins that will effectively enhance your shipping service.
Not to mention, shipping is a challenging aspect for any eCommerce business. You must have a solid shipping strategy depending on your products type and customers preference.
What type of shipping options you're offering on your online store? Do share your experience in the comment section below!