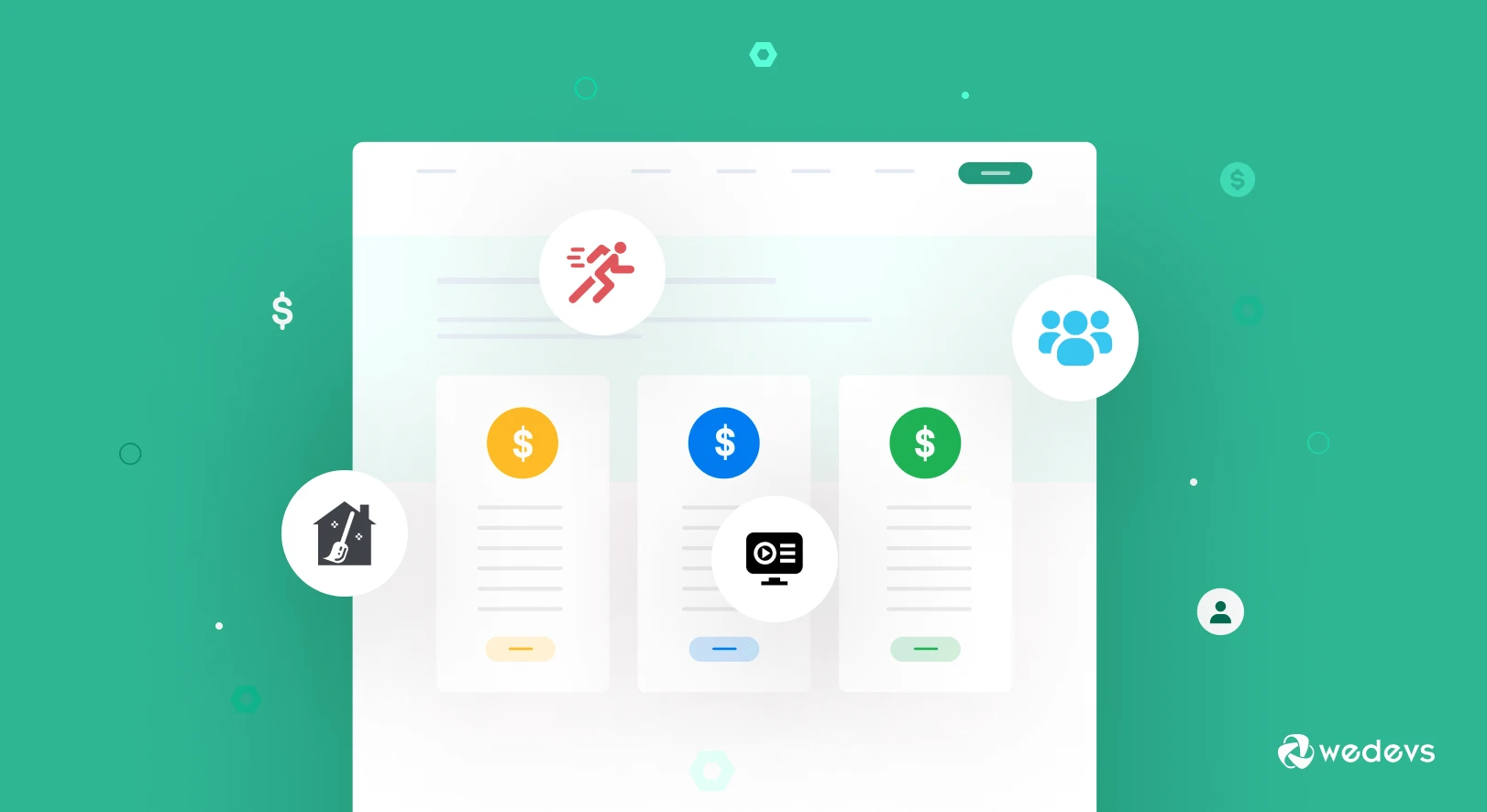 Best Membership Site Ideas For Successful Business in 2022
Struggling to find a profitable and successful membership site idea? You have come to the right place.
Membership sites are a great way to earn money on a recurring basis. These sites provide users with premium content, and products and offer a chance to become a part of a community. That is why it is quickly becoming a popular online business model.
Membership sites is a site that offers gated content and exclusive benefits to it's users. These benefits include special reports, newsletters, webinars, online courses, special invitations to conferences and events, and free shipping.
The sites are a great business opportunity. Because it offers benefits like,
Recurring Revenue
Increase Customer Lifetime Value
Lower Acquisition costs
Creating Community To Promote Your Brand
So, people are getting interested in starting membership sites. Unfortunately, they lack the right membership site ideas. That is why people are creating the same common type of membership sites while forgetting to explore any other types of membership niches.
70% of businesses see memberships and subscription models as a key to future business growth.

sellcourseonline.com
But don't worry. We have some unique membership site ideas that will inspire you and help open the doors to greater revenue and profit.
Let's get started. Before we get to the ideas, we are going to clear some confusion about the membership site. Like,
Membership Site vs Subscription Site: Main Differences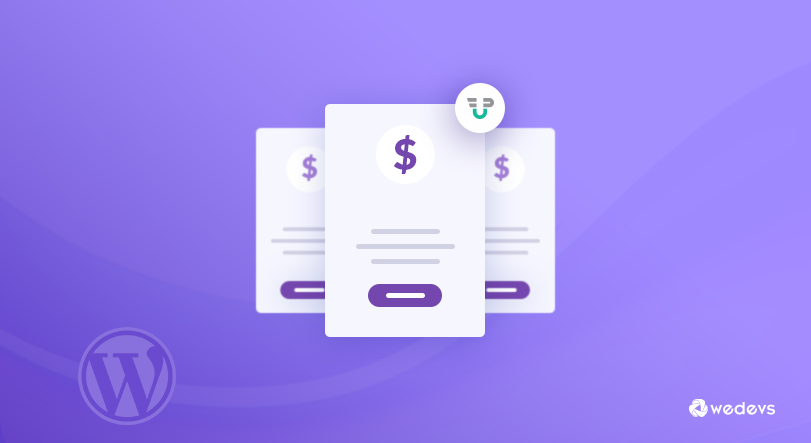 People often think membership and subscription sites are the same concepts. That is not entirely true.
Netflix is a popular entertainment platform. To see its content you need to pay a monthly fee. That is a subscription.
On the other hand, you become a member of Sephora.com by providing your contact details. As a member, you can access beauty classes, exclusive trial-size products and sets, and special promotions. That is membership.
You can see the small difference between membership and subscription.
| | |
| --- | --- |
| Membership Site | Subscription Site |
| A membership site allows a user to become a part of a group and enjoy its benefits for an unlimited time (in some cases until the membership site exists). It may require a subscription, but it is not mandatory. | A subscription site lets customers pay to use a product or service for a set period of time. |
Hopefully, that clears up the confusion between subscription sites and membership sites. Now, let us move on to the next topic.
8 Best Membership Site Ideas to Take Inspiration From
After learning what features you need to include in your membership site, now it's time to get membership site ideas.
According to study, the global subscription/memberhsip economy market size is projected to be 1.5 trillion USD in 2025, up from 650 billion USD in 2020

sellcourseonline
We have created a list of the types of membership sites and we will also include some examples of some most profitable membership sites. So you can take inspiration for your membership site. Here we go.
Online Training and Courses Membership Site
Online Community Membership Site
Continual/Evergreen Membership Site
All-in-One Membership Sites
News and Entertainment Membership Site
Design & Template Membership Site
Sports & Training Membership Websites
Service-Based Membership Websites
Let's see the details and some examples of these sites.
Online Training and Courses Membership Site
In the last two years, people have understood the importance of learning new skills. They have been enrolling in membership sites which are offering exclusive courses and training. You can offer anything like a course, from guitar to Tai Chi, online cooking, etc.
The e-learning market was worth $107 billion in 2015, $190 billion in 2018 and is expected to exceed $300 Billion by 2025

gminsights
If you are a good cook, a guitar player, or a master of Kung Fu, you can teach other people by creating a membership site. Online training and courses membership sites can have different content elements,
Self-paced video courses
Downloadable ebooks
Webinars
Step-by-step guides
Workshops
Workbooks
Self-paced tests.
Online Cooking School is one of the popular cooking membership sites. They have over 300 videos that show cooking with exceptional techniques. You will also find recipes like the Mediterranean, Asian, Chinese, Transcontinental, Western cuisines, seafood, baking, sweet dishes, Vegetarian, Non-Vegetarian, Seasonal, BBQ & a lot more at a Single Price.
There is a 3-week trial for users and members can get instant access to all the courses along with recipes, lectures, assignments & feedback.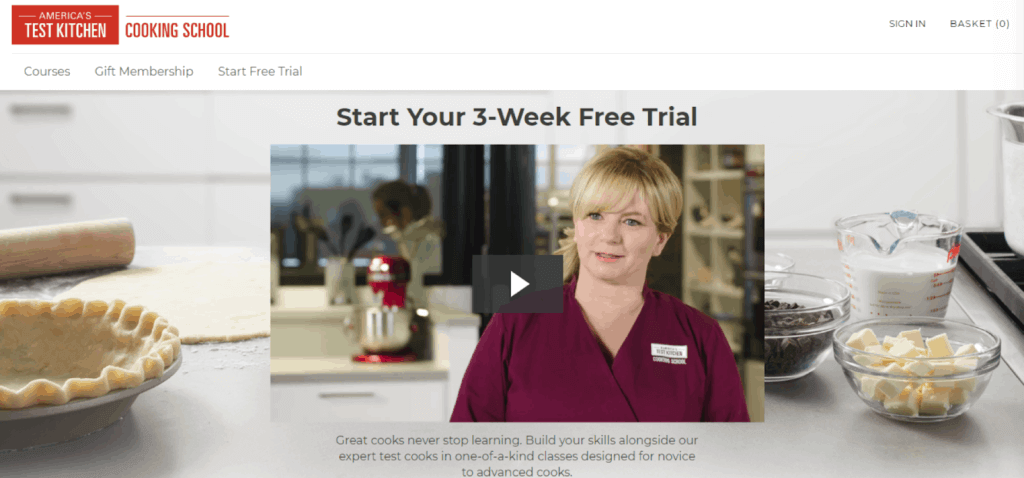 If you want to learn guitar, then Guitareo can be a great resource. You need to become a member by joining any of the courses. The website offers multiple courses, some of which cost $29, $97, and $197. They also give a 90-day money-back guarantee.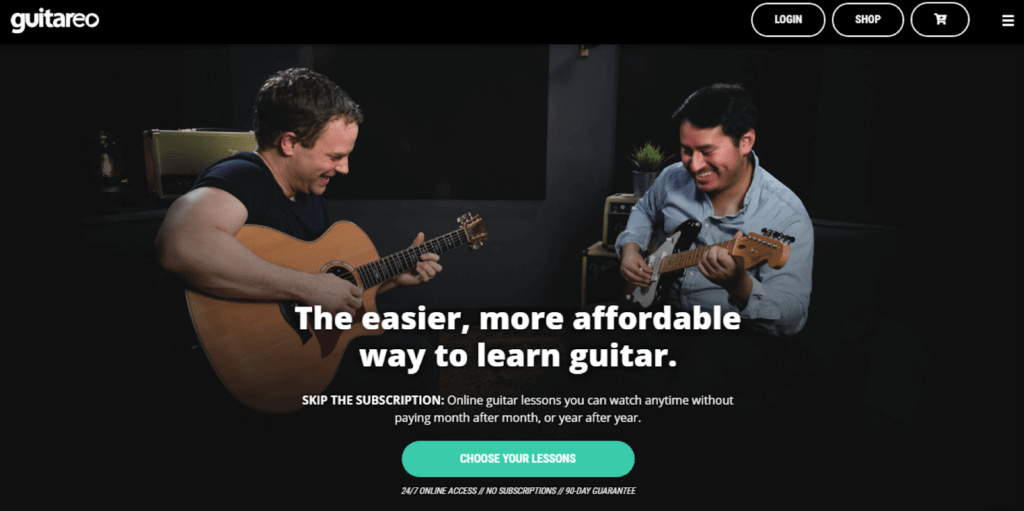 From holding a guitar to changing the strings, they have designed their courses step by step.
These two sites can be great membership site ideas for you to follow when creating your own.
Online Community Membership Site
This is a popular membership site model. You can probably guess that from the popularity of social media platforms. So another great membership idea is to create an online community website.
Smart Blogger is a Community Membership site that makes over $100k a month in profit.
A community-based membership site helps your members exchange ideas or products. It also empowers them to use the wisdom of the masses to solve their day-to-day issues.
One of the popular membership websites is the Growth Hackers community. It is a very valuable community for veterans and upcoming marketers. The reason this membership site is so successful is that it offers most of its content free to its members.
But if members want they can pay for access to more focused "rooms" which are memberships around a specific aspect of growth hacking, such as CRO.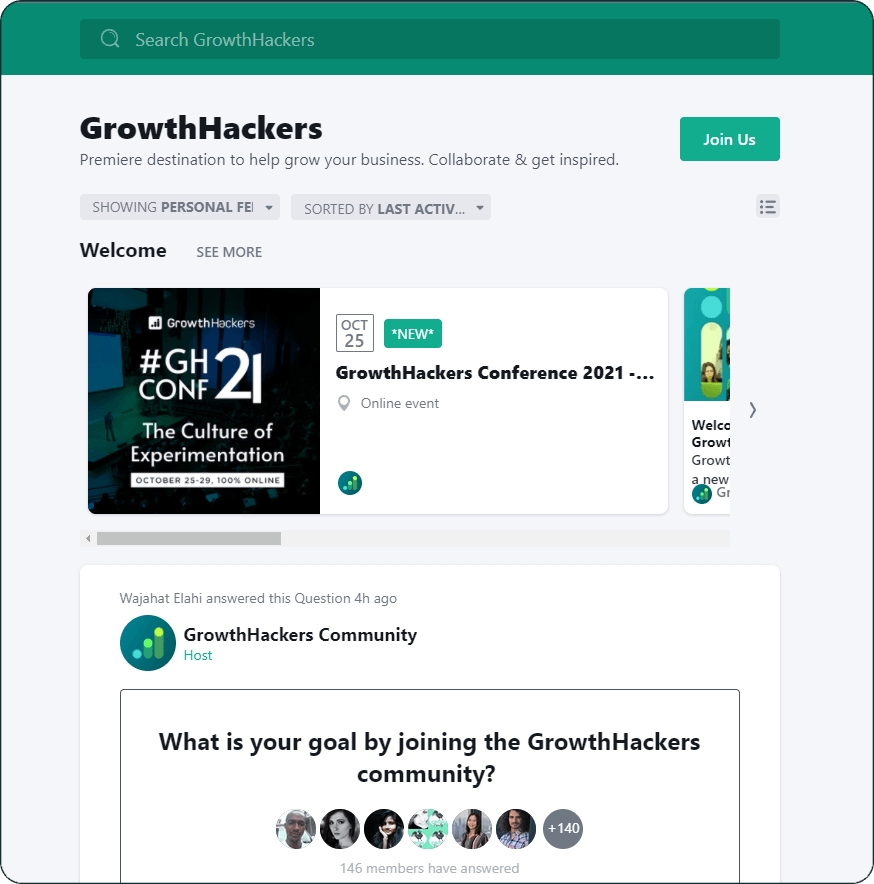 Another great community membership site is Everything Marketplaces. This community is more focused on helping people create marketplaces. They offer some great growth strategy that has allowed it to attract the right kind of people.
The folks behind Everything Marketplaces recognized that and rightly leveraged those unique challenges to build this community.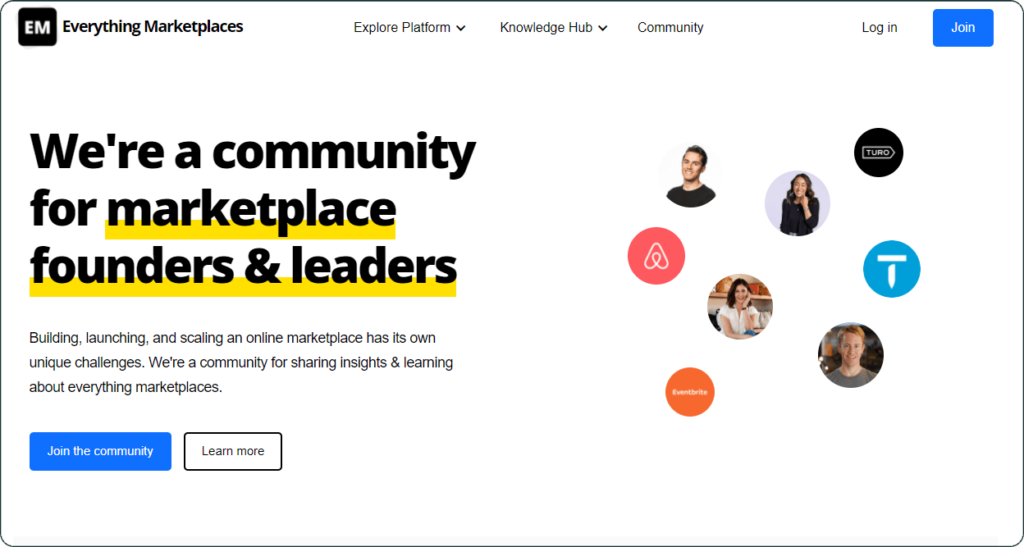 Continual/Evergreen Membership Site
This is one of the most popular membership site ideas. In this model, members get access to content that grows and continue to update. Most of the membership sites use this model for monetization.
You need to provide fresh content on a regular basis. Members will get access to new content every now and then.
One of the best examples of a continual membership site is Podcaster Paradise. At a low price, it will give you the know-how of starting and monetizing a podcast.
Although the idea doesn't seem groundbreaking, but this membership site crams a lot of value in its membership. Members have access to a large community of like-minded entrepreneurs, monthly Q&A sessions, and tons of regularly updated resources.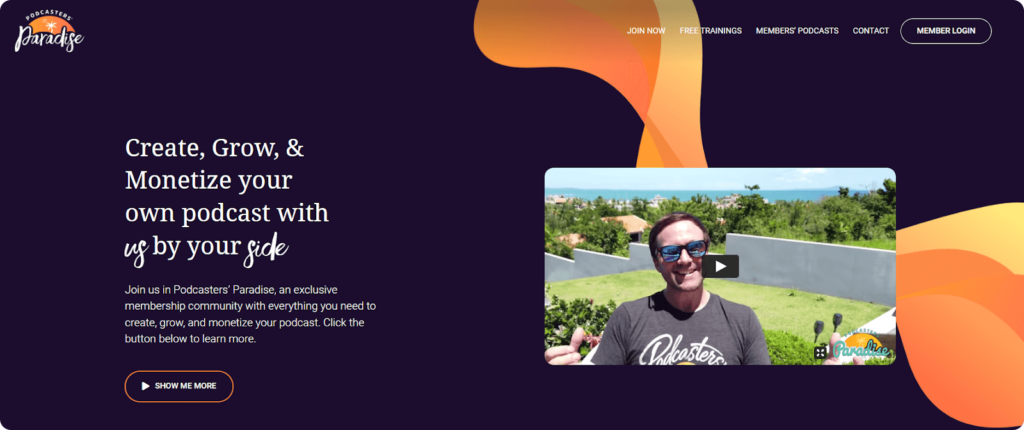 Duncan Rhodes Painting Academy is another membership site that leverages the continuous content model to significant effect. The members get the resources to ever-evolving techniques and tools to paint.
This site provides weekly and fresh content to keep its members in the loop.
All-in-One Membership Sites
All-in-one membership sites stretch the definition of the membership model. These sites don't provide constant content updates. Instead, becoming a member entitles you to everything the online business has to offer.
When a user ends their membership, their access gets revoked. It is a very interesting membership idea.
Healthy Grocery Girl is one part of the cooking membership site's meta trend. It does a great job of packaging a lot of value into a single membership.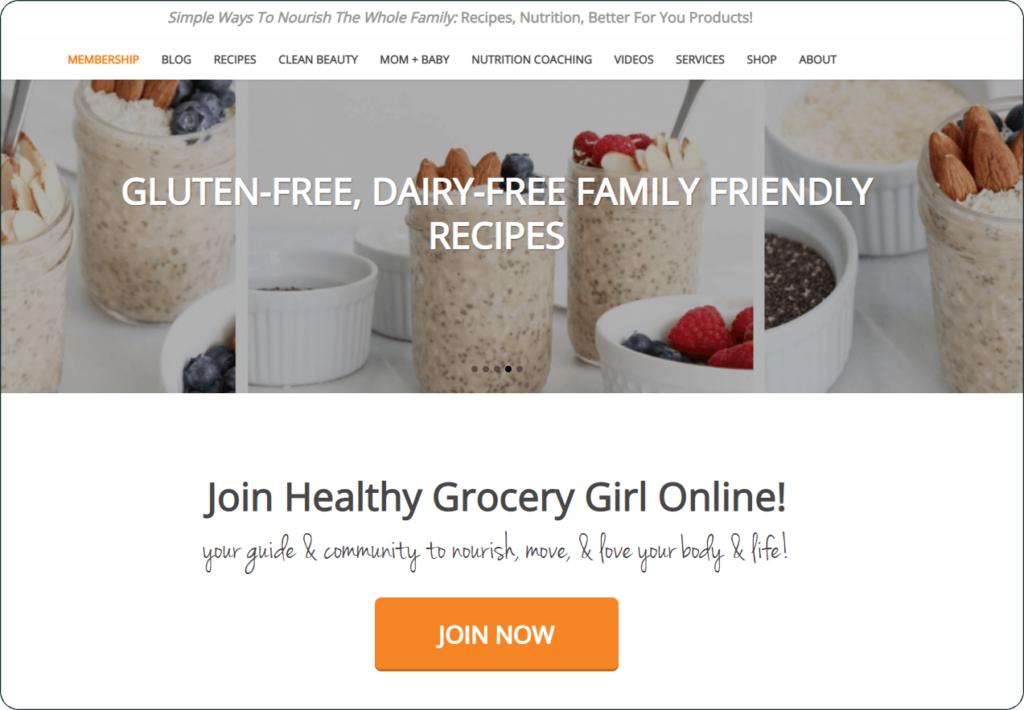 For a single payment, members have access to all the recipes, guides, shopping lists, meal plans, and community the site has to offer.
The International Gem Society is an industry staple in the space of the precious stone, along with an example of a traditional membership site that mimics the role of trade organizations.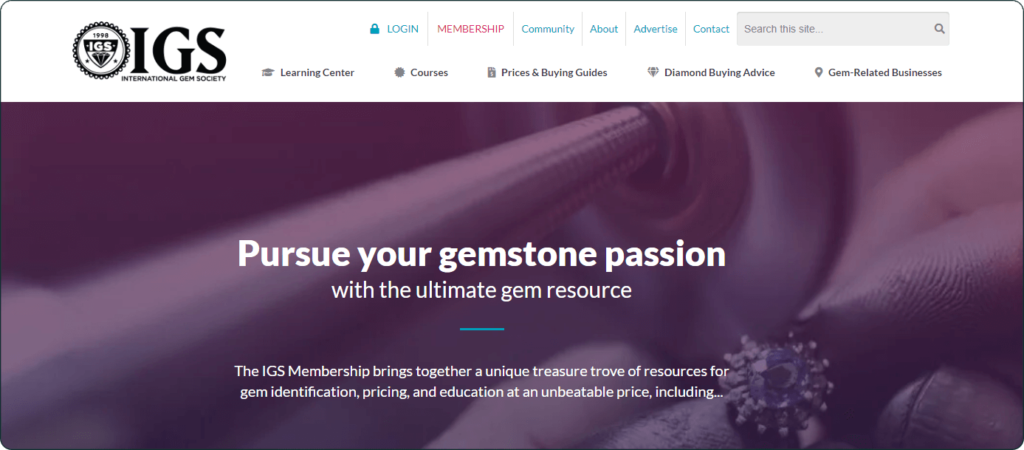 With a fee, members will get access to training materials, guides, articles, and forums. However, the major value proposition that this membership site offers is a business listing.
News and Entertainment Membership Site
We are surrounded by news and articles. Sometimes we get tired of hearing the same news over and over again. That is why people are looking for ways to filter them and hear only the important ones. The same goes for entertainment as well.
The online entertainment market size was valued at $183.1 billion in 2019, and is estimated to reach $652.5 billion by 2027.

aliedmarketresearch
People want to see exclusive and classy content. That is why news and entertainment membership websites are getting popular.
You have probably heard of KweliTV. It displays high-quality independent films, documentaries, web series, kids programming, etc.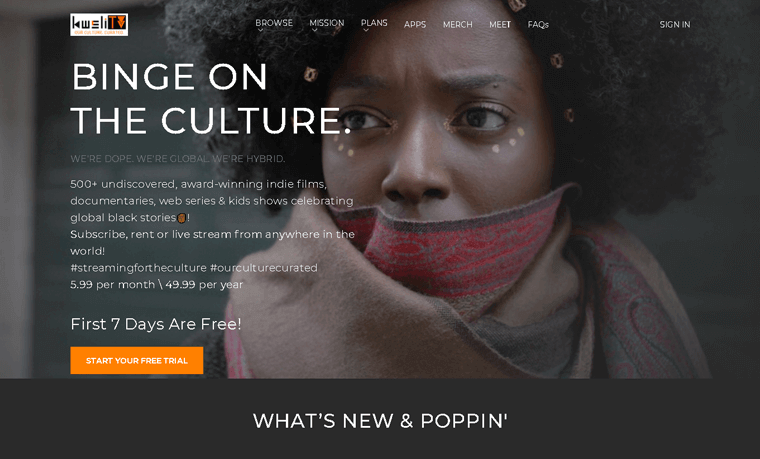 Its mission is to create content that reflects the true global black experience as mainstream media. By joining KweliTV, you'll get top content as well as receive perks, access to events, and much more.
The Berkshire Edge covers a rural region in the mountains of western Massachusetts. Their Members receive local news, obituaries, arts and entertainment coverage, opinion articles, and a robust real estate section to peruse.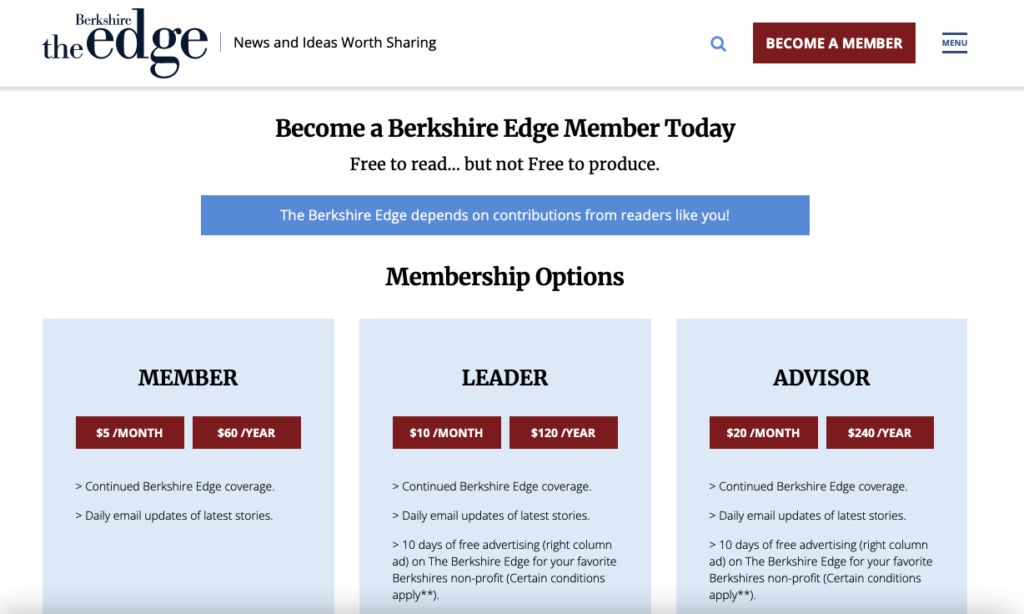 The membership fee helps to pay non-biased journalists to fairly and accurately report on the day's news as well as advertising opportunities for local Berkshire non-profit organizations.
Design & Template Membership Site
With online designing tools and templates, people are able to design attractive images to use on their sites and social platforms. That is why design and template membership sites have become popular. On these sites, people upload their designs and ask for opinions.
Web Design Services in the US Market Size in 2022 is 11.0bn.

ibisworld.
Also, by using templates people don't have to create anything from the scratch. With a template membership website, you can provide,
WordPress templates
Customizable graphics
Home page and pricing page templates.
Canva is one of the most popular online design tool sites. It's an online design and publishing tool that started in 2013 with a mission to empower everyone to design anything.
Canva has become one of the world's biggest privately-owned companies after being valued at $40bn.
Canva has thousands of professional templates, images, and quality content that can give your design a great start. After a 30-day free trial, members need to purchase a membership in order to use its premium content.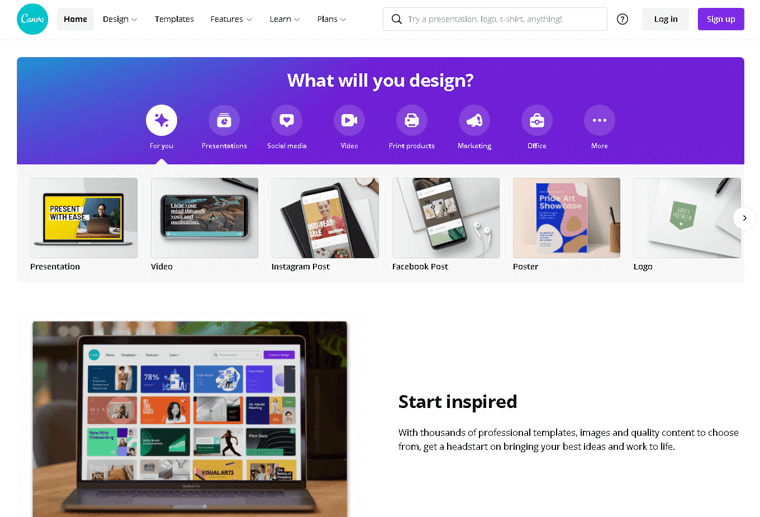 Rawpixel is a great example of a template membership website idea. It offers free images and graphic templates for its members. It also provides tons of free resources and public domain images for anyone who wants to use them.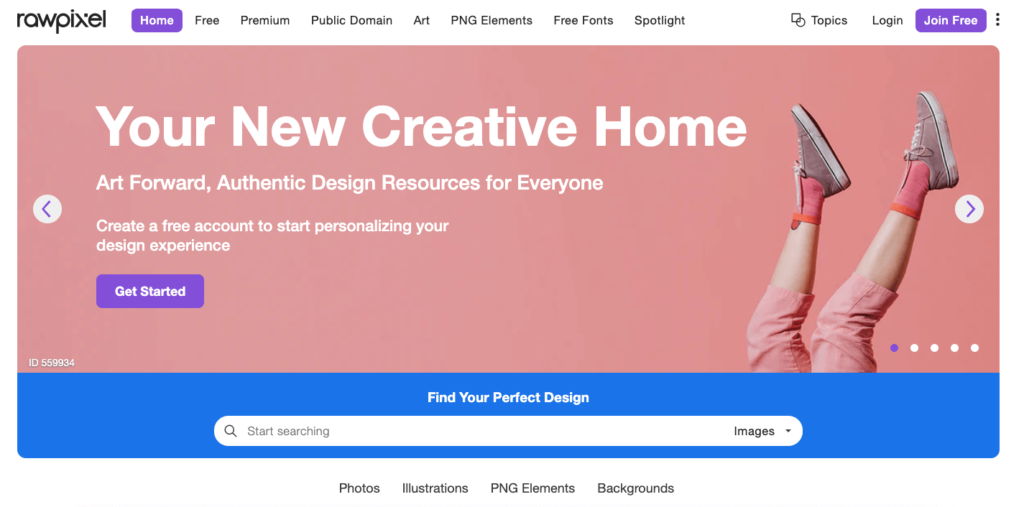 Sports & Training Membership Websites
The scenario of sports and training has changed in the past few years. Consumers prefer merging their at-home fitness regime with the comforts of home. That is why the sports and training membership site idea is a huge prospect.
The global sports market size is expected to grow by USD 9.07 billion during 2021-2025

prnewswire
From small yoga studios to large-scale gyms, there's a membership model your prospective subscribers are sure to find valuable.
9ROUND is a popular sports membership club website. The members will find the content attractive enough to get anyone motivated to give their online classes a try. The classes are all 30 minutes and members can access content through a variety of platforms.
The site also features blogs with a ton of content that is designed to inform, as well as get new patrons onto the site.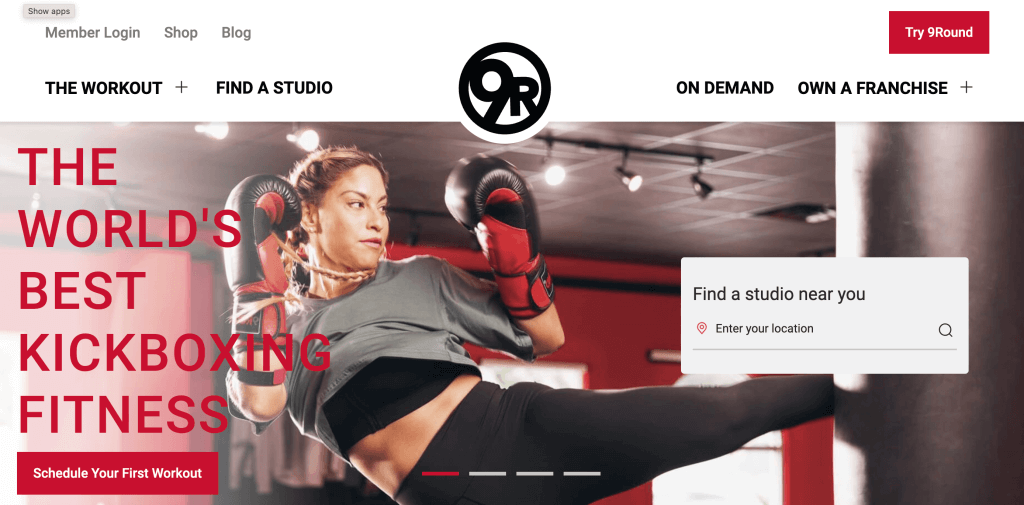 Fit Tutor's target members are women who are fed up with dieting. The business clearly conveys this message with its home page content and images.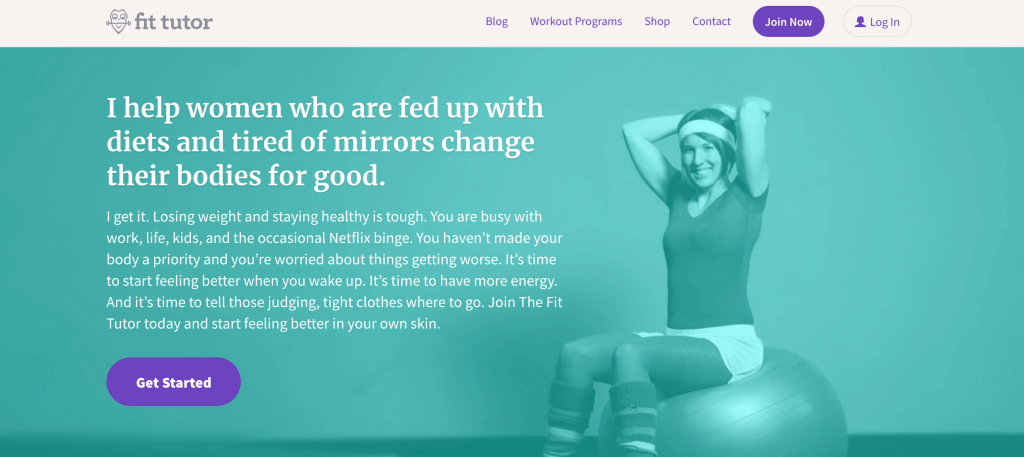 In addition to the tons of online workouts, there's a Facebook community component that is a big draw for prospective members.
Service-Based Membership Websites
A service membership website can be a great way to build a tribe of buyers, clients, and customers who pay you regularly for your skills. Moreover, your membership site can work as a suite to connect freelancers with clients.
Taskrabbit is one of the best examples of a service-based membership website. They provide tons of services in exchange for a fee. They connect their clients to taskers to help with odd jobs and errands.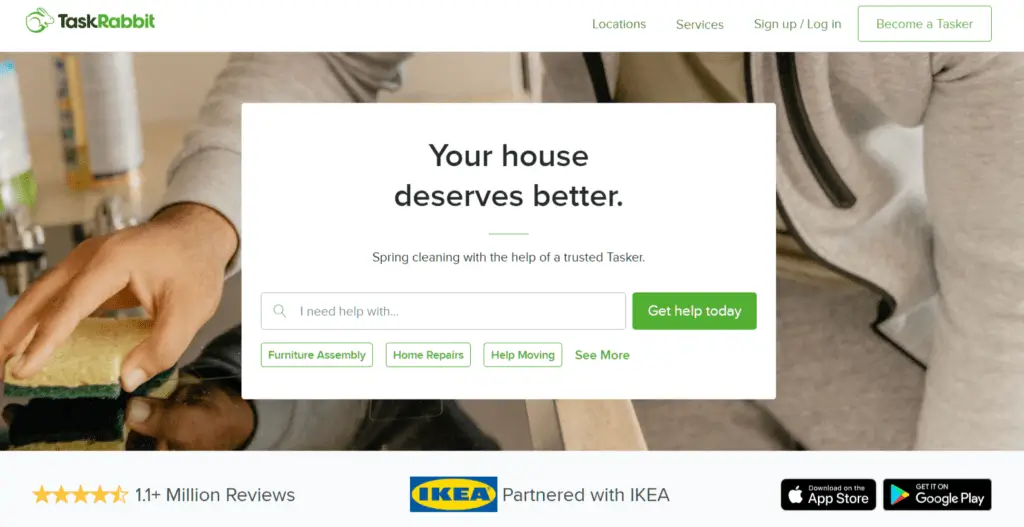 Wordcandy is also a great example of a service-based website. They create blog content, web copy, user documentation, and more – for WordPress plugin and theme developers, hosting providers, website development and design agencies, and other online businesses!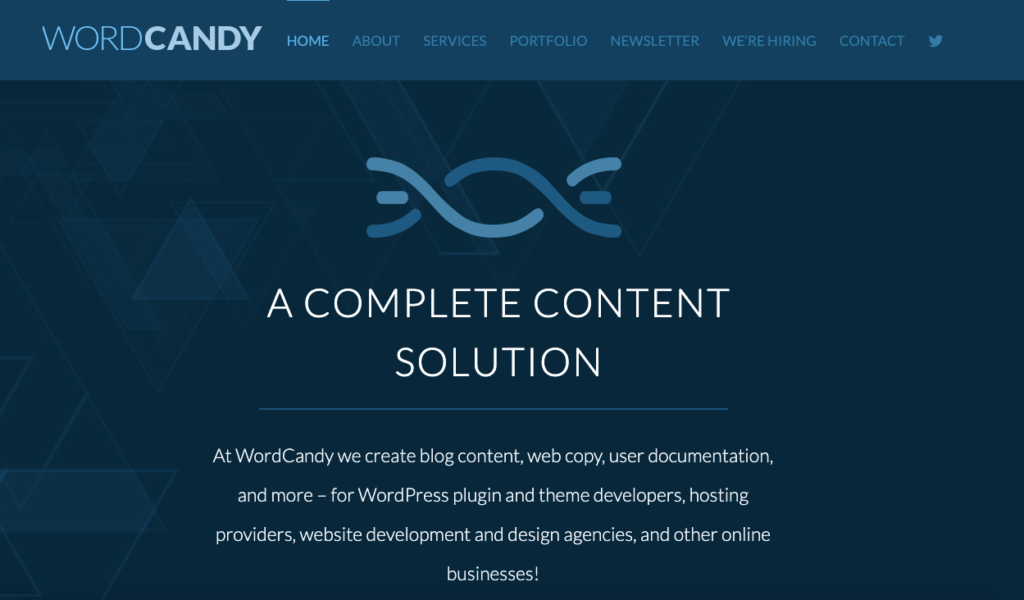 You can follow these best membership site ideas to gather motivation for your own membership site.
Features to Include in A Membership Site to Make it Look Professional
Before we move on to the type of membership site ideas, you first need to understand, what you need to include in your membership site. You have to maintain some standards in order to get users to signup on to your site.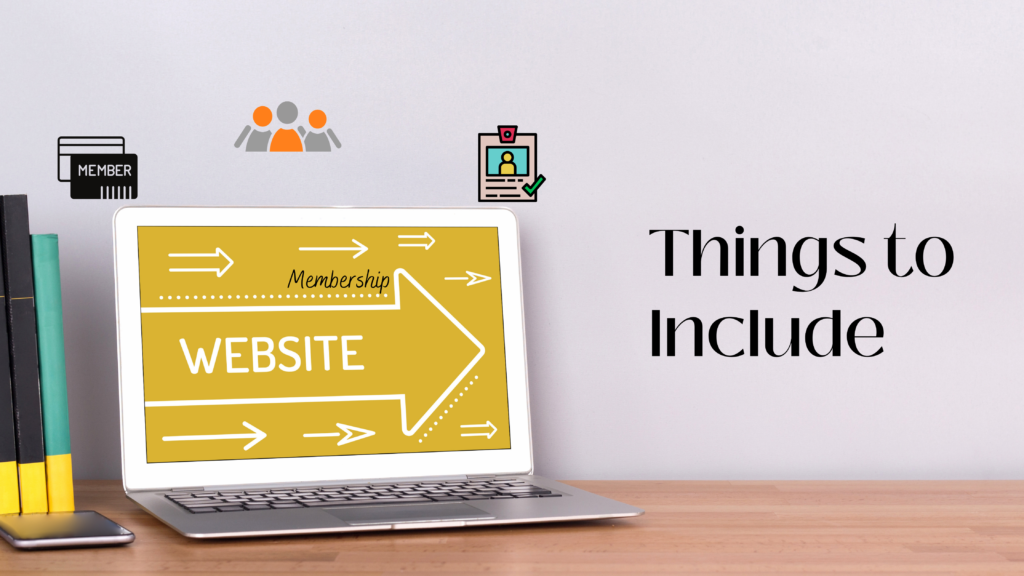 Here's what you should include on your membership sites,
Add Videos and Audios with Easy Search Option
Most of the membership websites have videos and audio in the form of content. This is a good practice and every membership site should include them. For example, some sites have members-only podcasts or short video tutorials.
However, to improve the user experience you should also include easy search options so that users can easily find the videos. Also, they should see what's been watched and what's left.
Include Downloadable Content
If you look at some of the successful membership sites, they are built around downloadables. The downloadable content could contain templates, works of art, or other done-for-you materials.
But remember to make policies for downloadable content very clear from the get-go. So that users don't feel cheated or don't discover anything new down the line.
Add Recording Option for Live Streaming Videos
People from different time zones will sign up to your membership site. So, when you are arranging live sessions or streamings, some people may not be able to join because of the time difference. Make sure you have a recording option or else the videos are kept in the list.
So that users who missed the session can come back anytime and see the content again.
Add Tracking Progress and Reward System
This is a very important part to include in any membership site. You need to add ways so that members can track their progress. Then they can get feedback from other members on how they are doing with achieving their goals.
Moreover, you want to include special rewards for members who reach their goals. This will help motivate other individuals to complete their goals as well.
Create a Community or a Forum
Finally, create a community or a forum where people can find others on the same journey. They can post their queries there and get answers from the members who have faced the same problems.
The community could take the form of a private Facebook, Twitter, Whatsapp, Discord group, or maybe an online dashboard where members can log their progress and get feedback from other members.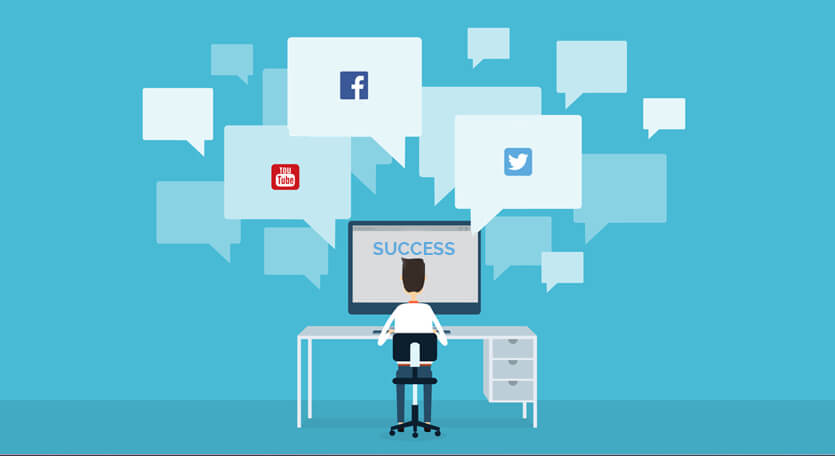 These are the must-have features for your membership site. Now, let's move on to the best part of this article.
However, if you are still confused about choosing your niche, then the next topic is for you.
Questions You Need to Ask Yourself Before Choosing a Membership Website Niche
You have got some membership site ideas, now it is time to choose. If you have already made up your mind then you can skip this part. However, if you are still confused, then this part is just for you.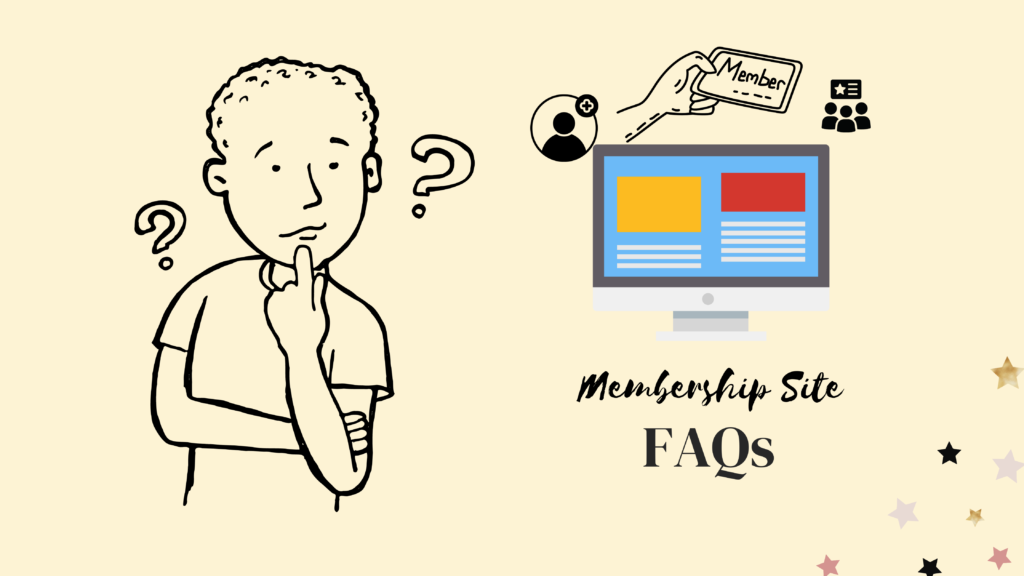 Before choosing a membership site niche, you need to find the answer to these queries.
1. What is Your Target Audience Type?
As you are going to provide content, products, and resources that means you are catering to your expertise in your sites. You may have already demonstrated your expertise somewhere else. Maybe you have created videos where you used to work.
People watched your videos and you have made a name for yourself in the industry. You have a good following. If you look at the history of most of the membership site owners, they have already demonstrated their expertise by building an audience elsewhere.
Here's a quote from the founder and CEO of Plant You (plant-based food blogging site),
Before I launched my membership website, I had already built up a following as a plant-based food blogger both through my website and social media.

Carleigh Bodrug
Although it is not mandatory to have a following before launching, it will certainly help increase the number of paying customers.
2. What Benefits do Your Members Get?
In order for members to sign up to your membership site, you need to provide content that is exclusive only to them. If they find these contents elsewhere for free, there is no reason for them to signup for your site.
To do this, you need to come up with solutions to their problems that they can't get from anywhere else. You will help your subscribers to learn. All in all, you need to fill a hole that you have noticed in your target market.
3. What Types of Content You Are Going to Share?
Although the topics will be dependent on the niche you choose, you have to come up with a way to be different than others in your niche.
Don't go for something that everyone is doing, find topics that will create a difference in someone's life and change them for the better. Your content, videos, worksheets, and activities should be exceptional and not copied from elsewhere.
4. What Will be the Price of Your Membership?
It goes without saying that the pricing of your membership should depend on the type of content you are providing. The smart approach is to offer trial periods and give your users an overview of your content. Give your users a taste of your content and make them realize that the pricing is worth it.
However, if you are providing content that is common, try to keep the prices low from your competitors and provide more exclusivity. We advise against copying, but try to bring some novelties to your content.
The only way to do that is by researching and brainstorming.
After finding the answers to these questions, you will become certain about what type of membership site you want to create.
Now, let's guide you on how to create a successful membership site in easy steps.
How to Create a Successful Subscription Based Membership Site in 6 Easy Steps
You have decided to create your membership website. Now it is time to choose a platform to create your membership site. If you lack technical knowledge, then we advise you to choose WordPress. You can easily create a subscription-based membership website without any coding using WordPress.
And if you are confused about which plugin to choose, then we got you covered. WP User Frontend is one of the best membership plugins in WordPress. With 30000+ active installations, it has all the features and modules to create a subscription-based membership site in no time.
We will show you the steps below. In the meantime, if you are interested in learning more about WP User Frontend then click the below link,
Step 1: Set Up a WordPress Site
At first, you need to create a WordPress site. Creating a WordPress site is one of the easiest tasks on the web. If you are not familiar with WordPress, you can follow the links below to set up your WordPress site.
Also Learn: How to Install WordPress on Localhost
Step 2: Install WP User Frontend
Next, you need to install WP User Frontend on your WordPress site. Installing this plugin is easy as installing any other WordPress plugin. You can click on the link below to know how to install Wp User Frontend on your WordPress site.
Step 3: Create & Enable Subscription Pack Using WP User Frontend
WP User Frontend comes with subscription features, like pay per post, locking contents and guest posting. Also, you can manage your content and comment.
For creating your subscription packages, you have to navigate through wp-admin → User Frontend → Subscriptions → Add Subscription.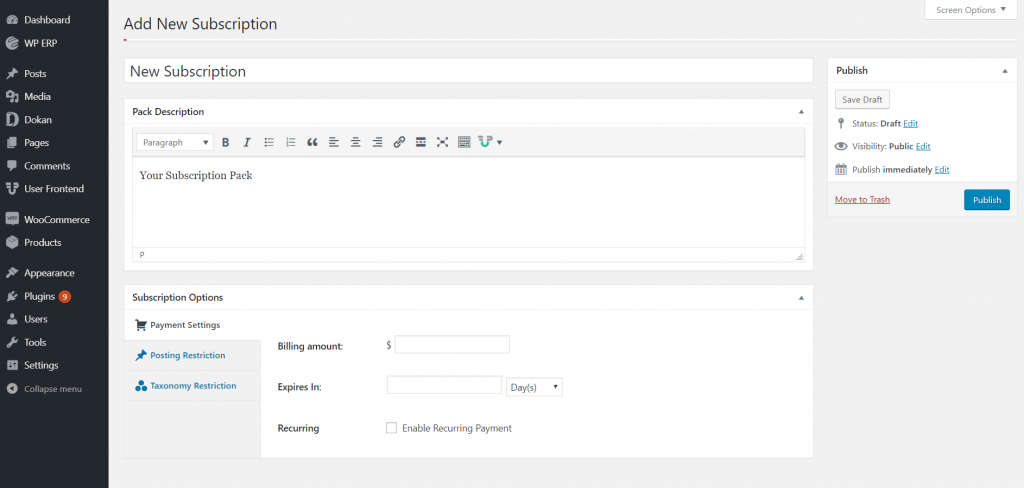 You can set how long you will show a post on your site, send emails to the particular user about the expiration of the post and you get to define what holds in the future of the expired posts using the "Enable Post Expiration" feature.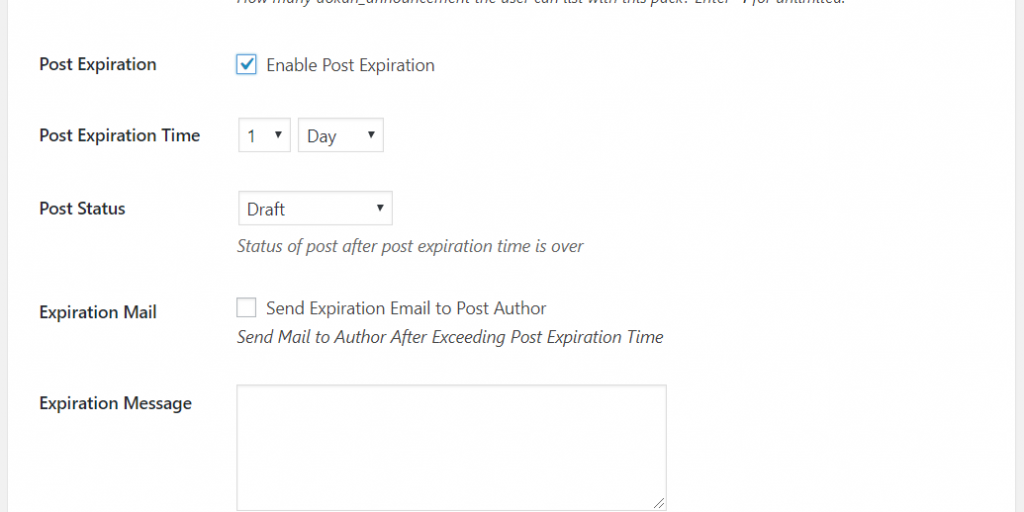 You also have the "Recurring" option if you want your subscriber to keep purchasing one of your specific subscription packs.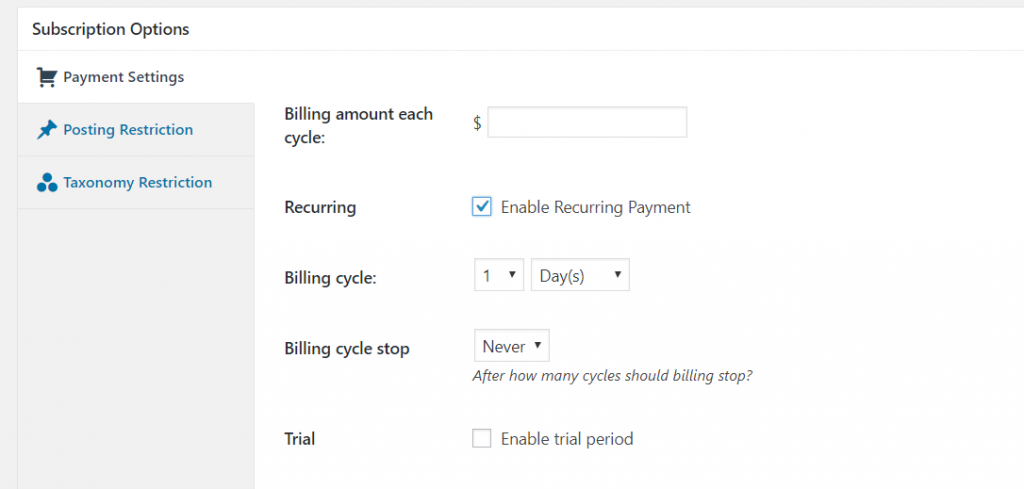 Step 4: Set Register and Payment Page
If you have convinced anyone to buy a subscription pack, then you can also register your customers. Navigate to, wp-admin → Settings → Anyone can register and check tick the box beside it.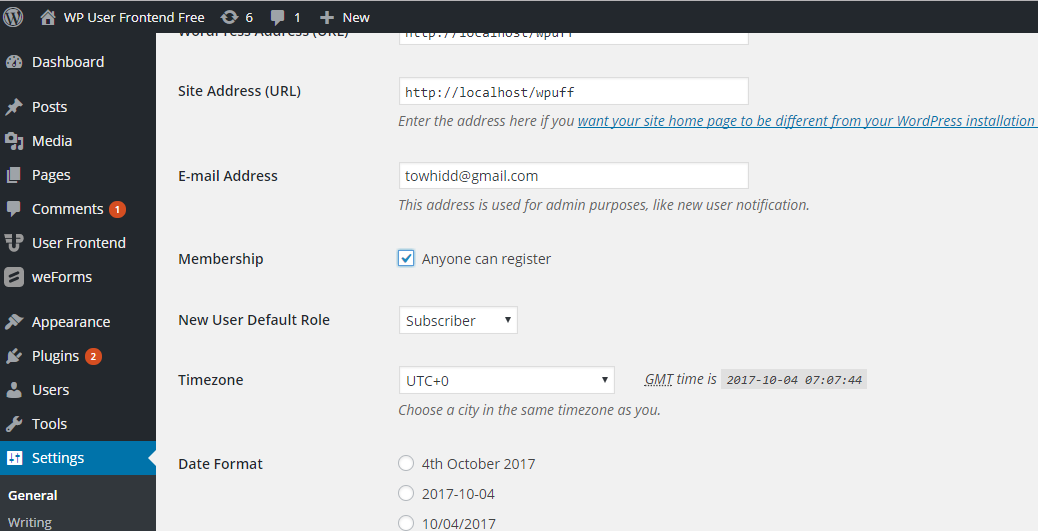 Your users need to complete payment in order to buy a subscription pack. So for payment navigate to wp-admin → User Frontend → Settings → Payment.
Step 5: Configure Charge for Posting
Enabling this feature, you will get all your subscription packs on a specific page. Also, you will get some already created pages, among them, there is a page called "subscription" that has a shortcode [wpuf_sub_pack].
When you select "yes" for the charge for posting, you will see all your created subscription packages on the page called "Subscription Pack Page".
Configuring Payment Page and Payment Success Page
These pages are already set when you install WP User Frontend, you don't need to do anything here. If you want you can create your own custom page and set those here.

Step 6:Set Up PayPal and Bank Payment Methods
Using WP User Frontend your Subscribers can pay through PayPal or direct bank. You don't need to add any extension to enable this feature. Navigate to, WP User Frontend → Settings → Payment. You can use Stripe as the Payment Gateway as well.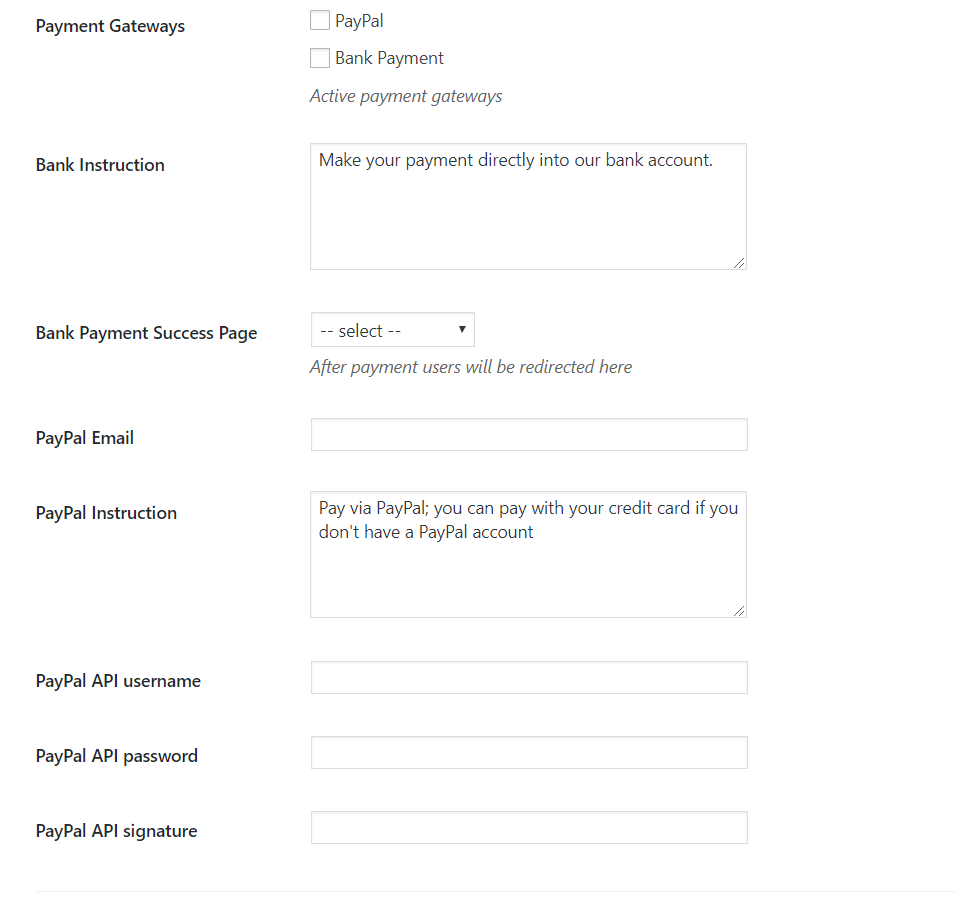 Your subscription-based membership site is ready for business.
Now that you are ready with your membership site, we are going to some techniques to promote your membership site as well.
Bonus: Useful Tips to Promote Your Membership Site
If you have come to this point of the article, you have spent time, effort, and money to create your membership site. But what's the point if people don't come to your site?
That is why you need to create an effective marketing strategy to promote your membership site. Here are 5 techniques to follow for an effective promotion strategy.
5 techniques to follow:
Content Marketing: It is the best way to drive organic traffic. For a new site, you may not get higher rankings right away. But if you can create an effective content marketing plan with relevant keywords, and write informational articles, the search engines are bound to drive relevant traffic to your site.
Solid SEO Strategy: Search Engine Optimization (SEO) is one of the best, low-cost, and effective marketing strategies for membership growth and generating organic traffic. SEO will help you to rank higher on the search engine result page. You won't see the immediate results of this type of marketing, but after giving it some time and trying different defined SEO techniques, you'll see great results.
Call to Action: A call-to-action marketing method refers to a suggestion for your audience to take the next step. You can use it to grab your visitors' attention through email, content, or any other marketing method you're using and redirect them to your purchase page by a simple button at the bottom of the page.
Social Media Marketing: This is a very important part of your marketing strategy. To let your audience know about your site, you need to promote your site on social media. You need to create your social profile on Twitter, Facebook, Linkedin, etc. People who often check various social media platforms like Facebook, Instagram, or Twitter will investigate and interact with your social media profile.
Email Marketing: Last but not least, you need to use the advantage of email marketing. You may send information, updates, promotions, and more to this list of email addresses. You'll be able to convert customers from email subscribers to full-fledged members in no time with a well-crafted personalized message that informs them about membership.
So, these are the strategy you need to follow in order to promote your membership site.
FAQ(s) Regrading Membership Site
Should I start a membership site?
Yes. It is a wonderful opportunity to earn money online with a relevant niche.
How do you add value to a member?
1. Connect them with others
2. Suggest resources outside of those you offer
3. Offer educational opportunities surrounding soft skills
What is a membership proposition?
A membership value proposition articulates how you intend to create value for your members.
Utilize Innovative Ideas To Build Your Dream Membership Website Now!
Finalizing a niche for your membership site may seem like a difficult task. However, after reading this article you have got some pretty good membership site ideas.
Remember in order to create a successful membership site you need to focus on a customer-first approach. The customer's experience is what will grow your business, attract more members, and keep them where you want them – dedicated to your idea.
If you have any more membership sites deas, do let us know in the comment section.