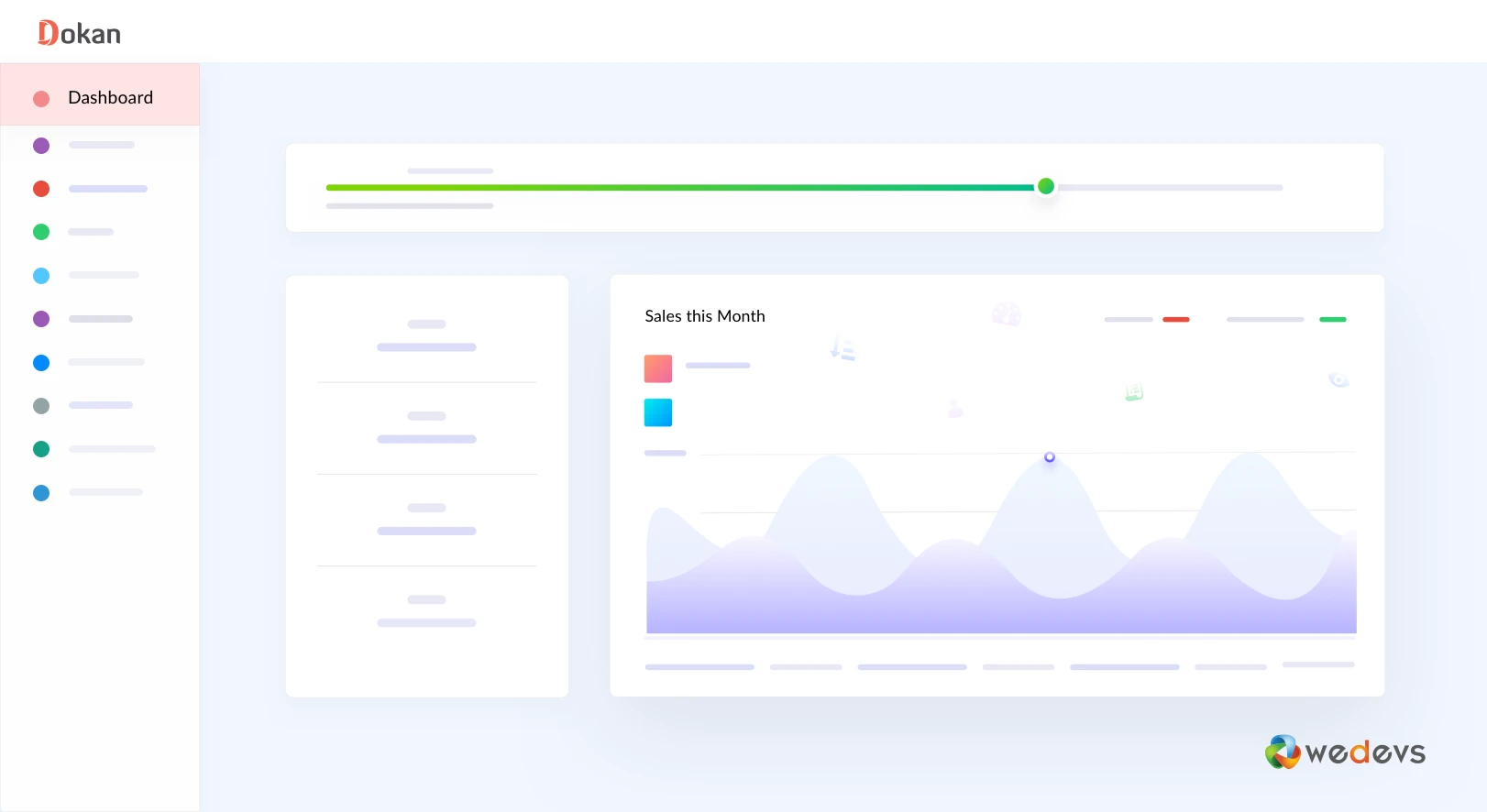 Ensure the Best Frontend Experience for Your Vendors with Dokan
Have you ever dreamed of creating an online multivendor marketplace? Creating such a website is probably way easier than you might think. If your website is built on WordPress, then you can use Dokan to quickly transform it into an Amazon-like marketplace within minutes. By providing all the required features, Dokan ensures the best vendor dashboard experience.
Unfortunately, that is not the end of the story! If you and your vendor both use the same dashboard interface then you might suffer from security vulnerabilities and incessant vendor requests. And most importantly, your vendors may feel boring using the default backend dashboard of WordPress. This is where a stunning customized vendor dashboard of Dokan comes in!
In this post, I will show you how the frontend dashboard of Dokan can pamper your vendors with much-needed features coupled with the aesthetic vendor dashboard User Interface.
Before that, let's take a short tour of-
What Is a Multivendor Marketplace?
A multivendor marketplace is an online shopping platform where multiple vendors can showcase, sell, and ship their products to the doorstep of their customers using individual dashboards.
Examples of multivendor marketplaces are Amazon, Alibaba, eBay, Aliexpress, Newegg and many more.
Why Choose Dokan for the Best Vendor Dashboard Experience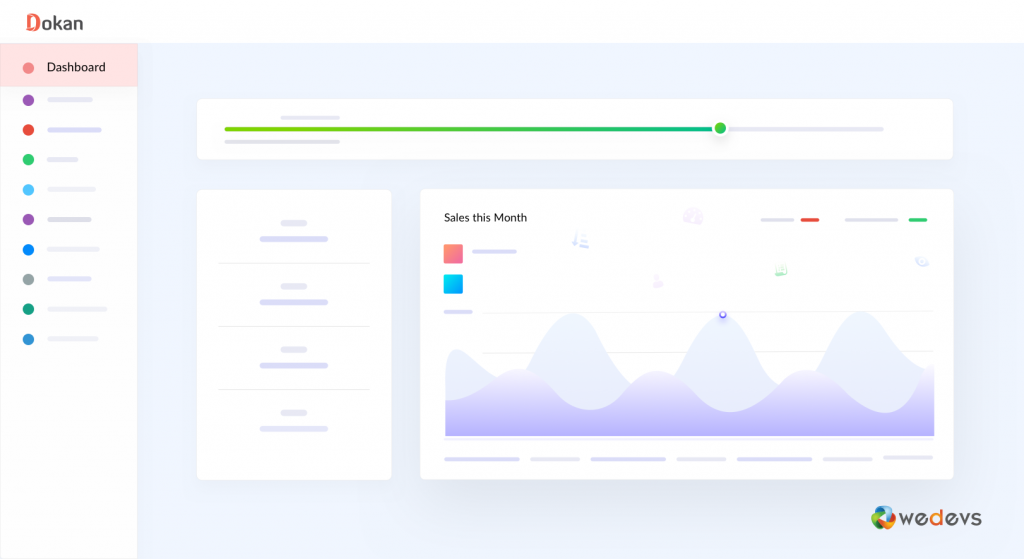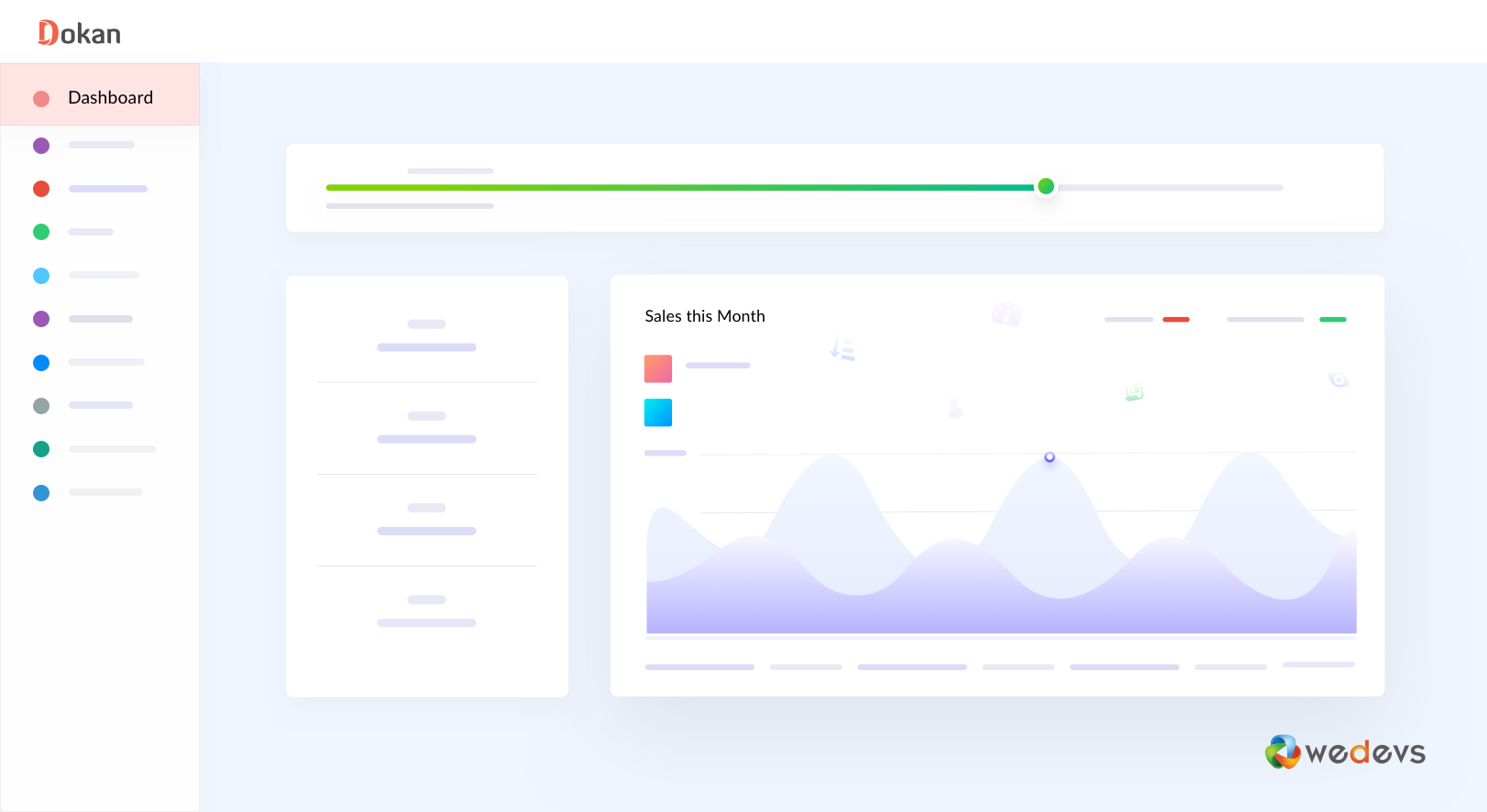 If you are running your marketplace on Dokan, you are likely to enjoy the following privileges:
You will not feel stranded: Unlike the other Saas-based marketplace solutions, it runs on WordPress which is the most popular CMS out there in the market. Currently, 34% of the websites of the internet are built with WordPress.
Open-source platform: It is an open-source plugin for WordPress. Meaning that you have access to the core plugin and develop in your own way.
A heap of freemium plugins: As it runs on WordPress, you can use the other freemium (free and premium) plugins to solve your problems at any time. For example, you can use the custom registration form builder for your marketplace.
Highly scalable: Dokan, as a marketplace solution, it is extremely scalable. You can use different versions at different phases of your business to cut extra costs.
An extra layer of security: It will create an extra layer of security. That's because you are restricting your vendors from logging-in to the backend with Dokan. this will significantly enhance the security because letting the vendors use the backend can lead your website to be hacked.
Instant customer support: If you and your vendor fall in any trouble, you can create a support ticket and take instant help from the dedicated customer support team.
How Dokan Can Help You Ensure The Best Vendor Dashboard Experience
Assuming that you are using Dokan, your vendors will enjoy the following benefits from the eCommerce multivendor solution:
1. Dedicated Dashboard Overview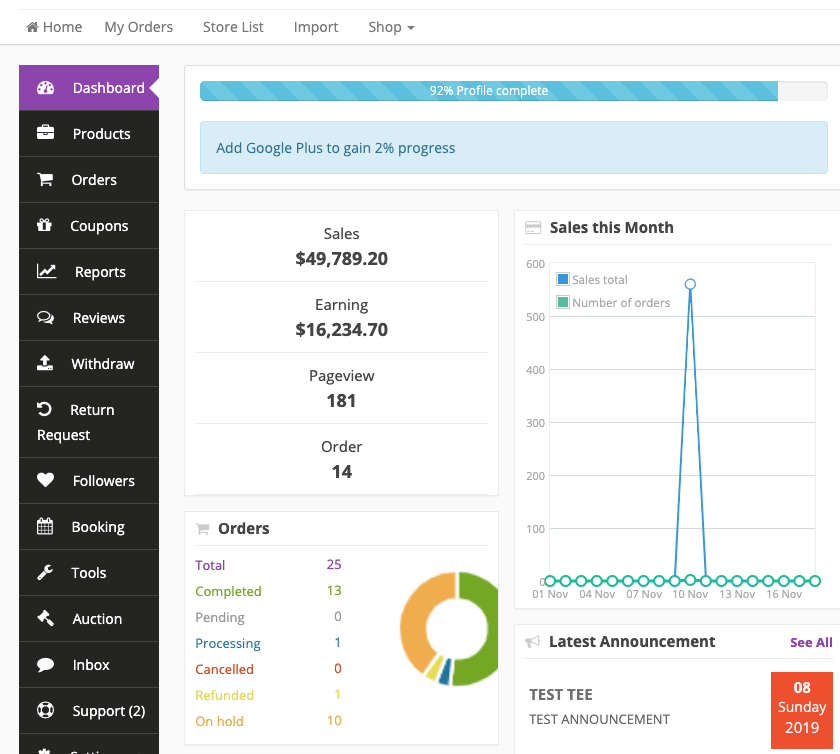 If you are using Dokan, you will be able to provide an amazing dashboard to your vendors.
With the vendor dashboard, your vendors will get a bird's eye view on their individual stores. They can get insights like the total amount of sales, earning, pageviews, order status and product status with a monthly sales graph.
This is how Dokan ensures the best vendor dashboard experience.
2. Product Creation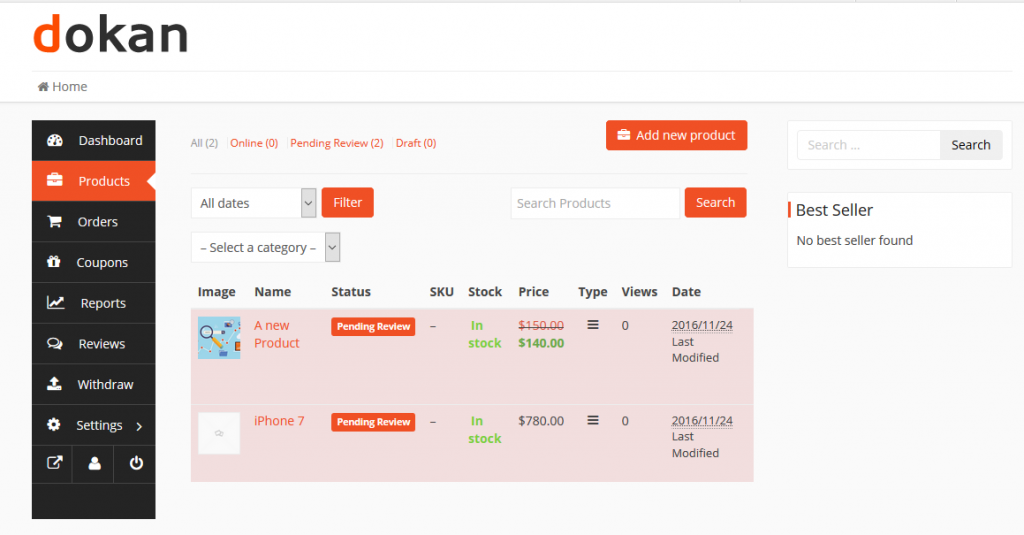 Your vendors can create products even if you are using the free version. However, with the pro version, your vendors can create variable products. In addition, your vendors can select categories, and add tags for the products that they create. It will be very easy for your vendors to create grouped, downloadable products and so on right from their dashboard.
By enabling the SKU (Stock Keeping Unit) system, your vendors can show the number of stocks left. What's more exciting is that if there is not any stock left then the vendor can run backorder service, that is when the next batch of stocks comes in the customers who have placed the order already, will get priority.
While creating products, you can configure shipping methods. Apart from the WooCommerce Settings option, Dokan has also extra shipping methods.
3. Order Management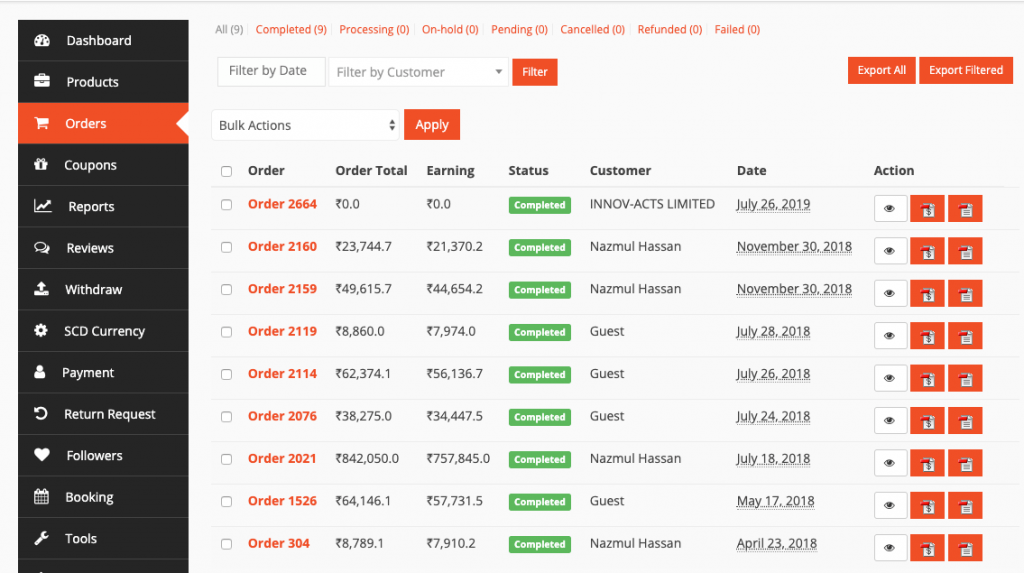 As far as the order management system concerned, your vendors can not only see the orders but also can manage the orders with great control.
Every time a new order is placed the vendor will be notified both in the dashboard and his/her email inbox. There is a dedicated order listing page that includes:
Order number: Every order will contain a unique number.
Order total amount: The amount of order a customer places.
Earned amount: It indicates the exact amount of earning for an individual order.
Order status: There are currently three order statuses available in Dokan. One is completed, another is processing and the other is on hold.
General Details: It includes customer name, email, address, phone etc.
Order Notes: The vendor can add an order note for private customers. In this case, the customer will be notified through the email
Order action: The seller can complete an order from the Action.
Shipment Tracking: With a tracking number, your vendors and their customers will also be able to track the products they are selling.
For downloadable products, the vendors can manage the download permission.
This is how Dokan ensures the best vendor dashboard experience.
4. Creating Coupons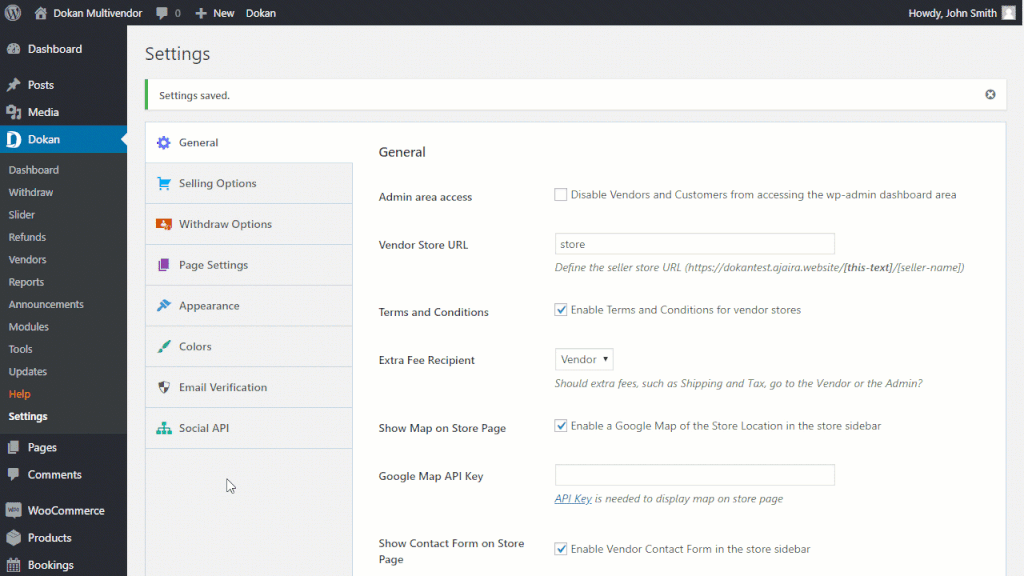 Whether you are doing a tech business or managing a restaurant, adding coupons is something your vendors will want down the line.
With the Dokan Vendor Dashboard, the vendors can create as many coupons as they want for their products. The seller can also restrict the coupon from showing on the frontend.
With Dokan, your vendors can add to types of coupons. They are:
Product (Fixed) Coupons: You can fix the coupon for products in dollar (or any available currencies) amounts.
Product Percentage (%) Discount: With this option, you can set a predetermined percentage rate for products.
5. Review Service
As an admin, if you enable this module, your vendors will be able to moderate customer reviews. They can trash, approve or disapprove a review. But the vendors can not edit the review.
This is how Dokan ensures the best vendor dashboard experience.
6. Store Settings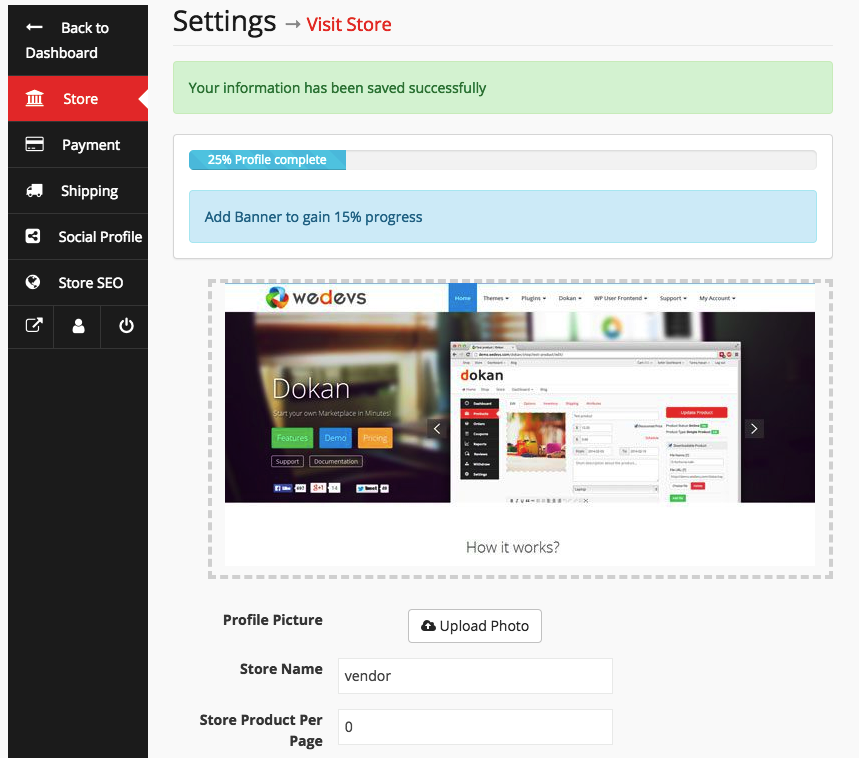 The vendors will get a full-fledged store settings option with which they can embellish their store with a customized banner image.
When setting up the profile, the vendors will go through a gamification process.
7. Store SEO to Ensure The Best Vendor Dashboard Experience
We all know that how much it is important to do SEO for a website in order to ensure a remarkable presence on the SERPs. This is exactly where the Store SEO feature comes in! Your vendors will also get options to optimize their store for social media such as Facebook and Twitter.
8. Reporting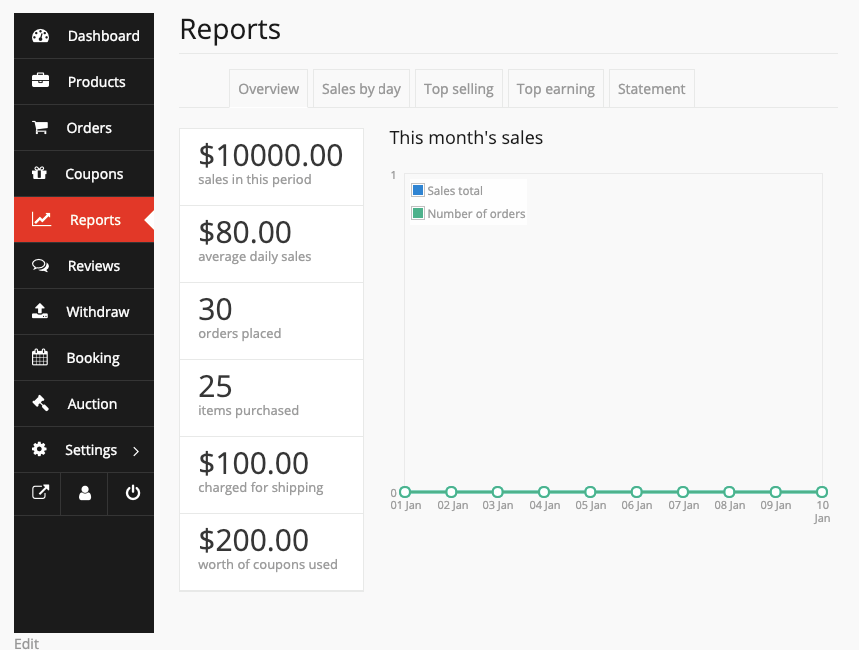 The dedicated reporting option can help the vendor get customized data according to:
Overview
Sales by day
Top selling
Top Earning
Statements
9. Withdrawal Request
After earning a certain amount, the vendor can request his/her admin to withdraw money from the vendor dashboard. However, the admin can specify the minimum withdrawal amount for his/her vendor.
Staff Manager
Your vendors can employ an unlimited number of personnel to manage their individual stores. This will enable the vendors to enjoy holidays or pastimes. This is a pro feature that is available for the business and enterprise version.
From the dashboard, vendors can also moderate permissions for each staff in different manners.
10. Support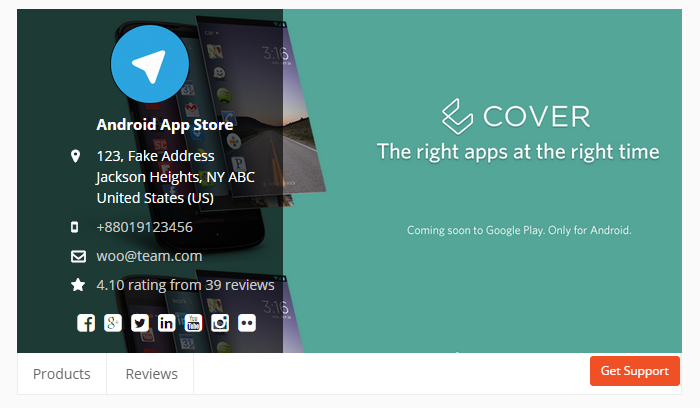 The vendors can also give support if a customer is in any trouble. This is a great way to give after-sales support. In this case, the customers can view the "Get Support" button. On clicking the button they can seek help from their vendor.
Once a request is sent to the vendor, the vendor will be notified via email. Similarly, if the vendor gives any customer support in return, then the associated customers will also be notified via email.
This is how Dokan ensures the best vendor dashboard experience.
11. Follow Service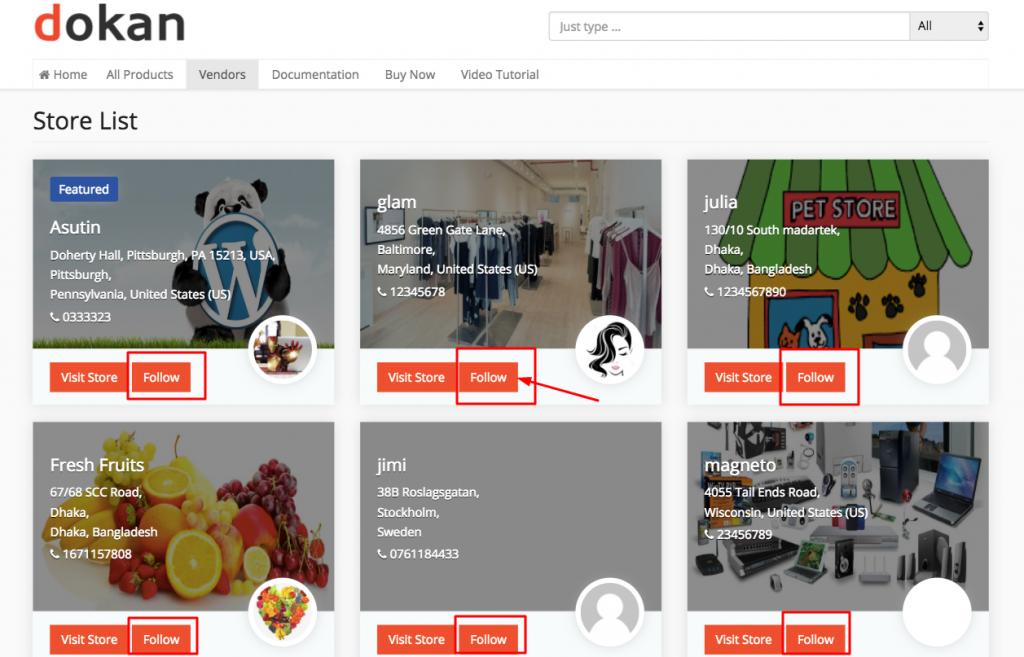 The vendors can enable this option from their dashboard to follow their respective stores. The benefit is that the customers will be able to get updates and to be notified via the email if the vendor adds a new product.
12. Return Request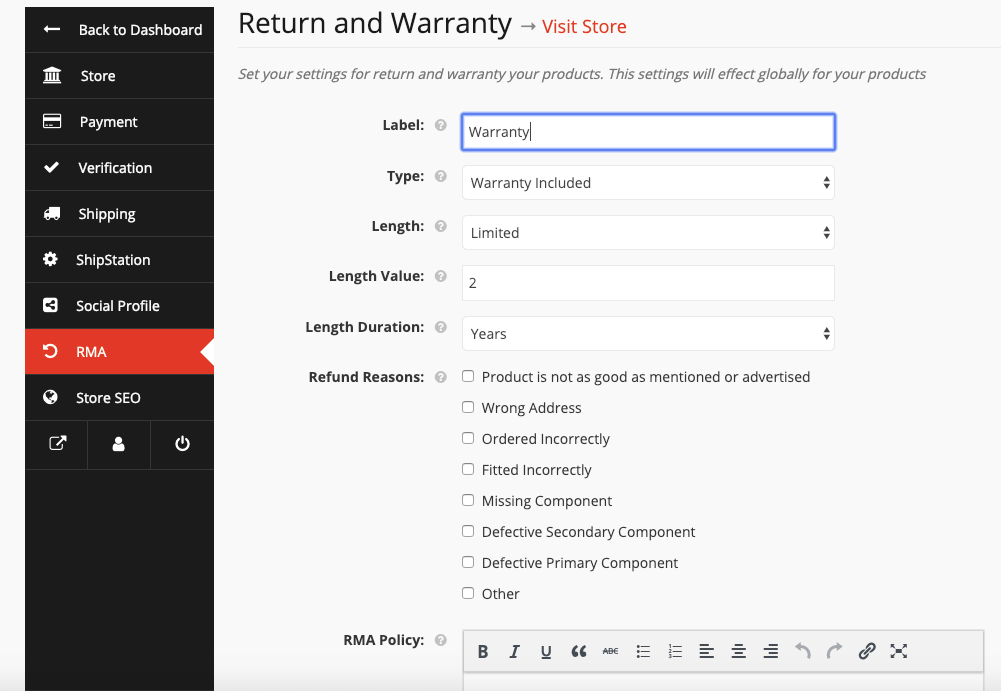 The RMA option lets the vendor take back the sold items. To this end, the vendor can set warranty conditions like the duration of the warranty, refund reason and many more.
Providing The Best Vendor Dashboard Experience with WordPress
The Dokan vendor dashboard has been designed in a philosophy that enables the vendors to manage their stores without taking any assistance from the Admin. However, if any unsolicited situation arises then the vendor can contact the Admin to moderate those situations at any time. This is how Dokan ensures the best vendor dashboard experience.
However, we have only shown the most important use-cases here. There are a lot more benefits you can get from the solution. Finally, as an admin, if you deploy any premium feature to your marketplace, it will automatically be available on the vendor dashboard by just turning on the modules from your end. That's it!