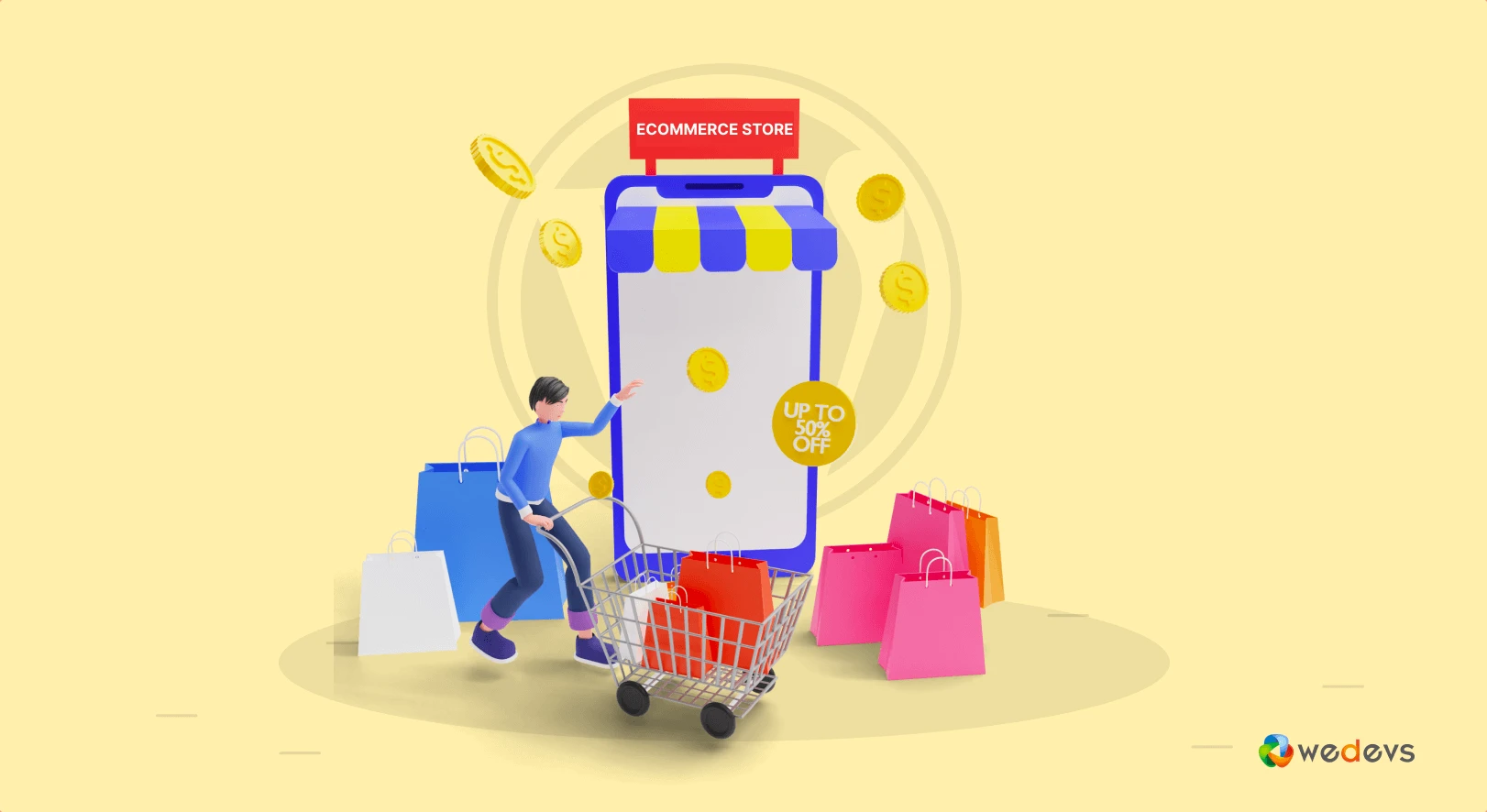 7 Highly Actionable Tips for Selling Products to Your Customers
When you have an eCommerce store, you need customers to make money out of your business. But the question is why people will choose you over your competitors. What's your strategy to win your customers?
To be honest, there is no shortcut to getting customers to your eCommerce store. It's always been a tough job for a newcomer to penetrate a market. However, if you can plan better strategies than your competitors and execute them in the right way, there is a certain chance to outrank your competitors. Thus you can sell your products to your target customers.
If you are not sure how to plan better strategies to sell a product to a customer, don't be worried. Today, in this blog, we are going to share everything about selling online products to customers.
So, without any further delay, let's directly jump into the first tip to sell products to customers.
1. Let the World Know You're Selling Something
If no one knows about your store, how would someone on earth become your customer? So, the first thing you need to do is promote your online store to your target audience. There are several ways to do that job. Let's focus on that!
a) Optimize Your Store for Search Engines
Search engines should be your main channel to get organic traffic to your eCommerce store. For doing that you have to optimize your site for search engines.
Follow the below to optimize your eCommerce store:
Find appropriate keywords for your site
Ensure a proper eCommerce website architecture
Keep improving your eCommerce site speed
Use structured data to attract searchers' attention
Optimize your product pages for on-page SEO
Find and fix every technical SEO error on your store
Focus on off-page SEO like link building
We have two dedicated blogs on eCommerce SEO. You can check these blogs to get more ideas on how to optimize your eCommerce site for search engines.
1. eCommerce SEO: The Ultimate Guide for Startups
2. 7 Proven eCommerce SEO Tips to Get More Traffic
b) Leverage Content Marketing
Content is king in terms of getting traffic to your site. On top of that, it's a free channel to get organic traffic. All you have to do is create top-quality blog posts on your products and post them on your site.
If your blog quality is top-notch and you are aware of on-page SEO, Google will rank your blog on the first page of the search result. So, whenever people will search for related something, Google will show your content to them. Thus you can get potential customers in your store.
Related: How to Write eCommerce Product Descriptions that Sell (Ultimate Guide)
c) Make Partnerships with Industry Influencers
Influencer marketing is another proven tip for outreach to target customers. You can make partnerships with industry influencers to get your job done.
Let's assume, you're selling smart gadgets. So, find a YouTuber, TikToker, or Blogger with a significant number of subscribers and make a deal with him to promote your products. It actually works.
d) Create Different Social Channels to Promote Your Products
Social media marketing is real. People spend a lot of time on social media. You need to reach out to them to promote your store and products.
Social media marketing is not just only about creating a Facebook page or group, but also you have to leverage other social platforms like Twitter, Instagram, YouTube, and TikTok. You can also promote your products on forums like Quora, Reddit, and Pinterest.
You should create engaging infographics, images, and stats related to your products and post them to the social handles. Also, you can create short videos explaining your product's features and upload them to your YouTube channel to attract customers.
Related: How Businesses Should Survive In Tough Times Through Social Media Marketing
e) Start Paid Marketing to Outreach Target Customers
Paid marketing is a marketing strategy where a company targets its potential clients based on interests, community, and prior interactions with the brand. As you know organic marketing is almost free. But organic or free marketing isn't actually enough to get exponential growth in your business.
The average ROI of Google Ads is 2:1 which means you'll earn $2 for every $1 spent.
If you focus on your customer behavior and set up the target customer properly with the perfect keywords, this return can rise to $8 for every $1 spent. Obviously, moving beyond the average is always a challenge for you.
Related: The Ultimate Paid Marketing Guide for Startups and SMEs
2. Launch a Sign-up Coupon Program
Email marketing is another effective tactic for your product marketing strategy. It's a great way to re-engage both current and prospective customers. To get people to opt into your list when they first visit your site consider using a popup that shares an offer if they subscribe.
This could be something like 10% off their first order or free shipping. Not only will you be able to email them now, but they'll be more inclined to make a purchase with the promotion you just gave them.
Related: How to Build an Email List with weMail for 2022
3. Introduce a Loyalty Program
A loyalty program is pretty much an effective trick for eCommerce website owners. A loyalty program is like if someone purchases products for a certain number of dollars (e.g., $499) he will get 10 loyalty points. And when he earns 100 points, he will be able to claim a free gift, voucher, or free shipping.
You can design the loyalty program at your convenience.
Loyalty programs are effective because they give customers a reason to return to your online store, whether it's to use the points they've accumulated for a free gift, to get free shipping, or to receive a percentage off their purchase price.
4. Let Other People Sell Your Products Through Affiliate Marketing
Affiliate marketing is an advertising model in which a company compensates third-party publishers to generate sales. The third-party publishers are affiliates, and the commission fee incentivizes them to find ways to promote the products of that company.
You can launch an affiliate program on your eCommerce site. For example, if third-party anyone can bring you a sale, you will pay him a 20% commission on that transaction. You are allowed to fix the commission rate as per your policy.
Here is an example of how an affiliate program works.

Affiliate will promote your products to his audience. Thus you can get more exposure, brand awareness, and ultimately more sales.
Note: If you want to be an affiliate for weDevs, you can signup here.
5. Create FOMO (Fear of Missing Out)
FOMO, or fear of missing out, is the feeling of anxiety that a person experiences when they think they're missing out on something. Generally, these feelings are caused by seeing posts on social media. However, it's often triggered during online shopping experiences as well.
Urgency is one of the most commonly-used techniques to create scarcity, and it is highly effective. It can also yield a powerful impact on FOMO marketing. Showing your prospect a count-down clock and they will realize that, as the clock is ticking, the offer will not be there forever and if they don't take action now, they will lose it.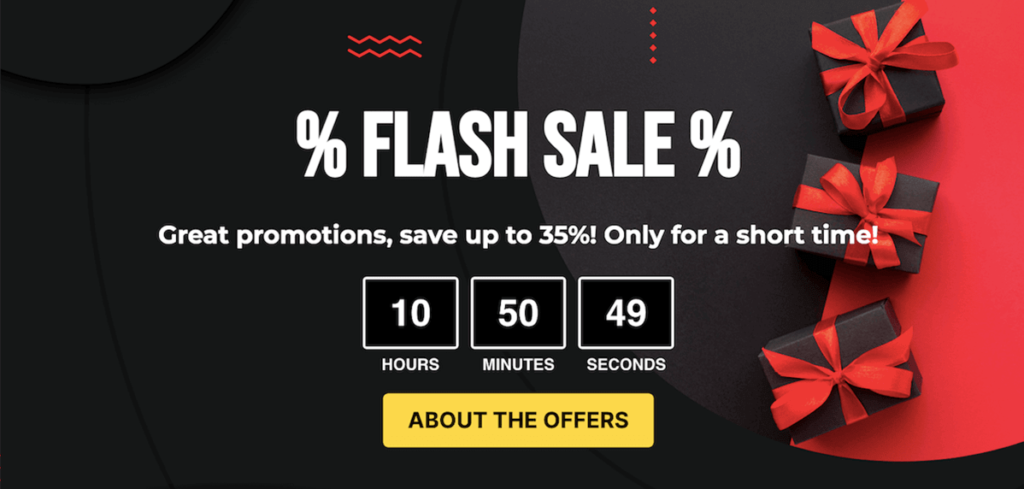 You can also show how many people are buying products from your eCommerce site using a popup. This is also an example of FOMO marketing. When prospects will visit your store, banners will pop up telling them that people are buying products on the site, so it should be safe to proceed.
6. Start Upselling and Cross-selling
Upselling and cross-selling are very popular terms for the eCommerce business community. If you are not acquainted with these terms, let's clarify them first.
Upsell: Let's assume, a customer wants to buy a mobile phone. He chooses the phone and goes to the checkout page for payment. When he is on the checkout page, you can suggest to him a better phone with the same price or 5%-7% extra price. This is called upselling.
Cross-sell: Cross-sell is like when a customer adds a product to the cart and visits the checkout page for completing the purchase, you'll show a complementary item with the product. This will influence him to buy that additional item. For instance, when someone wants to buy a mobile phone, you can show a headphone or earphones to buy with the mobile phone. This is called cross-selling.
Check this example to become more clear about these terms.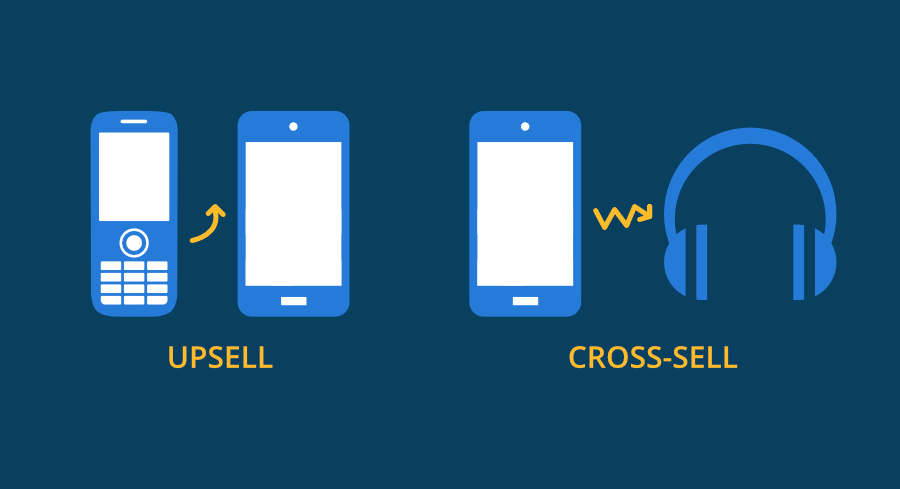 Since you want to sell online products, so, you should utilize these selling techniques on your eCommerce website for more revenue.
7. Establish A Transparent & Easy Return Policy
When you and your competitors are selling the same product at the same price, you can win customers with a clear and hassle-free return policy. Customers might be unsatisfied with their order for a number of reasons, it arrived damaged, they ordered the wrong size, or it simply didn't meet their expectations.
A clear return policy gives customers the confidence to make purchases from your eCommerce website. Here is an example of a return policy from the Walmart website.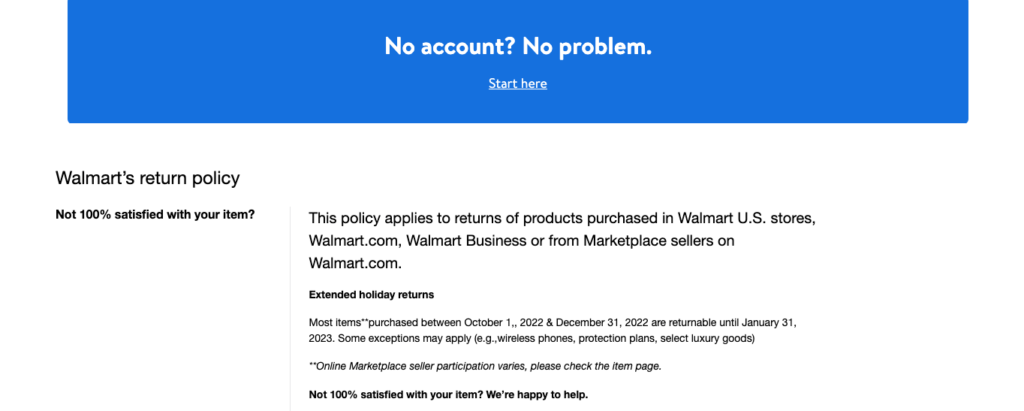 From Apple's strict 14-day return policy to IKEA's generous 365-day turnaround, just about every major retailer offers return and refund policies to their customers. And as an eCommerce website owner, you should offer it too.
How to Sell a Product to a Customer: A Quick Recap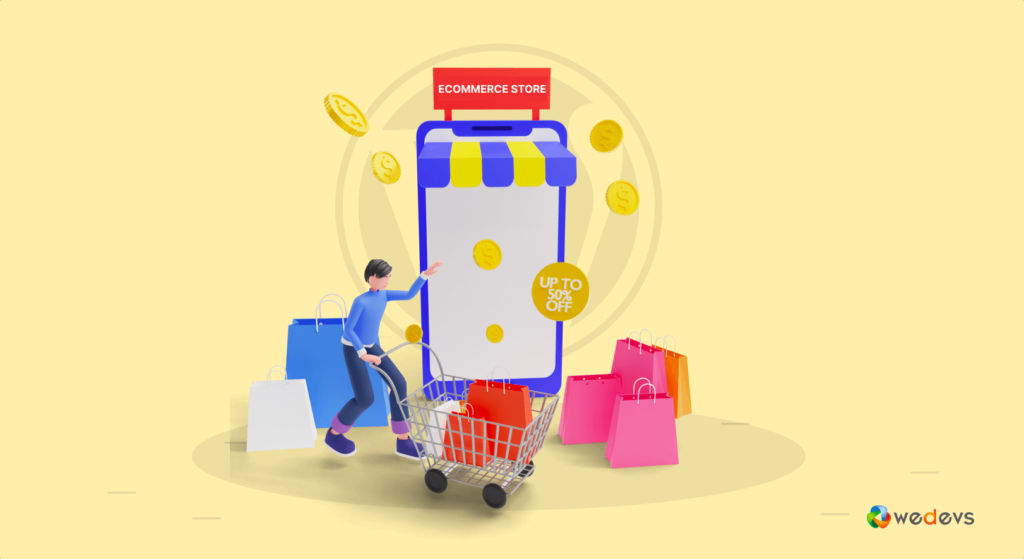 Here is a quick recap of the tips that we have just shared to sell a product to a customer from your eCommerce website.
Let the world know you're selling something from your eCommerce site
Launch a sign-up coupon program to build an email list
Introduce a loyalty program to attract buyers
Let other people sell your products through affiliate marketing
Create FOMO (Fear of Missing Out) for more sales
Start upselling and cross-selling to sell more products
Give your buyers confidence that they can return products without any hassle
Bonus: Tips to Ask for Reviews from Your Happy Customers
You'll barely find an eCommerce website without review and rating options. Reviews help companies to understand what people think of their products and where they need to improve. At the same time, reviews help customers to understand which product is reliable or which is not.
So, reviews and ratings are important for an eCommerce website, right? But the question is how would you earn reviews from your customers? Let's find out some tricks!
Ask for Reviews When The Product is Delivered
You should immediately ask for reviews from your customers once their products are delivered to their destinations. At this stage in the customer journey, you can ask about the products or their experience with your business.
You can request them for reviews through message or email. If your site has the feature to send direct messages to registered customers, you can send them messages to politely request them for reviews. Or, you can send them emails for their valuable feedback.
Ask for Reviews on The Product Page
Many times, buyers are interested in sharing their experience with the product, especially when it's an expensive item. A study on how many people want to share their reviews shows that,
85% of consumers are willing to write online reviews.
Asking for a review on the product page lets customers know they can provide a product-specific review that will be published for others to see. This is especially useful for online stores that offer a guest checkout option or don't require customers to create an account to leave their feedback.
Ask for Reviews After Customer Support Interactions
One of the best times to ask customers for reviews is after they've had some sort of personal interaction with your business. For this reason, you should always ask for reviews after customer support interactions.
When it seems to you that the customer is happy with your support, you should ask for reviews in a subtle way. Happy customers will always be interested in writing positive reviews for you.
Execute These Hacks and Start Selling Your eCommerce Products Now
To be successful in the eCommerce business, you need to be very passionate, dedicated, and hard worker. At the same time, you should follow some proven tips that can help you in this journey instead of throwing darts in the dark.
In this guide, we have shared 7 tips for you. If you are struggling with your eCommerce business, these are gonna surely help you to overcome the situation.
If you have already passed your struggling days and now are enjoying success, you are highly requested to share your journey with us. This will help our readers to get ideas on how to handle similar kinds of problems. Our comment box is always open for you. Thank you.