 How to Create and Manage Projects using WordPress
Project Management is the key to successfully and effectively manage every task that needs to be completed in a project. When more than one person is involved in a project, it becomes essential to have some sort of project management system to keep track of the work progress.
Many people opt for expensive project management software when they need a project management solution. But did you know you could do that with WordPress? Many people believe that WordPress is just good for publishing. But the increasing number of websites built with WordPress for different purposes such as e-commerce is a proof that WordPress can do more than you think.
WP Project Manager Pro is a premium WordPress plugin that turns your WordPress website into a project management system. You can have your whole team on your site and manage their work, assign tasks, see progress, make to-do lists or discuss tasks with them using this plugin.
Today we're going to show you how to create and manage projects using WordPress with the WP Project Management Pro plugin.
Key Features At A Glance
First of all, let's take a look at the features of WP Project Manager Pro plugin.
Create and manage projects using WordPress.
Assign projects and specific tasks to coworkers.
Organize projects by category.
Create different tasks and assign users. The system sends an email notification to the user(s) whenever you assign them a task.
Discuss every individual task, to-do list, or every item in the to-do list with the ability to upload files.
One place to see all the attached files in a project.
Keep track of all tasks and projects.
Create milestones inside projects and assign users to them.
Users can see all the tasks and milestones assigned to them at a glance.
See an overview of all activity on any project.
Give users permissions to create/edit tasks. Users can have different roles in different projects.
Add-ons are available to add new features to WP Project Manager Pro such as invoicing clients, bringing the Project Management interface to the site's front-end, and adding a time tracker to every task.
Now let's take a deeper look into some of the features that make WP Project Manager Pro the best plugin you can use to bring project management capabilities to your WordPress site.
Creating Projects, Organizing and Assigning Users
WP Project Manager Pro allows you to create as many projects as you like. If you need to create a lot of projects, you might want to create categories to file projects under. The plugin allows you to create project categories and categorize every project. You can easily filter projects using those categories to find out the project you're looking for in seconds.
If you have other users on your site, you can assign tasks to them. The best thing about WP Project Manager Pro plugin is that if you have a lot of co-workers, you can create separate projects, assign users and set custom permissions for them on a per-project basis. This gives you the flexibility to assign permissions to users on different projects.
WP Project Manager Pro lets you assign role to users when you create a new project. If your co-worker or client is not already registered on the site, you can register them right from the new project pop-up window. It's built to make things easier for you and it works that way!
Project Calendar
A calendar gives you an overview of all the tasks based on their due dates. This is useful if the Activity list seems messy to you and you need a clearer look of which task needs to be prioritized and which task can wait.
The Activity list shows up on Project page giving you a list of all activities from all users assigned on that project.
To-Do Lists
To-Do lists is the heart of WP Project Manager Pro. This is where almost all the tasks are created, assigned, and discussed on. Don't let the "To-Do" name fool you, because it's not just a list. By using this option you can create separate lists (or tasks) and inside those you can create multiple items. Take a look at the images below for a better understanding of how this works.
As you can see here, you can create multiple to-do lists under a project. You can optionally add those lists to a Milestone already created to achieve something (More on that later). Once the list is created, you can go into the list and create as many "items" as you want.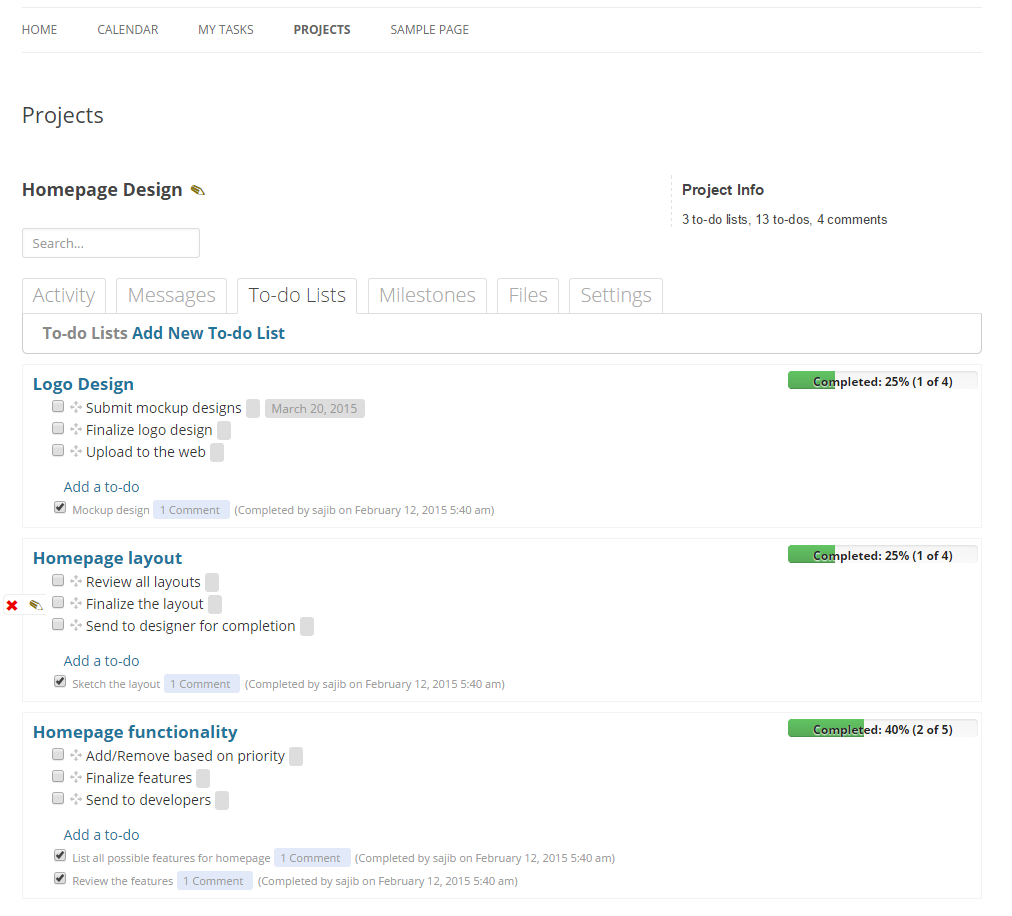 These items can have a start date and a due date. You can assign these to yourself or any of the co-workers who is already assigned to the project. Users will see those assigned items under My Tasks menu when logged in from their account.
Discuss Tasks and Add Files
WP Project Manager Pro plugin allows you to start a discussion almost anywhere. There is a dedicated Message place where you can create a new message. You can discuss inside To-Do lists as well as in To-Do List items or tasks. You can mark certain tasks or list items as Private so that your clients may not see them.
As an added benefit, you can attach files of any type with any of your message or comments. There is also a Files menu where you can see all the files attached to the To-Do lists, Messages and Comments on To-Do items under that project. So if you're looking for a previously uploaded file but not sure where it was uploaded, you don't need to go hunting for it. Just go to Files menu and you'll get an overview of all files.
Customize Project Permission
WP Project Manager Pro lets you customize roles of other users. When you create a project and add your client and other co-workers, you can choose who can create project To-Do lists, items, Milestone and Message and who can view private items. This is useful if you want only the project manager and client to retain the privilege of adding new tasks and milestones to the project.
Take it All to the Frontend of Your Site
As you have seen above, the whole process of managing projects using WordPress can be done from the front-end of your site. To do that, all you need to do is grab an add-on called Project Manager Frontend, install and activate it.
After the initial configuration, all of your project management will be available from the front-end of your site, enabling you to create, manage, and view projects as well as perform all the project management operation without having to go to the back-end of your site.
Added Benefits Comes from Add-Ons
WP Project Manager Pro is enough to get your Project Management going. But if you need more, we have more features that you can use. We developed a few add-ons that extend the functionality of the plugin. Here's a short overview of some of them.
Invoice
Invoice add-on for WP Project Manager Pro lets you create invoices for your client right from WordPress. You can create invoices from your Projects and issue them to your clients. Your clients can see their invoices from the front-end and pay via PayPal. It's an efficient way for invoicing with WordPress.
Time Tracker
Time Tracker is yet another add-on that lets you track time for each task. You can track how much time it takes for a task to be completed. Users can start tracking time on any task (To-Do list item) and stop them whenever they need. When they mark the task as completed, the total time spent on the task will be added to that task automatically by Time Tracker add-on.
There are some more add-ons for WP Project Manager Pro that you can check out.
As you can see, you don't need to spend big money on a project management software since you can do it all on WordPress with just one plugin. The add-ons make the project management task even better and more efficient. So you don't have to look anywhere. Try WP Project Manager Pro on your WordPress and start managing your projects like a pro!