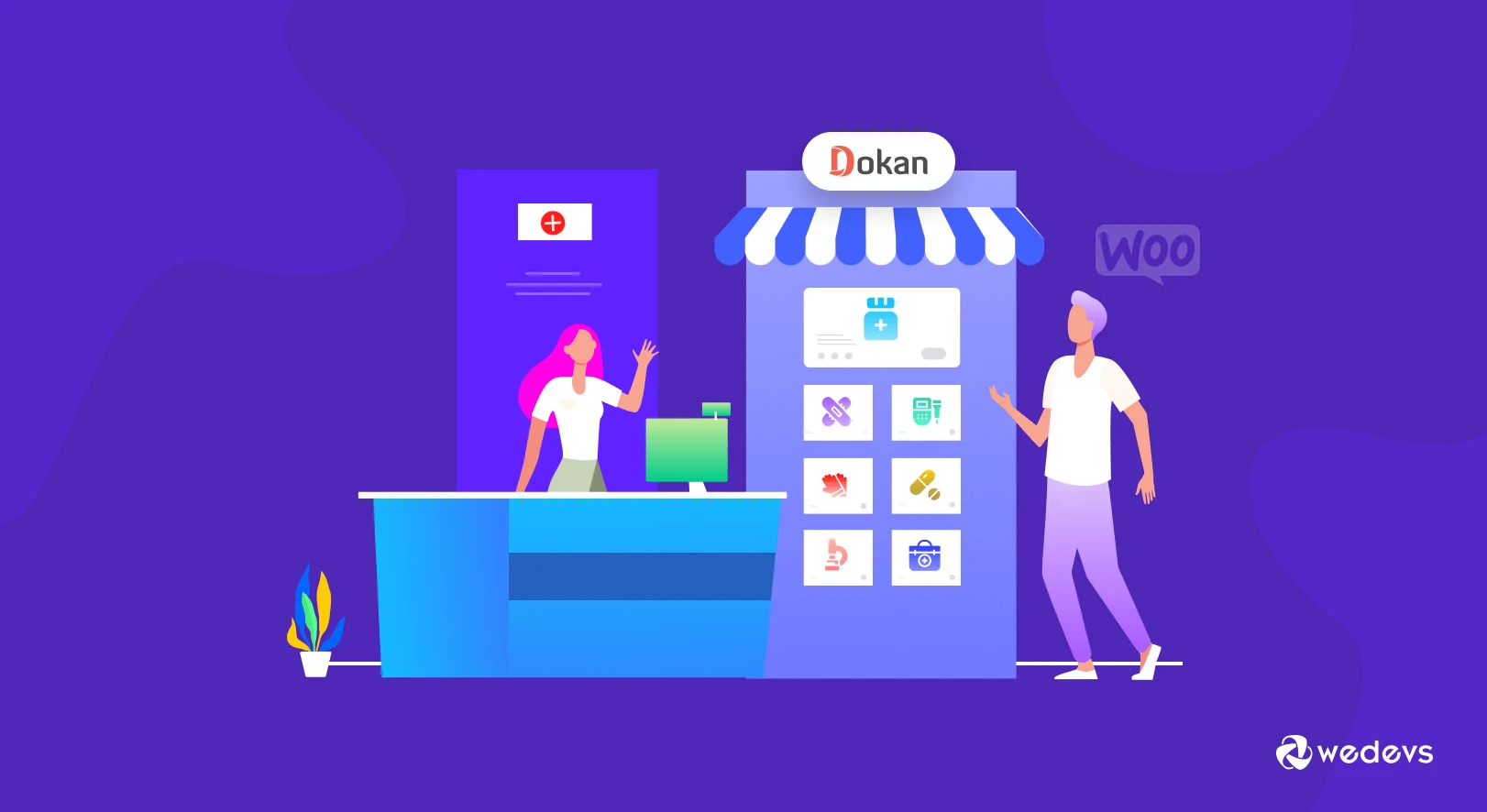 How to Start a Medical Supply Store with WordPress (Step by Step Guide)
Starting an online medical supply store is not only profitable from a business perspective but you are also helping people in need. There are many remote places where there is a shortage of medical supplies and equipment. An online platform for medical supplies will plug that gap.
But before starting a medical supply business you need to know how to start a medical supply store.
Starting and creating an online business can be quite challenging. You need to choose a niche that is stable and lucrative at the same time. In that regard, the medical industry is a smart choice. To give you proof, here are some stats,
According to a research, medical supply marketplace is expected to reach $132 billion by 2022 in marketshare.
In the United States, the healthcare industry is worth $3 trillion in marketshare. While China and Japan are next on the list, with $574 billion and $469 billion respectively.
The pace of growth is also impressive. Between 2019 to 2021, this industry has growth rate of 6.8%.
And if we consider the overall economic situation, there is always enough demand for medical supplies generated by hospitals and treatment centers.
So, after looking at the stats and facts if you are considering starting an online medical supply marketplace, you are in the right place.
We are going to show you a step-by-step tutorial on how to create a medical supply store with WordPress. Grab your pen and paper and start taking notes. We are going to start with,
Key Benefits of Starting an Online Medical Supply Store
Rapid growth and huge business opportunities is a key factor in starting an online medical supply store. While that's an attractive factor but that's not the only one. There are other benefits of running an online medical supply business. Like,
1. Reach Customers in Remote Places
We pointed this out at the start of the article. When you are creating a medical supply marketplace, you are centralizing different retailers and distributors in one place. That way you can reach out to new clients and supply equipment in the most remote places.
2. Less Competition
Compare to other traditional marketplaces, very few medical supply retailers have an online presence. So, there is a huge opportunity waiting for you to take. If you are thinking of starting a medical supply company, the time is now.
3. 24/7 Sales Opportunity
An online store with a 24/7 presence can deliver to customers at any time. A key factor in the medical industry.
4. Data-Driven Business
Unlike physical stores, online medical supply stores have access to data analytics and consumer insights. They can take advantage of that and deliver better support.
5. Easy Marketing and SEO
For an online marketplace, there are many affordable online tools to do SEO and marketing to create a presence. Unlike the physical stores, which have to spend on flyers, ads, newsletters, etc.
6. Moderate Operational Cost
And last but not least, managing an online medical supply store is less expensive than managing a physical store. So, your overall cost will be minimum.
That's enough about the benefits of starting an online medical supply store. Now, let's get to the part of how to start an online medical supply store. But before that let's take a short detour and,
Understanding Some Key Aspects of Starting a Medical Supply Business
You are now getting the idea that starting an online medical supply store is a lucrative opportunity. However, to take this opportunity to the fullest, you need to understand some key aspects of starting an online store like this. Key steps like,
Decide a business model: You can either create a single online store while managing the warehouse and supplies by yourself or create a marketplace and invite vendors/retailers to sell.
Choose the Features You Want to Include: Decide beforehand what features you want to include in your marketplace. Otherwise, it will be a waste of time to include features after starting the marketplace.
Select the platform: There are many platforms that you can choose to start the online store. But if you want to start quickly and without any hassle then WordPress is the right choice for you.
Devise a Marketing Plan: It is necessary for any kind of online store. You need a solid marketing plan in order to succeed in the business.
If you follow these steps then you won't have any problems after creating your medical supply store. Now, let's get on with the step-by-step tutorial on how to start a medical supply store.

How to Start a Medical Supply Store With WooCommerce & Dokan 
Creating an eCommerce store using WooCommerce is very easy. You can have all the basic functionalities for free when you are using WooCommerce.
But if you want to turn your single store into a multivendor marketplace with some advanced functionalities then you can go for Dokan, the ultimate multi-vendor marketplace plugin. You need to invest a few bucks and within 30 minutes to 1 hour, you will have running a multivendor marketplace.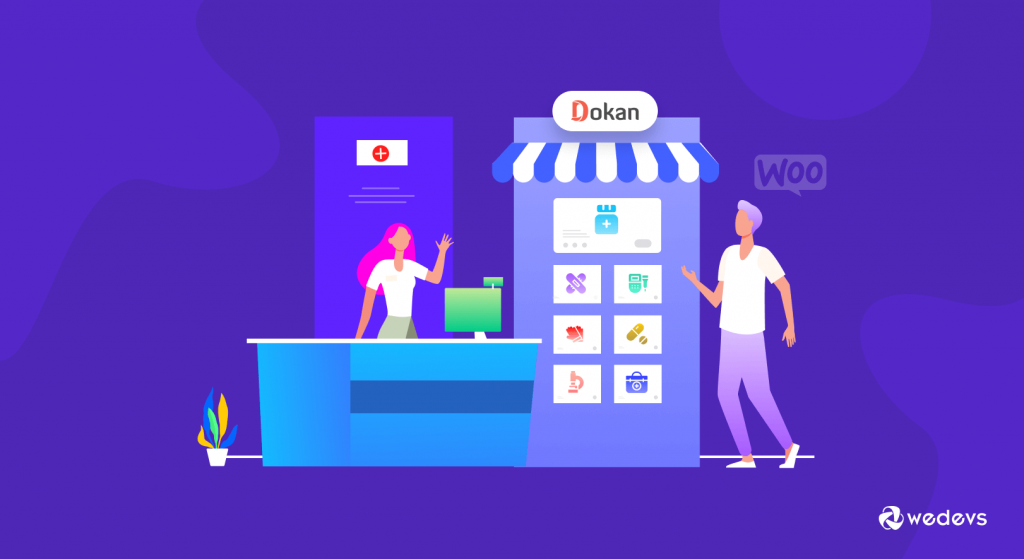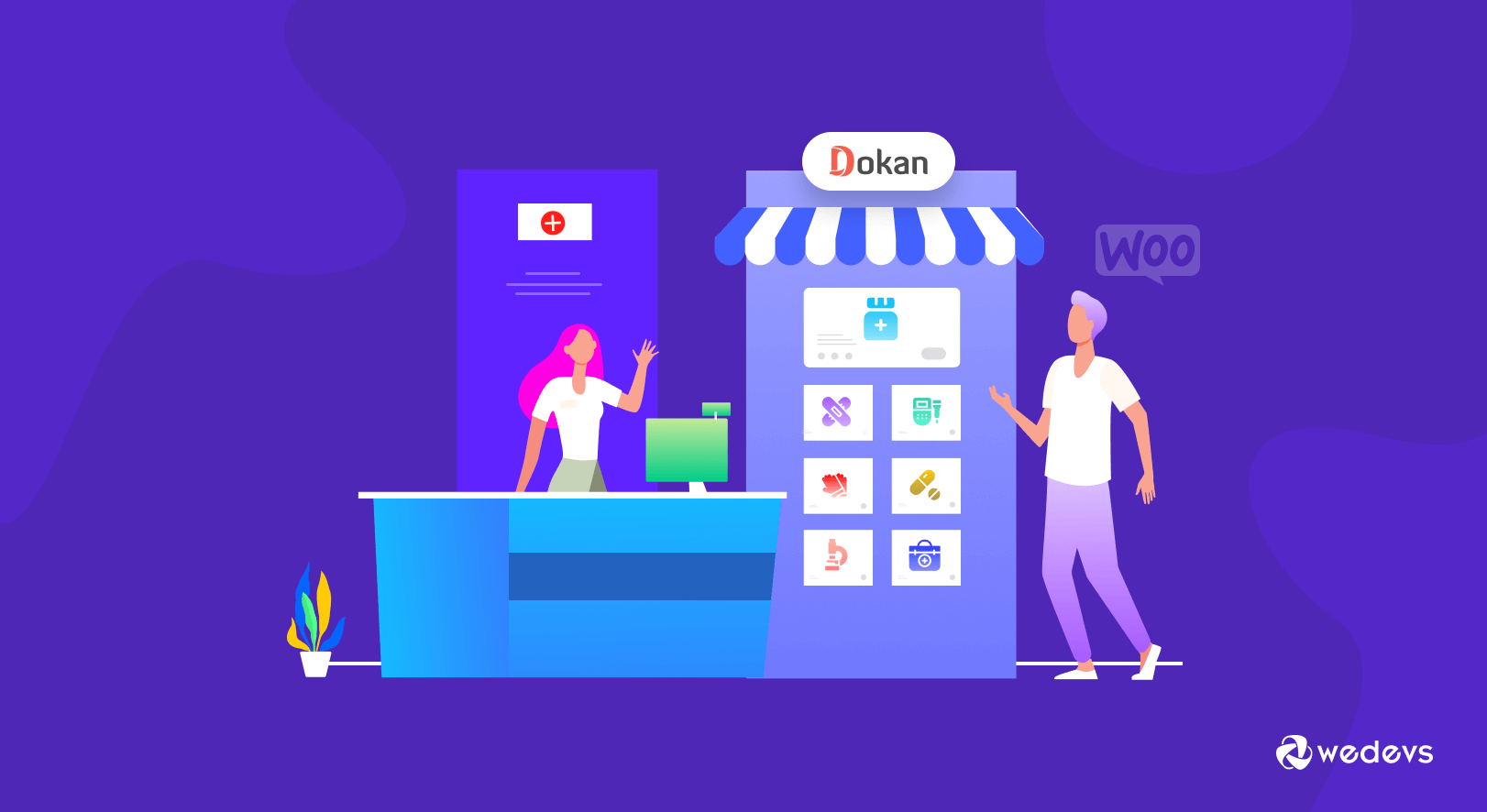 Today we are going to show you how to start a medical supply store using WooCommerce & Dokan.
Pre-requisites
Before you start, you need to have these plugins installed on your WordPress site,

Configure General Settings ( Dokan + WooCommerce )
Now that you have all the elements to build your multi-vendor marketplace, you need to configure all the general settings of WooCommerce and Dokan to get started.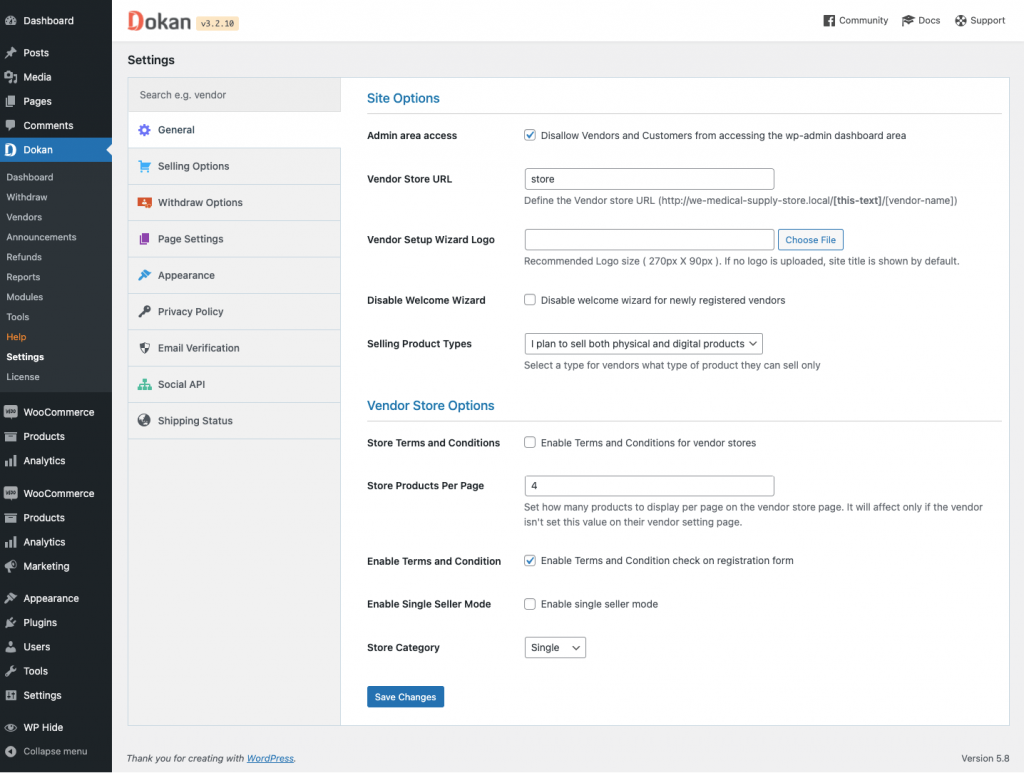 Add the withdrawal methods, configure the selling options, organize the pages ( dashboard, my orders, store list, terms, and conditions page ), store appearance, emails, social verifications, etc.
You may learn all about ➡️ Dokan Settings.
These settings will help you run your marketplace smoothly, and make your life easier as time goes on. So you need to spend a little time configuring these basic settings before adding the advanced functionalities.
Almost forgot, Dokan has now added a Shipping Status option. Customers and vendors both now can track their orders and know exactly where their products are at.
Enable Necessary Modules for Your Marketplace
Dokan has a list of some amazing modules that will help you elevate the marketplace to another level. You need to enable some modules firsthand in order to make your marketplace attractive. Here is the list,
Product Addon to Sell Additional Items
Typically when a customer buys any medical supplies, they buy some additional items as well. The product addon module ensures you can bill your users for those extra items separately.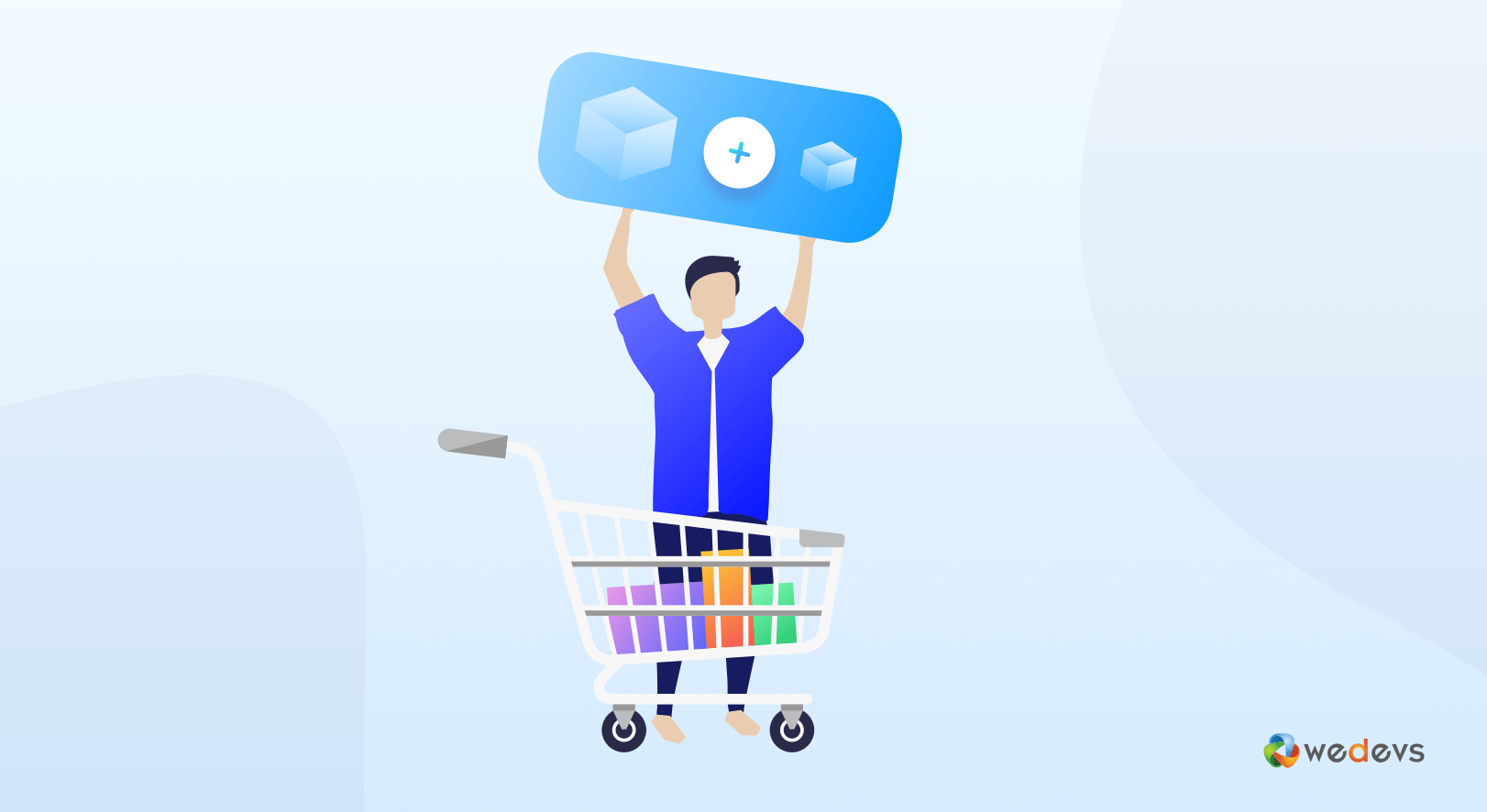 This module makes your marketplace more sophisticated and exclusive.
Live Search to Help Customers Find Any Medicines Easily
When you have a moderate number of vendors with a huge number of products, it will be hard for users to find the necessary medical supplies. That is why you need a live search option. Live search guesses what users are searching for as they type and helps them find relevant content faster.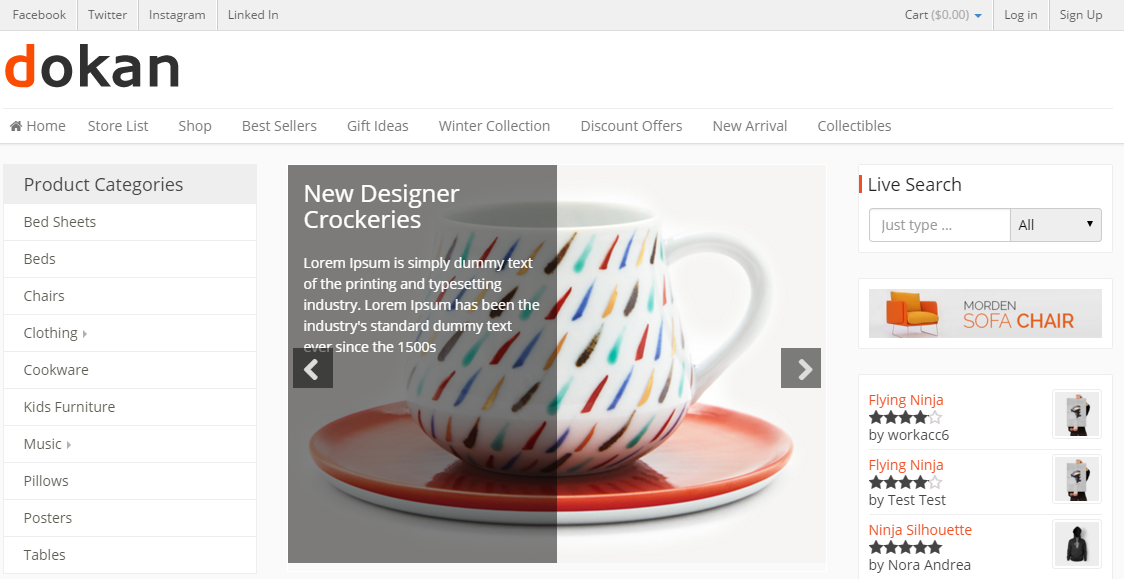 Dokan has a live search module that does exactly that. It turns your regular search bar into an instant search tool to quickly search for products.
Product Enquiry to Help Customisers Enquire About Availability Of Any Medicines
Buying a product related to healthcare is a sensitive issue. Many times the users are confused about whether they should buy the product or whether the product will meet their requirements.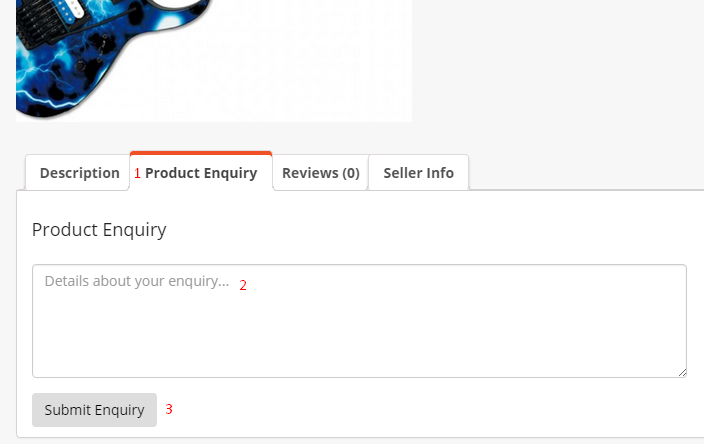 Using the product enquiry module, customers can contact vendors about the product from a product page with this module. This will let customers/visitors send an email inquiry to the vendor asking questions.
Live Chat to Answer Any Queries from Customers Quickly
Live chat is an important part of any eCommerce store. When a customer has an inquiry or issue, they can use live chat to communicate directly with the vendor or support staff and solve it immediately.
Researches say- about 69% of shoppers in the US demand live chat features
Dokan has 4 live chat integrations,
Facebook
WhatsApp
Tawk.to
TalkJs.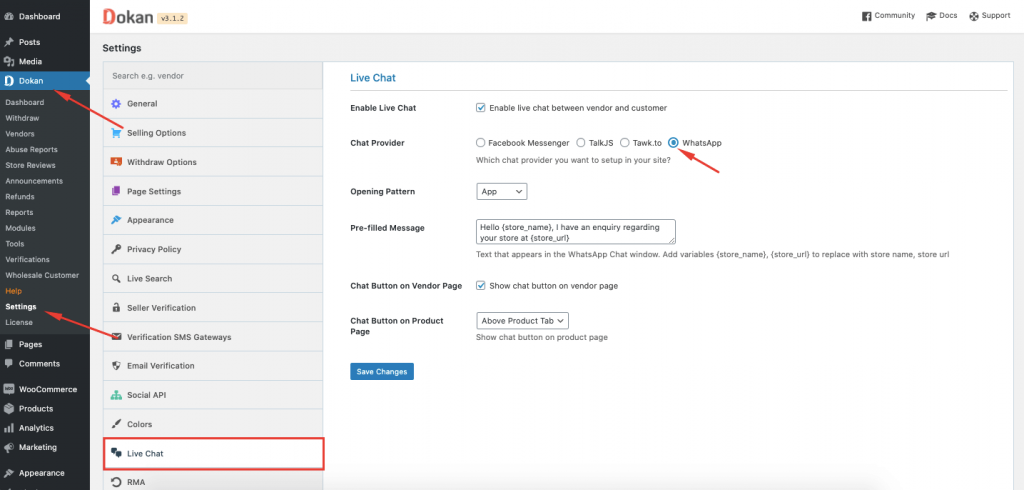 You can configure any of the ones mentioned above and use them on your marketplace.
Return and Warranty Request to Build Trust Among Customers
A strong return and warranty policy are important, especially in the case of online marketplaces. Providing a hassle-free return policy gains the trust of your customers easily. Whereas, giving a product warranty means backing the products you are selling on your eCommerce marketplace. Both prospects look promising.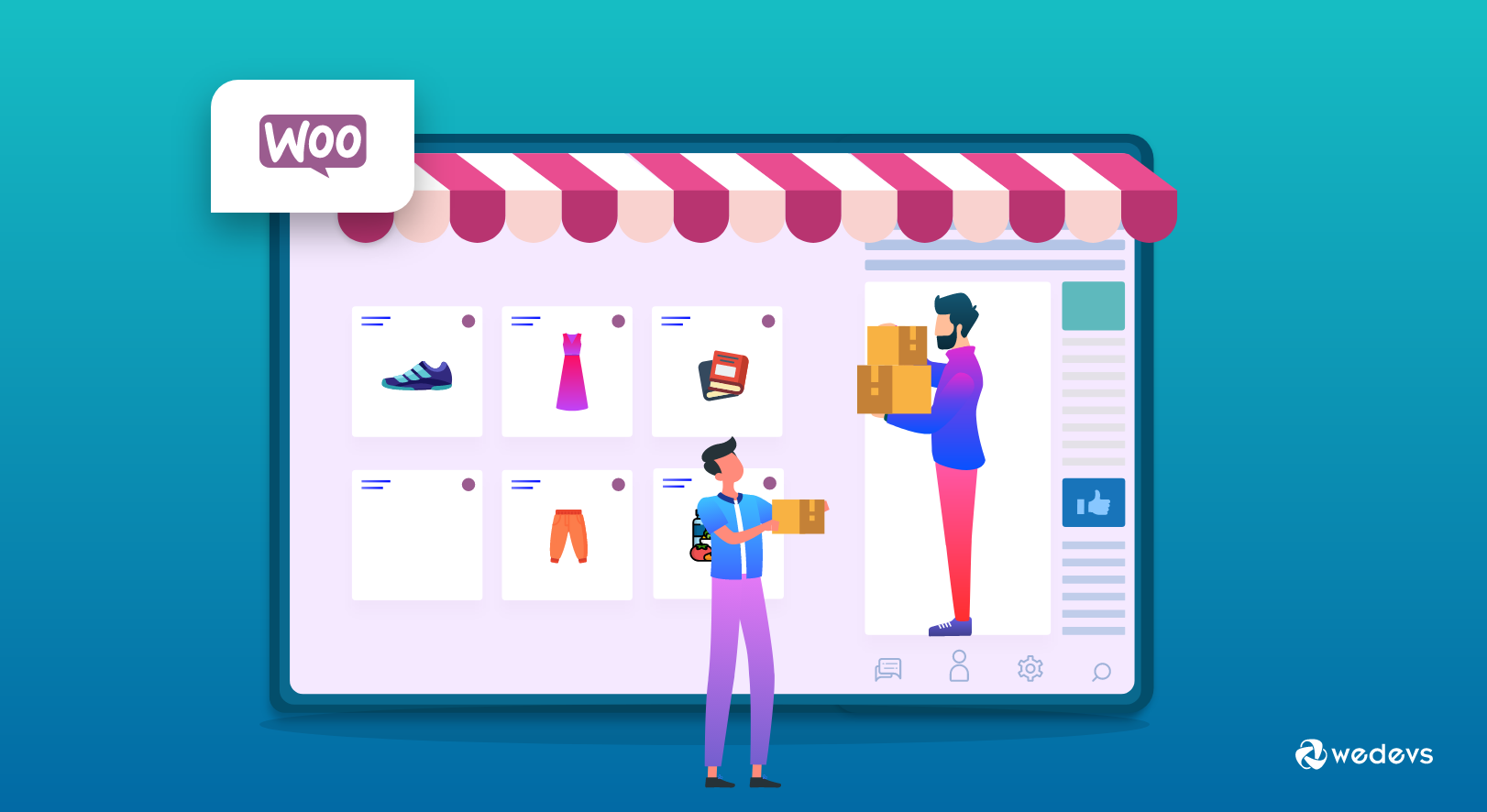 Dokan Return and Warranty Request module enable to allow vendors to offer customized return and warranty facilities of their sold products to customers.
Store Support to Help Customers Regarding Major Issues
The store support module will help customers to create tickets regarding their issues and inquiries. This will help you sort out all the issues regarding your store and marketplace. Then you can take action accordingly.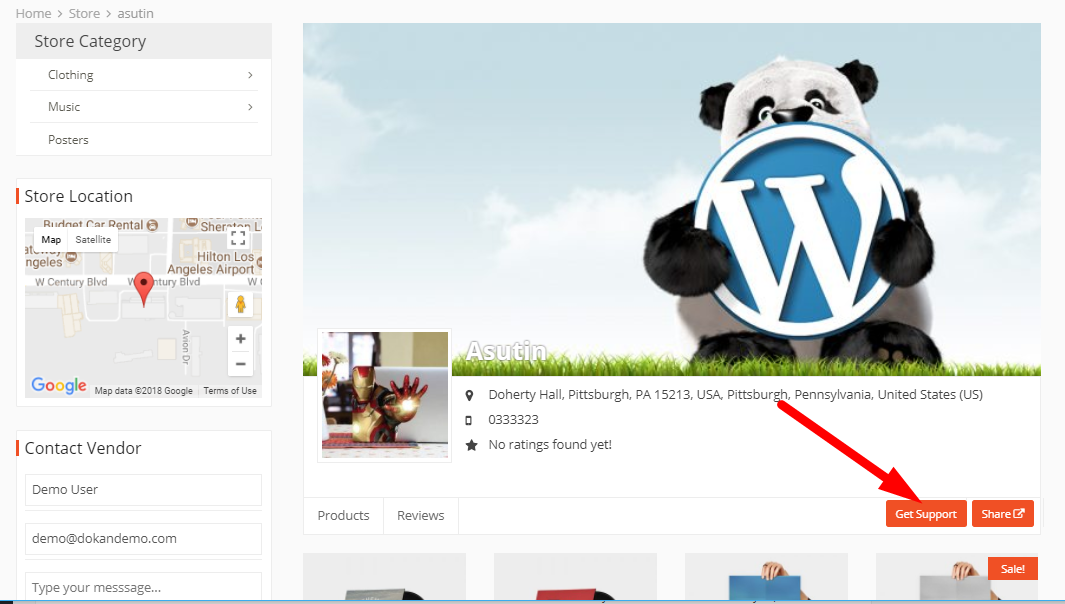 Vendor Analytics to Help Vendors Know What's Working & What's Not
This module is a great help for vendors. Just like Google Analytics, this module will show all the stats like page visits, keywords, and users all in the vendor dashboard.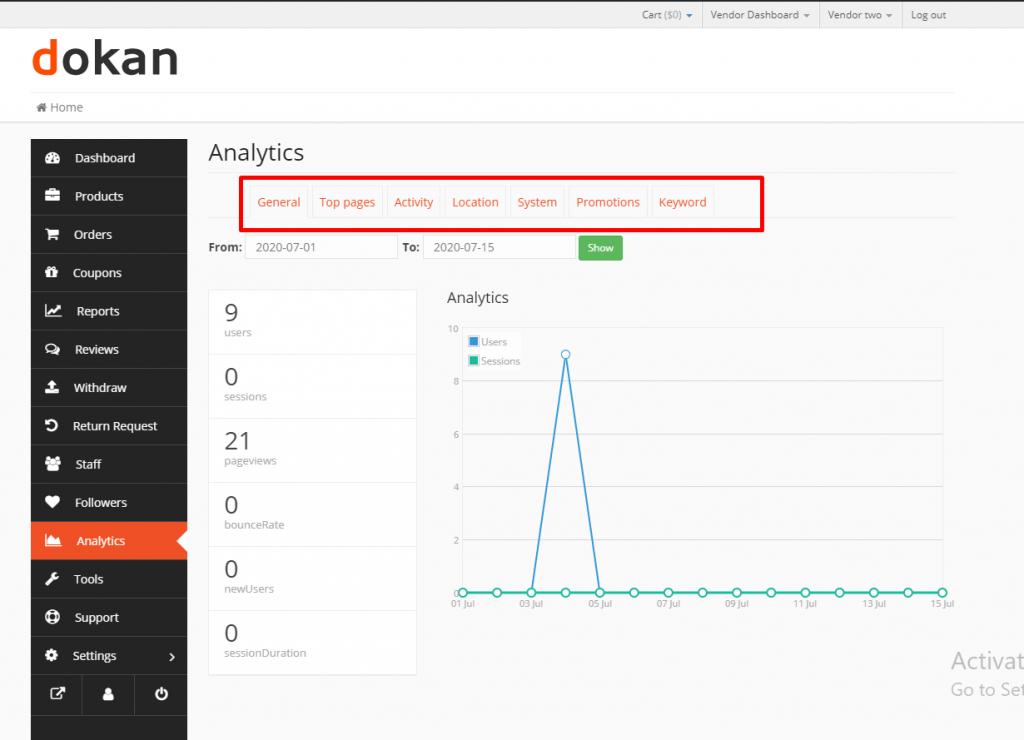 So, vendors can easily use these stats to reach more customers and increase the conversion rate.
Seller Verification for a Solid Verification Process
If you don't have a solid verification process, then there is a strong chance that fake vendors will signup to your marketplace and ruin its reputation.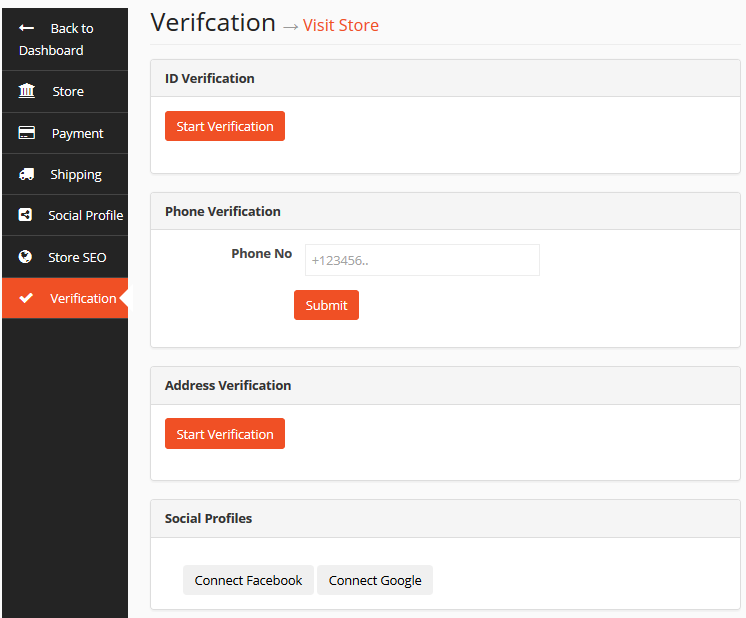 The Dokan seller verification module will help you create a process to authenticate your vendors via their social profiles, email id, phone and photos, and more. You can keep your marketplace authentic with genuine sellers and avoid fraudulent activities.
Delivery Time to Help Reduce Delivery Cost
Let your customers choose the delivery time themselves. Yes, with the new delivery time module, customers can now choose their own delivery date and time. This will reduce the delivery cost and also reduce the number of deliveries made each month.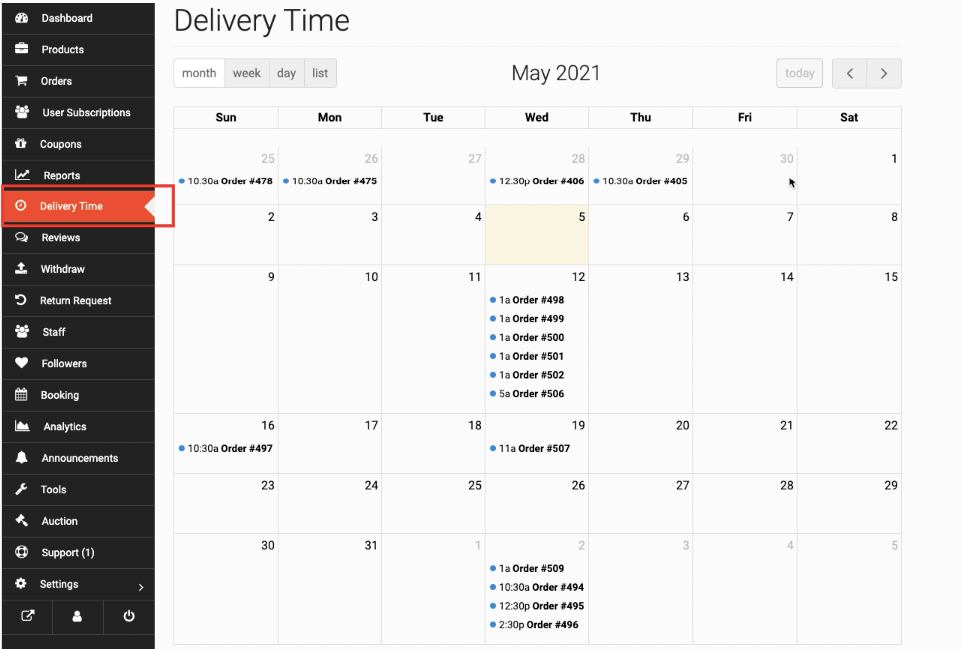 PayPal Marketplace to Handle Refunds and Commissions
Besides the default payment methods, Dokan users can now use PayPal to handle their payments. This payment module will help you make your transaction process smooth.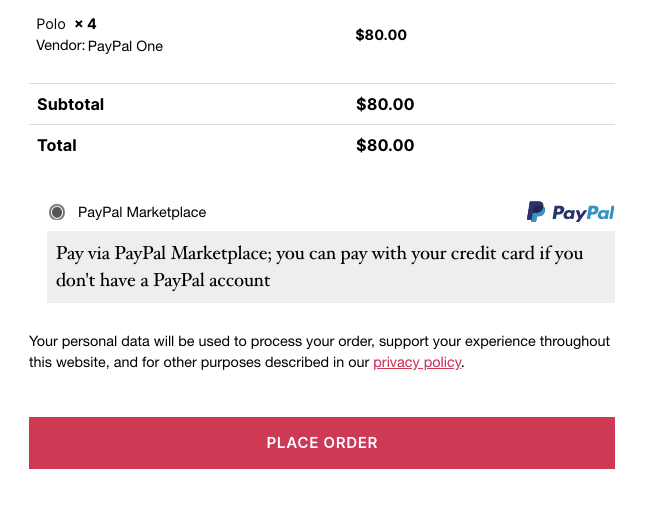 You can easily handle the refund process as well. This module is the newest addition to the amazing list of Dokan modules.
So, these are the modules you need to enable to prepare your marketplace with all the advanced and necessary functionalities.
Invite Vendors to Signup On Your Marketplace
Now that your marketplace is ready, you need to invite vendors to signup and sell on your marketplace. You need to enable the "Anyone can register" option from WP Admin–> General–> Settings. So, it will open the default registration form for vendors to signup.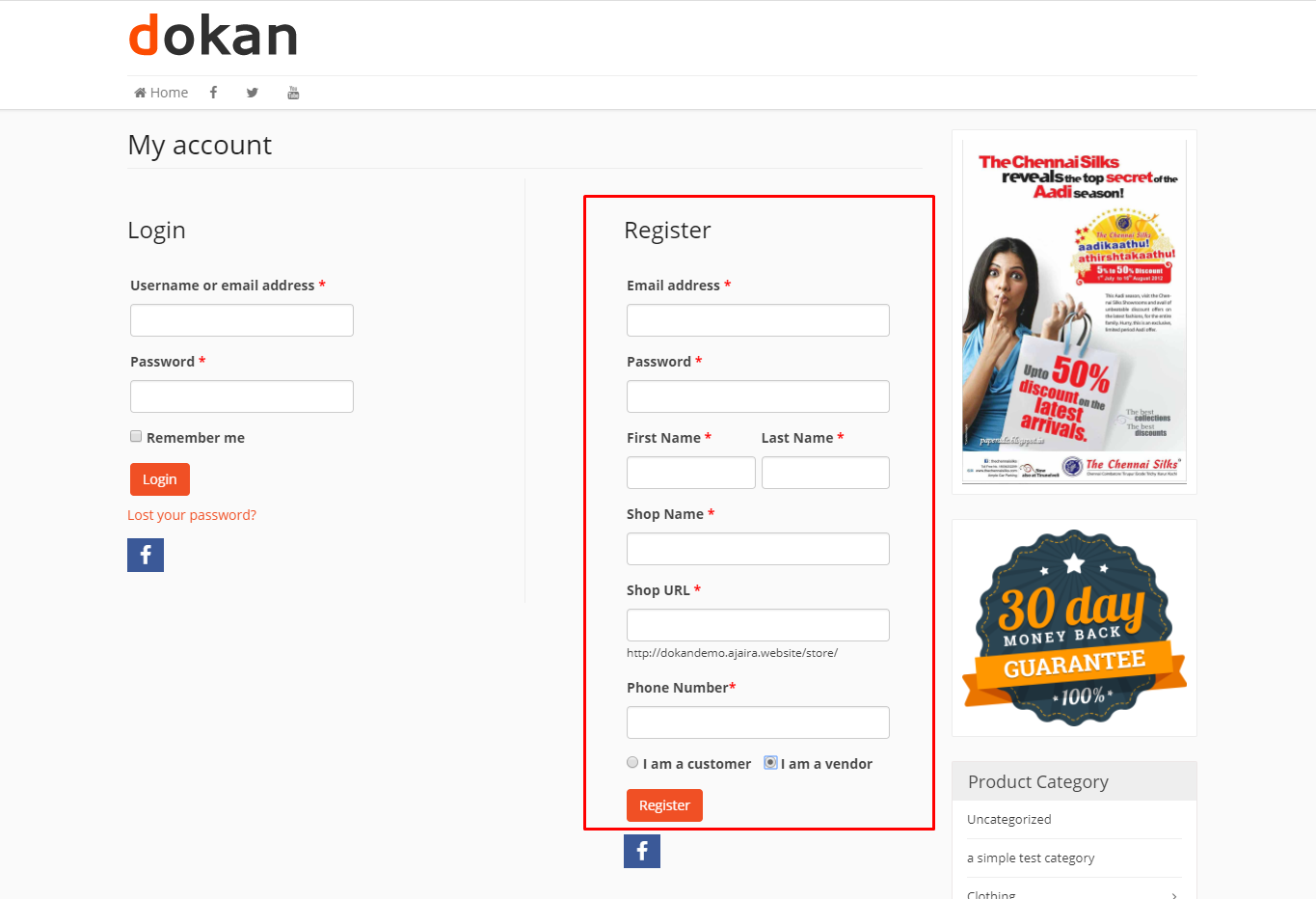 Or you can create your own customized registration form to make the registration process simple and attractive for the vendors.

You can check this article for tips on finding vendors for the marketplace.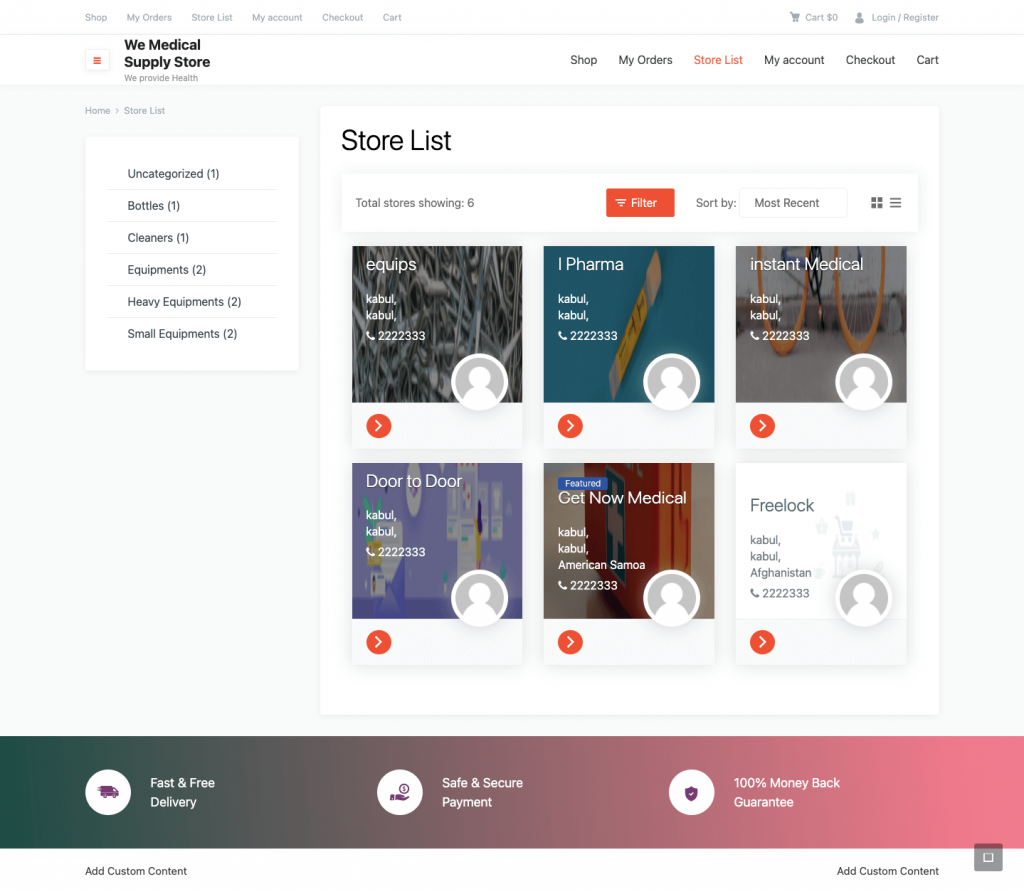 So, you are done with setting up your medical supply marketplace. Now if you want you can,
Setup Your Own Store to Earn Some Extra Money
You can earn from the commissions you will get from the vendors. However, you can set up your own store and earn some extra cash on the side as well.
Add a banner, give your store a name, enable selling, and upload products. You are good to go.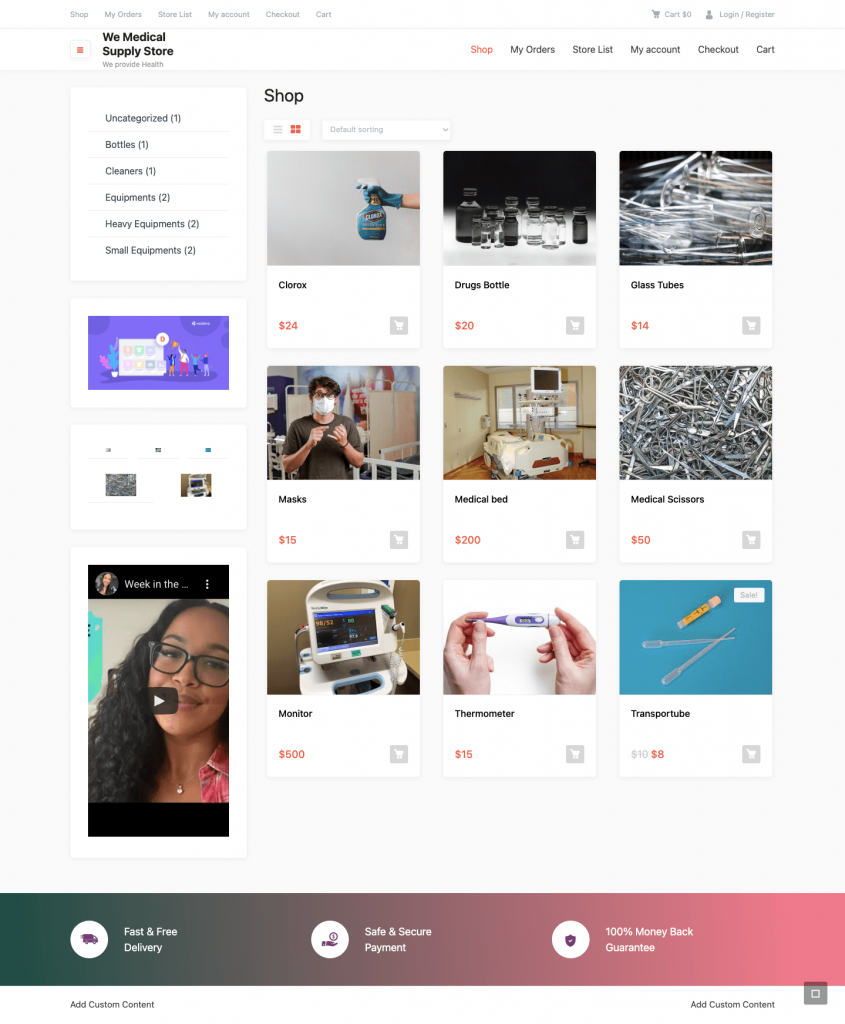 That is how you can easily create and start a medical supply multi-vendor marketplace with WooCommerce and Dokan within 30 minutes to 1 hour.
Best WooCommerce Themes to Create Medical Store
We used the Dokani theme to create our multi-vendor marketplace. Dokani is a free customized theme specially created for Dokan. It is compatible with both Dokan and WooCommerce. It also captures all the functionalities of Dokan and WooCommerce and organizes them perfectly.
However, if you are not satisfied with the outlook of the Dokani theme, there are other themes that are compatible with Dokan you can look at. Like,
You can use these themes to give your medical supply marketplace a new look and stand out from the rest of the competition.
FAQ(s) on How to Start a Medical Supply Store
Do I need a license to start a medical supply business?
Some states require a special license to sell certain types of medical supplies. You may also need various licenses and permits at the state and local levels. Check with your local governments for requirements or visit MyCorporation's Business License Compliance page.
Can a medical supply business be profitable?
Yes, profit margins on medical supplies are high. The key is to specialize in a certain type of supplies and target a specific market for the products you offer.
How do I determine prices for my medical supplies?
Prices will vary by item. Check market prices to make sure that you're competitive. After your cost to purchase from the manufacturer, you should aim for a profit margin of about 50%. Once you know your costs, you can use this Step By Step profit margin calculator to determine your mark-up and final price points. Remember, the prices you use at launch should be subject to change if warranted by the market.
Start a Multivendor Marketplace & Become an Entrepreneur Today!
Starting a multivendor marketplace not only helps you to earn profit but also helps several others to find their feet as well. You are giving them a platform to showcase their products and also to sell them.
Starting medical supply business will go a long way. The products are always in demand and if you do it correctly there is a huge chance waiting for you to take them.
And now you know how to start a medical supply store. If you have read this article from first to last then creating your own medical supply marketplace will be a piece of cake.
And if you have any confusion then do let us know.