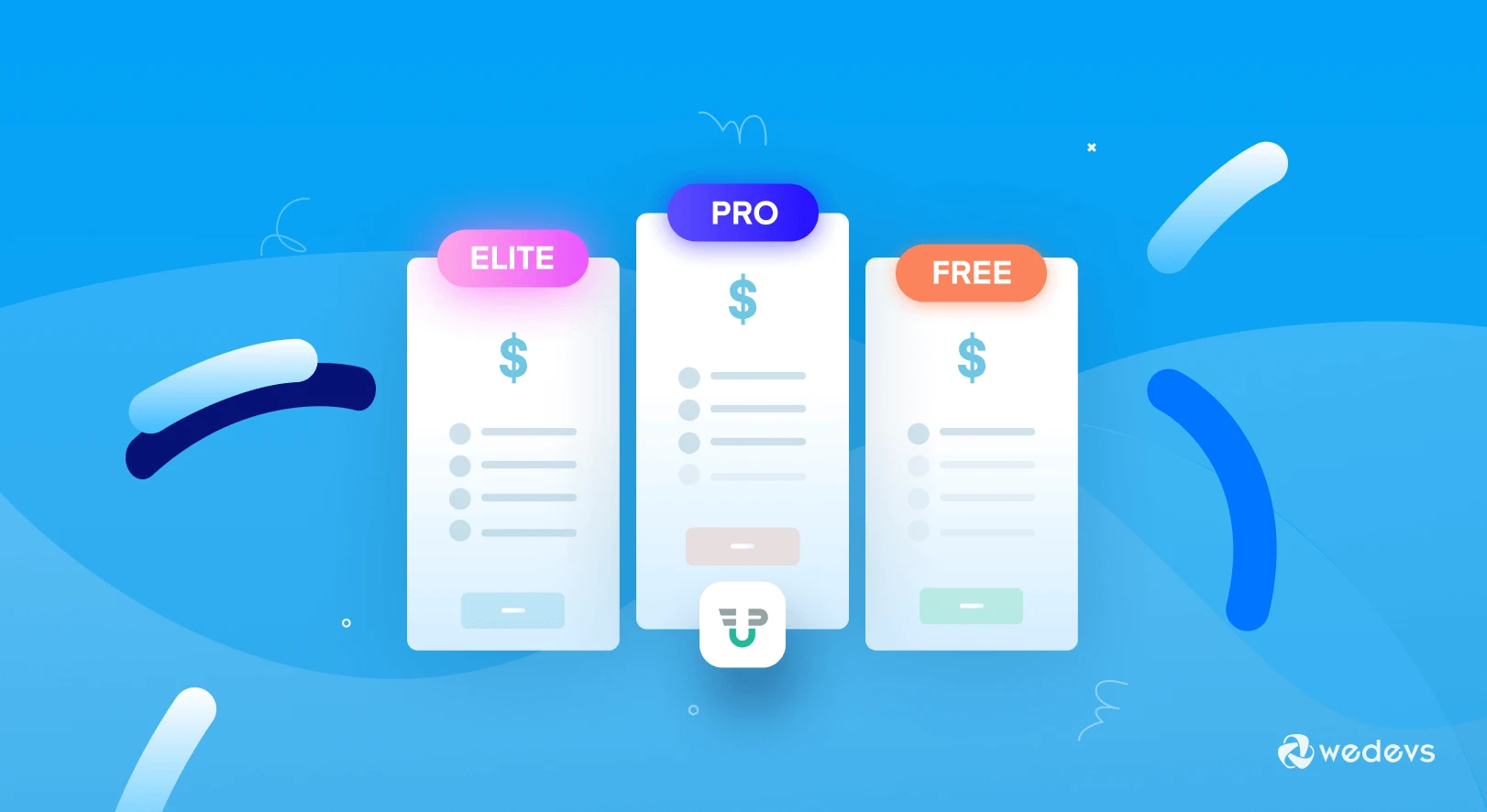 10 Exclusive Examples of Creative Membership Level Names for Your Directory Site
Are you wondering how to develop an effective membership strategy? A crucial decision might be finalizing the titles for membership tiers. Yes, creative membership level names are one of the major elements to make your plans more exclusive than others.
Community members usually enjoy different experiences based on their chosen membership level. And meaningful membership title plays a vital role in their selection process.
Besides, membership level names are often the first thing people will interact with regarding membership. As a community manager, label your membership levels with names that correlate with your offers. In turn, you can easily hook your prospect members and trigger their motivation. This motivation leads them immediately to hit on the "sign up" button.
This blog shows you 10 examples of membership level names so you get some inspiration to create your own. If you haven't checked yet, learn more about how to name your membership levels in WordPress here!
Before going into the main part, let's answer a common query-
How Creative Membership Level Names Can Influence Your Visitors
Membership names are one of the most important elements to grow your membership community. This is the place people generally interact with when they're already in the buying process. A meaningful and unique name can inspire your audience to act in your favor.
It's always a good idea to name your membership levels in line with your brand. For example-
Corporates might prefer naming like Affiliate, Patron, Partner, and Supervisory, etc.
Cosmetics brands can put the membership name like Lover, Devoted and Obsessed
Sports brand can select the membership name like All-Star, Most Valuable and Apprentice
A horticultural club may name their membership level like Leaf Guard, Plant Parent, and Green Parent
Food sites offer membership like Censor, Lover, and Foodie.
Although developing an interactive community is not an easy easy task. If you want to onboard similar-minded people on the same boat, you must understand their minds. First, get a good idea of what your target audience wants, who they are, and what they are likely to react to. For that, you can take help from previous data or campaign results.
After deciding the benefits that would go with different membership levels, one prime duty is to fix the names of the membership levels. Evidently, engaging level titles have a direct impact on your membership website's conversions.
You may also like to read: Set Your WooCommerce Product SKU Right From The Frontend.
10 Creative Membership Level Names Examples That You Can Try in 2022
Naming your membership levels aligned with target audiences' interests is always a good idea. It will boost their curiosity and influence them to join your community.
Here we've listed the top 10 brands that labeled their membership levels in a creative way. Before locking your decision check them for getting some new ideas or inspirations-
1. Book Riot- Membership Level Names Based on Facilities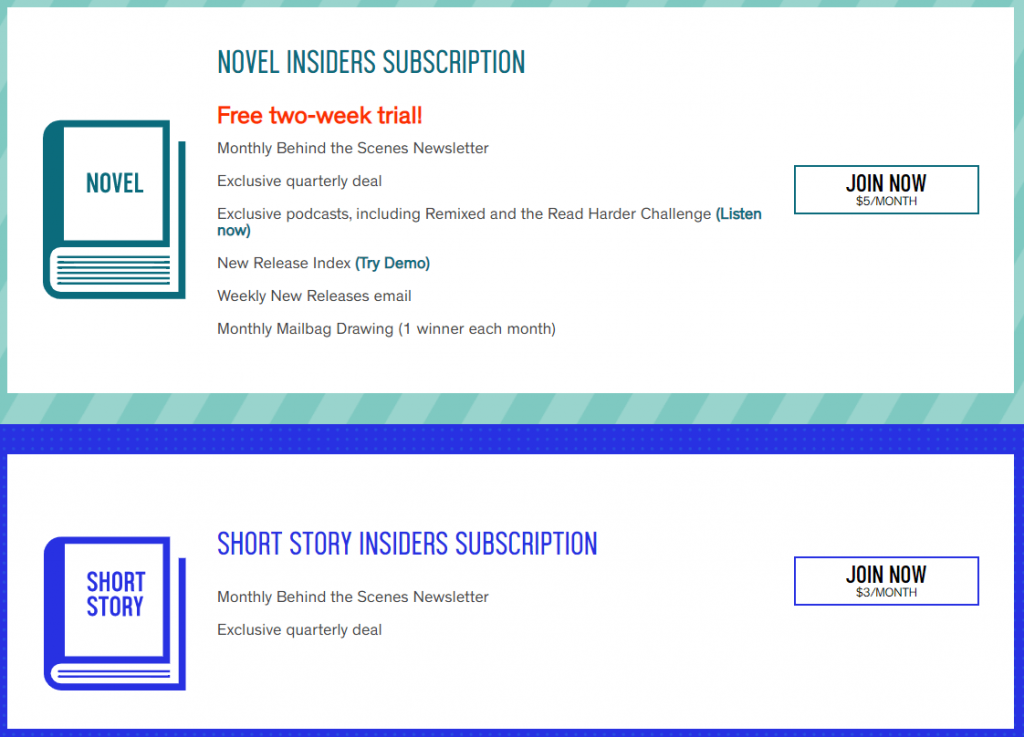 Book Riot is a popular book blog website in the world. Here you'll find a large number of articles reviewing books from different categories along with podcasts, author interviews, and more.
They offer 3 types of subscription plans to enhance your bookish life- Epic Insiders Subscription, Novel Insiders Subscription, Short Story Insiders Subscription. These self-explanatory membership level names become a great hit to establish a big community of book lovers. Also, these names perfectly go with the industry it belongs to. Visitors can easily relate them with the packages. And it boosts their interest to enroll in a particular program.
2. Reading Teacher- Membership Level Names Based On Access Time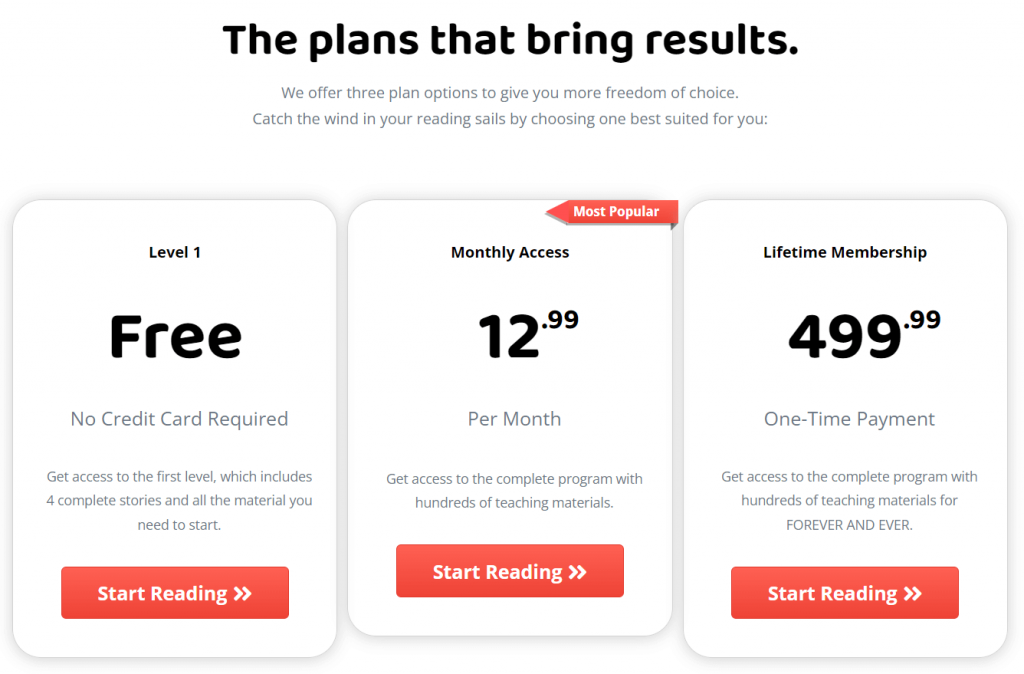 Reading Teacher offers several reading programs and gives access for a particular time period. It includes Free first level, Monthly Access, and a one-time payment for Lifetime Membership. They labeled the first level "Free" as it offers all the teaching materials completely free. People can also join two other programs paying fees.
If you offer any of your membership facilities free of cost, it's better to keep the name Free or Basic. So people can easily grab the motive and feel interested to enroll. Here the two other names are also simple but people can easily understand the criteria of the plans. It helps them pick the right direction to proceed.
3. Riverhill Country Club- Membership Level Names Based On Age Group

Riverhill is a renowned golf club that resembles the friendship of golf legend Byron Nelson and famous course designer Joe Finger. Many families come here generation after generation to be a part of this tradition. They enjoy and participate in different games like golf, world-class tennis, swimming, etc. There are also options for fine dining, events, and fun activities for your entire family.
They offer 7 types of membership starting from $150. Such as Full Golf Family, Social Family, Junior Family, Junior Executive Family, Senior 80 Family, Corporate Family, and First Responder Family. They've divided the levels depending on different age groups, specific residents, and other considerations. You can get some extra privileges by having multiple memberships inside your family. Most importantly, their membership labeling process is so relatable with their providing facilities.
Read More: How to Create A Subscription Based Membership Site Using WordPress.
4. TradersFly- Membership Level Names Based On Interest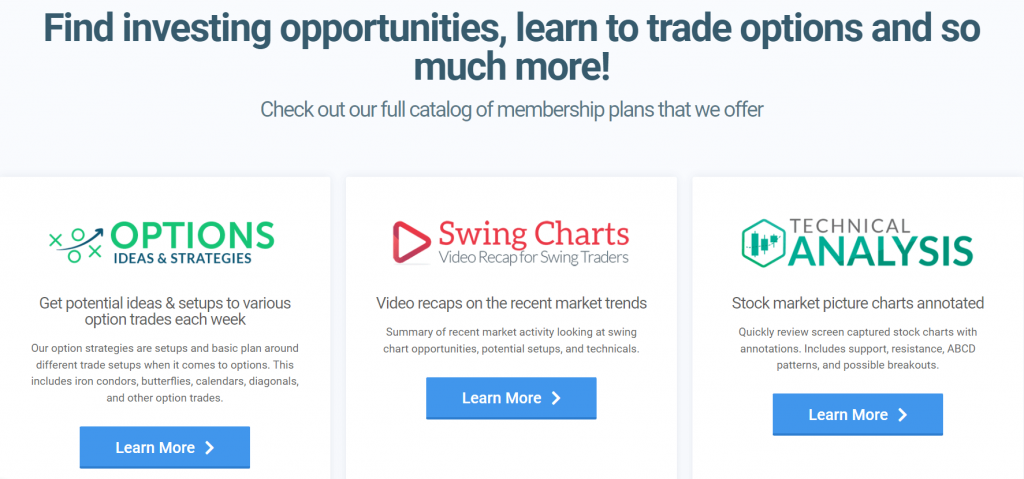 TradersFly offers various subscription plans to provide information on stock charts using technical analysis and trade stocks profitably. Their membership levels include- Options, Swing Charts, and Technical Analysis. Soon they are planning to introduce two new membership groups named Group Coaching & Small Cap.
They labeled the membership plans so relatively that people get a primary idea about the facilities it could have. All these plans are based on several areas of investing. You can also follow this idea if you have different plans where each focused on a specific topic or interest.
5. D&T Association- Membership Level Names Based On Category or Group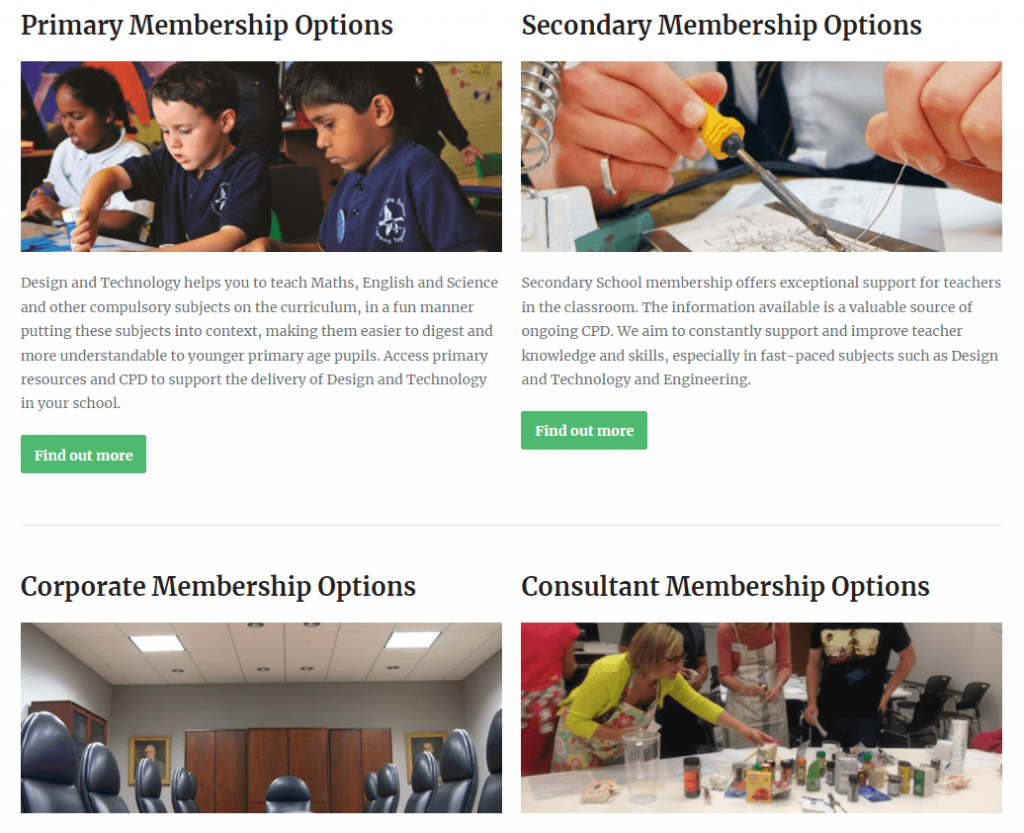 The Design & Technology Association provides advice, support, and training for teaching design, engineering, and technology. They have a large community of over 24,000 teaching professionals.
Their membership levels are- Primary Membership Options, Secondary Membership Options, Corporate Membership Options, and Consultant Membership Options. Under each program, they offer advanced techniques and support for teachers. It includes specific facilities for a particular group of people. If you have specific services for different categories of people (E.g. student, employee or retired), consider this naming process for your site. It helps your audience choose the right plan that fits their criteria.
6. The Hive in Cincinnati- Membership Level Names Based On Billing Cycle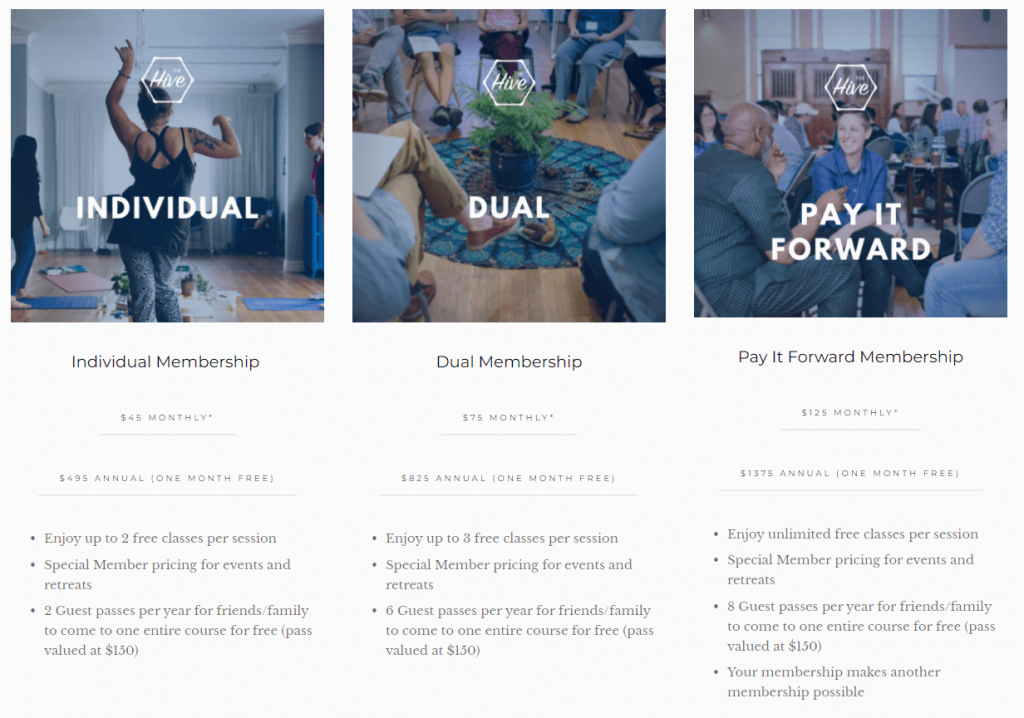 Many membership businesses prefer to name their membership levels based on the price or billing frequency. This is one of the most popular ways to name your membership level. Though you can add some unique flavor aligned with your brand or industry to attract your possible subscribers. The Hive in Cincinnati has followed the same technique on their website.
Their membership levels are named INDIVIDUAL, DUAL, and PAY IT FORWARD. These names are simple, clear, and to the point. Therefore, people with a focused mindset can easily go for their desired plan. If your membership site also offers facilities based on time, you might consider a price-related name like Monthly, Quarterly, or Annual. It's a great idea to bring money upfront so people can easily compare the price for monthly and annual programs.
Read More: How to Create a WordPress Searchable Member Directory in 2022.
7. Idea Fab Labs- Membership Level Names Based On Physical Facility Access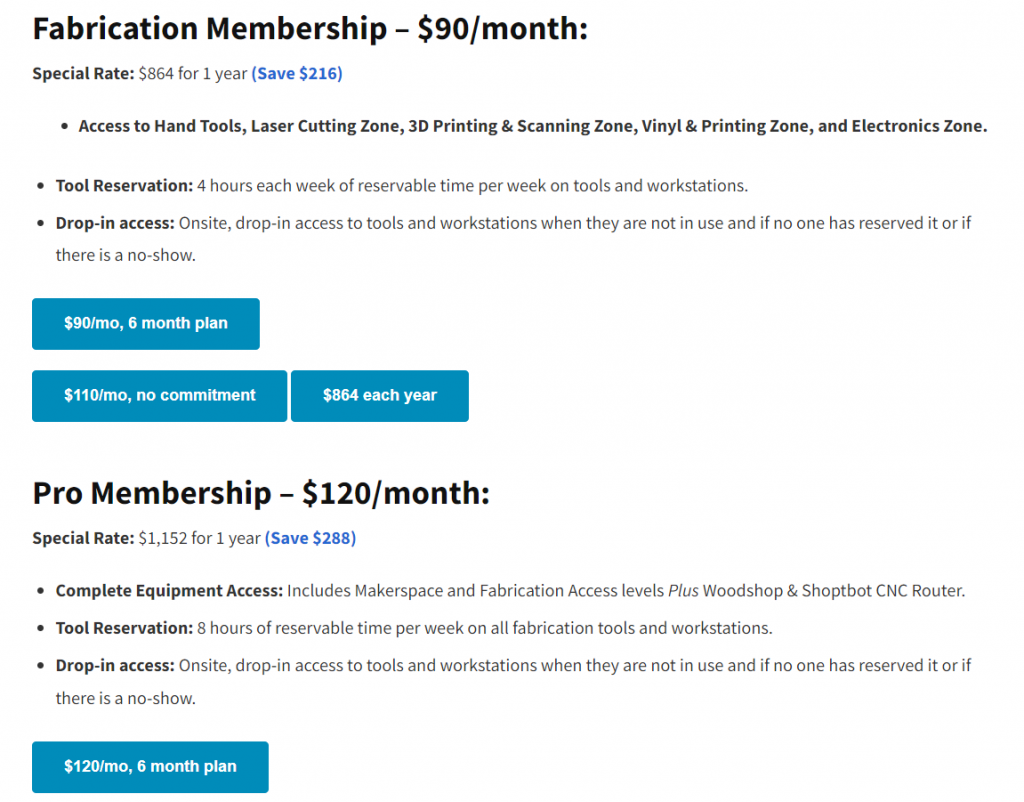 Idea Fab Labs gives you access to high-tech tools and design software and helps you develop new skills through classes and workshops. By joining this interactive community, anyone can collaborate with fellow members on fun and interesting projects.
They have a wide range of membership options to accommodate your needs as a maker. Here you'll get the chance to use the facilities of Idea Fab Labs for a particular period. Idea Fab Labs offers 3 types of memberships- Fabrication Membership, Pro Membership, Pro+ Membership. They keep their naming style so generous. Considering the equipment access, they arrange their facilities into different levels and label the title accordingly.
8. Treehouse- Membership Level Names Based On Skill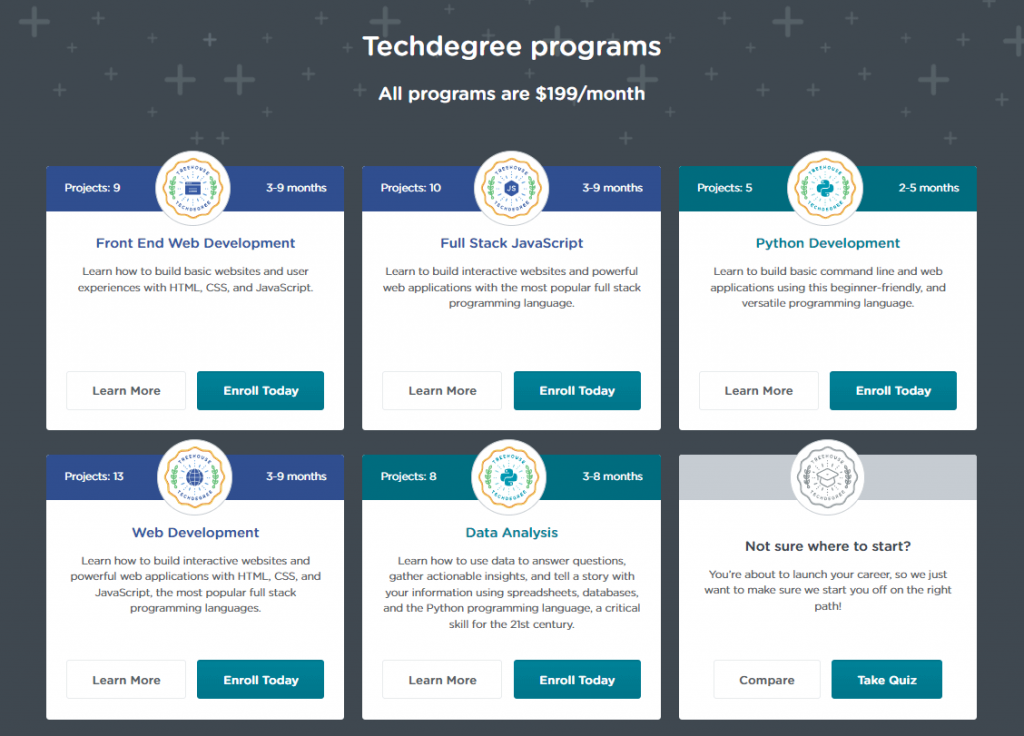 There are many membership businesses working for people skill development such as language learning, professional development, sports, music, dance, writing, coding, and others. For skill-based membership levels people usually pick names like- Beginner, Intermediate, Advanced, Expert. But there is an option to make it interesting and exciting. Treehouse offers several Techdegree programs to learn and earn certificates on a particular topic.
Techdegree learning includes courses, workshops, and quizzes. It also has a cooperative Treehouse Slack community for live support. They've named their membership levels focusing on the main learning topic of the course. You can also name your membership levels considering the main benefits that your members would get from the subscription plan.
9. Spotify- Membership Level Names Based On User Type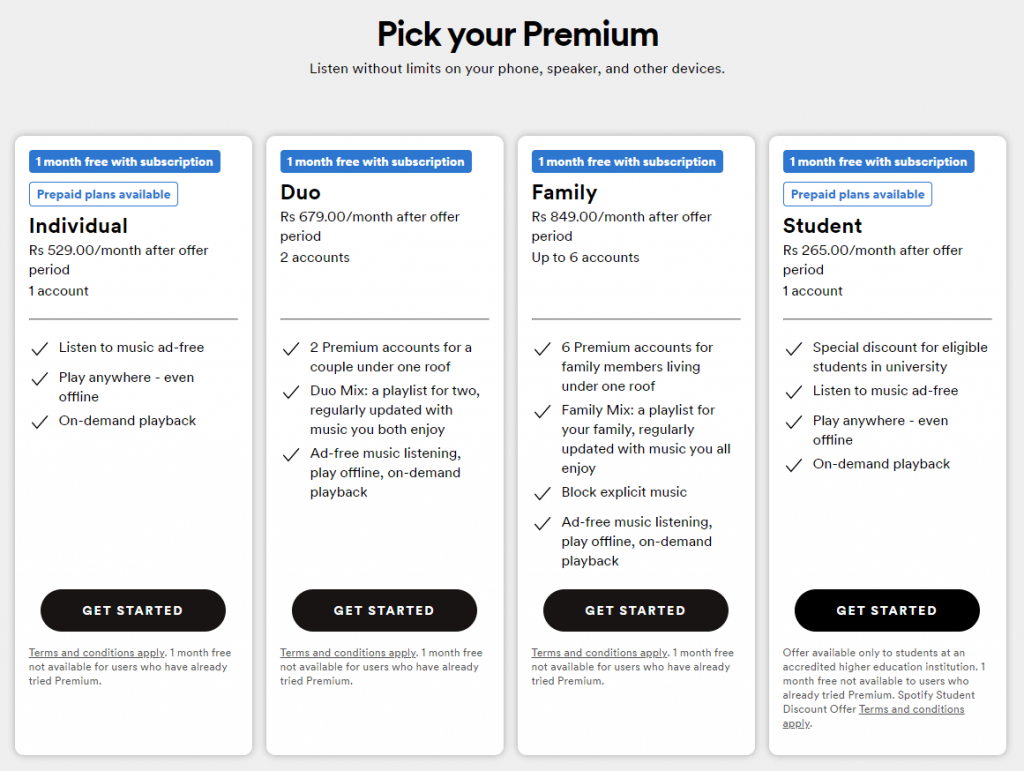 Spotify is the world's largest music streaming service provider. You'll find millions of tracks, podcasts, or episodes on Spotify. It has over 381 million monthly active users, along with 172 million paying subscribers.
They have 4 subscription plans named- Individual, Duo, Family, & Student. They arranged each plan targeting a specific type of user or group of users. Many music and movie subscription sites follow this type of naming structure. You can also apply this idea if you sell both individual and group membership plans. As a result, people can easily pick the right solution for them. If your packages are for individuals and businesses, you might title your plans like- Personal, Team, Enterprise.
10. Smithsonian- Membership Level Names Based On Supporter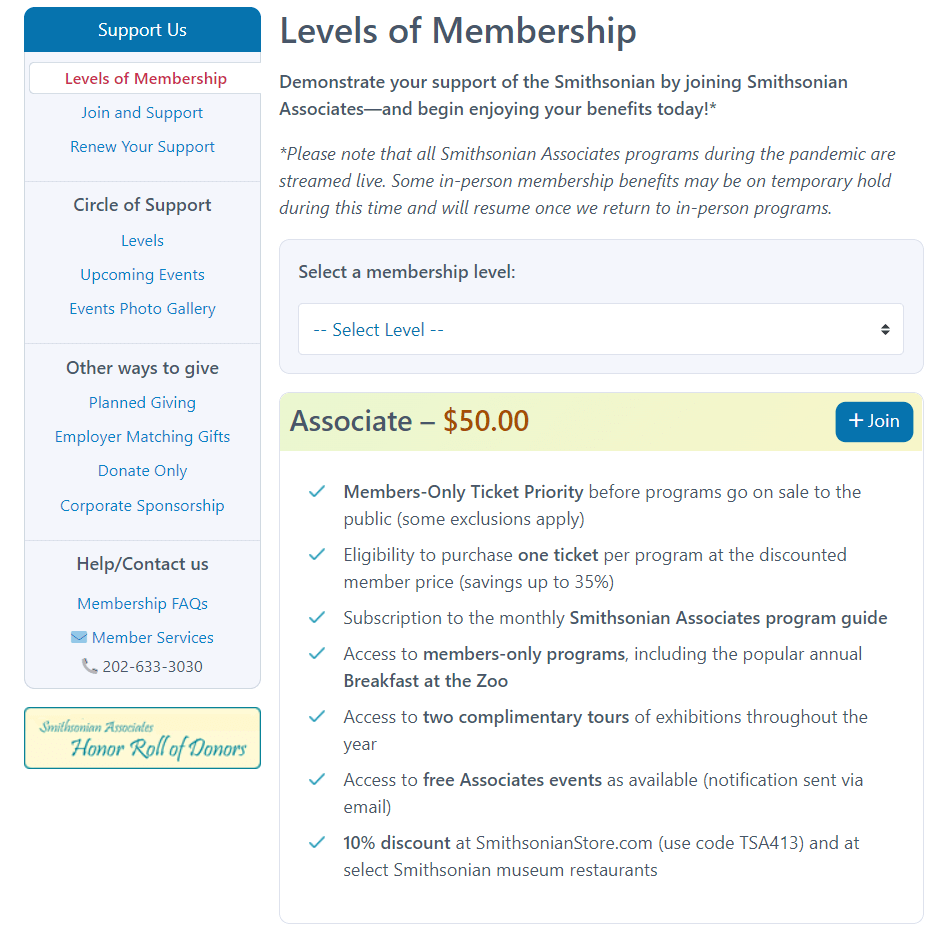 The Smithsonian Institution consists of several U.S. museums, education, and research centers. Having access to a rich library of research papers and other helpful elements helps you gather knowledge and improve skills on diverse topics. They have 9 types of membership levels for their supporters. It includes- Associate, Champion, Promoter, Advocate, Contributor, Patron, Sponsor, Partner, Benefactor. These names are simple yet descriptive to explain their motives.
You can also name your supporter-based membership levels focusing your members' contribution and efforts on your site. It is a great option to build a fan-based membership community. Make the titles interesting and engaging for your supporters or patrons.
Read More: 6 Hand-Picked Free Membership Management Software For WordPress Users.
How to Pick the Right Platform for Your Membership Site
If you're planning to create your own membership website, WordPress could be an easy way to start. Needless to say, this CMS platform makes web development simpler for everyone. From personal portfolio to eCommerce site, everything is now possible within limited customization. Moreover, a rich collection of useful plugins lets its users include unlimited features. For example, WP User Frontend is a frontend builder plugin that allows you to create a membership or subscription website in less than 30 minutes.
Top Features of WPUF Especially Designed for Membership Websites:
Simple configuration process to setup a membership website
Easy process to charge user for posting in multiple ways
Option to set pay-per-post on forms
Content restriction for your premium users
Special VIP section for exclusive content
Related Resource: How to Create A Subscription Based Membership Site Using WordPress.
Using WPUF, you can include several subscription levels inside your membership website. It requires only a few steps to add your subscription details such as name and pack description.
First, configure your WordPress website and activate the basic plugins including WP User Frontend. Next from your dashboard navigate to WP-Admin → User Frontend → Subscription → Add Subscription.

Here you get the options to design your subscriptions plans with all the details. It includes the billing amount, the validity of the pack, expiry date, and recurring payment model for your Subscription pack.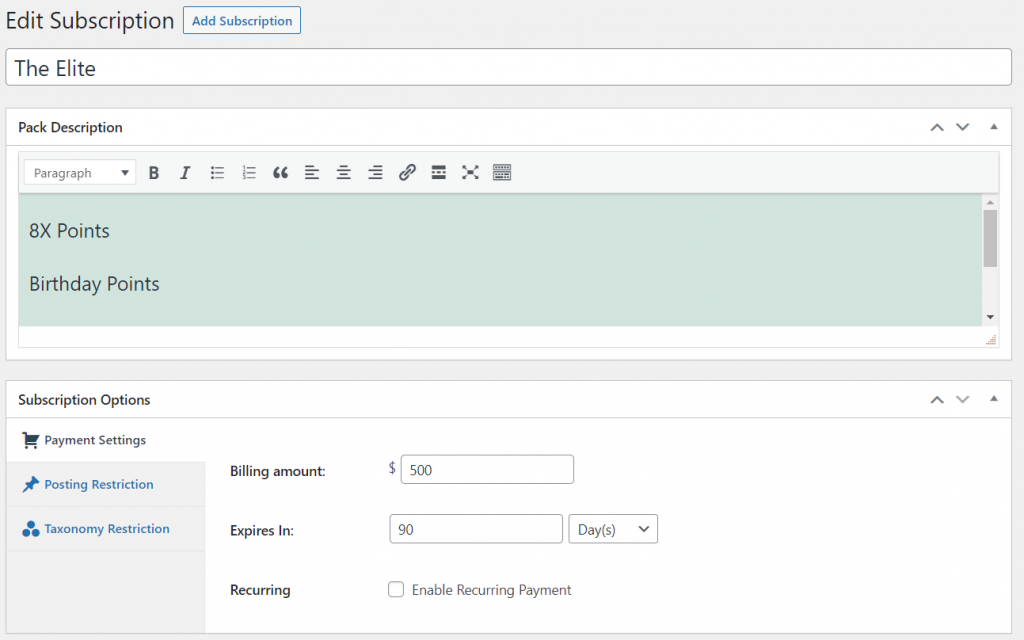 Below we've created 2 new Subscription Packs- The Elite & The VIP and include the package details.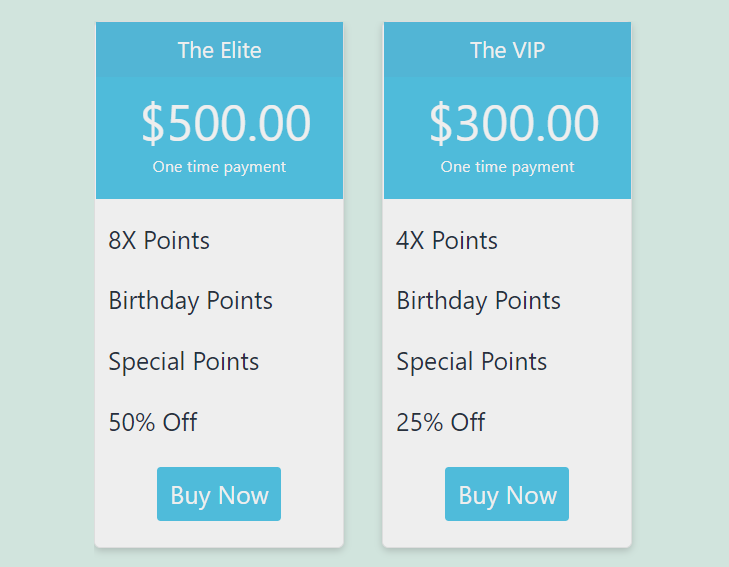 Most amazingly, WPUF gives you all these facilities completely FREE. Moreover, you can extend the facilities with premium modules. For instance, Paid Memberships Pro Integration lets you create different membership levels and assign them to different user roles.
Best Practices for Naming Membership Levels
Balance Creativity With Simplicity
The task of poising between modesty and resourcefulness is vital while naming the membership. Resourcefulness explains the opportunity you are getting in membership while modest helps to understand it easily.
Do not hesitate to name the membership which might be silly but sounds fun and unique. You should clear one thing that it should not be confusing to the would-be buyers. If it blends well with your niche and brand then people can immediately relate the plan to their needs.
For example, a cooking club that teaches various foodies to become perfect chefs through their membership level:
Mindful Mediterranean
All-access
In all aspects, the names will attract the foodies and will understand the inherent offers.
Focus on Content Access
Often sites that offer membership levels based on the content access prefer good, better, and best level. Good indicates the basic level which is only accessible for a few contents or products. Better give more access and best offers all. It is a well-accepted model.
Definitely while naming, you are also looking at your competitor sites and finding the same. So, don't be afraid to use something new. You can use a portion name that opens for a basic level membership and all-access or endless for the best membership. In this way, you can reach your would-be buyer quickly.
Naming After Payment Frequency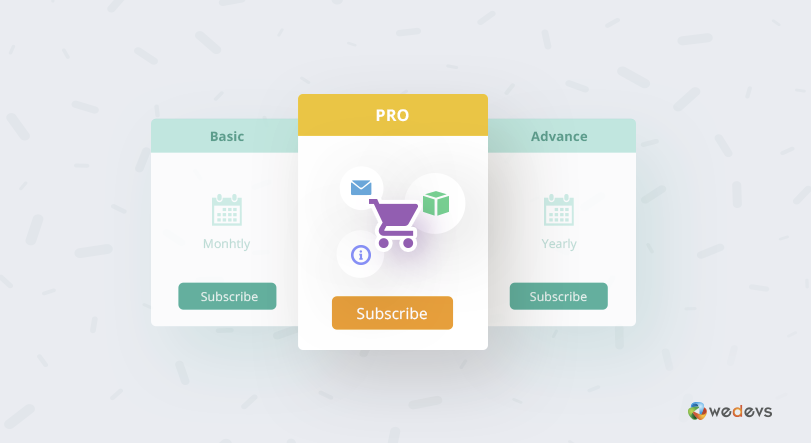 Many sites offer membership for payment mode. Annual, Quarterly, and Monthly are the commonest name of the subscription. On these sites, the entire content or features are accessible for the payment period. If you're planning to allow users to get facilities based on the payment you must be strategic.
At least introduce 2 tiers of Monthly and Yearly subscriptions. As a monthly pricing option lowers the barrier for entry by offering a reasonable price. Though site owners usually like yearly package just because it brings quick revenue. But for quick onboarding and gaining customers' confidence, you should include a monthly plan on your website.
But keep the monthly fees lower within the annual package. It encourages people to go for a long period. The biggest OTT platform Netflix has monthly and annual plans. Within the annual package, you need to pay less for a month than the monthly plan price.
Understanding Buyer Goal
If the member name shows it understands the buyers' needs, it definitely attracts people. The name helps the buyer to see at a glance how near they will reach having the membership. Remember, if you can tie the names with your prospect member's emotions, your company will stick in their minds.
Name most relevantly that directs people in the right way. The perfect example could be the cooking site we've mentioned above. There the first membership name explains the specific expertise while the last name expresses the ultimate expertise.
Come Up With Your Own Creative Membership Level Names
Marketers lead people to do something in a particular way. On a membership website, the prime duty would be enrolling people into the premium membership tier.
For that, you have hundreds of jobs to perform. Such as-
Arranging the packages according to people's preference
Setting the price considering your customers' financial status
Including an engaging call-to-action button, and most importantly
giving attractive names to your membership levels.
In short, you need an effective membership strategy to run your business successfully.
Your membership level naming strategy should match the facilities you intend to provide. It, therefore, leads them to the right way and get what exactly they want. A perfect name is useful to show how innovative your brand is and how much you care about your users. Within a fraction of seconds, the name hits into their minds and they build a perception about your company consciously or unconsciously.
So, how're you planning to develop your Membership Level Naming Strategy? Do comment below to share your tips that we would add to our list.