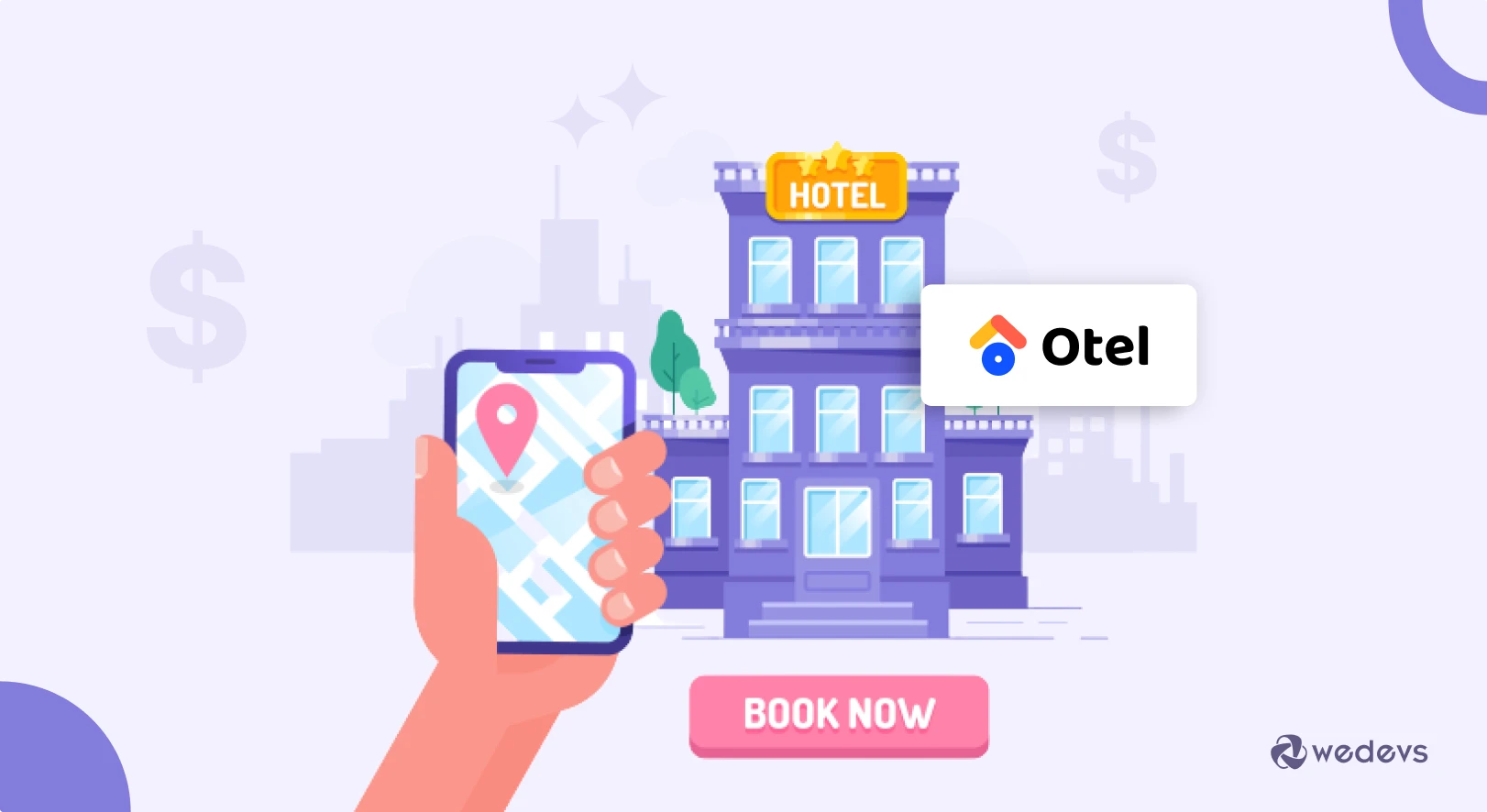 Build A Full-Functional Hotel Booking Website and Make Money Online
Are you wondering how hotel booking websites make money? Let's explore the opportunities and the easy steps to create a hotel booking website.
After the COVID-19 pandemic, life is returning to its normal pace. Restrictions are getting eased and people are starting to dream again of beaches, mountains, and monuments. For travel and tourism companies, it's time to reorganize their businesses.
The hotel and tourism business faced a remarkable down phase during the lockdown. But as all we know, it's an extremely profitable business sector for all time. In the post-Covid world, this industry again starts rising at a high speed.
In 2023, the hotel and resort industry size is forecast to reach 1.21 trillion U.S. dollars.

statista
If you run a hotel business or have an interest and passion in this industry, we are here today to assist you. This blog shows you how to monetize your passion by creating a hotel booking website.
Changing Landscape of Hotel Business in the Last Few Years
In 2019, The hotel industry was worth $1.52 trillion. Due to the pandemic, this number dropped significantly. But things are getting fine and this industry is rising again. The whole global hospitality market has grown by 15.1%, from $3,952 billion in 2021 to $4,548 billion in 2022.
According to Statista, there were 2,246 hotel openings across the globe in 2021. It's predicted to reach 2,805 in 2022 and 2,934 in 2023. In fact, there are 132,228 hotels and motels only in the US which is 8.3% more than in 2021.
There is no doubt it is the best time to invest in the hotel and tourism business. And if you are up to setting up an online hotel booking website, let's show you every ins and out of this sector.
Read also: Make Your Own WordPress Travel Site Marketplace Using Dokan.
How Do Hotel Booking Websites Make Money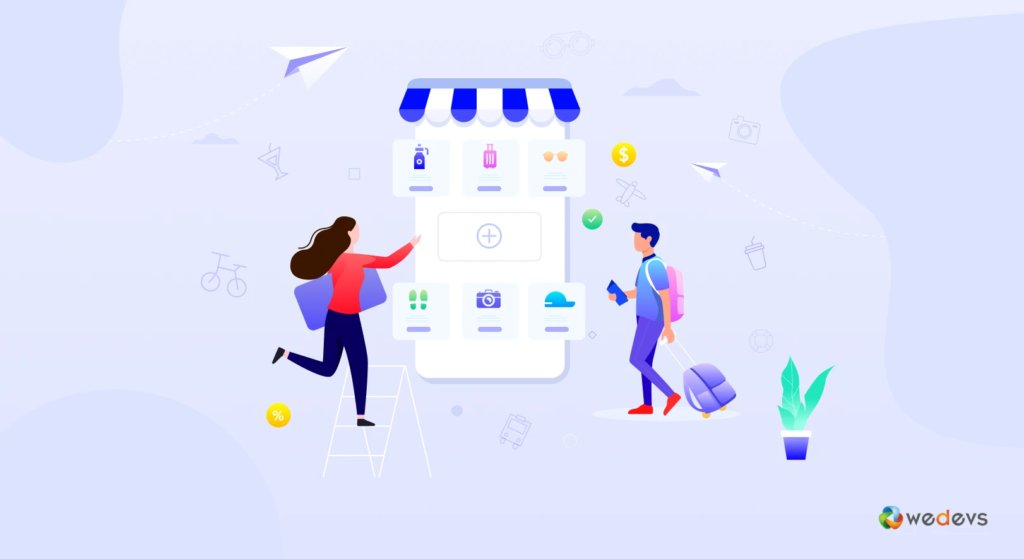 There could be several scenarios. Such as-
You have a hotel and want to build a booking website for your hotel business
You want to let other hotels as well register on your website & sell their services
Scenario 1: Earn by Creating a Booking Website for Your Own Hotel
Suppose you have a physical hotel or motel with one or multiple branches. As most people now search online for daily life solutions you should have an online version of your business. Otherwise, you may lose a large number of potential customers.
The key benefits of having a hotel website are:
Online presence: Establish a strong online presence. So potential customers can easily find your hotel from any corner of the world and learn about the services you offer.
Reservation management: Allow users to book a room with ease. Also, enable admins to manage reservations more efficiently. It saves both time and resources.
Self Branding: It's a great way to showcase your hotel's amenities, location, and customer reviews to attract more guests. You can also use search engine optimization (SEO) techniques to rank your website higher in search engine results, which can increase your visibility and attract more potential customers.
Great Impact on Bottom Line: A website can help you generate more revenue by enabling customers to book rooms directly through your website. You can also offer special promotions and packages to entice customers to book directly with you.
Communication bridge: Through your website, you can directly communicate with your customers. You can provide information about your hotel, answer frequently asked questions, and even offer customer support through live chat or email.
Now, what if you don't have any physical hotel and only want to build a platform for hotel reservations?
That is also a powerful idea to make money online. You can build a versatile platform with booking and other reservation facilities. Then, register hotels from your preferred locations and ask people to rent hotel rooms through your website.
Scenario 2: Allow Other Hotels to Sell Their Services Through Your Booking Website
In this model, you can manage everything by yourself as a single admin. Or you can let the hotels register on your site as individual vendors and perform their activities. In return, you can fix a registration fee or commission rate to operate on your platform.
This means, hotel booking websites generate revenue by connecting hotels with customers and providing value-added services to both parties.
A hotel booking website can make money through a variety of methods, including:
Commission-based model: You can earn money by taking a commission from the hotels for each booking made through your website. Typically, this commission ranges from 10-30% of the total booking cost.
Subscription model: As you start growing, charge a fee to hotels to be listed on your platform. Or you can offer additional services, such as marketing or analytics tools.
Advertising revenue: You can also earn revenue through advertising. Hotels and other travel-related businesses will pay to display their ads on your booking website.
Additional fees: Many hotel booking websites sometimes charge additional fees, such as booking or cancellation fees, to generate additional revenue. If it goes with your business model, you can also take it as an added facility.
One important thing you should remember is, encouraging renowned hotels to enroll in a new site is not an easy task. On the other hand, travelers also don't feel safe making any transactions on a less popular website.
So, you have to promote your hotel booking website in the right way and create brand value to build your identity in this competitive industry. It will definitely take a huge effort and time to make your brand trustworthy and reliable.
This guide can be a handy roadmap for your growing period-
10 Actionable eCommerce Business Tips for Struggling Entrepreneurs.
How to Create a Hotel Booking Website in WordPress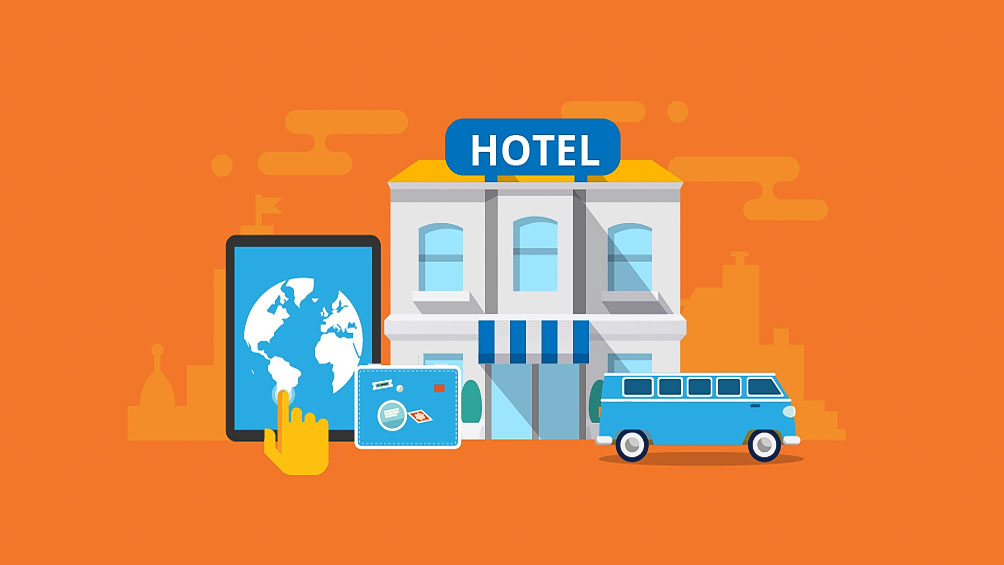 As you know, WordPress makes it super easy to build any type of site with a wide range of functions and features. Also, the customization options are endless. Inside WordPress, you can create a hotel website with booking ability regardless of your technical expertise.
Prerequisites to Create Your Hotel Booking Website
To get started with your hotel booking website, you will need-
Below are the steps you need to follow-
Choose a hosting provider & domain name
Install WordPress & WooCommerce
Install Otel theme
WooCommerce Booking
Install other plugins to power up your site
Step 1: Choose a Perfect Domain Name & Hosting Service Provider
A domain name is the identity of your website. Using this name users will find you on the web. Select a domain name that is easy to remember and relevant to your website's niche. Go to the sites like GoDaddy or Namecheap to check the availability of your domain name and buy it.
It is also important to choose a reliable web hosting provider that offers fast and secure hosting services. As you're planning to set up a big business, with time a large number of traffic will hit your website. Your hosting provider must have the capability to handle pressure.
Moreover, the website's performance is largely depending on the hosting quality. Check the speed, storage, scalability, backup system, support, and others before making any decision.
Read more: How To Choose The Right Hosting Environment For Your eCommerce Store.
Step 2: Install WordPress & WooCommerce
WordPress makes it possible for everyone to build a fully functional website without having any prior knowledge and expertise. Right now, WordPress is used by 43.2% of all websites on the internet. Ease of customization and user-friendly interface are two major factors that make WordPress this much popular.
Most of the hosting provider has a one-click install feature for WordPress. You can install WordPress on your web hosting server using the one-click installation process.
Here is a detailed guide for new users- What is WordPress All About?
Once you've set up your WordPress site successfully, it's time to activate WooCommerce. The installation process is similar to any other WordPress plugin. Most amazingly, WooCommerce brings all the eCommerce facilities into your site.
From your WordPress dashboard-
Go to Plugin → Add New → Click the search
Type WooCommerce → Install → Activate.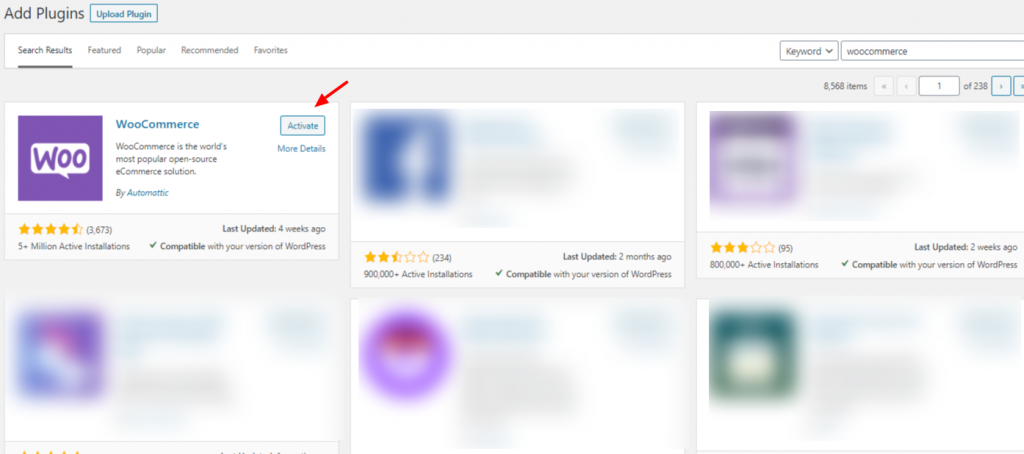 Alternatively, you can download the WooCommerce ZIP file from WordPress.Org and then upload it to your website. Then, install and activate the plugin.
Read more: WooCommerce Tutorial- How To Build An Online Store Within Minutes.
Step 3: Install Otel Theme
Now, it's time to choose a WordPress theme that is suitable for a hotel booking website. And customize it according to your brand's identity. You can also use a drag-and-drop page builder like Elementor to design your website's pages and add widgets.
Here, we'll use the hotel theme named Otel to give the booking site a smart look. The theme is fully compatible with WooCommerce and WooCommerce Booking. Moreover, you can use Elementor widgets that are specially designed for this theme only.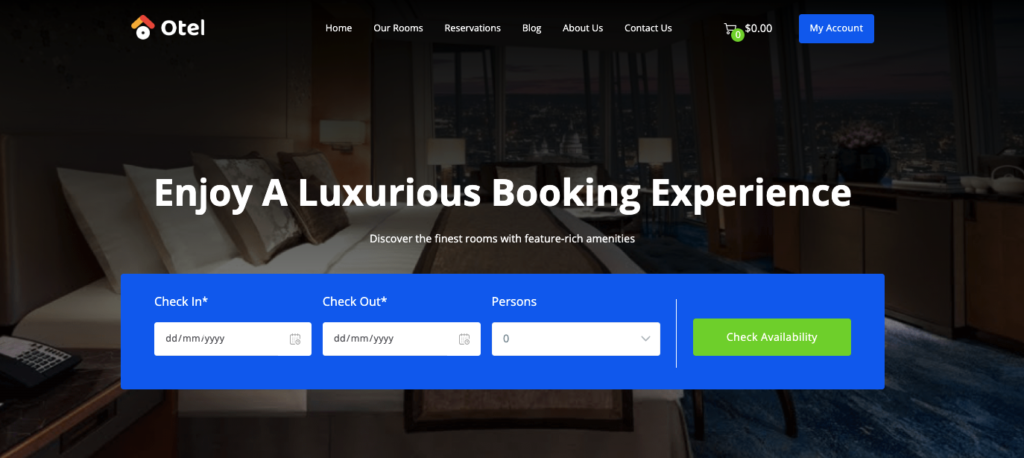 During choosing a theme for your booking website, you should consider the template design, versatile homepage, and availability of some essential features like a live search button, the advanced review process, live chat option, and online payment gateways.
Luckily, Otel gives you all these exclusive features that will make your hotel booking website visually stunning. Additionally, you'll get-
Live Customizer
Integrated Booking System
Responsive Design
Dashboard for All Users
Multivendor Plugin Compatibility
One-click Demo Import
Multilingual Compatibility
Otel is a premium theme, designed by weDevs. But we promise you it is completely worth having this pro theme for your hotel business. First, you need to purchase the theme and download it on your personal device.
Next, upload the theme to your WordPress dashboard.
Navigate to Appearance → Themes → Upload Theme.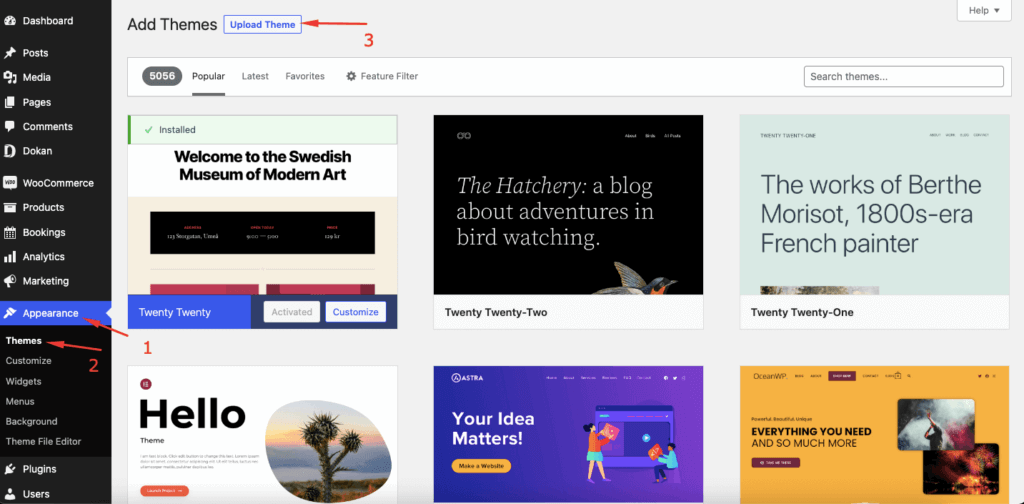 Finally, install & activate the plugin on your site and check the preview.
Otel supports a wide range of customizations. So, it would be super easy to personalize your site that represents your brand identity uniquely.
Read More: Otel Theme Improves Your Site Appearance with Beautiful Designs.
Step 4: WooCommerce Booking
There requires a smooth booking process for your hotel website. In order to do this, you need WooCommerce Booking plugin.
Read the WooCommerce Bookings documentation and definitions if you require any assistance. But the good news is Otel theme works completely fine with this plugin. So it would be easier to integrate the booking feature into your website.
Extended facilities: You don't have a physical hotel but want to offer services from other hotels. Such as Tripadvisor, trivago, ShareTrip, GoZayaan, etc. With Dokan it requires only a few steps and resources to build a hotel booking marketplace. Most importantly, Otel is fully compatible to work with Dokan.
Step 5: Install Other Plugins to Power up Your Site
You've almost done. Now it's time to install some essential plugins on your site. So you can run a smooth business with great performance. Here are some of our core recommendations-
SEO Plugin

Yoast SEO
Rank Math
All-in-One SEO

Google Analytics Plugin

Sitekit
Analytify
Google Analytics+

Caching Plugin

W3 Total Cache
WP Rocket
WP Super Cache

Security Plugin

Sucuri
WordFence
iThemes Security

Backup Plugin

UpdraftPlus
BlogVault
VaultPress Pro
Check the full plugin list here- Must Have Free WordPress Plugins For Your Site.
You've successfully configured your hotel booking website. But it's just the first step toward your success. You have to go a long way to set up a successful business echo system.
Some quick tips- Write engaging content for your website's pages, such as hotel descriptions, room types, amenities, and local attractions. Test your website's functionality and user experience to ensure that everything is working correctly.
Once you are satisfied with your website, launch it and start promoting it through social media, email marketing, and other digital marketing channels.
Read more: 9 Effective eCommerce Marketing Strategies to Multiply Your Online Sales.
Final Thoughts on How Hotel Booking Websites Make Money
A website is a crucial component of any hotel business in today's digital age. It allows you to enter a wider market and simplify the booking process. This creates a new path to increase revenue by providing a platform for customer communication and reservation.
Without being a hotel owner, you can still build a hotel booking website and offer services from different hotels. Travelers from all over the world can come to your website and make reservations. It would be a great way to make money from your hotel website.
There are more ways to make money from your hotel booking website. Such as-
Take a commission on every booking made through your website
Generate revenue by displaying ads on your hotel booking website
Charge hotels a subscription fee to list their properties on your website
Promote other travel-related products or services, such as airline tickets or travel accessories
Offer customers additional services, such as car rentals, travel insurance, or activities, and earn a commission on these services.
If you're creating your hotel booking website on WordPress, use the Otel theme to enhance your site look with a personal brand identity. Now, listing several hotel sites on your WordPress site and building a fully functional hotel marketplace, we want to recommend you use Dokan multivendor plugin. So, you can instantly activate all marketplace features at your fingertips.
Do you have any further queries about how hotel booking websites make money? Do use the comment section below!