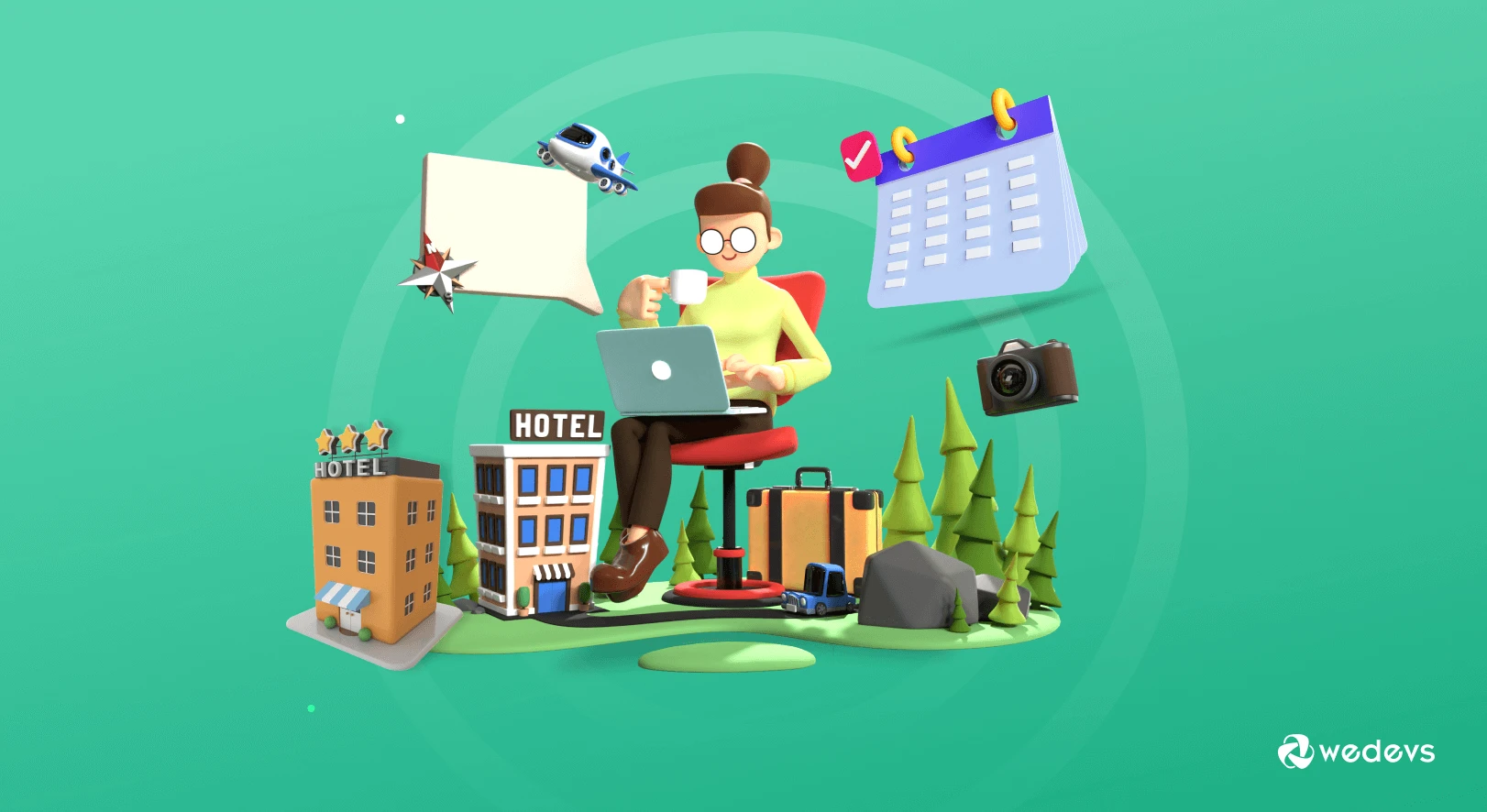 How to Build a Hotel Booking Marketplace with weDevs' New Otel Theme
After staying indoors for about 2 and a half years, people are starting to travel again. The travel industry is seeing a rapid boost this year. And now is a good time to invest in a hotel marketplace.
20000 people participated in a survey conducted by Arateg where 40% of the participants said that they will rebook the trips they cancelled due to Covid-19.
By getting into the travel & tourism industry, you can also be a part of the growing profit. With WooCommerce, building your eCommerce website is easier and more profitable than ever. Moreover, you can extend the facilities by letting other vendors sell their products on your site as well.
Today, we'll walk you through the steps to launch your very own hotel booking website and describe essential actions to monetize the site. At the end of the blog, you'll get a detailed case study for a more clear overview.
Let's get started by knowing the fact-
Business Opportunities of Hotel Booking Marketplace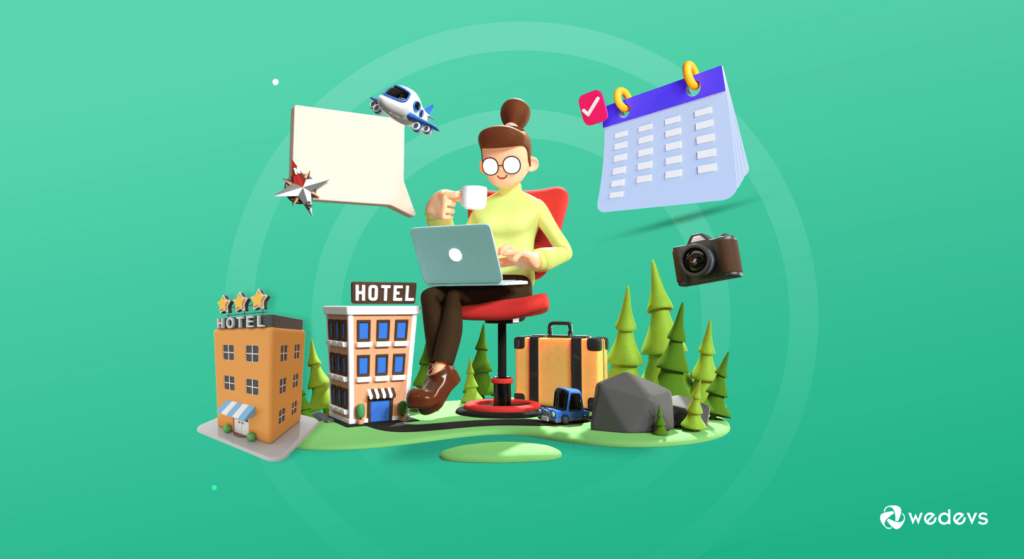 The hotel booking marketplace works as a middleman between hotels and customers. They collect information about various hotels and provide customers with lots of options and compare for better deals. The revenue model for this type of online hotel reservation platform lies in charging a service fee for the payment transactions conducted on a marketplace.
The travel sector recovered over 50% of its gross revenue by the end of 2021 compared to the pre-coronavirus numbers. Based on Travelport's report this recovery is projected to reach 85% by the end of 2022.
The online booking system is also getting popular nowadays. 88% of adults in the USA prefer to book hotels online.
Another important report projects that online hotel bookings would exceed $174 million across the globe in 2022. Whereas, 700 million people will make hotel room booking online by 2023.
These stats are enough to boost your interest in investing money in this profitable sector.
Why Hotel Owners Would Join Your Marketplace
There are some significant benefits to joining a hotel booking marketplace. Such as-
Digitalization: Although most hotels have their own website, small hotels don't have that luxury. By listing on a hotel booking marketplace, they can transfer their business online.
Big Customer Pool: Unlike standalone hotels, hotel marketplaces have a bigger customer pool. So hotels get more exposure and customers also get more options to choose the best deal for them.
Extra Promotion: Promotion in such systems is much easier and cheaper for hotel and property owners than through Google search. A hotel gets extra visibility by the means of a hotel booking marketplace and doesn't spend money on promoting its website with SEO.
Additional Selling Channel: Other than their website, hotels have an additional selling channel. Also, listing on a hotel marketplace can get extra traffic to their website which can ultimately result in sales.
Now we know that the business opportunities of the hotel booking marketplace, let's see how to create a hotel booking marketplace using WordPress.
5 Essential Features You Should Include in Your Hotel Marketplace Website
You have got the basic structure of your hotel booking marketplace by following the above steps. Now it is time to add the features you are required in order to make your marketplace stand.
Hotel marketplaces are different than other marketplaces. The customers are different and they require a seamless booking experience. They need to see the hotel rooms, locations, and reviews and directly communicate with the hotels.
That is why you need to have certain features on your marketplace like-
Versatile Homepage, User Login, and Verification
Live Search Button
Online Payment System
Hotel Review System
Live Chat Feature
Versatile Homepage, User Login, Verification & Profile
The homepage is the first page that the users interact with. It will provide an introduction to the customers. That is why you need to make your homepage versatile.
On a hotel booking website, it is very necessary to verify the hotel that is registered to your website. That way you can ensure that legitimate hotels are signing up to your website. You can use the Dokan vendor verification module in order to complete this process.
Live Search System
On a hotel booking marketplace, users need to search for hotels using different parameters like hotel location, ratings, most popular, featured, etc. Dokan adds these parameters by default. However, using the Dokan Geolocation module, you can display a google Maps (Mapbox) on the hotel listing page.
Online Payment System
Your hotel booking marketplace needs various payment systems like PayPal, Stripe, Wirecard, etc. These payment systems are globally recognized and customers from all over the world can use these payment methods. Dokan supports these payment methods and additionally, Dokan also supports any payment methods that support WooCommerce.
Hotel Review System
Dokan has a review system that helps customers write a descriptive review for every hotel. All you have to do is enable the Dokan vendor review module.
Live Chat Button
In order to decide about reserving a hotel room, customers may want to talk to hotel owners or the representative directly. Dokan has integration with Facebook, Whatsapp, TalkJS, and Tawk.to. You can use these integrations to implement a live chat feature on your hotel marketplace.
These are the important features you must have on your hotel booking website.
How to Create a Hotel Booking Marketplace with WordPress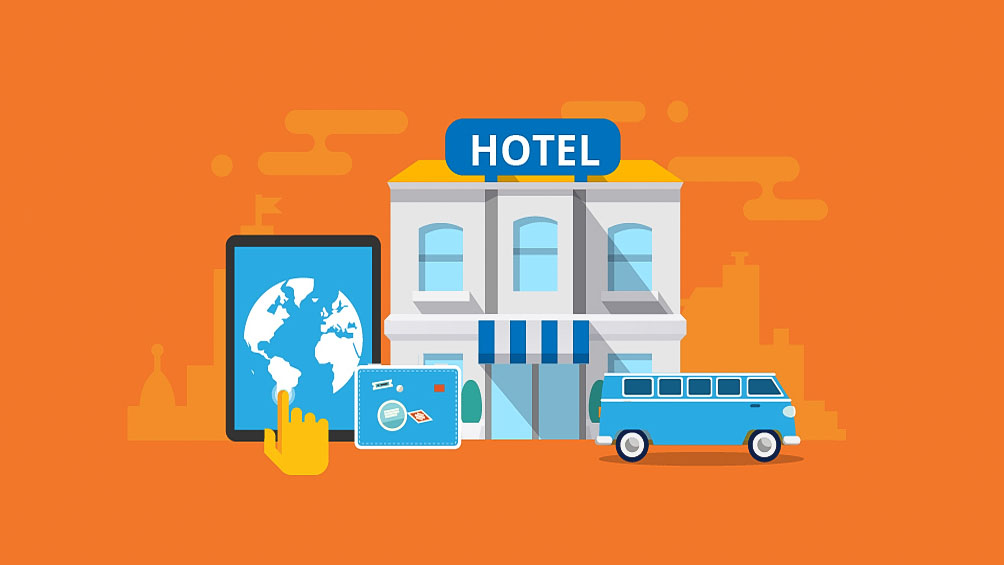 WordPress has made it easy to create any kind of website with ease. And yes you can create an eCommerce store using the famous WooCommerce plugin and turn it into a multi-vendor marketplace using Dokan.
Dokan is a fast and feature-rich multi-vendor marketplace plugin for WordPress. It helps you establish a unified platform so multiple vendors can create their mini stores and you can earn money from each sale.
Learn all about Dokan's top features and modules.
Prerequisites For Launching Hotel Marketplace
You need the following attributes to start a hotel booking marketplace on your WordPress site.
Here are the steps you need to follow-
Install Dokan to Configure Your Marketplace
Configure General Setting of Dokan
Install Otel Theme for Hotel Booking & Reservation
Allow Hotel Owners to Register on Your Marketplace
Upload Bookable Products (Rooms)
Step 1: Install Dokan to Configure Your Marketplace
WooCommerce provides you with all the functionalities to establish an eCommerce platform to sell online. But if you're extending your vision and planning to build a multivendor marketplace, Dokan is the easiest way.
First of all, you have to install and activate the Dokan plugin on your WordPress site. This marketplace solution comes with all the functionalities of a marketplace.
Installing Dokan is similar to any other WordPress plugin. You need to install the lite version first which is FREE. Here, you will get all the basic features of the marketplace. In order to uncover all the advanced features and frontend capabilities, you can download and activate the Dokan Pro Version.
Note: You don't need to install WooCommerce individually. It will be installed automatically when you are installing Dokan.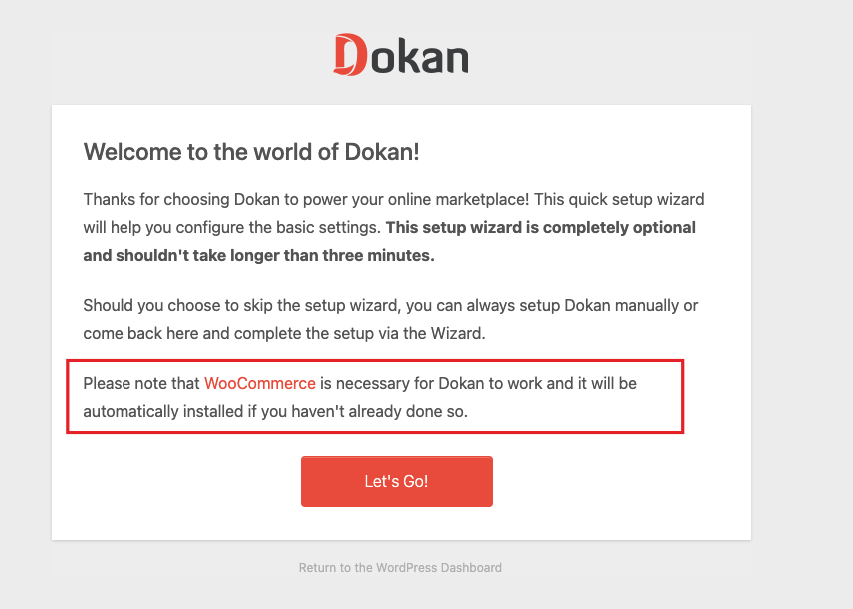 You can check our step-by-step guide to building a free eCommerce marketplace using WordPress.
Or go through the video tutorial below–
Step 2: Configure General Setting of Dokan
Now according to your requirements, you can configure the general setting of Dokan.
Go to, WP Admin→ Dokan→ Settings.
Here you'll find options to set up some crucial terms and conditions. Such as-
Set up hotel category
Allow hoteliers to display their products
Create necessary tags
Choose the new product/room status
Select withdrawal methods
Set minimum withdrawal limit
Set commission terms and rates.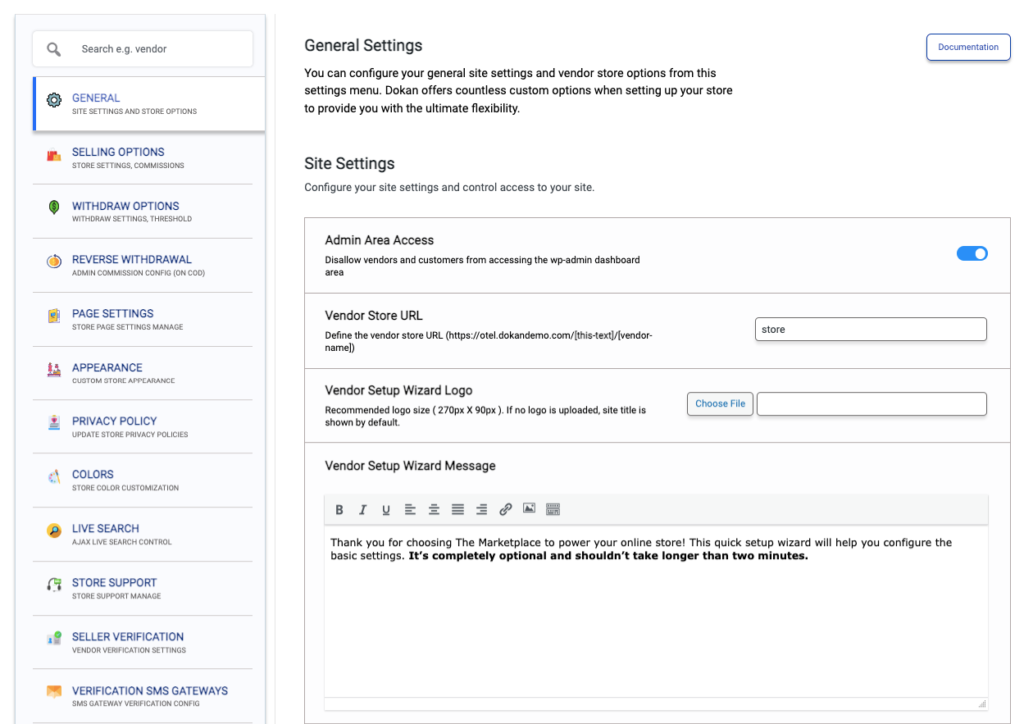 Dokan gives you options for both percentage and flat commission. So that, you can Earn with Dokan Plugin Using Different Vendor Commissions.
Click the Save Changes button once you've done with all the changes. Or you will lose all your setups.
Read More: Configure Dokan Basic Settings
Important fact: Dokan Bookings is developed to enhance the WooCommerce Bookings for a multivendor marketplace. So, we suggest you overview the WooCommerce Bookings documentation and definitions first before starting. We have just made the features compatible with a front-end interface. Its interactive usability makes the user experience easier.
Step 3: Install Otel Theme to Give Your Marketplace a Smart Look
Dokan is compatible with almost all the popular themes available in the market. So, you have the opportunity to pick the right theme that fits your brand. You can check over here for Dokan Compatible Themes.
As you are trying to build a hotel booking marketplace, you need a theme that perfectly captures the mood of that. We have recently released a theme called "Otel" that is perfect to build a hotel booking website.
The theme is compatible with WooCommerce, WooCommerce Booking, and Dokan as well. And for extra customization, you can use Elementor widgets that are specially built for this theme only.
Know more about its features from here.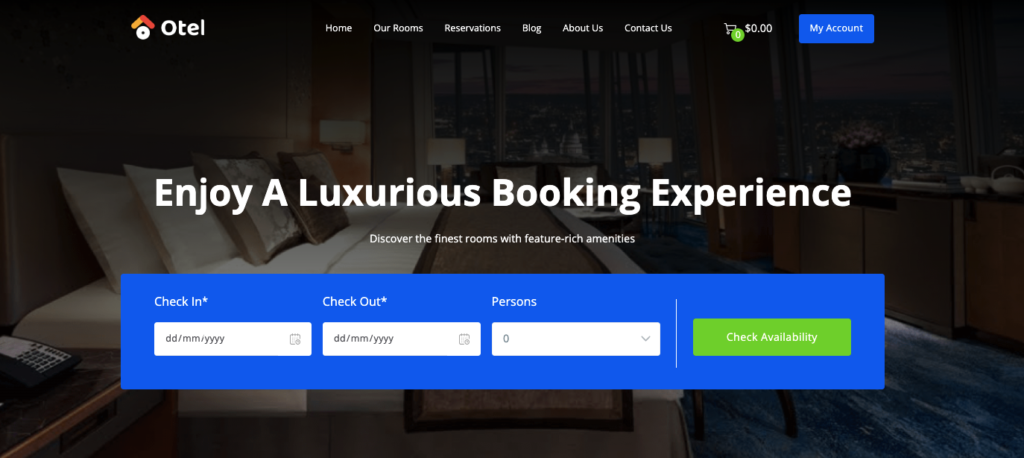 Step 4: Allow Hotel Owners to Register on Your Marketplace
Now that you have added all the functionalities to your marketplace, you can invite hoteliers to signup for your marketplace. To make sure vendors can signup to your marketplace, enable the "Anyone can register" option from WP Admin–> General–> Settings. So, it will open the default registration form for hotel owners to signup.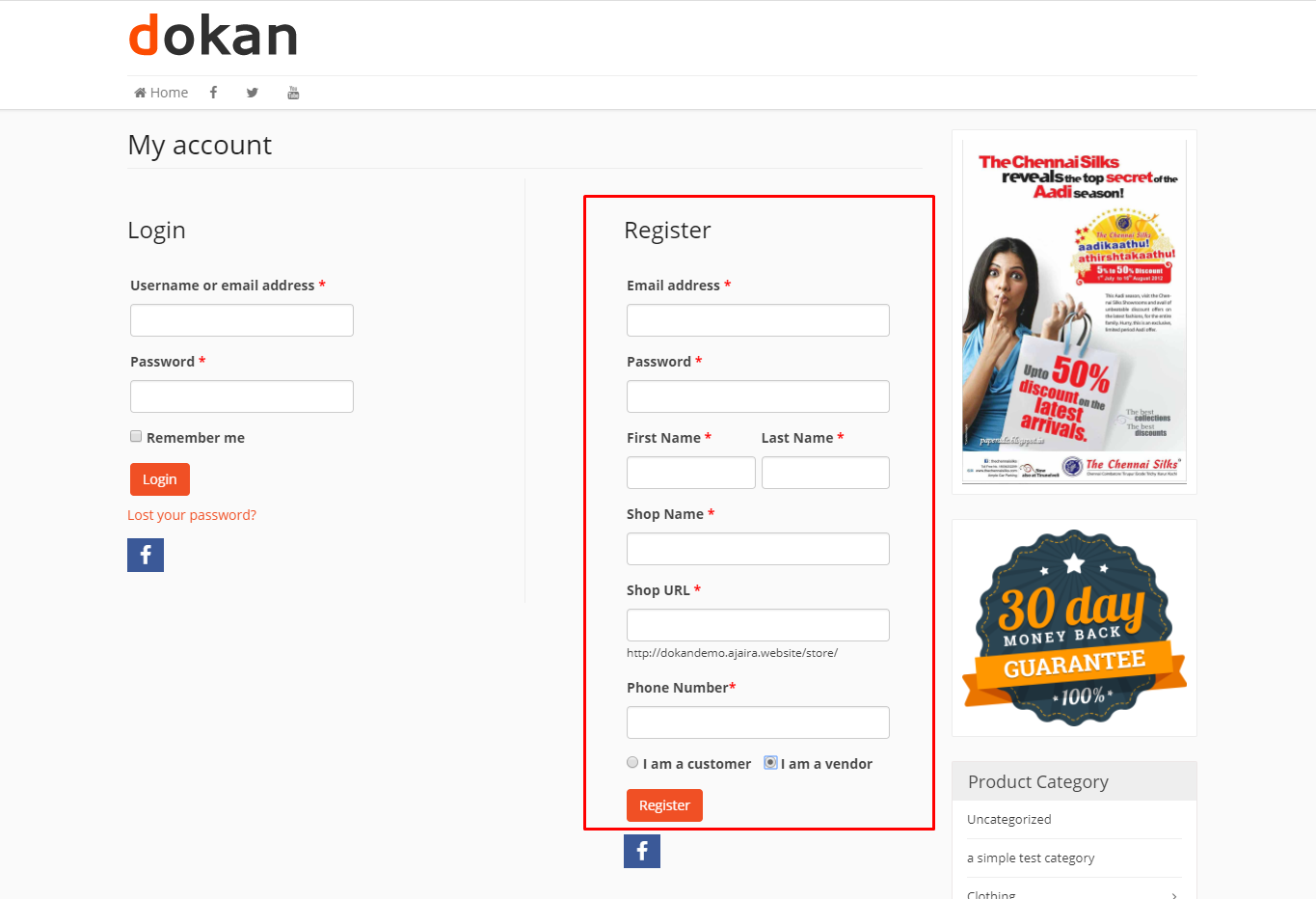 Or you can create customized registration forms with the necessary fields, especially for your marketplace.
Step 5: How to Upload Bookable Products (Rooms) as an Admin and Vendor
After registering on your site each hotelier (vendor) will get an individual store with a unique URL. They can add, edit and manage their products from their own dashboard. The hoteliers have to log in to their store with personal credentials.
Then, go to Vendor dashboard → Bookings to get available options.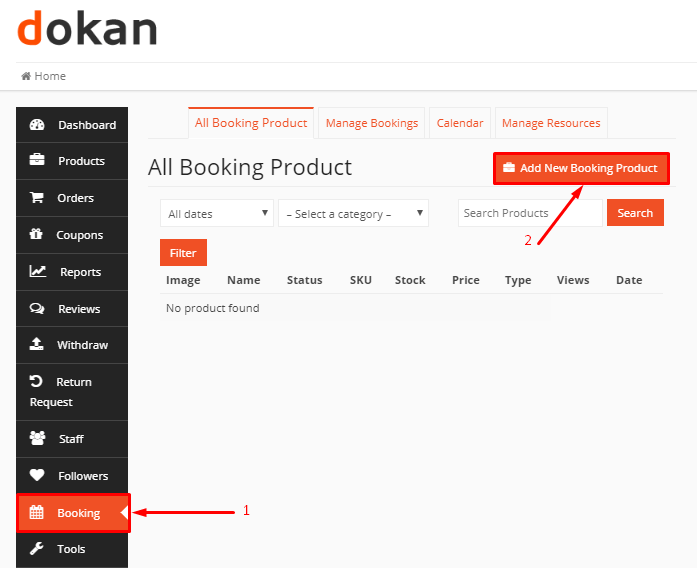 Create a New Booking Product
Click on Add New Booking Product at the top right corner. A form will appear immediately with different options. Here, you can update all the information related to your service or product.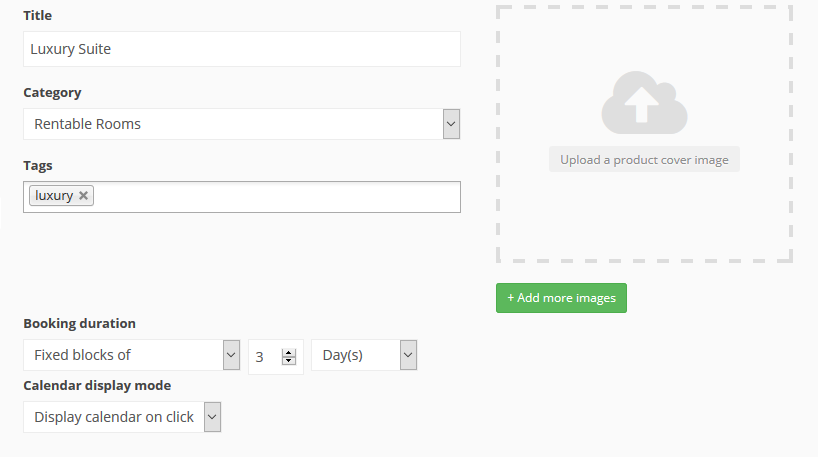 The hoteliers will find options like,
Title: Add your service or product name here.
Category & Tags: They can select a particular category from a drop-down menu. Admins should define the categories and tags from the backend. The vendors can only select them from the front-end dashboard.
We prefer not to allow your vendors to create categories and tags. It may arise duplicates and other confusion.
Booking Duration: This field allows you and the hotel owners to define the duration of the service or product. It indicates the time period of each product your customers are eligible to buy.
Suppose you own a 5-star motel. Now you don't want to rent your best room unless someone rents it for more than three days. So you can keep three days as your block duration. For regular rooms, you can put it one day.
Calendar Display Mode: Hoteliers can select the calendar option displayed by default for their customers. Also, traders can make the calendar a date picker to make the user experience better.

Check the Cancellation Button: Vendors can allow their clients to cancel their bookings before a certain time period.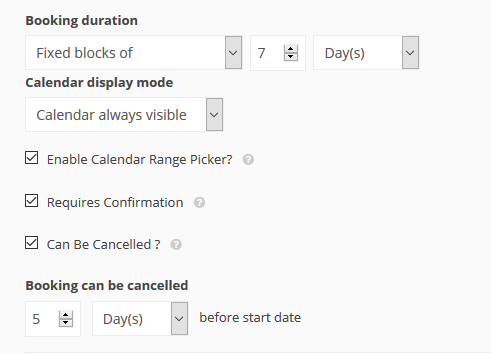 Availability Options: Here, agents(vendors) can set their data regarding their product's availability. They can mention a fixed date from which they are ready for taking bookings. Also, they can fix the ending time for its availability.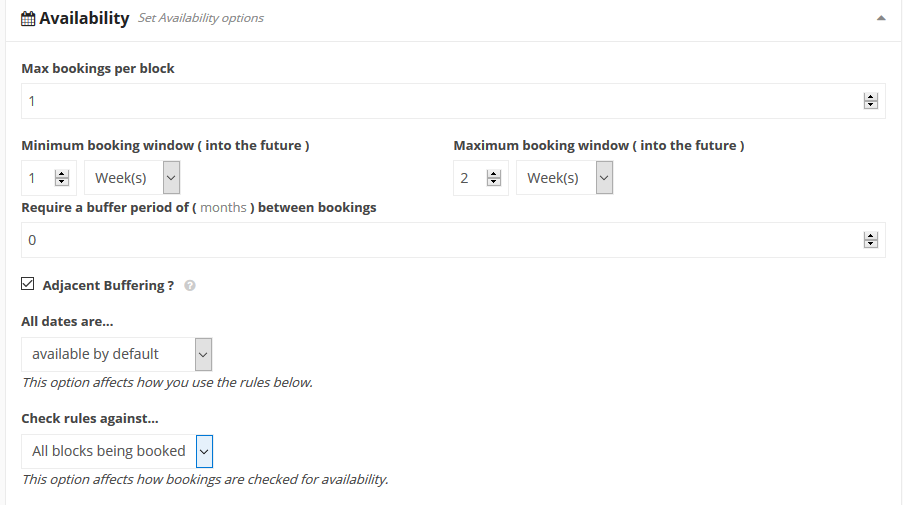 However, you will get many options to configure your marketplace with Dokan Bookings Extensions. Now, you must decide and design the site according to your business needs.
Final Overview of Hotel List on Our Marketplace
Below is the hotel list of your hotel marketplace uploaded by numerous vendors-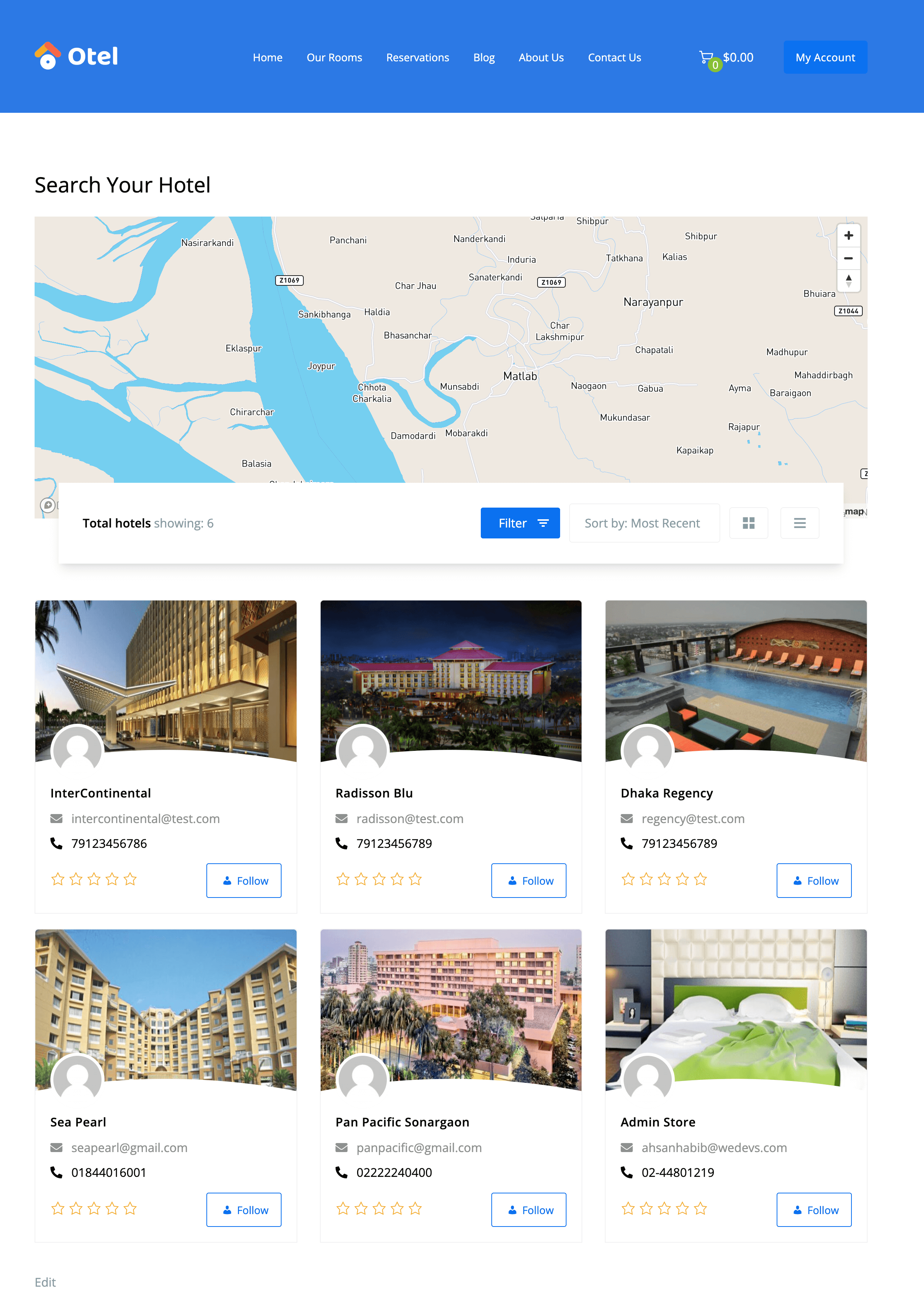 For a better understanding, you can check the full documentation for Dokan WooCommerce Bookings.
How Much Does It Really Cost To Build A Hotel Marketplace
| | |
| --- | --- |
| Items | Pricing/Year |
| Domain | $9/year |
| Hosting | $25-$50/year |
| WooCommerce | $0 |
| Dokan | $0 |
| WooCommerce Booking Extension | $249/year |
| Dokan Starter | $149/year |
| Dokan Booking Module | $49/year |
| Otel Theme | $99/year |
| Total Pricing Starts | $581/year |
Note: The pricing may change depending on the Dokan premium package and Otel theme. If you buy the Business package of Dokan, then you don't need to buy the Dokan Booking module separately. The module is included in the business package.
Case Study: How TripAdvisor Became a Successful Hotel Booking Marketplace
You've created your hotel marketplace and added all the necessary features. But now it is time to look at the competitors and get inspired by their success stories.
One of the leading hotel booking marketplace in the world right now is TripAdvisor.
Founded in 2000, the Boston-based company is now the world's largest travel platform, turning an initial investment of $3m into a billion-dollar business. The site first started as a travel information website. But with no sign of success, the founders decided to turn their site into a site of Reviews of Hotels, Flights, and Vacations.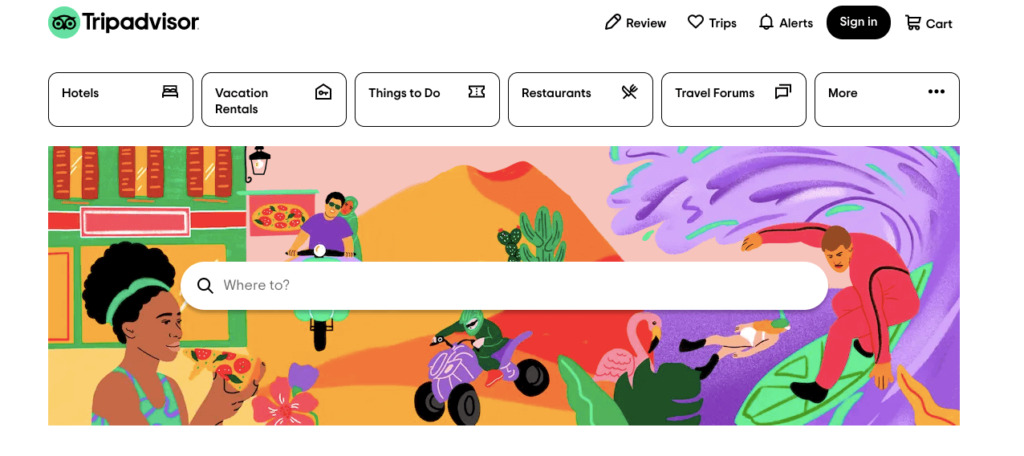 However, the main success came after when they later turned to a marketplace model. Every time a consumer clicks on a hotel to book a room, TripAdvisor charges the hotel something. Suddenly, everything began to click. Three months into launching the new model, TripAdvisor was earning $70k per month and achieved breakeven. The company has grown profitably ever since.
Here are some amazing stats about TripAdvisor from Statista:
TripAdvisor boasts over 702 million reviews of the world's leading hotels
It lists over 8 million locations — restaurants, hotels, and tourist attractions.
TripAdvisor generates revenue of $1.62 billion worldwide
TripAdvisor ended 2018 as one of the best-performing stocks in the S&P 500
It has 490 million unique monthly visitors
TripAdvisor receives about 7,000 new contributions every hour
Nearly 90% of hoteliers say TripAdvisor is crucial to their business
86% of TripAdvisor users would recommend TripAdvisor to fellow travelers for trip planning
After reaching the company revenue record of $1602 million in 2018 (US), TripAdvisor struggled with only $602 million in revenue in 2020 due to the pandemic. However, the recovery started with TripAdvisor generating $905 million in revenue in 2021.
Bonus Part: How to Monetize Your Hotel Booking Marketplace As An Admin
After launching your hotel booking marketplace and adding the necessary features, now it is time to earn from it. In order to earn the most from your hotel marketplace, you need to place your revenue systems in the right place. We are going to share some points that will help you monetize from your marketplace.
Implement Service/Commission Fee
This is the most revenue model of any kind of marketplace. If you have a marketplace that is very popular and has enough traffic, then you can charge a fee for listing. That means the hotels will pay you a one-time service fee to list their business in your marketplace.
Or you can earn from every room booked. It is called the commission system. You will get a commission fee if a customer books a room from any hotel on your marketplace. Dokan lets you add 3 kinds of commission fees.
Flat rate commission: You will earn a fixed commission from every sale. If you set your commission rate to $20, then you will earn $20 from every sale. But in this case, the original product price won't matter.
Percentage commission: You will earn a percentage of every sale. That means whenever there is a sale from your marketplace, you will get a percentage for it. The bigger the product price, the bigger the commission.
Combined commission: In the Dokan pro version, you can set both a flat rate and a percentage commission rate. That way other than earning a fixed commission rate, you can make sure to earn big money when the product price is big.
Know more about the Dokan commission rates from here.
Some other significant ways to earn from your marketplace could be-
Sell Advertising Slots
You can let hotels rank higher on the product page by selling advertisement slots. Dokan lets you create advertisements using the Product advertising module.
Sell Merchandise and Travelling Gears
You can allow vendors on your marketplace who sell travel gear. Offer these products as an add-on to the hotel rooms. Using the product addon module of Dokan, you can list different merchandise with your hotel rooms. This way you can increase your profit rate.
Charge Subscription Fee for Business Listing
You can adopt a subscription business model for your hotel marketplace as well. For example, you can sell subscription packs for a number of products. If a hotel owner buys the starter pack, they can show 20 products/hotel rooms. On the other hand, for the premium pack, hotel owners can display 50 products/hotel rooms on their marketplace.
To know how the subscription system works in Dokan, you can read our guide on subscription packs.
Some Useful Resources You May Check:
FAQ Regarding Hotel Marketplace
What is Marketplace booking?
Marketplace booking enables customers to search for, find and book a service appointment
How do hotels attract customers?
Hotels use different techniques to attract customers. Like,
1. Offer corporate rates with recreational facilities
2. Promote on social media
3. Send emails
4. Provides easy transportation
5. Provides speedy check-in and check-out
6. Offers healthy menu options.
What are the sales strategy in hotels?
Six essential hotel sales strategies are group bookings, direct bookings, destination marketing, cross-promotional sales, guest rewards strategies, and revenue management strategies.
Create Your Hotel Booking Marketplace & Start Earning
We are finally at the end and hopefully, now you have got all the information to create a hotel marketplace. To sum it up for you,
Use WooCommerce and Dokan to create your marketplace
Add the necessary features to your marketplace
Follow the steps to monetize your marketplace the right way
Read up on success stories in order to know the competitors and their strategies.
Earning from a marketplace is not easy as creating one. You can follow step by step and create the marketplace. But in order to earn from it, you need to apply the right business models and know your audience. That is the only way you will make your site profitable.