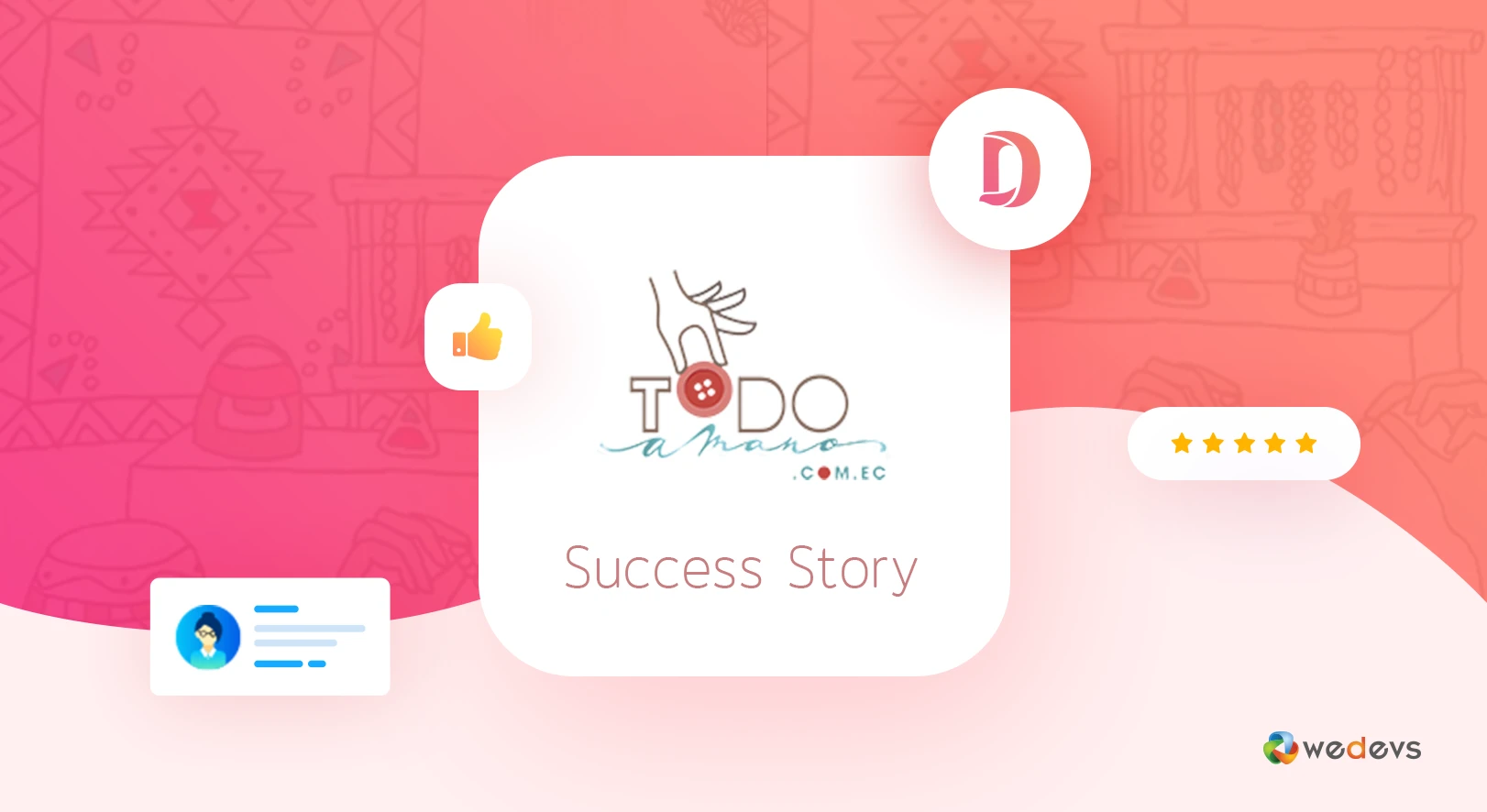 Exhilarating Success Story of a Marketplace with Dokan Multivendor
What is it so special about an online marketplace that drives people into getting into this business? Is it the convenience of doing business with it or it is the ease of earning profits from it?
Whatever may the reason be, it is always a good idea to know the best marketplace solution that would fulfill your requirement of becoming a successful business venture for you and your vendors.
Trying to complement this idea, Todoamano.com.ec now has become quite a popular name in the realm of marketplace Ecuador.

Todo a Mano Ecuador, is a website where clients can find handmade products made by different artisans from all over the country

Christina Hernandaz- Todoamano.com.ec
So how exactly did they began their journey of Marketplace? What were their ultimate goal & objective behind launching this marketplace in Ecuador? Did they face any challenges in the process of doing so? And lastly, what helped them overcome those obstacles in the race of turning it into a successful marketplace?
We will be finding these answers in this inspiring eCommerce success story today. So let's dive in.
Background Story & Ultimate Goal
When one launches its beloved marketplace, it always has a definite vision and mission to serve for the future. And Todoamano's vision is to become a leader in helping vendors sell local handmade products in the Latin America region.
And finally, the ultimate goal of the marketplace is to provide the businessperson with a practical platform that helps in promotion worldwide while facilitating the sale of the product.
Journey, Hardships & Overcoming The Challenges
Just like the countless benefits of having an established marketplace, there are endless hard work and effort behind its journey to outstanding eCommerce success that always remains unnoticed. Even Todo a Mano before deciding to bung with the idea of its marketplace had to get past a number of obstacles.
In Ecuador, there is a great proportion of venturesome people who creates innovative handmade items. All these handcrafted products are mostly distributed in fairs or through social networking sites. But once the fair gets over it becomes really difficult to locate those vendors who are selling those products or to find them out all at once from social networks.
And realizing the situation of Equador having a large chunk of talented artisans without an online store, the idea of launching an exclusive but common platform for them got ignited.
So after the formation of this virtual fair, now the people who appreciate authentic handmade products can find them easily under one roof. And from the vendor's point of view, they can easily showcase their products and sell them from anywhere within the country.
More importantly, the marketplace has now become a popular hub for finding handcrafted items from various skilled artificer living all around the country.
Moreover, this was only possible as Todo a Mano owner truly believes in the great potential Equador has and the encouragement it needs to boost the expansion of the handicraft capitalization.
What Drove It To Get Dokan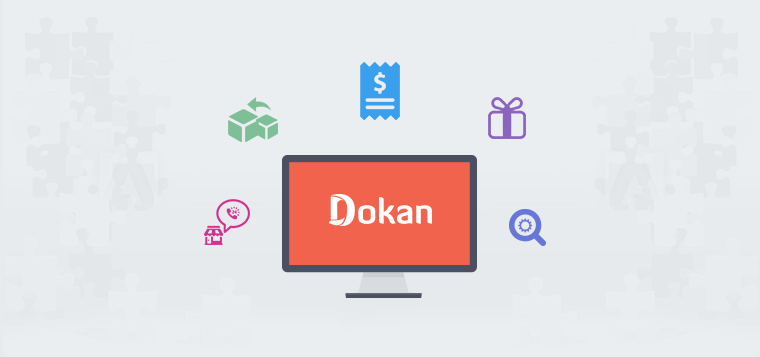 Now after the idea that formed of presenting the local handcraftsman with a virtual online fair zone, Christina Hernandez the founder of Todo a Mano, and her team began their journey of looking for the most suitable marketplace plugin to build their website.
It wasn't an easy job to find the right multi-vendor marketplace solution that they badly needed. Almost all the ones they tried offered features that weren't something their company was looking for. Struggling to find the best-suited plugin for their website, they came across Dokan which met almost all its requirements and features to achieve its company goals.
After getting Dokan, it served its main purpose of wanting to exhibit handmade products, letting the local vendors use the platform of this captivating marketplace via subscription packages.
Not just that, it also enabled them to subscribe to different packages based on the size of their online store and let the customer communicate with the vendor undeviatingly.
How They Got Remarkable eCommerce Success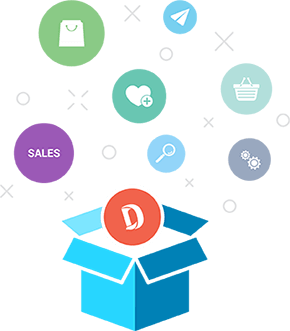 Wide Range of Categorized Products
Having the available products classified in a categorized section makes it much easier for online store visitors to find their desired items. In Todoamano.com.ec, you get all the categories of products nicely presented in a slider with the number of products available in each category.
What's New In Offer
Finding new products that are being added regularly to an online store can get boring sometimes. But here in Todoamano, you have all the new products in one place for the customer to easily browse and buy.
Special Deals
Constantly looking for discount offers in an e-commerce store can be a hassle sometimes. But in this marketplace, there is a separate section on the homepage where you get to view all the exciting deals with reduced prices at one spot.
You can either directly cart the item or view details on the product from there. This was one of Todoamano's marketing practices that helped them ensure outstanding eCommerce success.
All Products At One Place
In the products tab on the marketplace, you get to see the list of handmade products added by various vendors living all over Ecuador. You can either look for your desired product picking from the categories on the right side or sort all products based on prices, ratings or added latest. Click on the product to know more about it or simply add it to your shopping cart from the page. The process of looking for your favorite handcrafted product to buying them is simply easier than ever at Todoamano.com.ec
Vendor Stores
You can't run a marketplace without vendors who would sell their products in it. At Todo a Mano, there is a separate tab for all vendor stores listed in one place. The visitors of this marketplace of handmade items can simply get to any individual vendor store they like. They can even send a message to a particular vendor directly, view their products, and post a review/rating after buying them. Clearly, the method of reaching out to the vendors has just got cooler than ever.
eCommerce Success: Outcomes & Recommendations

We recommend Dokan, since it has been useful when creating the online market where different artisans can create their virtual stores and upload their products

Christina Hernandez & Viviana – Founder of Todoamano.com.ec
Todo a Mano- The WooCommerce-based marketplace is utilizing Dokan to full effect for the last year. And with no surprise, the kick-off with Dokan has been colossal and of great success. It has helped the marketplace in a number of productive ways such as:
Quick growth in business & stores
User-friendly design for both vendors & customers
Easier control over admin settings
A wide range of useful features for promotion, news announcements, search tools, referrals, etc.
And so Dokan has been recommended for all since it has been useful when creating the online market where different artisans can create their virtual stores and upload their products absolutely hassle-free.
Design Your Dream Marketplace The Way You Need It
The world of e-commerce is much larger than we think it is. There is a countless opportunity that is just waiting for you to tap. Most developed countries already have ample opportunities and the countries that are having slower growth like the Equador itself are also providing immense possibilities in the e-commerce business sector. Todoamano.com.ec is just living proof of that.
Now even with minimal effort, you can design your dream marketplace just like the all-time famous e-commerce sites eBay or Amazon absolutely without any hitch.
Ensuring eCommerce Success Using Dokan
Even with a smaller investment, anyone is able to get on with their own marketplace and ensure eCommerce success through earning from each vendor sell totally hassle-free.
This is made possible by Dokan– The most popular marketplace plugin for WordPress.
Do you have any e-commerce success stories to share with us? Let us know, as we would love to get inspired by it & share it with our readers.