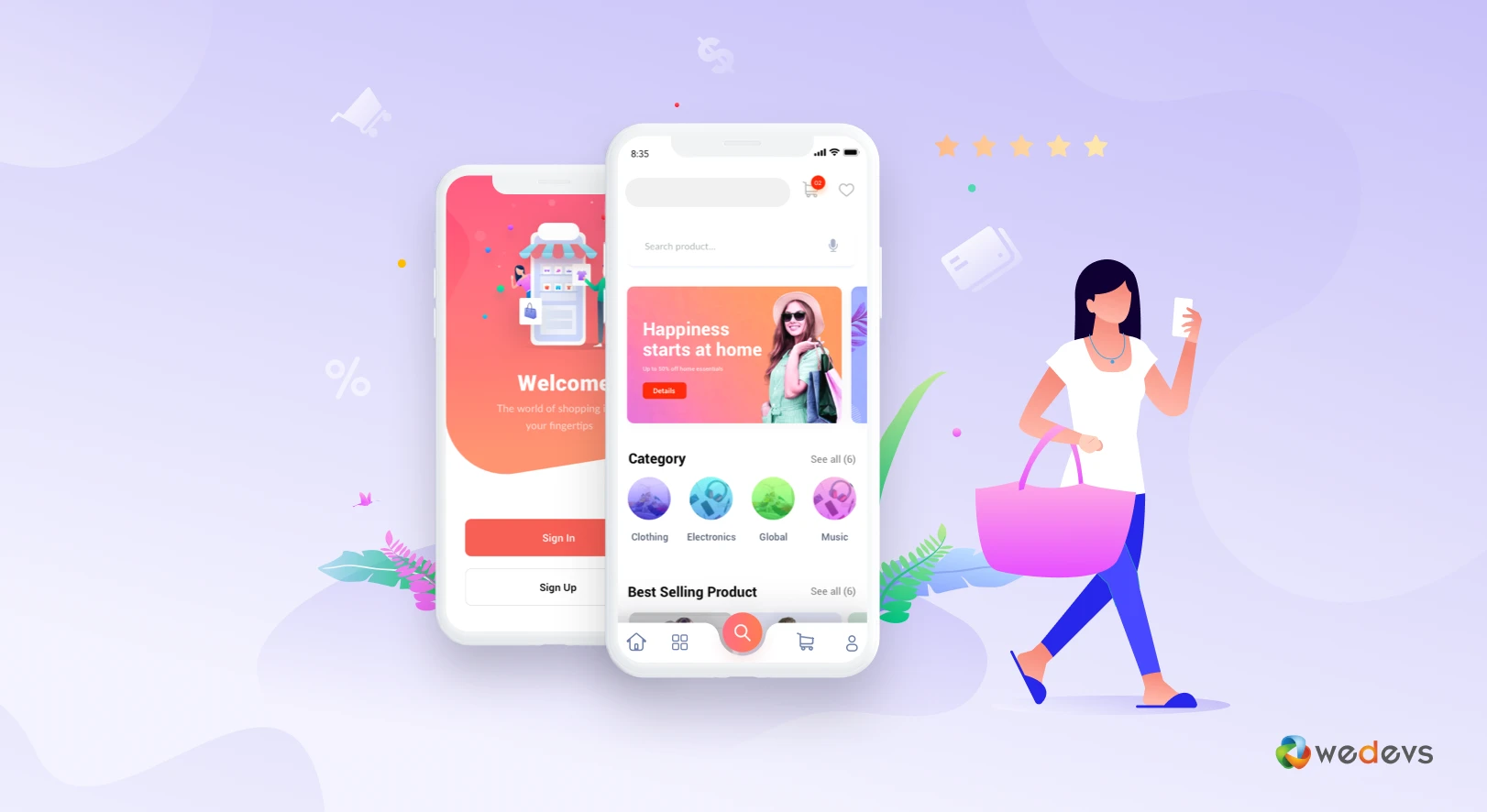 Best Multi-vendor Marketplace Mobile App of 2023
You've probably heard a lot about multi-vendor mobile apps in the news lately, but what does a multi-vendor mobile app do and why is it important? In this blog article, we briefly discuss some of the front runners in providing a reliable multi-vendor mobile app to their users and the reasons why your company should adopt a multi-vendor mobile app for sales growth.
There are a lot of outstanding apps in this category, but when it comes to the best app in 2023, there are a number of brands that have proven themselves to be the most reliable in this regard.
And so today this article will be all about the best multi-vendor marketplace mobile app of 2023 and how these mobile apps if implemented in the right way can improve the user experience of a potential client boosting the sales of your marketplace in a quick time.
Why Your Brand Should Adopt the Multi-vendor Mobile App?
In order to be successful with the online marketplace in the 21st century, companies have been turning to technology to help them grow. One of the most powerful tools available is a multi-vendor mobile app.
These apps help boost sales in a variety of ways. For one, they make it easier for people to find all their favorite brands in one place. They also provide a way for consumers to communicate with brands in an easy and convenient way. Finally, these apps allow the customer to customize their experience.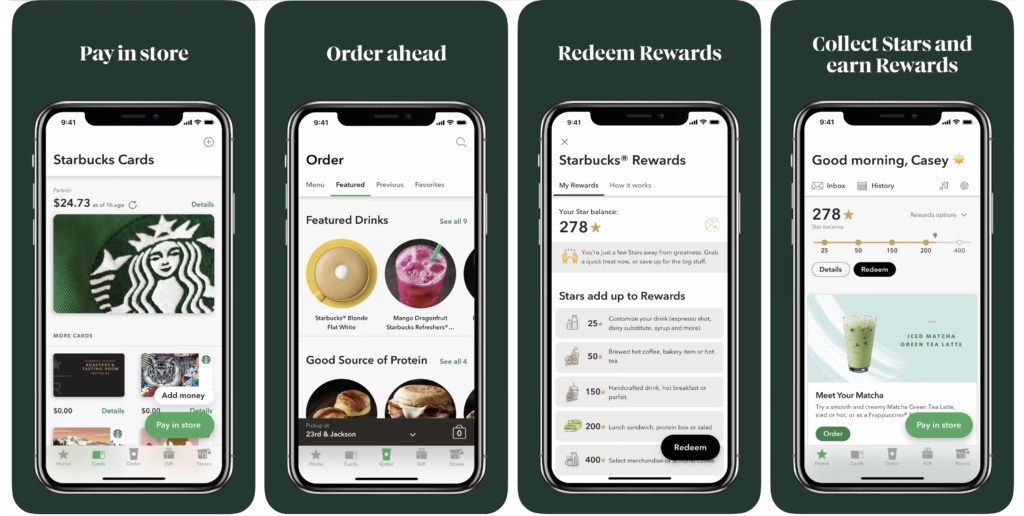 Here Starbucks can be a good example of a marketing app that can be found in the marketplace. Starbucks' MyStarbucks is a great example of how a brand can enable interaction with its customers using an app.
For example, MyStarbucks allows customers to store their card information, receive offers and coupons, place orders, and pay for items. Starbucks will even send its customer customized messages based on their past orders.
So a multi-vendor mobile app should also be something like what the app of Starbucks is like. It should ensure better usability and functionality with all the options that make shopping pleasant for every user. Above all, it should provide priority to what makes the user experience enjoyable and well-responsive for everyone who is using the mobile app.
Also Read: Best Business Branding Ideas To Consider
Best Multi-vendor mobile App That Serves The Real Purpose of Online Marketplace
A comprehensive multi-vendor mobile app will improve the user experience of a potential customer and make their product browsing and buying experience smoother than ever. The robust multi-vendor marketplace provides a range of brands from various countries.
The application will have various features such as order placing, tracking, order status, etc. But which are some of the complete yet user-friendly multi-vendor mobile apps from the recent past? Let's get to know them in brief detail below.
Dokan Multi-vendor Mobile App
With Dokan multi-vendor mobile app, one can easily let their customers shop smarter and maximize their sales with it. The Multi-Vendor Marketplace app for Dokan is a great tool to convert your WooCommerce shop into a fully functioning marketplace. With this app, you can create multiple seller accounts and invite them to sell their products in your store.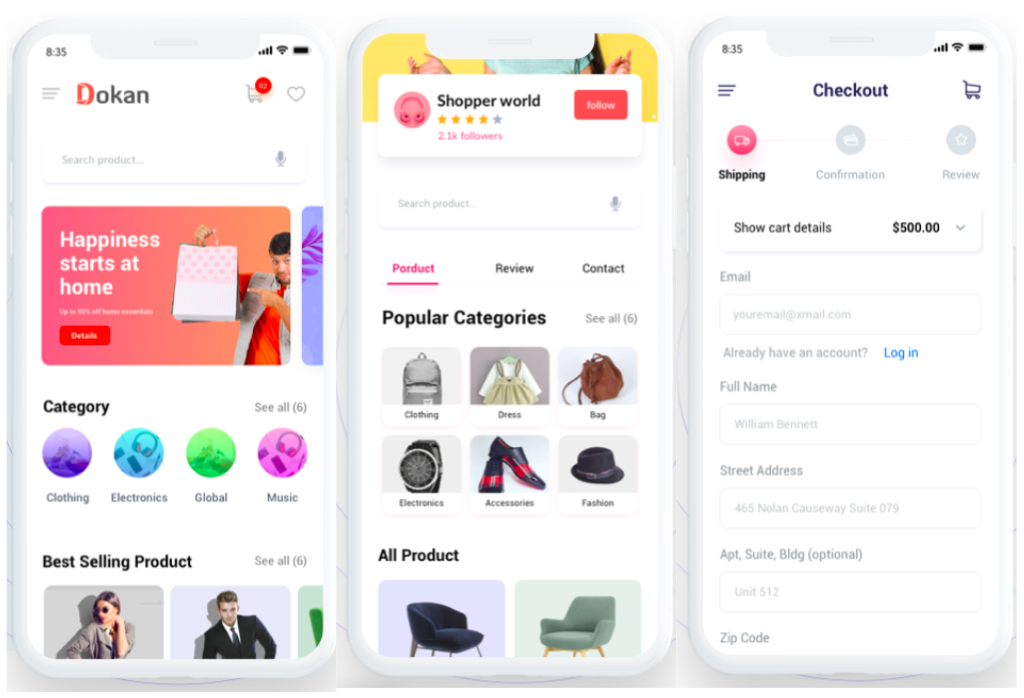 Each seller has its own customized storefront where it can display its products and manage inventory. Customers who purchase products from sellers can check out through your account and pay all together in one place.
This will be particularly useful for local businesses, who have previously struggled to compete with larger companies due to the cost of setting up an online store. This also makes it far easier for individuals to sell their own products as a vendor through the platform.
Previously, this would have required them to invest in hosting, software, website design, and other things that are difficult for ordinary people to afford. Now they can just use Dokan to establish their own multi-vendor shop.
But how can you get the app for your multi-vendor online store? Well first up, simply purchase the App for your Marketplace ➜ Submit the credentials to build the App as per your brand ➜ Get it ready for your customers to use, it is that simple.
Why else should you get this mobile app from the Dokan official website? Here are the reasons:
The app is fully functional and are both iOS & Android ready
Saves you time from building a multi-vendor mobile app from scratch
Save your money from hiring developers to build and develop the app
You get a 100% white-label app to represent your own brand in it
Ensures secure payment for your users
Most importantly anyone even without any coding knowledge can operate it
So now if you are looking for a complete multi-vendor mobile app that ensures easy check-out and represents your brand in a positive way, then Dokan mobile app is probably the solution that you must turn to.

Shopify Multi-vendor mobile App
Shopify is a retail platform for small and medium-sized businesses, who use the platform to create and manage their own online stores. The company introduced its own app in 2016, which will soon be one of the best multi-vendor marketplace mobile apps of 2023.
It is a powerful eCommerce platform that helps you sell online, manage orders, and grow your business. Hundreds of thousands of people around the world use Shopify to launch their businesses and sell products in just a few clicks.
Shopify has a very strong community that provides excellent product reviews, feedback and can recommend you products that they have used and loved. For the past few years, Webkul software Pvt Ltd is offering a mobile app that is undoubtedly the best mobile app for Shopify users as it ensures ease of access from anywhere and anytime.
The benefit of the Shopify app is that it is available for both Android and iOS. This means you can easily access the app from your phone and tablet, anywhere and anytime you want.
There are various apps included in Shopify such as Carts: You can manage multiple carts with ease using this app. Moreover, it also gives an option to scan products so that the customers can purchase the product which they like.
Shopify has the ultimate Multi-Vendor Marketplace app for powering up your business. It will allow you to create an online store, add listings, sell products, and collect payments. You can also send promotions, review submitted listings, and use the app's other functionalities to make your life easier.
So make sure to simplify your life with this multi-vendor mobile app! Get the app to find the best vendors, compare prices, and order your food, home goods & more.
Also Read: Shopify vs WooCommerce- A Comprehensive Comparison
Megento 2 Multi-vendor mobile App
Magento is a powerful eCommerce platform that has been used to power over 200,000 online stores. The user interface is clean and the dashboard is intuitive. One of the best features is Magento's integration with external apps. It offers a lot of benefits for both merchants and their customers.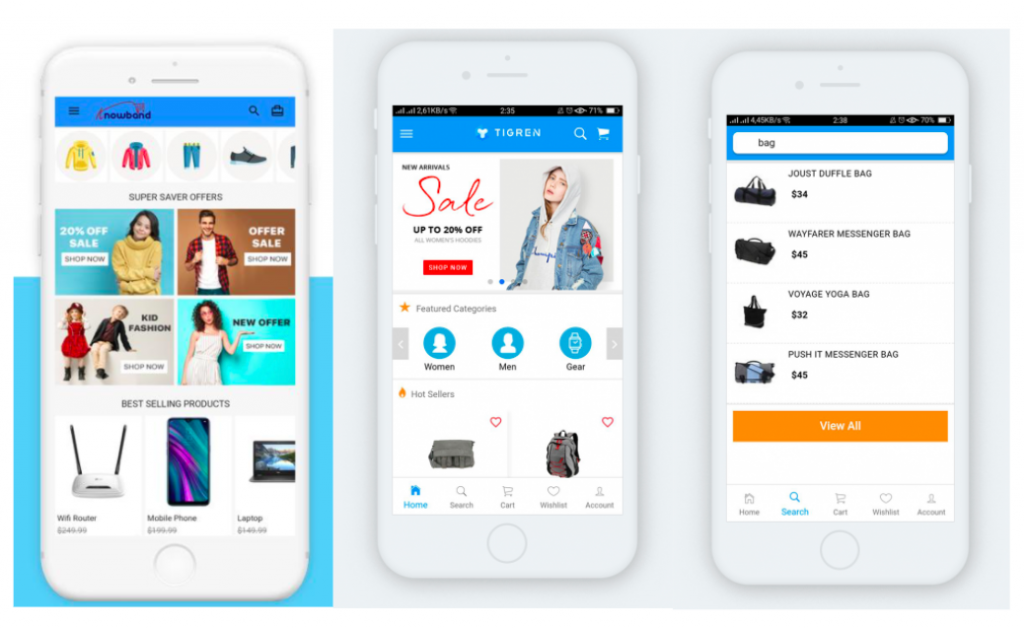 Magento 2 comes with many new features that improve the overall user experience, such as:
A redesigned storefront, which features an out-of-the-box responsive design that's easy to customize
Advanced search capabilities that allow shoppers to filter products by keyword or category
The limitation of mobile app development is the cost. Magento 2 solves this problem by allowing users to have a single storefront that can be accessed by multiple vendors.
The multi-vendor mobile app uses the best features of Magento 2. Users can access their own vendor's storefront, which is powered by it, without having to log in again. This saves them time and hassle. Some of the benefits of having the Magento 2 multi-vendor mobile app are:
1. Easier to maintain inventory management
2. Users don't need to spend time logging in for each vendor
3. The ability to easily switch between vendors
Moreover, its multi-vendor app enables vendors to access their accounts on mobile phones. In this way, they can more effectively manage the purpose of updating specific social media links, checking the orders, adding new products, editing the whole list of existing products, and view or creating invoices & packing slip information from their smartphone.
Also Read: Magento vs WooCommerce: The Battle Of Best E-Commerce Platform
WooCommerce Multi-vendor mobile App
WooCommerce is the most popular eCommerce platform to come out for WordPress users. It is the leading e-commerce platform that powers hundreds of thousands of online stores. With the power of WordPress, WooCommerce makes it easy to set up your own website and sell products.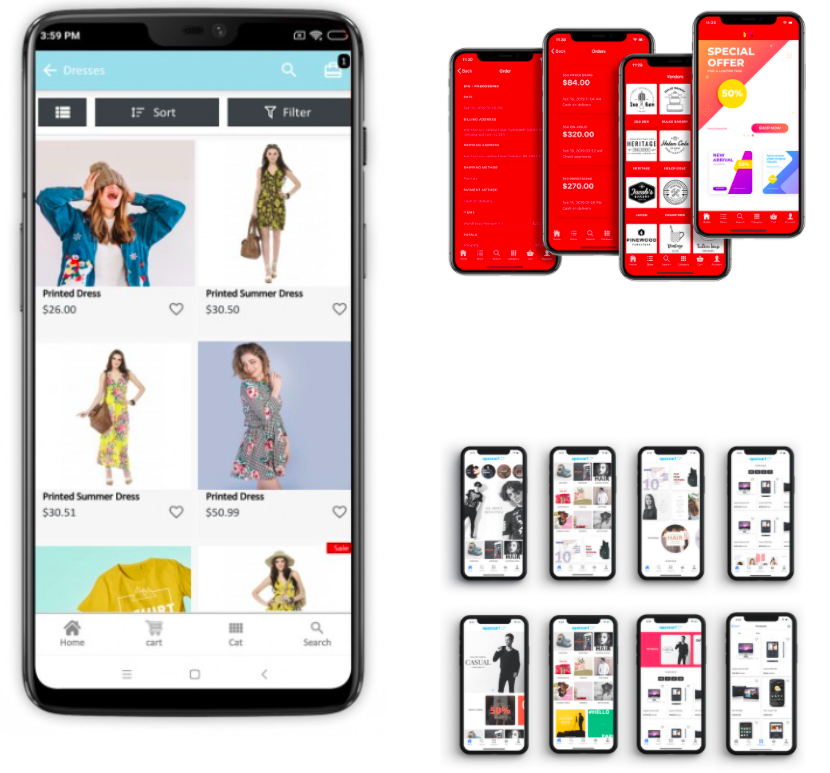 It has a free mobile app that gives customers and vendors the liberty to access the store from anywhere and anytime. It's a multi-vendor app that is meant to work on both Android and iOS powered smartphones and tablets without any issue. This free app lets you manage your store and enable you to get all the deals your favorite store has to offer on the go.
More importantly, with this app, customers can buy products, manage orders, and contact sellers from the comfort of their homes or anywhere in the world. On the other hand, sellers can update the store's inventory without having to be at their computer or store location.
The app is free for both customers and merchants, and all transactions can be performed in it without needing to be concerned about its security. Its search feature optimized the shopping experience by letting customers find their desired item quicker.
Moreover, both apps use React Native, which is a cross-platform framework. The same UI will be on both iOS and Android devices. The admin end is easily configurable and its features like banner slider, category carousel, and other similar utility sections accommodate a user-friendly experience. Truly an app that is customer and merchant-centric from every aspect.
Also Learn About: How WooCommerce Has Excelled In the E-commerce Industry
Odoo Multi-vendor Mobile App
Odoo Marketplace is one of the largest seller communities and the most comprehensive marketplace to sell your products, for just $10/month. Sellers love Odoo because they can find and list new products without the heavy lifting. With Odoo's Artificial Intelligence, you can just relax and let your store grow.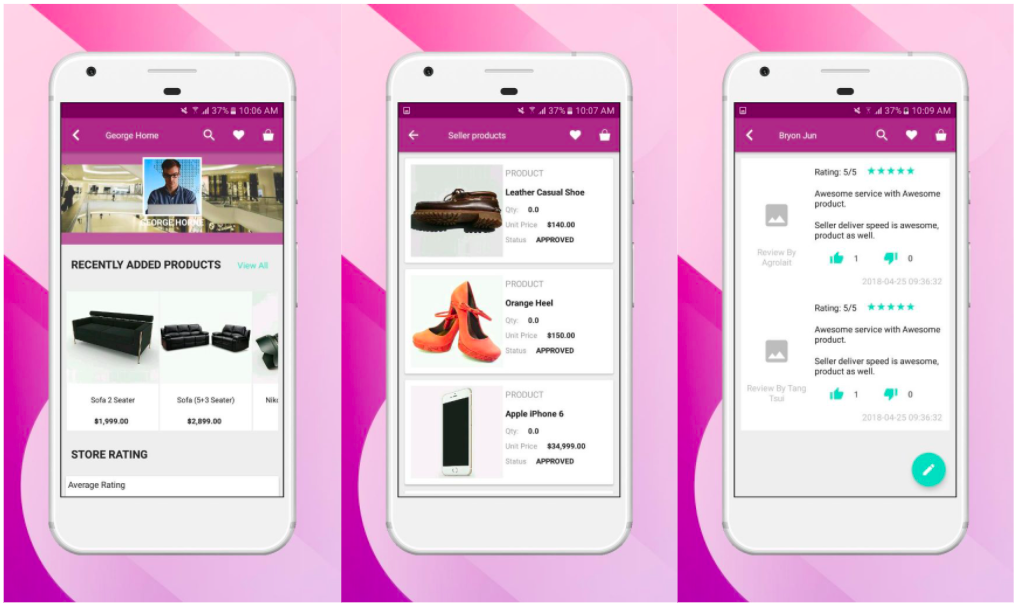 This multi-vendor mobile app of Odoo is great for sellers and customers alike. The design is user-friendly, meaning it is easy to navigate. It allows the customers to browse sellers and individual products. For the sellers, it is easy to create and manage listings and view analytics on all transactions. The app is amazing for allowing customers to find the exact products they want within a few clicks. That cuts down on time spent searching. Users love how they can access their accounts from wherever they want.
Just like WooCommerce multi-vendor, Odoo also has an app that is fully functional in both iOS and Android. There is an addon like the Odoo website product review, that enables the customer to review and rate their vendor's products and services through the app.
Interestingly this app supports the voice search option for customers to make the navigation of the website fun and easier. Any product update or changes made from the backend of the admin panel get synchronized in real-time in the app as well.
People coming from various linguistic backgrounds can enjoy the app too as it supports multi-language. In the backend, the admin can configure and enable a number of alerts such as order placed, successful signup, etc. As for the sellers, they can get a complete overview of their shop, know the status of their products and orders placed right from the mobile app dashboard. It also has an easy checkout process in the app.
Develop Your Multi-vendor Mobile App the Right Way To Boost Your Sales
In the coming years, the brand that offers the best mobile app will continue to rule and be a dominating force in the online marketplace arena and will most likely become the leading and most popular multi-vendor site for providers and consumers alike.
Now from a business point of view, simply providing a multi-vendor mobile app won't fulfill the requirement of a customer. You will need to make sure you have all the latest features and functionalities that make the UX and usability for its users hassle-free.
Moreover, you will also have to make sure you keep on developing cutting-edge & unique features to implement them in the apps with regular updates. Only then your users will feel like utilizing your app more often to browse or order their desired items available on your multi-vendor e-shop.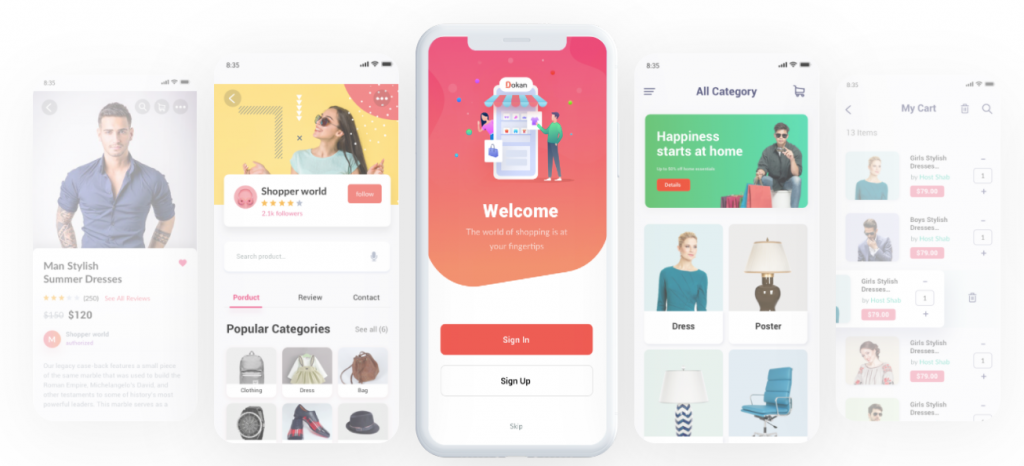 Which One Should You Get?
In this regard, Dokan, Shopify, and Magento 2 have a good chance of making it big in their mobile app department ensuring their customers have all the features they really want in their respective multi-vendor mobile app. But don't take our word for it. Try it yourself and make an informed decision of getting the mobile app that satisfies almost all your multi-vendor marketplace needs.
Now if you have a single seller WooCommerce site and want to create a multi-vendor site that has a dedicated multi-vendor mobile app, then the Dokan multi-vendor marketplace might be an ideal solution for your business.
In this blog today, we have tried to provide an overview of some of the top running multi-vendor mobile apps that are helping them with their business growth every day. We hope that you enjoyed it and we would love to hear your comments and feedback if you have any!
If you have enjoyed our post and want to stay updated then you may want to subscribe to our newsletters to have our freshly cooked content delivered right into your inbox.