A Simple Guide To Google Ads Conversion Tracking For Your Business
Adwords conversion tracking or more popularly known as Google Ads Conversion Tracking is a solid tool that enables anyone to track the conversion that you have acquired from the clicks of the ads that you have put up using the Google Adwords platform.
Almost all study suggests that-
Google Ads is the most popular & effective platform to make sales through digital ads.
Therefore, today, every company small or big invests a huge chunk of money to put up ads through Google Adwords each year. And honestly speaking it never disappoints any of them as the ROI from this platform is always a few times more than the money spent on their Ads. As a result, no company ever hesitates to purchase a spot for their Ads via this platform.
But as much as we need to use Google Adwords to execute our ads on Google, it is also imperative on our part to track the conversion of these ads as well. And so in this post, we will briefly learn about the advantages of Google Ads Conversion tracking and when & how it is required to track it.
Also if you keep reading a bit further, you will get introduced to the simple yet complete guide to your Google Ads Conversion Tracking for your website.
So let's just get on with it. 😉
Benefits of Tracking Your Google Ads Conversion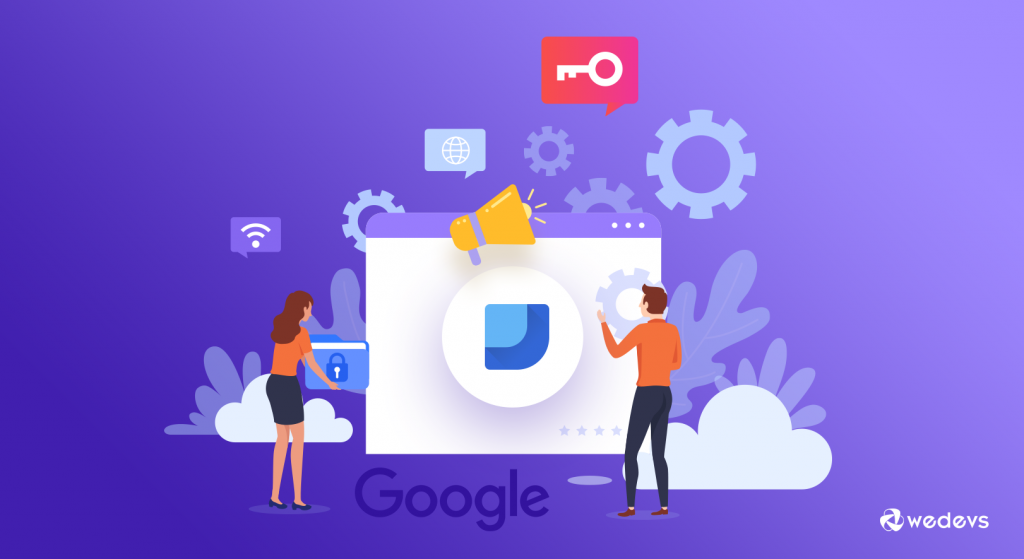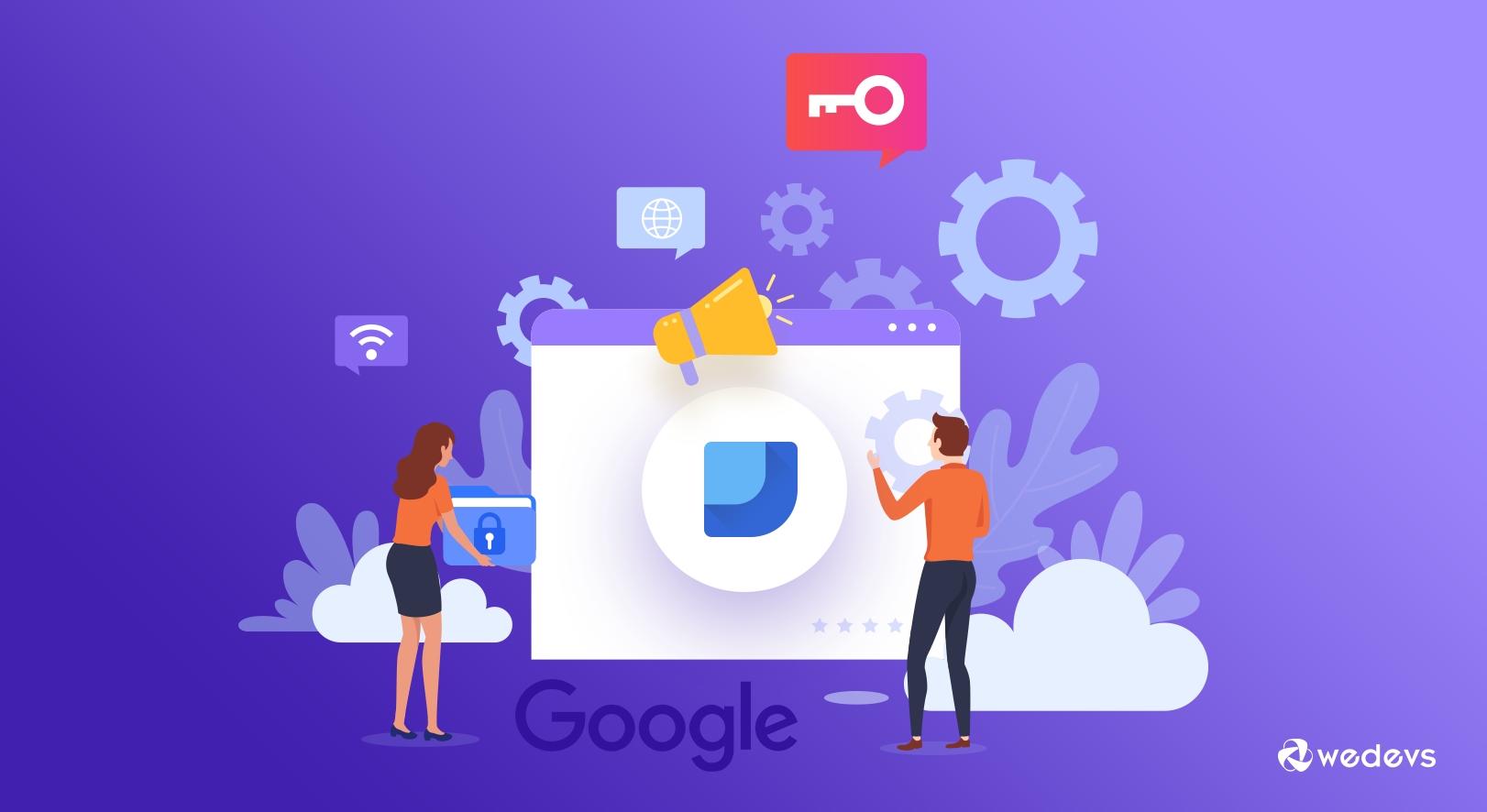 Well, the benefits and essentiality of tracking Google Ads Conversion are a lot more than we can even think of. Many are still unaware of the importance of tracking any conversions at all. And without conversion tracking, you will only have a mere glimpse of what is going on and not the real picture.
The most significant advantage of conversion tracking of Google Adwords is that it allows you to find out how your ads are performing both locally and globally. Such tracking would enable the authority to make better decisions by understanding the performance of the ads. Whether they would require a further budget, or need better optimizations of the ads could also be determined from this conversion tracking data.
Moreover, the conversion tracking tool of Google Adwords provides you with detailed stats regarding the proper execution of the keywords used in your ad campaigns or ad groups. Whether those keywords also require better adjustments to drive more conversions or not can also be identified by it.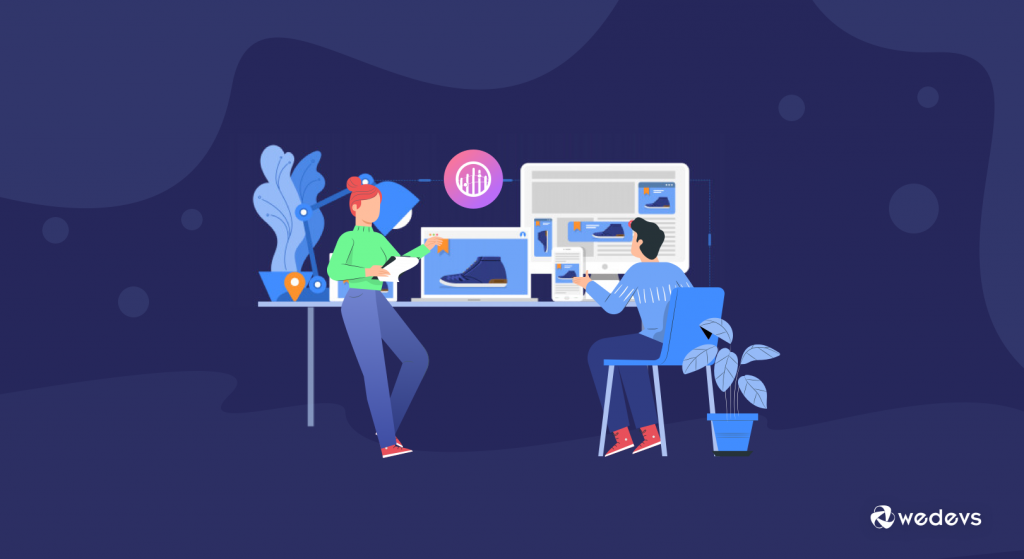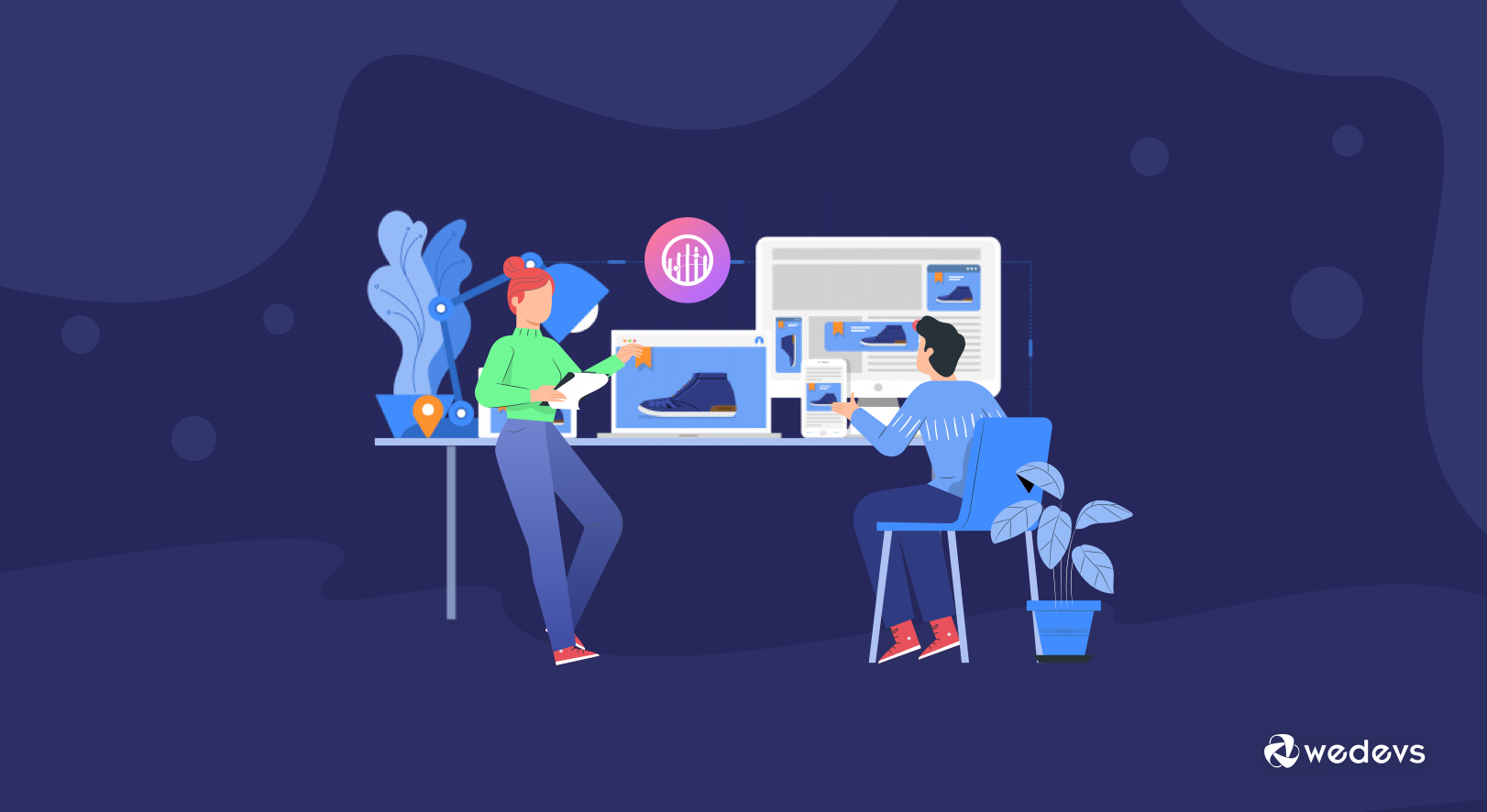 Not just that, your data of cross-browser and cross-device can also be discovered from Google Conversion Tracking. And only by extracting all these available data from the conversion tracking tool, you can make the right move by understanding the state of your ad's ROI.
The whole purpose of running an ad campaign for an e-commerce or any online business is to generate clicks that lead to more conversion. So the requirement of tracking conversion is much more for such online businesses. And so setting up a required Google Conversion Tracking tool will enable you to track:
Sign-ups
Purchases
Web conversions & sales
Call from ads
Call to a Google forwarding number on the website
Clicks on phone numbers on a mobile website
Complete Guide to Getting Started With Google Ads Conversion Tracking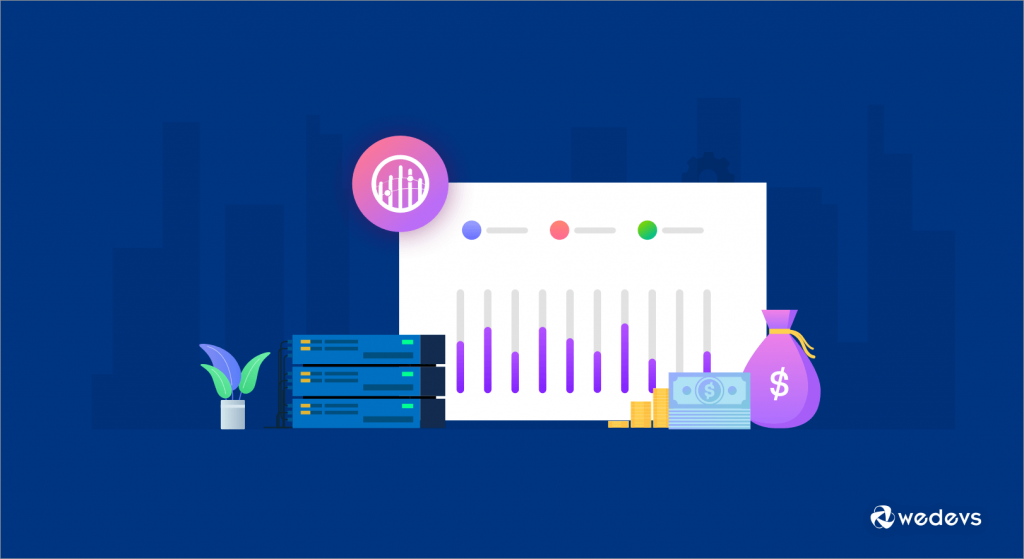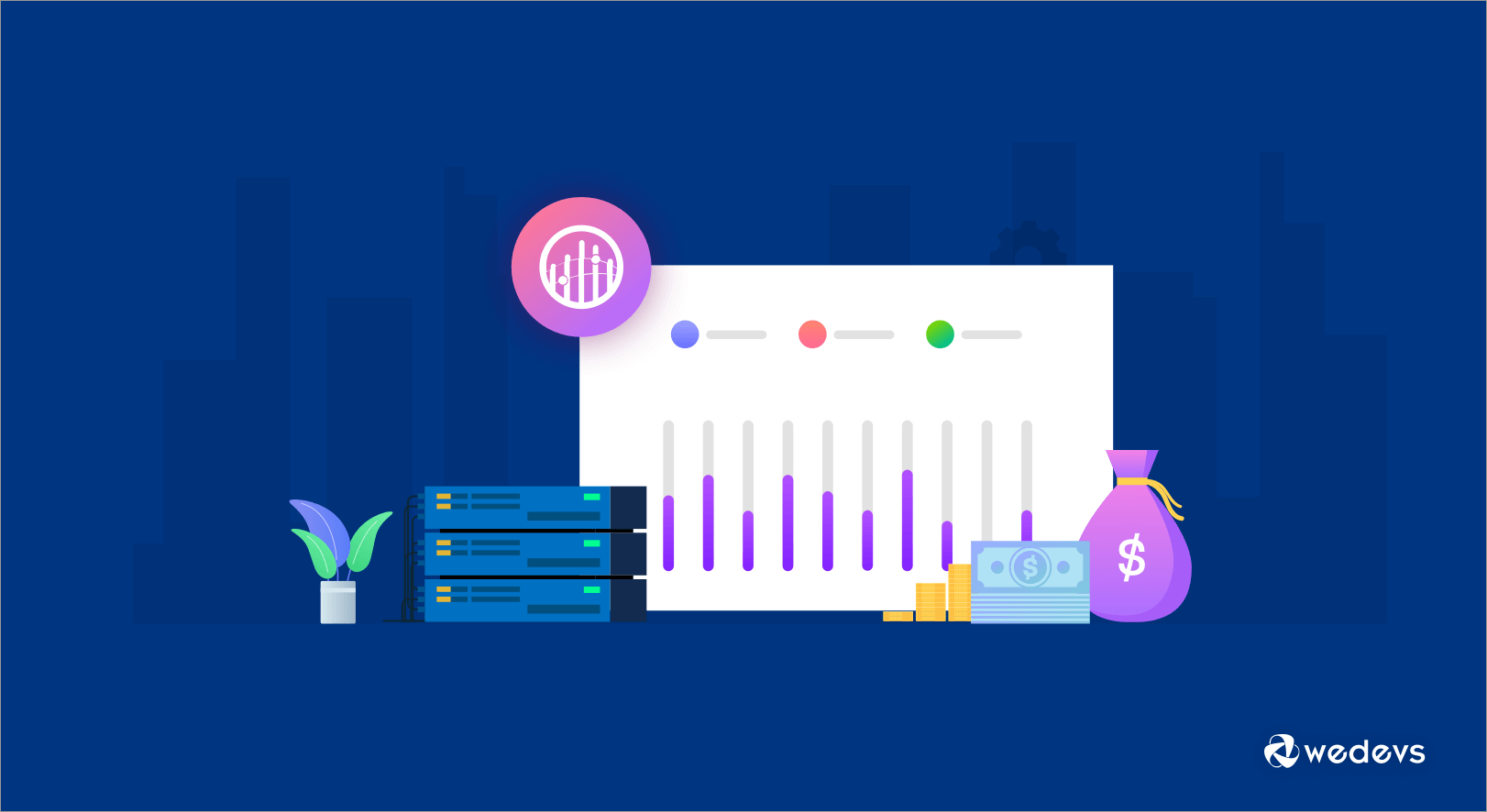 When it comes to Google ads we have two separate options to track its conversion. The first option is its dedicated Google Ads Conversion Tracking. This is where we can figure tracking that is 100% focused on the performance of Google ads. And this is mostly what we are going to be covering today.
And the second option is importing conversion data from Google Analytics. This means we can figure the Google conversion inside Google Analytics. Having both of these options provides us with the flexibility to choose what works for our particular ad tracking needs.
Before telling you about how to set up your Google Ads Conversion Tracking for your ad campaigns let's briefly give you an idea about the difference in data that you are going to find inside the conversion tracking compare to Google Analytics.
A bit on The Difference between Google Ads Report & Google Analytics Report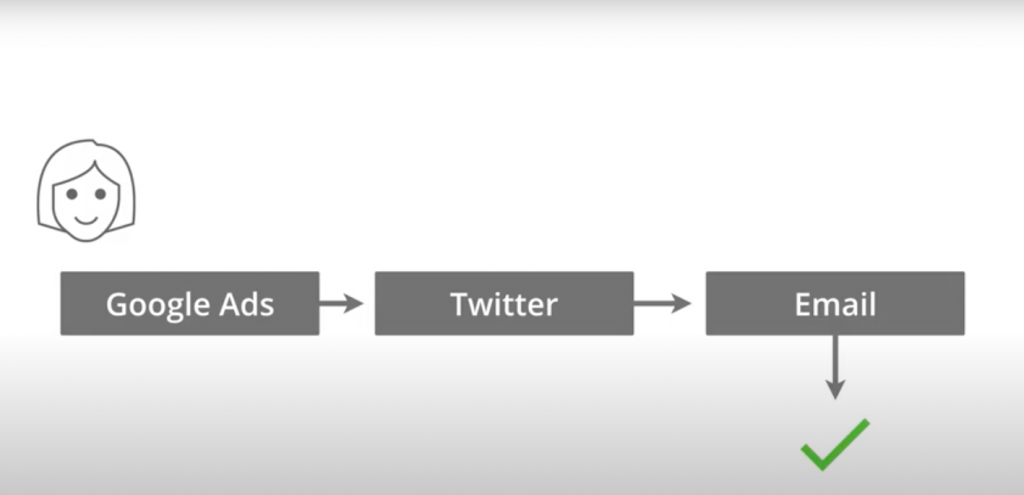 The differences we see in data are generally the result of attribution. In this example in the image above suggest that someone has first come to the website through Google ads, then they came from Twitter before finally converting through one of the email campaigns.
If we look at the standard attribution of the 'Google Ads' then since there was a click from the ads on their path to conversion therefore we will see a conversion inside our Google Ads account.
If we then look at the standard report inside 'Google Analytics' then we will see the conversion has been attributed to one of the email campaigns performed by the email marketing tool.
So due to this reason, we will clearly look at two different results when comparing & analyzing your data with Google Analytics from Google Ads.
Step 1: Configure the Process of Conversion Tracking
Assuming you have already signed up to a Google Ads account. First thing first, now you will have to log in to your Google Ads account to configure the whole process of tracking your ad's conversion.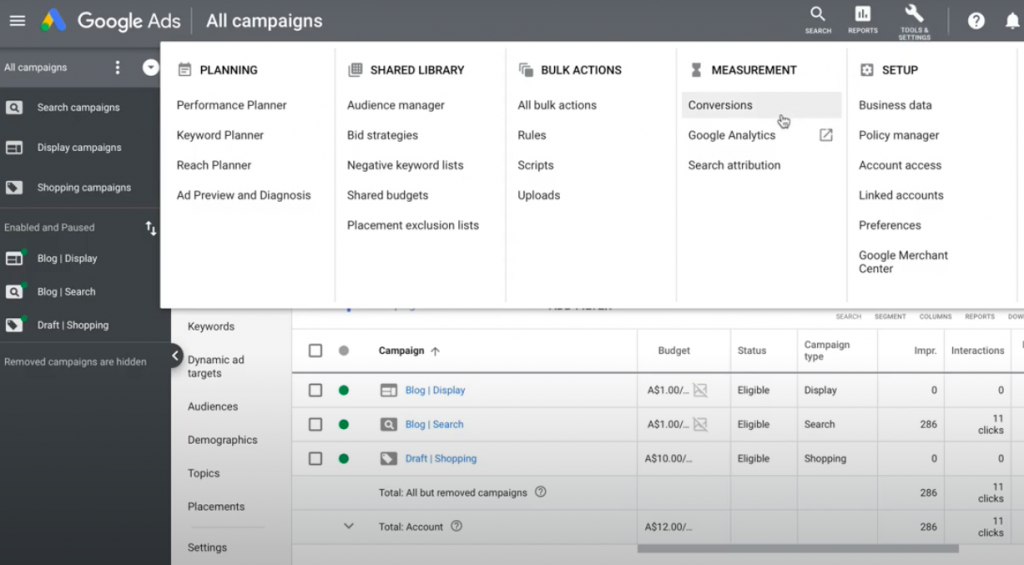 Now to set up Google Conversion Tracking, we head into Google Ads. We select 'Tools and Settings' and then select 'Conversions' under 'Measurement'.

This is where we can configure out the dedicated conversion tracking of Google Ads. And this is also where we can import our Google analytics goals and transactions.

Today we are going to add a new conversion. This would give us a list of different dedicated Google Ads Conversion Tracking options we have available. First, we have the option to track the website conversion. It is the most common type of google ads that we are going to configure. We also have the option to measure conversion from App, Phone calls, and even import conversion data.
Step 2: Set up Your Website Conversion Tracking (Complete Guide With Examples)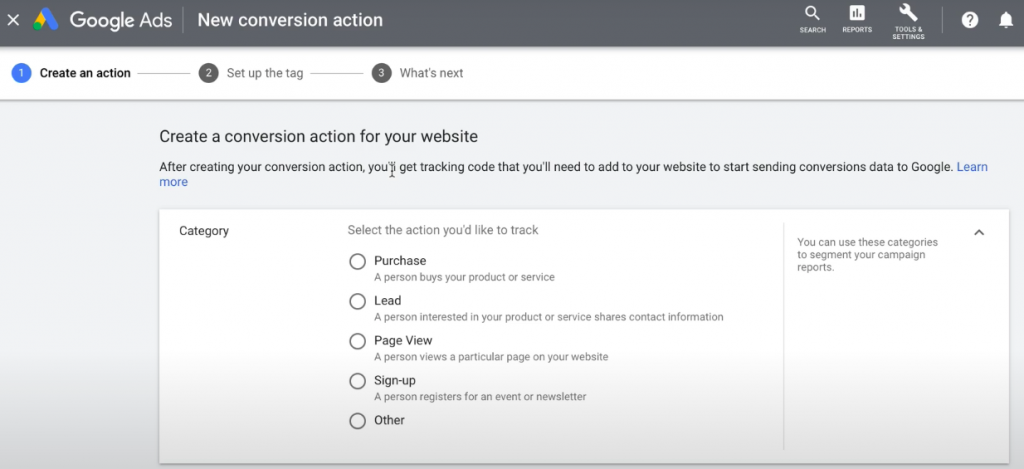 Let's start off by configuring the website conversion tracking. Once we select to track website conversion we need to configure it inside the Google Ads. We can see all the steps that we need to travel through.
First, we have the category for the conversion. The category allows you to classify the conversion inside the Google Ads interface. So it means you have the option to select the particular category when you are looking at your campaign data. For example, you can select the conversion category when you are segmenting data within Google Ads.
Conversion Tracking for a Contact Form of a Website

In this guide, today we are going to walk you through setting a conversion tracking for a contact form. So let's select 'Lead' as the category, and then name the conversion. Let's name it 'Contact Form'.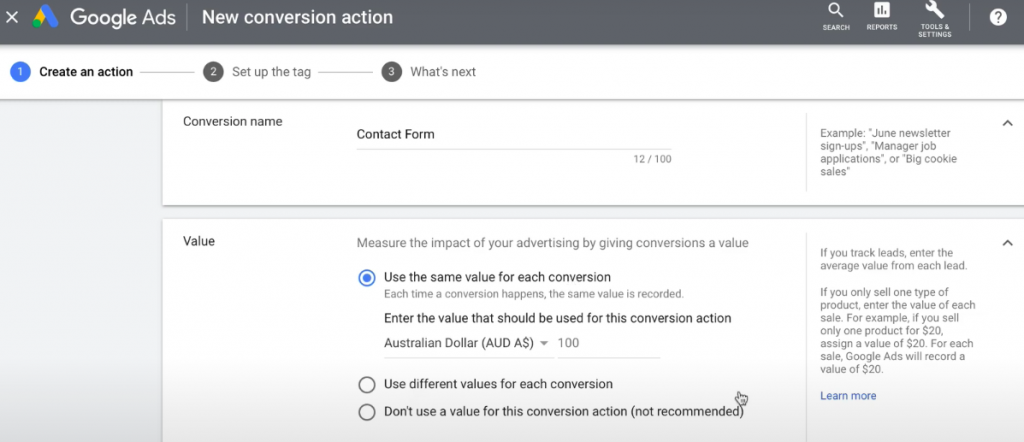 Now you have the option to assigning a dollar value for the conversion. The first option is to assign the value every time the action is performed. So you can enter the value that the contact form generates each time is completed. In this example, we are entering the average value of form submission, but there are alternate options as well.
If we are measuring the real value per se online transaction you can measure that dynamic or change in value into the Google Ads conversion tracking script. You can also use a symbolic $ value or simply a calculated value as in this case.
There is also the option to track conversion without assigning a value. But it is encouraged to assign either a symbolic or calculated value.
Set up Conversion Count of Your Google Ads

Next, we travel through how we would like to count the conversion of Google Ads. The tip here is if you are capturing leads then you will only want to count each conversion once.
For example, let's say we are promoting new software, and we have a form that allows people to sign up for a free trial. So once we get their details, then no matter how many times they fill out the forms, we are not going to create additional values even if they fill out the form multiple times.
And in this particular case since we are collecting leads, therefore, we want to count each form submission as one conversion, therefore we have set the count to 'One'. However, if we were measuring transactions then each time someone completing a conversion, we are adding additional value, so in that case, we would have liked to calculate every action as a conversion every time. Hence setting the value to 'Every' would have been the right option to choose.
Example of Tracking a Lead Through Your Contact Form
Now coming back to the example of tracking a lead through a contact form, we have selected the option 'One' as we only want to measure single conversion even if the same person has filled out & completed the form multiple times.

Now you will have to select the conversion window. This tells Google ads, how far back in time to look for the person is converted. As can be seen, the default is set to 30 days. You can customize it to any number of days, weeks, or months you want to see if there was a click to one of their campaigns in that period.

There is also an option called view-through conversion window which is similar to the conversion window above.
So if someone views your ad but doesn't click it then it will be counted as a view-through conversion. You can select the number of days as the maximum time after a person views the ad that you want to count as view-through conversions.
And also if you like to include all those conversions in the main conversion column then simply tick check-mark the box. So now if you use Smart Bidding, then you will have optimized bid strategies for all these conversions.

An Attribution Model for Tracking Conversion
Finally, there is an attribution model for the conversion to select that you can configure to set up your conversion tracking fully. This allows you to decide how to give credit for the conversion.

For example, if someone clicks on more than one of your ads then the 'Last Click' attribution model would give 100% of the credit to the final ad that was clicked before the conversion occurred.
You will have the option of choosing between the Last Click, First Click, Linear, Time Decay, Position-based attribution. And if you have enough conversion data then you can even choose the Data-driven model.
Now all the steps are completed of setting up your conversion tracking for your Google Ads, starting from naming your conversion to assigning value and right through to setting the attribution model for your Google ad.
Now you will need to 'Save' the conversion tracking settings.
Step 3: Set Up The Tags

Now we need to move on to the next step that involves setting up the tag. For this, we are given the dedicated Google Conversion Tracking code. This is the code we need to place on a particular page after the action is completed.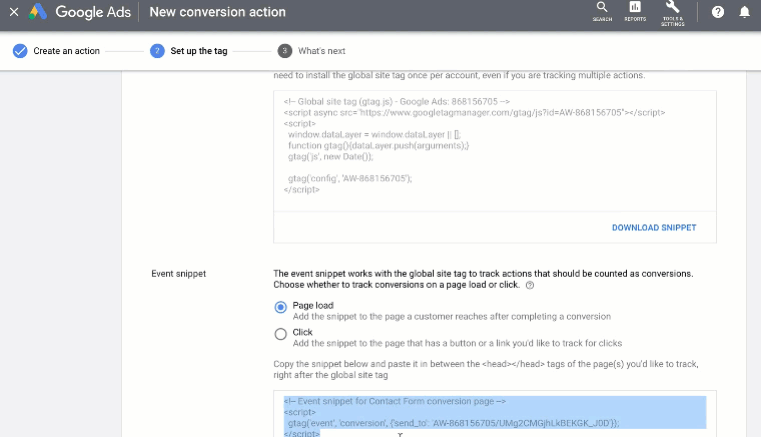 But it's quite different for Google Analytics, as there the tracking code is placed on every page of a website. Whereas for Google Ads Conversion tracking, the code is placed only on the individual page after the action is being completed.
Therefore their code placing mechanism is pretty different from one another. You can also select if the conversion occurs for a particular page or it is based on a specific click for the website.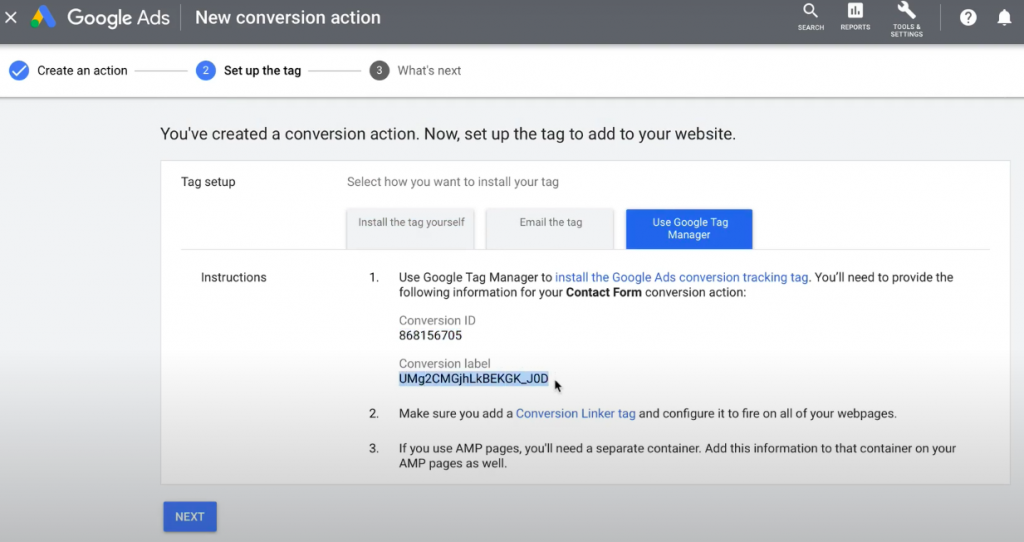 Moreover, it has the option to add the tag using the google tag manager to the website. In order to do so, we need to copy the conversion ID and the conversion label and create a new tag at the Google tag manager.
Now let's head to the google tag manager. And we need to tag a new tag. We name the tag 'Google Ads Conversion Tracking' and select it as the tag type.
Now we will have to enter the conversion ID and conversion label from the Google ad. Then we need to add a trigger to the ad. We can either select a new trigger or an existing one available out there for our conversion. Then we simply need to save our tag and publish the changes.
Related Article: Guide to Add Google Analytics Enhanced eCommerce to Your WordPress Site
App, Phone Calls & Import Conversion to Google Ads

Now that we have covered the website conversion tracking, now we will briefly look at the other available conversion tracking of Google Adwords starting with App.
App
Google ads allow us to measures app installs and actions within your app as conversions. You have the option of pulling data in from firebase, Google Play, and other third-party analytics apps, You can select options you would like to use and then travel through the configuration process to set it up.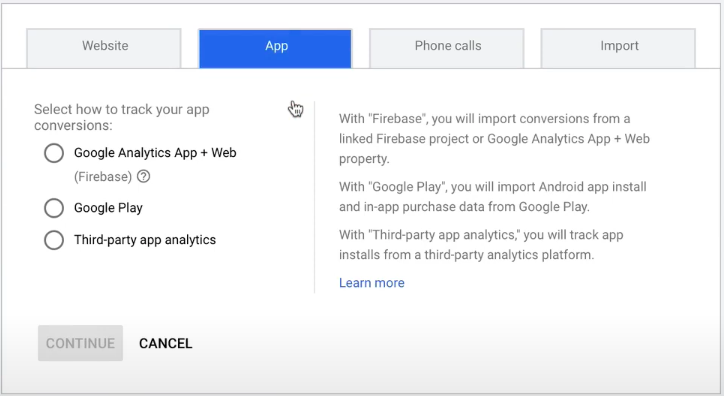 Phone Calls
The next one is call conversion. This allows us to measure people calling you as conversion inside google ads. There are three options for tracking calls as conversions. If you are using a Google forwarding number which is an option to be used as a call extension with your ads then you will be able to track calls as conversions. For example, you can choose to count conversion if someone has been more than two minutes on a call.
The next option of call conversion tracking includes calling a forwarding number on your website. When someone clicks through from one of your ads, the phone number will change to the one included in the ad. So when someone calls the number the conversion is then triggered within Google Ads.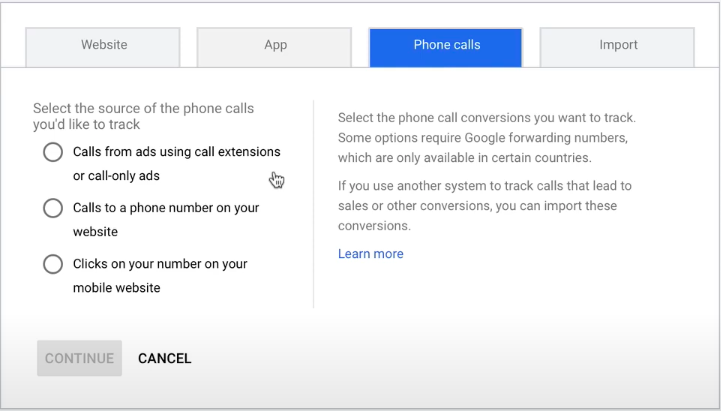 The final option is there to measure the clicks on the number on your mobile website. This allows you to measure clicks on a phone number as a conversion in Google ads.
Import
The last google conversion tracking option has the ability to import conversion into the google ads. There are a number of options when it comes to importing a conversion to google ads. There is Google Analytics, Google Analytics App+Web, third-party app analytics, Salesforce, and other data sources or CRM's.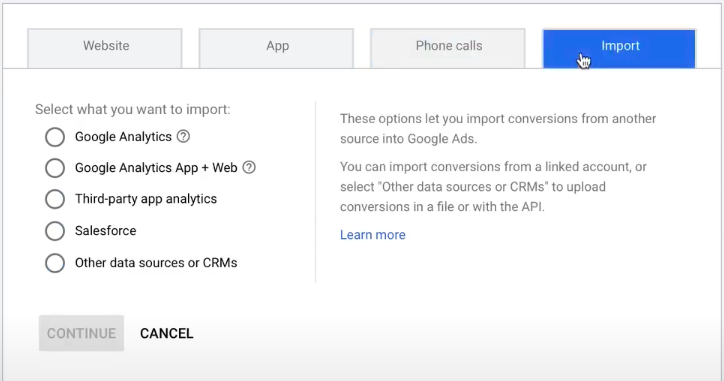 Track Conversions the Right Way to Get the Real Picture of Your Ads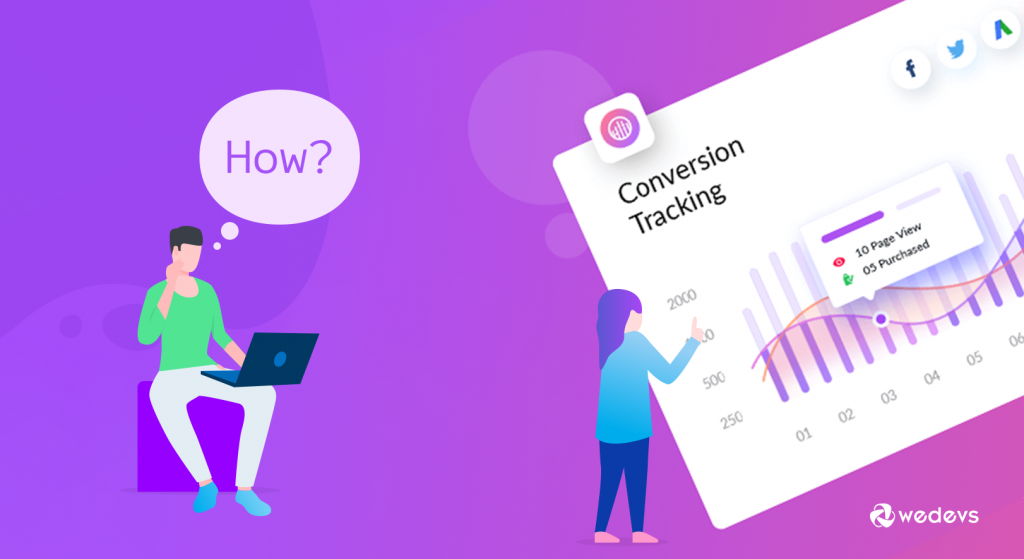 It is a common event when an ad campaign costs way more than the business is actually earning. This is why you need to track conversions in the right way by evaluating the performance of your ads & campaigns regularly. And without getting to analyze the conversion of your ads may just make you spent money on ads that are only bringing a negative return for you.
Therefore those conversions & leads tracking becomes ever so essential nowadays.
Now whether your website deals with businesses connected to e-commerce or simply for the purpose of generating leads, it's no doubt a wise move to utilize the features of Google AdWords in the proper way.
And Google Conversion Tracking tool includes itself as one of the major features of Google Adwords that should never be neglected.
Another effective conversion tracking tool for the users of the popular e-commerce platform WordPress is WooCommerce Conversion Tracking.
And as its names suggest it tracks advanced WooCommerce Conversion data of your WooCommerce store through various popular platforms.
Like- Facebook, Twitter, Google AdWords, Perfect Audience for better re-targeting. If you are still confused about what it does and how it works then you may want to:
Summary
Lastly, no matter how much you invest in your ad campaigns, it is certain that without the use of Google Conversion Tracking, it would be next to impossible to measure the effectiveness and profitability of your ads, campaigns, ads groups, keywords, etc.
And the guidelines provided in this post are mostly the basic steps of getting started with your website's Google Conversion Tracking and surely, the capabilities of this tool are innovative, interesting, and useful when you are able to utilize it fully.