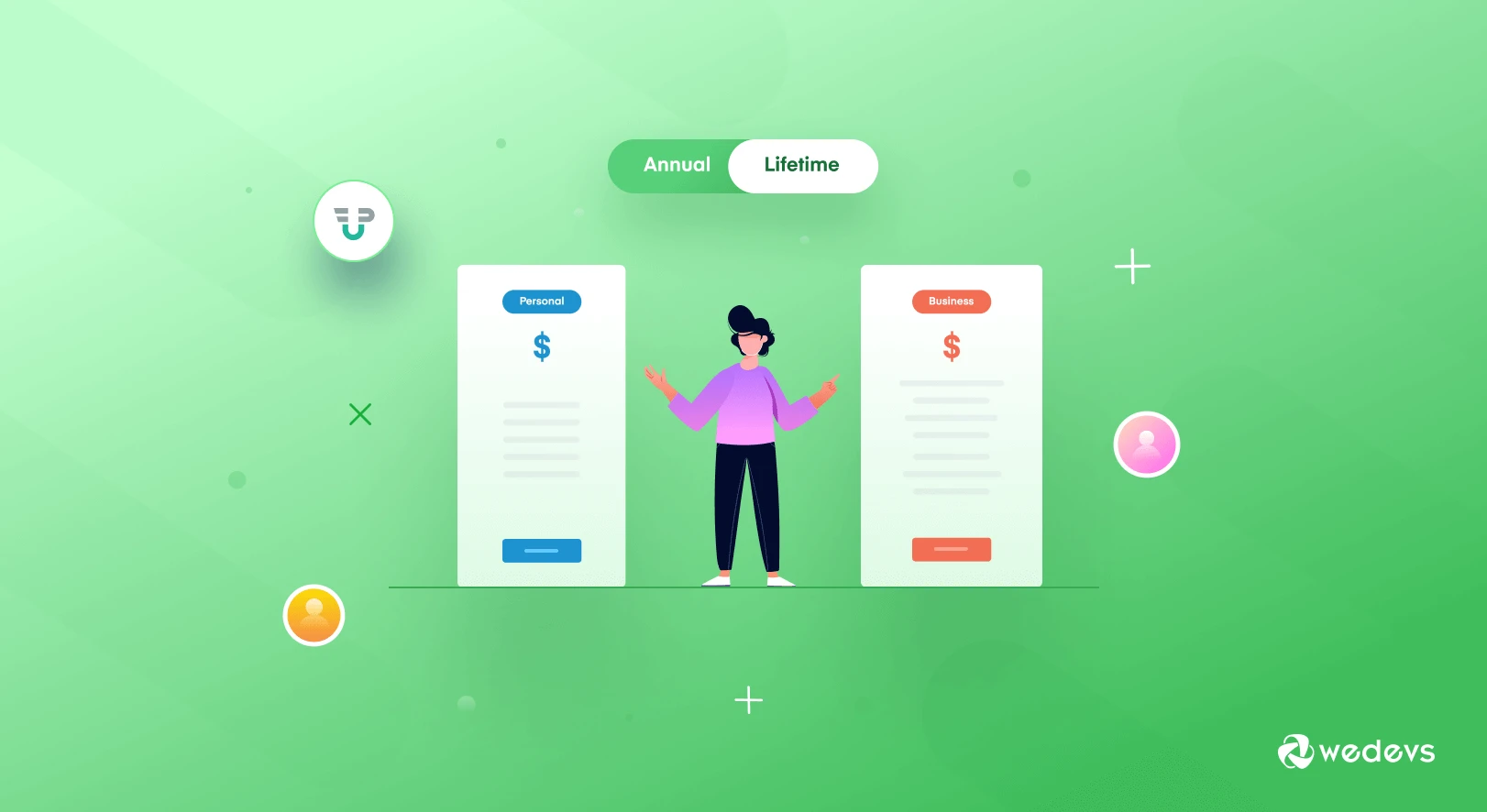 Which WP User Frontend Membership Plan is Right for You
WP User Frontend Pro (WPUF) is one of the leading frontend builder plugins in WordPress. Our aim is to enhance the facility of frontend post submission with extreme ease. In addition, you can enjoy other modern functionalities such as-
Full/Partial content restriction
WooCommerce products submission
Custom post types
Guest posting, etc.
WP User Frontend lets you build a highly functional membership/subscription website completely FREE. As your business increases in size, you can buy premium plans to cope with it. You will have the flexibility to activate/deactivate any module as per your requirement.
If you're planning to use WP User Frontend for your WordPress membership site, this blog helps you to decide which WPUF plan would be the best fit for you.
WP User Frontend- Extend Your Frontend Experience to the Infinity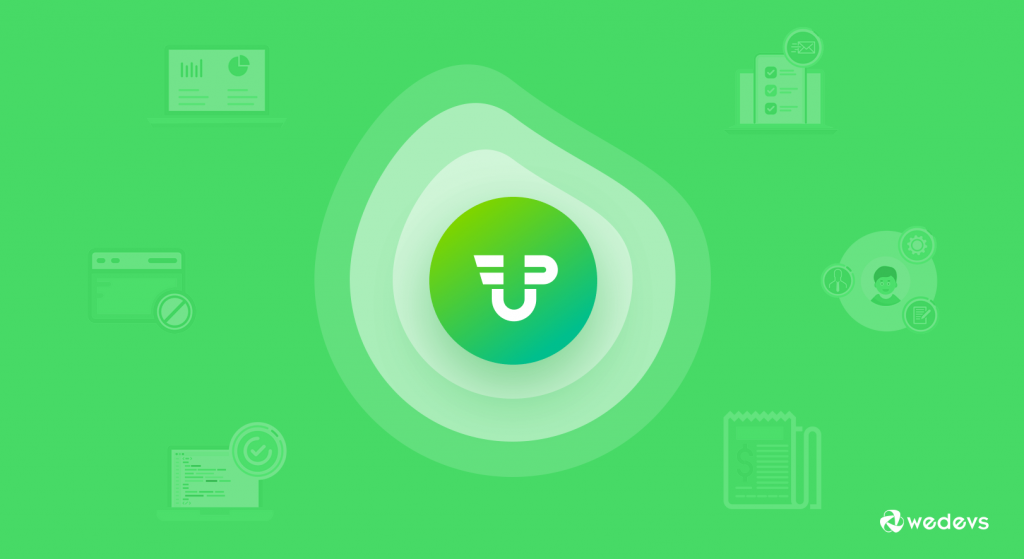 WP User Frontend is a simple yet powerful frontend builder for WordPress users. It makes WordPress frontend post submission easier than ever. However, this plugin is also popular for easier form creation and managing custom post types in WordPress. In addition, you can use it as a frontend interface to post and manage products of your WooCommerce powered site.
Below are the most essential frontend tasks you can accomplish with this remarkable tool-
Create a frontend user dashboard
Build registration and contact forms
Add editing/publishing access
Allow content restriction
Permit guest posts & comments submission and more.
Most importantly, your user can manage, edit, or delete their posts from their own frontend dashboard. They require no access to the site's backend.
WP User Frontend at A Glance
| | |
| --- | --- |
| Active installations | 30,000+ |
| Suitable Website types | Membership, subscription, directory, alumni |
| Premium Modules | 20 |
| Price | $49/ year – $159/ year |
| 5 Star Ratings on WordPress.org | 309 |
4 Exclusive WP User Frontend Membership Plan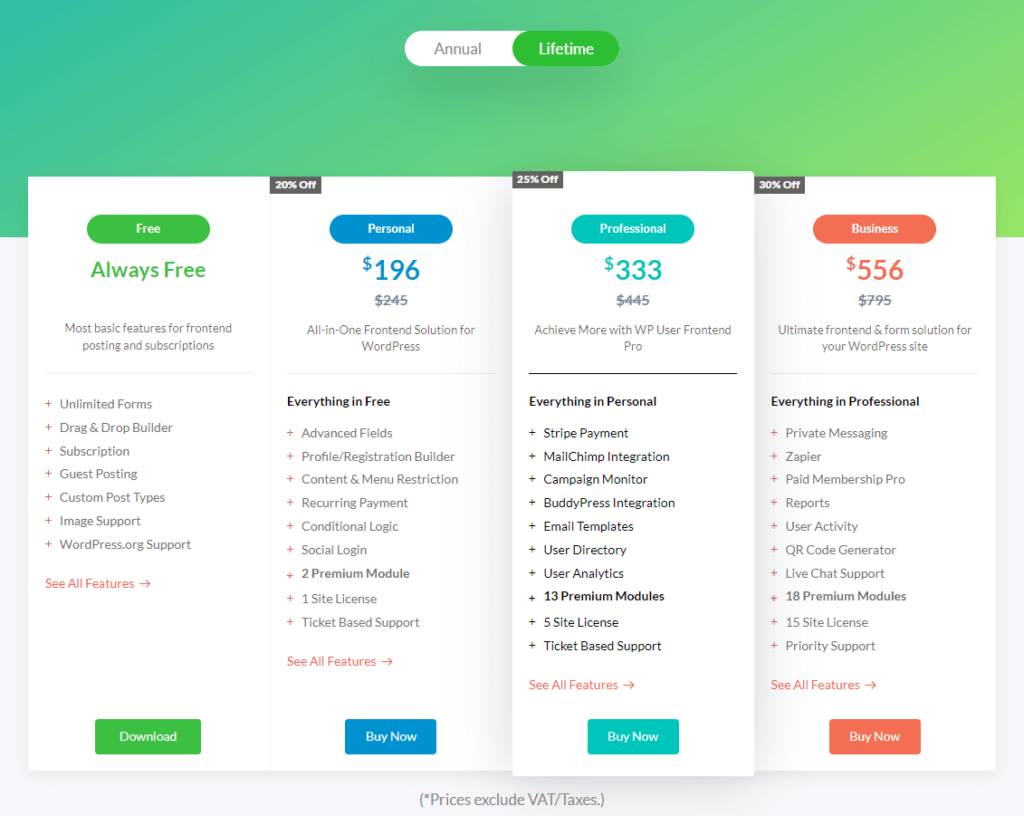 WP User Frontend Pro has two core plans including – Annual & Lifetime. Inside each plan, you'll find 4 different types of packages. Let's see the basic features of these packages-
WPUF Free
Unlimited Forms
Drag & Drop Builder
Subscription
Guest Posting
Custom Post Types
Image Support
WordPress.org Support
This is the free version of the WPUF plugin without the PRO suffix. You can find it on the WordPress repository.
Who Should Use WPUF Free membership plan?
People with less expertise in this field intend to handle 100-250 members every month on the site.
WPUF Personal
Everything in Free
Advanced Fields
Profile/Registration Builder
Content & Menu Restriction
Recurring Payment
Conditional Logic
Social Login
2 Premium Module
1 Site License
Ticket Based Support
Including all the features of WPUF Free, the Personal Plan will provide you with extra facilities to make content private. Also, you get the chance to use 2 exclusive modules from the premium addons library.
Who Should Use WPUF Personal membership plan?
This plan is suitable for the site owners who want to build a premium blog site with a guest post facility. You can easily manage 250-500 members without any hassle using this package.
WPUF Professional
Stripe Payment
MailChimp Integration
Campaign Monitor
BuddyPress Integration
Email Templates
User Directory
User Analytics
13 Premium Modules
5 Site License
Ticket Based Support
The professional package of WPUF lets you extend features of email subscriptions, extra payment addons, and the chance to unlock 13 pro modules.
Who Should Use WPUF Professional membership plan?
Directory site owners or other website admins who have to manage a large email marketing database and need deep user analytics to make better decisions.
WPUF Business
Private Messaging
Zapier
Paid Membership Pro
Reports
User Activity
QR Code Generator
Live Chat Support
18 Premium Modules
15 Site License
Priority Support
You can manage unlimited members or users on your site using the WPUF Business plan. It'll ensure a better user experience for your site visitors. You also have the facility to manage everything related to your site and members right from your WordPress dashboard.
Who Should Use WPUF Business membership plan?
This package is specially designed for large websites that need to handle big traffic every day.
Introduction to WP User Frontend Premium Modules & Integrations
WPUF supports 20 exclusive modules and integrations that will extend your membership facilities for a further range. It has seamless integration with third-party solutions for payment, email marketing, user management, membership, automation, etc.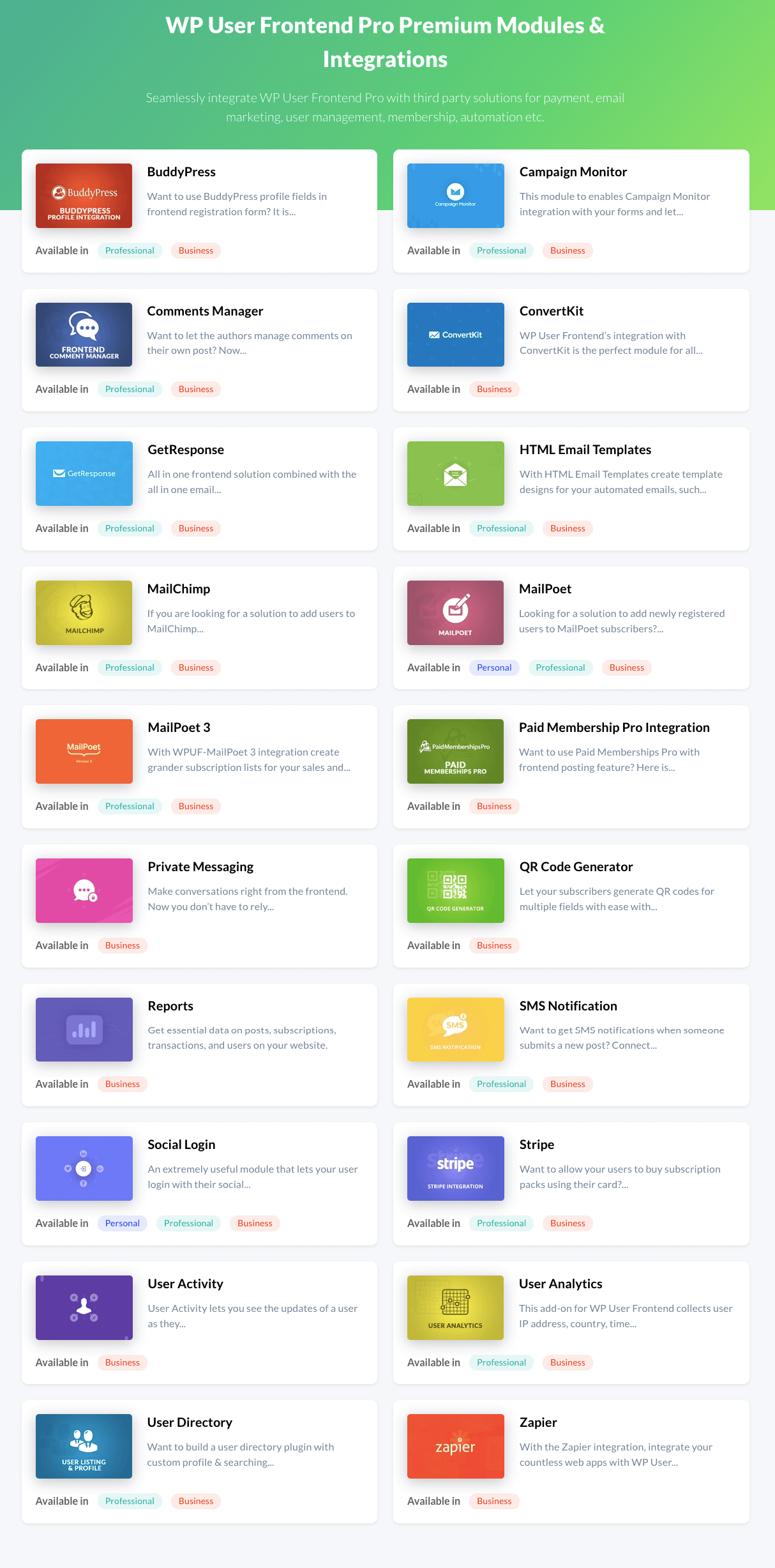 Let's see what you will get by activating these modules-
1. BuddyPress
This premium integration of WPUF allows its users to integrate with BuddyPress profile fields. So you can easily show your BuddyPress profile fields in your frontend registration form. All you need to do is assign the field during creating the registration form inside WPUF. WP User Frontend PRO's registration and profile update will automatically sync with BuddyPress profile fields. This integration extends your WordPress site's features such as user profiles, activity streams, user groups, and more.
Read More: Utilizing BuddyPress & Paid Membership Pro in the Right Way with WP User Frontend.
2. Campaign Monitor
You can connect your Campaign Monitor account with WPUF just by adding an API key. It will connect your forms to the powerful email marketing platform. This combination will work to strengthen your relationship with your users. You'll get this premium module in both Professional & Business plans of WPUF Pro.
See this tutorial video to learn how to integrate & set up the Campaign Monitor using WP User Frontend Pro.
3. Comments Manager
If you're running a guest blogging site, this premium tool will extend your site functionality. Now you can allow your writers to manage comments on their own posts. And there is no need to share your backend access for comment moderation. Authors can manage their post comments from the front end. Having a direct communication option with readers, more writers will be intended to contribute to your site.
Read More: How to Allow Your Users Manage Comments from Frontend in WordPress.
4. ConvertKit
Bloggers and content creators who want more email subscribers for their membership site, this integration is their way to grow. After activating this extension, you can collect leads using WPUF forms and send professionally curated emails to them. You also get the freedom to enable/disable ConvertKit integration for each individual form.
Learn how to optimize your email marketing campaigns by having the ConvertKit module for WPUF.
5. GetResponse
GetResponse is another popular email marketing software for creating email newsletters, campaigns, online surveys, and auto-responders. With the combination of a frontend tool and a marketing automation tool, your business can touch the new height of success. Integrate your WPUF form entries with GetResponse lists and unlock more opportunities for sales and marketing.
Check how to install and use the WPUF-GetResponse module in detail.
6. HTML Email Templates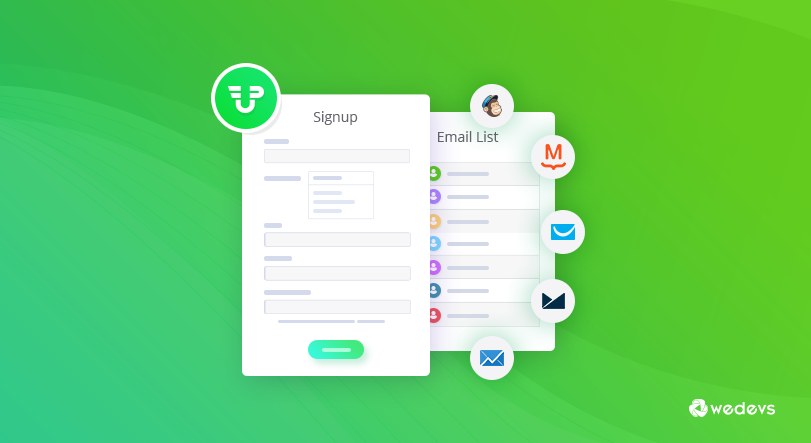 This premium module lets you design your automated emails generated by WP User Frontend according to your needs. Here, admin can enjoy a set of customization options to send and handle emails for their users. The HTML Email Templates integration modifies your email color that makes them more visually appealing to your readers. And your chance to increase subscribers/customers gets higher.
Read this guide on how to use WP User Frontend HTML Email Templates.
7. MailChimp
WPUF MailChimp module connects you to the MailChimp server. Therefore, you can easily add your newly registered users directly to your Mailchimp subscriber list. It's a simple solution to grow your MailChimp subscriber list through the WPUF registration form. Moreover, the configuration process is very easy.
All you need to activate the module and enter the API key from Mailchimp in the add-on's settings.
8. MailPoet
This premium WPUF integration allows you to add new users to your MailPoet subscriber list automatically. It connects your subscription form to the mail list. The setting process includes only a few steps to get started.
9. MailPoet3
MailPoet 3 is a renowned email marketing solution that helps you run engaging newsletters and campaigns. Using MailPoet 3 module for WPUF now you can easily add more subscribers to your mail lists.
Afterward, you can use this subscription list for further sales and marketing activities. This add-on is based on MailPoet (Wysija) plugin.
Read More: Introducing Email Subscription Addons for WP User Frontend PRO!
10. Paid Membership Pro Integration
Paid Memberships Pro add-on allows you to manage your site users' subscriptions and membership features with additional payment gateways. You can use this module to charge people for registering on your membership website.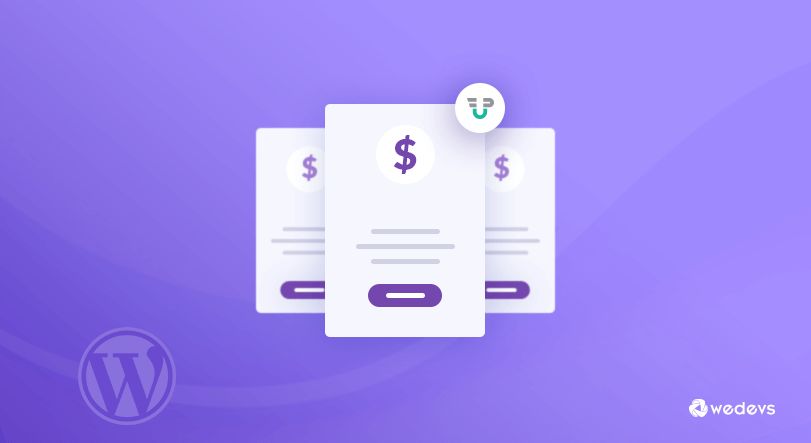 In addition, WP User Frontend Pro gives you the facility to charge your users per post basis and subscription. But if you want to charge people for registering on your site, activate the module Paid Memberships Pro. It helps you make different membership levels and assign them to different user roles.
Check how to make both PMPro and WPUF work together for your membership website.
11. Private Messaging
Now, you can send a private message to any registered member from the front end using WPUF Private Messaging. This premium module ensures the safety and comfort of your profile during communicating with other site members. It reduces the response time and hassle of using other communication channels.
Learn how to use Private Messaging for WPUF.
12. QR Code Generator
Your subscribers may want to generate QR codes for multiple fields. WP User Frontend brings this facility with QR Code Generator. Since QR Codes are easy to share and extremely secured. Now, subscribers can generate customized unique QR codes for each post using WP User Frontend Pro. Therefore, they can collect information quickly into their portable device or scanner.
A subscriber can add fields to generate QR codes using Email, URL, Text, SMS, Card, Phone.
13. Reports
WP User Frontend has a strong report system in order to facilitate its users with deep insights into the website. However, you can extend this facility by activating the pro WPUF Reports module. It gives you detailed data about your site users, posts, subscriptions, and transactions.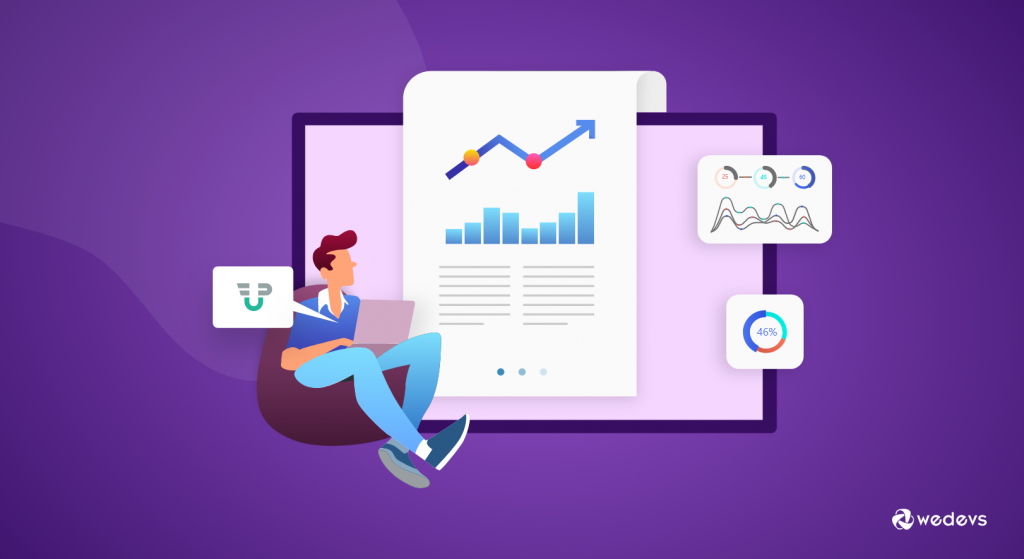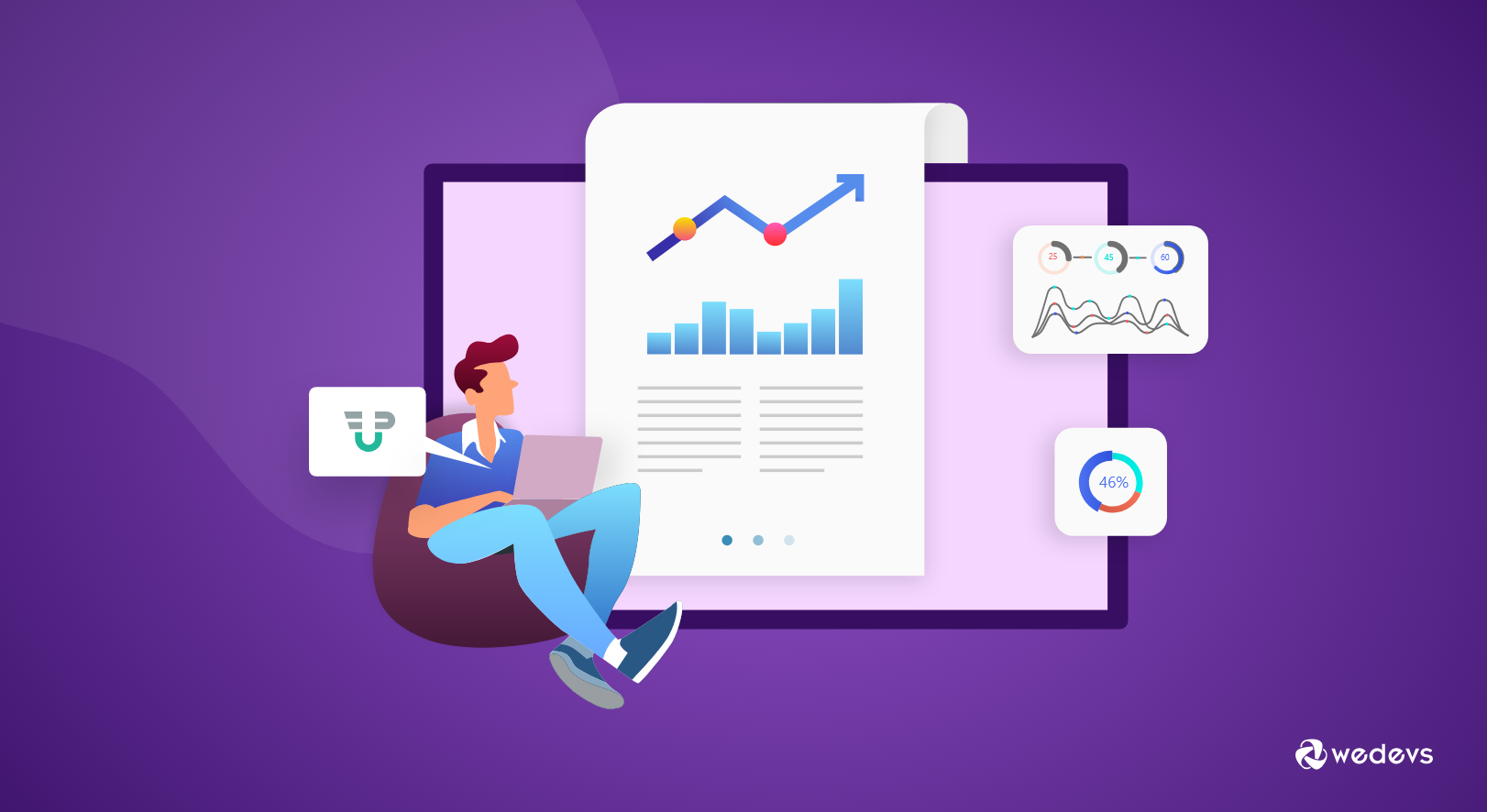 The module adds a new menu in the admin's WordPress dashboard so that site admins can view real-time reports on transactions, subscriptions, posts, and users. Get the full process of activating WPUF results for your website!
Read More: Generate Essential Reports With WP User Frontend to Speed Up Your Business.
14. SMS Notification
With WP User Frontend, you can create infinite post submission forms. Registered users will submit their posts using these forms. And if you enable the WPUF SMS Notification, it'll give you an SMS notification on your desired cell phone number. This module has seamless integration with several SMS gateways including- Clickatell, SMS Global, Nexmo, Twilio.
Learn how to enable SMS Notification on your site.
15. Social Login
Modern users always prefer a quick way to complete tasks. You need to apply an easy login process for your site members. Let your visitors use their social profiles to get registered or to log in. WPUF Social Login verifies their identity and lets them submit their information using Facebook, Twitter, LinkedIn, Google accounts. Making the registration/login process easier, the admin can ensure a better user experience indeed.
Read more about Social Login & Registration from our official documentation.
16. Stripe
You must offer a secured payment system for your premium subscribers. WP User Frontend has a built-in PayPal payment gateway. You can extend the facility using the WPUF Stripe extension. It allows your users to buy subscription packs with their credit cards.
Read More: How to Choose the Best Payment Gateway for Your Subscription Website.
17. User Activity
This Pro module allows admins to see registered user activity throughout the site from the front end. WPUF maintains a database to store all the data. Also, it includes a new tab on the user's profile. So, if a user creates or edits a post, this update appears under the Activity tab.
18. User Analytics
WP User Frontend also enables you to collect data about a user when s/he submits a new post using the form created with the plugin. WPUF User Analytics stores user IP address, country, timezone, browser, and operating system information. Having useful information like users' geographical areas and other technical details you can make more data-driven decisions.
Read the full User Analytics documentation from here.
19. User Directory
You may want to build a WordPress member directory for your online community. Well, when you have to maintain a large membership website it's a good idea to add a member directory to it. WPUF User Directory gets you covered here. It helps you to create a WordPress searchable member directory with ease. Moreover, you can show your user listing by role at the front end by using a simple shortcode.
Check the full documentation here!
20. Zapier
It becomes super easier to integrate your Zapier account with WPUF with a one-time connection. Zapier is a renowned productivity tool that connects a host of web apps. Hence, you can simultaneously manage multiple tasks in an automated and productive way. WPUF Zapier module brings your User Frontend form entries automatically to Zapier lists.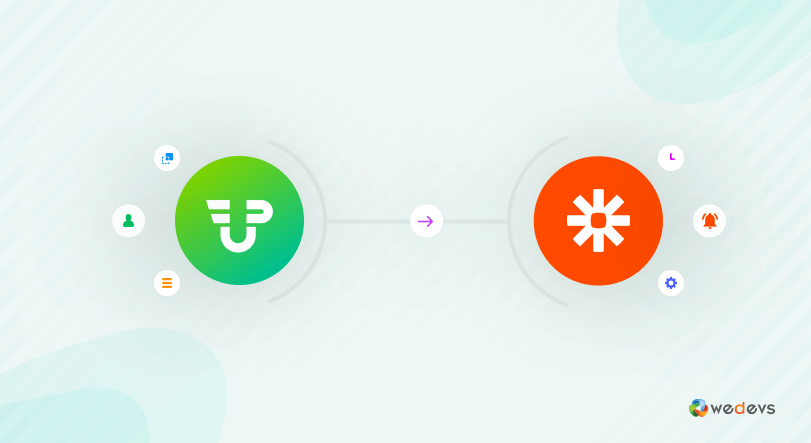 Integrate your WPUF form entries with Zapier apps to get more leads & contacts, and unlock more opportunities for sales and marketing.
Having all the details, therefore, it's time to pick the right WPUF membership plan that fits your need perfectly.
Read More: Building an Alumni Website with WordPress & Charging with Stripe for Subscription.
Get The Right WPUF Membership Plan for Your Business
WP User Frontend is a complete frontend management solution for WordPress site owners. Its specialty is that it is completely frontend, so users do everything right from the frontend keeping your website's security in check.
Start your journey using WPUF Free. So, you can understand all the ins and outs of this plugin. it has a very user-friendly interface and a simple configuration process. Once you get habituated with the system it would be easier for you to choose the right premium package for your growing business.
However, if you are still confused about the right membership plan for your site? Do contact our 24X7 active support team for further assistance.