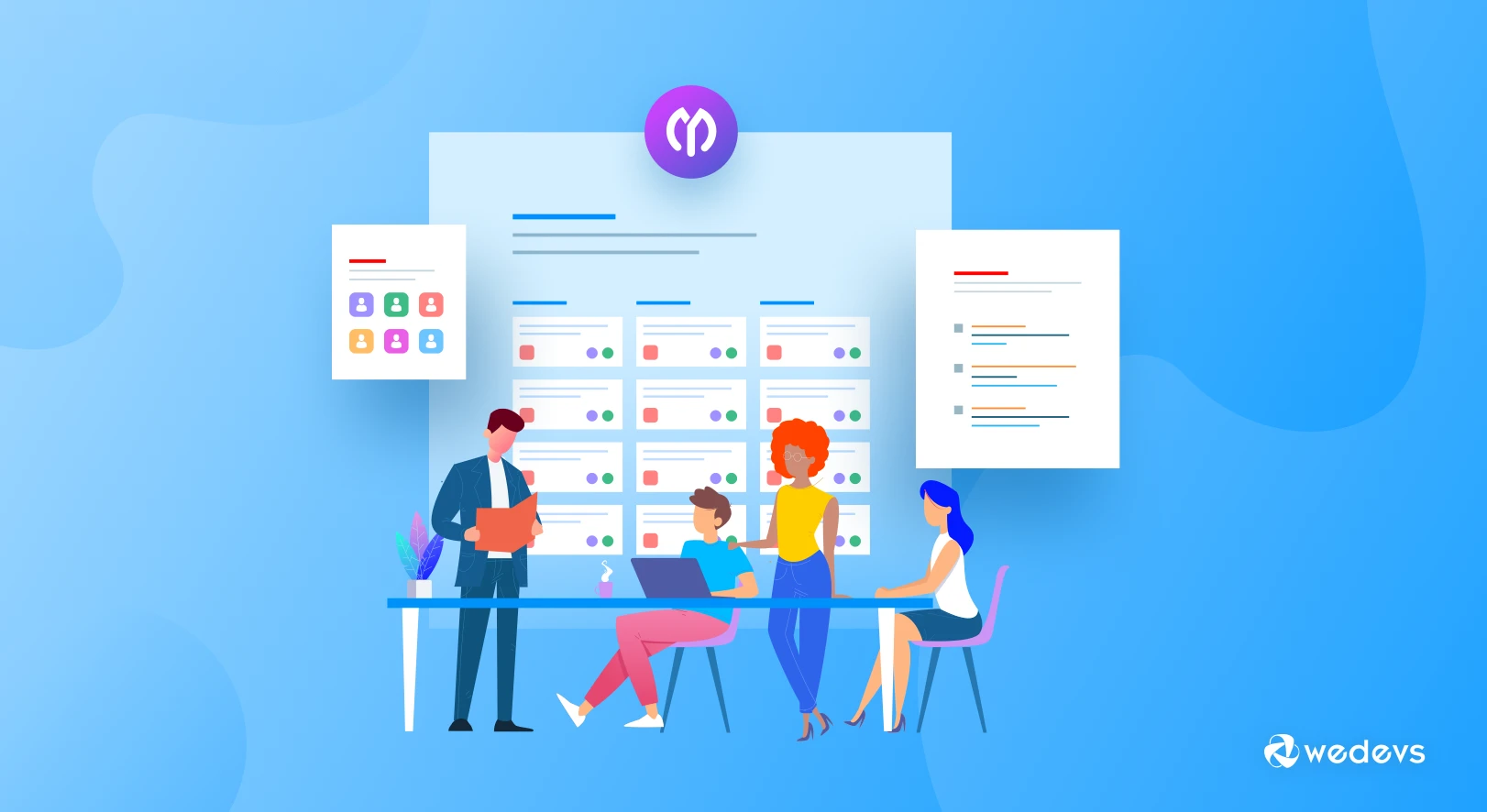 How to Improve Team Productivity Using WP Project Manager
There is no doubt, good team productivity is the first thing that a project manager or company owner expects from their co-workers.
A reliable project management tool can highly assist you to manage multiple projects and all team members effortlessly. It also lets you identify which steps are sequential and which tasks are dependent on one another. Undoubtedly, when you will get complete control over your projects and resources it turns you experience amazing business growth.
If you are in search of an excellent and effective WordPress plugin to track your team then let's introduce WP Project Manager. It is a simple yet powerful open-source Project Management tool, which helps you to manage work and deliver projects timely.
Let's know how it works for team productivity. We hope this short yet insightful journey aids you to make some fruitful decisions.
Boost Your Team Productivity with WP Project Manager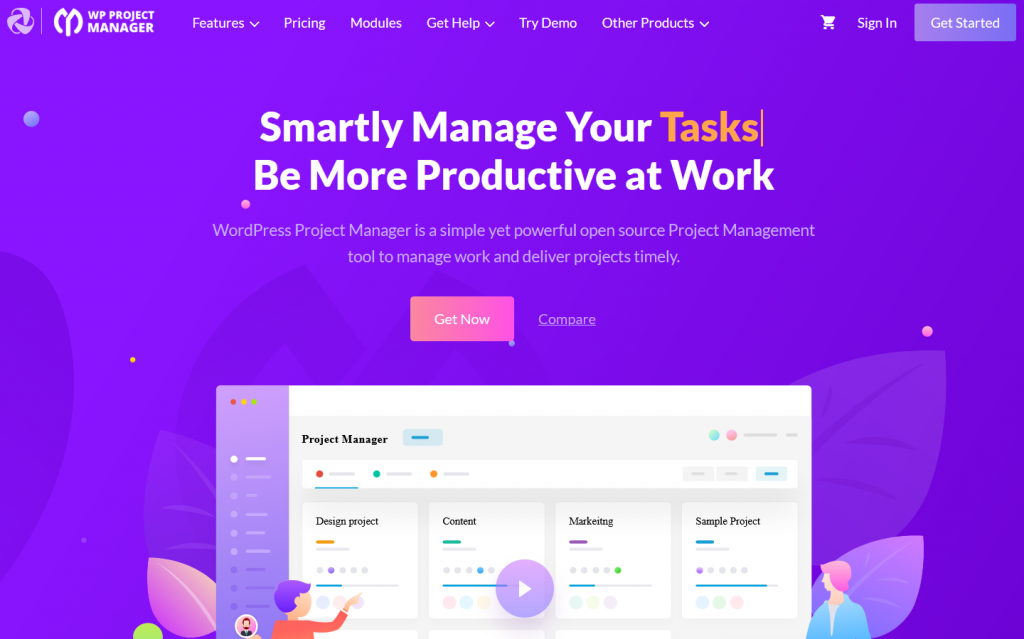 Within a few clicks, you can improve your team efficiency using WP Project Manager. The interface is extremely user-friendly than any other project management plugin in WordPress!
We can bet after reading the whole article you will at least give a try to this simple yet powerful project management application. But let's explore some key benefits of this tool first.
Highlights of WP Project Manager:
Guarantee the best use of business resources and planning
Organize and track all tasks & projects
Contain time management tool
Delegate team collaboration than ever before
Provide reports of your every project and employee
Next let's see how WP Project manager helps you to manage your all projects effortlessly!
6 Ways to Empower Your Team to be More Productive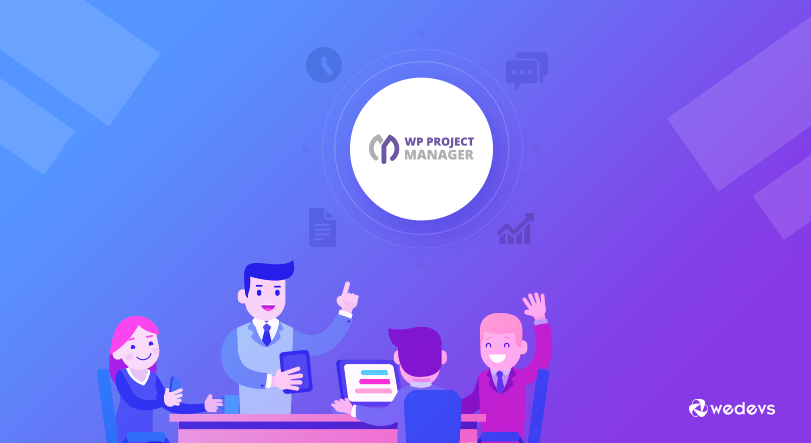 In this portion of the article, we will show you a hands-on review of this WordPress plugin. So, as a company owner, you can relate to the features and measure how it will work for the team productivity.
1. Unlimited Task Assigning Opportunity
An organization can't have limited employees. Every year new projects start and the company needs new employees. So, the number of workers is not predictable always. Sometimes the team coordinators get exhausted to maintain such a large group of people. The situation goes more unarranged when it is time for assigning tasks and monitoring the employees.
In this case, the WP Project Manager helps you to create and assign tasks in a simple way. Firstly the user interface is big enough to accommodate your needs, no matter how many members you have. Here, you can locate multiple staff from a single place.
When you create a task you will get a pop-up window. It will allow a host in diverse operations, like
Assigning users
Task starting and ending date
Commenting on the specific task
Uploading files
Setting up tasks as private
Your created tasks will be organized in chronological order whether the latest one stays at the top.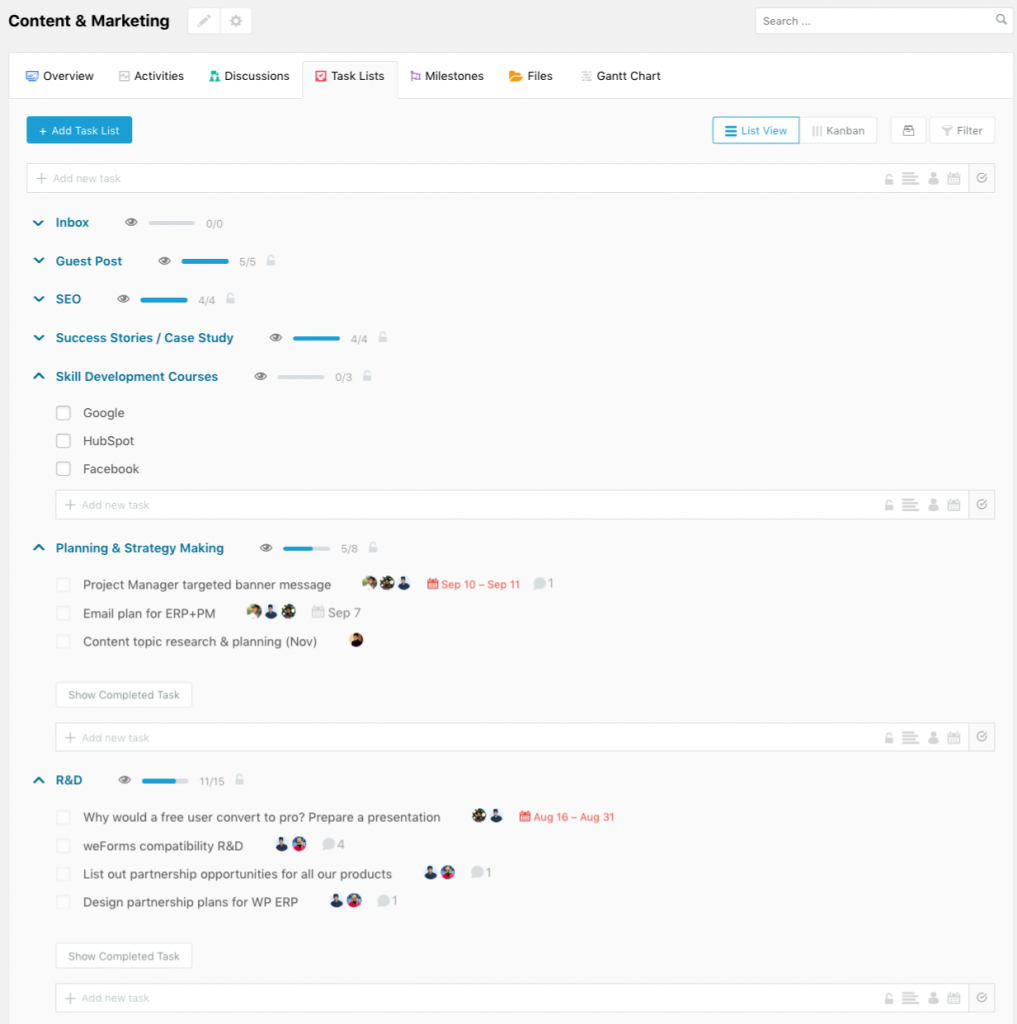 The overdue task will be red like below so that, you can understand which task is crossing the deadline.

The completed task will be collapsed like below: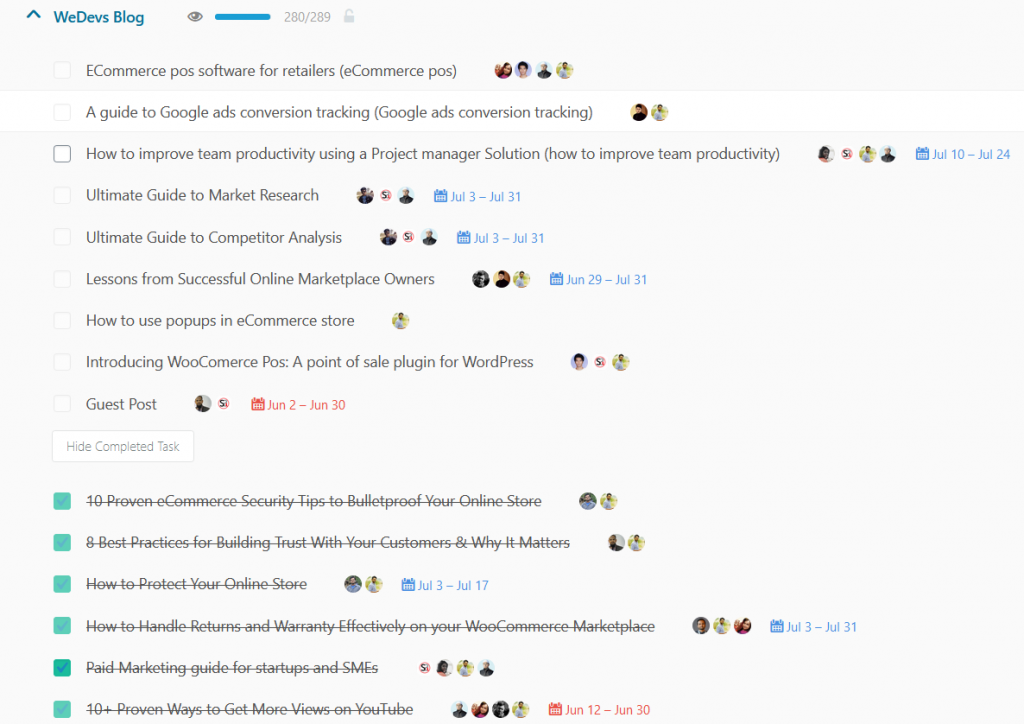 The task timer or time tracker also helps the manager to find out how much time s/he needs to complete a whole project.
2. Check Out Daily Team Activities
Suppose you have a company with 100 employees, is it possible to check out what they are doing every day without wasting time in meeting with them? Well, if you are not a WP Project Manager user, the answer is probably no. But after availing this plugin, daily activities of your every worker can be monitored within a few clicks.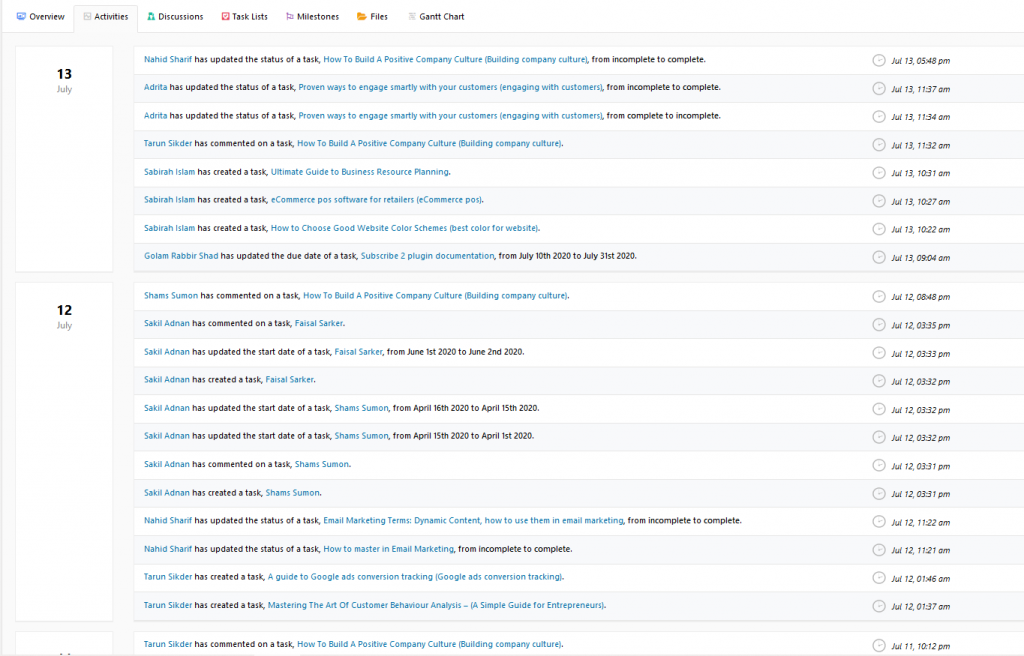 In the image above, you can see on 12th and 13th July who have worked. You can also see the task details of the employees. The answer to how to improve team productivity will start here for your company.
Because when you can notice the activities of team members every day, you will figure out who is not working timely or who hasn't worked on your command. Isn't it helpful for a team manager?
3. Great Way for Team Discussion
For only business team discussion, if you have to use different software it is really time killing and distracting for the team members. Reminding such problems, the WP Project Manager builders have created a place for team discussion in the plugin. The layout looks like below-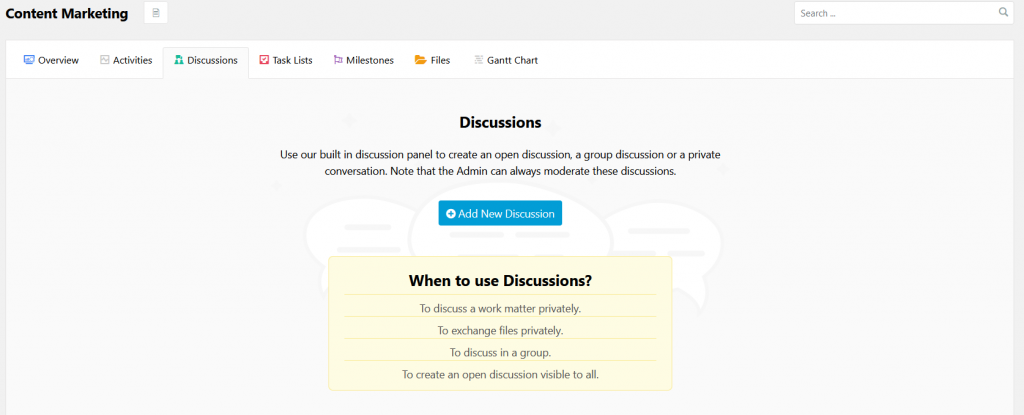 This is a unified place for carrying out conversations and communications. Here team members can share private and public discussions straight from the convenience of the dashboard.
After clicking on Add New Discussion, you will get this long layout for team conversation.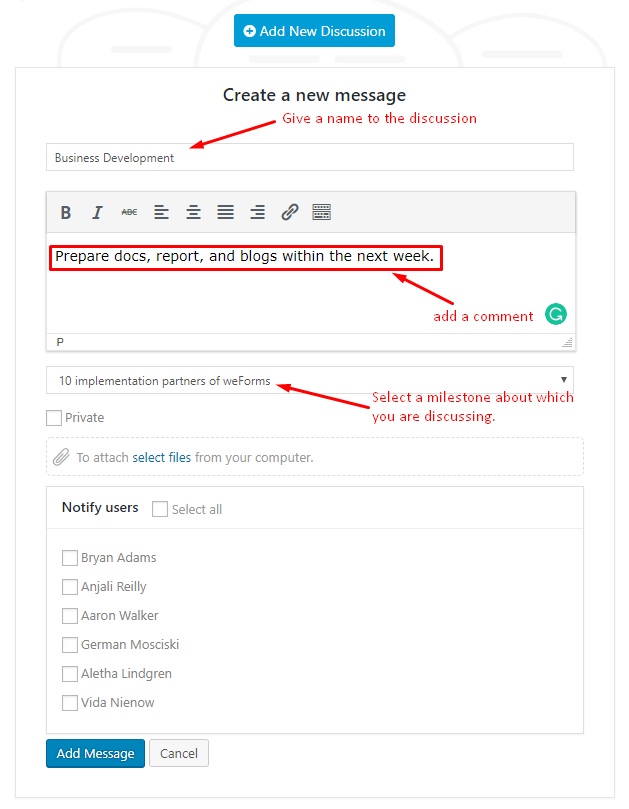 You can create multiple threads to discuss assignments with team members and even clients. If you are a WordPress product developer this plugin will be your time saver and provide you the secure place to do your discussion.

You may need to solve multiple client issues, tickets, and customs requirements about your products. When it's urgent to converse crucial issues as a team or even in private with a single member this plugin can help you to the fullest. WP Project Manager simply performs this feasible for users like you.
4. Google Drive Styled File Management for All
In an organization, there are different departments for business growth, like accounts, admin, design, content marketing, digital marketing, and many more. There the employees need to store their interactive content such as images, screenshots, gifs, and videos.
Luckily, in WP Project Manager, you can upload unlimited documents. You don't have to think about the file format and size for storing them.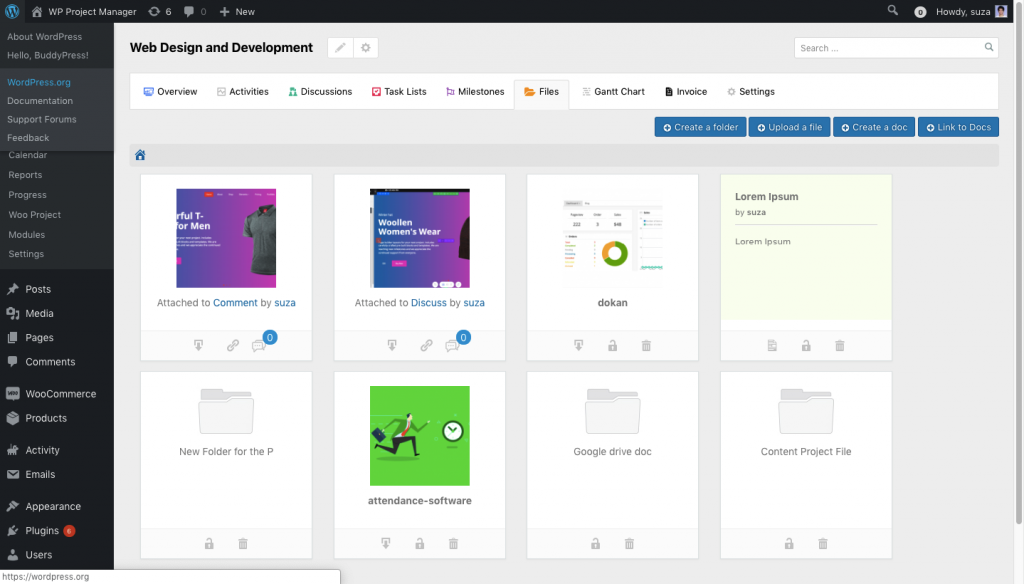 Suppose you are a blogger or video maker, so it will be better if you can create a separate folder for each video or blog. Besides creating folders, you can build subfolders if you need categorization.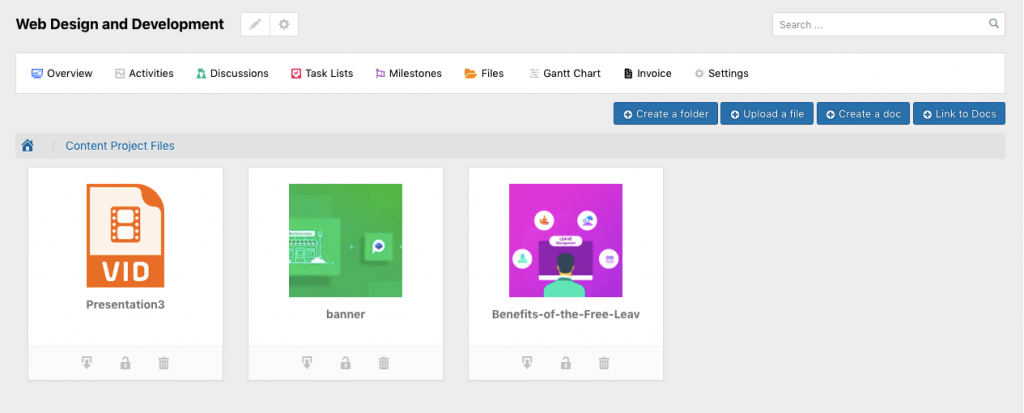 Moreover, for easier management, you can rename them if you want.
5. Create Milestones to Achieve Goals with Your Team
Milestones are important for team advancement. Team members can see what you have mapped and organize to achieve the milestones. It gives them a clear idea of why they are working for. Some project milestones you may add in your plan: 
Starting and ending date
Essential meetings
Important presentations
Approvals from client
Fundamental dates that can affect your project cycle
You may ask now, why a company need milestones. The project manager can do it by him/ herself. Well, there are some principal benefits of building milestones. We have gathered them for you-
Help to monitor deadlines
Increase the project visibility to all
Spot critical dates
Help the team member to find out their responsibilities
Measure the success of a team
All these advantages are fruitful for team productivity and at the end of the day, it is helpful for the overall company's betterment. And all of these are possible if you are using WP Project Manager. Here, you will get three types of milestones: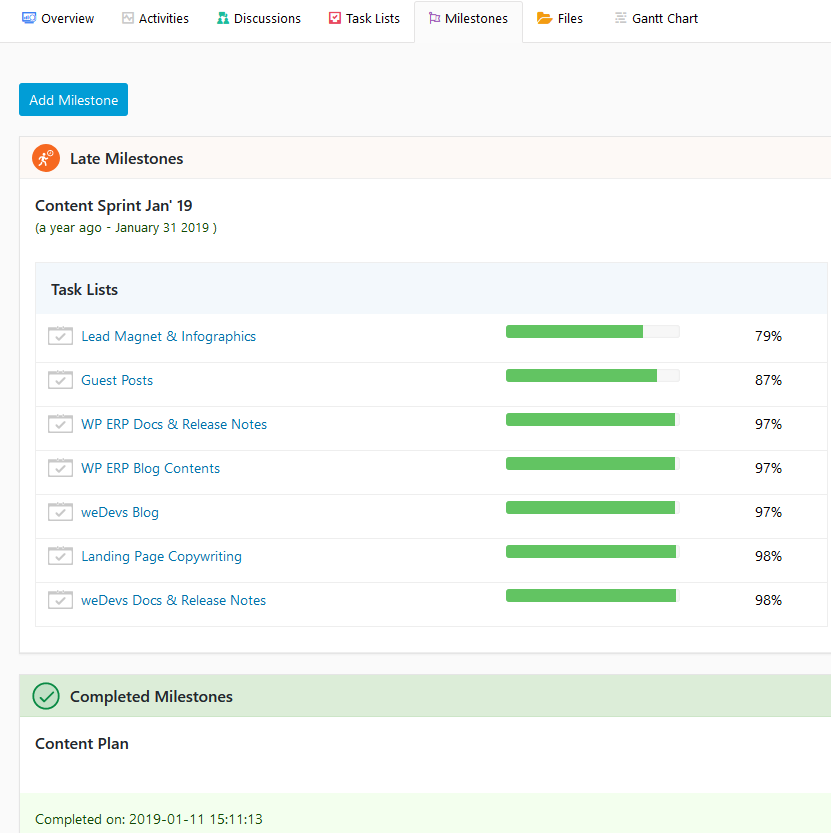 You can also assign messages and to-do lists on your milestones.
6. Notify Your Team Members to Keep Them Updated
In a project, a huge number of members may get involved in a task. Nevertheless, everyone doesn't need to be engaged in all subtasks. Different teams or sometimes an individual are responsible for a specific task.
If you want to communicate with a particular team member without bothering the entire team, the WP Project Manager can help you out. By using the single task pages you can discuss anything and notify a particular or even a group of people. So, all your important conversations will be kept here and you can check them when you are working for that project.
Unleash Premium Modules to Give a Better Employee Experience
If you are starting your own business or startup then the core WP Project Manager is a perfect solution for you. But with time as the business grows the requirements will also change.
Don't worry! WP Project Manager Pro Modules cover all your possible requisites. It has 9 premium modules and you can unlock them depending on your business needs. So that you can achieve your business goals without any stress.
Let's check out their efficiency.
Recurring Task Management for Excellent Team Arrangement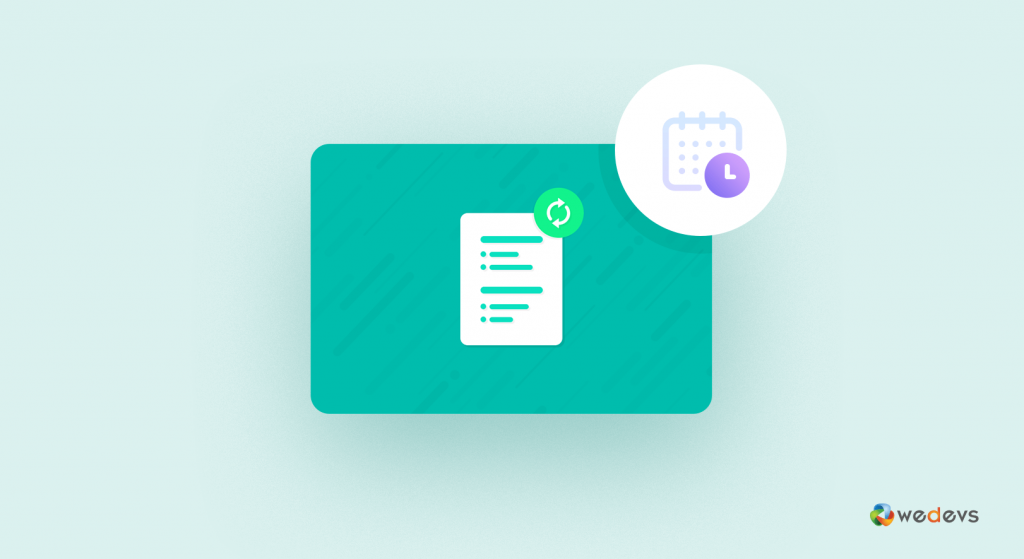 In our regular office hours, we perform different responsibilities. Among those, there are some regular basis tasks. Most of the time we operate our repeating activities by keeping a diary or setting up alarms.
Well, Recurring Task Management is one of the fascinating modules of WP Project Manager that can help you by scheduling your repeating tasks on a weekly, monthly, or yearly basis in your WordPress site.
If you don't have this module, you have to build each task and assign team members every time. Isn't it time-consuming?
Benefits of the Recurring Task Management Module:
Easily schedule all your tasks
Track and monitor the progress
Give workers to monitor assigned tasks
Stay alert about the milestones & more
Kanban Board
To simplify the duties of project managers, it is an efficient tool. As a team leader, your work-flow will be done, the way you have planned.
Undoubtedly, the Kanban Project Management module can help you to achieve the project goals and business objectives. 
Why you should use Kanban Project Manager?
Monitor all tasks and progress visually
Define priority, time duration, assignee and other staff
Accelerate the task management to meet deadlines
Increase overall team productivity
Diminish the workload and give mental relief
After accessing on WP Project Manager, select any project you wish to view. Then click on the task list tab, now, on the top right of the page, you can see two small bars. One of them is horizontal and the other is vertical.

For seeing the Kanban board of your project, click on the vertical bars and here you go: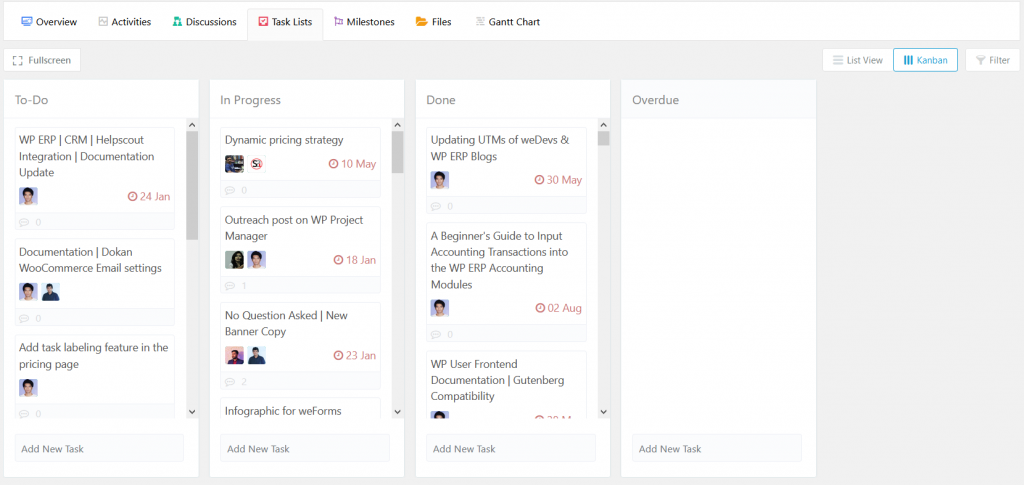 Now, you will get four default boards:
Open
In Progress
Done
Overdue
Here, you have the full flexibility to organize your boards. You can rename, add, or delete a board with just a click.
In addition, a user can edit a task, add subtasks, and comment on a task. Monitoring team members' performance is now super-easy for you as you are keeping a bird's eye through this module.
Time Tracker
If you want to measure your employees' efficiency, the Time Tracker module can be your way. You can track the exact time they have spent on a particular task by this tool.
This web-based tool is automatic and easy to set. Moreover, who is paying hourly, it can be a perfect work hour counting clock for them. You can save your time by not doing it manually. 
To start the Time Tracker for a task, go to any project you have created.
Click on the Task Lists tab. Here, you can watch a tiny clock icon beside each to-do list of tasks. If you click the clock icon you will watch the Start time and custom time options.

Click Start Time option to begin tracking time for that particular task. You will see the clock is counting your time after you have clicked.

Simply click the Stop option to stop the Time Tracker. After that, the clock will show you the amount of the tracked time.

If you want to see the time log of a particular task then just simply click on that task.

Nonetheless, to view all the time logs, click on the down arrow: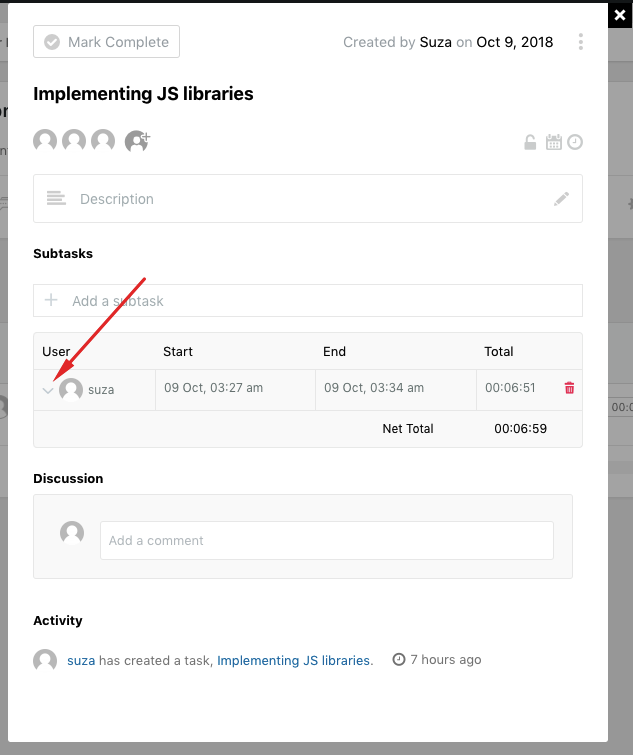 Moreover, there is also an option that will display the total calculated time.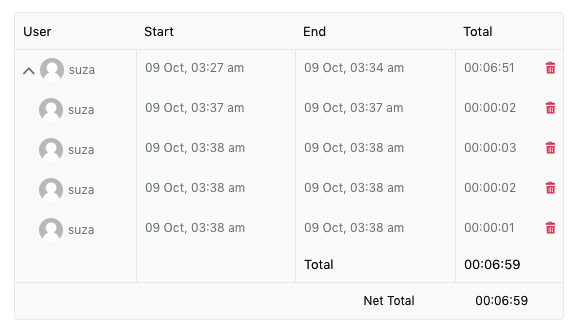 BuddyPress
Manage and create projects department wise right from your WordPress dashboard with BuddyPress WP Project Manager module.
Basically, this integration easily connects your BuddyPress network with WP Project Manager projects and tasks. Extensible private and public hidden groups allow employees to break the discussion down into specific topics.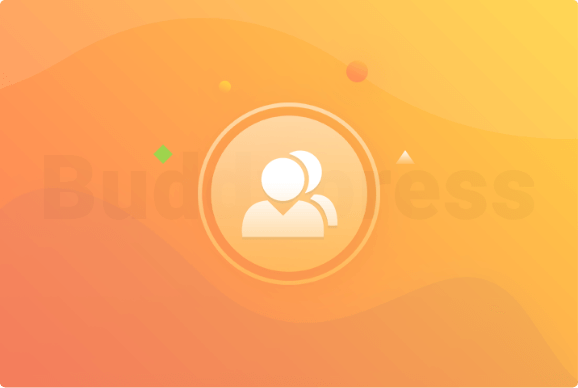 However, the admin can effortlessly create departments specific to the business and include the particular team members. Isn't it helpful to improve your team productivity? Well, the answer is pretty yes.
Plus, team members can collaborate by interacting with each other for different events of the company.
If you have installed BuddyPress already on your WordPress site then follow the points below:
From Settings→BuddyPress Enable the 'User Groups' option
Create, Configure and include people on that group through wp-admin→Groups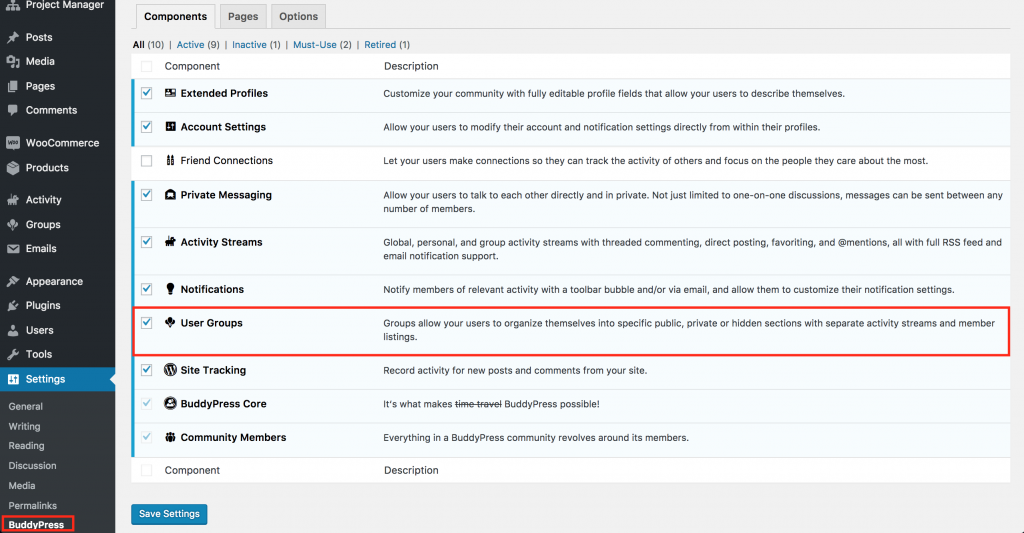 Summing Up
Improving team productivity seems difficult for many project managers. But when they start to use an effective, powerful, and secure project management tool the productivity raise at that moment.
After this long conversation, we will suggest you use the free version of this WordPress plugin. So that you can realize the effectiveness by yourself. Plus, for a startup company, the free version is enough to manage the tasks effortlessly. It helps you to minimize your workload, make you a perfectionist, track all your employees and their tasks without wasting your much time.
Well, if you have any further queries regarding easy employee management then comment below. We are always there to answer you. And, don't forget to share your WP Project Manager user experience, if you are using it.
Have a nice day!