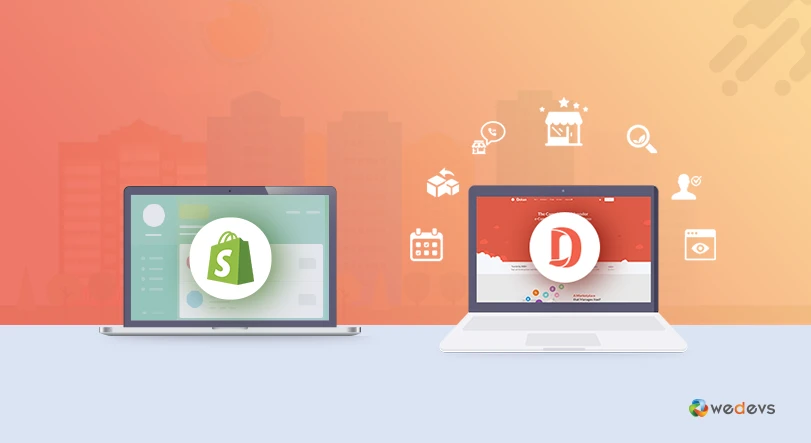 Why Building a Dokan Marketplace is a Better Idea than Launching a Shopify Store
The latter is lucrative, but you fear if you are ready for the big task. Owning a marketplace gives you a bigger earning scope and more control – a total level-up of everything. On the other hand, Shopify seems to do most of the hard work, keeping it easy for you. But the cost may still bug you. Probably you will never have peace of mind until your business flies high, any way around.
Start Easy with Shopify Store or Try to Become Shopify itself – A Common Dilemma
But choosing the right platform for your business is the first great step toward your success. If you are stuck between Shopify and Dokan at this step, this is the right place for you. In this article, we will draw a comparison between Shopify and Dokan and decide which is more suitable for your business.
You have probably stumbled upon Dokan while considering WooCommerce as an alternate option for your store. But you are surprised – "Hey! I didn't know I could use WooCommerce to make a marketplace too!". If you think it is out of your league and will become too costly, I can show you a better side to it if you follow my lead.
But first, let's dive into some quick facts. What are these solutions actually? We want to know the technical details.
What is Shopify?
It is a self-hosted store builder, an SAAS-type eCommerce service to be precise. They have a reputation of beautiful designs.
Shopify is probably the most popular eCommerce site builder with a giant number of subscribers. Other rivals are Bigcommerce, WooCommerce, Magento, and the emerging Dokan Multivendor eCommerce site. Some sellers need just a site to appear in Google searches and some sellers want a site want to rule the internet.
Dokan Multivendor
Dokan is a WordPress plugin based on WooCommerce – also available as a free version. It comes with a broad spectrum of features and extensions developed by their team. Since it's based on WordPress, it is compatible with most of the stuff you can find on the WordPress market and is almost readily launchable as a website.
Shopify vs Dokan – The Benefits
1. Single Store vs Multi Stores
The Major game-changing difference between Shopify and Dokan is that Shopify offers only a single shop, but Dokan lets you unlimited. So, it places you on a strategic advantage of controlling a market. Vendors will sign up to your marketplace and you will offer them individual stores with professional design. All the vendors will manage their own accounts, whereas you just earn through commissions.
2. Customization- Features
In Dokan, you can generate your invoices in a single click, review products, verify sellers and even give your sellers their individual store SEO. It is the most feature enriched plugin on the market. Dokan has a wide array of paid add-ons to smooth your management and sales or to add exclusive features. Powerful tools give your sellers unprecedented control of their stores. Shopify on the other hand, comes with few features. They have their app store, but who needs so many to choose from when a single plugin can give you all that you need.
3. Customization- Themes
Dokan is fully compatible with any WordPress and WooCommerce theme on the market. Dokan's free theme is beautiful and comes highly recommended from it's users. On the other hand, Shopify offers 100 site templates and several hundred themes at their theme store. You can create and use your own theme on Dokan too! Some 18+ themes are available at ThemeForest.
4. Operational Expenses
Dokan is a competitively priced application providing more features than its peers. Once you buy Dokan, it is forever yours. It has three subscription packages for updates. Products and sellers are unlimited on any package. It will only cost you 149$ for the first year of support and updates, 50% discount for renewal.
Shopify has a monthly subscription plan and a limited product limit. Even the basic package is very costly (29$ per month). So you are looking at a total annual cost of 348$. You havent started to buy integrations yet.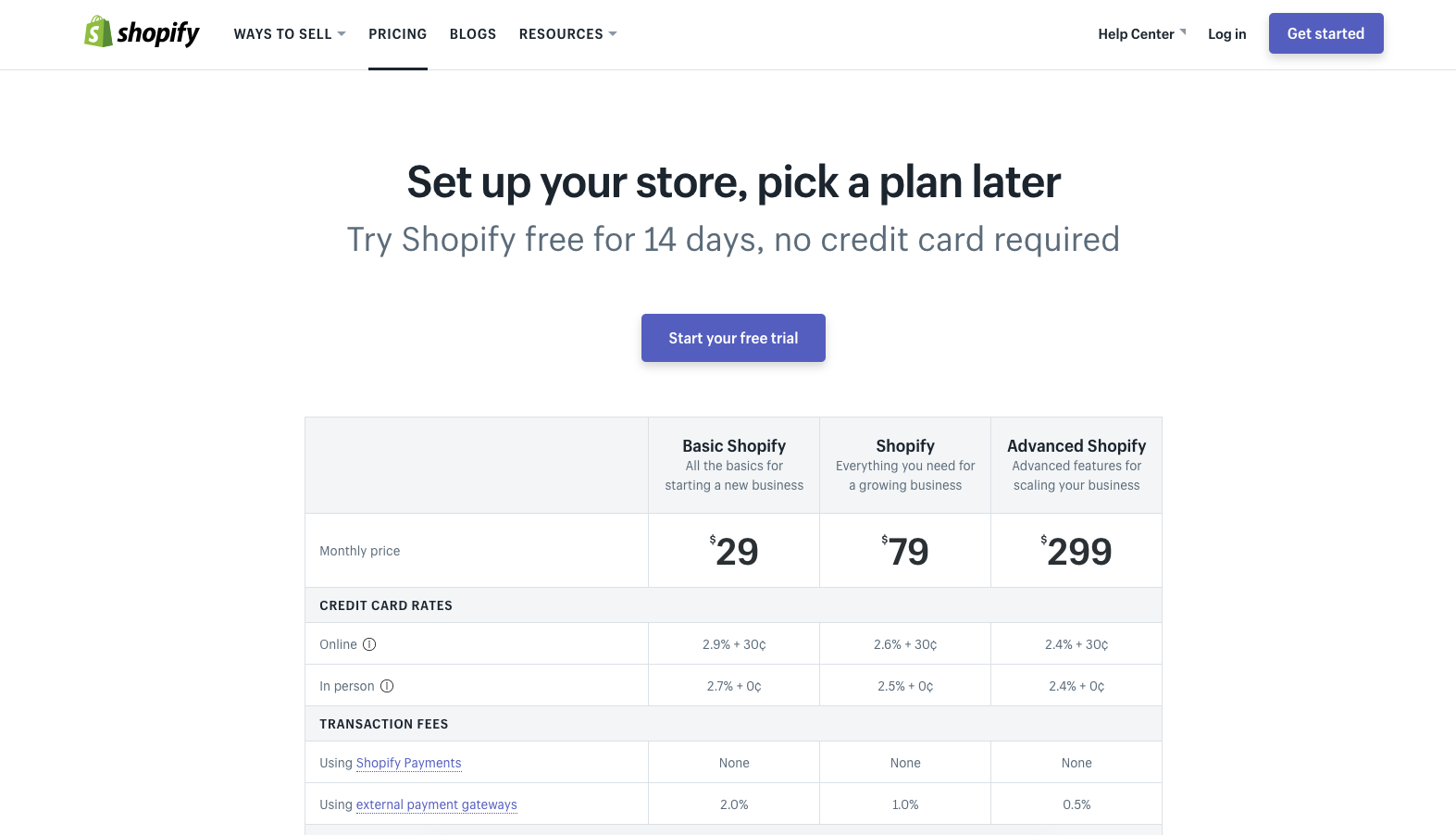 5. Hosting and Site Speed
Shopify is a self-hosted site. So, you can't do anything about it or you can not take Shopify into your existing store. But Dokan can be installed on any WordPress based site. With this freedom, you can migrate your site anytime you want to your desired hosting services for better speed and stability. Moreover, you will have to buy the domain from them at an expensive rate and abandon your existing domain if you already have one.
6. Interface – Frontend and Backend
Dokan's greatest feature is that it has a customizable front-end interface. The most important fact about this frontend is that the vendors get a dashboard from where they can manage everything they need for their store. So, all the features are easily accessible and security is ensured.
But Shopify has a backend interface that is not as rich as Dokan. So, not only the interface is better, your vendors will enjoy it too.
7. Vendor's Revenue
In Dokan, shop admins can configure the commission. But in Shopify, the rate is fixed by Shopify itself. But on your Dokan marketplace, you have the freedom to choose the sales commission rate and create a market flexible to sales. Sellers are always attracted to markets that are more flexible to their business.
8. Customer Care
Both Dokan and Shopify have 24/7 customer care. But Dokan additionally allows you to give your stores their individual store support from where the sellers can provide support and answer pre-sales queries by their own.
9. Trial Features
Shopify is not free. They only have a 14-day trial period. But Dokan also has a free version and also a 14 day refund policy. You can also check the PRO version of Dokan from dokandemo.wedevs.com.
10. Platform
Dokan is based on WordPress, so you, your designer, or developer have the full power and possibility of creating a site based on HTML, and PHP and making CSS modifications very easily. But, Shopify is based on its own language called Liquid, which is less popular, but it supports CSS and HTML.
Also Read: Shopify vs WordPress – Which One is Better and Why?
Verdict
There is no doubt that Dokan is a more flexible, customizable yet feature-enriched platform than Shopify. Shopify may be a good platform for business, but it gives a lot of pressure on a starting one. Dokan is good for new or small businesses because it is inexpensive, has better revenue earning chances, easy payment, and tons of features which are inexistent in other solutions.
If you are interested to learn more about the entire process to create a marketplace with Dokan, Take this guided setup!